Vegan Remodel
published on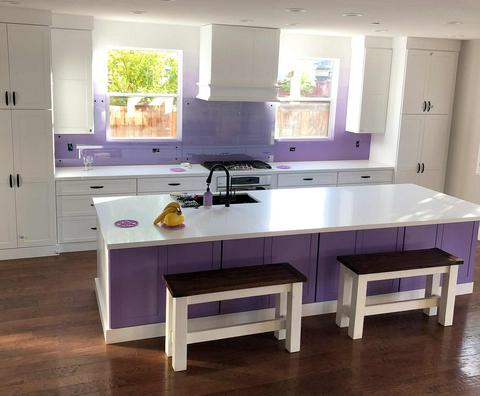 I'm smack dab in the middle of a 2-month kitchen remodel. It was exciting for the first couple of weeks, but now I'm soooo over it. I just want my life back. Don't get me wrong, I've been enjoying all the takeout and the challenge of preparing meals using only an air fryer and a single burner, but I haven't been enjoying the dirty house, the spray paint in the grass, and don't get me started on multiple gross men using the bathroom….ewwwwww. If you found this post because you're thinking about starting a kitchen renovation, then you might want to check out my post about what I've been eating during this process.
Besides planning what to eat during my remodel, I also had to research all the things my contracting team was buying with my money to make sure everything coming into my house is vegan. My house was used when I bought it, so I know it's probably not a vegan house, but from this point forward, I have to do what I can to make sure the things I buy for it are vegan and cruelty free.
So here are some of the things I learned when doing my research that I'm hoping will help other vegans when it's their turn to undergo a home renovation of any variety.
Cabinets
Did you know that some cabinetry isn't vegan? I never thought about it before, but apparently, it's true! If you get cabinets that use any of the following materials, they are probably NOT VEGAN.
pressed wood or particle board
plywood (except for Purebond Plywood, which claims to be soy-based)
fiberboard (also known as medium density fiberboard or MDF)
The reason those materials aren't vegan is because they often use glues and adhesives that aren't vegan.
So, the cabinet materials that ARE VEGAN include the following.
Metal cabinets are really nice looking, but they are VERY expensive. I looked into getting them for my kitchen from IM Design, but it was way outside of my budget.
So, hardwood cabinets won! Hardwood does cost more than MDF and plywood, but you get what you pay for, which is longevity and durability. Solid wood cabinetry lasts around 50 years, which is great, because for the amount of money I'm paying for this remodel, it needs to last the rest of my lifetime, haha.
If you're looking for an even more affordable vegan option for cabinets, I believe IKEA sells one line of cabinets that are vegan. The reason I didn't go with IKEA is because they contain formaldehyde, and I am trying to avoid formaldehyde in my kitchen since I spend the majority of my waking hours there.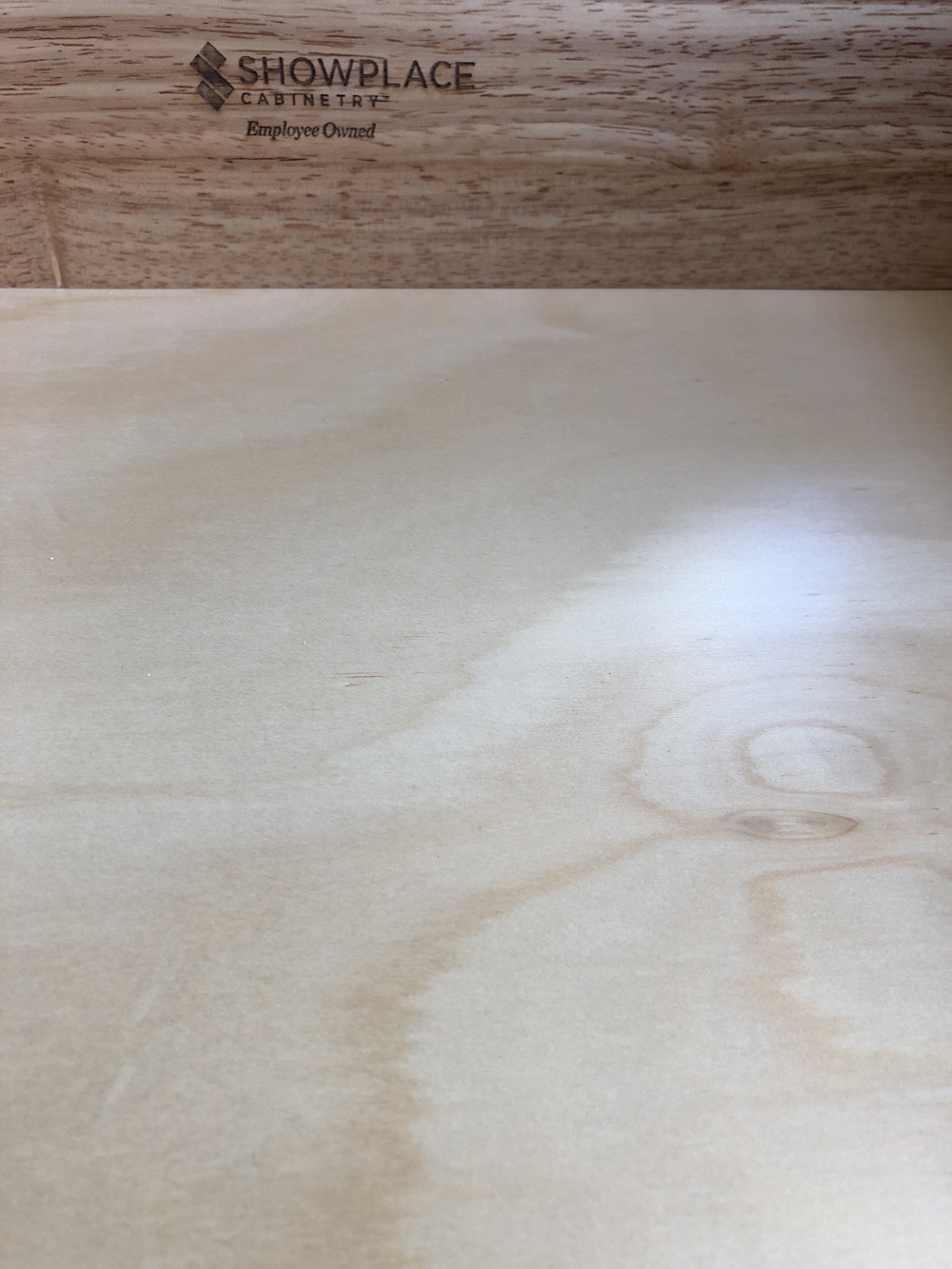 Why is Formaldehyde Bad?
While formaldehyde isn't technically a non-vegan product, it's not really something you want in your home. Cabinets with formaldehyde can offgas for up to a year, and if those gasses are coming off your cabinets, guess who's breathing them in?
Most cabinets have formaldehyde, but the levels of formaldehyde differ, depending on what materials are used. Luckily, environmental protections have passed rules limiting the amount of formaldehyde allowed in cabinetry. The CARB II standards allow the following levels of formaldehyde in these cabinet materials.
thin fiberboard - .13 ppm
medium density fiberboard - .11 ppm
particle board - .09 ppm
hardwood plywood - .05 ppm
The CARB II standards are the strictest standards in the world right now (2021) in relation to interior building materials. Hopefully, they will improve over time, but for now, my goal is to have a formaldehyde-free kitchen. How do I do this? Read on about paint….
Paint
Most kitchen cabinets come from the factory already finished with whatever paint the cabinet makers want. But guess what? Most paint isn't cruelty free and vegan. I knowwww right? So annoying.
Luckily, Benjamin Moore is vegan and cruelty free, and they're a reputable and high quality brand that many interior designers and renovators use. Our designer uses Benjamin Moore Aura for kitchens and bathrooms because it's durable, mildew resistant, has good coverage (primer is built in). I like it because it's low odor and zero VOC. I chose the colors Chantilly Lace white and Crocus Petal purple.
Why choose zero VOC paint?
VOCs (also known as Volatile Organic Compounds) are the chemicals in your paint that offgas. We talked about offgassing earlier so I won't bore you, but you don't want to be breathing chemicals for months after you paint anything inside your house, right? So, always purchase zero VOC paint.
As much as it annoyed the hell out of our designer, our contractors purchased our cabinets with no finish whatsoever. Then, the crew painted the cabinets using the vegan zero VOC paint that we chose.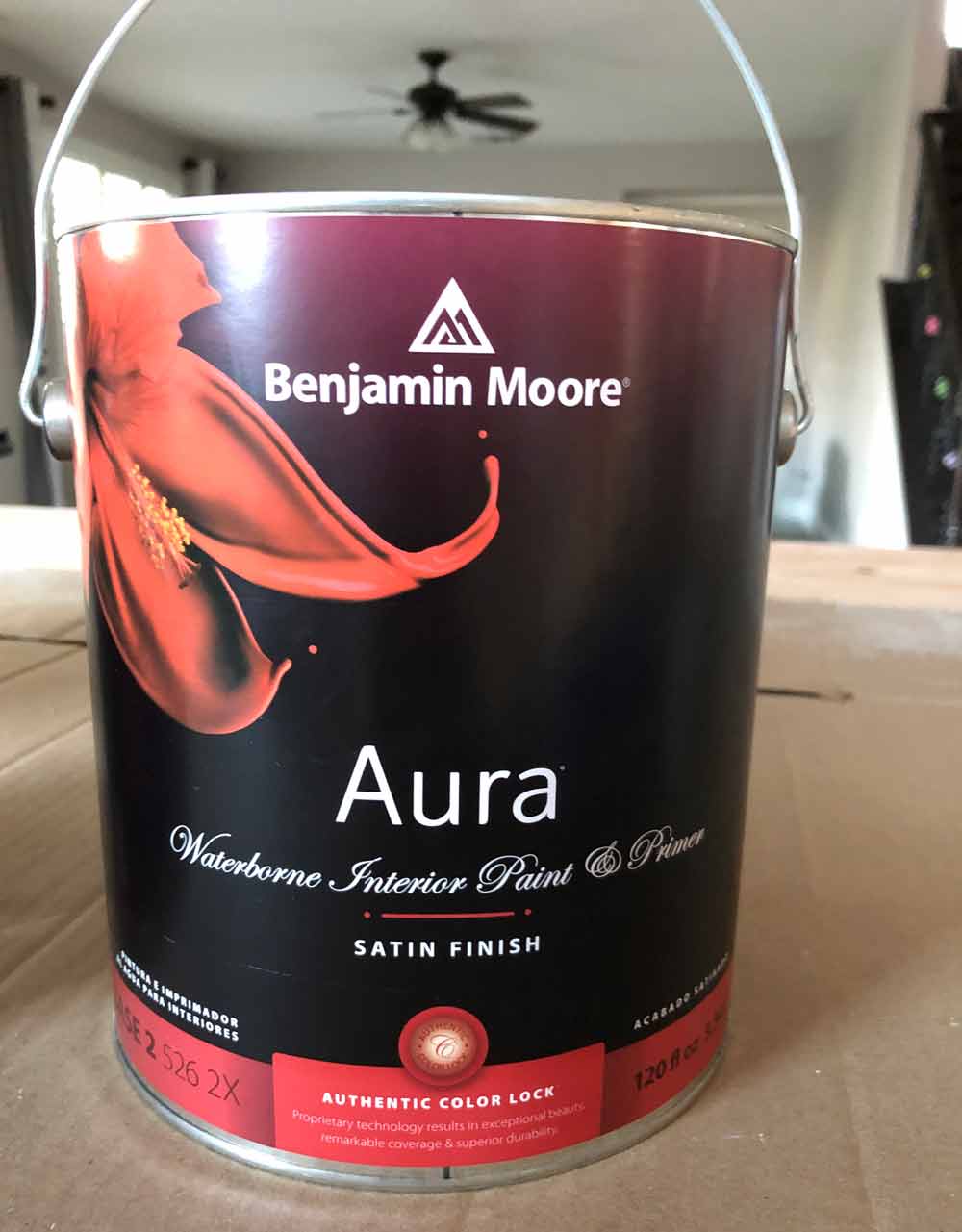 Counters
Luckily, most counters nowadays use natural stone, which is natural and vegan. I chose a white quartz, which is very durable and low maintenance (it doesn't need to be sealed annually like marble or granite).
So, if marble, granite, and quartz are all vegan, what kind of counters are NOT VEGAN?
laminate (Formica is one brand of laminate counters)
concrete (some is, some isn't; Dap is a company that claims their cement is vegan)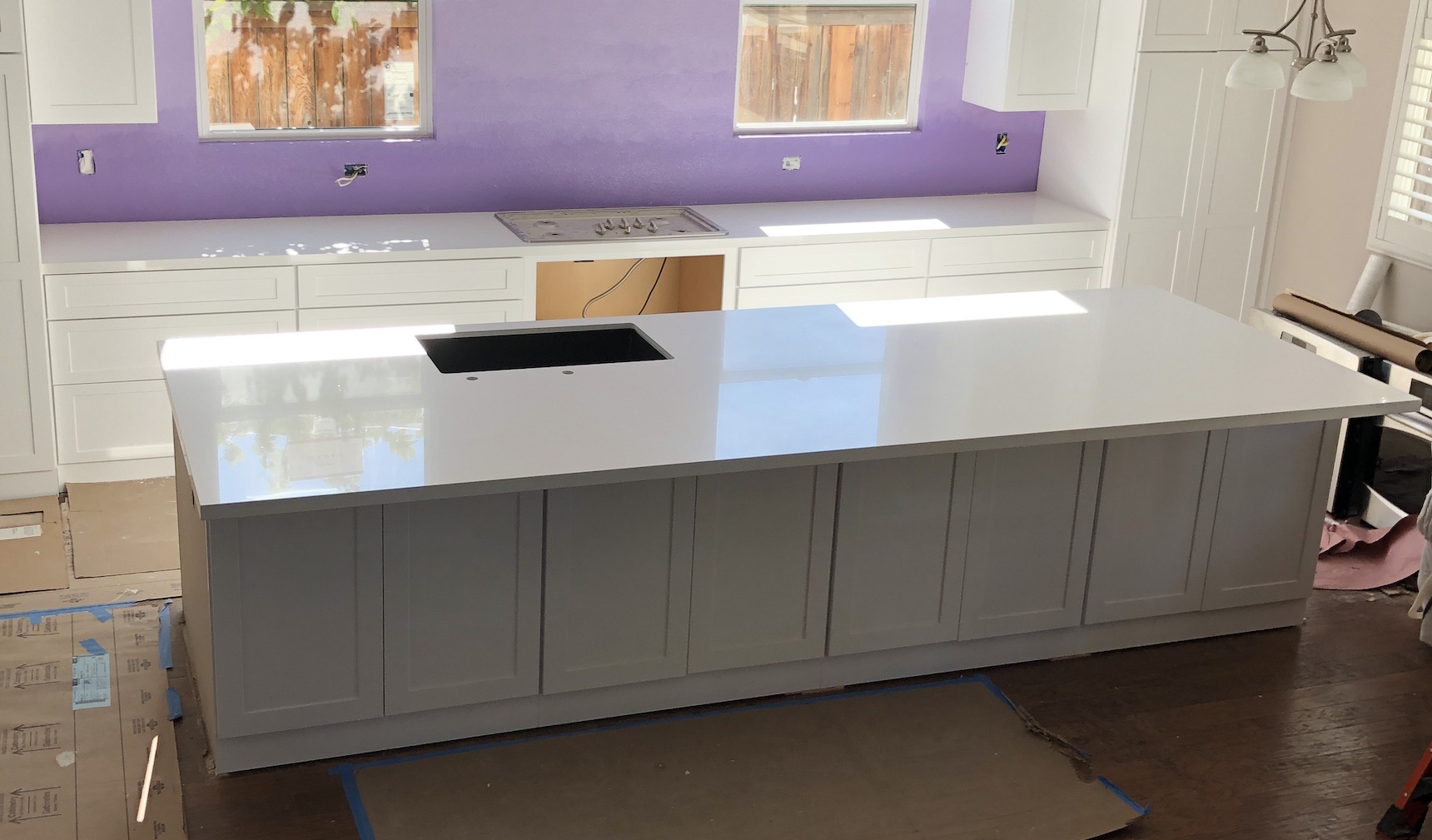 Backsplash
Backsplashes are so weird to me. My dad has had this 70's looking tile going up his wall in his kitchen since I was little, and it's so ugly. But replacing backsplash tiles is apparently quite difficult. It's so difficult in fact, that my kitchen crew opted to just cut large chunks of the wall out, rather than try to remove the tile backsplash in my kitchen.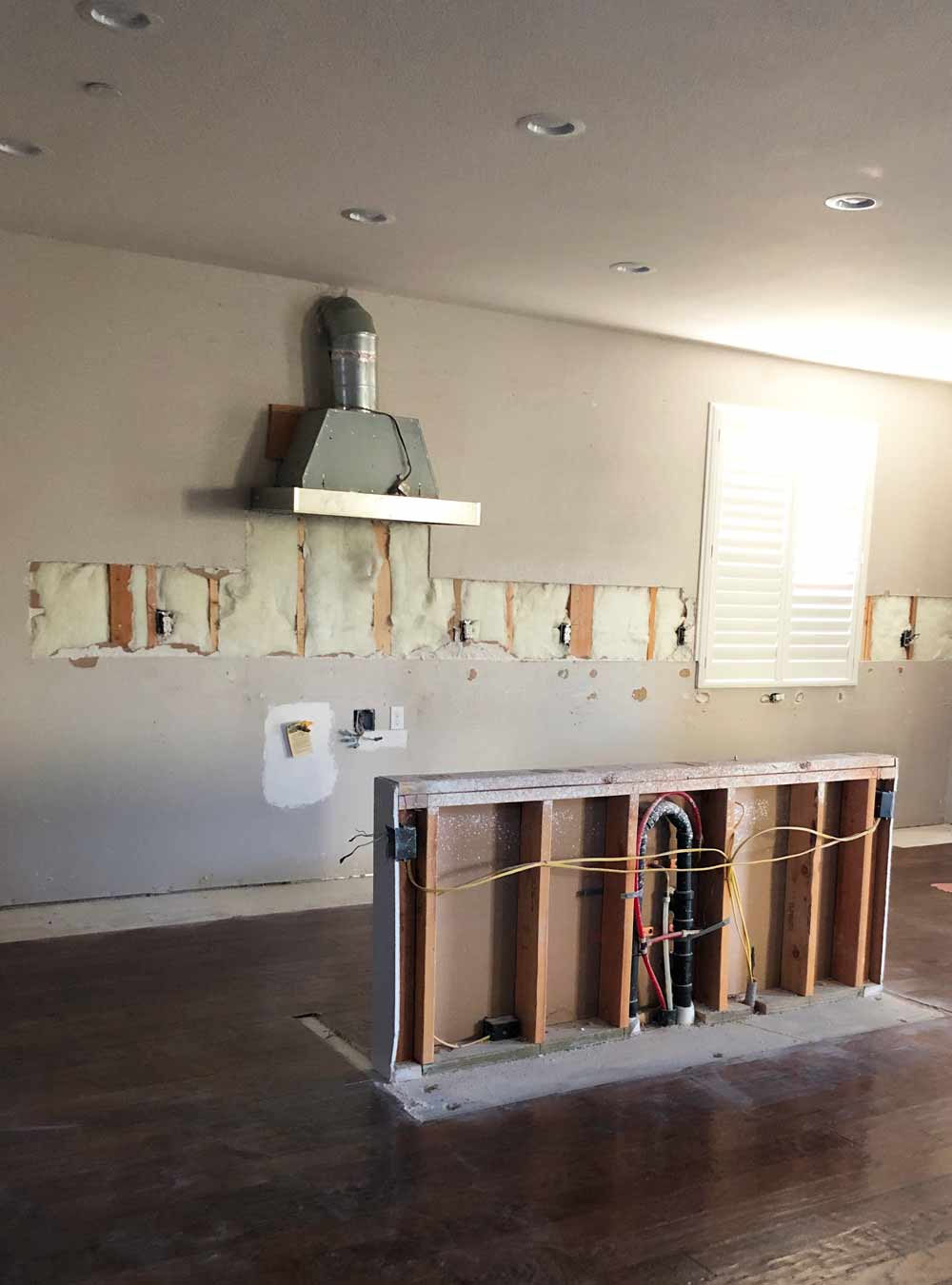 Since tile and taste goes out of style every decade it seems, I opted for a changeable backsplash. It's just clear glass attached to the wall with hardware, so that I can remove it when I get tired of my purple ombré, repaint the wall, and then put my glass backsplash back up. Remember, I'm spending half my life savings on this kitchen, so I never ever want to spend another dime on it as long as I live, haha.
Since my backsplash is just glass, it's vegan. The only thing I can think of that might make a backsplash not vegan would be if the tile grout used non-vegan cement in it. So, maybe check with your tile grout company to see what ingredients it uses, just to be safe. And then if you find out, tell me so I can share the information!
David and I painted the ombré ourselves because our kitchen crew didn't know how. We used the white that was used on all our kitchen cabinets (Chantilly Lace) and the purple used on our island accent wall (Crocus Petal) and made 5 new colors of paint for all the shades in between. We used 7 different vegan paint brushes, because you don't want to share brushes between colors for an ombré wall (to make sure your brushes are vegan, just look for synthetic bristles).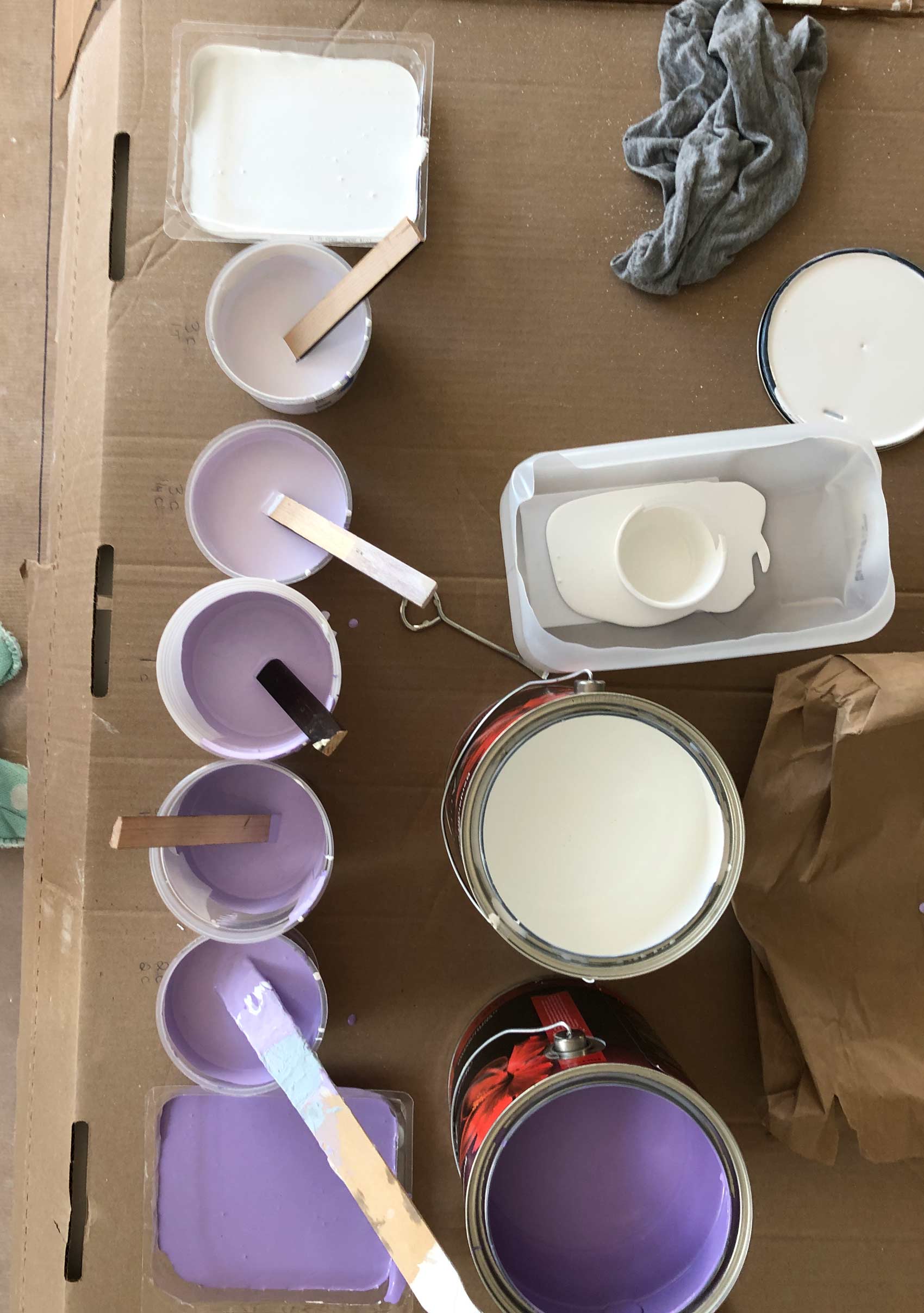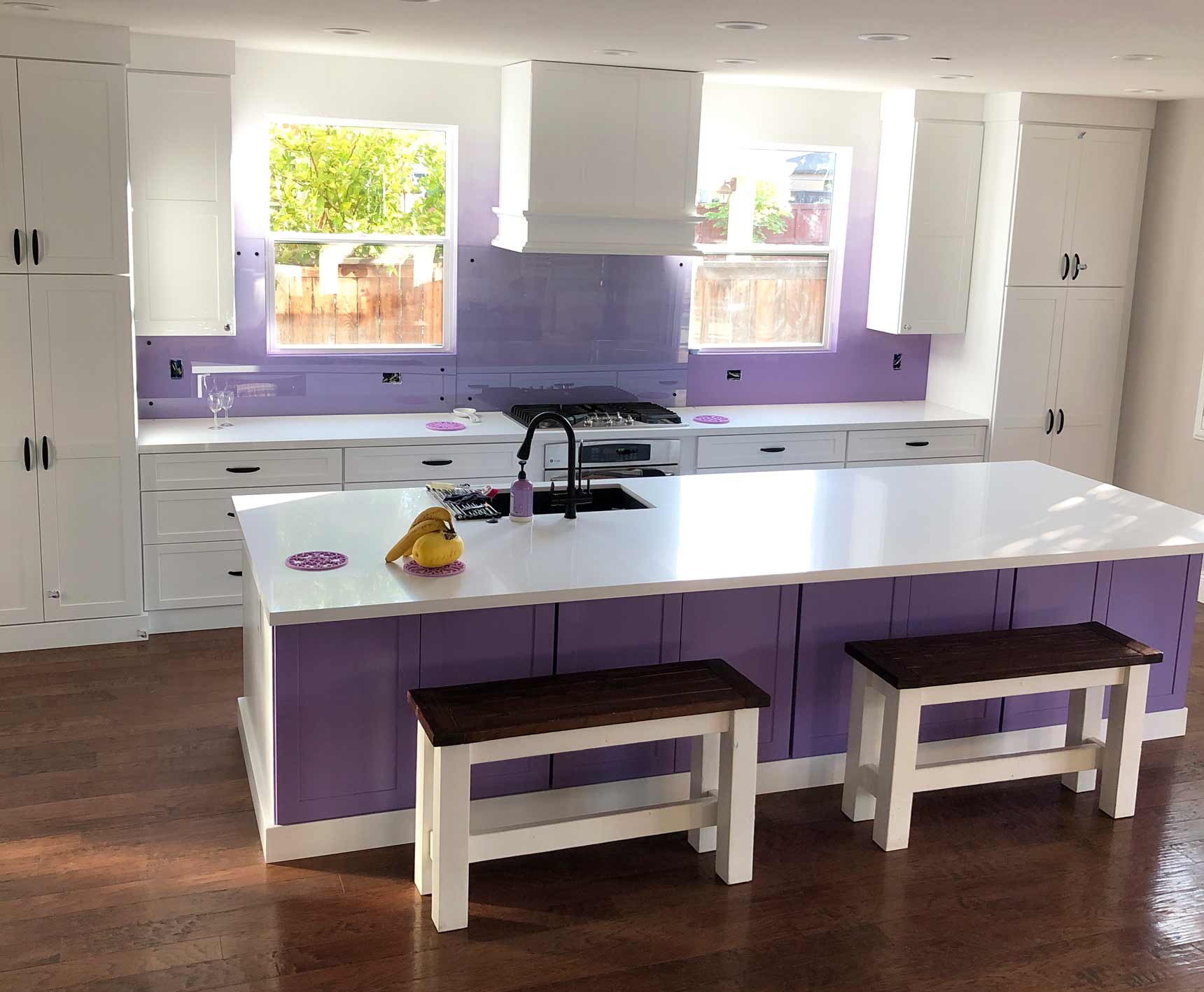 As a recap, here's what my kitchen looked like before the vegan kitchen remodel.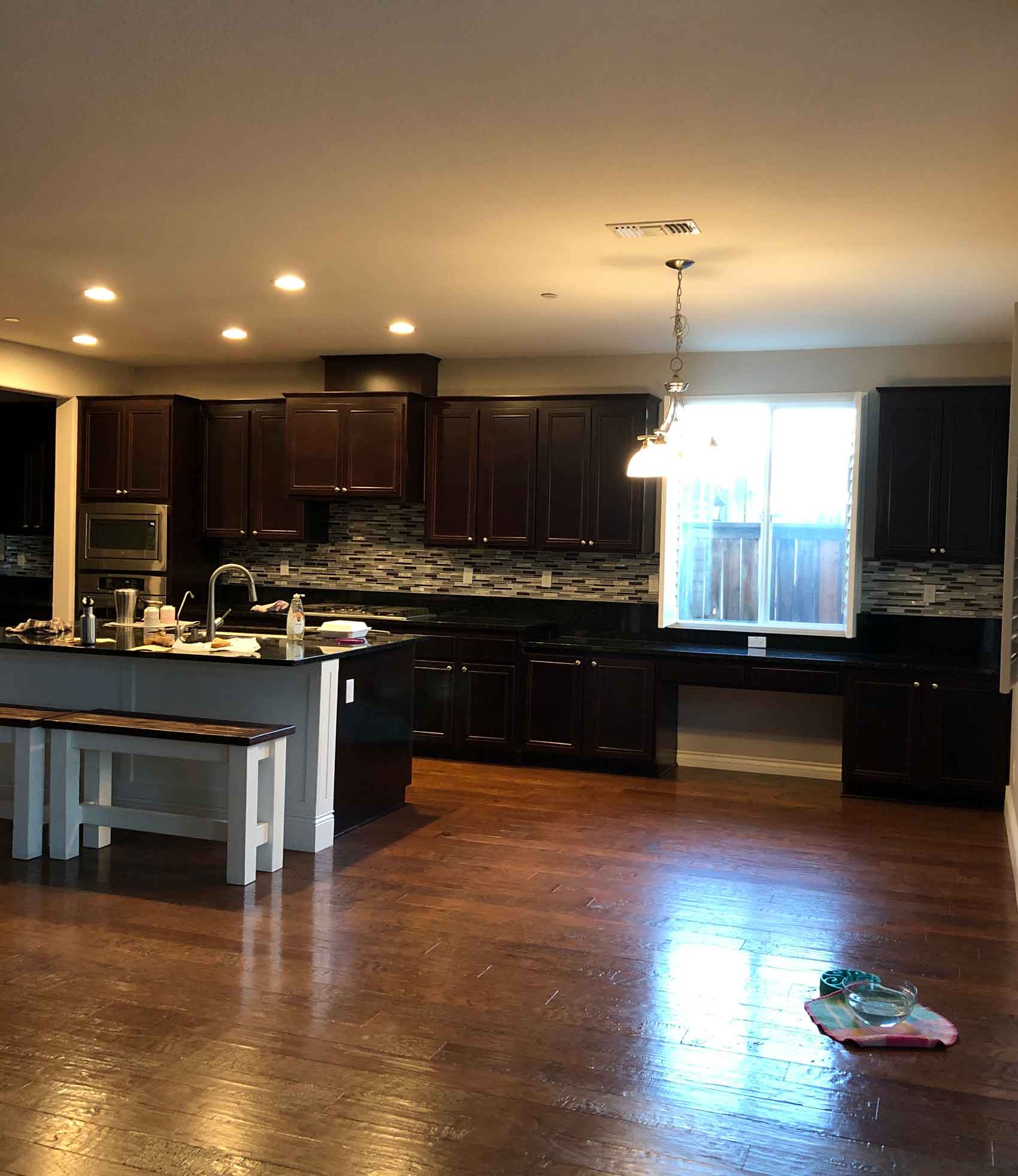 And here's what it looks like now (it's still not quite finished, as you can see from the photo).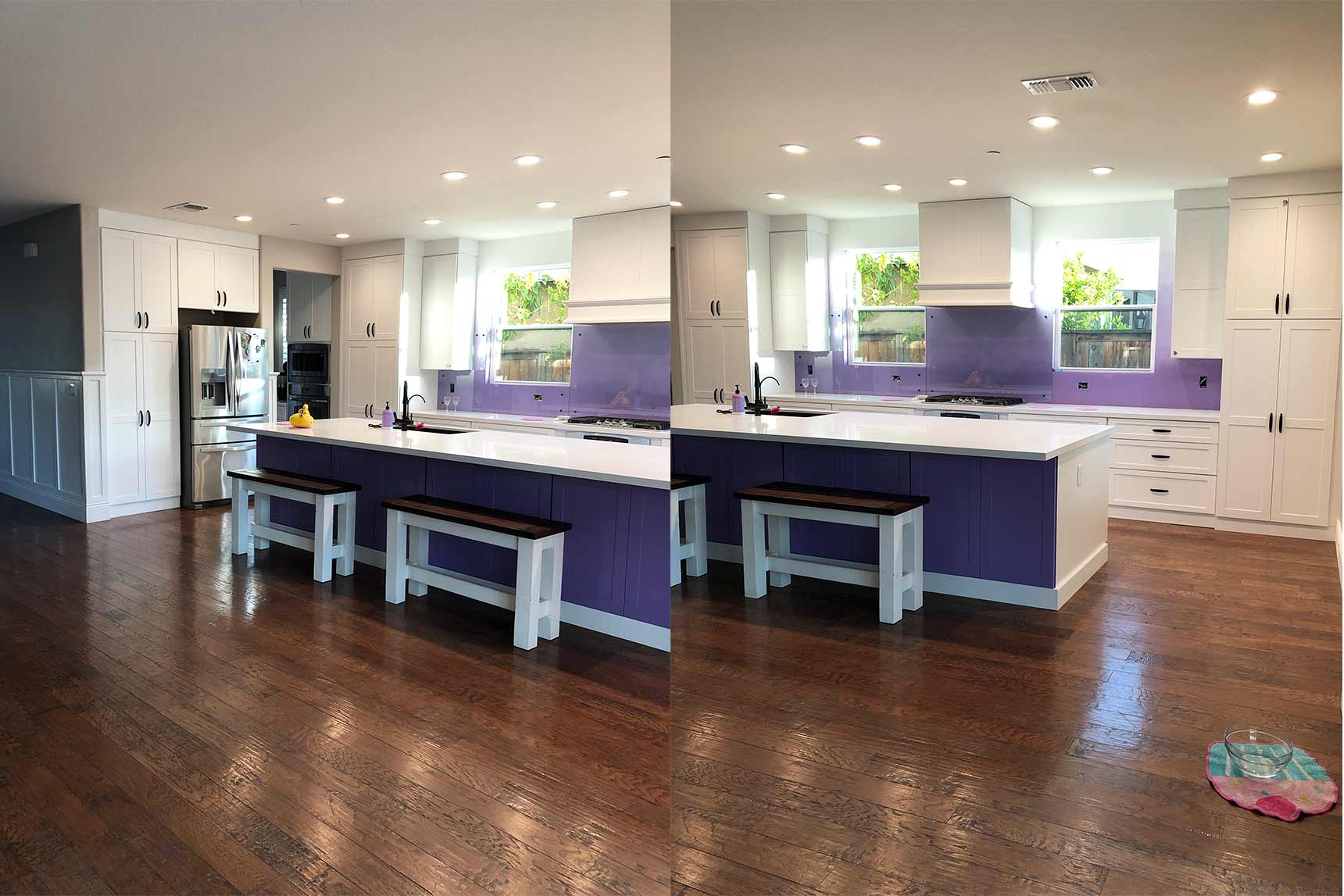 Finishing Touches
One of my favorite finishing touches is the knobs we got for the 2 upper cabinets. The majority of the kitchen has handles (or what they call pulls) in a black matte finish to match the sink, faucet, and the backsplash hardware. However, I ordered just 2 little knobs for the upper cabinets where we keep the glasses and mugs. These knobs look so similar to a glass ball that my mom hung in my window when I was a little girl so that when the light hit it, it would make rainbows on my bedroom walls. Now I get to have those rainbows in my kitchen every day!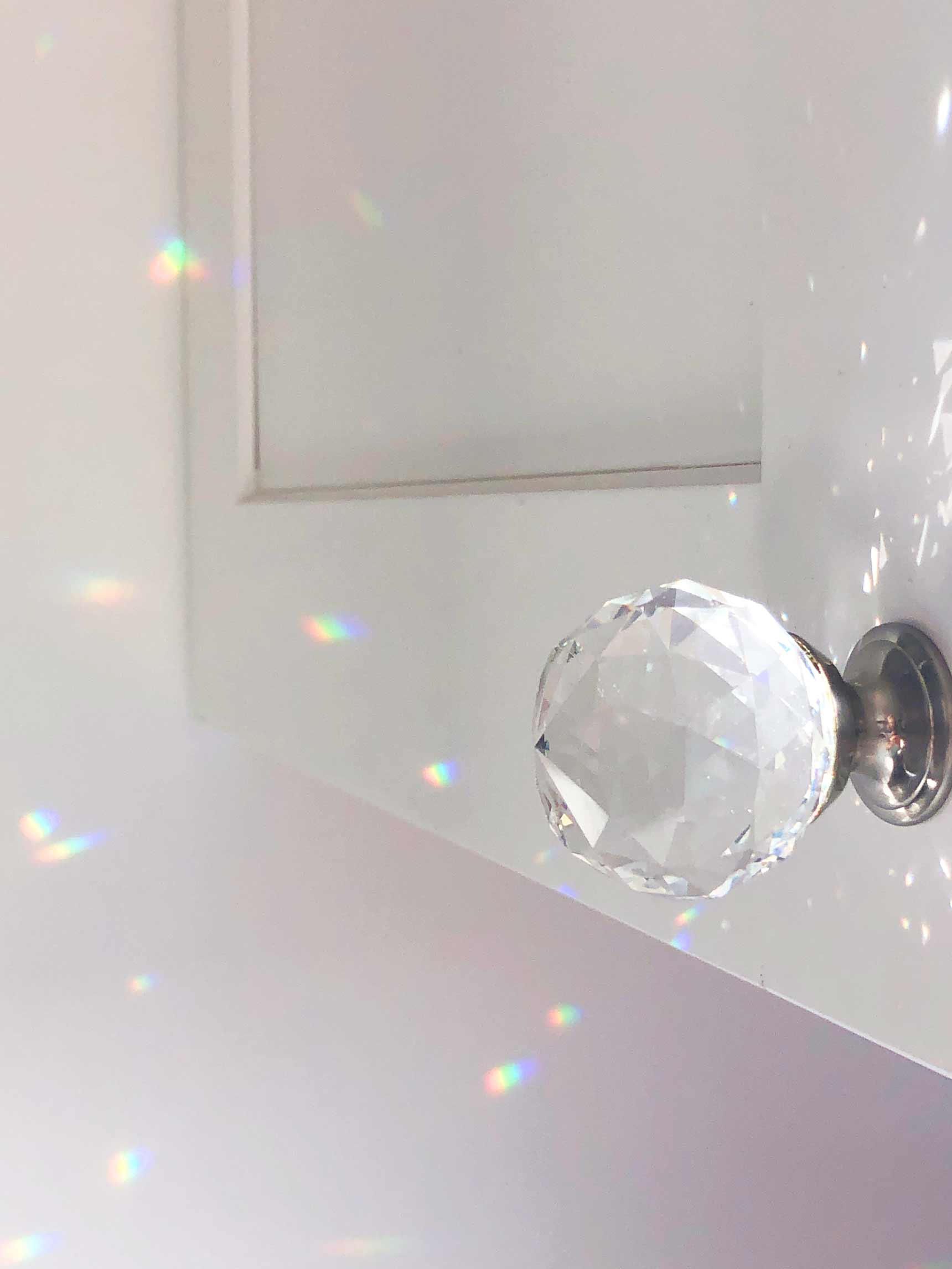 Another finishing touch that I want to add but haven't purchased yet is to line some of the drawers with removable wallpaper. If you don't yet know about removable wallpaper, I think it's kind of like those window cling stickers, where it peels and sticks onto a surface like a sticker (kind of like that contact paper from the 80s) but it comes off way easier. I made this list of ones that I like on my etsy page, but I can't afford to buy it for every drawer so I need to figure out which drawers need protecting the most and just buy it for those.
☆☆☆☆☆☆☆☆☆☆
Please note that this blog post contains affiliate links, which means that if you order a product using one of my links, I receive a small commission. This commission helps me cover my blogging expenses so I can continue to create content for you. That being said, I would never recommend something I wouldn't purchase myself.