DIY Vegan Chocolate Chip Cookie Kits
published on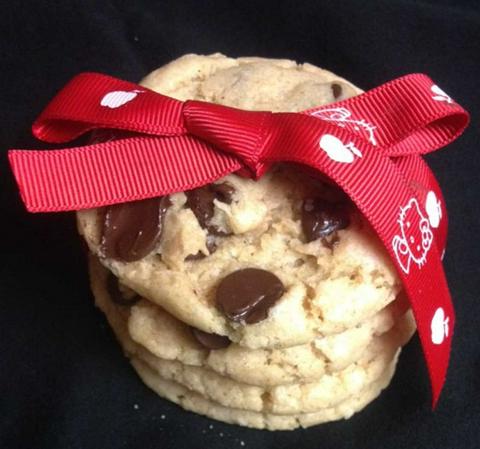 This vegan chocolate chip cookie recipe is a prefect gift for the person who has everything. DIY gift ideas are the perfect way to show someone you care about them enough to have spent time making them something homemade. This gift is good for any holiday: birthdays, christmas, solstice, veganniversary, etc. Friends and family will appreciate a personal, handmade gift from you that's not only useful, but it also fits perfectly into a small flat rate shipping box.
I'm making these kits for some of my coworkers (the ones who don't have kids are getting these and the ones that do have kids are getting cookie decorating kits based on my sugar cookie recipe). This entire kit should fit inside of a small USPS flat rate box, so if you have friends and family you plan to mail gifts to, this is one that will keep your postage costs down.
Only one of the recipients of the 5 kits I made is vegan, but luckily, this gift is perfect for muggles because nobody would ever guess that these chocolate chip cookies are vegan. They're THAT good.
If you're making these kits for more than 1 or 2 people, I recommended doing some math and mixing everything together in the biggest bowl you have and then weighing it and dividing it out using a kitchen scale (or if you don't have a scale, you can use measuring cups). I used a kitchen scale for my 5 kits, and it went so quick (although my biggest bowl wasn't really big enough for 5 kits, so when I say quick, I'm not counting the time it took me to spill on the counter and then clean up that spill and then pour half into another large bowl…you get the idea…maybe only make 4 kits at a time).
Since my family celebrates winter solstice instead of Christmas, it means we gift handmade gifts for the holidays, rather than store-bought items (yes, my parents are buddhist hippies).
If you enjoy making handmade edible gifts for your loved ones, you might like the vegan macaroni and cheese kits I made last solstice. You might also like my pumpkin muffin mix baskets.
This vegan chocolate chip cookie recipe is a modified version of my chocolate chip sprinkle cookies.
Step 1: Mix the Dry Ingredients
Sift and whisk together the following ingredients (but not the chocolate chips) in a large bowl. If you're making more than one kit, simply double, triple, or quadruple the ingredients.
2 cups (270g) flour (I buy organic unbleached all-purpose flour)

1 teaspoon (4g) baking powder (I buy non-aluminum)

¾ teaspoon (5g) baking soda

¼ teaspoon (2g) salt

1 cup (230g) raw, vegan, or organic sugar*

1 ¼ cups (180g) chocolate chips (if you use mini chocolate chips, use only 1 cup)
Step 2: Divide up the Dry Ingredients
If you're making more than one kit, you want to weigh or measure your total dry ingredients, either using a kitchen scale or measuring cups. First find out how much of the dry ingredients you have, and then divide that by the number of kits you're making. I used ziplock baggies for my ingredients, but you can use anything you'd like. Just make sure it won't spill out of whatever vessel you select. If you're mailing them, I suggest using baggies because it helps everything fit nicely into the cheapest mailing box. You can either get cute baggies at stores like Daiso or you can get environmentally-friendly compostable ziplock baggies and feel better about your ecological footprint.
Step 3: The Chocolate Chips
Measure out your chocolate chips next using a kitchen scale or measuring cups. Each kit should get 1 ¼ cups vegan chocolate chips in a baggy. If you use mini chocolate chips, use only 1 cup.
If you think your recipient might like funfetti cookies like these, then add ¼ cup of sprinkles to the baggy of chocolate chips.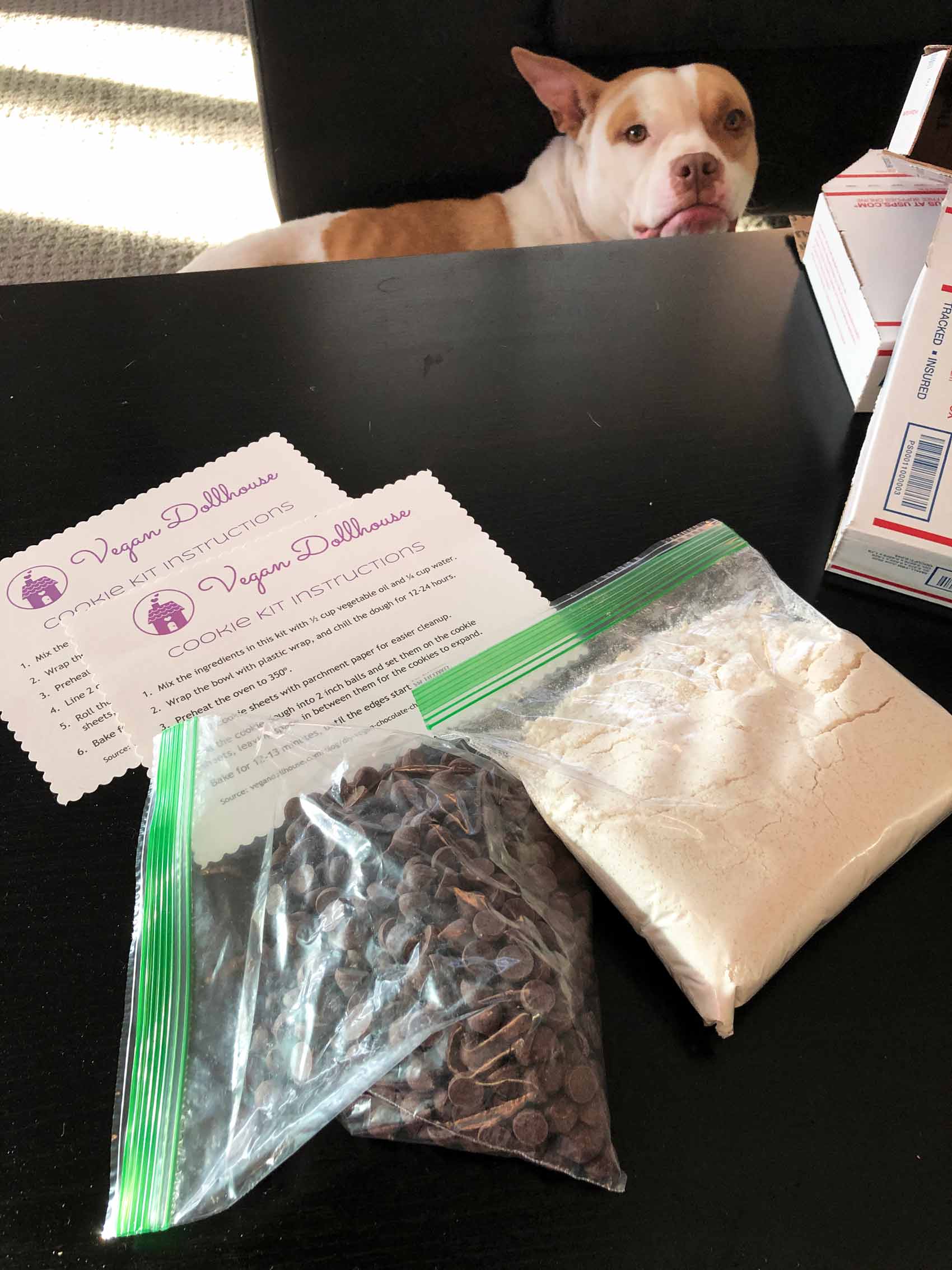 Step 4: The Instructions
Write or type out the following instructions to accompany the vegan chocolate chip cookie kits. If you want, you can print out these instructions that I included in my kits. I also wrote a personalized note reminding people that it's perfectly acceptable for a grown up to just eat cookie dough straight from a bowl with a spoon.
Cookie Kit Instructions: Mix the ingredients in this kit with ½ cup vegetable oil and ¼ cup water. Chill the dough (covered) for up to a week if you don't bake it all. Preheat the oven to 350º. Line 2 cookie sheets with parchment paper for easier cleanup. Roll 1-2 inch balls of cookie dough and set them on the cookie sheets, leaving space in between them for the cookies to expand. Bake for 10-14 minutes (depending on the size).
If you're mailing yours, I recommend using a small flat rate box since these ingredients are heavy. This is how everything fits so nicely into the box.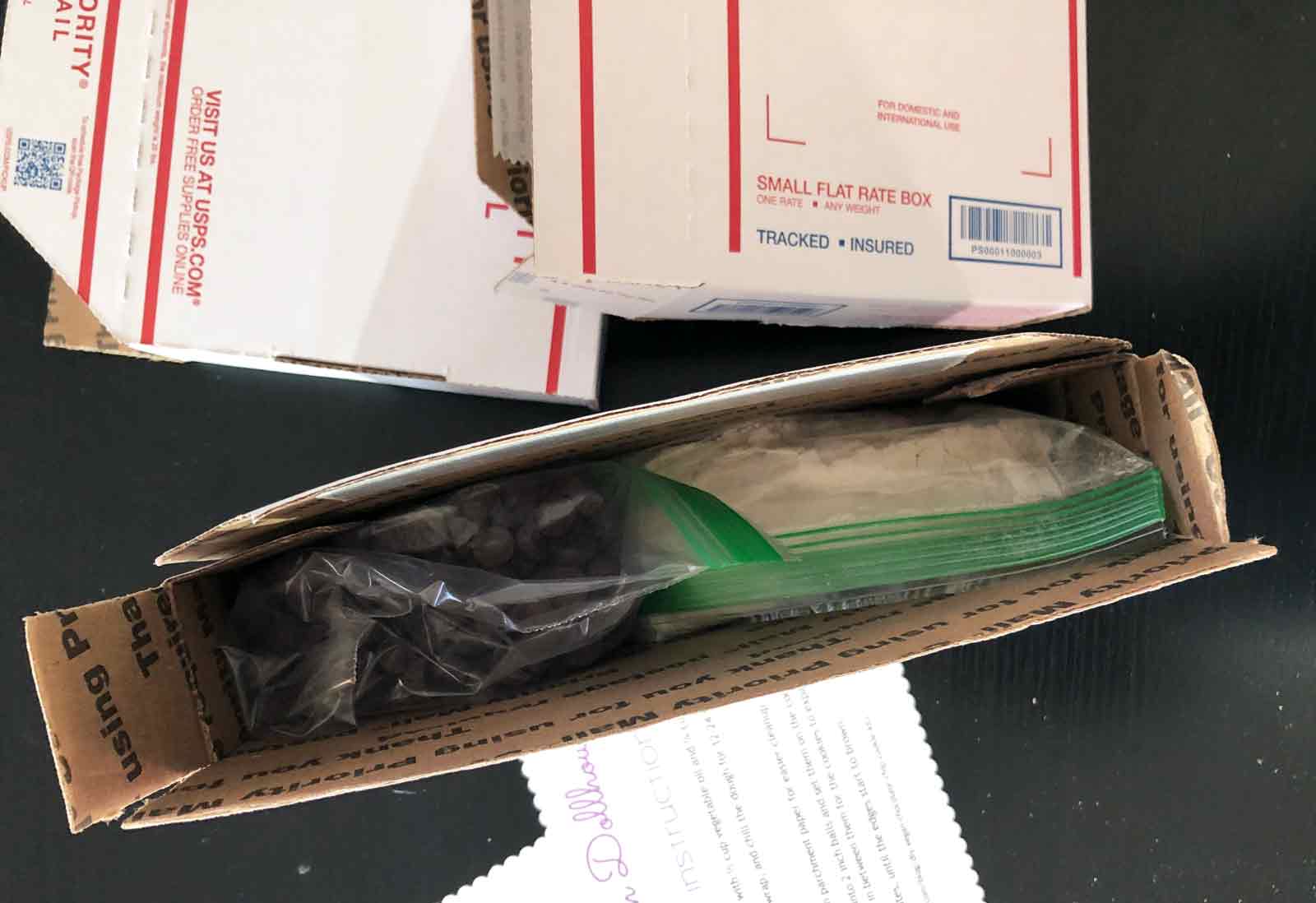 ☆☆☆☆☆☆☆☆☆☆
* I use mostly organic ingredients when I cook, but I realize that not everyone has the disposable income to purchase all organic ingredients. Therefore, I only specify organic on the ingredients that really matter - when buying the organic version is the only way to ensure that the item is vegan.