Funfetti Chocolate Chip Cookies
published on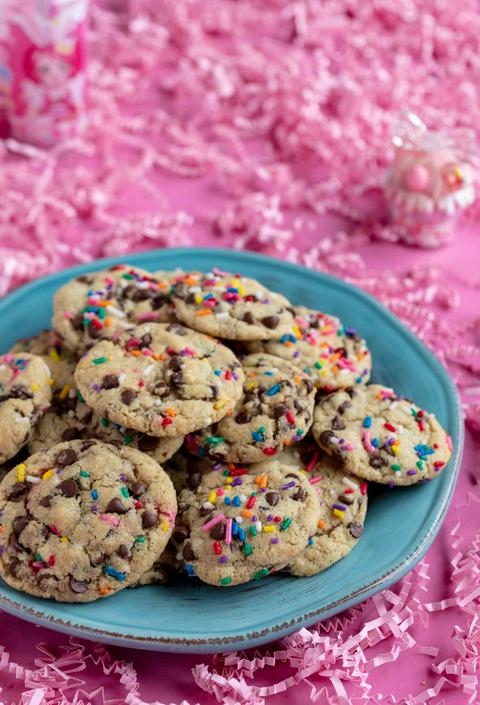 ♫ Listening to: Get To Know You by Tomo Nakayama ♫
These vegan chocolate chip cookies with sprinkles make a nice gift for any holiday: birthdays, christmas, solstice, veganniversary, etc. They're also easy and fast to make so you can just make them on a weeknight after work.
I make these cookies for muggles (non-vegans) all the time and everyone loves them. If you don't have sprinkles and you don't have time to buy any, this recipe is perfect if you omit the sprinkles too. If you want to mail someone a nice vegan gift, I recommend sending them a kit so they can make these themselves.
You can make these with normal sized vegan chocolate chips or if you plan to make small cookies, Pascha makes some really yummy mini vegan chocolate chips. I've used both, but for the ones pictured here, I used minis. Also, if the cookies are smaller, they bake faster and you can eat more. I'm fairly certain I ate 14 in one day, so I can vouch that 14/day is a serving.
This recipe makes 30-36 small cookies or 18-20 large cookies.
Vegan Chocolate Chip Sprinkle Cookies Ingredients
2 cups (240g) flour (I buy organic unbleached all-purpose flour)

1 teaspoon (4g) baking powder (I buy non-aluminum)

¾ teaspoon (4-5g) baking soda

¼ teaspoon (1-2g) salt

1 cup (215g) raw or organic sugar*

1 ¼ cups (200g) chocolate chips (if you use mini chocolate chips, use only 1 cup, or 180g)

½ cup (90g) vegan rainbow jimmies

½ cup (120g) vegetable oil

¼ cup (60g) water
Vegan Chocolate Chip Sprinkle Cookies Directions
Dollhouse Shortcut
You can make the cookie dough and save it in the fridge for up 3 days or in the freezer for up to 3 weeks until you're ready to bake it. You can also just eat it by the spoonful.
Sift and whisk together the following ingredients in a large bowl: 2 cups (240g) flour, 1 teaspoon (4g) baking powder, ¾ teaspoon (4-5g) baking soda, ¼ teaspoon (1-2g) salt, and 1 cup (215g) sugar.
Add 1 ¼ cups (200g) vegan chocolate chips and mix in. If you use mini chocolate chips, use only 1 cup (180g).
Add ¼ cup (45g) vegan rainbow jimmies and mix in.
Add ½ cup (120g) vegetable oil and ¼ cup (60g) water.
Mix until you can no longer see any dry ingredients.
Eat cookie dough with a spoon OR eat some of it and cover the rest to leave in your fridge until you're ready to bake cookies. (This cookie dough will stay good in the fridge for at least a week, but sometimes mine has lasted 2-3 weeks.) Or, you can bake some or all of your cookies right away.
Preheat the oven to 350º.
Line 2 cookie sheets with parchment paper for easier cleanup or use a baking stone if you have one.
Spread the rest of the sprinkles in a thin layer on a plate or just pour them in a small bowl.
Roll a scoop of cookie dough into a ball and roll the ball in the sprinkles.
Set cookie dough balls on the cookie sheets or baking stones, leaving space in between them for the cookies to expand.
Repeat until the cookie sheets are filled.
Bake at 350º for 10-14 minutes. The length of time you bake them depends on how soft/crispy you like your cookies and how big you made your cookie dough balls. If you use a number 100 (2 teaspoon) scoop like I did with the cookies pictured here, you should only bake them for 10 minutes.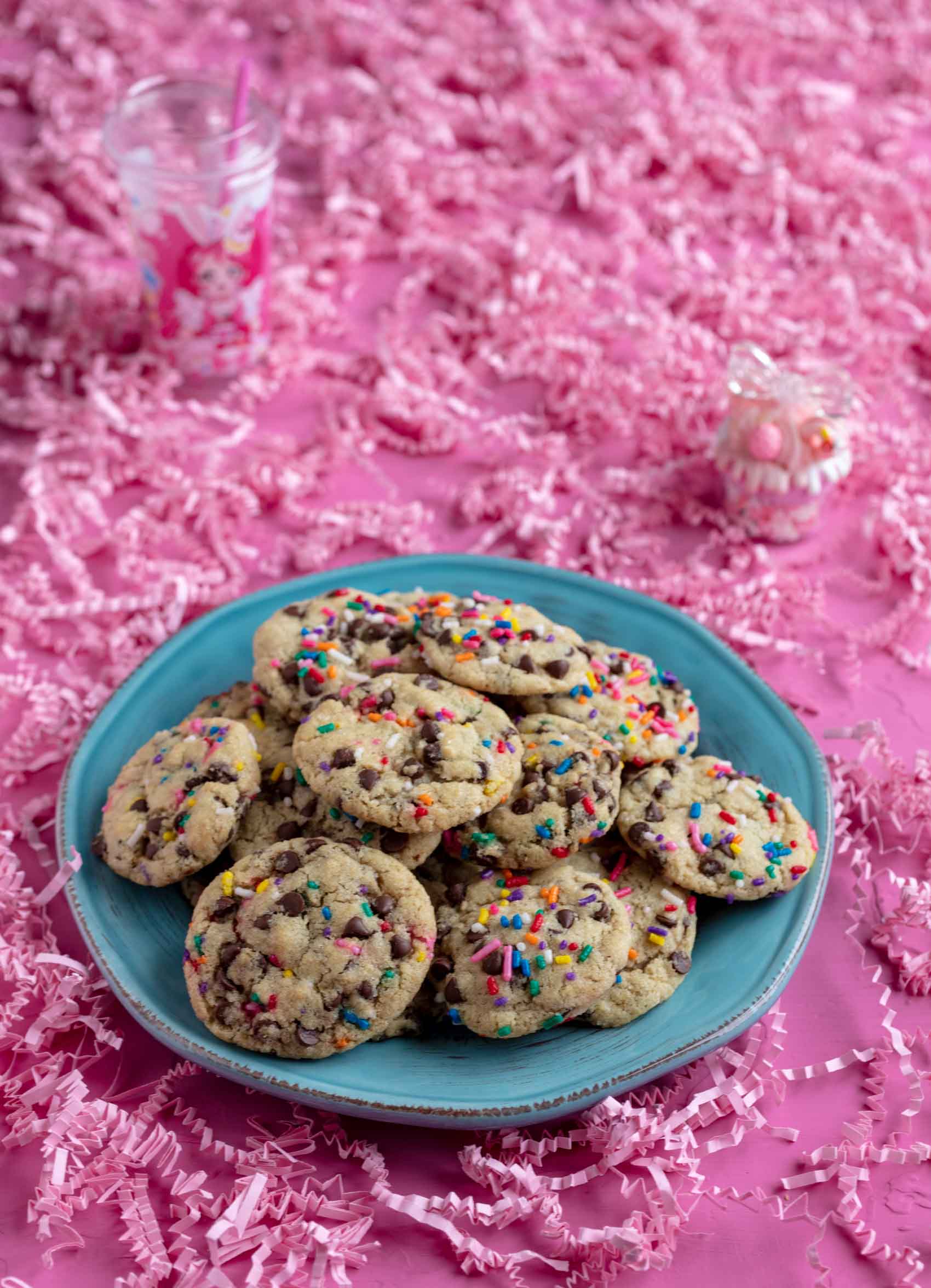 How to Convert these into Vegan Pumpkin Spice Chocolate Chip Cookies
Simply add 1 tablespoon (6g) of pumpkin pie spice when you measure the dry ingredients to make these cookies into a seasonal festive fall-themed cookie recipe.
If you like baking cookies, you might also like my cookie lollipops and my vegan version of those mother's pink and white circus animal cookies.
☆☆☆☆☆☆☆☆☆☆
* I use mostly organic ingredients when I cook, but I realize that not everyone has the disposable income to purchase all organic ingredients. Therefore, I only specify organic on the ingredients that really matter - when buying the organic version is the only way to ensure that the item is vegan.
This post may contain affiliate links. Read more about them in my privacy policy.
☆☆☆☆☆☆☆☆☆☆