QkMuffin Breakfast Sandwich
published on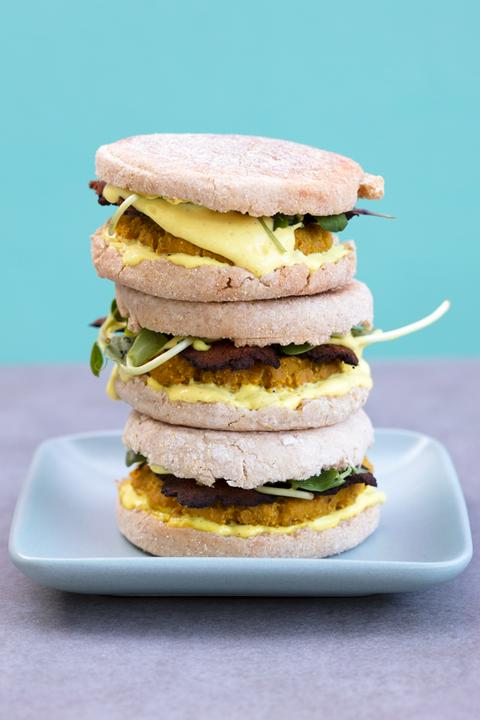 The first time I ever had a vegan breakfast sandwich was at Farmhouse Conf 2. I already knew I loved Shane from the moment I met him, but when I attended a conference at his house that was catered with 3 vegan meals plus snacks, Tonx coffee, and drinks, it sealed the friendship.
The second time I had a breakfast sandwich was just a couple of weeks ago at Timeless Coffee. While I was eating it, I decided that I would attempt to make breakfast sandwiches at home sometime. Today is sometime.
Whether you have already had 2 really amazing vegan breakfast sandwich experiences, or none (or 3,785), these are super crazy easy to make, and I think you should make them for someone you like very soon.
Grocery list:
Rudi's English Muffins (you can use any english muffins, but I try to buy organic whenever possible)
Kite Hill chive cream cheese (you can use vegan butter if you don't like cream cheese)
Upton's seitan bacon (you can substitute with any vegan bacon - I like the tempeh one that Turtle Island makes)
Extra firm tofu
Follow Your Heart cheddar shreds
vegan sausage (Years ago, Lightlife was the only brand of vegan breakfast sausage, but now there are like 9 brands!)
Step 1: Toast the english muffin and spread cream cheese on both halves.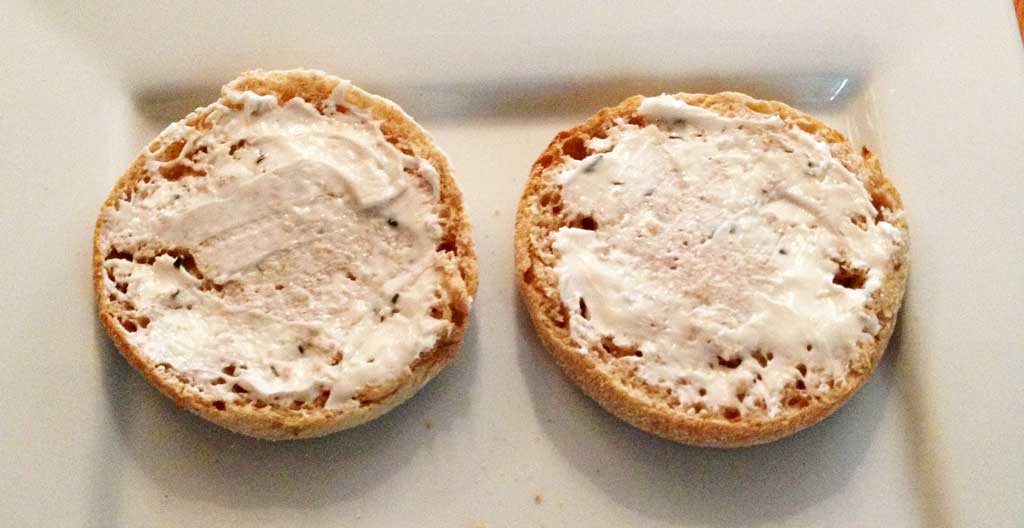 Step 2: Add 2-3 strips of cooked vegan bacon. I've tried making the Upton's bacon in both a pan and the oven, and I didn't notice much difference either way.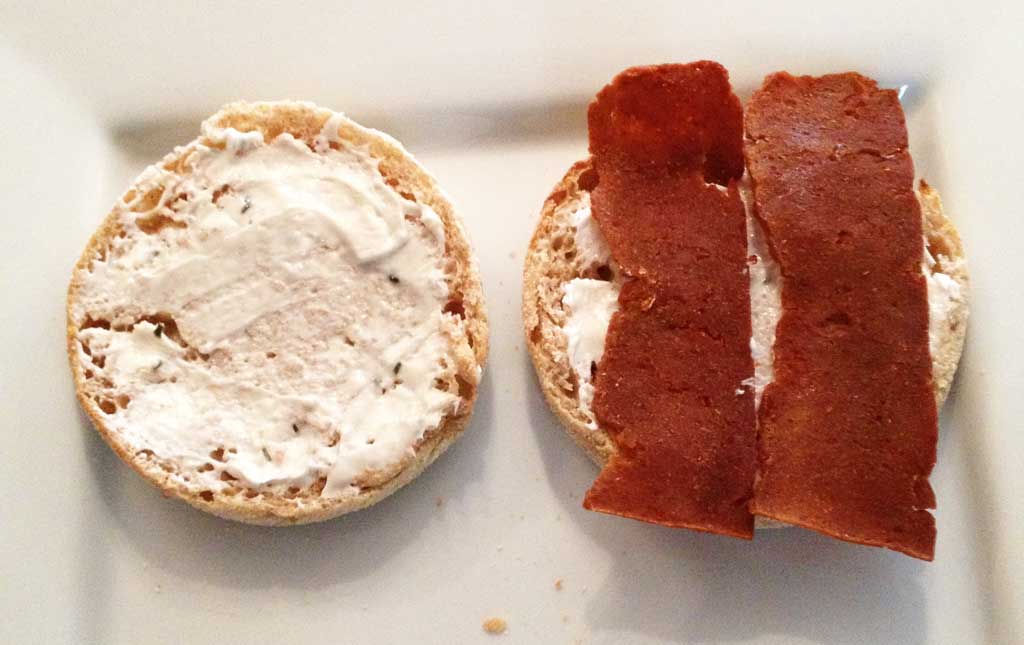 Step 3: Add a tofu patty. I made these by squeezing the water out of a block of tofu and blending the tofu with a bunch of spices (cumin, turmeric, nutritional yeast, salt, pepper, garlic powder). Then spoon the blended tofu into a mold (cookie cutter) of some sort that you set onto a baking stone or cookie sheet. When you lift the cookie cutter, the tofu will hold its shape. You can also just make dollops and flatten them to around a half an inch in thickness. I baked these tofu patties at 350º for 20 minutes, then sprinkled cheese on top and broiled until the cheese melted.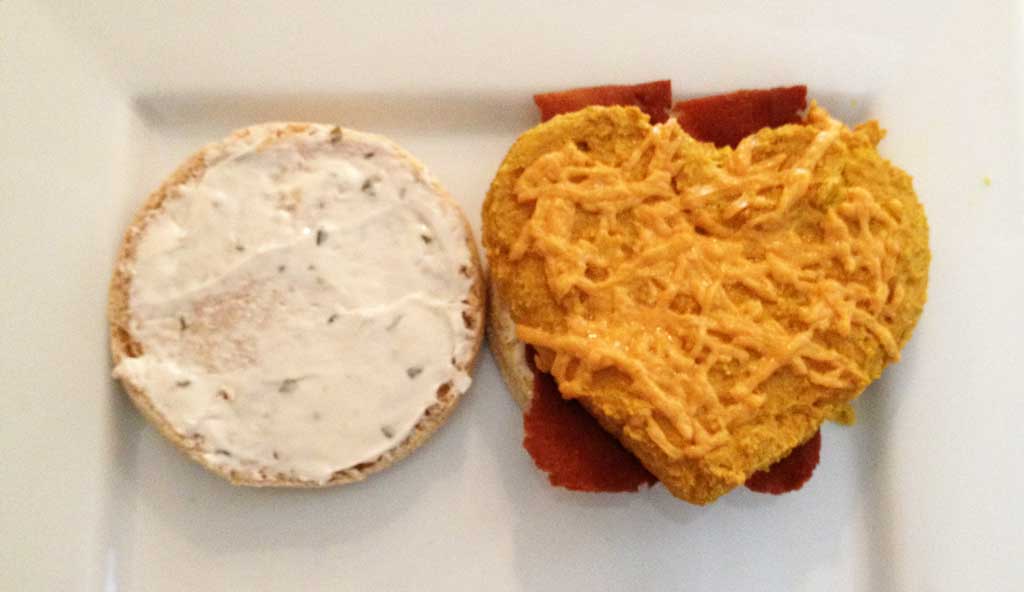 Step 4: Add cooked sausage.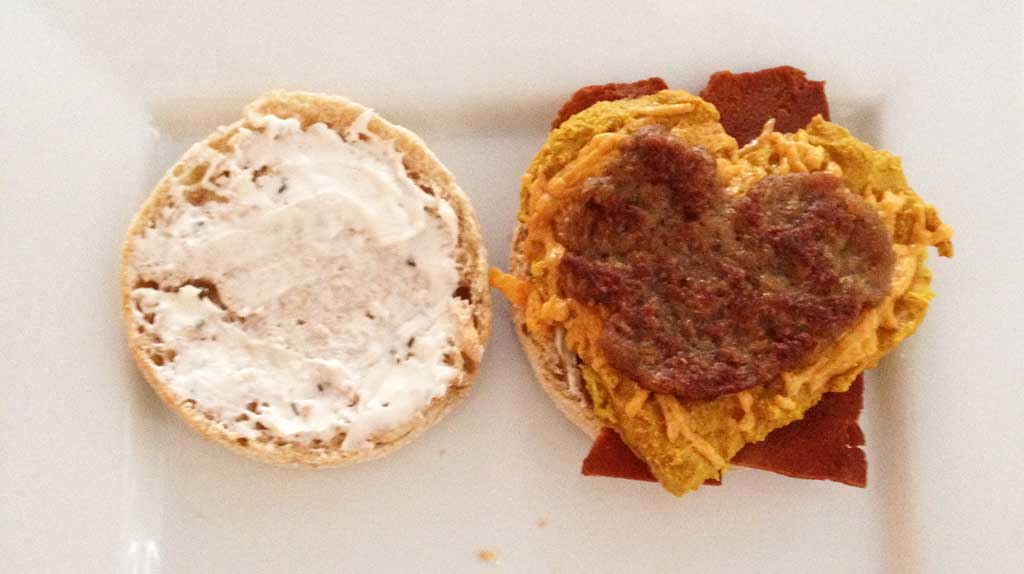 You can also add hollandaise sauce if you happen to have some on hand.
You can also use my air fryer omelettes for your breakfast sandwiches.