Vegan Air Fryer Omelettes
published on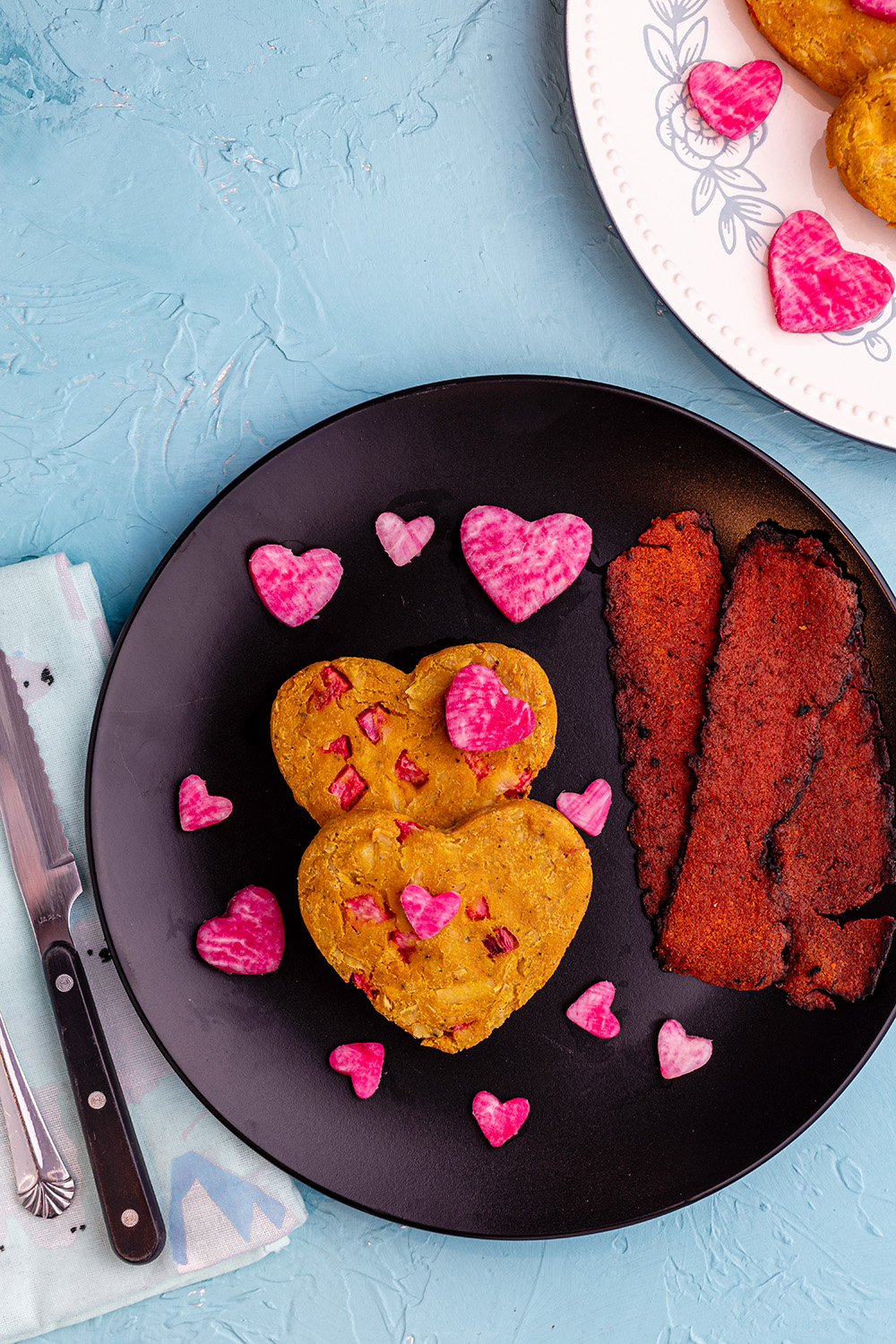 ♫ Listening to: Forgotten Love by AURORA ♫
I haven't really made omelettes since going vegan because tofu scramble is just easier and faster. However, as an air fryer owner, I have to use it as much as possible to justify the amount of space it takes up (I got the biggest one like a dum dum).
This recipe makes 6 mini 3-4" heart-shaped omelettes. You can reheat the leftovers in your toaster oven or your air fryer.
Vegan Air Fryer Omelette Ingredients
half a block of organic tofu (I use the high-protein kind)
¼ cup fava chickpea flour (or sub any bean flour)
¼ teaspoon salt
½ teaspoon turmeric
½ teaspoon cumin
¼ teaspoon pepper
¼ teaspoon onion powder
¼ teaspoon garlic powder
¼ teaspoon basil
3 tablespoons nutritional yeast
1 tablespoon braggs
1 tablespoon water
½ cup finely chopped veggies (I've used kale, chard, spinach, dried mushrooms, and watermelon radish, and all tasted delicious)
½ cup grated vegan cheese (I used half a package of violife's mediterranean cheese)
Vegan Air Fryer Omelette Directions
Prep time: 15 minutes; Cooking time: 16 minutes
Dollhouse Shortcut
If you don't have an air fryer, bake these in the oven for 30 minutes, flipping them over after 15 minutes.
Blend all the ingredients, except the veggies and cheese in a food processor or blender.
Transfer the batter from the blender to a bowl and mix in the veggies and cheese. I use my hands to mix it because it's easier.
Coat the bottom of the air fryer basket with oil (I use an oil sprayer ). (Skip this step if you avoid oil.)
Set some parchment paper on your counter. Set a cookie cutter of your choosing on top of the parchment paper . I used a heart-shaped cookie cutter .
Press 1/6 of the batter into the cookie cutter. Then lift the cookie cutter and set on another part of the parchment paper .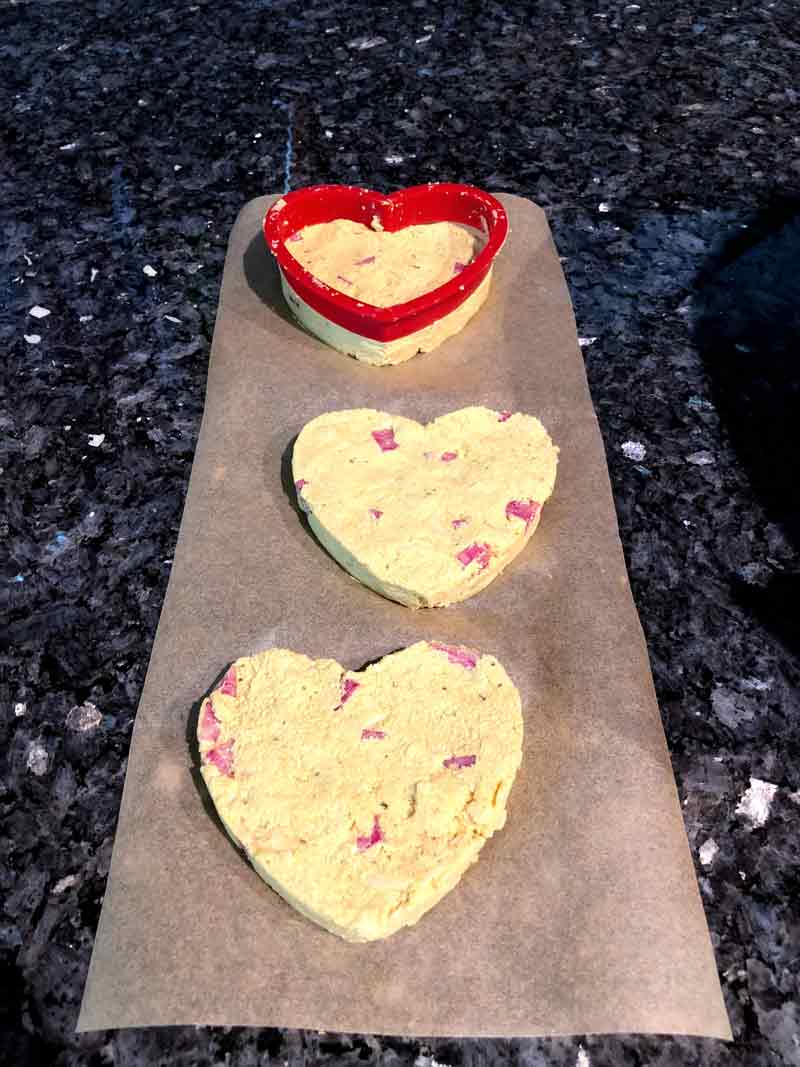 Repeat with the rest of the batter until you have around 6 shapes.
Place 3 or 4 of your omelettes into the bottom of your air fryer basket. Spray the tops of your omelettes with oil. (Skip if you avoid oil.)
Cook at 370° for 5 minutes, flip, and cook for 4 more minutes. Then repeat with the remaining omelettes.
Serve with sriracha mayo or any dipping sauce you like. Or use them in a breakfast sandwich on buns or bagels or english muffins.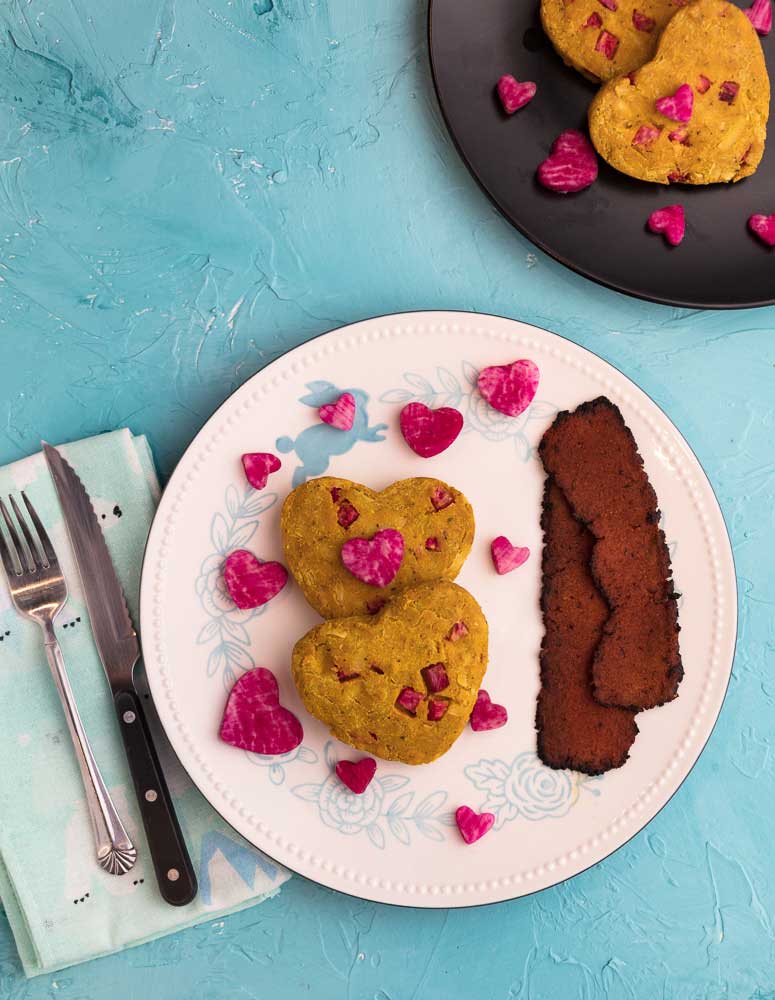 Air Fryer Omelettes Video
Here's a video of me making air fryer omelettes.
If you also like heart-shaped vegan food, try these hashbrown waffles, pizza waffles, or radish wands.
☆☆☆☆☆☆☆☆☆☆
* I use mostly organic ingredients when I cook, but I realize that not everyone has the disposable income to purchase all organic ingredients. Therefore, I only specify organic on the ingredients that really matter - when buying the organic version is the only way to ensure that the item is vegan.