Vegan Air Fryer Omelets
published on , modified on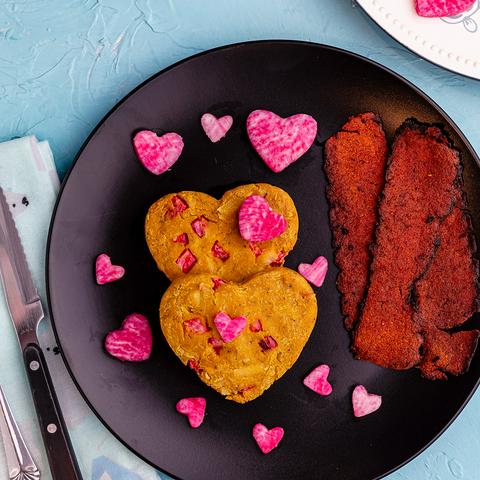 These vegan, gluten-free, oil-free omelets are made in your air fryer and can be made into any shape you like. They're a cuter way to serve tofu scramble for breakfast.
This recipe makes 6 mini 3-4" heart-shaped omelets.
Table of Contents
(click the links below to skip to the section you're looking for)
♫ Listening to ♫
Forgotten Love by AURORA
I haven't really made omelettes since going vegan because tofu scramble is just easier and faster. However, as an air fryer owner, I have to use it as much as possible to justify the amount of space it takes up (I got the biggest one like a dum dum).
(jump to the substitutions section to see ingredient details and suggestions for substitutions)
half a package of extra-firm organic tofu

¼ cup fava chickpea flour

¼ teaspoon salt

½ teaspoon turmeric

½ teaspoon cumin

¼ teaspoon pepper

¼ teaspoon onion powder

¼ teaspoon garlic powder

¼ teaspoon basil

3 tablespoons nutritional yeast

1 tablespoon braggs

1 tablespoon water

½ cup finely chopped veggies

½ cup grated vegan cheese
Prep time: 15 minutes | Cooking time: 16 minutes
Dollhouse Shortcut
If you don't have an air fryer, bake these in the oven for 30 minutes, flipping them over after 15 minutes.
Blend all the ingredients, except the veggies and cheese in a food processor or blender.
Transfer the batter from the blender to a bowl and mix in the veggies and cheese. I use my hands to mix it because it's easier.
Coat the bottom of the air fryer basket with oil (I use an oil sprayer ). (Skip this step if you avoid oil.)
Set some parchment paper on your counter. Set a cookie cutter of your choosing on top of the parchment paper . I used a heart-shaped cookie cutter .
Press 1/6 of the batter into the cookie cutter. Then lift the cookie cutter and set on another part of the parchment paper .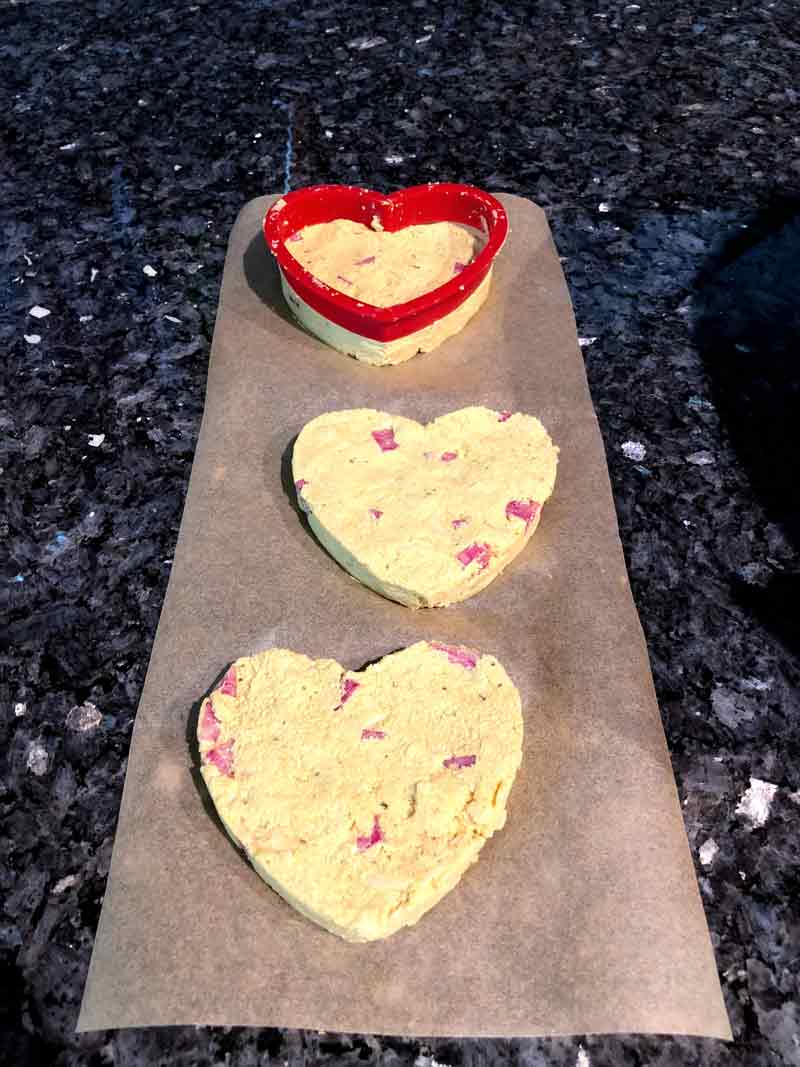 Repeat with the rest of the batter until you have around 6 shapes.
Place 3 or 4 of your omelettes into the bottom of your air fryer basket. Spray the tops of your omelettes with oil. (Skip if you avoid oil.)
Cook at 370° for 5 minutes, flip, and cook for 4 more minutes. Then repeat with the remaining omelettes.
Serve with sriracha mayo or any dipping sauce you like. Or use them in a breakfast sandwich on buns or bagels or english muffins. You can reheat the leftovers in your toaster oven or your air fryer.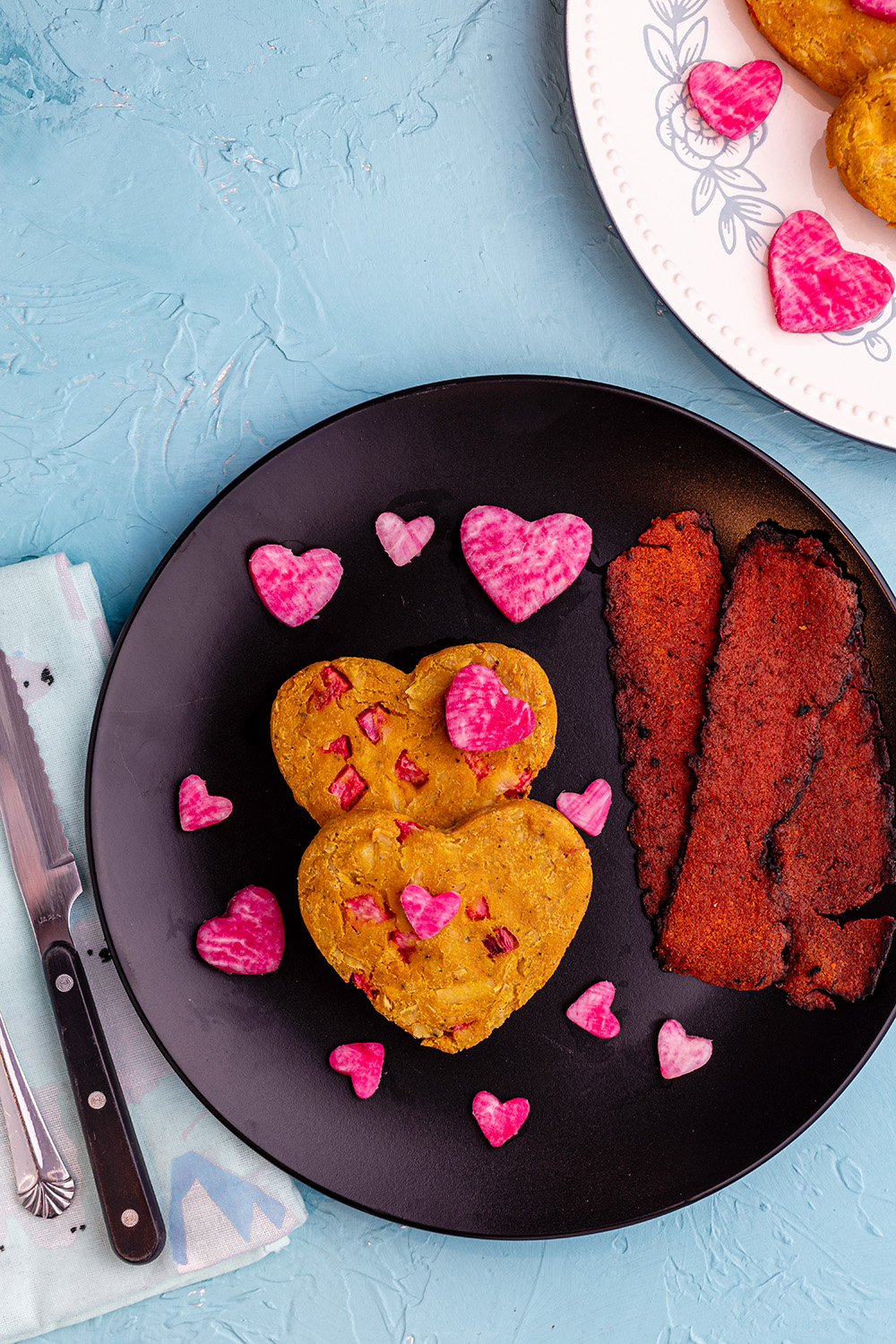 How can I convert this recipe into an oven baked omelet recipe?
To make these tofu omelets in the oven (instead of the air fryer), bake them at 375ºF for 30 minutes, flipping them over halfway through the baking time.
Can I freeze omelets?
You can freeze these omelets. Cook them completely, transfer them to an airtight container (or ziplock freezer bag), and freeze them for up to 6 months. If you like to batch cook, you can double or even quadruple this recipe, so you'll have breakfasts for a week or 2.
Can you reheats omelettes?
Reheating omelettes is easy. If you remember to transfer the ones you'll want for breakfast to the fridge the night before, they will take less time to reheat in the morning. If you don't remember to defrost the frozen omelets first, increase the time you air fry them.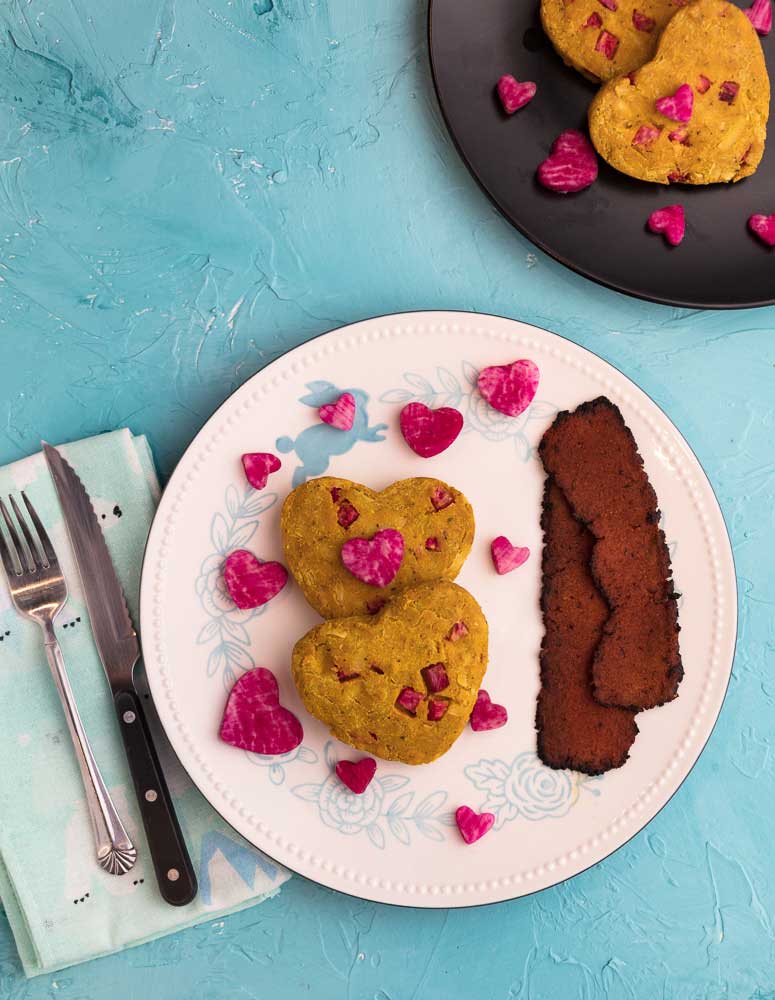 Tofu: I recommend using the high-protein kind of tofu because you don't have to squeeze the extra liquid out of it. Sprouts and Trader Joe's stores both sell their own brand of high-protein tofu. Wildwood also makes one that is sold at other stores. If you only have regular extra firm tofu, you'll just want to squeeze all the moisture out of it before starting. I do this by wrapping the block of tofu in a tea towel and just squeezing it over the sink. It's kind of like the process you use when making almond milk, except that you're discarding the liquid, rather than saving it. Whatever variety of tofu you use, make sure it's organic or non-GMO.
Fava Chickpea Flour: If you don't care about these omelts being gluten-free or high in protein, you can replace the fava chickpea flour with any flour you have.
Veggies: For the veggies in this omelet recipe, you can use any number of veggies, as long as they don't have a high water content. I've used kale, chard, spinach, dired mushrooms, and watermelon radishes.
Vegan Cheese: You can use any brand of vegan cheese you prefer. My favorite is Violife. You can also omit the cheese altogether if you want this to taste more like air fryer tofu scramble and less like an air fryer omelet.
Spices: All of the spices I recommend in this recipe are optional. Feel free to play around with your favorite spices, making this into your own unique air fryer omelet recipe.
Here's a video of me making air fryer omelettes.
If you also like heart-shaped vegan food, try these hashbrown waffles, pizza waffles, or radish wands.
Comments or Questions?
If you make this recipe, snap a pic, post to instagram, and tag me @vegandollhouse. I love to see your creations! You can also message me through instagram or email me if you have any questions about the recipe.
☆☆☆☆☆☆☆☆☆☆
* I use mostly organic ingredients when I cook. I realize that not everyone has the disposable income to buy only organic ingredients. So, I only specify organic on the ingredients that matter: when buying the organic (or non-GMO) version is the only way to ensure that an item is vegan.
This post links to items I used when I made this recipe. If you click on the purple Buy Now button on a product page, you will go to a website (like Amazon) where you can buy the same product I used. Sometimes, the store you purchase from (Amazon, Etsy, etc.) will pay me for referring you. This costs you nothing extra, and I would never recommend a product that I don't use. These affiliate programs help me buy the ingredients to create these recipes for you. Read more about this in my privacy policy.
☆☆☆☆☆☆☆☆☆☆