Vegan Gingerbread Carousel
published on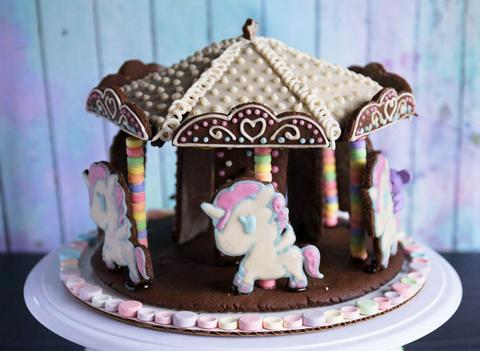 ♫ Listening to: Carousel by Melanie Martinez ♫
Do you love making vegan gingerbread houses as much as I do? A couple of years ago, we made mini ones that sat on the rim of our cocoa mugs. That was the highlight of my vegan gingerbread house career up until that point. I didn't think it could ever be topped. Until Jessica asked me if I wanted to make a pastel gingerbread carousel this year!!! I even practiced my cookie skills a week before carousel weekend with these unicorn cookies. Before I get into the details of how to make one of these vegan gingerbread carousels, I must first give you a few warnings/tidbits of advice.
Plan for this activity to take an entire weekend.
Cancel all of your plans for the entire weekend (including preparing your own meals, showering, and checking your texts/snapchats).
Invite as many friends as you can think of who love you enough to sacrifice their weekends in order to help. (Feel free to bribe them with pizza waffles and mulled wine if necessary.)
Vegan Gingerbread Ingredients
Dollhouse Shortcut
If you have pumpkin pie spice, you can use 2 teaspoons of that instead of the cinnamon, cloves, nutmeg, and ginger.
1 teaspoon (4g) ground flax seeds
2 tablespoons (30mL/30g/1oz) water
3 cups (390g) unbleached, all-purpose flour
1 teaspoon (6g) baking soda
½ cup (118g) organic or raw sugar*
1 teaspoon (3g) cinnamon
½ teaspoon (1g) ground ginger
¼ teaspoon (1g) cloves
¼ teaspoon (.5g) nutmeg
⅔ cup (216g) molasses
¼ cup (54g) vegan butter or margarine (if you avoid soy, buy the soy-free earth balance; otherwise buy the organic whipped earth balance)*
¼ cup (48g) organic palm shortening*
Vegan Gingerbread Directions
Whisk 1 teaspoon (4g) ground flaxseed with 2 tablespoons (30mL/30g/1oz) of water in a small bowl. Set aside.
Whisk together ½ cup (118g) sugar, 3 cups (390g) flour, 1 teaspoon (6g) baking soda, 1 teaspoon (3g) cinnamon, ½ teaspoon (1g) ginger, ¼ teaspoon (1g) cloves, and ¼ teaspoon (½g) nutmeg.
Mix ¼ cup (48g) shortening, ⅔ cup (216g) molasses, ¼ cup (54g) vegan butter, and the flax egg replacer you made earlier using a stand mixer fitted with the paddle attachment (if you have one). If you don't have a stand mixer, you'll have to mix it by hand, so prepare for a workout, and make sure you choose a strong stirring utensil, so you don't snap your spatula in half like I did.
Add the dry ingredients to the mixing bowl and mix with the wet ingredients.
Scrape the sides (and bottom) with a spatula, and remix.
Transfer the dough to a plastic bag or wrao it in cling wrap, and chill it for at least an hour. (While you wait, you can work on the templates.)
Draw your shapes for the carousel gingerbread pieces onto cardstock (or print these onto cardstock). You can use any cookie cutters you have for the carousel animals.
Remove the dough from the fridge after an hour or more.
Preheat the oven to 350°. Lay parchment paper or silicone rolling mats onto 2 baking sheets (optional).
Roll some of the dough on a well-floured surface (I like to use a rolling mat), with a floured rolling pin to ⅛ - ¼" (3-6mm) thickness. I rolled mine to ⅙" (4mm) because my rolling pin has that thickness.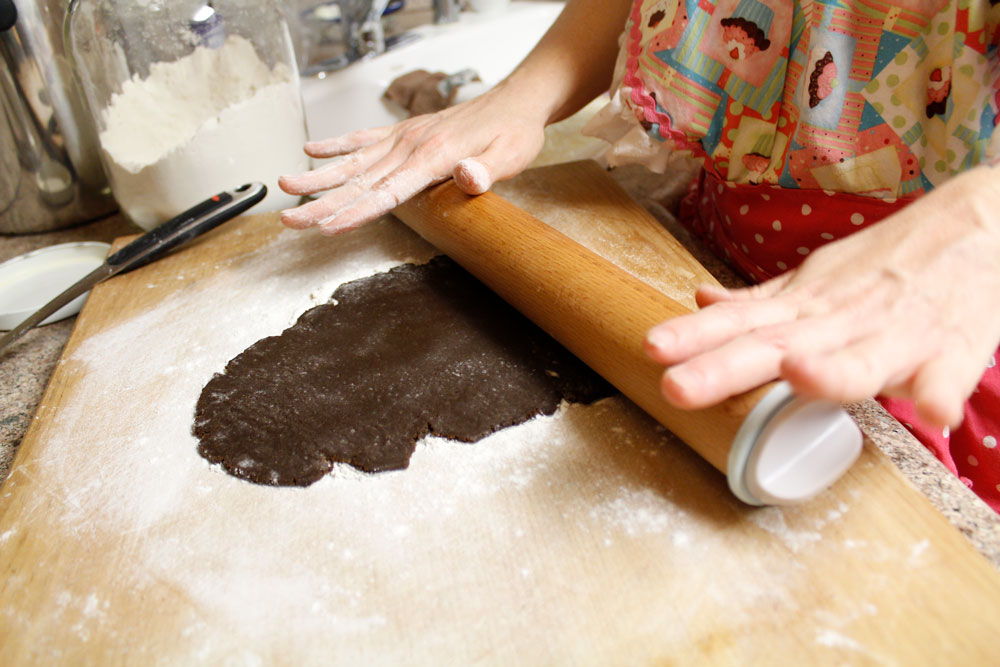 Chill the extra dough you're not using whenever you're not using it by rewrapping it and returning it to the fridge.
Cut out all the shapes, starting with the biggest, by setting the template cardstock pieces onto the gingerbread dough and tracing around them with a knife. Place the pieces on the baking sheets lined with parchment paper.
Tip: When you cut out the large circle base, you should go ahead and roll this one directly onto the parchment paper or else it will be difficult to transfer later.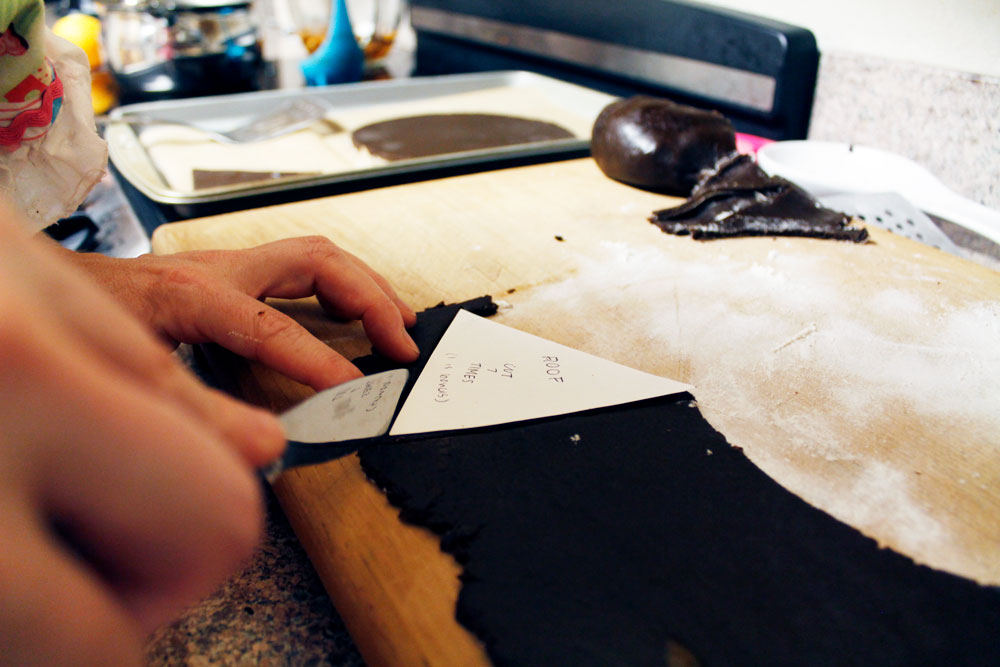 Bake each tray of gingerbread pieces for 10 minutes.
Remove tray from the oven and let sit until gingerbread pieces have cooled.
Repeat until all the pieces have been cut out. If I have extra dough, I cut out additional pieces. This time, I cut out an extra unicorno just in case I didn't like how the decorating looked on one of them. I also had extra leftover which we used to make hello kitty gingerbread cookies.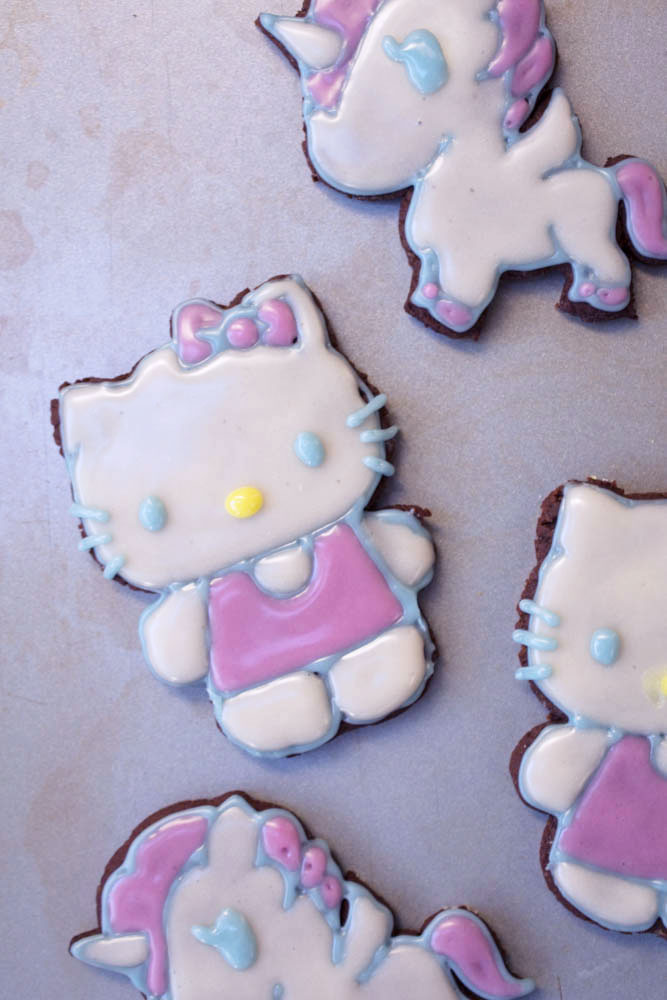 Cool the baked gingerbread completely before decorating.
Vegan Gingerbread Icing Ingredients
4 cups (480g) organic powdered sugar*
5 tablespoons (70g) non-dairy milk
4 tablespoons (80g) organic corn syrup*
½ teaspoon (2g) almond extract (or sub additional non-dairy milk)
a few pinches or drops of vegan food coloring
Vegan Gingerbread Icing Directions
Sift 4 cups (480g) powdered sugar into the bowl of a stand mixer. You can use a handheld electric mixer if you don't have a stand mixer.
Add 3 tablespoons (60g) of the organic light corn syrup and mix using the whisk attachment. Start on a low speed (unless you like the look of yourself covered in powdered sugar) and increase speed as the ingredients start to combine.
Add 3 tablespoons (42g) of the non-dairy milk (teaspoon by teaspoon), mixing constantly, until you get a consistency thin enough to pipe.
Scrape the sides and bottom with a baking spatula, and mix again.
Add a large pinch of blue Color Kitchen natural food coloring to a small bowl (use a spoon instead of pinching with your hands). Add a drop of organic light corn syrup . Mix well until color is fully incorporated. Add a couple of spoons of the thick icing you just made, and mix well. When the color is light enough blue, you can stop adding white icing.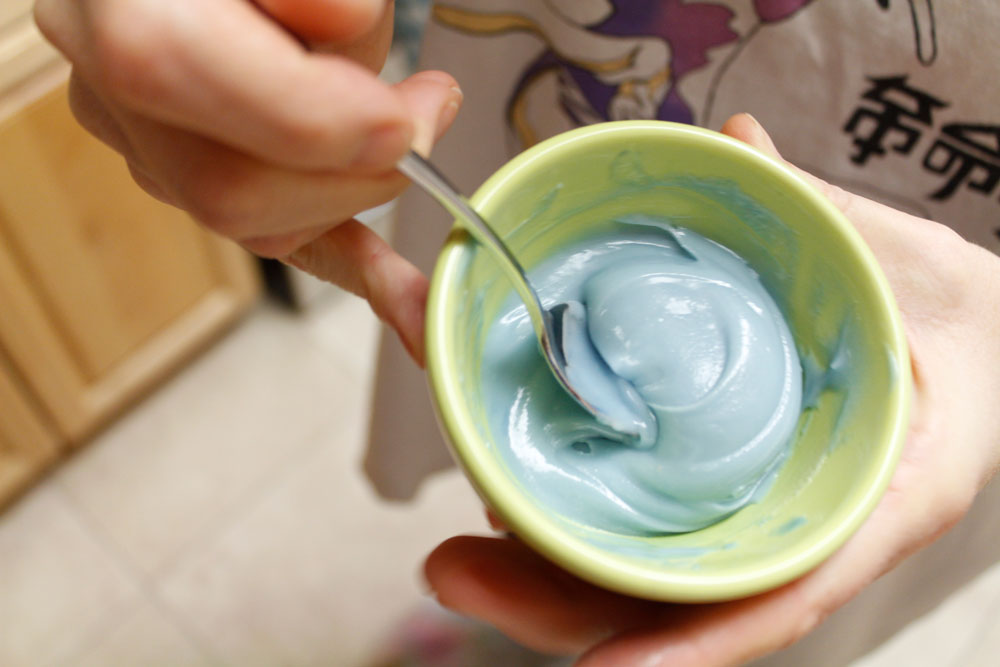 Transfer the light blue icing to a squeeze bottle with a narrow opening at the top or to a piping bag fitted with Wilton small round tip 2 (or a decopen, if you have one).
Trace the outline of all the carousel animals.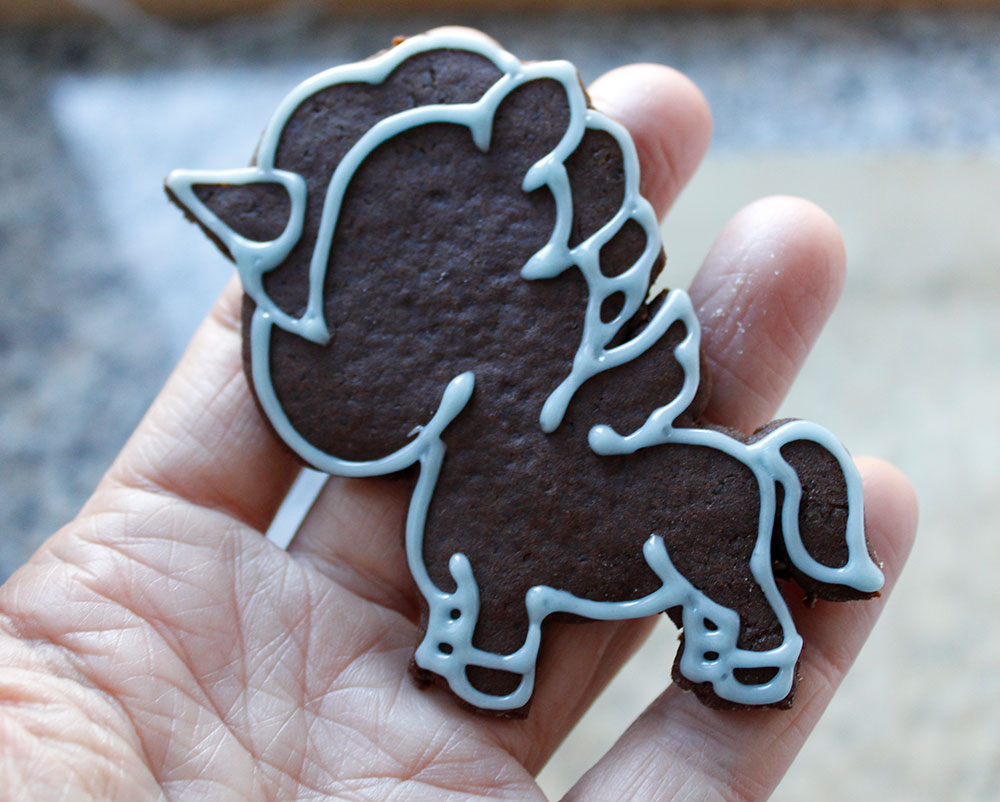 Save any remaining blue icing to decorate the support beams and/or roof trim.
Transfer half of the thick white icing to a clean bowl and set aside.
Add the last tablespoon (20g) of corn syrup to the remaining white icing and mix again.
Add the last 2 tablespoons (28g) of non-dairy milk (teaspoon by teaspoon). You want a thinner consistency for this icing since you'll be using it to fill in the carousel animals and the roof pieces.
Transfer half of the thinner white icing to a squeeze bottle with a wider opening or to a piping bag fitted with a (or just use ziplock bags with different sized holes cut from the corners).
Squeeze the thinner icing onto the cookies that have already been outlined. I use a drawing method, like I'm coloring. Before moving to the next cookie, use a toothpick to help fill in any holes. Continue with the rest of the cookies. Let them dry overnight before adding any details on top.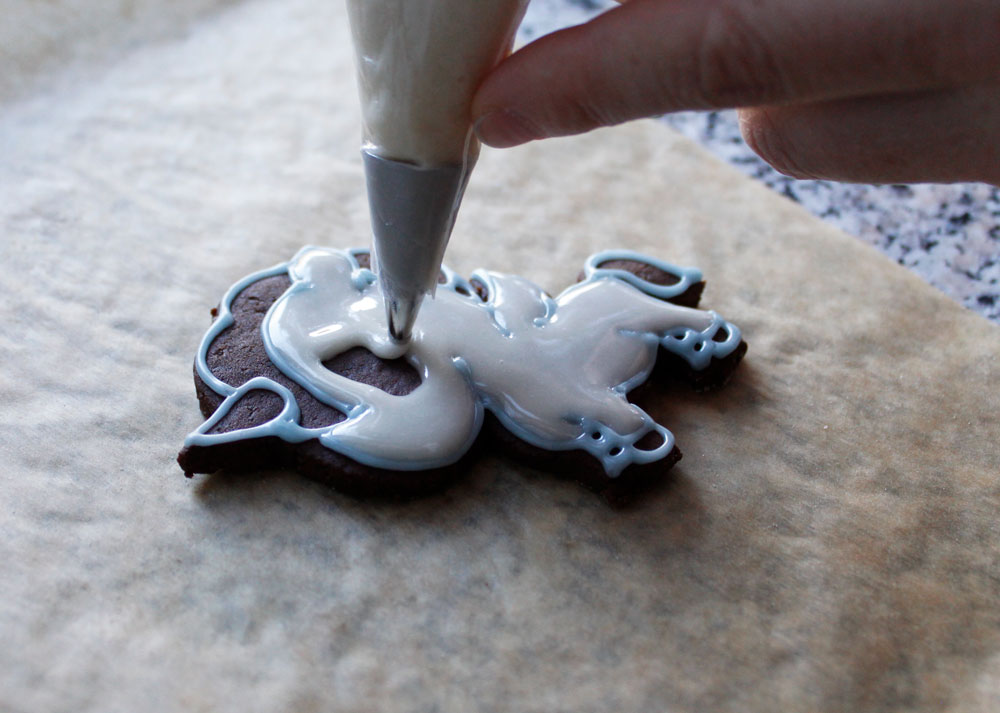 Dip the 6 triangle roof pieces into the thicker icing (only the top side) and set them icing side up onto a tray covered in parchment paper.
Transfer the unused white filling icing into the bowl of icing that you dipped the roof pieces into.
Cover the thinner icing with plastic wrap and leave at room temperature overnight.
Make pink and yellow detail icing using the method described for the blue outline icing. If it's too thick to mix smoothly, add 1-2 drops of non-dairy milk to the bowl.
Draw the details only after the flood (filling) icing is completely dry. Let details dry for 5 hours before handling.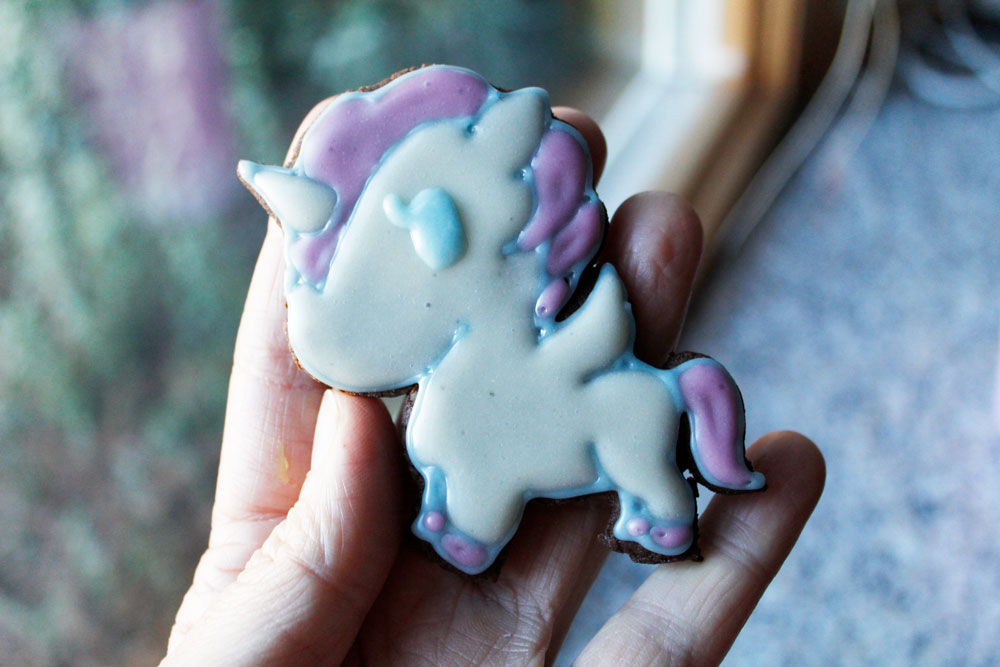 Vegan Gingerbread Carousel Decorations
Dollhouse Shortcut
In lieu of making the carousel unicorn poles out of candy bracelets / necklaces, you can use red vines or twizzlers as the poles.
candy bracelets or necklaces (containing 100 candies)
smarties, bottlecaps, and/or sweet tarts (the small ones, not the big ones)
wooden skewers (optional)
Glue the candy bracelet candies together using the icing (I used a wooden skewer to make it easier to hold onto them). Make 6 of these using 16 candies on each. Let them dry overnight. They will be delicate so be careful with them.
Glue the smarties, bottlecaps, and/or sweet tarts in a circle around the edge of the 10" cake boards . If you don't have these leftover from Halloween, you can alternate vanilla and peppermint mini dandies marshmallows instead.
Vegan Gingerbread Carousel Glue
Simmer 1 cup organic sugar* in a medium-sized pot over medium heat until it starts to melt into a thick dark syrup. Stir the sugar constantly while it melts.
Reduce heat to low so it doesn't boil over and make a big mess.
Glue the gingerbread base to the round cardboard with a small dab of sugar glue to keep it from sliding around.
Practice putting the roof pieces together before applying glue to make sure they fit well. If there are any that don't seem flush, use a cheese grater to straighten out the edges.
Hint: applying sugar glue under the roof helps hide the unattractive glue.
Glue all of the carousel pieces together using this syrup. I used a butter knife to apply it to the pieces that I couldn't just dip into the pot. Don't worry about the candy threads that form because you can break them off later. This candy glue dries really really fast. And once it's dry, it's hard as a rock. So, work quickly and precisely.
Add finishing touches with icing to cover up any sugar glue that is showing. Use the thicker icing with Wilton small round tip 2 to pipe on accents (like the dots we added to our roof pieces).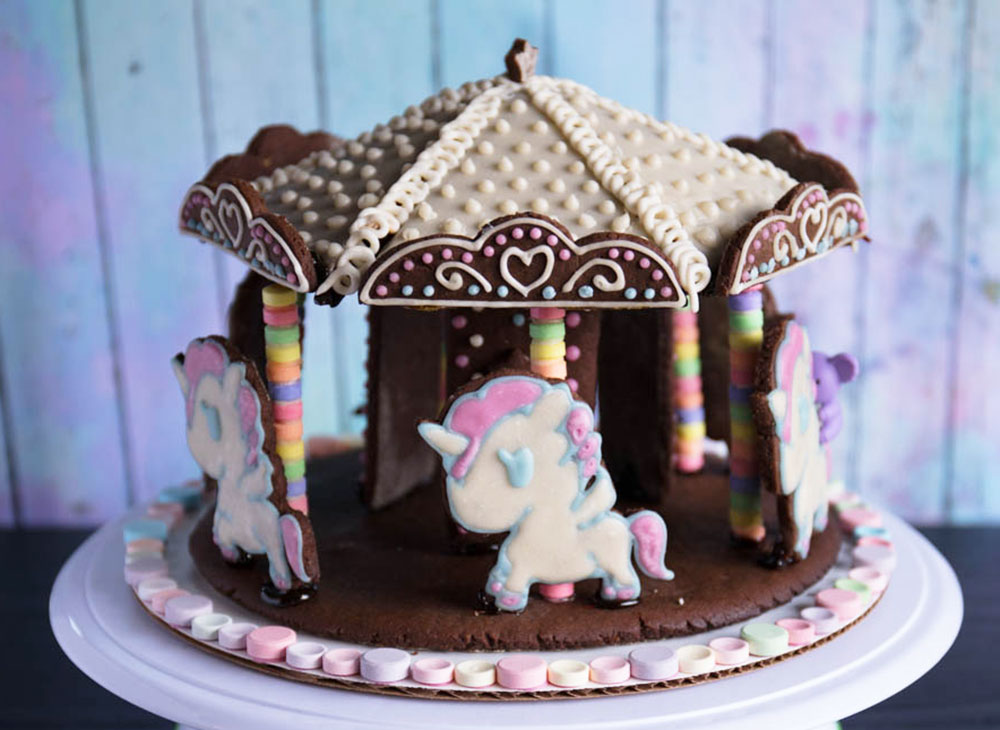 Spin your carousel if you have a cake decorating turntable or a lazy susan.
If you look closely you might see someone riding the carousel.
Warning: The riders of the carousel may not be edible. Unless you eat erasers.
If you're looking for an easier gingerbread project that's just as cute and unique, check out my gingerbread ice cream truck.
☆☆☆☆☆☆☆☆☆☆
* I use mostly organic ingredients when I cook, but I realize that not everyone has the disposable income to purchase all organic ingredients. Therefore, I only specify organic on the ingredients that really matter - when buying the organic version is the only way to ensure that the item is vegan.