Vegan Narwhal Donuts
published on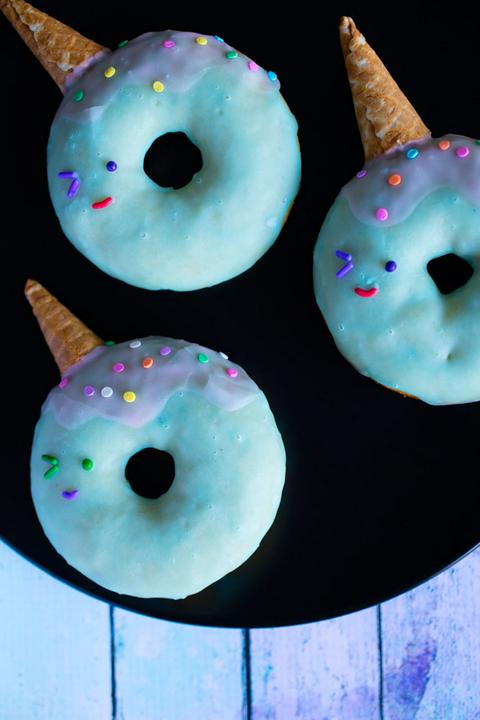 ♫ Listening to: Bloodbuzz Ohio by The National ♫
The VeganMoFo mini challenge this week is to divulge our deepest darkest secret…our #foodiecrush. We're supposed to honor our crush by making one of their creations. Dear internet, I hereby admit that I have a foodie crush on Vickie Liu. The only thing that could make me love her more is if she were vegan. And if she were, I'd probably have embarrassed myself by proposing marriage and withstanding the rejection that would surely break anyone else, but would only make me love her even more. According to Lizzie, my love of grapefruit would be the cause for this potential psychotic behavior that I have brewing deep within. But being someone who doesn't mind being gently stalked, I have no problem admitting that I swoon every time she posts a new picture of pokemon donuts or ice cream cone cookies on her instagram account. Since I only have her pictures as my inspiration, I have no idea if my recreation is anywhere close to how she makes her narwhal donuts, but I think they turned out pretty good. My version, using mostly organic ingredients, are baked cake donuts dipped in and decorated with a simple donut icing and vegan sprinkles. This donut recipe is adapted from a VeganYumYum donut recipe from years ago. For other cute donut-shaped cake recipes, check out my doggie donuts and my cinnamoroll donuts.
This recipe makes 9 round donuts (or 6 round and 6 heart-shaped donuts).
Narwhal Donut Ingredients
½ cup vegan butter (or substitute any vegetable oil)
1 cup vegan sugar
1 cup vanilla nondairy milk
½ tablespoon apple cider vinegar
½ tablespoon vanilla extract
egg replacer for 2 eggs (I used ener-g)
2 cups unbleached flour
1 tablespoon baking powder
¼ teaspoon salt
¼ teaspoon nutmeg
Narwhal Donut Directions
Preheat the oven to 350°.
Mix the wet ingredients in a saucepan over low-med heat until the margarine melts and sugar dissolves (the wet ingredients are the first 6 in the list).
Sift the dry ingredients together in a bowl (2 c flour, 1 T baking powder, ¼ t salt, & ¼ t nutmeg).
Mix the dry and wet ingredients together just until incorporated (until you no longer see any dry spots).
Press the batter into 9 ungreased donut-shaped molds.
Bake for 15-20 minutes (or until you insert a toothpick and it comes out clean).
Remove from oven and place pans on cooling racks.
Remove donuts from the pans using a flexible silicone spatula, by shimmying the spatula down the sides of the down so far that it curls all the way underneath each donut (start this step only when completely cooled).
Narwhal Donut Icing Ingredients
Narwhal Donut Icing Directions
Mix the ingredients using a stand mixer fitted with the whisk attachment.
Divide the icing into 2 wide shallow bowls with ¼ of the icing in 1 bowl and the rest in another. Add blue vegan food coloring to the larger amount. Add pink vegan food coloring to the smaller amount.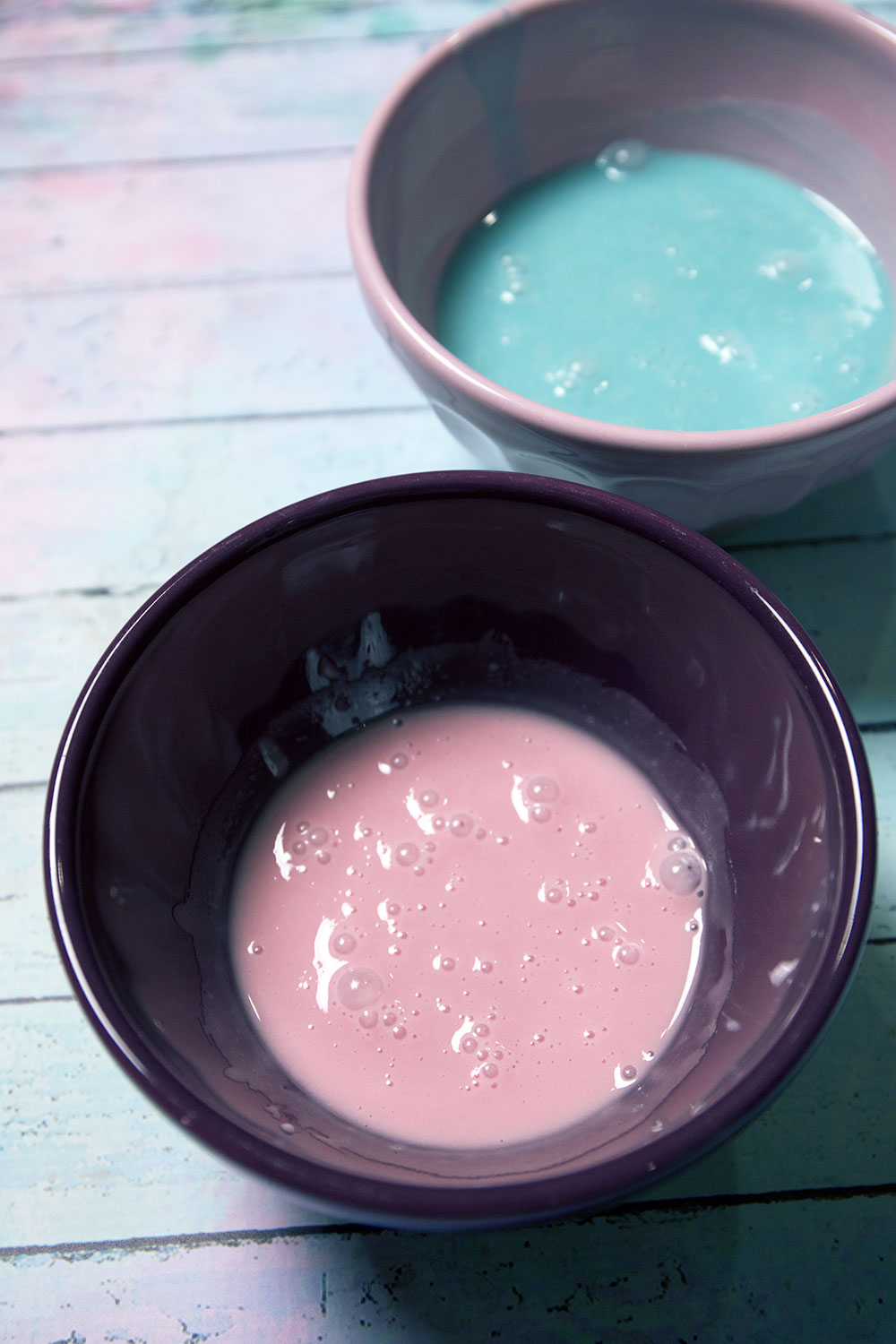 Narwhal Donut Decorations Ingredients
Narwhal Donut Decorations Directions
Cut (or eat) the wide part off of 9 organic sugar cones.
Choose your facial features, and separate out 9 sets of them so they're ready to place.
Dip 3 donut tops into the blue icing and set onto parchment paper or a cooling rack. Choose the donut that you iced first to decorate. You want the icing to stop dripping before you start decorating, but you also want the icing to still be wet, so work quickly.
Place the mouth and eyes.
Ice the edge of a sugar cone horn and press lightly until it stays.
Pipe the border of the pink icing on part of the top of each donut and fill it in. Set aside to harden.
Here's a video showing the decor process.
I brought these to crafturday where we started working on our flower fairy costumes, and they paired very well with the vegan pumpkin spice lattes that Jessica made.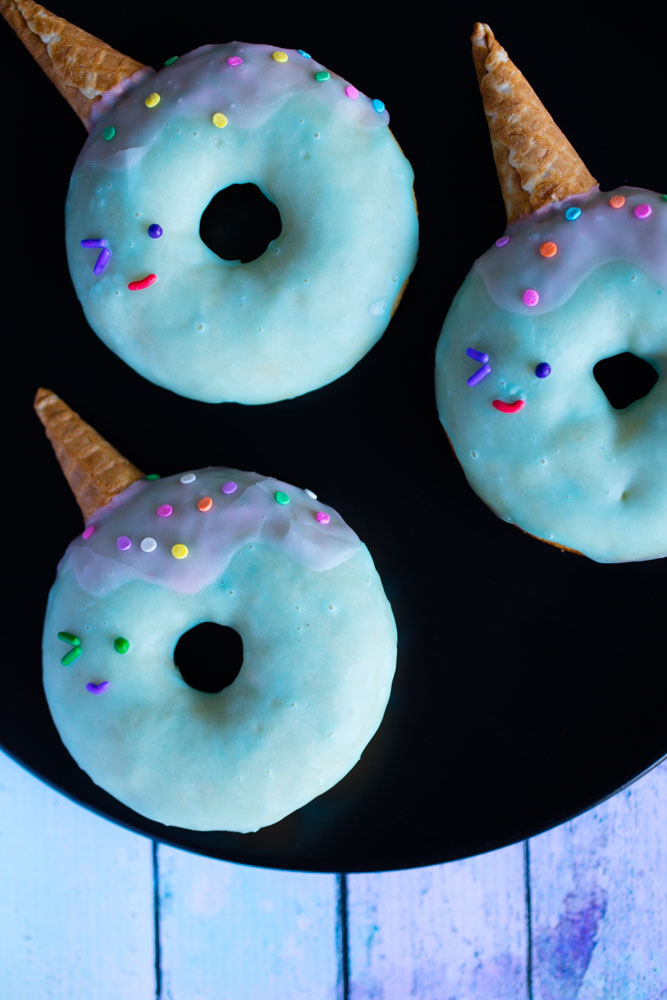 ☆☆☆☆☆☆☆☆☆☆
* I use mostly organic ingredients when I cook, but I realize that not everyone has the disposable income to purchase all organic ingredients. Therefore, I only specify organic on the ingredients that really matter - when buying the organic version is the only way to ensure that the item is vegan.