Bearberry Muffins
published on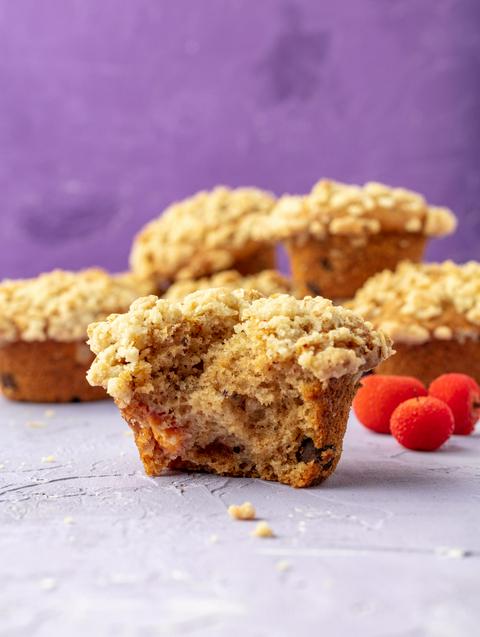 ♫ Listening to: Fits and Starts by Alesana ♫
I just moved to Roseville, which is a suburb about 20 minutes outside of Sacramento, CA, and not only do I have THREE strawberry trees in my backyard, but they're also all over the neighborhood (on the sides of sidewalks, not in people's yards). David reminded me that we saw a statue of a bear eating berries when we were in Madrid, and that the berries were called madroños in Spain. I think they taste like a cross between a strawberry and a pear, so I was calling them pear berries on instagram, but I did some research and realized that they have a bunch of different names. Here are a few:
bearberries
madroños
Arbutus unedo berries
Koumara
Corbezzolo
Cain Apple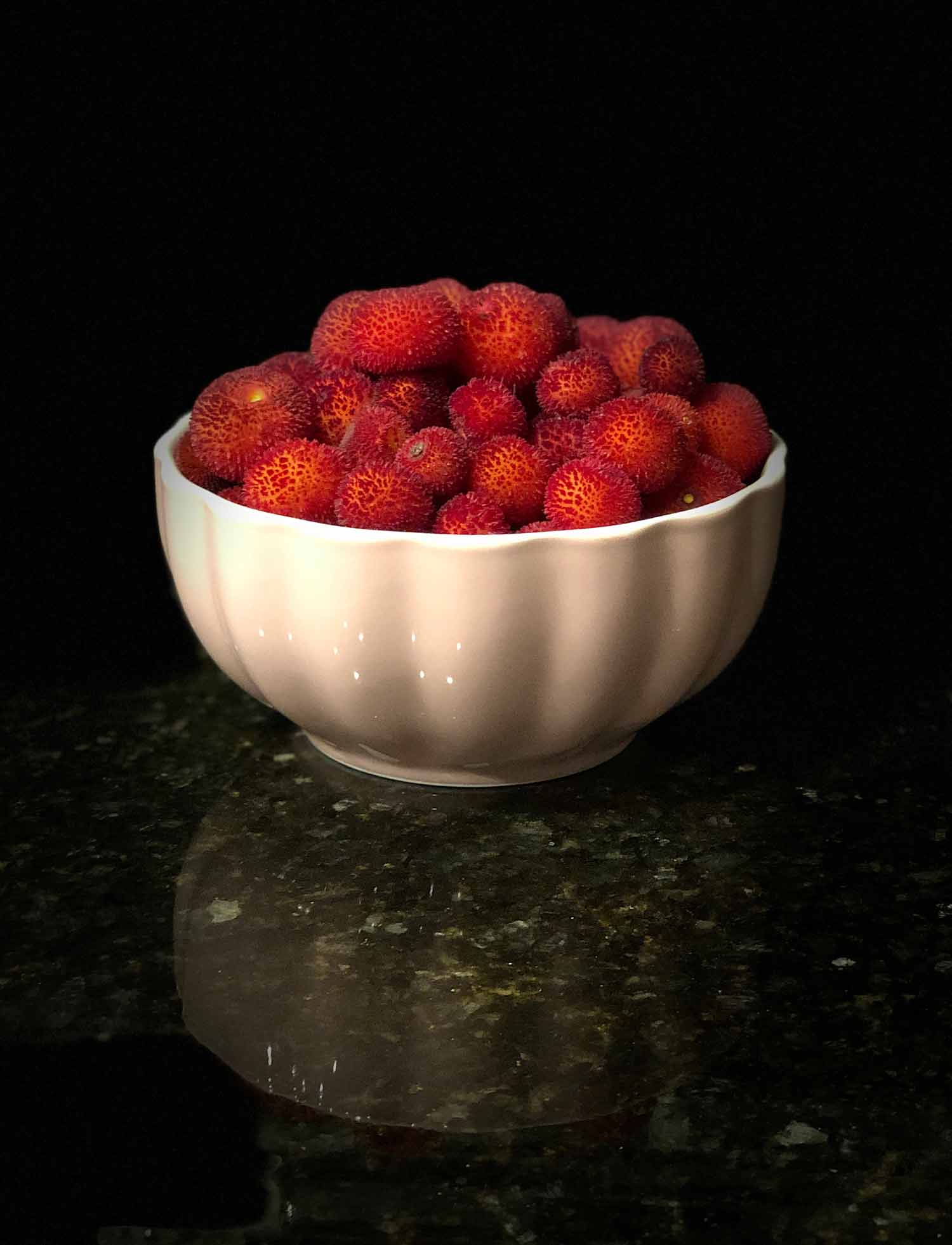 While the price point is the big selling factor for me (can't beat free), I learned that they're also super healthy. They're loaded with antioxidants, vitamin C, beta-carotene, niacin, and tocopherols. If that's not a good excuse to eat these muffins, then I don't know what is. Haha.
Oh, but here's a little protip for you. Don't let your doggo eat any of these berries unless you want to be woken up at 3:30am to the sound of her puking. You're welcome.
If you like baked goods with fruit, you might also like my chocolate orange cake and my pluffins.
This recipe makes 11-12 bearberry muffins.
Streusel Topping Ingredients
½ cup (60g) unbleached flour

¼ cup (22.5g) rolled oats

3-4 tablespoons vegan butter (I use organic earth balance)*

3-4 tablespoons (40-50g) organic or raw sugar*
Bearberry Muffin Ingredients
⅔ cup nondairy milk

1 tablespoon apple cider vinegar

1 medium ripe banana, mashed with the back of a fork

⅓ cup oil (I used sunflower)

1 teaspoon vanilla (optional)

½ cup (100g) organic or raw sugar*

2 cups (240g) unbleached flour

¼ teaspoon cinnamon (optional)

¼ teaspoon nutmeg (optional)

1 tablespoon baking powder (try to get the non-aluminum kind)

½ teaspoon baking soda

¼ teaspoon sea salt

1 cup of bearberries, washed and chopped (if you don't have that many, you can use less)

½ cup vegan chocolate chips (optional, but may make fewer muffins if you omit it)
Bearberry Muffin Directions
Preheat oven to 350º.
Oil all 12 cubbies of a muffin tin.
Mix the ⅔ cup nondairy milk with the tablespoon of apple cider vinegar and set aside.
Mix ½ cup flour, ¼ cup oats, 3-4 tablespoons vegan butter or margarine, and 3-4 tablespoons sugar in a bowl with your hands until it clumps together like a crumbly streusel topping. Set in the fridge until you're ready to add it to the top of your muffins.
Mash a ripe banana in a medium-large bowl using the back of a fork.
Add ½ cup sugar, ⅓ cup oil, a teaspoon vanilla, and the nondairy milk/vinegar mixture, and mix well.
Add 2 cups flour, ¼ teaspoon cinnamon, ¼ teaspoon nutmeg, 1 tablespoon baking powder, ½ teaspoon baking soda, and ¼ teaspoon sea salt to the top of the wet ingredients.
Mix all the ingredients until you no longer see any flour (check the bottom, because dry ingredients like to play hide and seek).
Stir a cup of chopped bearberries and ½ cup of vegan chocolate chips gently into the batter.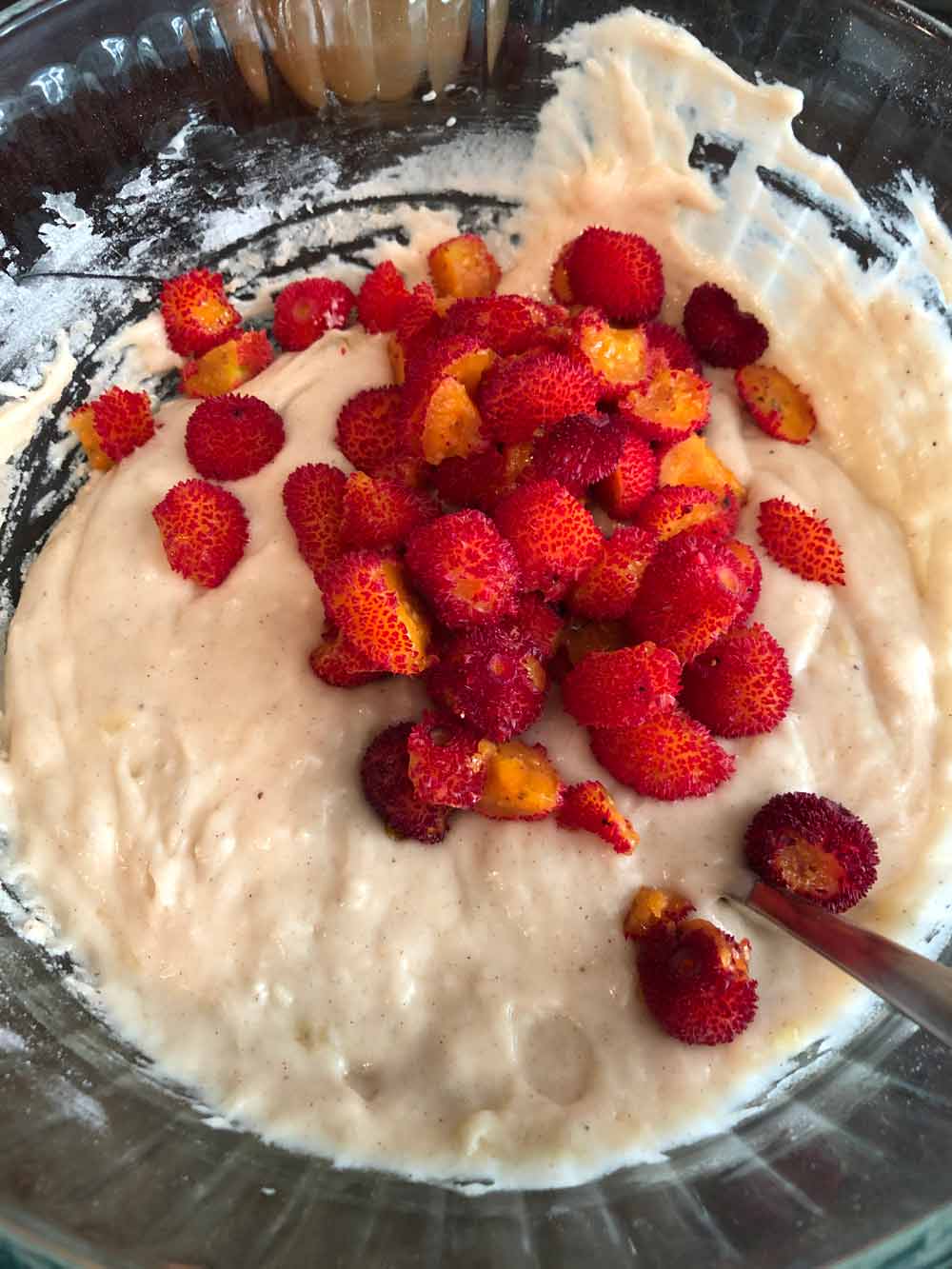 Scoop the batter into the cubbies of the oiled muffin pan, filling them almost all the way, but leaving enough room for the streusel topping.
Top with the streusel topping you made earlier. Use it all up even if you don't think you need it all.
Bake for 23-25 minutes.
Set the muffin pan on a cooling rack to cool for 15 minutes in the pan before removing them. DON'T TRY TO REMOVE THEM BEFORE THAT. I am not joking when I tell you that no matter how careful you are, you're bound to decapitate one of your precious muffins, and then think of the guilt you'll have to live with.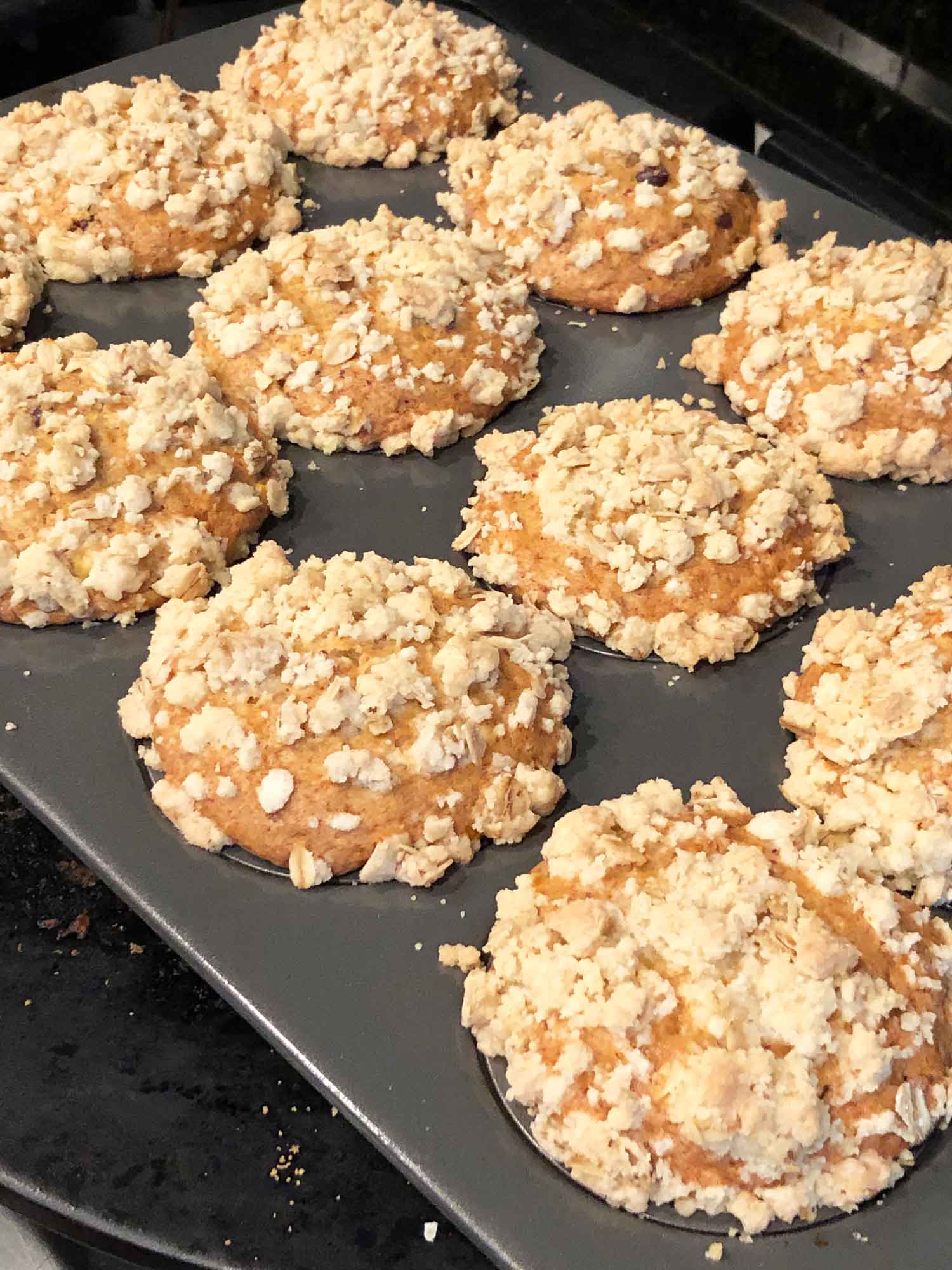 Carefully use a silicone spatula and remove the muffins from the muffin pan.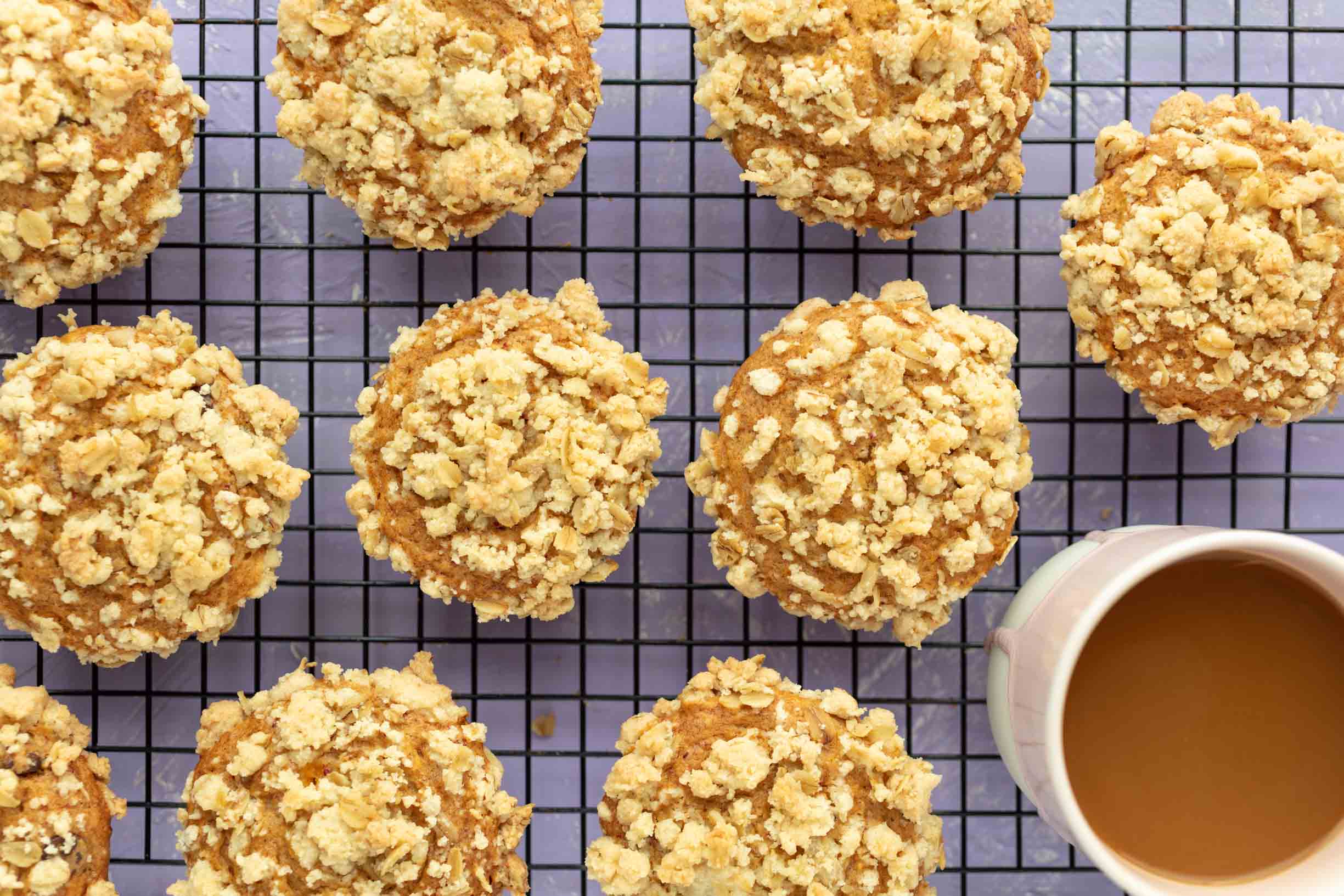 ☆☆☆☆☆☆☆☆☆☆
* I use mostly organic ingredients when I cook, but I realize that not everyone has the disposable income to purchase all organic ingredients. Therefore, I only specify organic on the ingredients that really matter - when buying the organic version is the only way to ensure that the item is vegan.