Vegan Pumpkin Birthday Cake
published on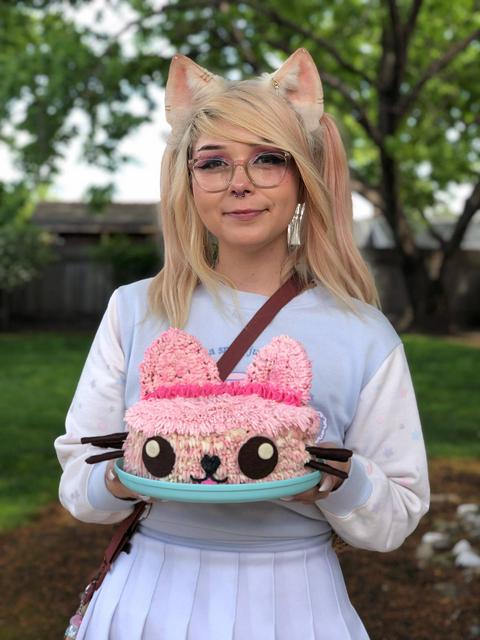 ♫ Listening to: Pretty Girl (Cheat Codes x Cade Remix) by Maggie Lindemann ♫
I very rarely sell my cakes, but once in awhile if I'm in a super good mood when someone asks me, or if I really like the person who asks, then I will make an adorable organic and vegan custom cake for way less money than I should probably charge. This was one of those.
Jessica Folvey is one of the cutest vegans I know, so I OF COURSE couldn't say no when she asked me to make her birthday cake for her. She chose a pumpkin spice cake with cream cheese frosting, even though her birthday is in the spring. Lucky for us, I'm a food hoarder and therefore have canned pumpkin on hand year round. Folvey is part puppy dog, so I knew immediately that her cake would be a doggo cake (but it was a surprise because she was sweet enough to give me creative control on the design - seee, I told you she was the cutest).
You can bake these cakes in advance and wrap them in plastic wrap and freezer bags to freeze them until you're ready to assemble the cake.
This recipe will make a 2-layer 8" or 9" round pumpkin spice cake with cream cheese frosting.
Vegan Pumpkin Spice Cake Ingredients
1 cup (235ml) nondairy milk

1 teaspoon (5ml) vinegar (I used apple cider vinegar)

2 ½ cups (325g) unbleached white flour

1 teaspoon (7g) baking soda

1 teaspoon (6g) baking powder

¼ teaspoon (3g) salt

2 teaspoons (6g) cinnamon

½ teaspoon (2g) nutmeg

½ teaspoon (2g) ginger

¼ teaspoon (1g) cloves

½ cup (118ml) sunflower oil

1 ½ cups (345g) organic or vegan sugar*

1 can (425g) pumpkin

1 tablespoon molasses
Vegan Pumpkin Spice Cake Directions
prep time: 17 minutes | bake time: 40 minutes
Combine 1 cup nondairy milk and 1 teaspoon vinegar, and set aside.
Preheat the oven to 350°. Oil two 9" or 8" round cake pans (or a lasagna pan if you want a cake that requires minimal decorating).
Sift the dry ingredients into a medium-large bowl: 2 ½ cups unbleached white flour, 1 teaspoon baking soda, 1 teaspoon baking powder, ¼ teaspoon salt, 2 teaspoons cinnamon, ½ teaspoon nutmeg, ½ teaspoon ginger, and ¼ teaspoon cloves.
Add the ½ cup sunflower oil, 1 ½ cups sugar, 1 can pumpkin, 1 tablespoon molasses to the nondairy milk. Mix until combined. (I used a stand mixer because it's faster and easier.) If you prefer less sweet desserts, you can cut the sugar back to 1 cup, and the recipe still comes out great.
Whisk the dry ingredients and add them to the wet ingredients.
Mix until no dry ingredients show.
Fill the oiled 8" round cake pans with the batter using a spatula to smooth it out as flat as possible.
Bake both cakes on the same rack for 40 minutes at 350°.
Cool the cakes for 10 minutes on a cooling rack before flipping them over.
Wait until the cakes are fully cooled before removing them from the cake pans. If they haven't fallen out on their own, shimmy a silicone spatula down the sides and bottom of the cake pans all the way around before turning the pans upside down again.
Vegan Cream Cheese Frosting Ingredients
Dollhouse Shortcut
Buy 3 tubs of vegan cream cheese frosting if you don't have time to make your own.
1 cup vegan butter or margarine (if you avoid soy, buy the soy-free earth balance; otherwise buy the organic whipped earth balance)*

2 (8 ounce) packages of vegan cream cheese (kite hill and trader joe's brand of vegan cream cheese both work well, but the TJ one is cheaper, so get that if you can)

4 teaspoons vanilla extract

6 cups organic powdered sugar*
Vegan Cream Cheese Frosting Directions
prep time: 10 minutes | chill time: 4 hours or overnight
Whisk 1 cup organic or soy-free vegan butter, 2 packages of vegan cream cheese, and 4 teaspoons vanilla extract using a stand mixer or a handheld electric mixer.
Sift in the 6 cups of powdered sugar, one cup at a time.
Transfer to a tupperware with a lid and chill in the fridge for a minimum of 4 hours (preferably overnight).
Decorating the Vegan Pumpkin Birthday Cake with Cream Cheese Frosting
Fill a piping bag fitted with a Wilton large round tip 1A with the cream cheese frosting.
Pipe the frosting on top of one of the 2 cake layers. If the cakes aren't flat on top, use a bread knife to slice the hump off the tops of both cakes first, and put the cut side towards the bottom.
Place the second cake on top of the frosted filling.
Chill the assembled cake in the freezer for 15 minutes, while the piping bag returns to the fridge so it doesn't reach room temperature and thin out.
Frost the entire outside of the cake by piping frosting all over the outside of the cake and then spreading with an offset spatula until you barely see any cake.
Chill the cake for at least 10 minutes in the freezer or 20 minutes in the fridge.
Decorate however you like.
I piped pink and white fur frosting all over the cake using the Wilton tip 234 fitted in a piping bag taking breaks to chill the cake when the frosting starting getting too warm.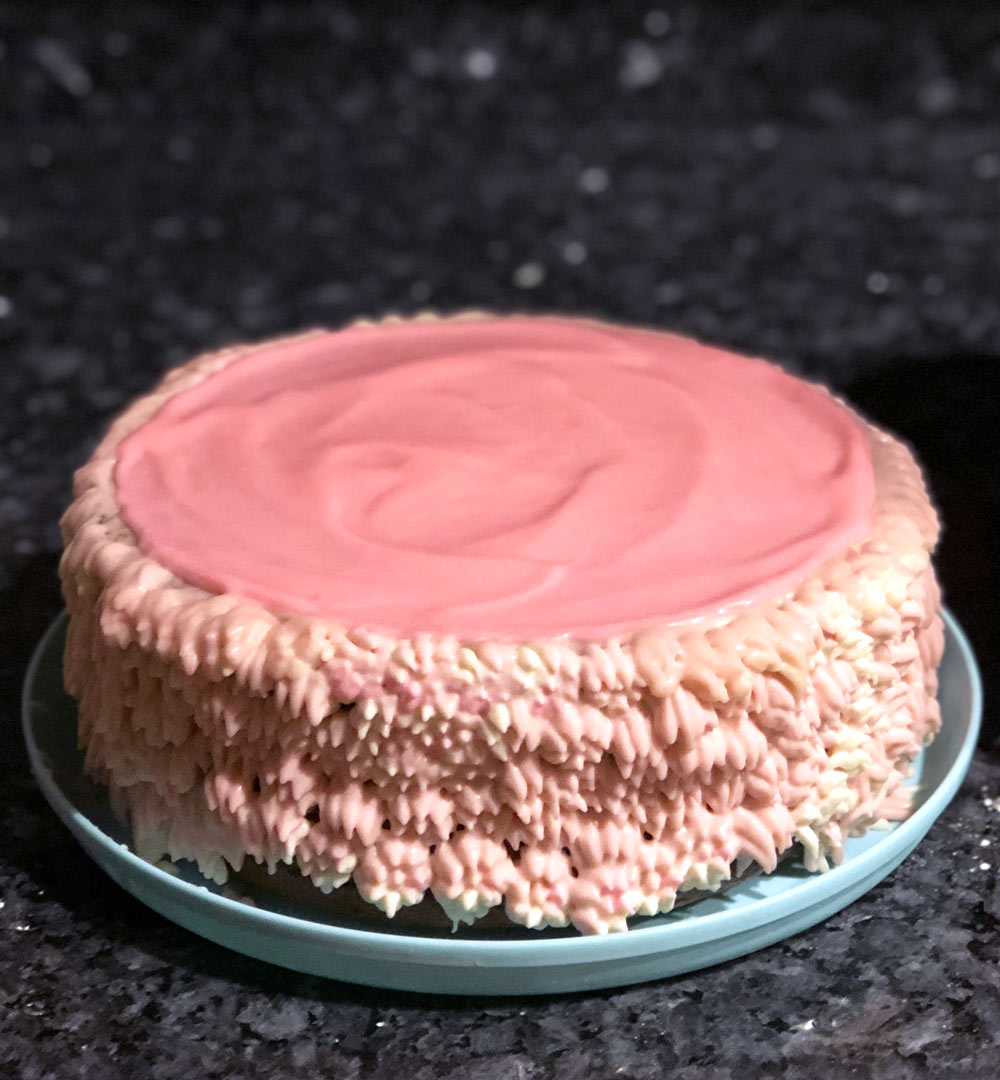 I cut 2 ear shapes out of cookie dough and baked it. When it came out of the oven and the ears were still soft, I curved them a slight amount, so they would sit on top of the cake easier.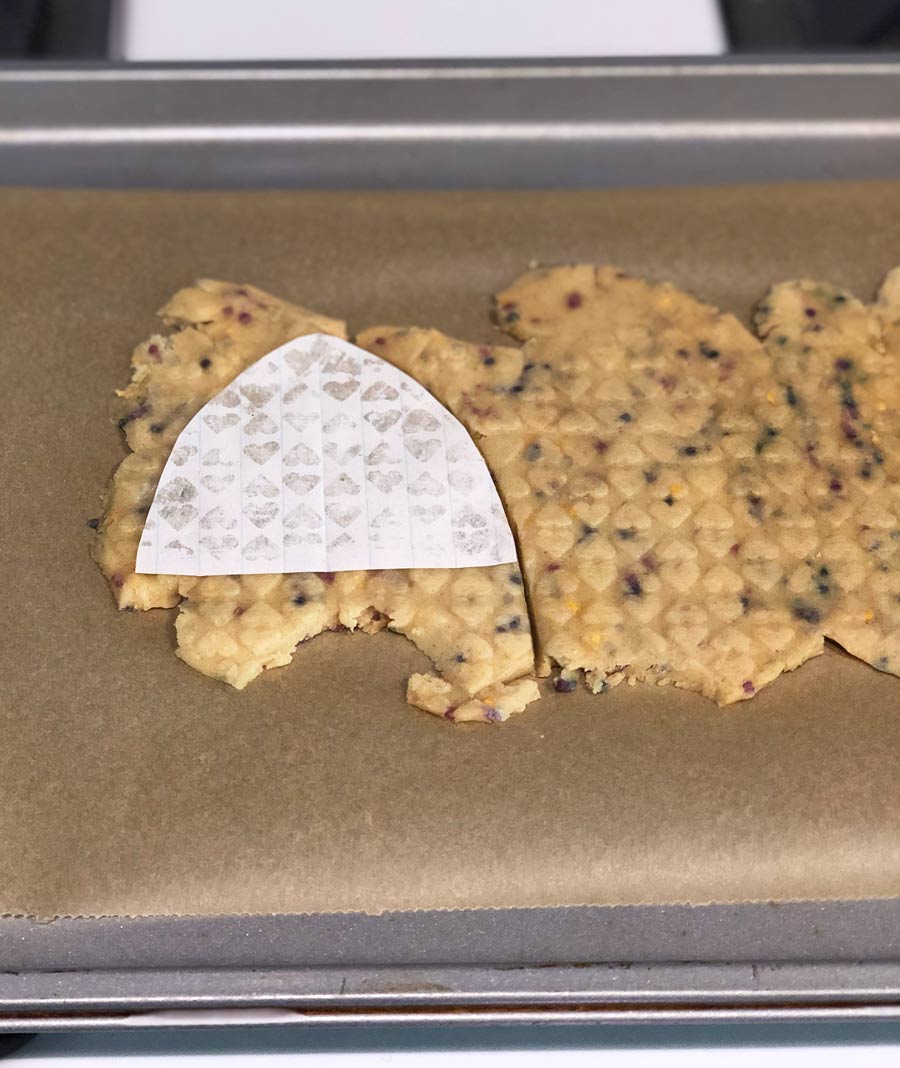 I stuck the ears on top of the cake and chilled it to make sure they wouldn't fall.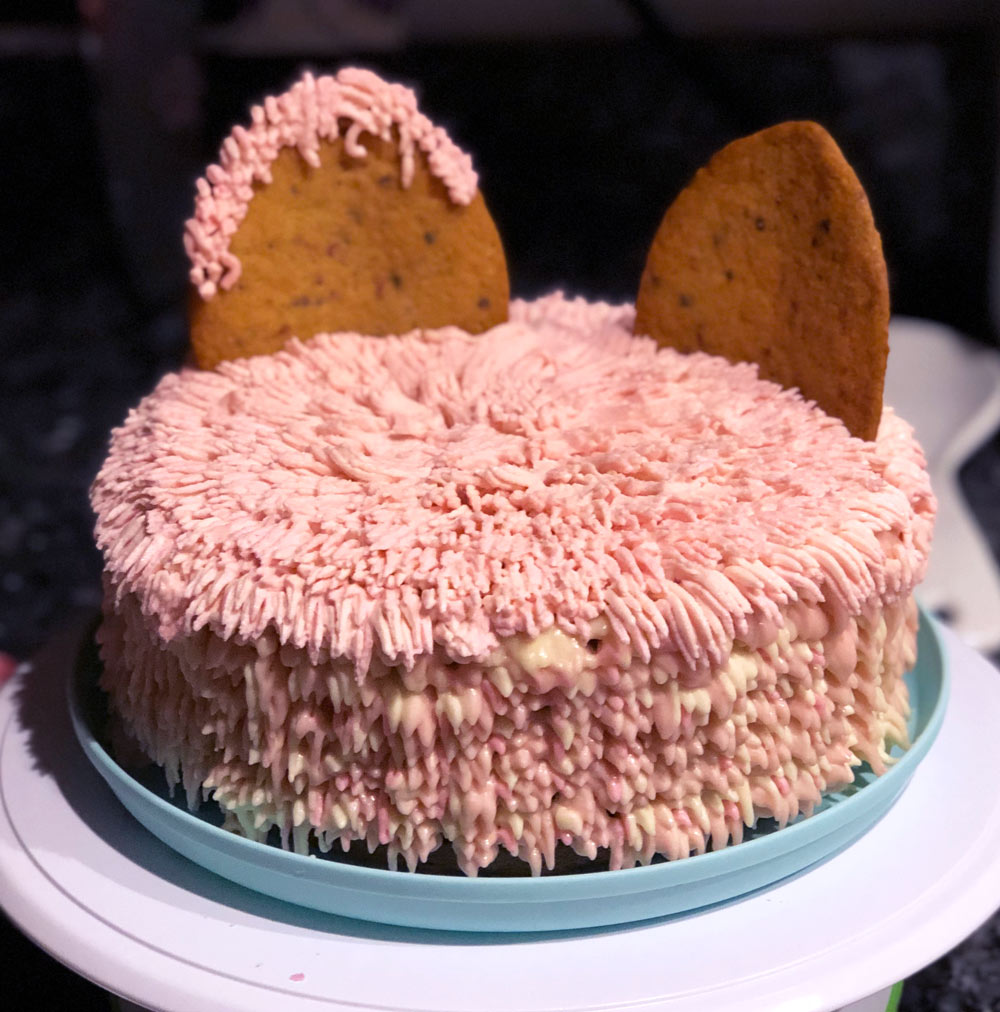 Then I covered the ears in frosting fur.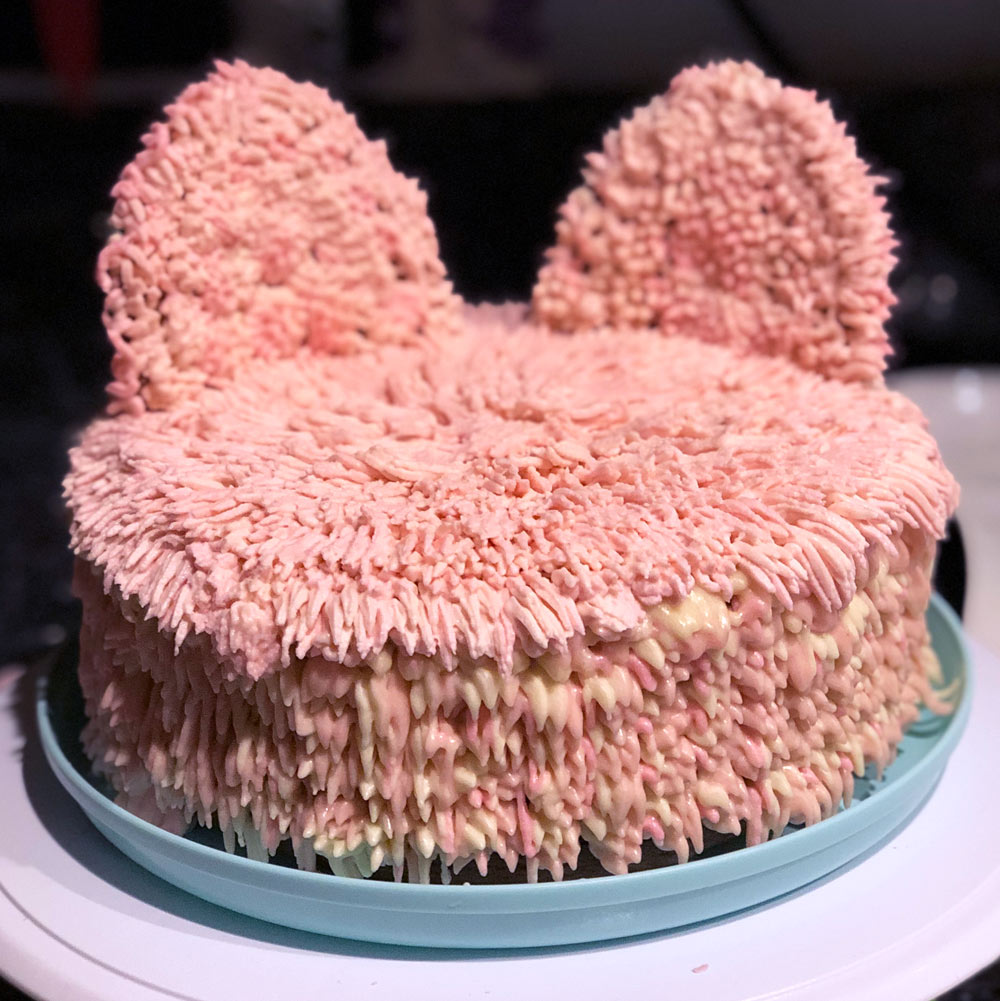 I made the whiskers by dipping pretzel sticks into melted chocolate and made the nose by piping the rest of that same melted chocolate. The eyes are made from newman Os.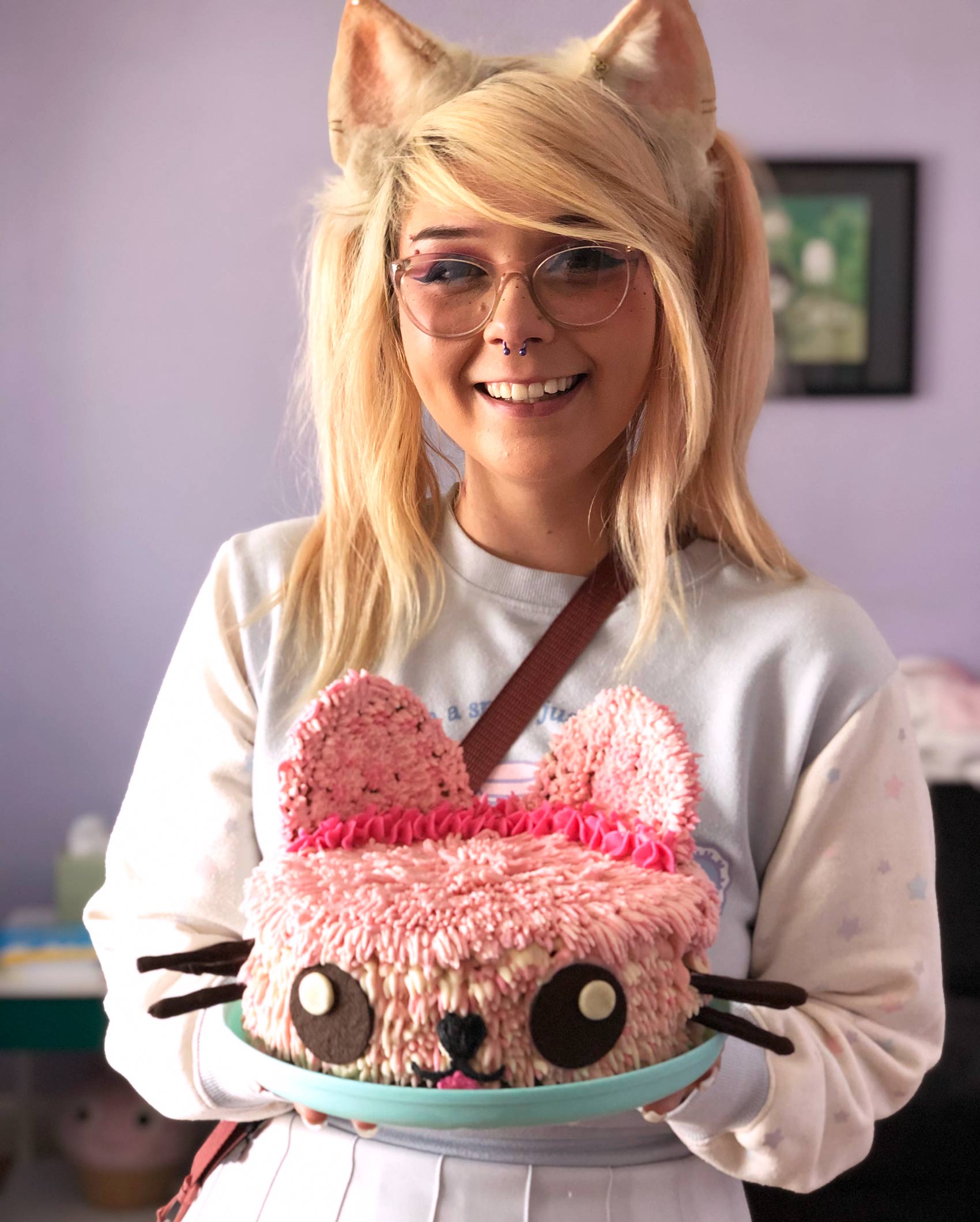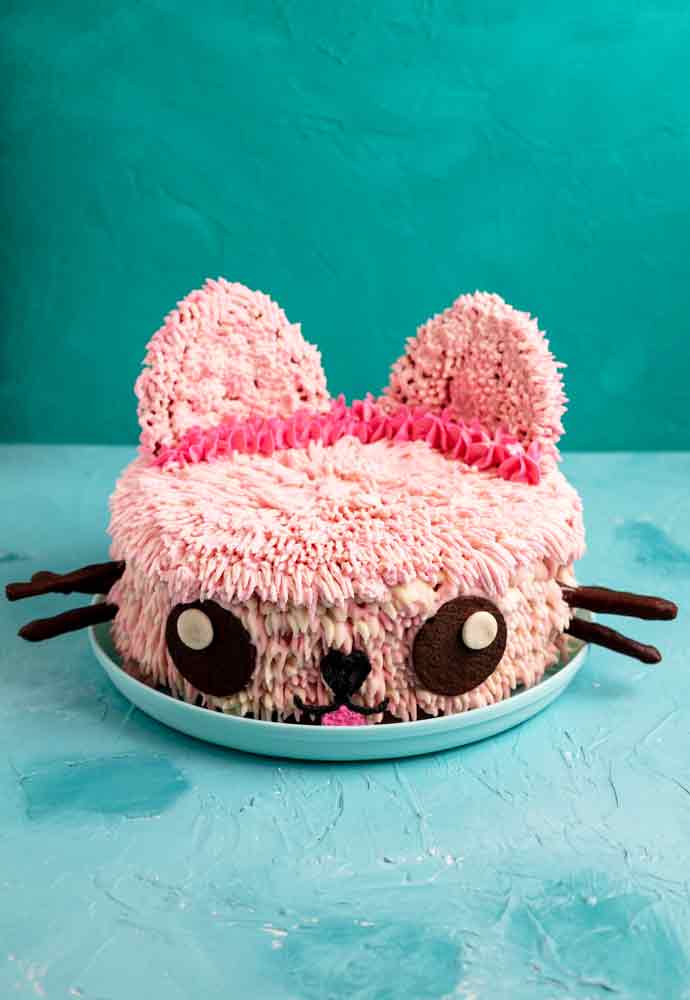 If you like pumpkin spice cake, you might also like my coffin cake wands and my pumpkin spice donuts.
If you like cute cakes that look like animals, check out my bunny cake, my kitty cake, and my fox cake.
☆☆☆☆☆☆☆☆☆☆
* I use mostly organic ingredients when I cook, but I realize that not everyone has the disposable income to purchase all organic ingredients. Therefore, I only specify organic on the ingredients that really matter - when buying the organic version is the only way to ensure that the item is vegan.