Witch Hat Cookies
published on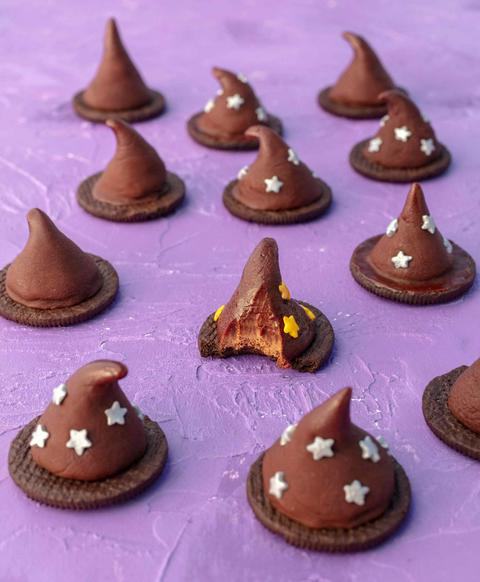 ♫ Listening to: Final Service by Ritual Howls ♫
If you're too old to trick or treat (or too lazy or it's too cold out or you don't want to catch COVID-19), but you still love candy, this is the perfect recipe for you! It combines Amy's Dreamy Bars with organic chocolate cookies, and I know I might be somewhat biased having come up with this genius idea, but the combination is SO GOOD. If you avoid gluten, you can just purchase gluten-free chocolate sandwich cookies, and this recipe will then be gluten free.
This recipe (sponsored by Amy's Kitchen) makes 12 witch hats (aka sorcerer hats).
Witch Hat Ingredients
12 chocolate sandwich cookies (I used Newman Os)

4 Amy's Dreamy candy bars

assorted vegan sprinkles or other decorations
Witch Hats Directions
Open 12 Newman O's chocolate sandwich cookies so you have 12 with the cream filling attached and 12 without. We're only using the 12 halves with no cream for this recipe, so I just push the ones with cream filling together to make new double filled cookies for later.
Melt 2 Amy's Dreamy candy bars in the microwave for 15 seconds. I used 2 candy bars to make 6 witch hats. Make only 6 hats at a time (rather than all 12), because the melted candy bars start to solidify as you work.
Stir the melted candy bars until they start to turn into a moldable consistency.
Roll about a sixth of it into a ball and use it like silly putty to clean any remaining cream filling from each chocolate cookie. If you've never used silly putty, you just press the candy onto the cookie and then peel it off. It should bring the cream filling residue with it.
Roll the candy bar putty into a ball, and shape it into a cone.
Press the candy cone onto one of the cookie halves. With your hands, form it into the hat shape you prefer. I like the slouchy hats that tip over on the top, but I made one pointy traditional witch hat for variety. (You can see that one in the back of the picture. Yes, I demoted him to the back for being less cute than the slouchy ones, haha.)
Chill the completed hat in the freezer while you make the next hat. When you place the second hat into the freezer, retrieve your first hat.
Decorate the hat with whatever you have (or leave it as is). I used vegan star sprinkles from Baking Time Club on half of my hats. You can find a list of vegan sprinkles here.
Repeat the steps for the rest of the hats.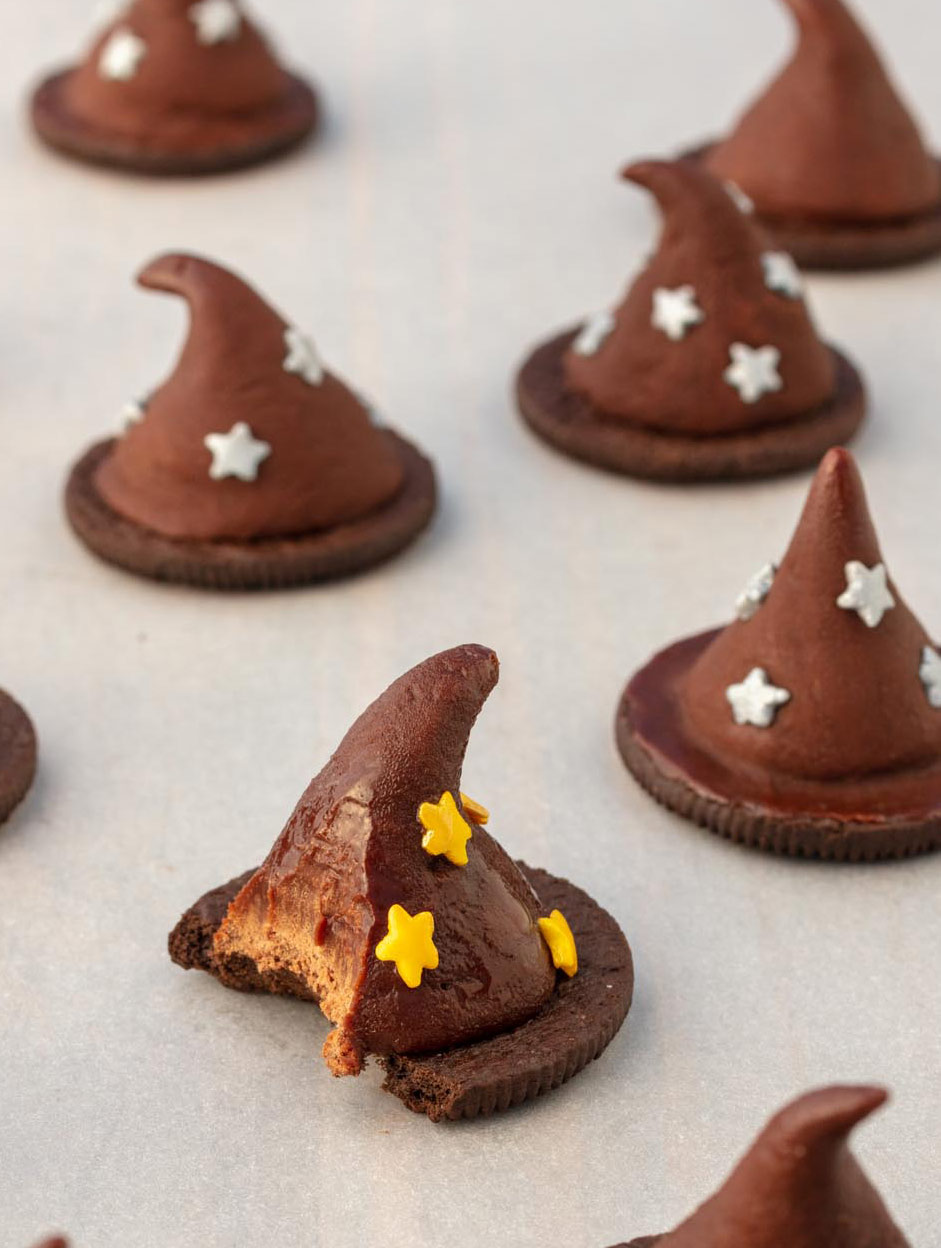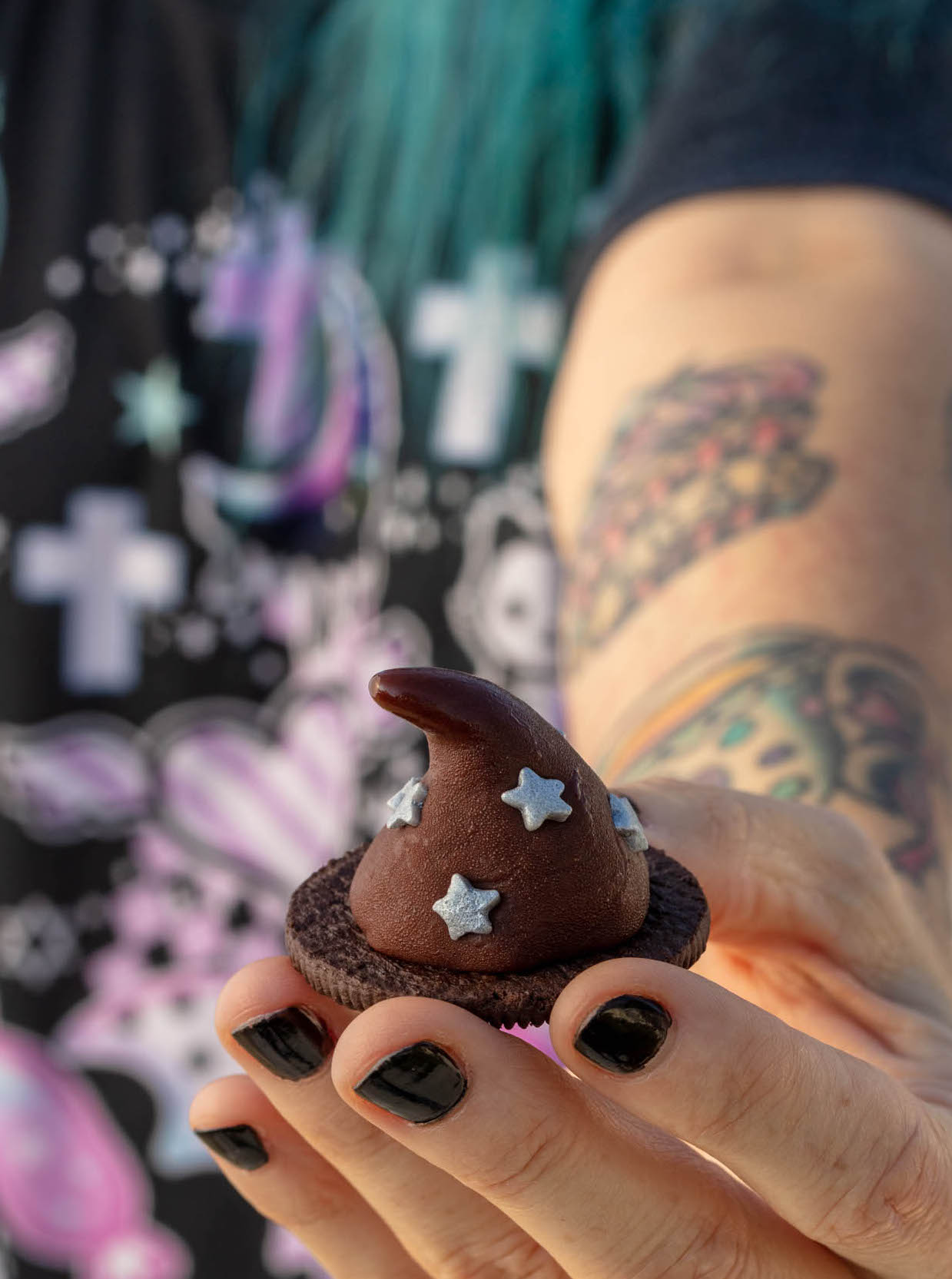 Here's a video of the step where I shape the hats.
Are you a witch, warlock, or sorcerer who enjoys using your creative magic to make halloween, gothic, and/or spookicute treats? Check out my coffin wands, ghost emoji tea sandwiches, and bat ice cream sandwiches too!
For other spookicute recipes, check out my list of vegan halloween recipes.
☆☆☆☆☆☆☆☆☆☆
* I use mostly organic ingredients when I cook, but I realize that not everyone has the disposable income to purchase all organic ingredients. Therefore, I only specify organic on the ingredients that really matter - when buying the organic version is the only way to ensure that the item is vegan.
This post was made possible thanks to the support of Amy's Kitchen. All content and opinions are unbiased and entirely my own. For more recipes using Amy's products, sign up for their newsletter. To get (very infrequent, sorry haha) updates from Vegan Dollhouse, sign up for my newsletter.
☆☆☆☆☆☆☆☆☆☆