Vegan Banana Split Birthday Cake
published on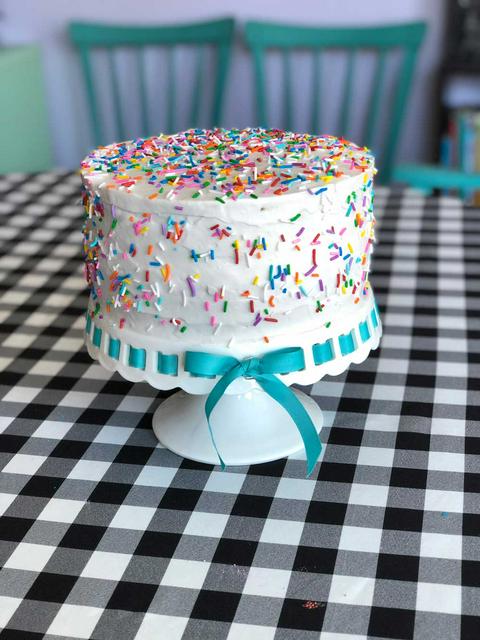 ♫ Listening to: Letting Go by Wild Nothing ♫
This vegan banana birthday cake has no eggs, no cream cheese, and no animal suffering.
It's times like annual birthday cake requests that really make me wonder if I'm actually related to someone who doesn't like chocolate. Over the years, I've made Zen coconut, tropical, mango, carrot, and peanut butter cakes. This year, she requested vegan banana cake. I don't even think I've ever had vegan banana cake. Firstly, it's not chocolate, so why would I? And secondly, banana is a muffin flavor, not a cake flavor. I guess this is what I get for raising weirdo free-thinking vegan kiddos.
Table of Contents
(click the links below to skip to the section you're looking for)
This recipe makes a 2-layer 9" round vegan banana split cake.
1 cup (240g/240mL) nondairy milk *

1 (7g) tablespoon apple cider vinegar (or substitute white vinegar)

4 ripe bananas

1 ½ cups (292g) raw, vegan, or organic sugar *

2 teaspoons (8g) vanilla extract

3 cups (390g) unbleached flour

½ tablespoon (12g) baking soda

½ tablespoon baking powder

¼ teaspoon of salt

⅔ cup (144g/160ml) safflower oil
Vegan Banana Split Cake Directions
Preheat the oven to 350°.
Pour 1 tablespoon (7g) vinegar into 1 cup (240g) of nondairy milk, stir, and let sit.
Coat 2 8" round cake pans using a paper towel with safflower oil on it.
Whisk 4 peeled bananas using a stand mixer or a handheld electric mixer on high until creamy. If you don't have a stand mixer, you can mash them with a fork or a potato masher and then mix them by hand.
Add 1 ½ cups (292g) sugar to the bananas while still whisking on high. Or mix by hand. Or you can even blend the bananas and sugar in the blender.
Add 2 teaspoons (8g) vanilla extract to the bananas while still whisking on high.
Sift the 3 cups (390g) organic unbleached flour, ½ tablespoon (12g) baking soda, ½ tablespoon baking powder, ¼ teaspoon of salt into a large bowl and whisk by hand.
Pour the buttermilk (the concotion you made by mixing nondairy milk with apple cider vinegar) slowly into the banana mixture while the mixer is running.
Drizzle the ⅔ cup (144g) oil slowly into the banana and milk mixture.
Add dry ingredients, half at a time, into the wet ingredients, and mix until smooth.
Divide the batter evenly into 2 8" round cake pans as quickly as you can, since the baking soda and vinegar have already been activated.
Bake for ~40 minutes, until when you insert a toothpick into the center of one, it comes out clean. When I lived at a house with an older oven, I baked mine for 41 minutes. Now that I live in a house with an oven that runs a little hot, I bake it for less time.
Cool completely by setting the 8" round cake pans on a cooling rack. If you touch the bottom of the cake pan in the center, and it's still warm at all, the cakes aren't yet ready to be removed from the pans.
Remove the vegan banana cakes from the cake pans and then chill in the fridge, covered, until you're ready to assemble the cake.
Dollhouse Shortcut
You can replace making the whipped cream frosting from scratch with buying vegan whipped cream from the store. Whole Foods has their own 365 brand plant-based whipped topping, and So Delicious also makes one. Both can be found in the freezer section near the ice cream.
3 cans of coconut cream or full-fat coconut milk, chilled overnight
1 tablespoon vanilla
1 cup powdered sugar, sifted
½ teaspoon xanthan gum
rainbow sprinkles
cherries
How to make Vegan Whipped Cream Frosting for the Banana Split Cake
Open the cans of coconut cream or coconut milk. If using coconut cream, dump everything into the bowl of a stand mixer. If it's coconut milk, only use the solid part.
Whisk until smooth using a stand mixer or a handheld electric mixer.
Add the tablespoon of vanilla and ½ teaspoon of xanthan gum while still whisking.
Sift in 1 cup powdered sugar slowly while whisking. Whisk until creamy and peaks are formed.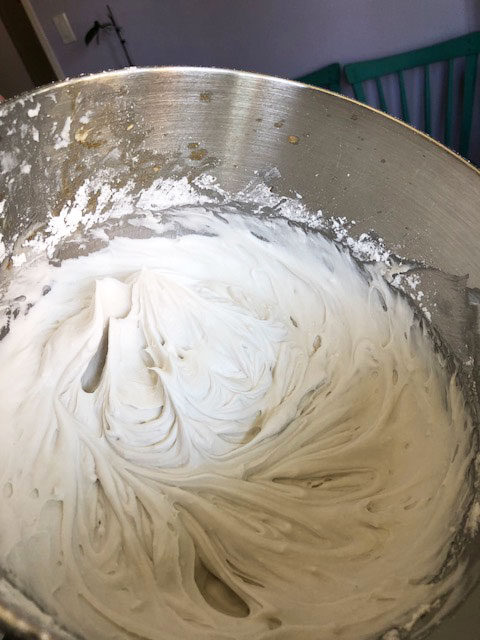 Transfer to a piping bag fitted with your tip of choice and chill.
Pipe the chilled whipped cream between the 2 vegan banana cake layers. If the cakes aren't flat on top, use a serrated knife to slice the hump off the tops of both cakes before assembling. (Mine came out flat so I didn't have to do this.)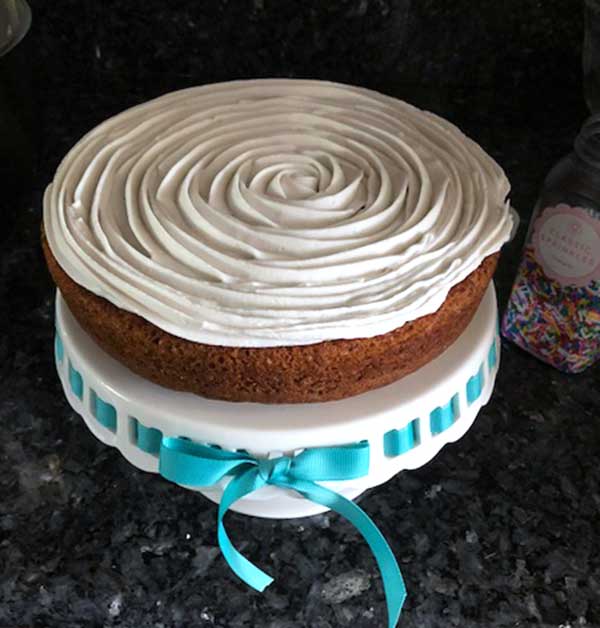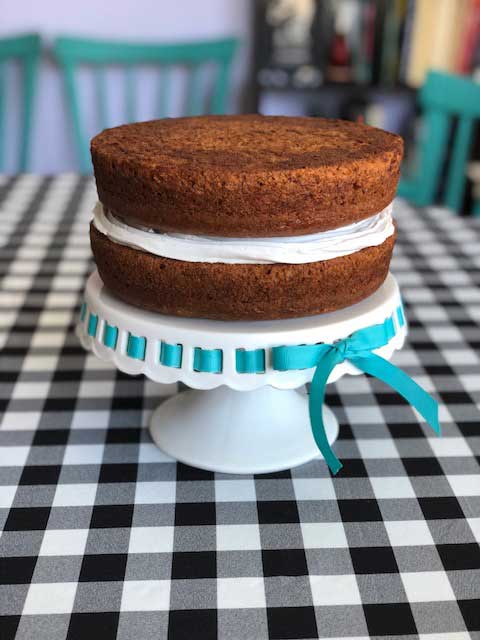 Frost the entire outside of the cake by piping the whipped cream all over the outside of the cake and then using an offset spatula to spread it evenly around the outside of the vegan birthday cake.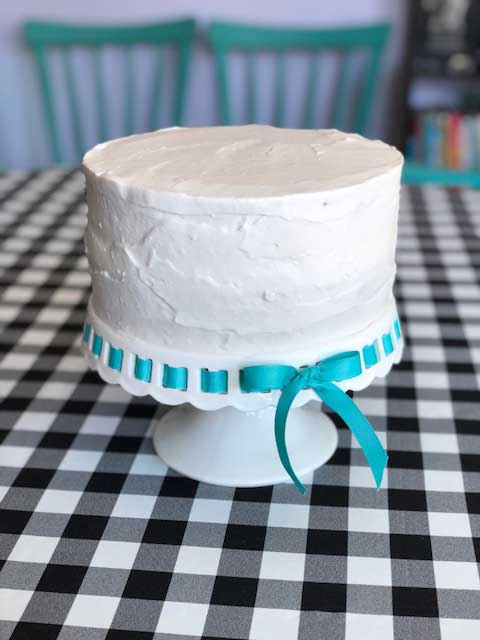 Cover your frosted cake in sprinkles. To get them on the sides, just throw them at the side of the cake.
Chill the cake for 30-60 minutes.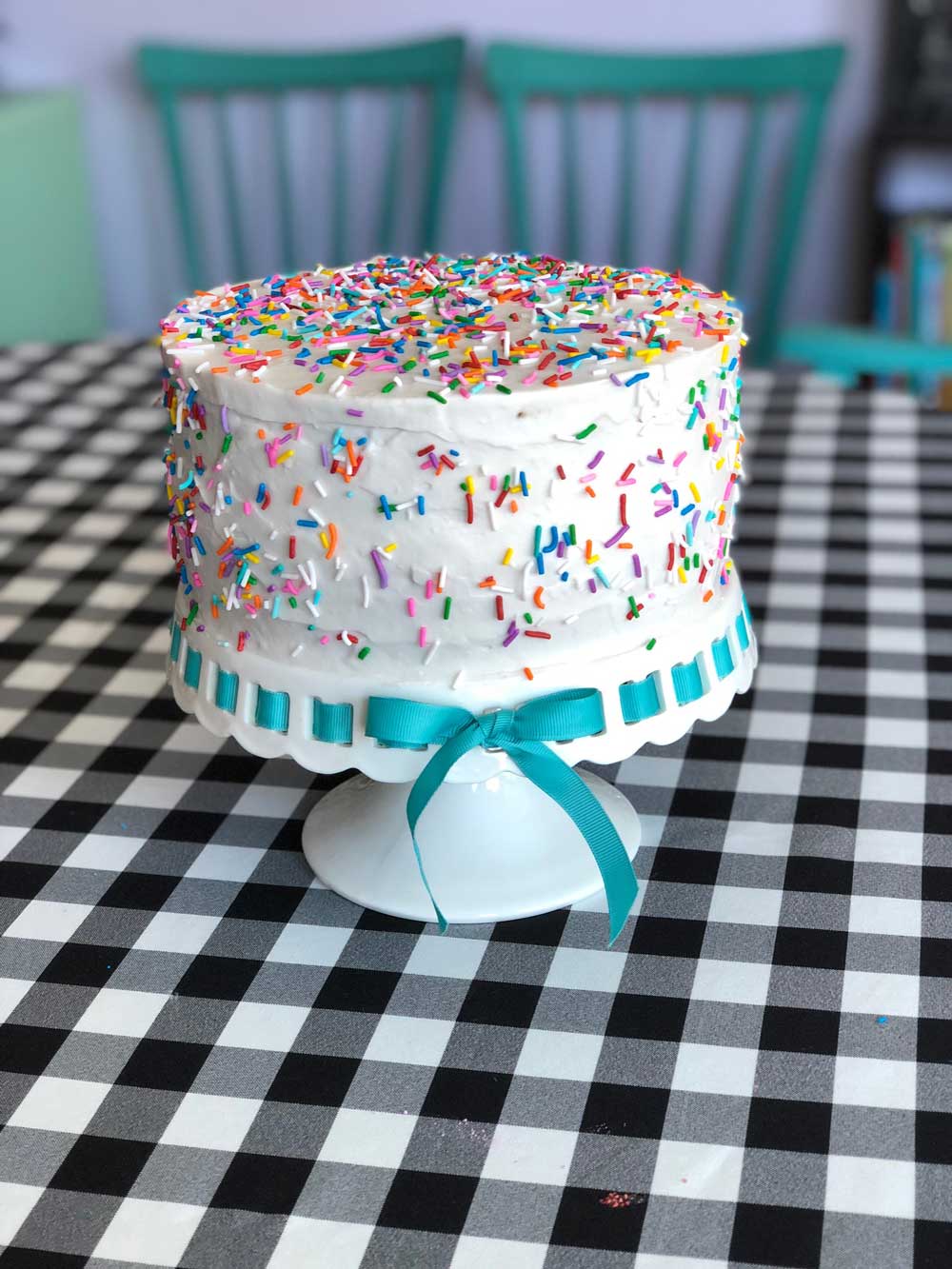 Pipe the remaining whipped cream to decorate.
Add the cherries on top, and chill until ready to serve.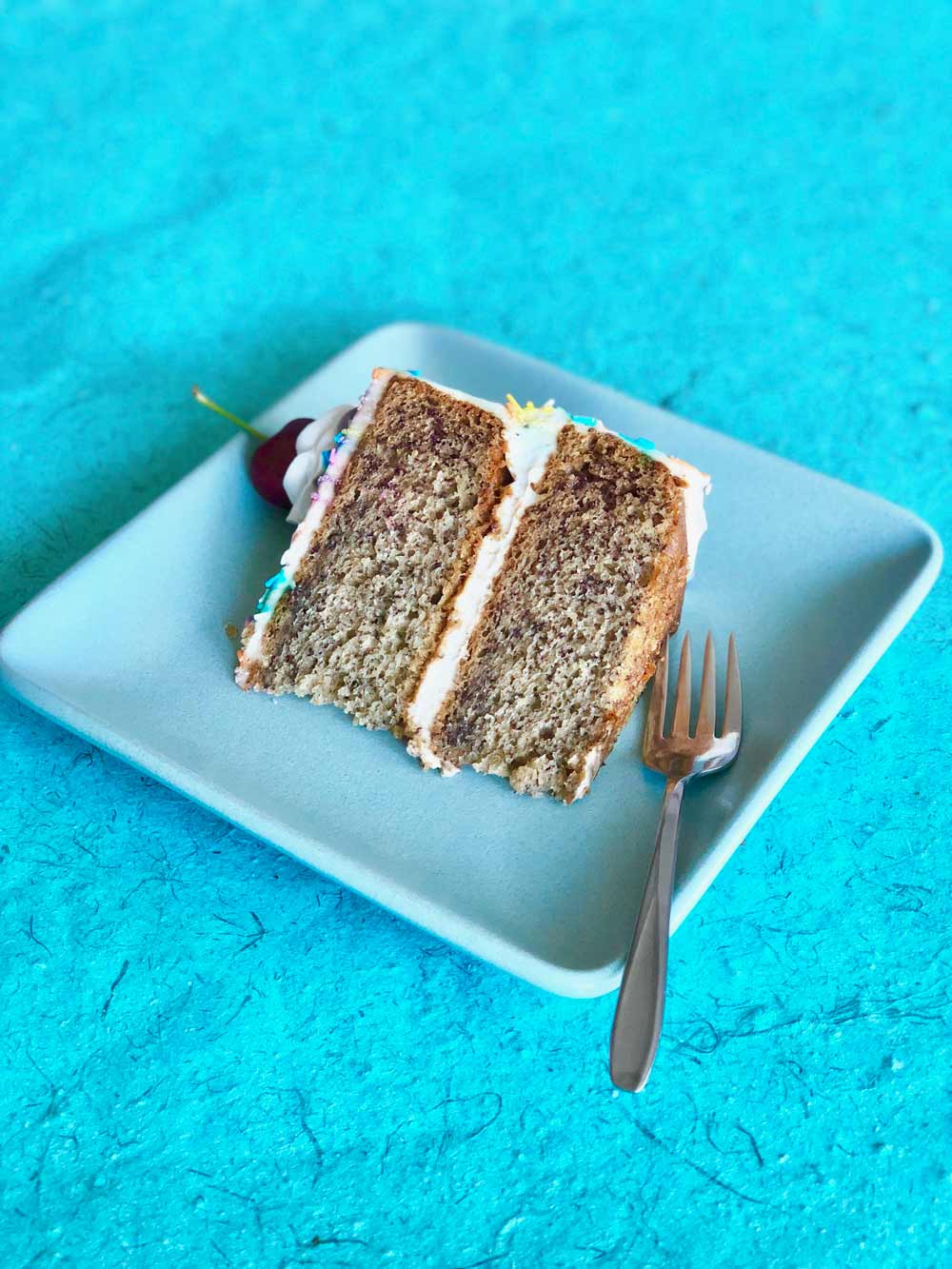 Can I convert this into a chocolate banana cake recipe?
Totally! Instead of 3 cups (390g) of flour, use 2 ½ cups (345g) of flour plus ½ cup (45g) of cocoa powder.
Can I make this banana cake recipe with less sugar?
Definitely! You can reduce the sugar in this recipe to 1 cup. You're of course also welcome to just experiment with different amounts of sugar and see how you like the results. If you reduce the amount of sugar in the recipe, you don't have to make any other changes to the other measurements.
Can I make this banana cake gluten free?
Yep. Just use a gluten-free flour blend in place of the all-purpose flour.
Can I bake the cake in a lasagna pan?
Sure! Follow the directions above and pour the cake batter into an oiled lasagna pan. Start the timer at 35 minutes. If the toothpick doesn't come out dry after the initial baking time, bake it for 5 additional minutes, and keep checking it and baking for another 5 minutes until the toothpick comes out clean. If you do this, you can probably make a half batch of the frosting recipe (or skip it altogether).
Can I make this cake recipe into cupcakes?
Indeed. This recipe will make around 24 banana split cupcakes. Just follow the same directions but scoop them into cupcake pans lined with paper liners. Bake them for 18 minutes and then do the toothpick test. If the toothpick doesn't come out clean, bake for another 5 minutes.
How do I store this vegan banana split cake?
I usually make my cakes in advance since they often take a whole day or more to make and decorate. Here's a little cheat sheet for how to store this cake.
up to 1 week in advance: you can store the (uncut) cake in the fridge uncovered or in a cake carrier
up to 3 months in advance: freeze the (uncut) cake uncovered until it hardens to the touch and then wrap it completely in cling wrap to keep it from drying out or taking on any weird freezer smells. Move it from the freezer to the fridge a day before you want to serve it, but don't remove the cling wrap until 15 minutes before you're ready to serve it.
leftover cake: I store my cut cake in any tupperware that is large enough to fit it, either in the fridge for up to 1 week, or if you don't plan to eat the leftover cake within a week, you can cut it into individual slices and wrap those slices in cling wrap before placing them in a freezer ziplock bag and storing them in the freezer for up to 3 months. Or just bring it to my house. I'll teach you how I eat a 12-serving cake in 5 days or less.
Oil: I recommend using safflower, sunflower, or coconut oil for baking cakes because those oils are made for high heat, which helps you avoid transfats. However, you can use any other oil such as vegetable oil, canola oil, grapeseed oil, etc. People even make cakes with olive oil, but I don't recommend it.
Vinegar: If you don't have apple cider vinegar, you can replace it with lemon juice, lime juice, or white vinegar. You just need some sort of acid to interact with the alkalinity of the baking soda to make the cake rise.
Milk: If you don't have the full amount of nondairy milk that this recipe requires, you can substitute any amount with water, nondairy creamer, or coconut water. You can also mix and match different nondairy milks. I do this a lot when my macadamia milk only has a little bit left at the bottom and I use it up, and then I open a new container of almond, oat, or soymilk.
Flour: If you prefer to use whole grain flours, you can replace the white flour in this recipe with cake flour, wheat flour, spelt flour, or whole wheat pastry flour. It will taste healthier with some of these flours though. If you use cake flour, you can omit the cornstarch.
Sugar: For the sugar in the cake recipe, you can use any number of sugars, as long as they're vegan: brown sugar, sucanat, coconut sugar, raw sugar, organic sugar, or demurara. If you're not sure if your sugar is vegan, you can contact the company and ask, but basically, just avoid conventional white sugar or granulated sugar, and you should be ok.
Baking Powder: If you don't have baking powder, you can replace the 1/2 tablespoon baking powder with another 1/2 teaspoon of baking soda.
If you like this recipe for banana split cake, you might also like my hummingbird cake.
☆☆☆☆☆☆☆☆☆☆
* I use mostly organic ingredients when I cook, but I realize that not everyone has the disposable income to purchase all organic ingredients. Therefore, I only specify organic on the ingredients that really matter - when buying the organic version is the only way to ensure that the item is vegan.