Vegan Hummingbird Cake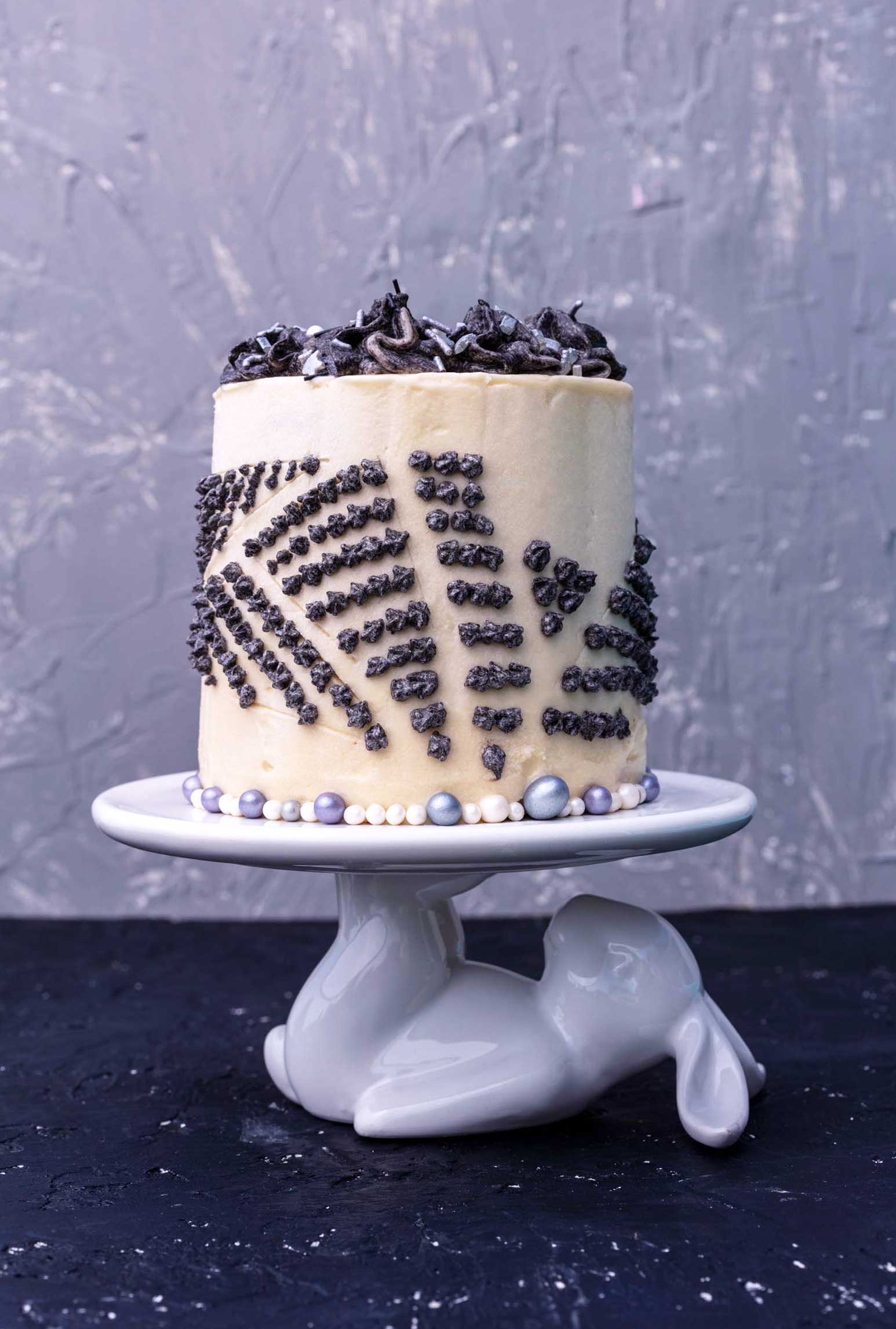 ♫ Listening to: For The Birds by The Juliana Hatfield Three ♫
I was recipe testing a boring old piña colada cake recipe and shared some with my parents. My stepmom said it reminded her of hummingbird cake, which I had never heard of even though it's THE CUTEST CAKE NAME EVER. So, I looked it up, and apparently it was invented in Jamaica, which makes sense since it's a tropical cake. But then I learned that it became popular in the U.S. in the 70's (when my parents had me), so logically, my next train of thought is WHY IN THE HELL didn't my parents make me hummingbird cake??? Did they not love me??? So, I'll be making myself one of these cakes every week for the next year to fill the hole in my heart where my parents' love for me should have been.
Hummingbird cake traditionally had nuts instead of coconut, but I thought I would stick with my original piña colada theme and replace the nuts with shredded coconut. Yes, it means that coconut might get stuck in your teeth when you eat this, but it's worth it! If you're a fellow coconut lover, you might also like my mounds chocolates, mounds waffles, and mounds cake.
This recipe makes a 3-layer 4 inch hummingbird cake or a single layer 8" or 9" hummingbird cake with cream cheese frosting.
Vegan Hummingbird Cake Ingredients
1 cup flour (I've used different varieties of flours with success, but I've never tried this with gluten-free flour)
½ cup organic or raw sugar*
½ teaspoon baking powder
½ teaspoon baking soda
⅛ teaspoon salt
¼ teaspoon cinnamon
¼ teaspoon nutmeg
¼ teaspoon ginger
⅓ cup sunflower or safflower oil
½ teaspoon vanilla
⅓ cup crushed pineapple (from a can)
1 ½ medium bananas, mashed
2 teaspoons vinegar
⅓ cup shredded coconut (optional)
Vegan Hummingbird Cake Directions
prep time: 15 min | bake time: 30-35 min
Dollhouse Shortcut
Make the cake ahead of time, wrap each layer tightly, and chill in the fridge for up to 3 days or in the freezer for up to 3 weeks. On the day you want to assemble and decorate, remove from the fridge or freezer as soon as the frosting is ready.
Preheat the oven to 350°.
Lightly oil three 4" mini springform pans or line them with parchment paper.
Sift the dry ingredients into a small-medium bowl: 1 cup flour, ½ teaspoon baking soda, ½ teaspoon baking powder, ⅛ teaspoon salt, ¼ teaspoon cinnamon, ¼ teaspoon nutmeg, and ¼ teaspoon ginger.
Add ⅓ cup of coconut to the dry ingredients if you're using it.
Whisk the dry ingredients and set them aside for now.
Mix these wet ingredients together, either by hand, or using a stand mixer or handheld electric mixer: ½ cup sugar, ⅓ cup oil, ½ teaspoon vanilla, ⅓ cup crushed pineapple, 1 ½ mashed bananas, and 2 teaspoons vinegar. I mash the bananas with a fork. If you can't find crushed pineapple, you can use canned chunk pineapple or even fresh pineapple, but you have to shred it by hand before adding it.
Add the dry ingredients to the wet and mix until smooth (try not to overmix).
Pour the batter into the 3 cake pans, trying to get the same amount in each one. If you used coconut, it will bulk up the batter and you'll have about a cupcake's worth more than you need for your cake. I usually just bake the extra batter in an oven-safe ramekin for 25 minutes (so I take it out of the oven before I take the cakes out).
Bake for 30-35 minutes, until when you insert a toothpick into the center, it comes out clean. My oven sometimes bakes the ones closer to the back faster, so if the toothpick comes out clean for some and not others when you check it after 30 minutes, take the done ones out and leave the others in for 5 more minutes. You can also make a one-layer 8 or 9" cake with this recipe. If you do that, you'll want to bake it for 35-40 minutes.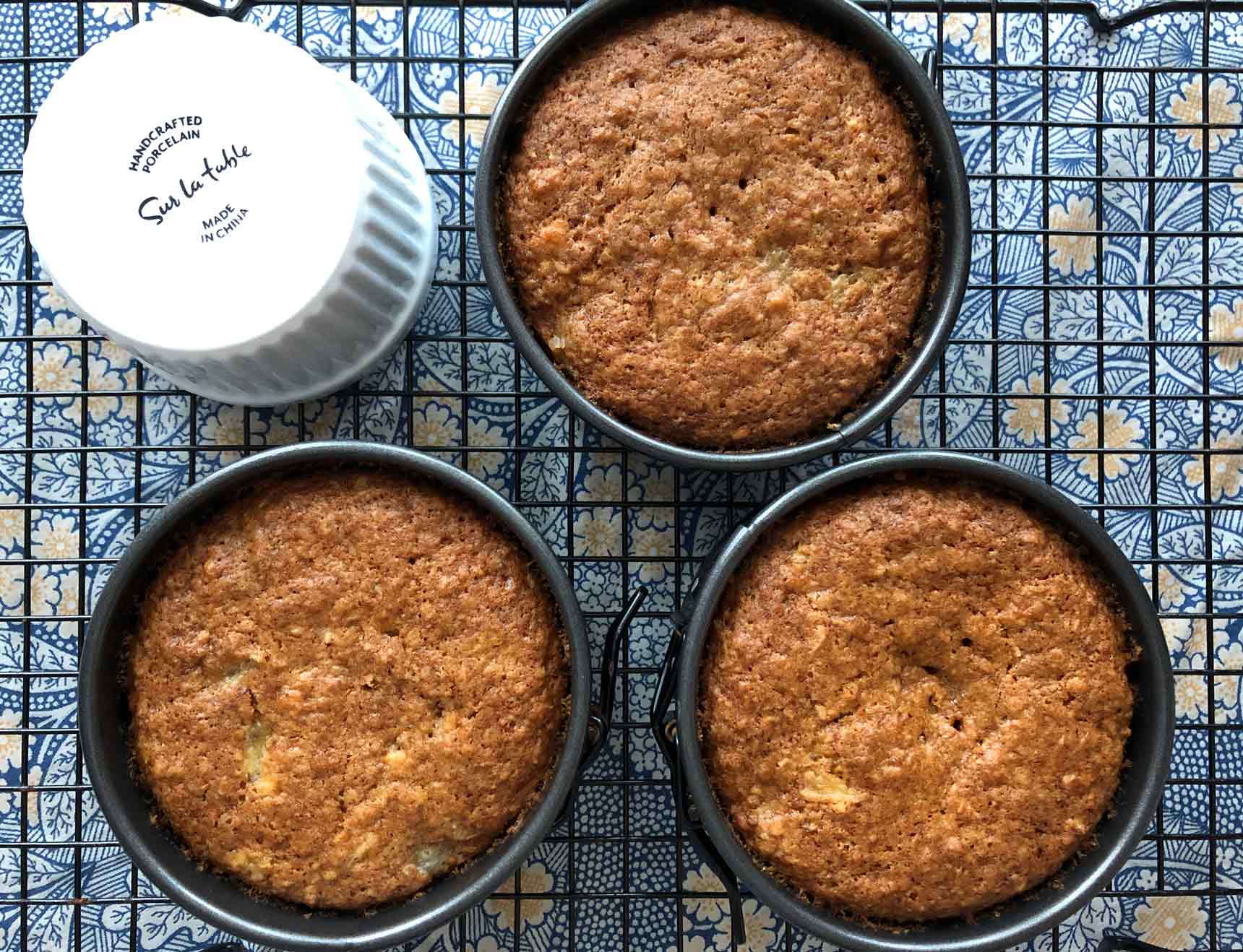 Cool for 15 minutes on a cooling rack while you start on the frosting.
Stick a silicone spatula down the sides, all the way around the perimeter of each pan, to make sure the cake doesn't stick to the sides.
Flip the cake pans upside down on the cooling rack to continue cooling.
Vegan Cream Cheese Frosting Ingredients
⅓ cup spectrum organic palm shortening*
⅓ cup organic earth balance*
2 teaspoons white vinegar
1 ½ teaspoons lemon juice
1 teaspoon vanilla
2 ½ - 3 cups organic powdered sugar*
Vegan Cream Cheese Frosting Directions
prep time: 10 minutes
Whisk all the ingredients except the powdered sugar using a stand mixer or a handheld electric mixer: ⅓ cup spectrum palm shortening, ⅓ cup organic earth balance, 2 teaspoons white vinegar, 1 ½ teaspoons lemon juice, and 1 teaspoon vanilla.
Slowly whisk in the powdered sugar one cup at a time.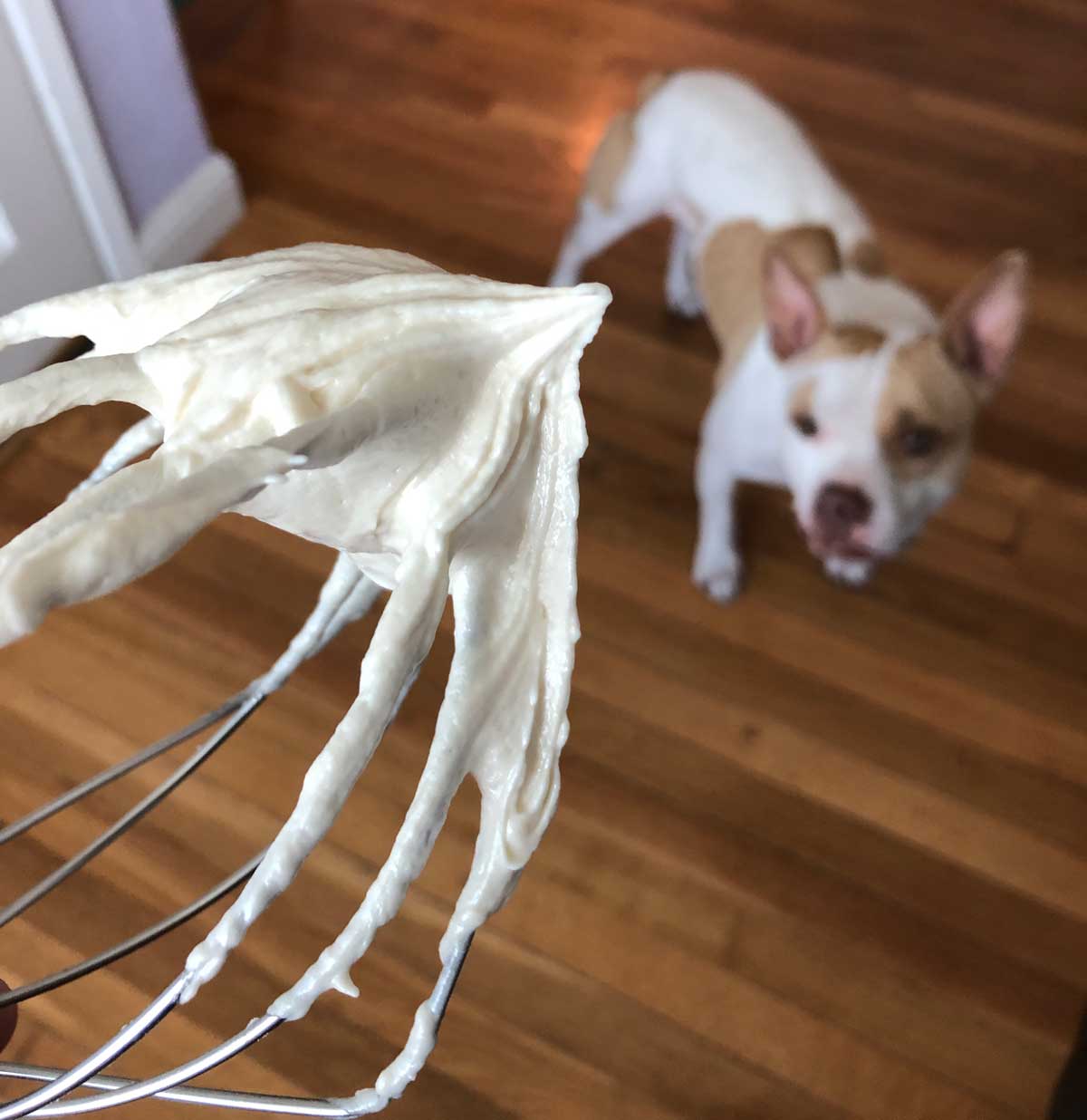 Transfer half to a tupperware with a lid to chill in the fridge while you use the rest to assemble the cake.
Vegan Hummingbird Cake Assembly
assembly / wait time: 1 hour
Slice the tops off of 2 of the cake layers if the cakes aren't flat on top. I use a bread knife to do this.
Spread some of the frosting on top of the bottom cake layer.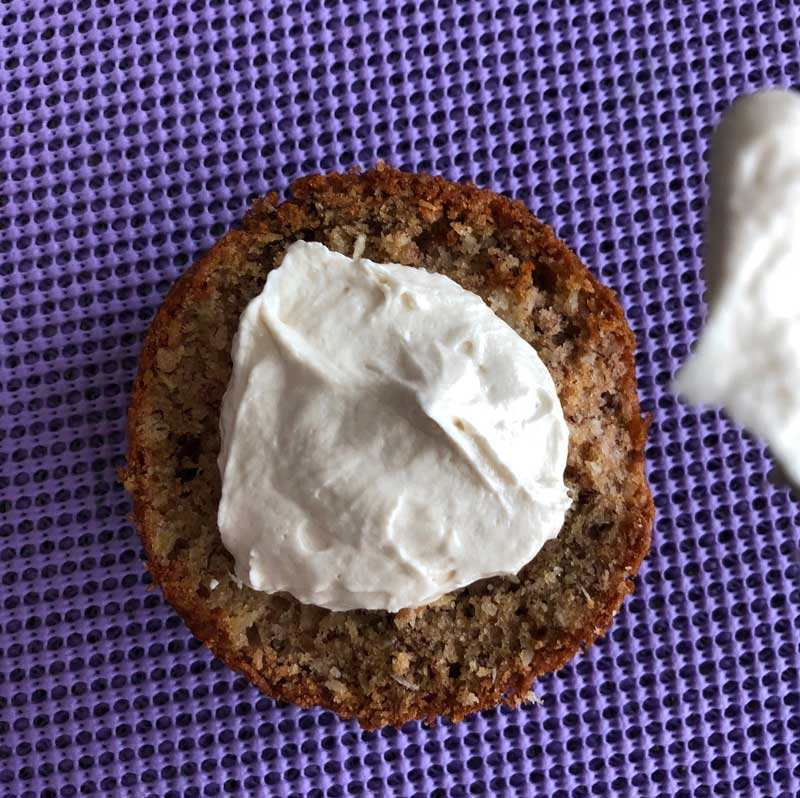 Place the second cake layer on top of the frosting and top that layer with frosting too.
Place the final cake layer on top. If you're not sure about it's stability, you can stick some skewers in the cake to help the layers to keep from sliding away. If you don't have skewers, you can try this with straws.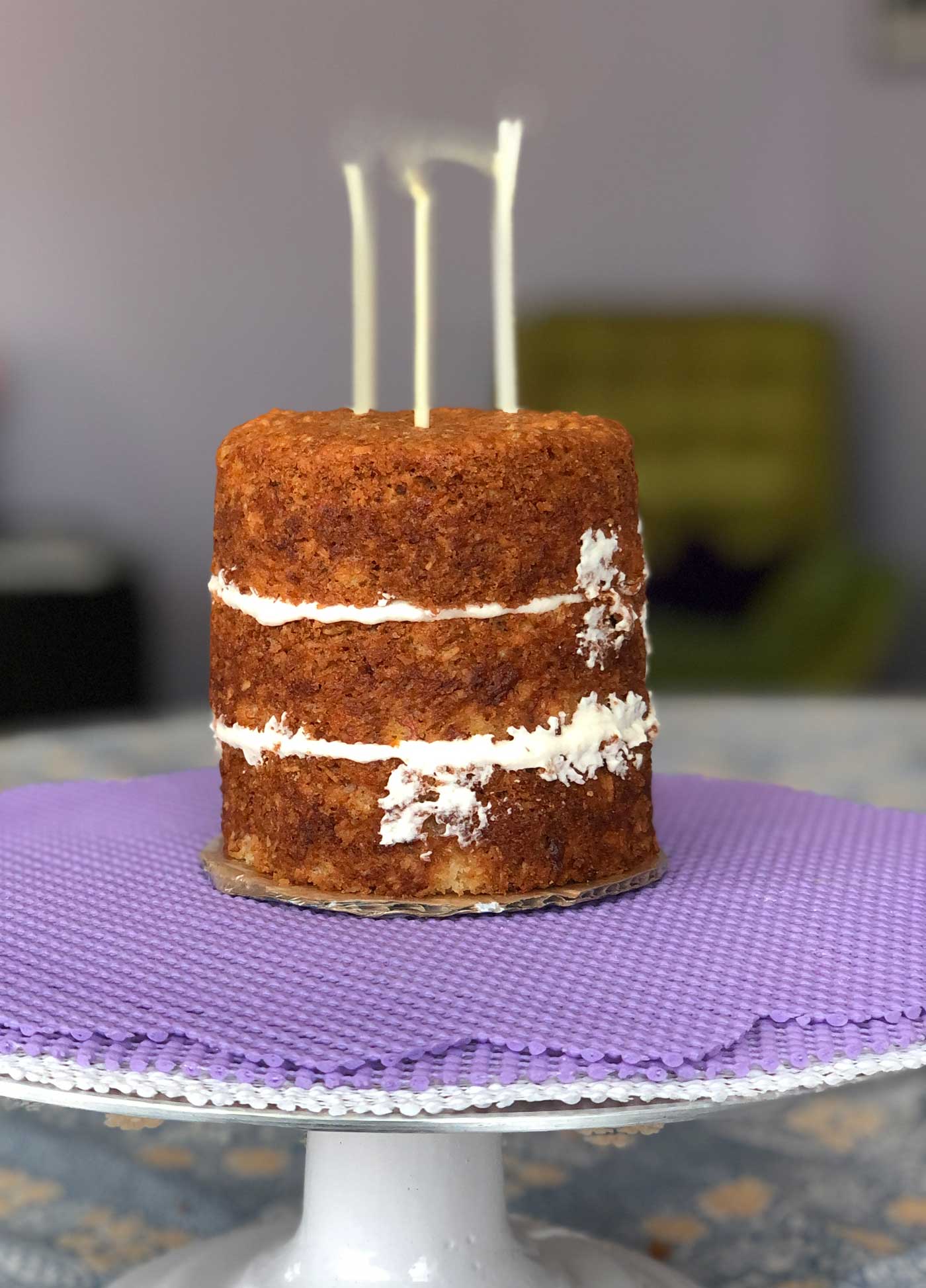 Chill the assembled cake in the freezer for 15 minutes.
Frost the entire outside of the cake using more frosting than you think you need.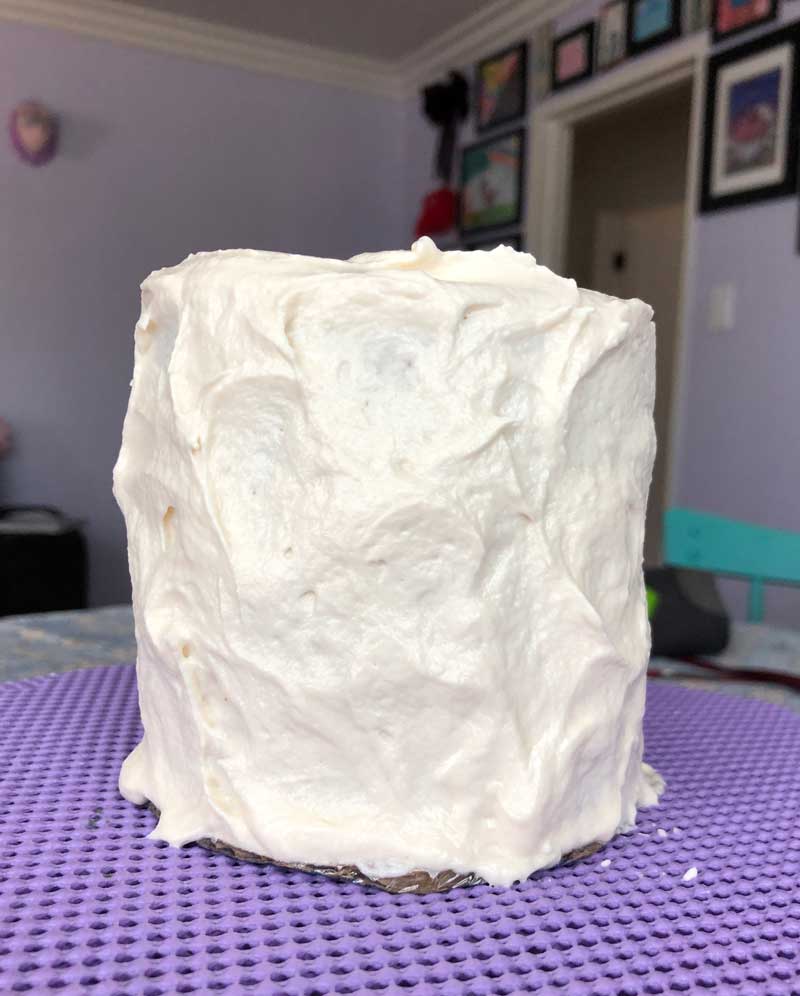 Smooth out the frosting using an offset spatula or a scraper/chopper.
Chill the cake for at least 10 minutes in the freezer or 20 minutes in the fridge, while you prepare your decorating frosting.
Color the remaining frosting with vegan food coloring. I used black cocoa powder because I wanted my cake to be monochrome.
Fill a piping bag fitted with your tip of choice with the remaining frosting.
Decorate however you like. I decorated mine based on inspiration from some wall art I saw on Maggie Sanger's instagram.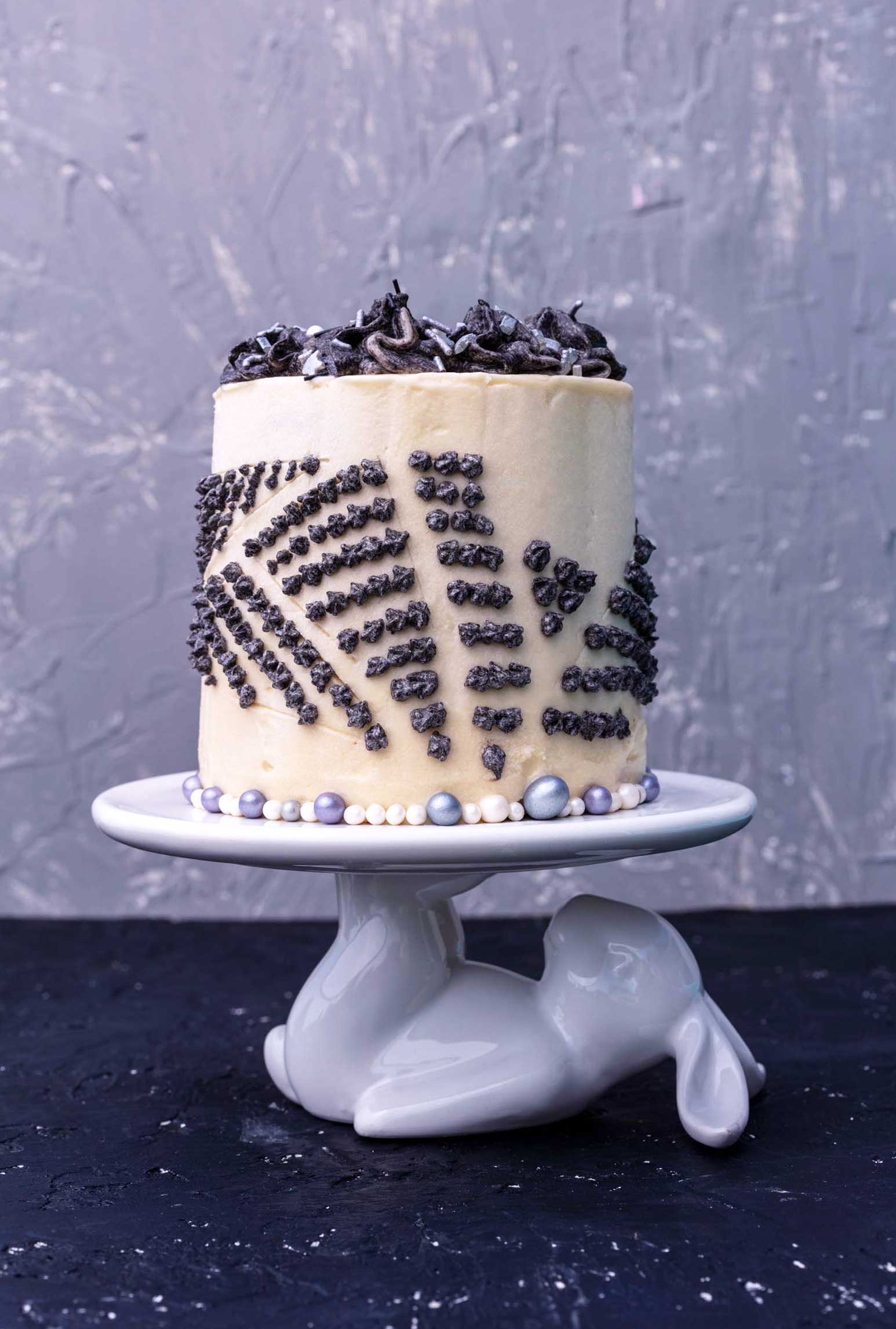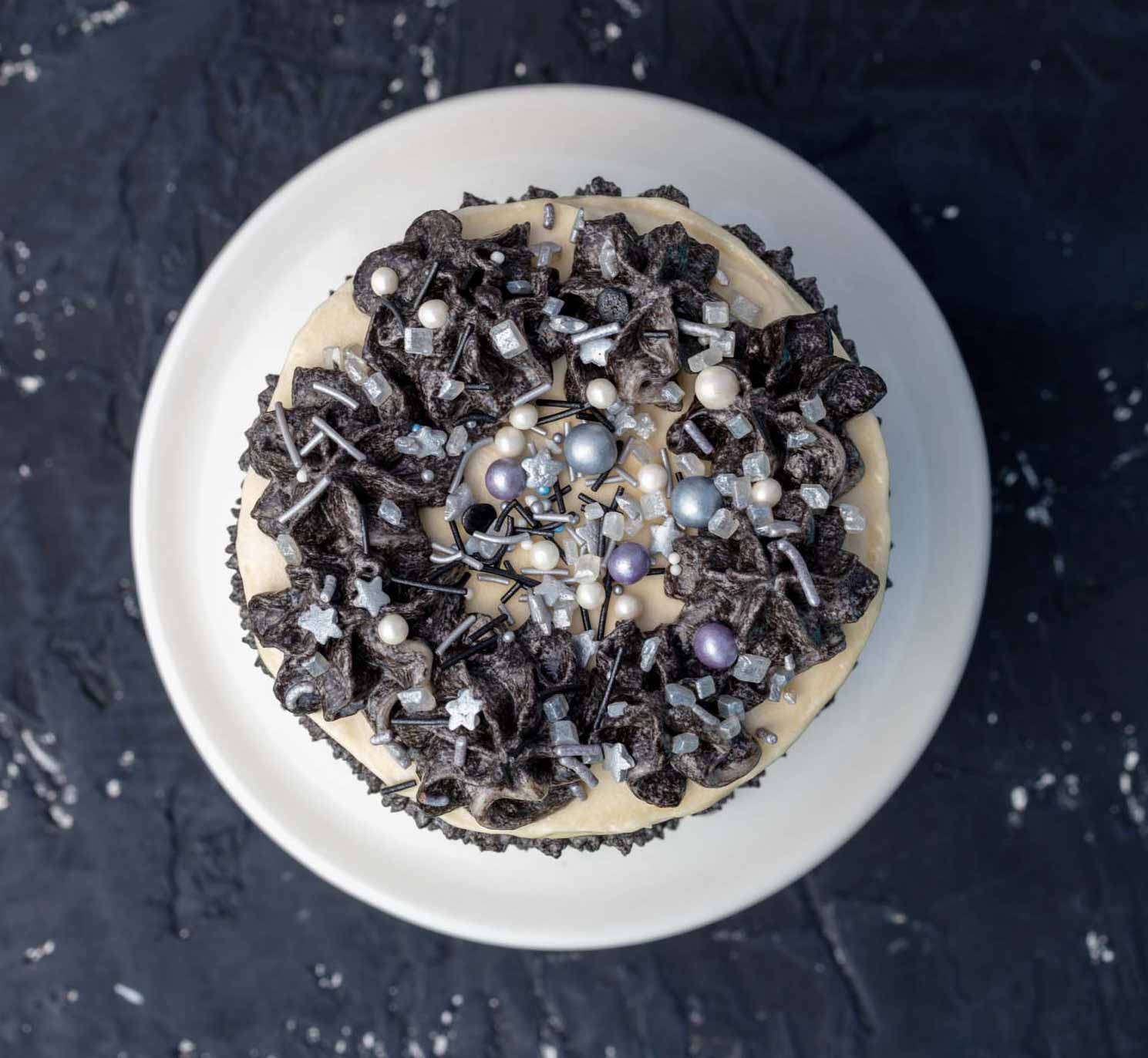 ☆☆☆☆☆☆☆☆☆☆
* I use mostly organic ingredients when I cook, but I realize that not everyone has the disposable income to purchase all organic ingredients. Therefore, I only specify organic on the ingredients that really matter - when buying the organic version is the only way to ensure that the item is vegan.