Vegan Milky Way Galaxy Cupcakes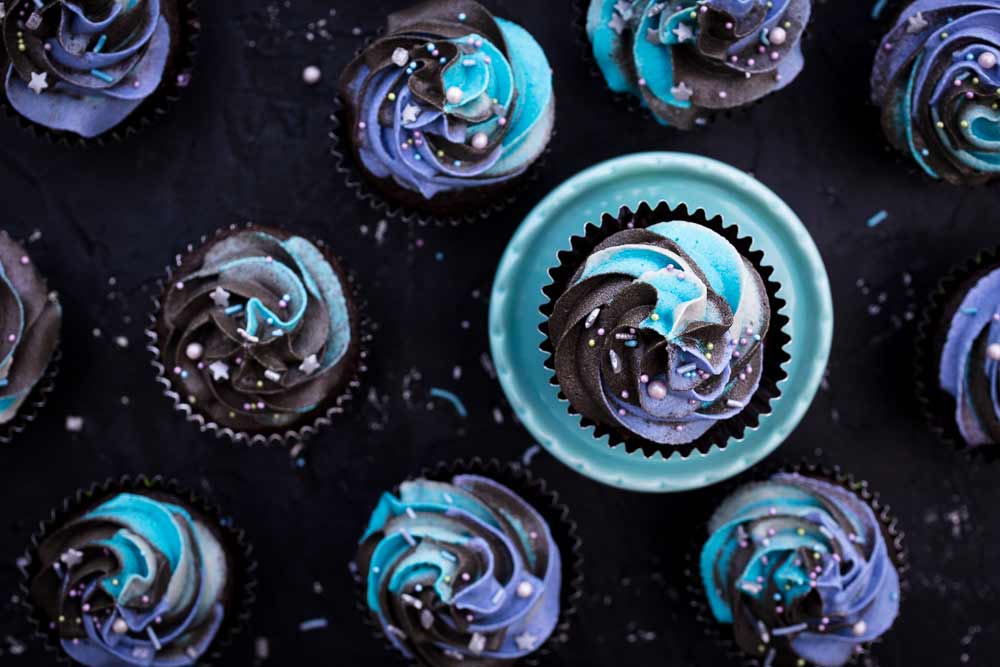 ♫ Listening to: Night Sky by Chvrches ♫
Kimmy told me I could choose what kind of cupcakes she gets for her birthday this year. I decided to make her milky way cupcakes since I had recently lucked into 20 Amy's Dreamy candy bars . Skott told me that Amy's Dreamy candy bars are basically a vegan version of milky way candy bars, which is lucky because I've apparently blocked all memories from my mind that occurred before my veganism (except for mounds and almond joy because I'm obsessed with every chocolate and coconut matrimony). Oh and except for twinkies.
Being the surprise ruiner that she is, Kimmy later told me she wanted galaxy cupcakes, so either great minds think alike, or mediocre minds think alike, but regardless, she's getting the cupcakes she wanted even though I'm taking credit for the idea (since I had it first…me me me, hahaha). I froze these overnight since they needed to go on a road trip to Ojai the next day, where we had a girls weekend to celebrate Kimmy and Lizzie's birthdays. They defrost perfectly and taste amazing, so feel free to make these in advance if needed.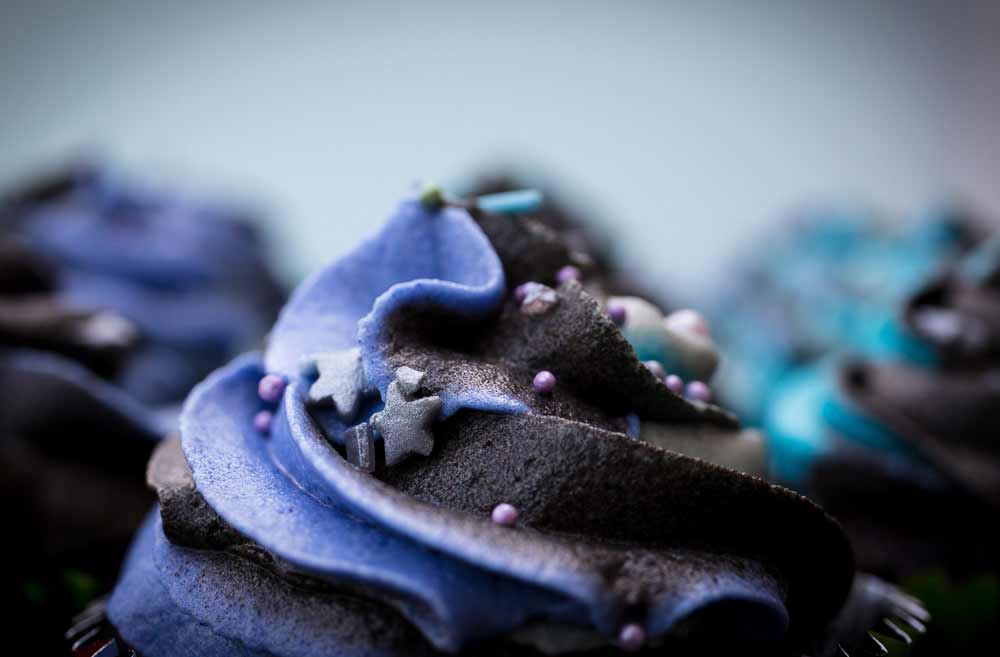 This recipe makes 24 chocolate milky way galaxy cupcakes.
Vegan Milky Way Galaxy Cupcakes Ingredients
2 cups nondairy milk (I used almond milk)
1 tablespoon apple cider vinegar (or substitute white vinegar)
2 ½ cups organic unbleached white flour*
⅔ cup cocoa powder
½ tablespoon baking soda
1 teaspoon baking powder
⅔ cup sunflower oil
1 ½ cups organic sugar*
2 teaspoons vanilla extract
3 Amy's Dreamy candy bars (or other vegan milky way copycat candy bar)
Vegan Milky Way Galaxy Cupcakes Directions
Line 2 cupcake pans with cupcake liners.
Unwrap 3 candy bars. Each of the Amy's Dreamy candy bars comes with 2 smaller bars inside. Cut each smaller bar in half, and then cut each half diagonally in half, so you end up with 24 triangle-shaped pieces.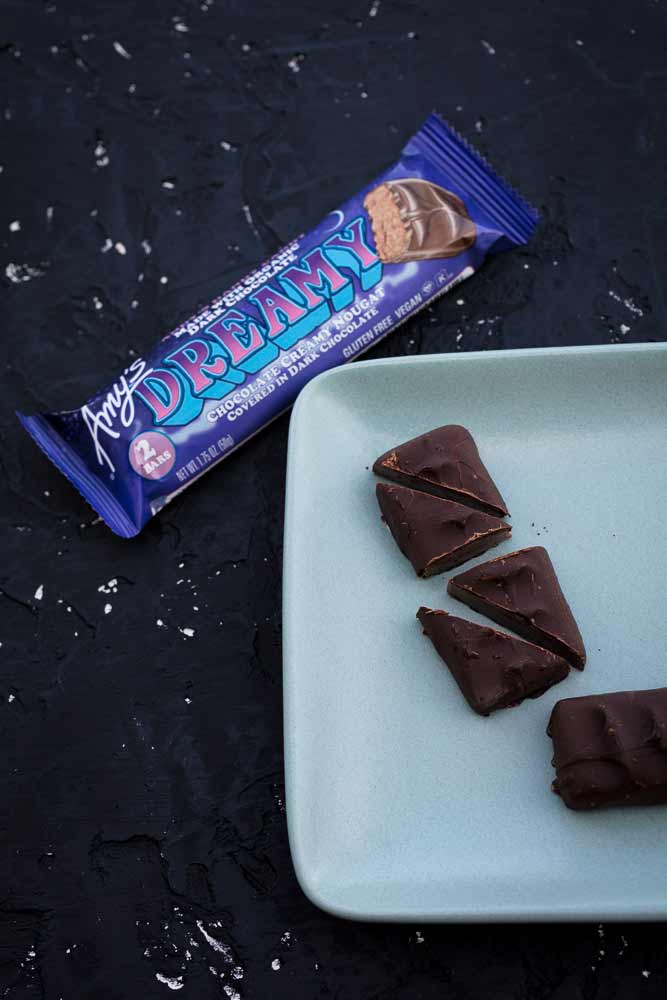 Preheat the oven to 350°.
Combine vinegar and nondairy milk, stir, and let sit.
Sift together the flour, cocoa powder, baking soda, and baking powder into a large bowl.
Add the oil, sugar, and vanilla to the nondairy milk mixture and stir well. I use my stand mixer fitted with the beater attachment.
Add the dry ingredients slowly to the wet, mixing continuously. Stop mixing when you can no longer see any dry ingredients.
Fill each cupcake liner halfway.
Stick a triangle piece of dreamy bar into each cupcake.
Bake for 18 minutes. When you insert a toothpick into the center of one, and it comes out clean, remove from oven. Set pans on cooling racks to cool for 10-15 minutes. Then remove cupcakes from the pans and set them directly on the cooling racks to finish cooling completely.
Vegan Milky Way Galaxy Buttercream Frosting Ingredients
¾ cup vegan butter or margarine (if you avoid soy, buy the soy-free earth balance; otherwise buy the organic whipped earth balance)*
¾ cup organic palm shortening*
1 tablespoon vanilla extract
4 ½ cups organic powdered sugar (a 24-oz bag of 365 organic powdered sugar from Whole Foods is more than enough)*
4 tablespoons black cocoa powder
Vegan food coloring (I used blue and purple from the wilton multi color pack of gel food colors and americolor black gel color but you can see my list of vegan food coloring for other options.)
Vegan Milky Way Galaxy Buttercream Frosting Directions
Leave the ingredients sitting out before using them. Best results come from using room temperature ingredients.
Whisk the spectrum sustainable organic palm shortening and margarine for 1 minute using a stand mixer or a handheld electric mixer.
Sift in the powdered sugar, 1 cup at a time, mixing for at least minute between each addition.
Add the vanilla extract, and mix for 2 more minutes.
Divide the frosting into 4 bowls.
Add food coloring to each bowl of frosting, and mix well (I used the stand mixer with the whisk attachment). You can use any colors you like, but I used black, purple, and blue to make these colors: silver, blue, purple, and black. When you make the black color, add 4 tablespoons of sifted black cocoa powder . This will help you get the black color without using an entire bottle of food coloring. I made twice as much black as I did any other color.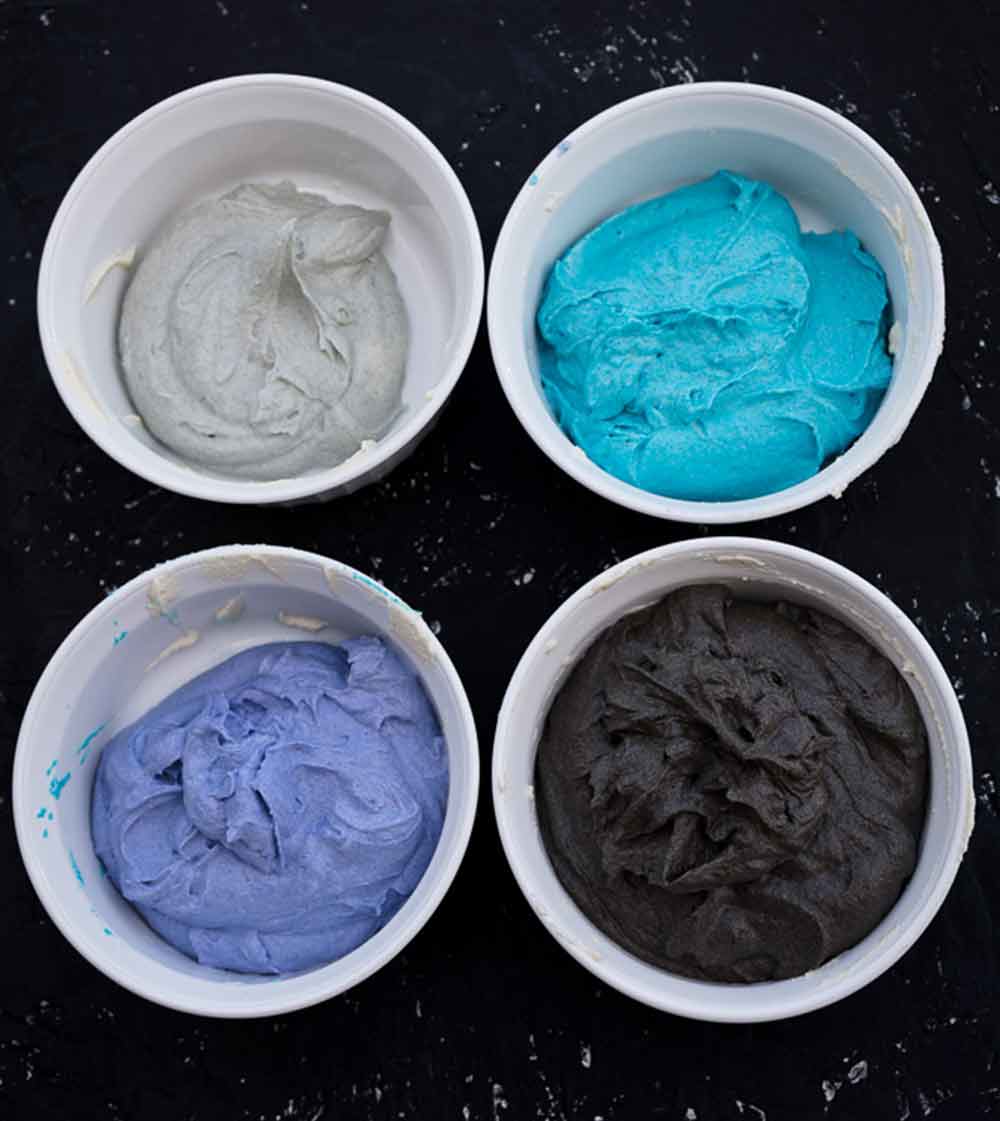 Fill disposable piping bag s or reusable piping bag s (or you can just use baggies with a hole cut out of the corner) with the 4 colors of frosting.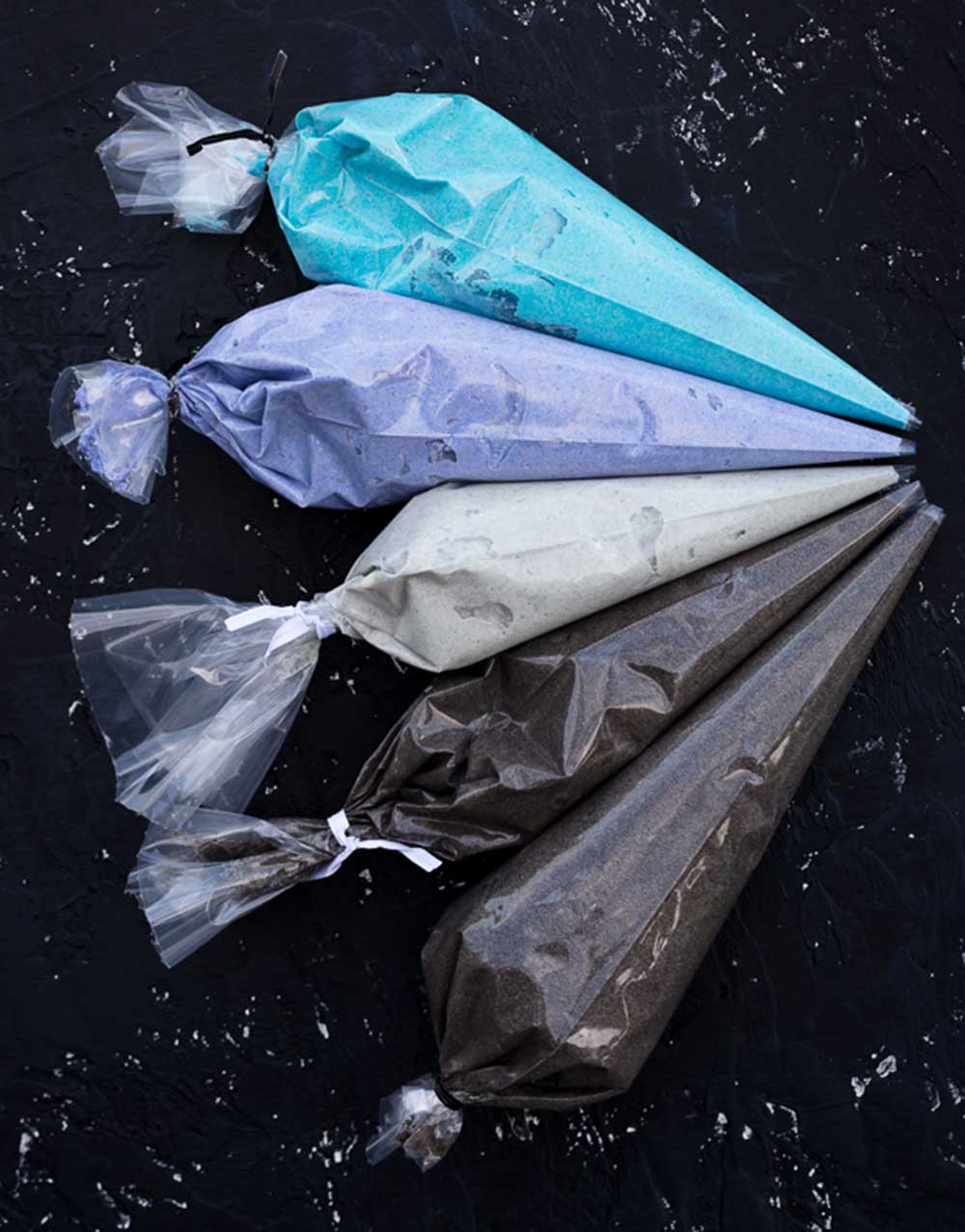 Place the 4 or 5 single-colored piping bags inside of a large piping bag fitted with your tip of choice. I used my Wilton star tip 1M . I mean what else would you use for a galaxy themed cupcake?
Pipe swirls of frosting onto each cupcake. The first cupcake won't look great because it takes a sec for the colors to start swirling together, so if you're worried about having an ugly one, maybe start piping on a plate until it starts looking good before doing the cupcakes.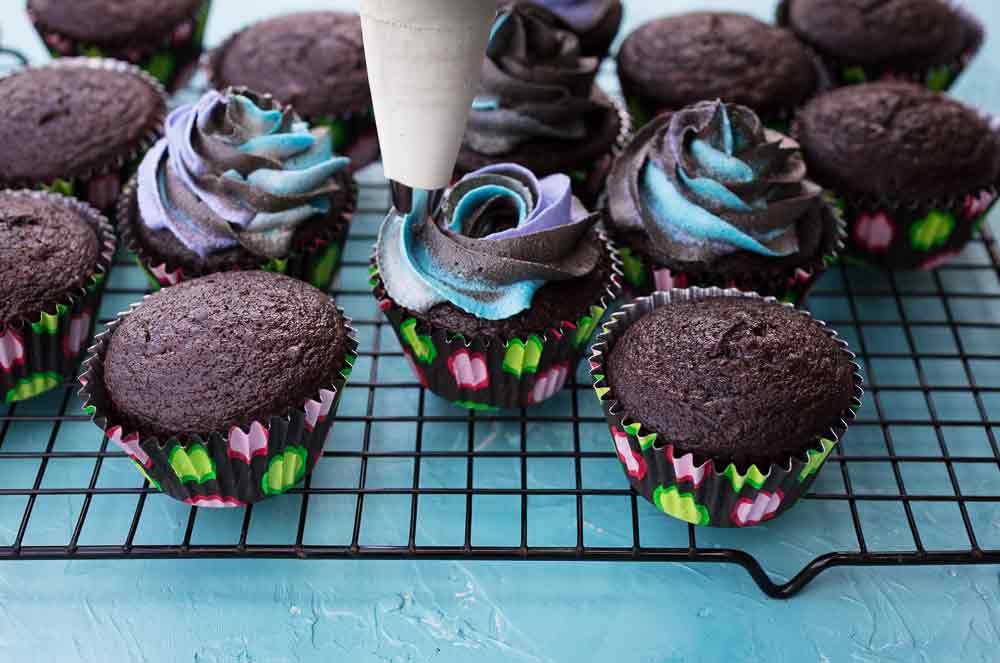 Top with vegan sprinkles. I used a combination of mermaid's tail sprinkles and magical stardust sprinkles from Baking Time Club.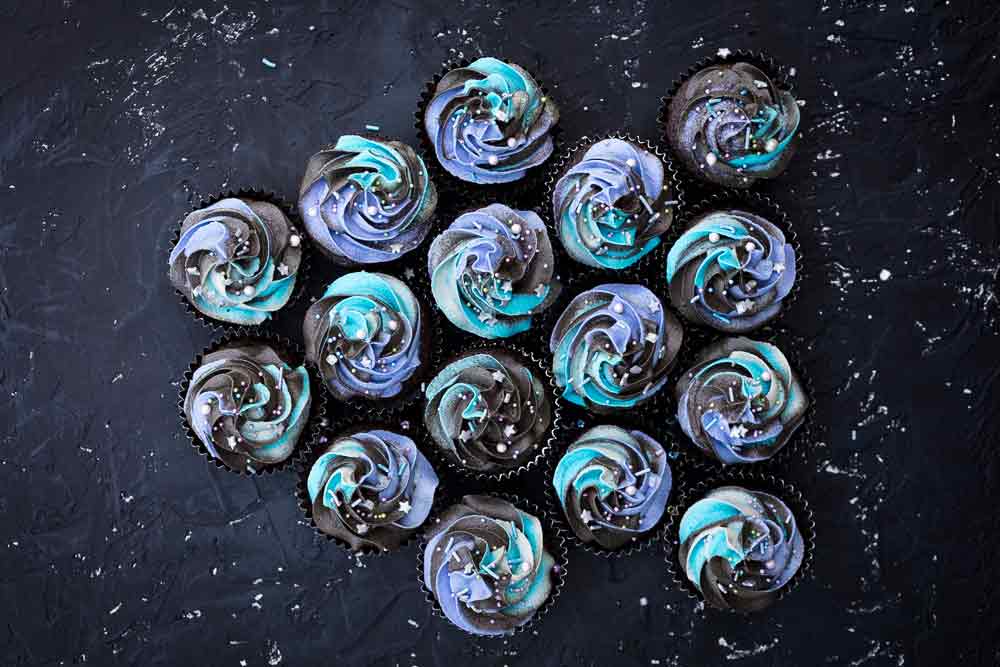 Chill cupcakes, and remove from fridge 30 minutes before serving.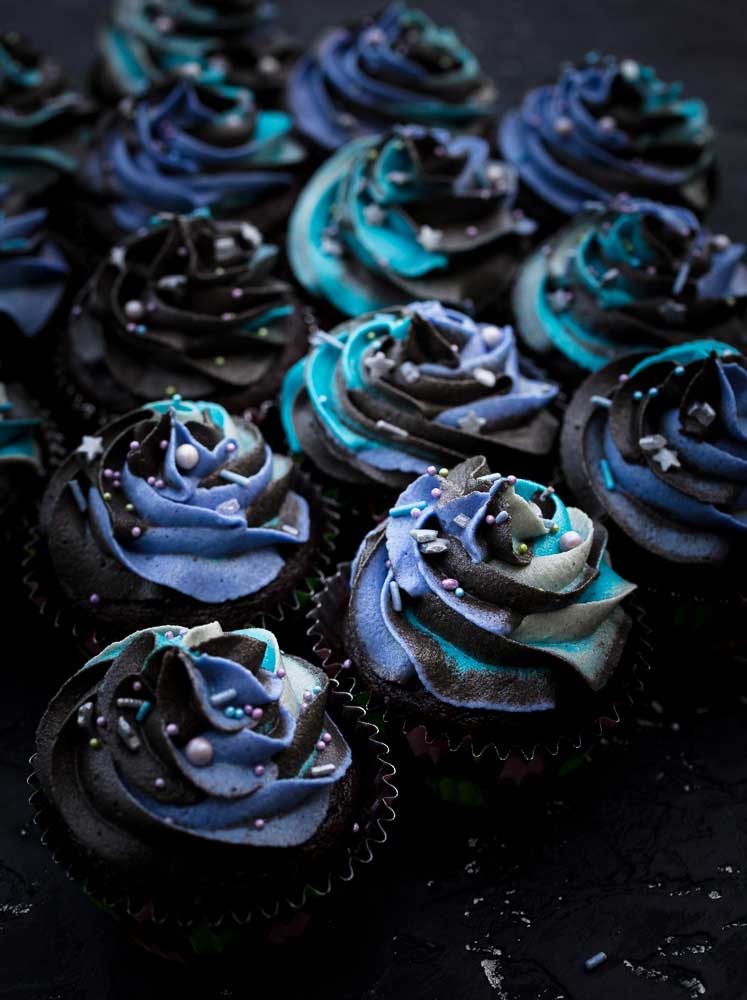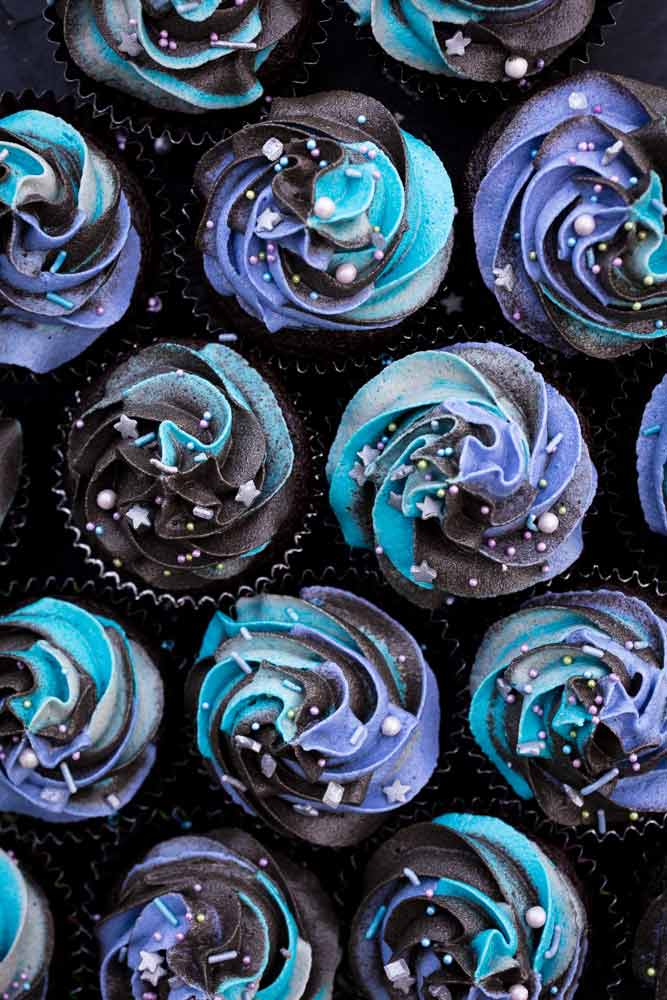 ☆☆☆☆☆☆☆☆☆☆
* I use mostly organic ingredients when I cook, but I realize that not everyone has the disposable income to purchase all organic ingredients. Therefore, I only specify organic on the ingredients that really matter - when buying the organic version is the only way to ensure that the item is vegan.