Vegan Galaxy Cake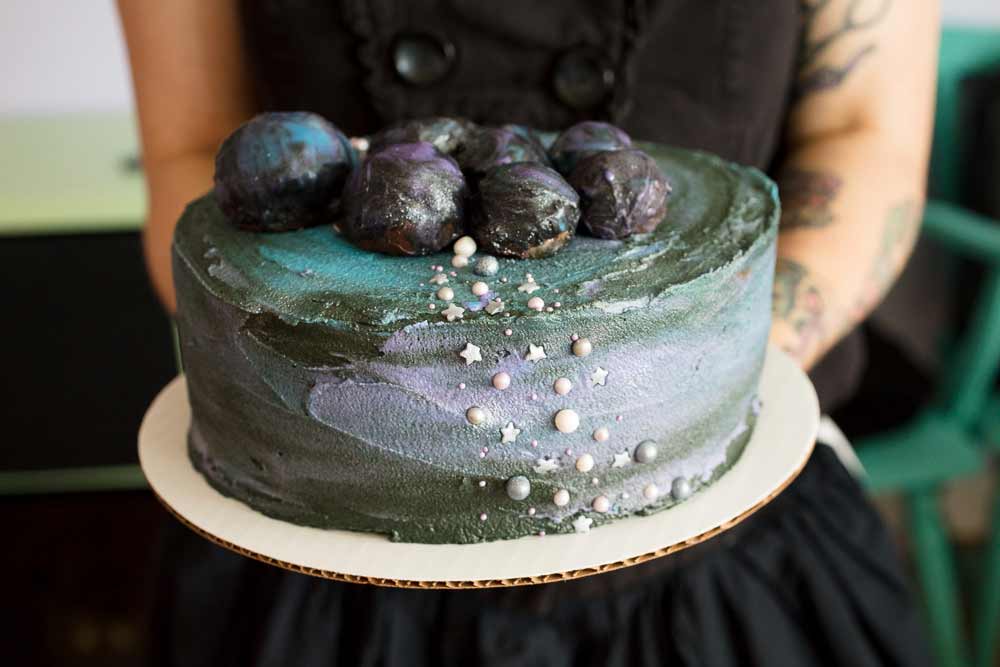 ♫ Listening to: Vacation by Crying ♫
This was my first time making a galaxy buttercream, and it actually turned out good. Alissa's birthday party was on May 4 (I know, I know, I'm posting this recipe 3 months later), so I felt like this space-themed cake was appropriate. If you like galaxy themed food, check out my galaxy sushi bowl, galaxy donuts, and galaxy cupcakes.
This recipe makes a 2-layer 8" or 9" round chocolate galaxy birthday cake.
Vegan Chocolate Cake Ingredients
2 cups nondairy milk
1 tablespoon apple cider vinegar (or substitute white vinegar)
2 ½ cups unbleached white flour
⅔ cup cocoa powder
½ tablespoon baking soda
1 teaspoon baking powder
⅔ cup sunflower oil
1 ½ cups sugar
2 teaspoons vanilla extract
Vegan Chocolate Cake Directions
Preheat the oven to 350°.
Coat two 8" round cake pans with any vegetable oil (or vegan nonstick spray).
Combine vinegar and soymilk and let sit.
Sift together the flour, cocoa powder, baking soda, and baking powder into another bowl.
Add the oil, sugar, and vanilla to the soymilk mixture and stir well.
Add the dry ingredients slowly to the wet, mixing continuously. Stop mixing when you can no longer see any dry ingredients.
Pour half of the batter into each cake pan.
Bake for 35 minutes, until when you insert a toothpick into the center of one, it comes out clean. (If making cupcakes, bake for 18-20 minutes. If making 4" cakes, bake for 22-25 minutes.) Set the 8" round cake pans on a cooling rack to cool in pan for 10-15 minutes. Then remove from pan and set on a cooling rack.
Vegan Galaxy Frosting Ingredients
¾ cup organic whipped earth balance
¾ cup organic palm shortening
1 tablespoon vanilla extract
6 cups organic powdered sugar (a 24-oz bag of 365 organic powdered sugar from Whole Foods is the perfect amount)
Up to 2 tablespoons nondairy milk (optional, to achieve a creamy consistency if needed)
vegan food coloring (I used wilton sky blue and violet and americolor black gel colors
Vegan Galaxy Frosting Directions
Leave the ingredients sitting out before using them. Best results come from using room temperature ingredients.
Whisk the shortening and margarine for 1 minute using a stand mixer or a handheld electric mixer.
Sift in the powdered sugar, 1 cup at a time, mixing for at least minute between each addition.
Add the vanilla extract, and mix for 2 more minutes.
Divide the frosting into 3 bowls.
Add food coloring to the other bowls of frosting, and mix well (I used the stand mixer with the whisk attachment). You can use any colors you like, but I used I used wilton sky blue and violet and americolor black gel colors. If you prefer all-natural food colors, check out my list of vegan food coloring.
Fill the 2 cake layers with a mixture of all 3 colors of frosting.
Use the black frosting to complete the crumb layer of frosting.
Chill the crumb layer to harden to touch while you make the asteroids.
Add the 3 colors of frosting around the cake in any size dollops you prefer.
Smooth out the frosting with an offset spatula while spinning the cake.
Vegan Cookie Dough Asteroid Decorations Ingredients
Dollhouse Shortcut
Buy the cookie dough instead of making your own. Eat Pastry and Hampton Creek both sell vegan cookie dough.
Vegan Cookie Dough Asteroids Decorations Directions
Roll different sized balls of cookie dough and place them onto parchment paper that's on something stiff, like a tray or cutting board.
Freeze for 15-20 minutes.
Heat the vegan chocolate chips and coconut oil over a double boiler (or using a microwave) until completely smooth and melted.
Dip each asteroid into the melted vegan chocolate chips using a fork, and set them back on the parchment paper to harden. If your kitchen is especially hot and the chocolate doesn't harden on the counter, you can stick them in the fridge for a few minutes to speed things up.
Mix the coconut oil and nondairy milk until well mixed.
Slowly whisk in the powdered sugar half at a time. Stop adding powdered sugar when the consistency is dipable (slightly thinner than molasses).
Divide the icing into as many bowls as colors you want to use. I used black, purple, blue, and white.
Add food coloring to each bowl until desired color is achieved.
Decorate the asteroids with galaxy icing and use a spoon or your finger to swirl the colors together.
Chill the asteroids for a few minutes to get the icing to firm up.
Place each asteroid on top of the cake.
Add sprinkles to the cake in any design you like.
Spray edible glitter spray onto the asteroids and cake.
Chill cake and remove from fridge 30 minutes before serving.
☆☆☆☆☆☆☆☆☆☆