Banana Bread Donuts
published on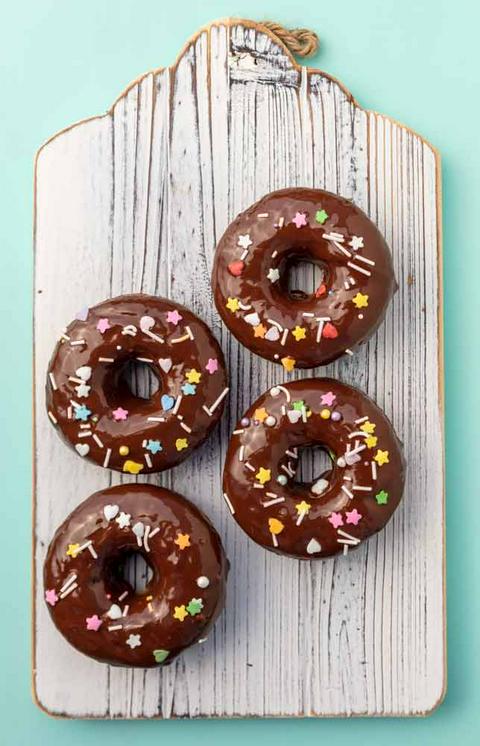 ♫ Listening to: Wasting Time (Eternal Summer) by Four Year Strong ♫
If you don't have donut pans and don't want to buy any, this vegan chocolate chip banana bread recipe can be made in a variety of other pans, shapes, and sizes.
If you want to make a banana bread loaf, baking your loaf pan for one hour.
If you prefer banana muffins, scoop your batter into 9 cubbies of a muffin or cupcake pan and bake them for 24-26 minutes (it varies depending on your oven).
If you have a brownie pan, you can bake this for 30 minutes.
You can also double this recipe and bake it in a lasagna pan if your family (like mine) can finish off a single batch in less than a day.
I've even made these in an air fryer when I don't have enough ingredients to make a full batch. I made a half a batch (5 muffins), but you could even make a third of a batch (3-4 muffins), depending on the size of your air fryer. To use an air fryer, reduce the temperature to 330º and cook them for 14 minutes. I use these oven safe porcelain ramekins but you can use any oven-safe, muffin-sized receptacles.
If you like making donut-shaped vegan food, you should check out my blog post on things you can make with your donut pan.
This recipe makes 12 chocolate chip banana bread donuts with chocolate frosting.
Vegan Banana Bread Donuts Ingredients
Dollhouse Shortcut
You can use frozen bananas, but after they thaw, toss out the banana liquid that extracts from them (or give it to your dog, and they will LOVE it).
⅓ cup (80g) melted coconut oil, sunflower oil, or safflower oil

2 very ripe medium-sized bananas, mashed

⅔ cup (140g) sucanat, coconut sugar, or organic sugar*

3 tablespoons nondairy milk (I use 365 brand organic almond milk because it's cheap af)

1 teaspoon vanilla extract

1 teaspoon apple cider vinegar

1 ½ cups (190g) unbleached white flour (or sub any all-purpose flour)

½ teaspoon (3g) baking soda

a pinch of salt

⅓ cup (54g) vegan chocolate chips (I use guittard, because it's fair-trade, soy-free, and delicious. They also sell them in bulk at Rainbow Grocery.)
Vegan Banana Bread Donuts Directions
prep time: 15 min; bake time: 13 min
Dollhouse Shortcut
If you're feeling exceptionally lazy, you can mix all the ingredients in a brownie pan and bake them in the same pan, and then cut them into squares when they're baked. It's so easy and dirties fewer dishes.
Preheat oven to 350°.
Melt the ⅓ cup (80g) of coconut oil in the oven while it preheats (if you're using coconut oil).
Coat the cubbies of 2 donut pans (12 cubbies) with the same oil.
Mix the mashed bananas, ⅔ cup (140g) sugar, 3 tablespoons nondairy milk, ⅓ cup (80g) oil, teaspoon vanilla, and teaspoon vinegar together. I've used a stand mixer with the paddle attachment, and I've also mixed this by hand.
Sift and whisk the dry ingredients together in a separate bowl: 1 ½ cups (190g) flour, ½ teaspoon (3g) baking soda, and a pinch of salt.
Add the dry ingredients to the wet and mix until there are no longer any flour lumps.
Add ⅓ cup (54g) vegan chocolate chips to the batter and mix.
Spoon (or pipe) the batter into each donut cubby, filling the cubbies in the donut pans only halfway.
Bake for 13 minutes at 350°.
Cool for at least 15 minutes before removing from pan. To remove, gently shimmy a silicone spatula down the sides of each donut to loosen them before turning the pan upside down onto a cooling rack.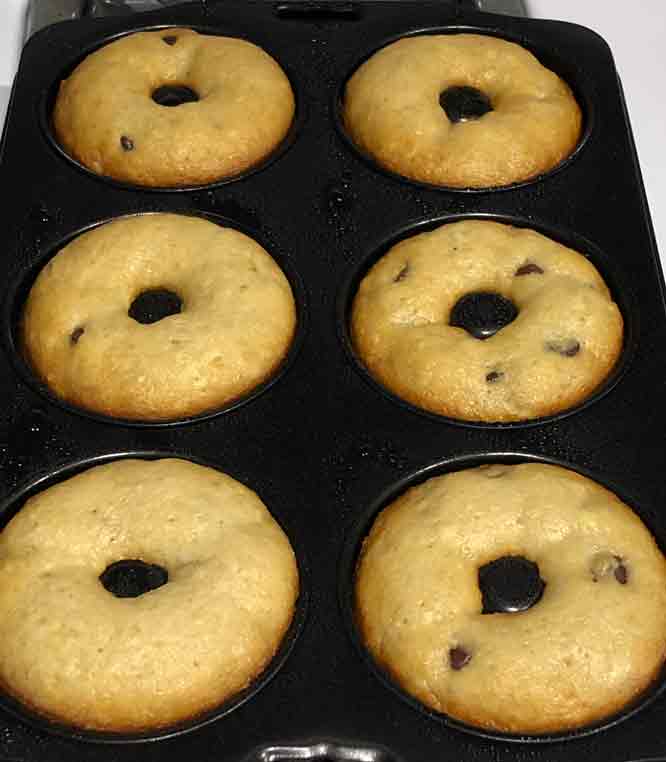 Vegan Chocolate Donut Frosting Ingredients
1 ⅓ cups (216g) vegan chocolate chips

2 teaspoons coconut oil
Vegan Chocolate Donut Frosting Directions
Melt the vegan chocolate chips and coconut oil in the microwave for one minute (stopping halfway to stir it) or use a double boiler.
Stir the melted vegan chocolate chips until it's completely smooth. If it's not smooth, warm it up for 30 more seconds.
Spoon the melted chocolate over each banana bread donut, letting the chocolate drip down the sides. Or you can try dipping the tops of the donuts into the melted chocolate, but that is a little bit more difficult.
Garnish with sprinkles.
Eat immediately or leave on the counter overnight for the chocolate to harden.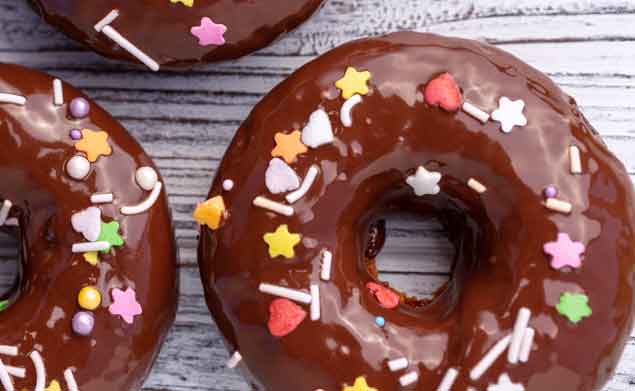 Here's a video of Briana making these on live stream with me.
☆☆☆☆☆☆☆☆☆☆
* I use mostly organic ingredients when I cook and bake, but I realize that not everyone has the disposable income to purchase all organic ingredients. Therefore, I only specify organic on the ingredients that really matter - when buying organic or non-GMO is the only way to ensure that the item is vegan.