Funfetti Lemonade Cake
published on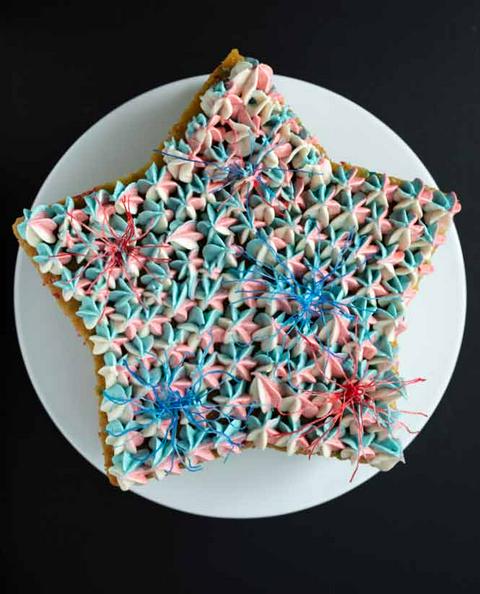 ♫ Listening to: Heaven is Falling by Bad Religion ♫
This recipe makes a double-layer star-shaped funfetti lemon cake. I made this on memorial day, but it's mostly a fourth of july themed cake for the "red, white, and blue cake collaboration" on instagram. It took me all day long to make it, so I recommend starting early (and if you're using fireworks decorations on top, start those the day before).
If you like this lemonade cake, you might also like my strawberry lemonade cake, or for something easier and healthier, check out my lemon loaf cake.
Vegan Funfetti Lemonade Cake Ingredients
zest from 5 lemons
½ cup fresh squeezed lemon juice (~3 lemons)
1 ½ cups nondairy milk
2 tablespoons apple cider vinegar (or sub white vinegar)
3 cups unbleached white flour
1 teaspoon salt
2 teaspoons baking soda
2 cups sugar
⅔ cup sunflower oil
2 tablespoons vanilla extract
½ cup vegan sprinkles mixed with ½ teaspoon flour until thoroughly coated
Vegan Funfetti Lemonade Cake Directions
Grate the rind off of 5 lemons if you haven't already. The rind is just the yellow part, so when you're done, the lemons should be white.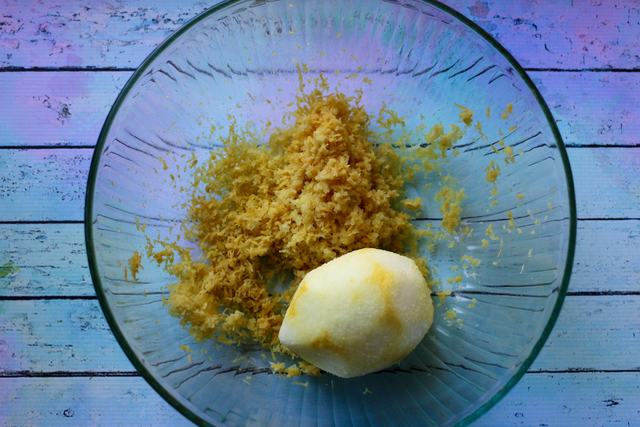 Juice the lemons if you haven't already.
Preheat the oven to 350°.
Coat the star cake pans with any vegetable oil (or vegan nonstick spray). If you don't have star cake pans and don't want to buy them, you can just bake them in any cake pans and cut the star shape out later.
Combine vinegar and nondairy milk and let sit.
Sift together the flour, baking soda, and salt into another bowl.
Add the oil, sugar, lemon juice and zest (it's easier to zest the lemons before you juice them), and vanilla to the nondairy milk mixture and stir well.
Add the dry ingredients slowly to the wet, mixing continuously. Stop mixing when you can no longer see any dry ingredients.
Stir the sprinkles into the batter as gently as possible.
Pour half of the batter into each star cake pan.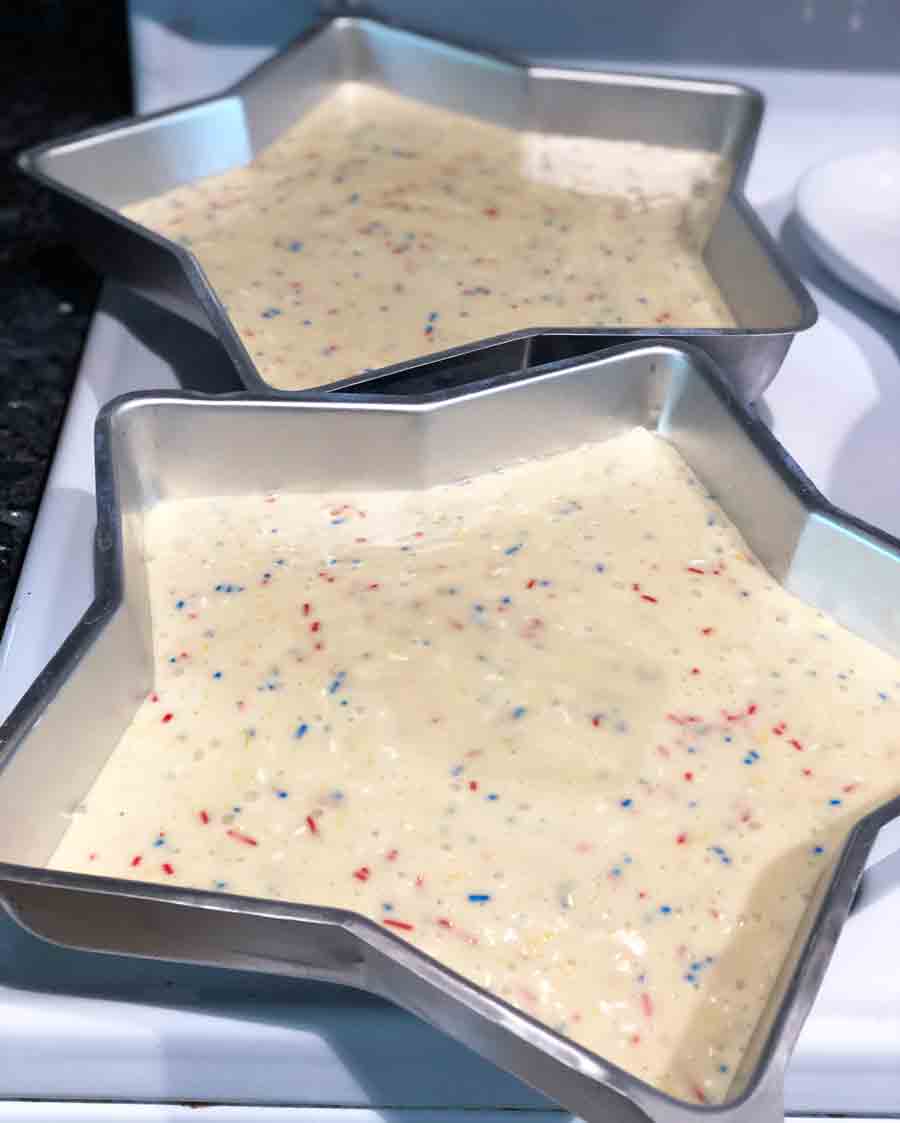 Bake for 35 minutes, until when you insert a toothpick into the center of one, it comes out clean.
Set cake pans on cooling rack to cool in pan for 10-15 minutes.
Cut a border all the way around the cake pan so that your cake edges show the funfetti sprinkles. Continue to cool for another 45 minutes.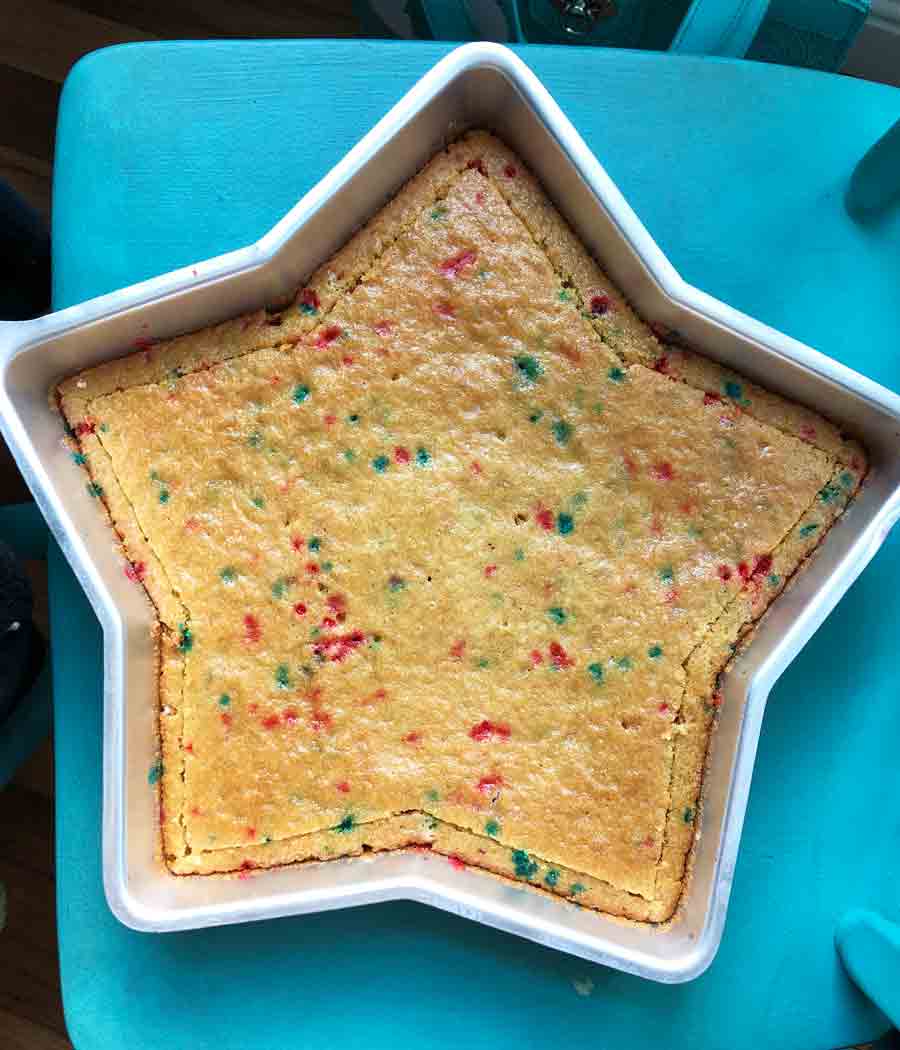 Remove cakes from pan and chill in the fridge while you make the frosting.
Vegan Vanilla Frosting Ingredients
½ cup vegan butter or margarine (I like the organic whipped earth balance)*
½ cup organic palm shortening*
¼ cup coconut cream (the thick part of canned coconut milk after it's been in the fridge)
2 teaspoons vanilla extract
5 cups organic powdered sugar*
Vegan Vanilla Frosting Directions
Whisk the spectrum sustainable organic palm shortening , margarine, coconut cream, and vanilla for 1 minute using a stand mixer or a handheld electric mixer.
Sift in the powdered sugar, 1 cup at a time, mixing for a minute between each addition.
Divide into thirds.
Transfer a third to a disposable piping bag .
Add americolor royal blue gel color to one third of the frosting and mix well.
Transfer the blue frosting to a disposable piping bag .
Add wilton red gel color to the remaining third of the frosting and mix well.
Transfer the red frosting to a disposable piping bag .
Cut the tips off all 3 piping bags.
Fit a Wilton star tip 1M inside of a larger piping bag and place each disposable piping bag inside of the larger bag, side by side.
Place one layer of cake onto a cake platter.
Pipe frosting dollops all over the bottom layer.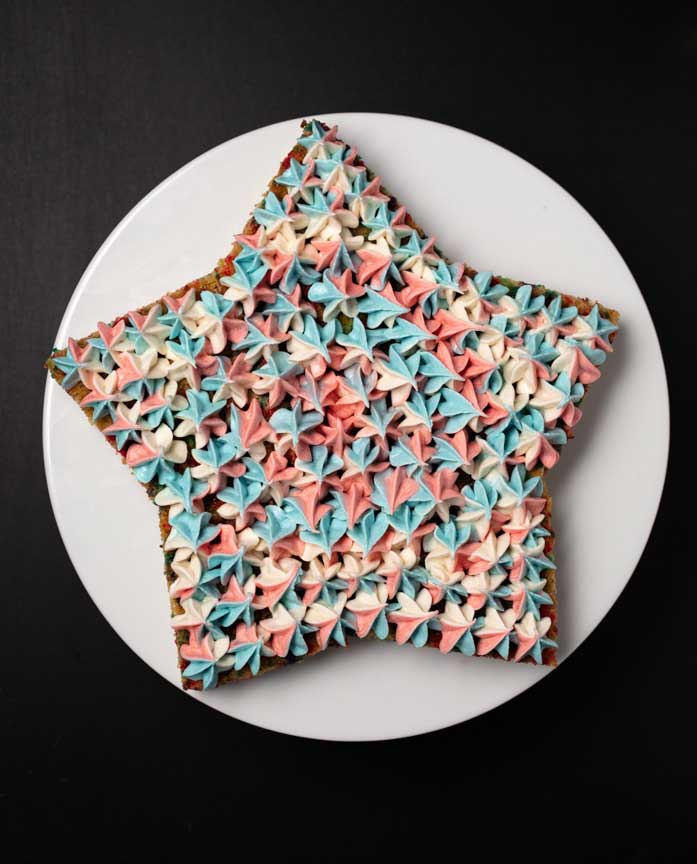 Chill the bottom layer for 10 minutes to harden to the touch, and then place your top cake layer on top.
Pipe frosting dollops all over the top layer.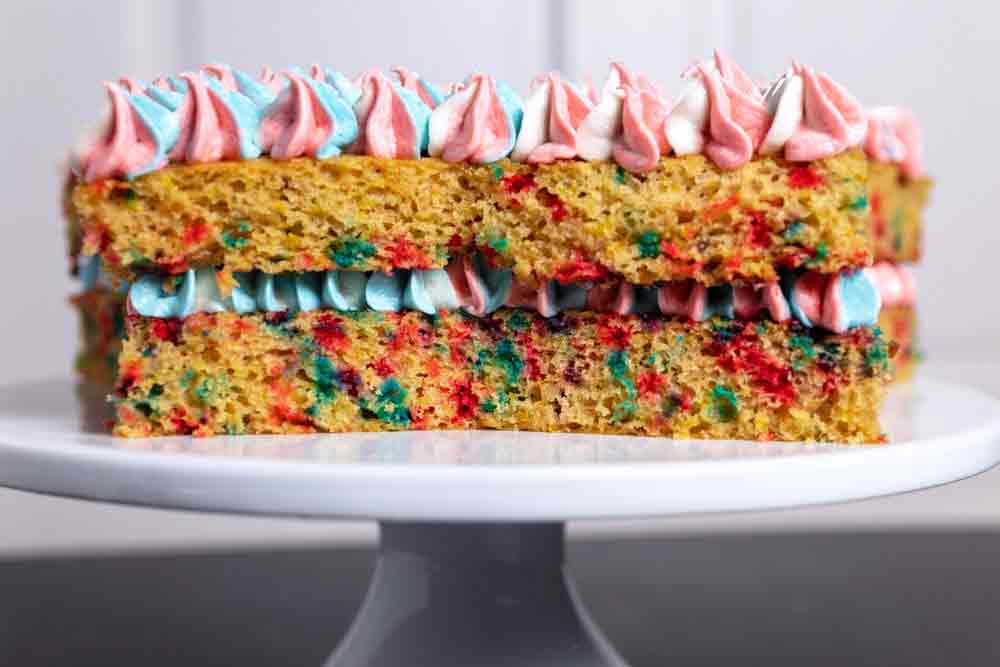 Fireworks Decorations
Cook rice or mung bean noodles according to packaging directions.
Color the noodles red or blue or any color you want. I used americolor royal blue gel color and wilton red gel color .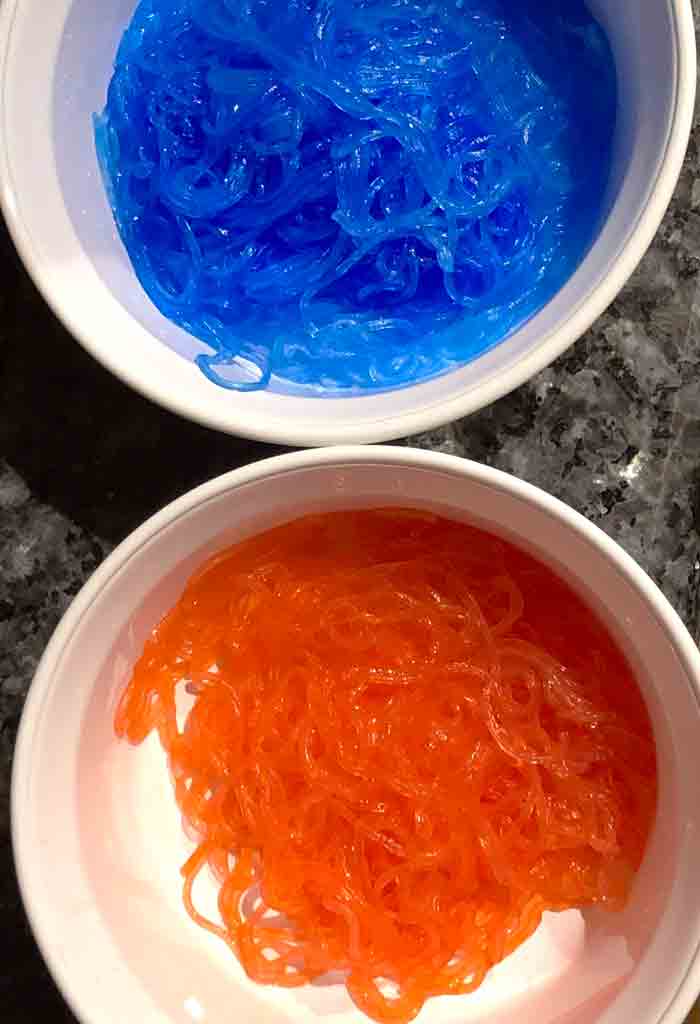 Cover the bottom of one of your donut pans with plastic wrap, and drape your colored noodles over it. I used foil and sprayed it with oil, but I think plastic wrap would work even better.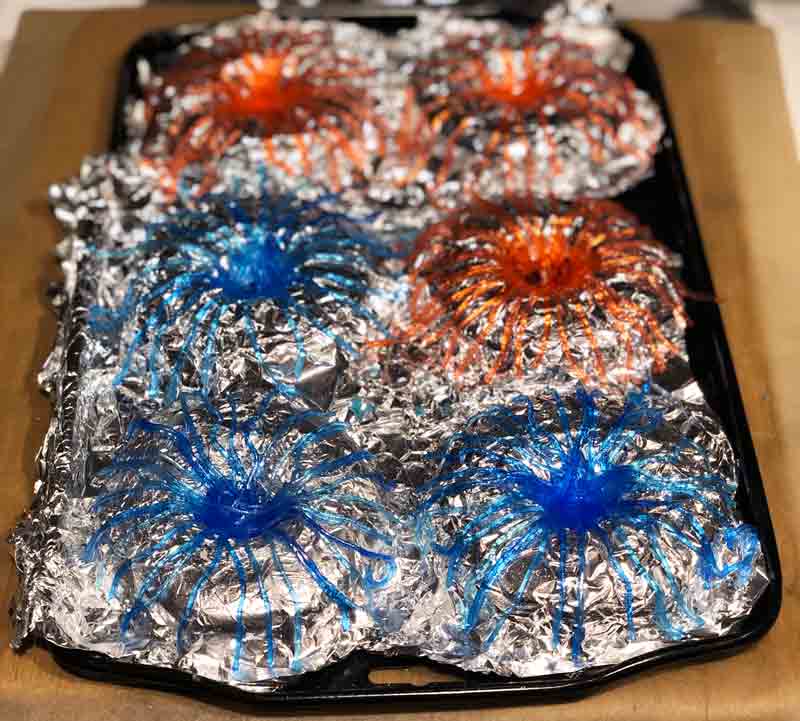 Dry for a few hours in a dehydrator or overnight on the counter.
Remove them from the donut pan and gently place on top of your 4th of July cake.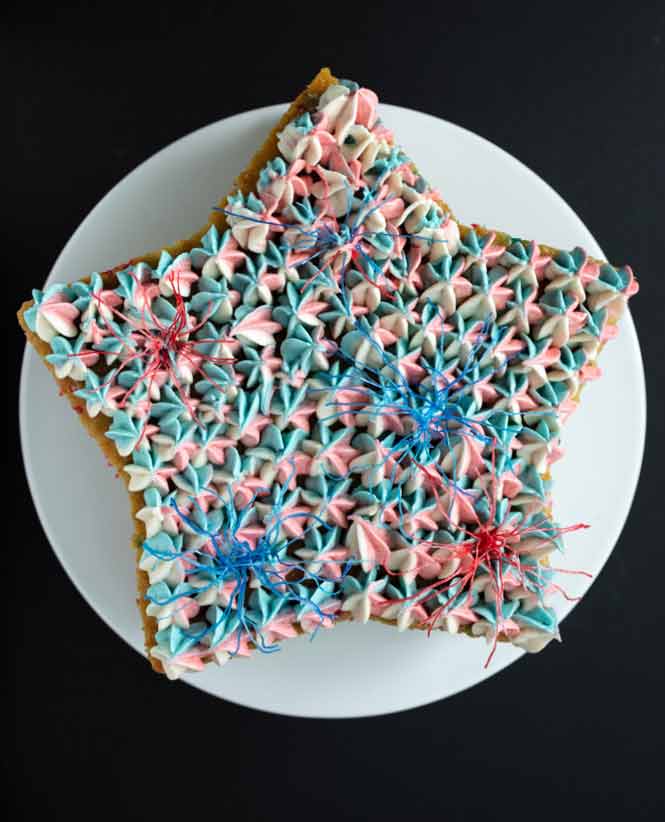 ☆☆☆☆☆☆☆☆☆☆
* I use mostly organic ingredients when I cook, but I realize that not everyone has the disposable income to purchase all organic ingredients. Therefore, I only specify organic on the ingredients that really matter - when buying the organic version is the only way to ensure that the item is vegan.