Vegan Carrot Fox Cake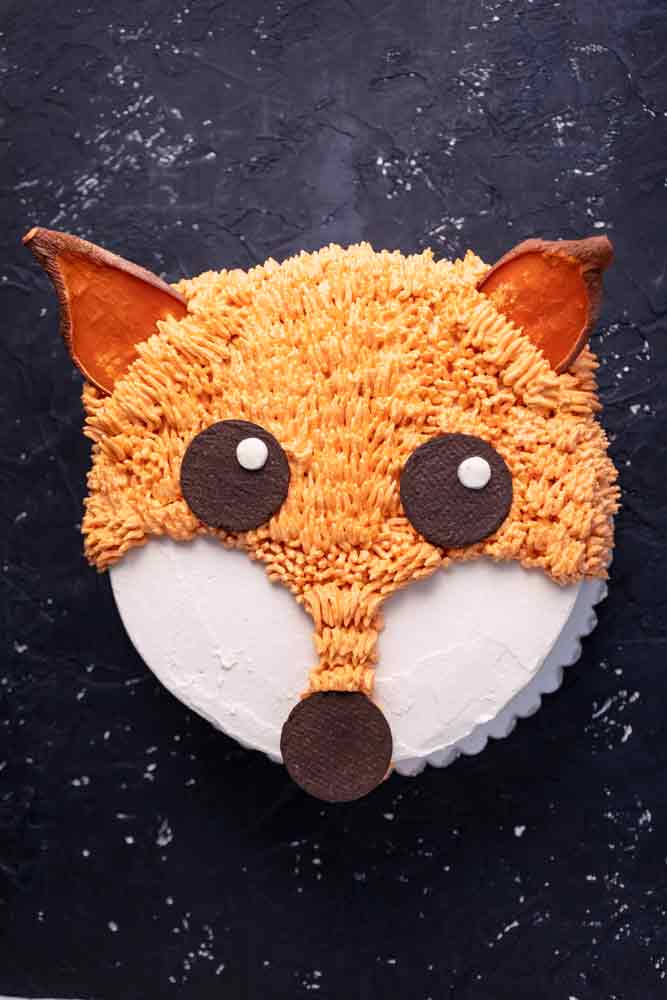 ♫ Listening to: Our Music by Livetune, Miku Hatsune ♫
This recipe is a mashup of 2 carrot cake recipes (as I remember them): the one my mommy used to make me and the first birthday cake anyone ever baked me who wasn't my mom (my friend Melissa).
This recipe will make a 2-layer 8" or 9" round carrot cake with cream cheese frosting. You can bake the cakes in advance and wrap them in plastic wrap and freezer bags to freeze them until you're ready to assemble the cake. If you like cake and cute animals, you might also like my funfetti bunny cake, pumpkin puppy cake, and kitty cat cake.
Vegan Carrot Cake Ingredients
4 large carrots (or 8 small carrots or 6 medium carrots)
1 cup organic soymilk (or another nondairy milk)
1 tablespoon apple cider vinegar (or sub white distilled vinegar)
1 cup raisins
⅔ cup sunflower oil (I use sunflower or safflower, but you can use any vegetable-based oil)
1 tablespoon vanilla
1 ½ cups sucanat (or sub raw vegan sugar)
2 ½ cups unbleached white flour
1 ½ teaspoons baking soda
1 teaspoon baking powder
¼ teaspoon salt
2 teaspoons cinnamon
½ teaspoon nutmeg
Vegan Carrot Cake Directions
prep time: 30 minutes; bake time: 35-40 minutes
Dollhouse Shortcut
Use a food processor to grate your carrots faster.
Grate your carrots. I use a food processor (fitted with the grater blade), because it gets done in a fraction of the time. You want to end up with 4 cups of grated carrots, so use however many carrots you need to get that amount.
Add the ⅔ cup oil, 1 cup soy milk, 1 tablespoon vinegar, 1 tablespoon vanilla extract, 1 ½ cups sucanat, and 1 cup raisins to the food processor fitted with the S blade (the blender works even better, but if your food processor is already dirty from grating your carrots, you may as well use that).
Blend or process until it looks smoothish (small pieces of raisins are okay).
Heat oven to 350°.
Oil two 8 or 9-inch 8" round cake pans and line the bottoms with parchment paper before lightly oiling again. Use an oil sprayer or some oil on a paper towel.
Sift the 2 ½ cups flour, 1 ½ teaspoons baking soda, 1 teaspoon baking powder, ½ teaspoon salt, 2 teaspoons cinnamon, and ½ teaspoon nutmeg into a large bowl.
Whisk together the sifted ingredients. Wait for the oven to reach 350°.
Mix the wet ingredients into the dry ingredients, using a baking spatula to scrape the sides of the food processor or blender, until you can no longer see any dry flour.
Stir in carrots until ingredients are well-combined.
Divide the carrot cake batter evenly into the 2 8" round cake pans and use your baking spatula to smooth out the top.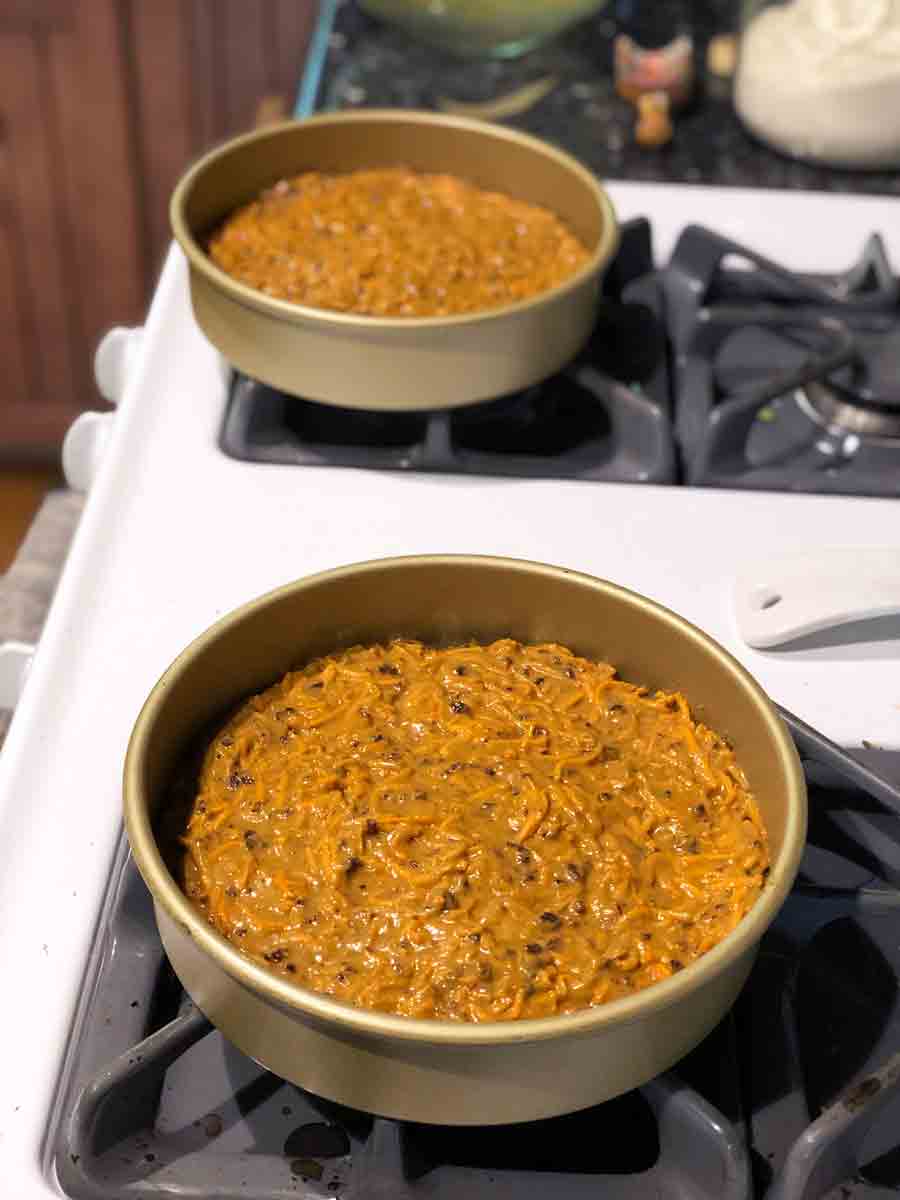 Bake on 350° for 35-40 minutes (until you insert a toothpick into a few places on each cake, and it comes out clean). I used 9" 8" round cake pans and baked them for 35 minutes, and it was perfect, but I think if your pans are 8", then it might take 40 minutes.
Remove from the oven and let cool in the pans for at least 10 minutes.
Shimmy a baking spatula around the sides of both pans, all the way around the circle to loosen the cake from the sides of the pan.
Flip the cakes upside down over a cooling rack to cool to room temperature (takes around an hour). They should fall right out of the cake pans easily.
Slice each cake in half to make 2 thin cakes, once they have cooled completely.
Note: I usually bake the cakes and make the cream cheese frosting the night before, and then slice the cakes, assemble them, and decorate them the next day. If you're planning to decorate your carrot cake like a fox, then you'll also want to make the ears ahead of time.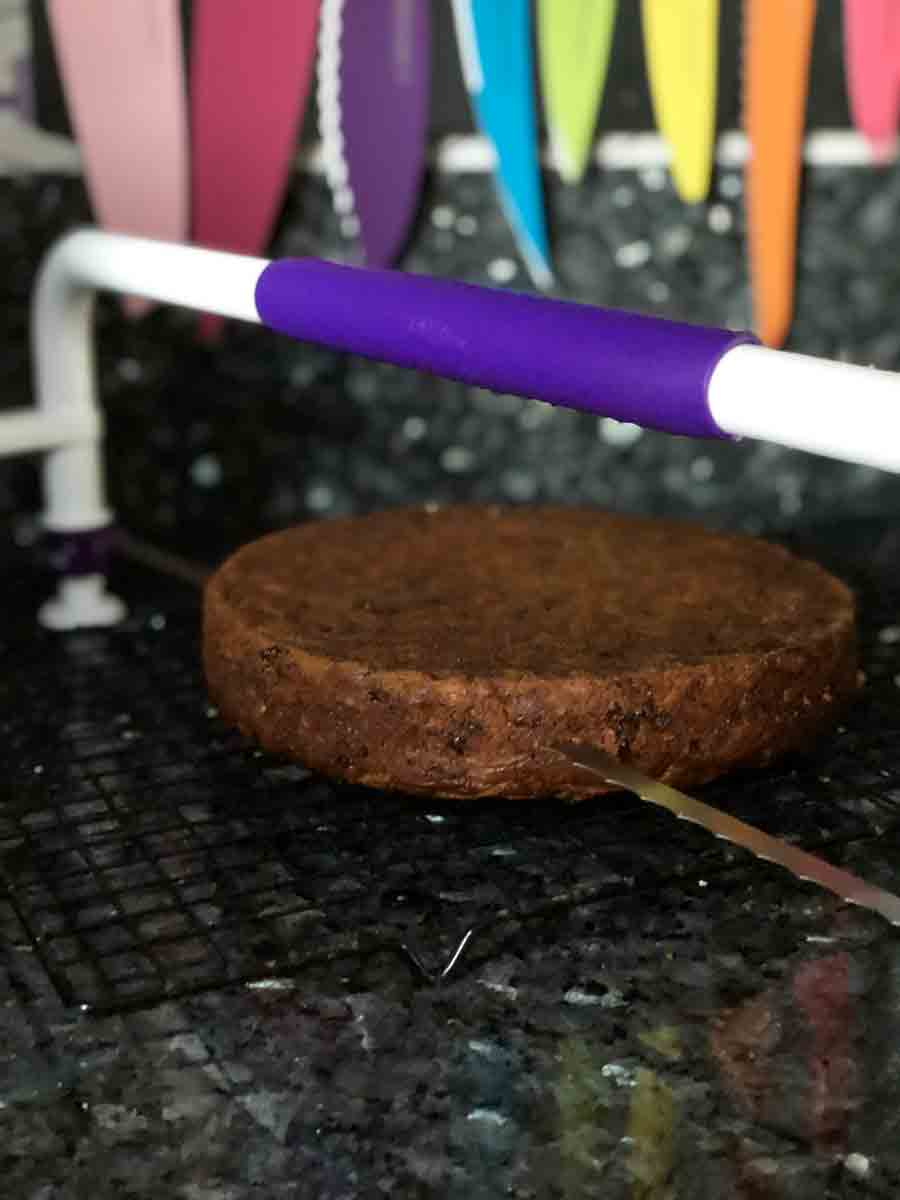 Vegan Fox Cake Ears
Make your ears in 1 of 2 ways: with a yam or with cookie dough.
Yam Fox Ear Method
Wash your yam.
Slice it lengthwise into thick slices.
Choose 2 slices you like best.
Cut them into ear shapes.
Dehydrate them overnight.
Cookie Fox Ear Method
Shape cookie dough into fox ear shapes and set onto a parchment-lined baking sheet.
Bake according to the cookie dough instructions.
Turn off the oven once they're done baking, but leave the cookies in the oven for an extra 10 minutes to make sure they get stiff enough to not fall over once they're on your cake.
Remove from the oven and set aside to cool completely. While I didn't use cookie ears for this fox cake, I've successfully used this method on other cakes. You can also just make ears out of felt if you're okay with having parts of your cake be inedible.
Vegan Cream Cheese Icing Ingredients
Dollhouse Shortcut
Buy 2 tubs of Miss Jones Organic Cream Cheese Frosting instead of making your own.
1 cup vegan butter or margarine (I like the organic whipped earth balance)*
1 (8 ounce) package of vegan cream cheese (kite hill and trader joe's brand of vegan cream cheese both work well, but the TJ one is cheaper, so get that)
1 tablespoon vanilla extract
5-6 cups organic powdered sugar
Vegan Cream Cheese Icing Directions
prep time: 10 minutes; chill time: 4 hours
Whisk the first three ingredients using a stand mixer or a handheld electric mixer.
Slowly whisk in the powdered sugar one cup at a time.
Transfer to a tupperware with a lid and chill in the fridge for as long as you can (ideally between 4 hours and overnight, but in a pinch, an hour is better than none).
Assembling the Vegan Carrot Fox Cake with Cream Cheese Icing
Place the first layer onto a plate or cardboard circle.
Scoop around a third of a cup of icing onto the top of the first layer.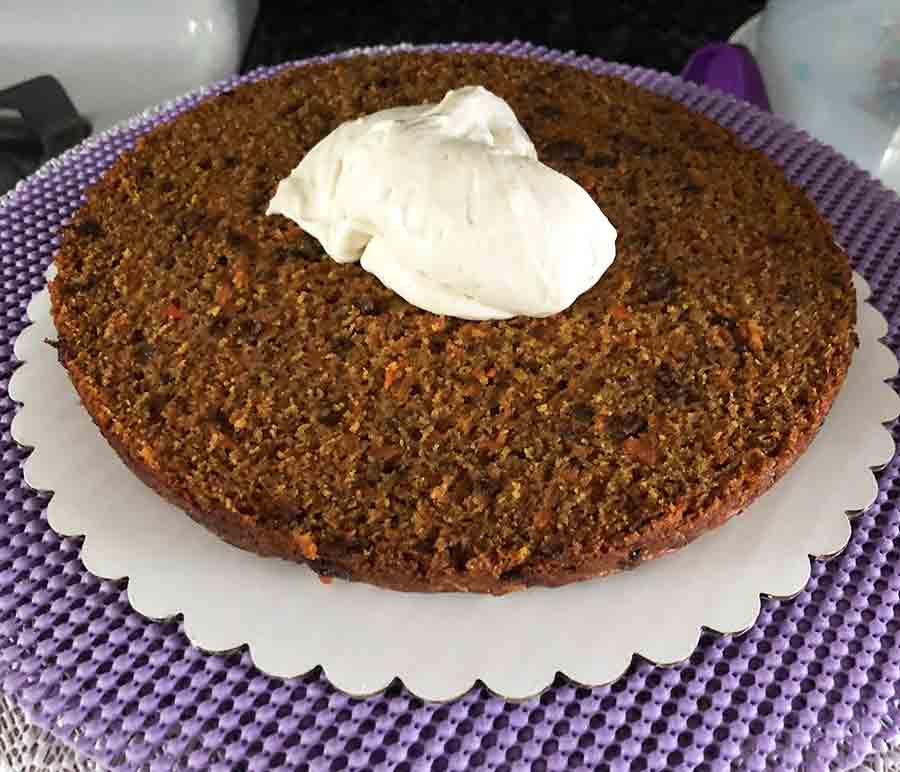 Smooth the icing all over the top of the first layer of cake spreading with an offset spatula .
Place the second cake on top and repeat the steps with each of the 4 layers.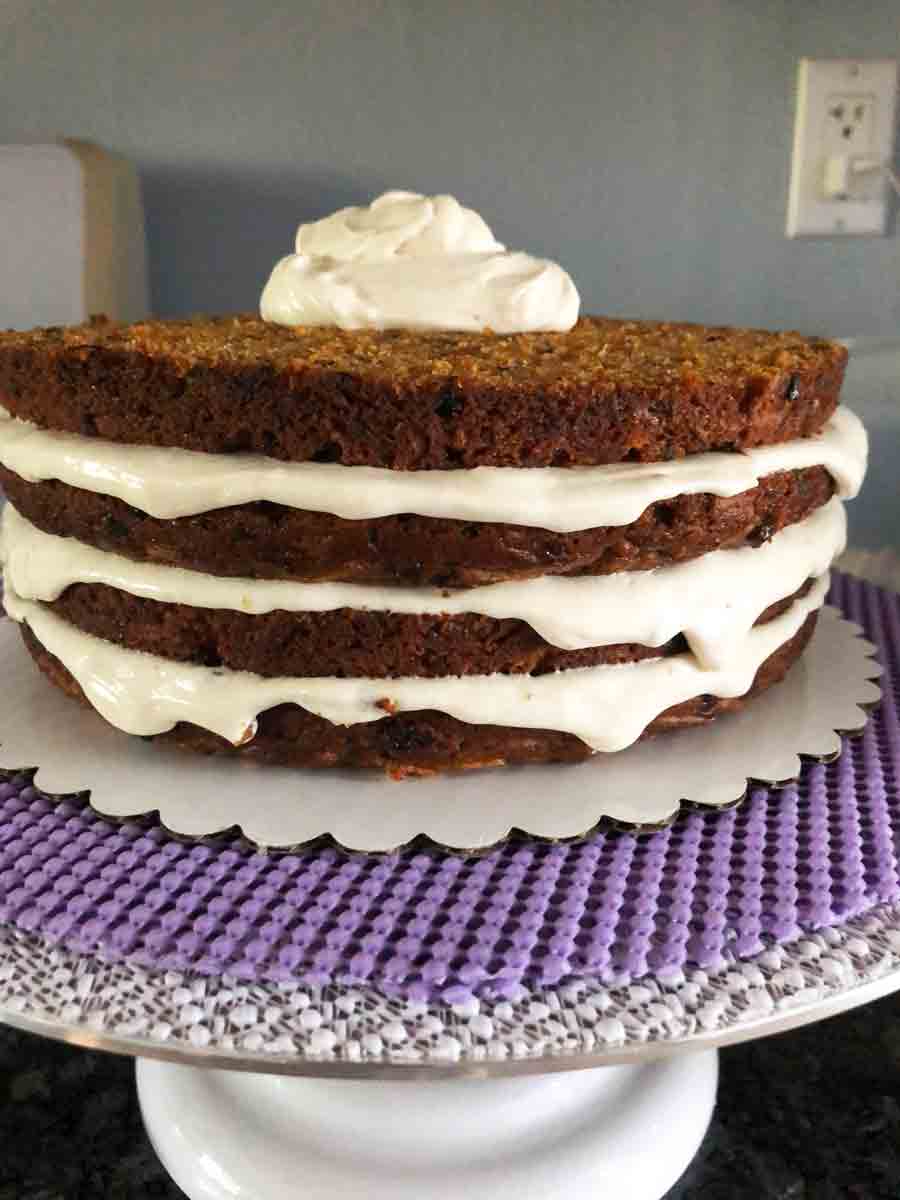 Smooth the icing all over the top and sides once the final layer is in place. Use an offset spatula and a cake decorating turntable in unison.
Chill the assembled cake in the fridge for a minimum of 30 minutes, while you prepare the decorations.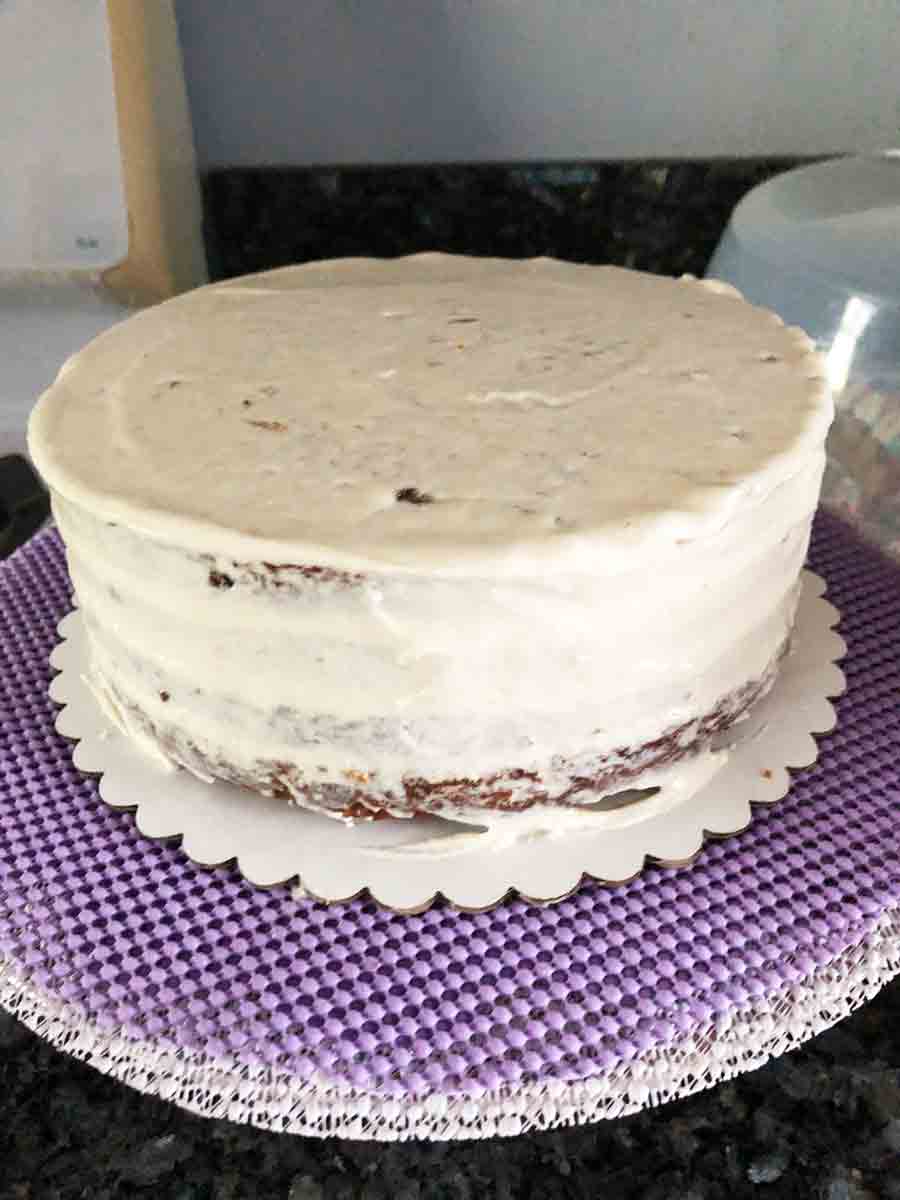 Vegan Buttercream Frosting Ingredients
¾ cup vegan butter or margarine (I like the organic whipped earth balance)*
¾ cup organic palm shortening (I use spectrum, because it's sustainable)*
1 tablespoon vanilla extract
5 cups organic powdered sugar*
orange vegan food coloring
Vegan Buttercream Frosting Directions
prep time: 20 minutes; frosting time: 10 minutes; total time: 30 minutes
Leave the vegan butter at room temperature for 10-15 minutes before starting, if you have time. This isn't mandatory, but it helps the consistency.
Whisk the spectrum sustainable organic palm shortening , vegan butter, and vanilla for at least 1 minute using a stand mixer or a handheld electric mixer. Use a silicone spatula to scrape the sides, and mix again until light and fluffy.
Sift in the powdered sugar, 1 cup at a time, mixing for at least minute between each addition. Start the mixer on the lowest setting so the powdered sugar doesn't fly everywhere and then gradually increase the speed to high. After mixing in the third and fifth cups, scrape the sides with a silicone spatula, and mix again.
Decorating the Vegan Carrot Fox Cake with Buttercream Frosting
Frost the entire outside of the cake with the white frosting using an offset spatula while spinning the cake. I use this cake decorating turntable and wilton also makes a plastic one that's cheaper, but it doesn't work as well.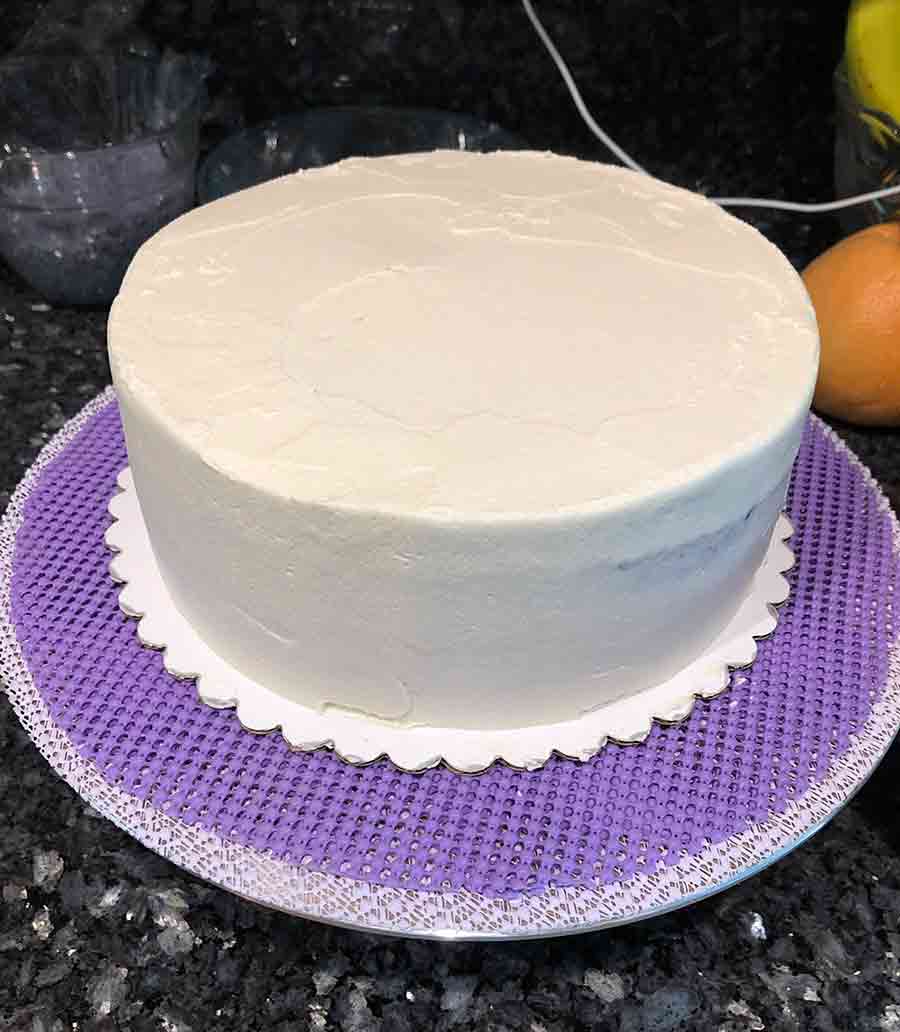 Chill the cake while you prepare the rest of the decorations.
Take apart a few chilled Newman Os cookies.
Wipe any remaining cream filling residue off of the 3 cleanest cookie halves using a wet paper towel.
Cut a short piece off of a straw (approximately half an inch long).
Press the straw into the filling of one of the cold Newman O cookies.
Remove the circle of filling from the straw by inserting something into the straw to push it out. I used a coffee stirrer, but you can use a chopstick or whatever you have in your kitchen.
Press the white circle onto one of the cleaned chocolate cookies. Repeat the process with the other eye.
Color the remaining frosting using vegan food coloring. I used around 5-7 drops of wilton orange gel color to get the color I liked.
Fill a piping bag fitted with a large tip. I used Wilton tip 234 because it's made to look like fur.
Pipe the orange fur all over the top and sides of the cake, leaving the white parts white and piping extra where the ears will go.
Press on the eyes, nose, and ears. I piped extra around the ears to make sure they wouldn't fall. If they seem like they might still fall, you can stick toothpicks or skewers into the cake right under where the ears are. Just don't forget to remove them before serving the cake.
Chill the fox cake until 30 minutes before you're ready to eat it.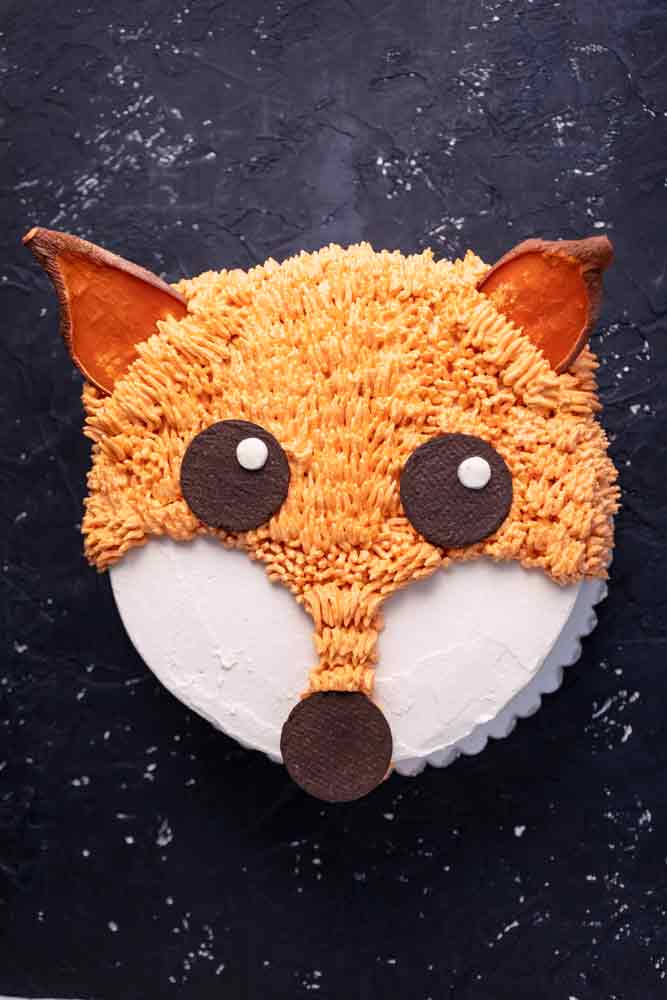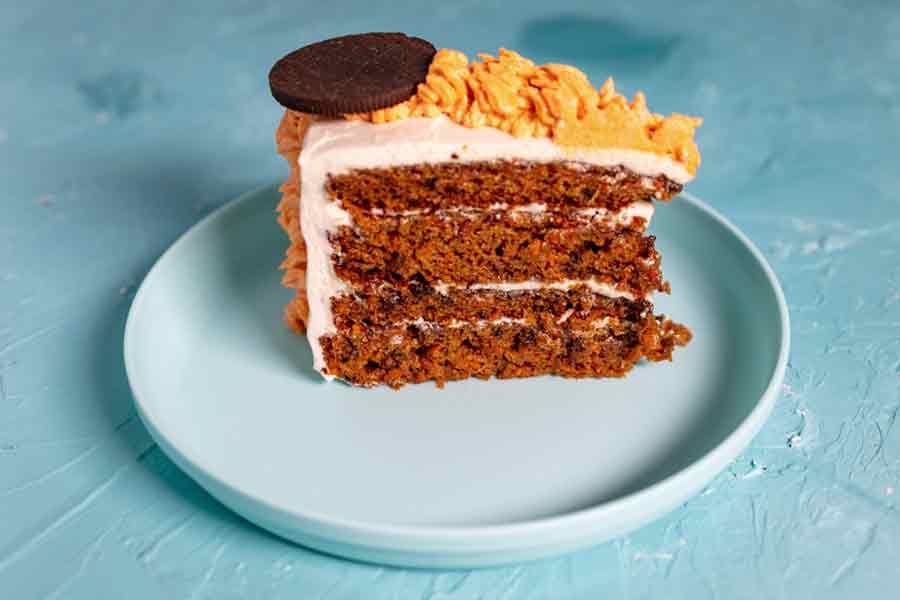 ☆☆☆☆☆☆☆☆☆☆
* I use mostly organic ingredients when I cook, but I realize that not everyone has the disposable income to purchase all organic ingredients. Therefore, I only specify organic on the ingredients that really matter - when buying the organic version is the only way to ensure that the item is vegan.