My Favorite (and not so favorite) Vegan Sprinkles
published on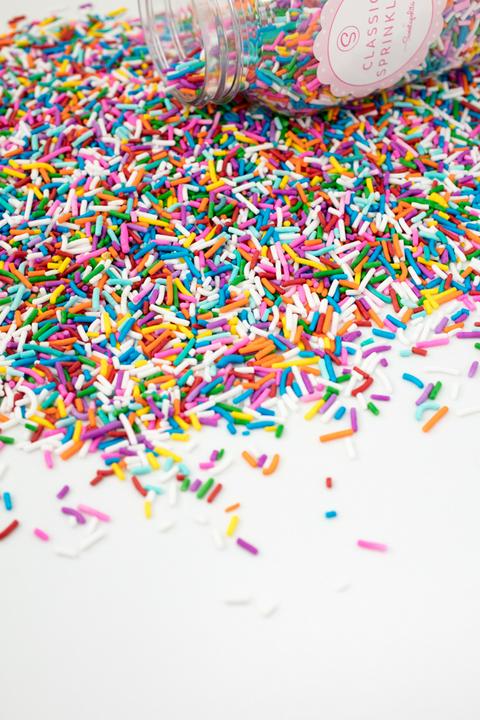 I had such a difficult time finding vegan sprinkles brands back when I went vegan. I did a ton of research and found a few brands who made some of their sprinkles vegan, but it wasn't consistent. Nowadays, there are SO MANY more options for buying vegan sprinkles, but for those new to vegan baking, I thought I would make it easier for you by listing some of my favorite brands of vegan sprinkles.
Table of Contents
(click the links below to skip to the section you're looking for)
First off, you might be wondering…
I wonder the same thing about paint, cars, computers, etc. You'd be amazed at the animal products that psychos will sneak into things. For example, sprinkles can contain:
beetles (confectioner's glaze, confectioner's polish, or shellac)
more bugs (carmine or cochineal)
beeswax
beaver anal gland secretions (artificial vanilla flavoring)
Lucky for us, there are lots of places to buy vegan sprinkles, including:
Michael's craft store
JoAnn Crafts
Amazon
Etsy
Target
Whole Foods / your local grocery store
Sprinkle maker's websites
Here's a list of some of the vegan sprinkles that I have used or seen vegan friends using. I'll include some affiliate links below so that if you decide to purchase any of these sprinkles, I'll receive a very small commission from the companies you purchase from. This costs you nothing and it helps me keep my blog updated for you. I would never recommend anything that I wouldn't purchase myself.
DISCLAIMER: Some vegans don't eat sugar unless they know where it came from since sugar can be processed through bone char. I will make a note under each brand if I'm uncertain about their sugar source. If I don't mention it, you can assume they use sugar that is processed in a vegan-friendly manner. Also, unless I specifically say that the company is an all-vegan sprinkle company, I can't promise that all the brands in this list follow cruelty-free practices (especially the bigger brands like Wilton).
Also, I also have a similar list for vegan food coloring that you might be interested in.
Baking Time Club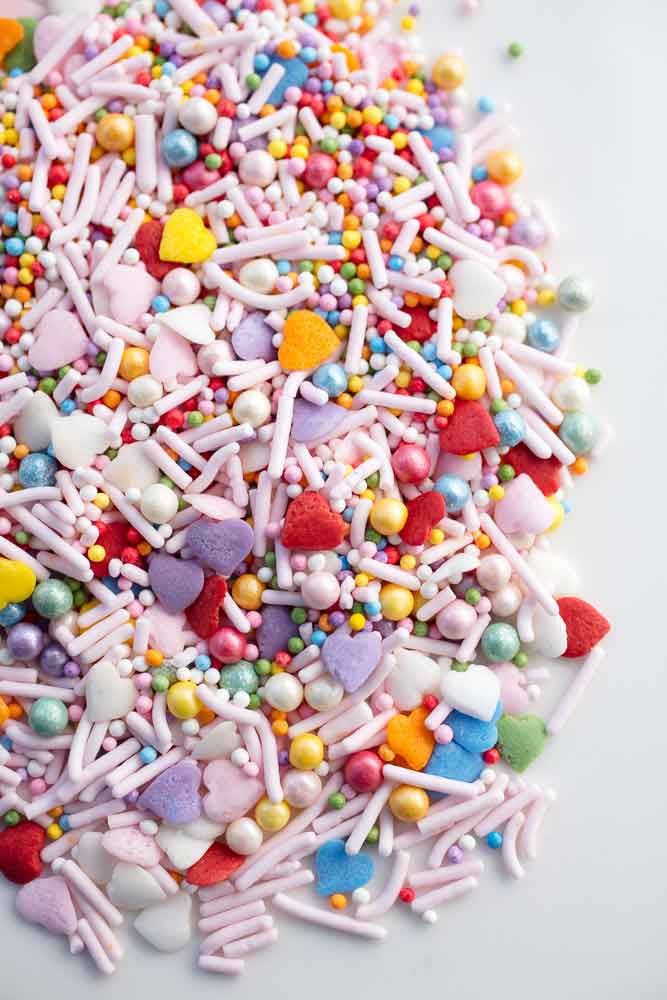 Baking Time Club is a UK vegan sprinkles company. They're basically a vegan sprinkle lover's dream, and here's why! Not only are ALL of their sprinkles vegan, but the owner of the company is also vegan! I don't know about you, but I just love supporting vegan-owned companies! For special ocassions when ordinary sprinkles just aren't good enough, Baking Time Club sells some really cute sprinkle mixes like:
magical stardust sprinkles mix
If you like to bake and decorate baked goods for holidays, check out the following holiday-themed sprinkles from Baking Time Club.
And the most fun part of all? They offer sprinkle subscriptions! This means you can get new surprise sprinkles each month!!!
I used Baking Time Club Dappled Sky sprinkles when I made my galaxy cupcakes and my galaxy cake.
Baking Time Club gave me this coupon code to use on my next order, so if you order directly from them (instead of through etsy), maybe you can use it too. BTC12
Supernatural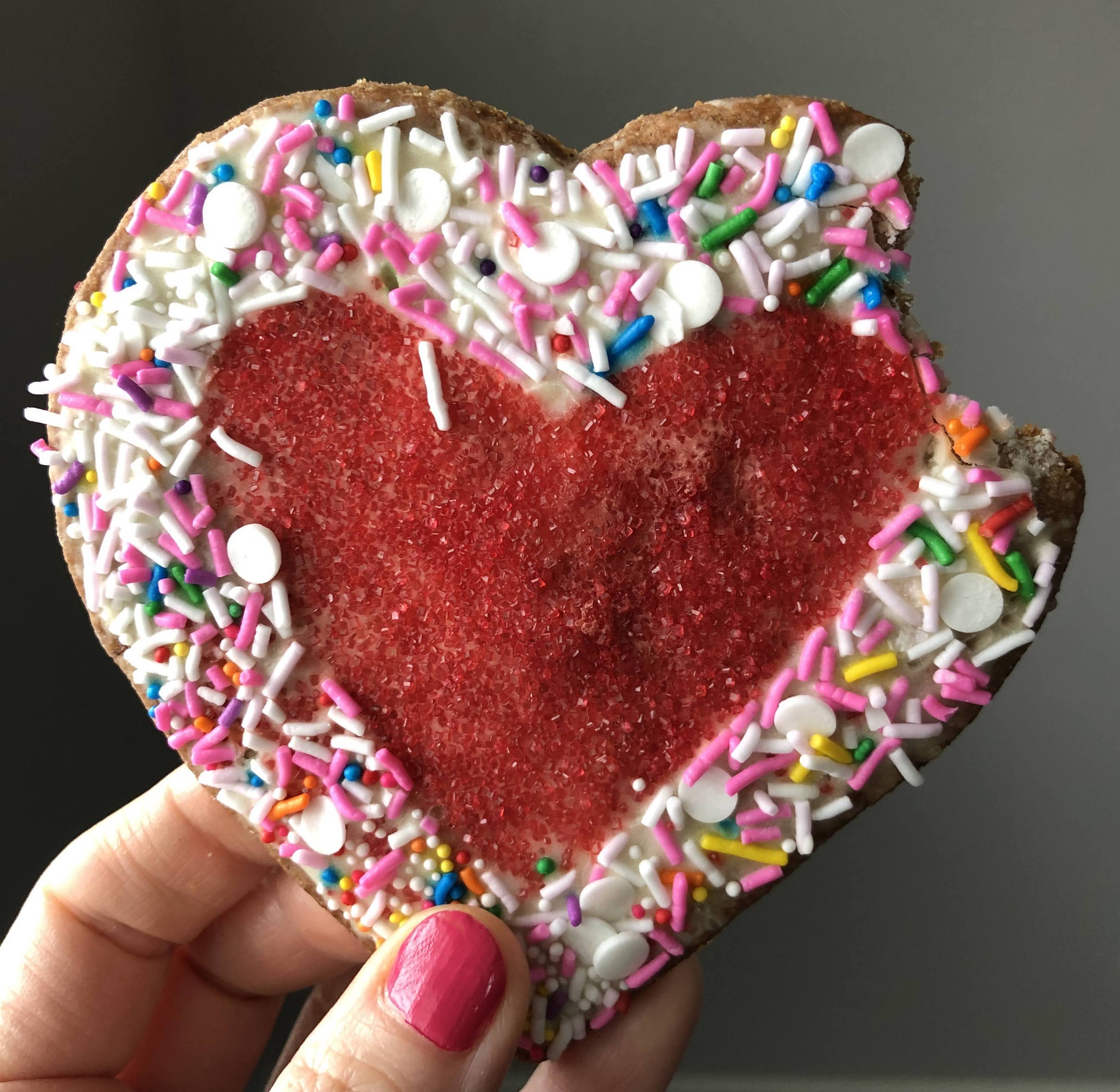 This heart cookie was a valentine from my stepmom. She used these Supernatural vegan sprinkles that she found on amazon. Supernatural only sells vegan sprinkles, so you can feel good about supporting them as a brand.
Sweetapolita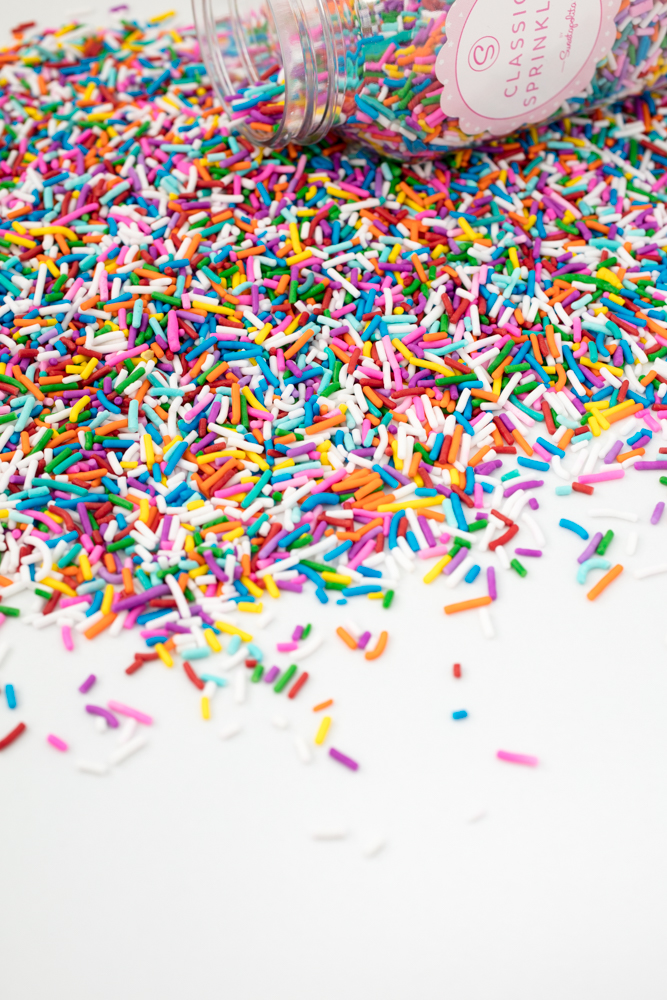 Sweetapolita are a Canadian company with some reallllly cute sprinkles. They also have a fun instagram account, so you should follow them for inspiration. Not all of their sprinkles are vegan, but here's a list of the ones that are. They also have some gluten-free vegan sprinkles if you're into that. If you purchase Sweetapolita sprinkles through etsy using my affiliate links below, it will help support my ability to keep updating this list for you without costing you anything.
These rainbow jimmies are cuter than the average rainbow sprinkles, and just as bright.
This pep talk sprinkles mix has rainbow jimmies, nonpareils, white stars, and white pearls.
These birthday party sprinkles rainbow nonpareils, crunchy rainbow jimmies (strands), confetti and tiny edible silver stars.
I used Sweetapolita rainbow jimmies sprinkles when I made this birthday cake.
Let Them Eat Cakes
Let Them Eat Cakes is a UK sprinkles company. All (except 2 that are being phased out) of their sprinkles are vegan and cruelty free (not tested on animals, nor use ingredients that were tested on animals). Here are some links to buy Let Them Eat Cakes sprinkles on etsy.
Sweets & Treats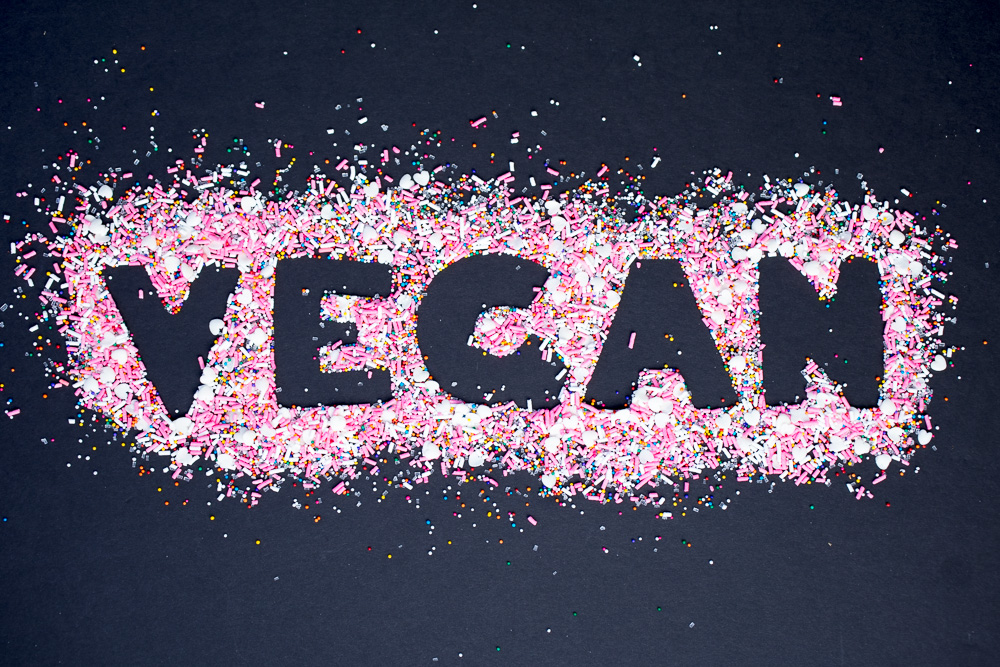 Sweets & Treats are similar to Fancy Sprinkles and Sweetapolita, in that they're cute, but they're not all vegan. Here's their list of vegan sprinkle options, but my favorite ones are the circus cookie ones featured in my photo.
Wilton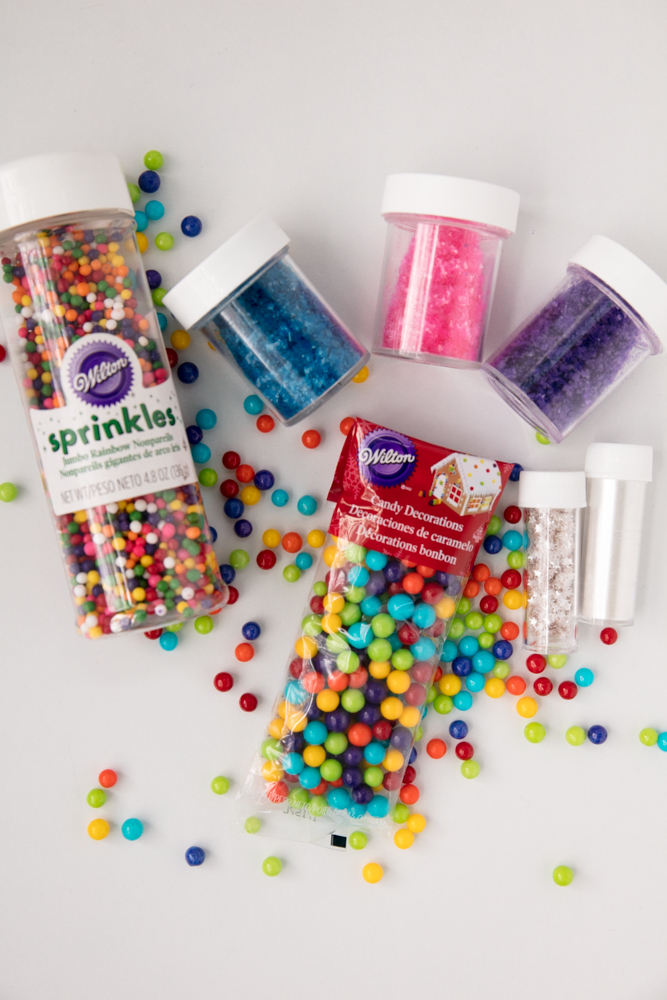 Wilton is another company that makes both vegan and non-vegan sprinkles. Unlike the sprinkle companies I've listed so far, Wilton sprinkles are easy to find because they're sold in a lot of stores, like Joann Fabrics, Michaels Crafts, and Target, among others. So, if you need something quick and can't wait for shipping time, Wilton sprinkles are your best bet.
Also, unlike the others, Wilton doesn't label their vegan sprinkles anywhere, so you have to read the backs of every bottle. I realize that vegans are probably used to doing this, but it's not like we have all the time in the world. There are cakes to decorate!
In an effort to save you time reading sprinkles bottles, here is a list of all the wilton sprinkles that I know are vegan as of the time I'm updating this post (2018). I'm not sure as to the source of the sugar in Wilton sprinkles, so if you're strict about sugar, you should contact wilton and ask them (and then let me know please!).
Cake Sparkles (these come in all colors and kind of look like cellophane flakes)
Color Dust and Pearl Dust (AVOID THE PINKS, because those contain carmine)
Edible Glitter and Edible Accents (they include silver, gold, and colored stars and hearts!)
Rainbow Nonpareils (make sure you read the label because wilton makes 2 kinds of nonpareils and only one is vegan - click the link to know which ones to look for) I used these vegan nonpareils when I made these cookies.
Jumbo Rainbow Nonpareils (these are good because they taste fruity)
Candy Decorations: Mini Jawbreakers (I used these on my mini wreath cakes)
Jumbo Hearts
Zunhai Foods
Zunhai Foods makes sprinkle mixes like baking time club and sweetapolita, but they sell some of them on Amazon, so they're more accessible. All of their sprinkle mixes are gluten free, nut free, and vegan. I really like this goth sprinkles mix.
Zunhai also makes vegan candy eyes that you can use in some of my recipes if you don't want to make the candy eyes from scratch.
CK Products Pastel Sequins Edible Confetti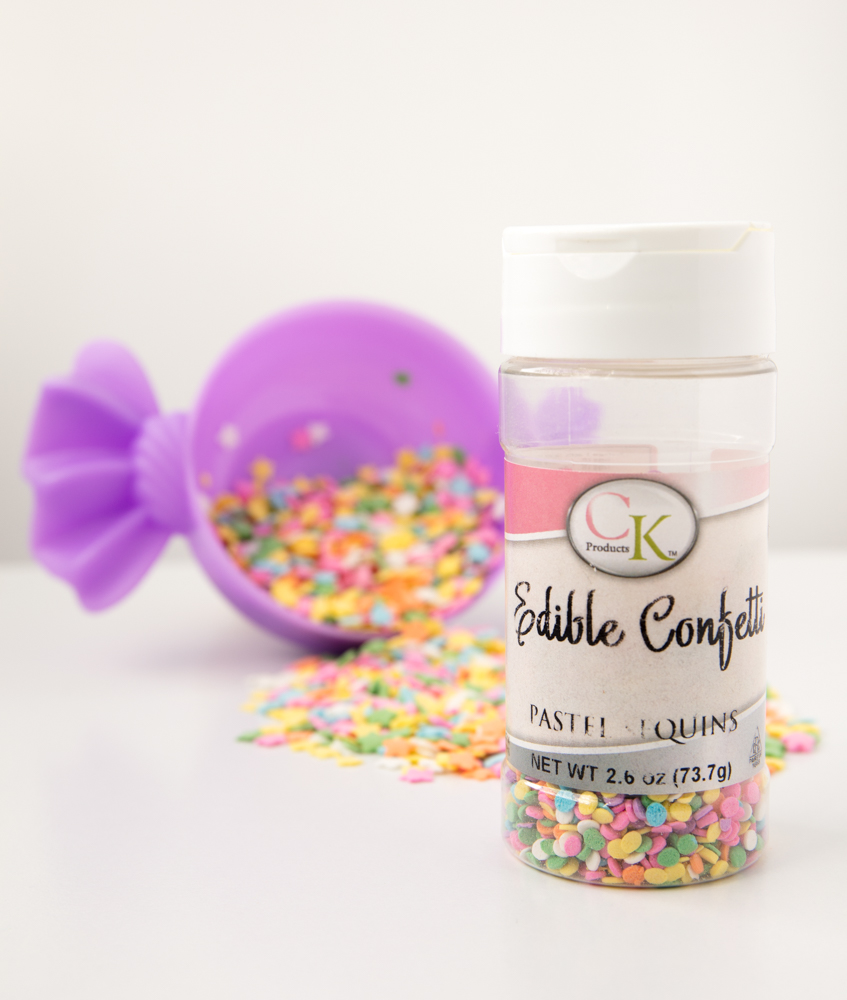 Only two of CK Products Edible Confettis are vegan: the pastel sequins and the daisy shapes. It's nice that the company website lists the ingredients for all their sprinkles.
I'm not sure as to the source of the sugar in CK sprinkles, so if you're strict about sugar, you should contact them and ask (and then let me know please!).
Fancy Sprinkles
Fancy Sprinkles are similar to Sweetapolita, in that they're cute, and they're not all vegan.
March 2023 Update: Fancy Sprinkles have temporarily discontinued their vegan sprinkles line. They say it's because they're sourcing new ingredients. I'll update this page when I know more.
I used the Fancy Sprinkles pink heart sprinkles when I made this cake.
Sweet Eva's
Sweet Eva's sprinkles are vegan, soy-free, and nut-free. These sprinkles come in 1 and a half pound containers, so they're cost efficient for the frequent baker who does high-volume baking and needs to purchase sprinkles in bulk.
Here are some links to the ones I've found on amazon.
metallic shimmery rainbow sprinkles
naturally colored rainbow jimmies
Other Brands sold on Amazon (Accidentally Vegan)
Lieber's were the first bright vegan rainbow jimmies I found back when the only other vegan sprinkles I could find were muted and all-natural or ones only sold in other countries. Lieber's used to be very affordable on Amazon, but now that the price is over $10, I don't recommend them.
If you're doing some high volume baking and need to purchase sprinkles in bulk, you might be interested in these nonpareils or these rainbow sprinkles that are sold in bulk by A Great Surprise. I don't know much about them, but I do know a good deal when I see it, and this is a great deal, compared to wilton nonpareils and sprinkles.
I'm not sure as to the source of the sugar in these sprinkles, so if you're strict about sugar, you should contact them and ask (and then let me know please!).
Brands such as Marshalls Creek may look vegan upon first glance, but beware that in addition to the unknown source of their sugar, they may also contain secretions from the anal glands of beavers, which is often in inexpensive products containing artificial vanilla flavor. I know…it's hella gross.
Sundae Fundae
Sundae Fundae sells 2 different sprinkle mixes that are vegan, gluten free, non-GMO, kosher, soy free, nut free, and palm oil free.
The somewhere over the rainbow sprinkle mix has jimmies, non pareils, hearts, suns, and clouds.
The baby love pastel sprinkle mix has white jimmies, shimmer white non pareils, and rainbow hearts.
Elfias
Tha majority of the sprinkles Elfias makes are not vegan, but they will make you a custom vegan sprinkle mix.
All of the vegan sprinkle brands listed below are naturally colored, so they're perfect for anyone who has allergies to food dyes. Naturally colored sprinkles are healthier than traditional ones, but the colors can be more muted.
Color Kitchen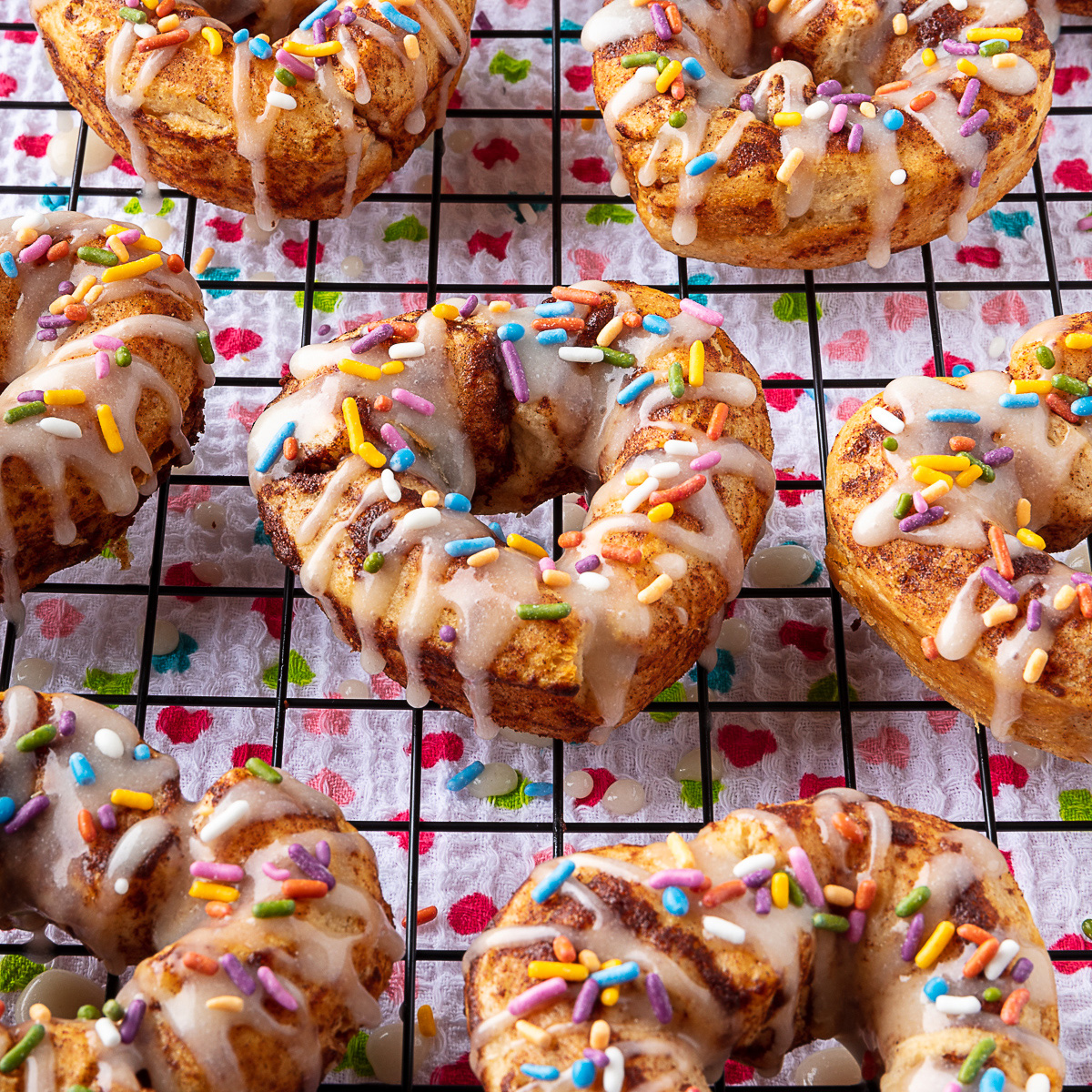 I love Color Kitchen because their products are all-natural and vegan and they don't test on animals. These are healthhier than most of the other sprinkles in this list. You can find their vegan sprinkles at Whole Foods or buy them from Amazon using the affliate link in my store. I used the Color Kitchen rainbow jimmies to decorate my cinnamon roll donuts.
BioVegan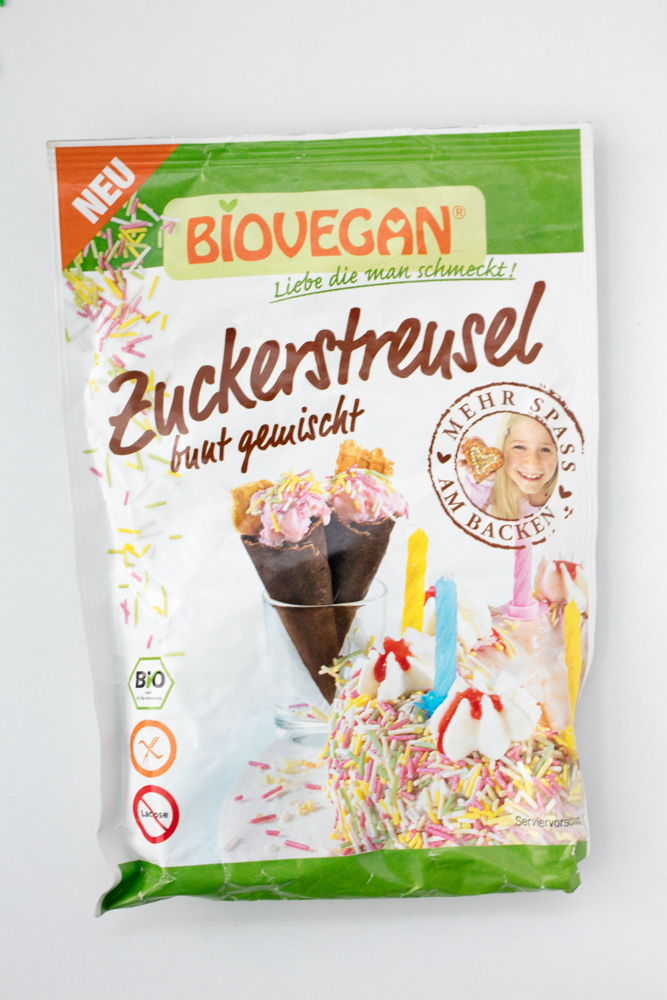 BioVegan has a good selection of all organic and vegan sprinkles that are brighter than the Let's Do Organic ones. The downside is that these are only available in Europe.
Let's Do Organic Sprinkelz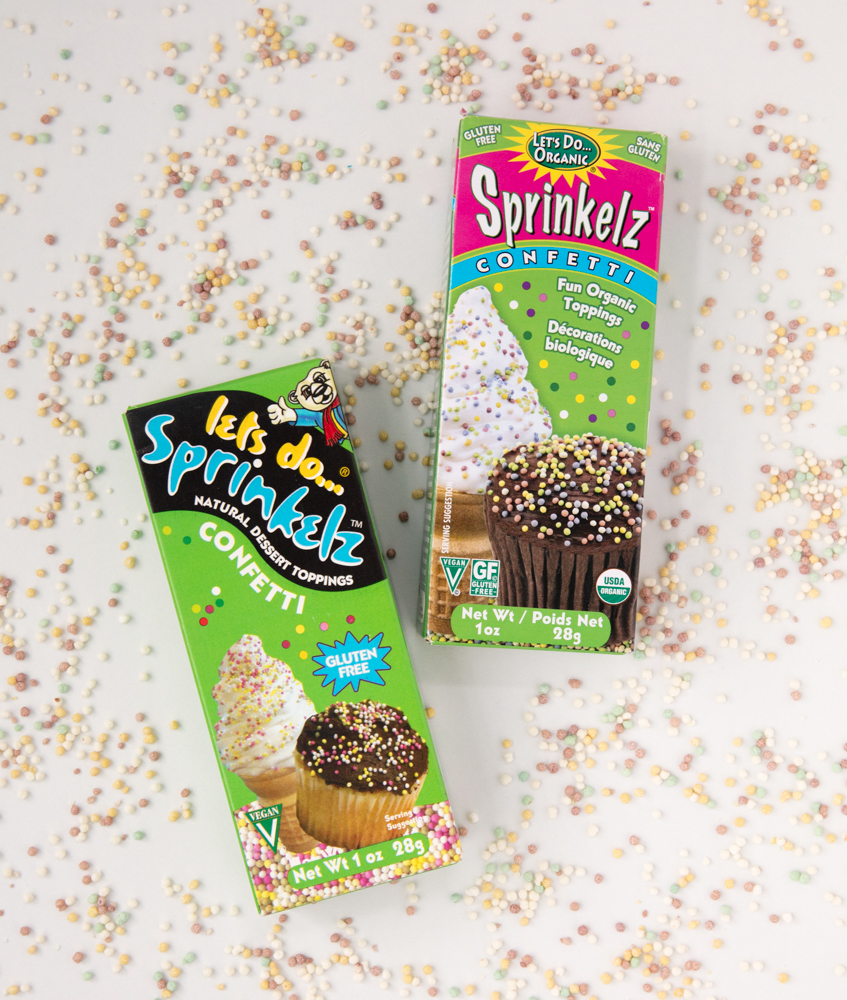 These are made by the same company that makes the organic ice cream cones, and I believe it's also the same company that makes all those rice crackers (Edward & Sons). These sprinkles are organic, which makes them the healthiest ones, but because they're healthy, the colors are more muted. I stopped using these as soon as I discovered Lieber's, so unless you're super strict about eating 100% organic, I would avoid these ones. You can find these at Whole Foods and Amazon. They also make vegan chocolate sprinkles.
Natural Sprinkles Co.
Natural Sprinkles Co. is not an all-vegan company, but they do offer some gluten-free, vegan, halal, and kosher sprinkles. I have tried out their vegan pearls and their vegan decorating sugar. I typically prefer sprinkles over decorating sugar because decorating sugar is fairly easy to make yourself. However, the nice thing about theirs is that you know it has been naturally colored.
☆☆☆☆☆☆☆☆☆☆