Beet-ing Hearts
published on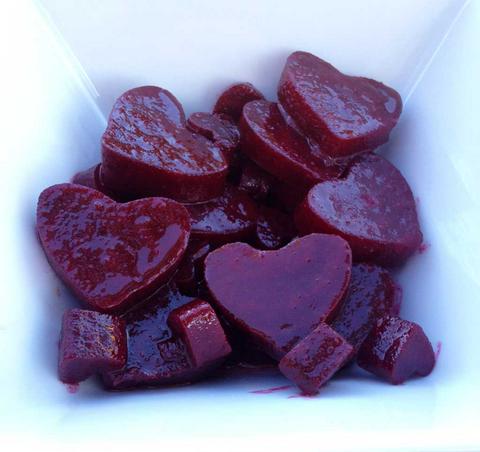 ♫ Listening to: Oblivion by Grimes ♫
Beet Salad Ingredients
Dollhouse Shortcut
Purchase pre-cooked beets and skip straight to the dressing portion of the recipe.
Beet Salad Directions
Wash the beets.
Cut off the stems and roots from each.
Place them in a pyrex pan or other oven-safe dish.
Drizzle olive oil sparingly over each one.
Fill the pan with halfway with water.
Cover the pyrex with foil.
Bake at 350° for one hour.
Cool for 30 minutes before removing skins. If they're still too hot to touch, submerge them in a pot or bowl of ice water for 5 minutes. Remove skins using your fingers or a paring knife.
Cut the beets using a knife or cookie cutters. I used a small heart-shaped cookie cutter from my heart set.
Beet Salad Dressing Ingredients
2 tablespoons vinegar (red wine, balsamic, or apple cider)
5 tablespoons olive oil
1 teaspoon onion powder
1 tablespoon mustard (optional)
Salt and pepper to taste
Beet Salad Dressing Directions
Whisk all the ingredients together.
Pour over beets. Let sit to marinate between 20 minutes and 20 hours.
☆☆☆☆☆☆☆☆☆☆