Vegan Turkey (Gluten Free Recipe)
published on , modified on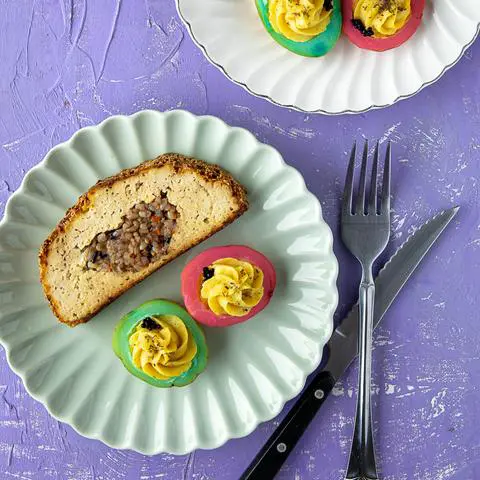 This tofurkey is a tender, gluten-free alternative to a heavy seitan roast. Seasoned tofu with a hint of smokiness is filled with a savory herb-infused rice stuffing, making every bite as delicious as the last and leaving you craving more. A plant-based alternative is a satisfying meatless main course for vegetarians, vegans, and omnivores to give thanks to animals and humans alike this Thanksgiving.
This recipe makes 1 stuffed vegan turkey, approximately 8 servings.
Table of Contents
(click the links below to skip to the section you're looking for)
♫ Listening to ♫
Sugarland by Marnie
This vegan turkey is organic and gluten free. It's a healthy alternative to eating a dead animal on Thanksgiving.
I don't mind the store bought tofurky. I actually really like the stuffing that the Turtle Island Tofurky has inside of it. Even Trader Joe's had a vegan tofurky this year (I have one in my freezer, but haven't actually sampled it yet).
However, as far as I know, all of the store-bought ones are high in gluten, and I have quite a few people in my life who try to avoid eating gluten. That is how the birth of the homemade gluten-free tofurkey came about.
There are basically 3 parts to making this: the tofu, the stuffing, and the marinade. I have made this vegan turkey using a traditional stuffing recipe, and it's delicious. However, if you want a completely gluten-free tofurkey, I recommend making a rice stuffing, like the one inside Tofurkey brand vegan turkey. I modified this recipe in 2022 to include a recipe for gluten-free stuffing for those of you who don't already have one.
The photos in this post span a wide range of different years, so I hope it's not confusing to follow. I make this recipe every thanksgiving and add new photos whenever I can.
(jump to the substitutions section to see ingredient details and suggestions for substitutions)
¼ cup olive oil

½ cup braggs liquid aminos
How to Make a Tofurkey Marinade
prep time: 2 minutes
Whisk together ¼ cup of olive oil (or any vegan oil you have) and ½ cup braggs liquid aminos.
Set aside until you need it.
2-4 tablespoons olive oil

1 yellow onion, finely diced

3-4 stalks celery, finely diced

1-2 carrots, finely diced

4-6 cloves of garlic, finely diced

1 teaspoon thyme

1 tablespoon sage

1 ½ teaspoon salt

½ teaspoon pepper

1 cup of brown rice

1 cup of white sushi rice

3 cups of veggie broth
How To Make Vegan Gluten-free Stuffing
prep time: 5 minutes | cook time: 40 minutes
Sauté a diced yellow onion in 2-4 tablespoons olive oil until it starts to look transluscent.
Add 3-4 stalks of diced celery, 1-2 diced carrots, and 4-6 finely diced or minced cloves of garlic. Stir.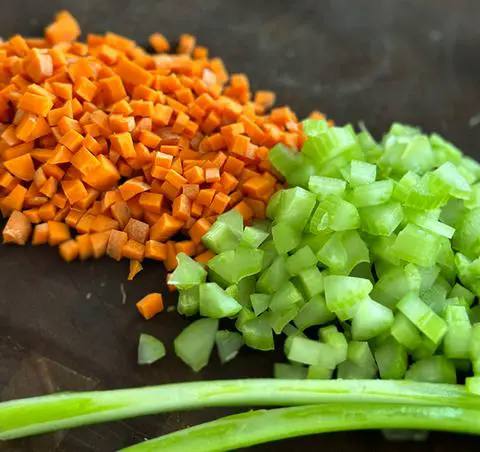 Add the following dried spices: 1 teaspoon thyme, 1 tablespoon sage, 1 ½ teaspoon salt, and ½ teaspoon pepper. Stir.
Measure or weigh 2 cups of mixed rice and pour it into a strainer.
Rinse the rice for at least 1 minute.
Add the rice to the pot of sauteéd veggies, along with 3 cups of veggie broth.
Cook the same way you would cook any rice.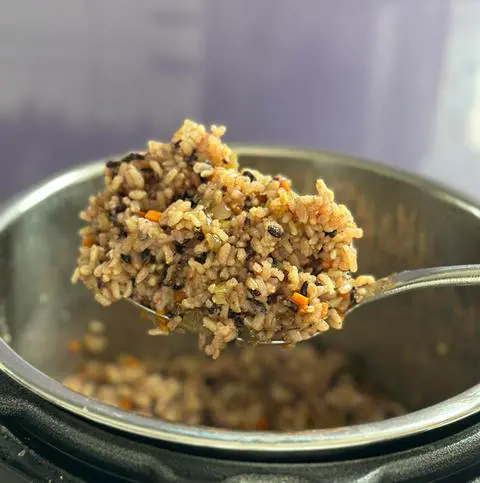 Optional: Forming the Stuffing into a Heart Shape
Prepare a heart-shaped sushi mold by lining it with cling wrap.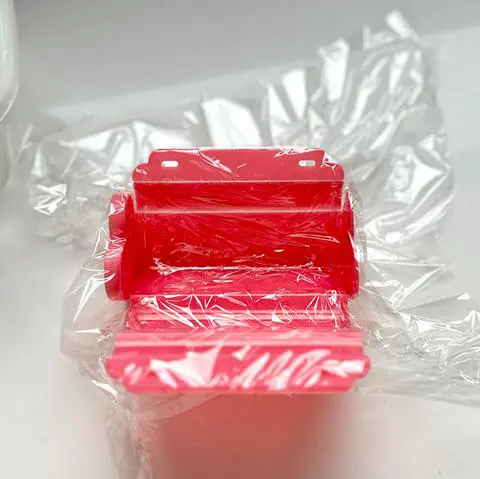 Fill it with gluten-free stuffing.
Press the mold closed to form the shape and then freeze it for 15-20 minutes.
Remove the cling wrap carefully from the mold and set the stuffing shape back into the freezer.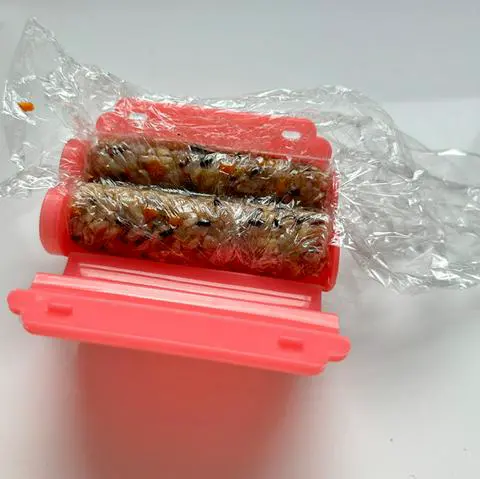 Repeat to make a second stuffing tube. You'll need both to fill the tofurkey later.
Dollhouse Shortcut
If you don't have smoked sea salt, you can use 1 teaspoon of regular sea salt and 10 drops of liquid smoke.
3 packages (~1 pound each) extra-firm organic tofu *

1 teaspoon garlic powder

1 teaspoon onion powder

1 teaspoon smoked sea salt

½ teaspoon salt
How To Make Vegan Turkey
prep time: 30 minutes | bake time: 1 hour
Rinse the 3 packages (~1 pound each) extra-firm organic tofu.
Wrap each block in a kitchen tea towel. Leave them wrapped as long as possible, preferably overnight in the fridge.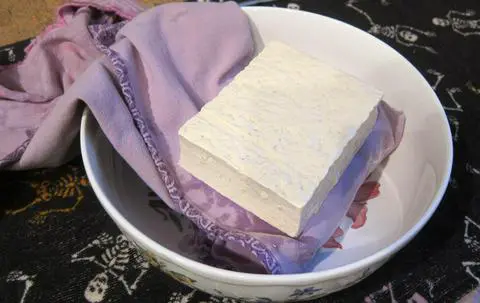 Make the stuffing while you wait for the moisture to wick out of the tofu.
Squeeze the tofu to get all the extra moisture out of it.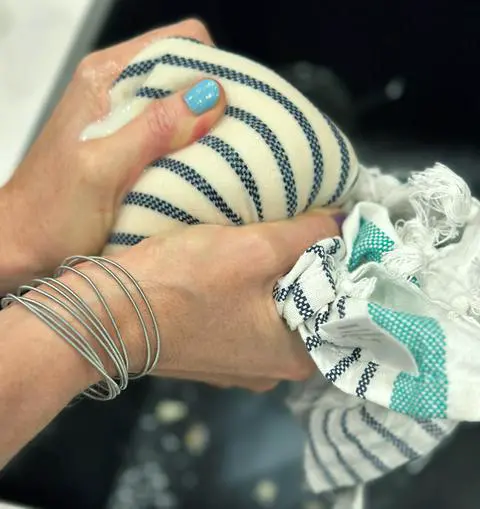 Crumble the tofu into a bowl.
Add 1 teaspoon garlic powder, 1 teaspoon onion powder, 1 teaspoon smoked sea salt, and ½ teaspoon salt to the tofu.
Mix with your hands (or I guess you can use a spoon).
Line a mold with cheesecloth. I just started using this kind because it's reusable, whereas the other kind was one-use only. Just make sure if you buy these reusable ones that you open the package a couple of days before you want to use them. The one in the picture below is from Whole Foods and is the disposable kind.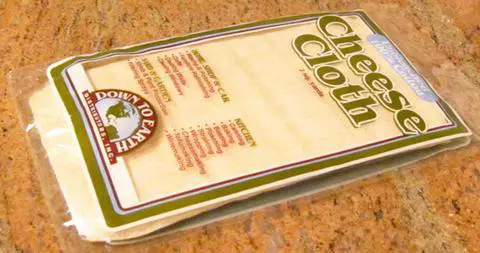 If you don't have access to cheesecloth, you can use parchment paper or a tea towel in a pinch. Feel free to use anything as your mold…a loaf pan, a bowl, etc. I've used the following types of pans over the years: cake pans, bread pans, and bundt pans (mini and large). You can see pictures of me using different shapes and sizes of pans below.
Press tofu into the mold to line the entire surface area of your mold with tofu. You want to make it approximately ½ – 1" thick, depending on the size of your mold and how much tofu you have. Press the tofu down with your fist and/or palm to make sure it's packed tightly.
Fill your tofu-lined dish with stuffing. Press the stuffing into the mold making sure that no spaces of air are left. Continue until the mold is filled completely.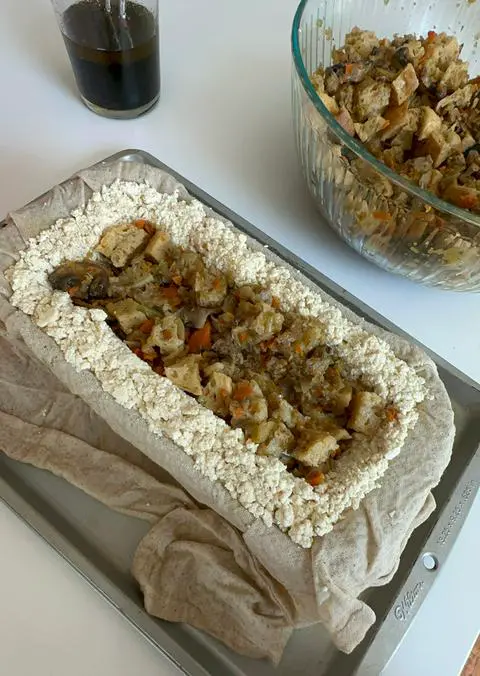 Add remaining tofu on top, if you have any left. This isn't needed, but helps it to look more like the tofurkey you buy at Whole Foods or Trader Joe's.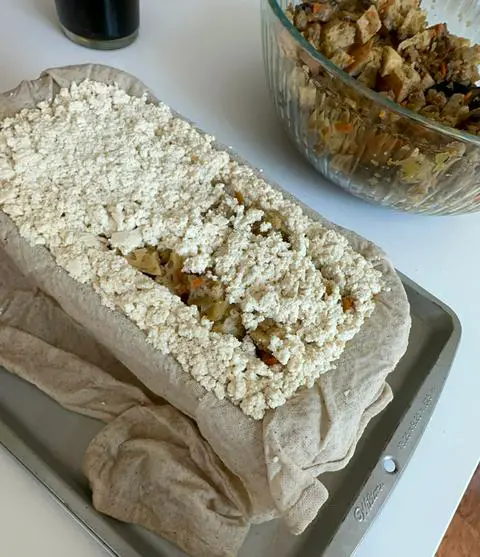 If you did add more tofu, then you'll want to baste it with your marinade now.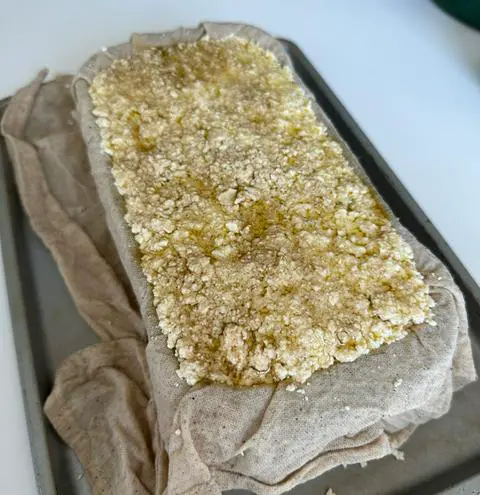 Bake the vegan turkey at 400º for 10-20 minutes, only if your mold is oven safe. If it isn't, continue to the next steps. Remove from the oven after the first bake.
Turn mold over onto an oven-safe pan (with sides) to bake tofurkey on, and tug on the cheesecloth if it doesn't come out on its own. Lift off the mold.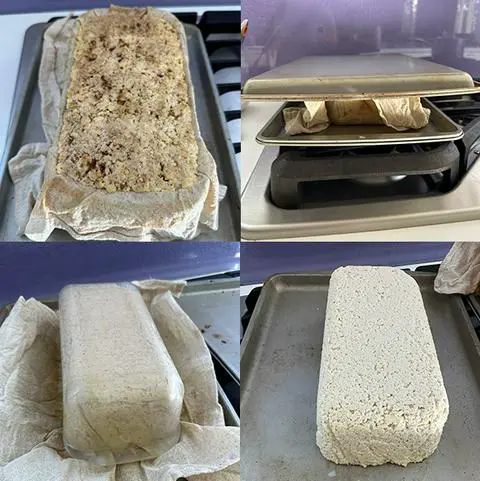 Peel the cheesecloth off carefully so as to not allow any tofu to crumble off of the shape you have created with your mold.
Baste entire surface area of the tofurkey with marinade, including the sides. I used a silicone basting brush, but you can use whatever you have (even your hands). That entire process of molding the tofurkey in the pan with the stuffing and prepping it to go into the oven takes me 30-40 minutes.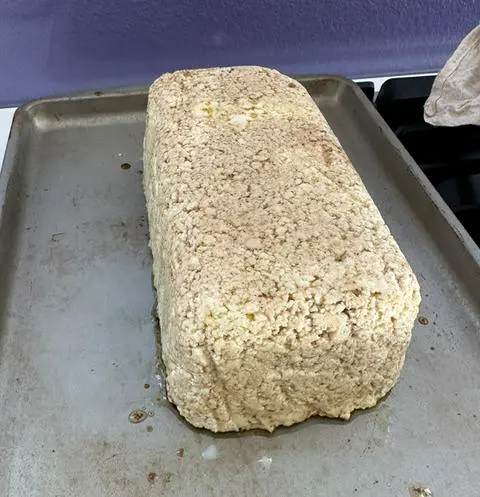 Bake at 400º for 20 minutes. You can cover it with foil if you're concerned about it drying out. I've done it both ways: covering with foil and not covering it with foil. I honestly can't tell the difference.
Remove the vegan turkey from the oven, rebaste, and return to oven uncovered for 15 minutes.
Repeat this removing and rebasting every 15 minutes for 3-4 rounds, equalling a total baking time of 45-60 minutes, depending on the size and shape of your tofurkey.
Remove from the oven.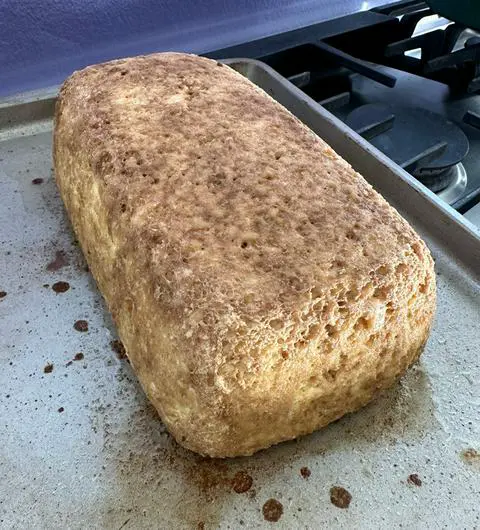 Slice and serve.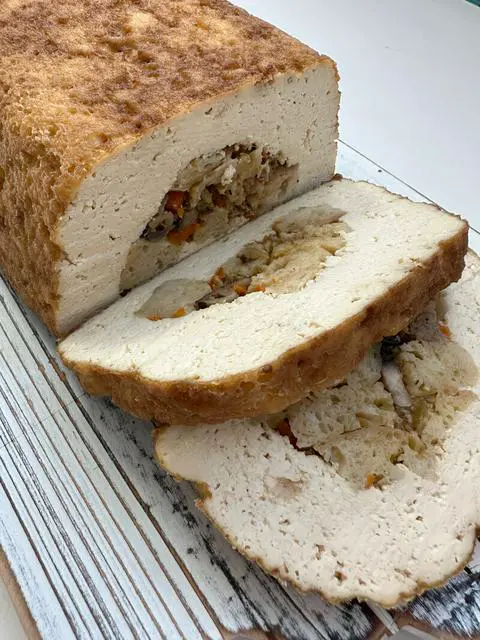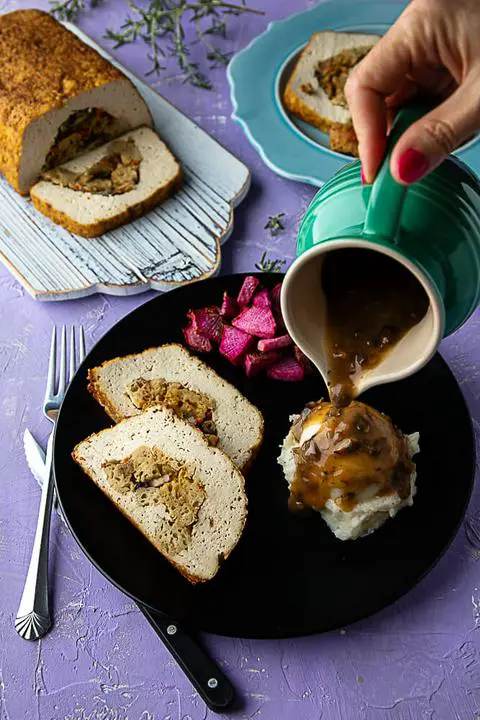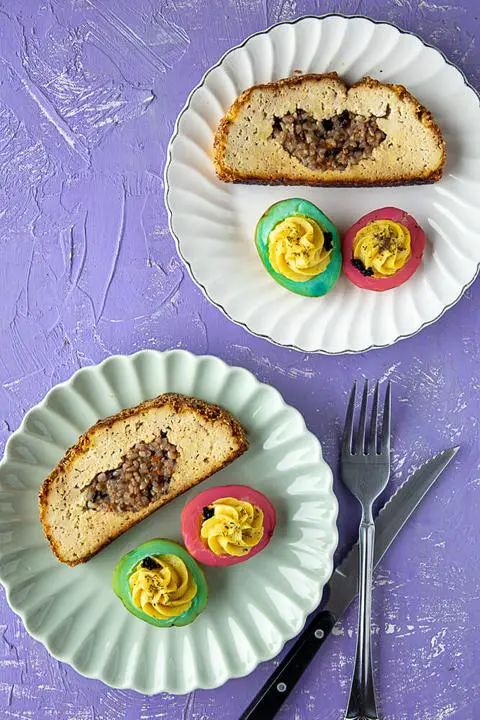 What can I do with leftover tofurkey?
If you happen to have any leftovers, I suggest using leftover tofurkey, mashed potatoes and gravy, and sweet potato dinner rolls to make leftover thanksgiving sandwiches.
What can I serve tofurkey with?
I recommend serving this tofurkey with green bean rolls, deviled potatoes, and gluten-free crustless pumpkin pie.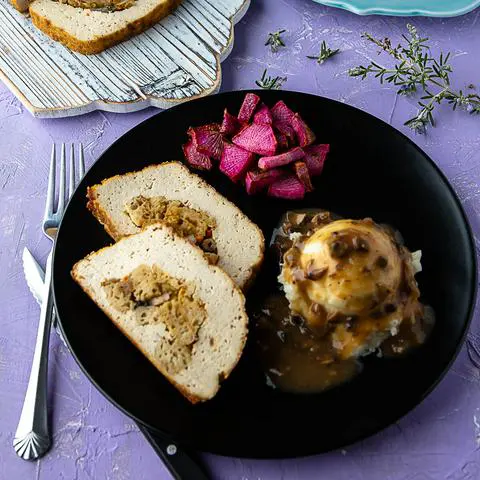 Olive Oil: You can replace the olive oil in this recipe with any vegan-friendly oil. Some alternatives include avocado oil, safflower oil, sunflower oil, or coconut oil. You can also use vegetable oil, canola oil, or grapeseed oil.
Braggs Liquid Aminos: You can replace the braggs in this recipe with soy sauce or tamari, but if you avoid gluten, make sure you use gluten-free tamari.
Tofu: I use extra-firm organic tofu. It's important to buy organic or non-GMO tofu since soy is a commonly genetecially modified ingredient, and genetic modification can add fish genes to the plants, make them no longer vegan.
Garlic Powder: If you don't have garlic powder, you can replace the teaspoon of garlic powder and a teaspoon of salt in this recipe, with 2 teaspoons of garlic salt.
Smoked Sea Salt: If you don't have smoked sea salt, you can replace it with a teaspoon of regular sea salt and and 10 drops of liquid smoke.
Garlic: You can replace the 4-6 cloves of fresh garlic in this recipe with between 1 and 1 ½ teaspoons of garlic powder.
Brown Rice: I used medium grain brown rice, but you can use any type of brown rice for the stuffing.
White Sushi Rice: Sometimes, I replace ¼ cup of the sushi rice with ¼ cup of forbidden rice. Feel free to experiment with your rice blend. You will want to use at least some sushi rice or other stick rice to help hold the stuffing together.
Veggie Broth: I usually make my own veggie broth with veggie bouillon.
Here's a live stream video of me making this vegan turkey.
Servings: 8
Calories: 410
Total Fat: 15.6g
Saturated Fat: 2.2g
Cholesterol: 0mg
Sodium: 2,043mg
Total Carbohydrate: 47g
Dietary Fiber: 4.5g
Total Sugars: 3.3g
Protein: 20.6g
If you make this recipe, snap a pic, post to instagram, and tag me @vegandollhouse. I love to see your creations! You can also message me through instagram or email me if you have any questions or feedback about the recipe.
If you like to make main courses for holidays, you might also like some of my other entrees. This vegan roast, made of a mushroom seitan, is good for Christmas. This vegan ham, perfect for Easter, is made of tofu like this recipe, but it's quicker so it's also good for an everyday dinner.
☆☆☆☆☆☆☆☆☆☆
* I use mostly organic ingredients when I cook. I realize that not everyone has the disposable income to buy only organic ingredients. So, I only specify organic on the ingredients that matter: when buying the organic (or non-GMO) version is the only way to ensure that an item is vegan.
This post links to items I used when I made this recipe. If you click on the purple Buy Now button on a product page, you will go to a website (like Amazon) where you can buy the same product I used. Sometimes, the store you purchase from (Amazon, Etsy, etc.) will pay me for referring you. This costs you nothing extra, and I would never recommend a product that I don't use. These affiliate programs help me buy the ingredients to create these recipes for you. Read more about this in my privacy policy.
☆☆☆☆☆☆☆☆☆☆
Here are some old pictures from past years of making this.