Vegan Spam Recipe
published on
♫ Listening to: Sonic Reducer by Dead Boys ♫
If you want to learn how to assemble this spam into musubi, check out my musubi recipe.
Vegan Spam Ingredients
¼ cup braggs liquid aminos
2 tablespoons olive oil
¼ teaspoon liquid smoke or hickory smoke salt
1 block extra firm organic tofu*
Vegan Spam Directions
Slice the extra firm tofu as thin as possible without it breaking, and use a small cookie cutter to cut out your shape of choice. I've made hearts and cats. You layer them in between layers of paper towels for a few minutes to wick the moisture out of them.
Make a delicious spamlike marinade by combining 2 tablespoons olive oil, ¼ cup braggs liquid aminos, and ¼ teaspoon hickory smoke. Then brush it onto the bottom of a glass pyrex lasagna pan using a silicone basting brush .
Lay each piece of tofu into the lasagna pan as closely together as possible so you can fit them all.
Brush the tops of the tofu pieces with the marinade using a silicone basting brush . If you don't have a silicone basting brush , you can just use your hands and a spoon.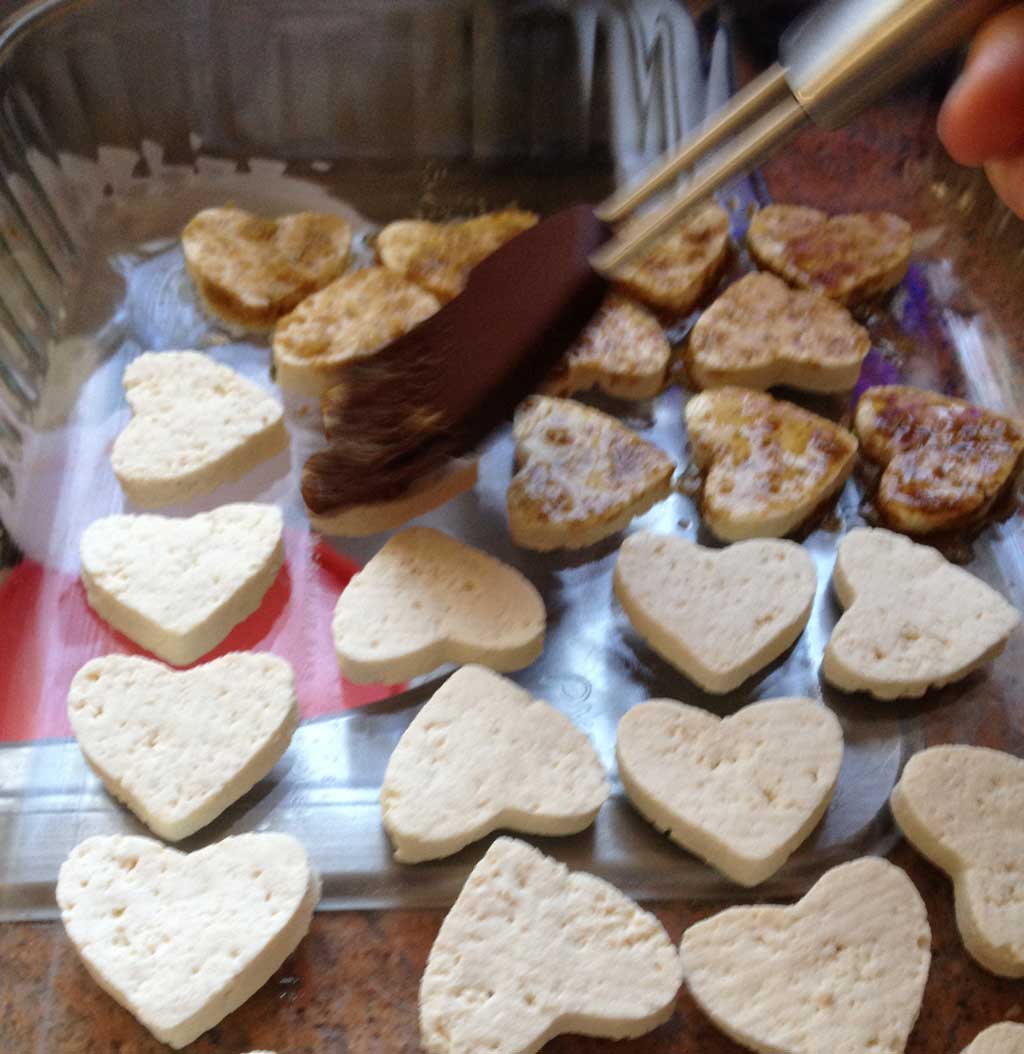 Bake the tofu in the oven (~350˚) for 20 minutes, and then flip them all over. Brush marinade over the other side. Bake for another 20 minutes. Cool.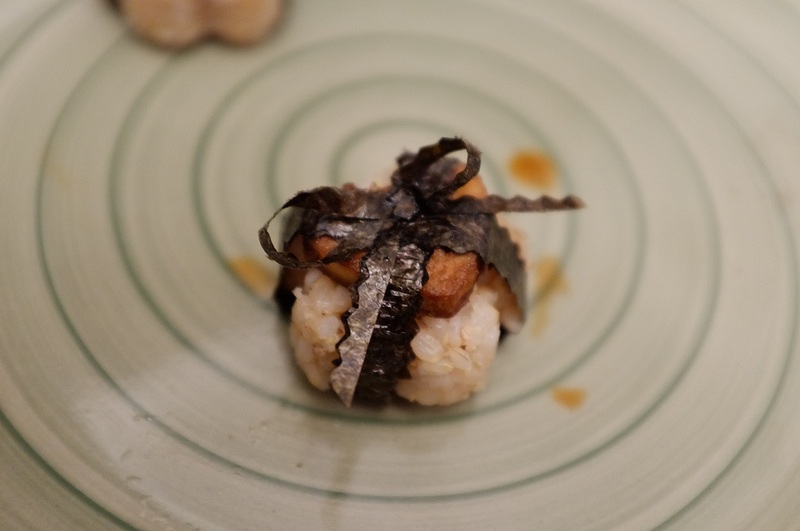 Other Cute Shaped Finger Foods
If you like finger foods, you might also like my cauliflower bear bites, my sweet potato tater tots, and my millet veggie bites.
Comments or Questions?
If you make this spam musubi recipe, snap a pic, post to instagram, and tag me @vegandollhouse. I love to see your creations! You can also message me through instagram or email me if you have any questions about the recipe.
☆☆☆☆☆☆☆☆☆☆
* I use mostly organic ingredients when I cook. I realize that not everyone has the disposable income to buy only organic ingredients. So, I only specify organic on the ingredients that matter: when buying the organic (or non-GMO) version is the only way to ensure that an item is vegan.
This post links to items I used when I made this recipe. If you click on the purple Buy Now button on a product page, you will go to a website (like Amazon) where you can buy the same product I used. Sometimes, the store you purchase from (Amazon, Etsy, etc.) will pay me for referring you. This costs you nothing extra, and I would never recommend a product that I don't use. These affiliate programs help me buy the ingredients to create these recipes for you. Read more about this in my privacy policy.
☆☆☆☆☆☆☆☆☆☆