Biscoff Loaf Cake
published on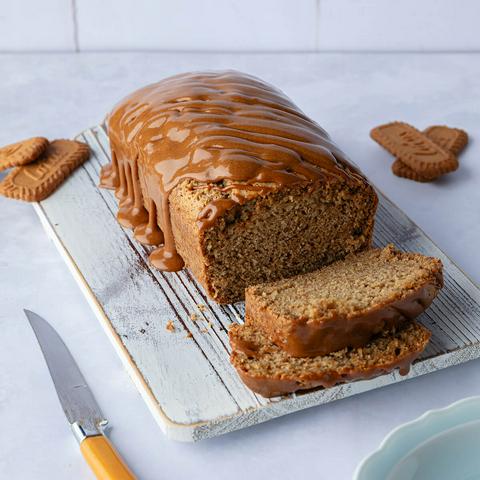 If you want to bake a cake but you're too busy, this Biscoff Loaf Cake recipe takes less than 15 minutes (not counting oven time). This vegan Biscoff Cake recipe doesn't require any cookie butter. You only need speculoos/biscoff cookies. And it's even plant based!
This recipe makes 9 slices of biscoff cake (1 loaf).
Table of Contents
(click the links below to skip to the section you're looking for)
♫ Listening to ♫
punkt by bar italia
I went to the Vegan Street Faire last weekend, and one of the highlights was a vegan, gluten-free biscoff cake made by Green Flour Bakery. It was so good that I had to come home and spend the rest of my weekend creating this recipe.
(jump to the substitutions section to see ingredient details and suggestions for substitutions)
2 cups (260g) unbleached white flour

¾ cup (163g) organic or vegan sugar

½ teaspoon (3-4g) baking soda

1 ½ teaspoons (8g) baking powder

½ teaspoon (1-2g) cinnamon

½ cup (60g) cookie crumbs (~8 biscoff or speculoos cookies, crumbled)

1 cup (240mL/g) nondairy milk

¼ cup (50g) sunflower oil

1 teaspoon (4g) vanilla extract

1 tablespoon (15g) lemon juice
prep time: 12 min | bake time: 50 min
Dollhouse Shortcut
Purchase lotus cookie crumbles instead of making your own to save time.
Preheat the oven to 350°F (175º C).
Oil a loaf pan using an oil sprayer if you have one (or your hands if you don't).
Line partially with parchment paper, leaving some hanging over the sides to make little tabs that will help you lift the cake out of the pan once it's baked.
Process 24 biscoff cookies into crumbs in a food processor, fitted with the S blade. Only 8 of these cookies are going to be in the cake. The rest will be for the drizzle. If you're skipping the drizzle, just process only 8 cookies. If you don't have a food processor, you can use a blender for this task, but it's easier with a food processor. If you're only making crumbs for the cake and not the drizzle, 8 cookies will fit into a spice grinder as another option.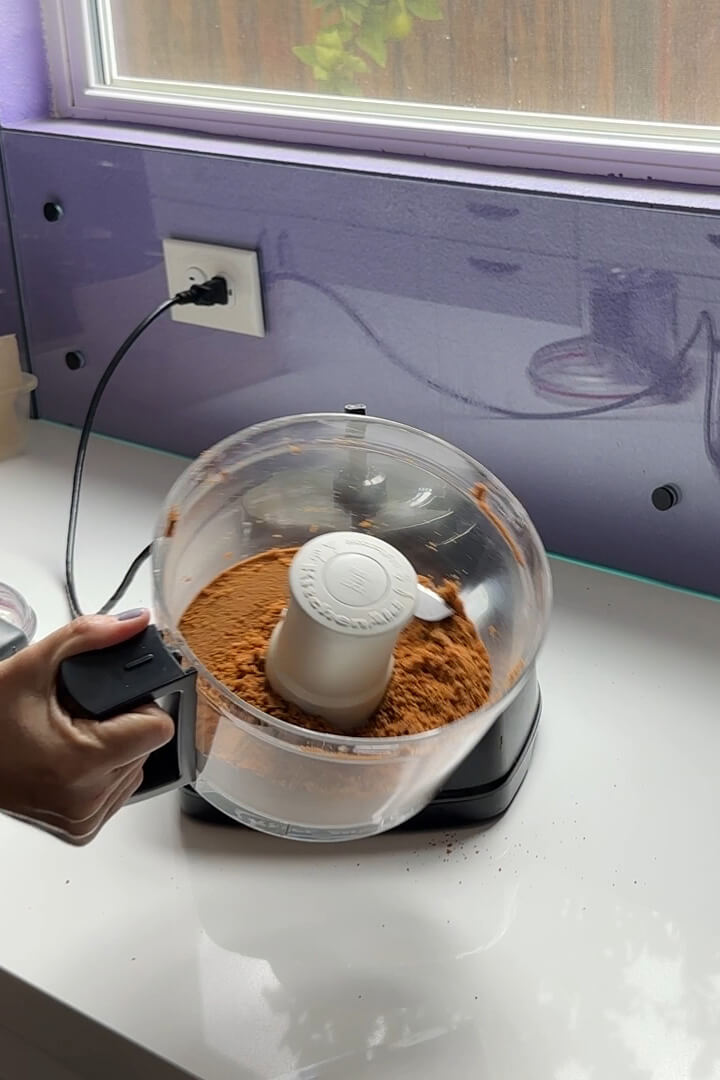 Whisk 2 cups (260g) flour, ½ teaspoon (3-4g) baking soda, 1 ½ teaspoons (8g) baking powder, ¾ cup (163g) sugar, ½ teaspoon (1-2g) cinnamon, and ½ cup (60g) cookie crumbs.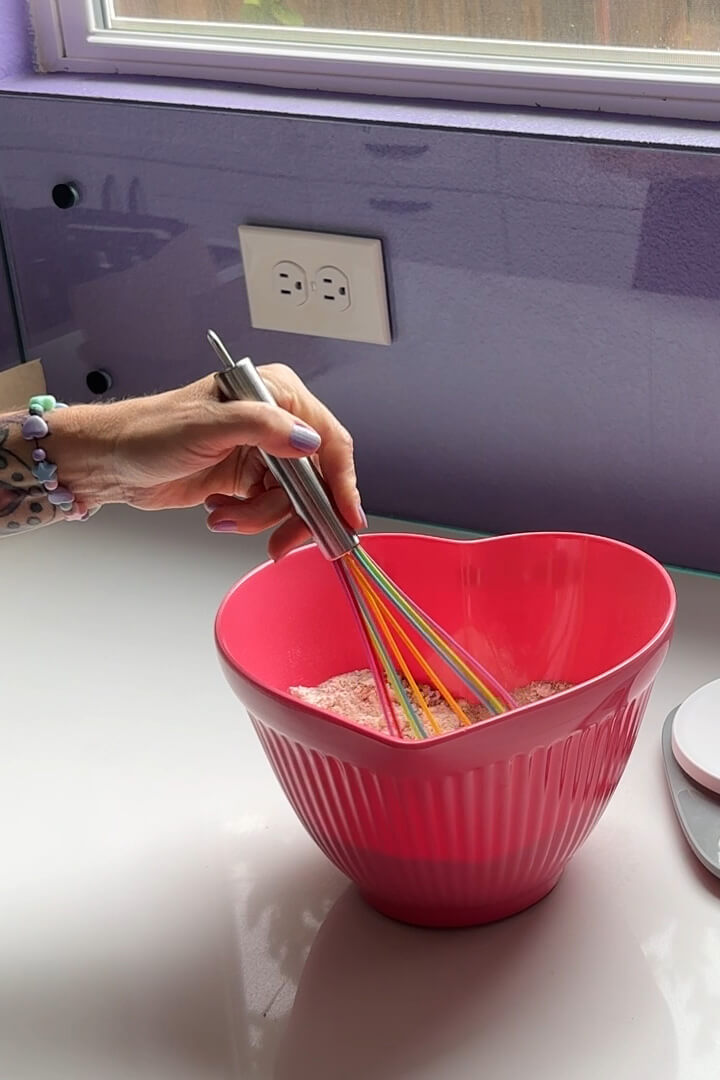 Add 1 cup (240mL/g) of nondairy milk, ¼ cup (50g) sunflower oil, and 1 teaspoon (4g) vanilla.
Mix for 20-30 seconds, using a silicone spatula to scrape the sides of the bowl while mixing until there are no visible dry spots. You want this to be a thick muffin-like batter.
Check to make sure the oven is preheated or at least 340º F (170º C) before doing the next step.
Mix in 1 tablespoon (15g) lemon juice, using the same silicone spatula.
Transfer the cake batter into the loaf pan, using the silicone spatula to make sure you get it all out of the bowl.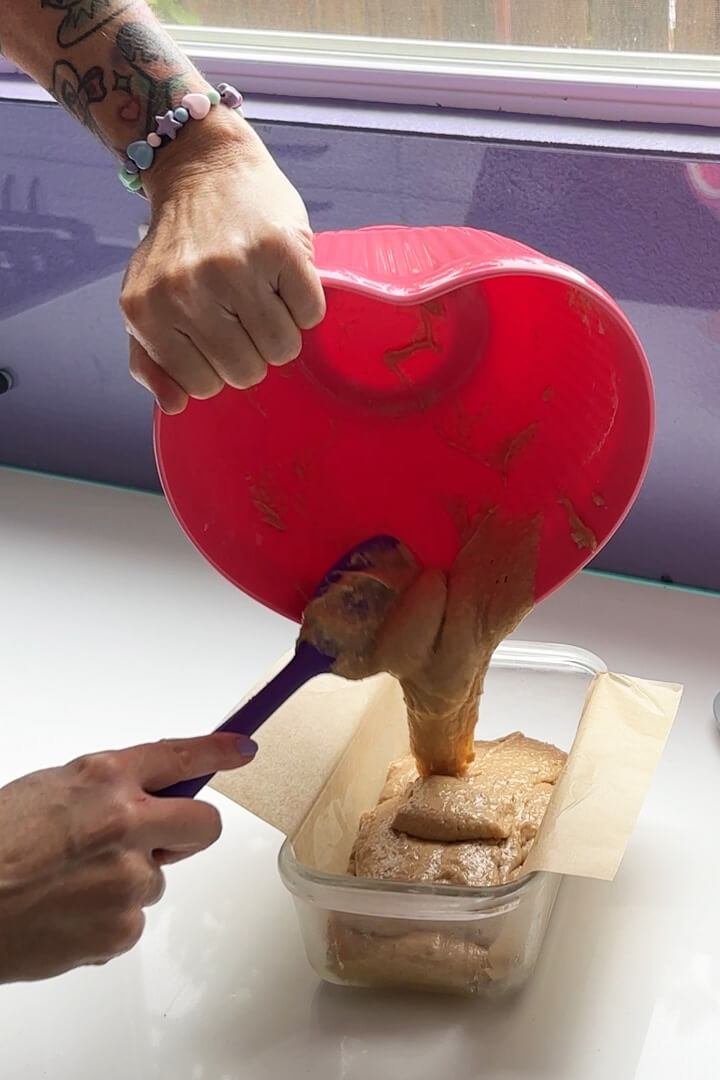 Bake until when you insert a toothpick into the center, it comes out clean. The bake time depends on what your loaf pan is made of, how hot your oven runs, and how long the oven was preheating before you put your cake in. So, I recommend setting the timer for 45 minutes and then checking it every 5 minutes with the toothpick. I used a glass loaf pan, and my oven runs a little hot, so my bake time was 50 minutes.
Remove from the oven and leave the cake on a cooling rack until it's completely cooled throughout.
Remove the cake from the loaf pan by jimmying the silicone spatula down the sides and bottom of the entire perimeter of the pan. Then lift it out with the parchment paper edges. If you skipped parchment, turn the loaf pan upside down and it should fall out.
Drizzle or spread biscoff sauce on top if you want it to be more of a dessert cake.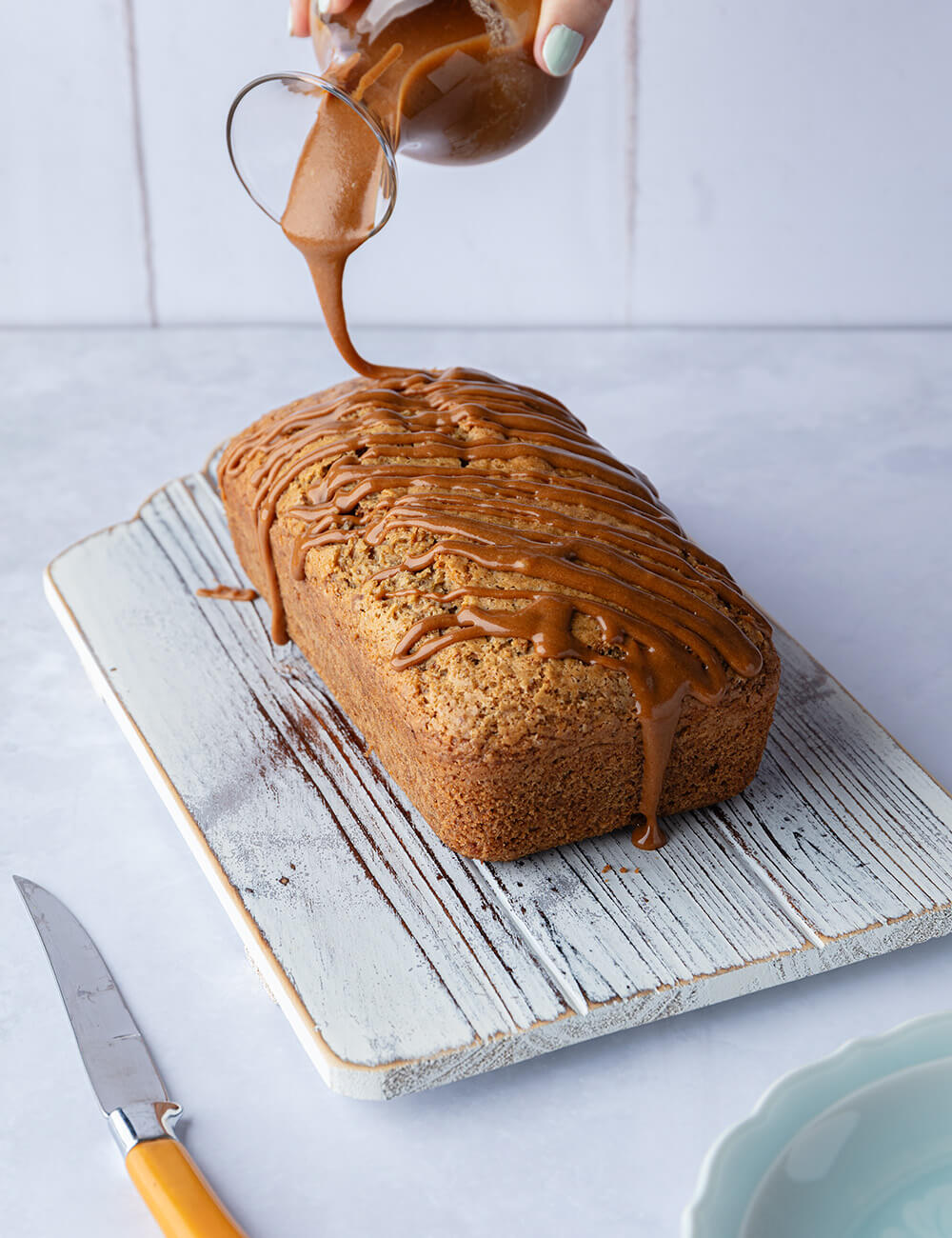 Slice and serve. I'm a chocoholic so I really liked having it with chocolate ice cream (or hot cocoa if it's too cold for ice cream).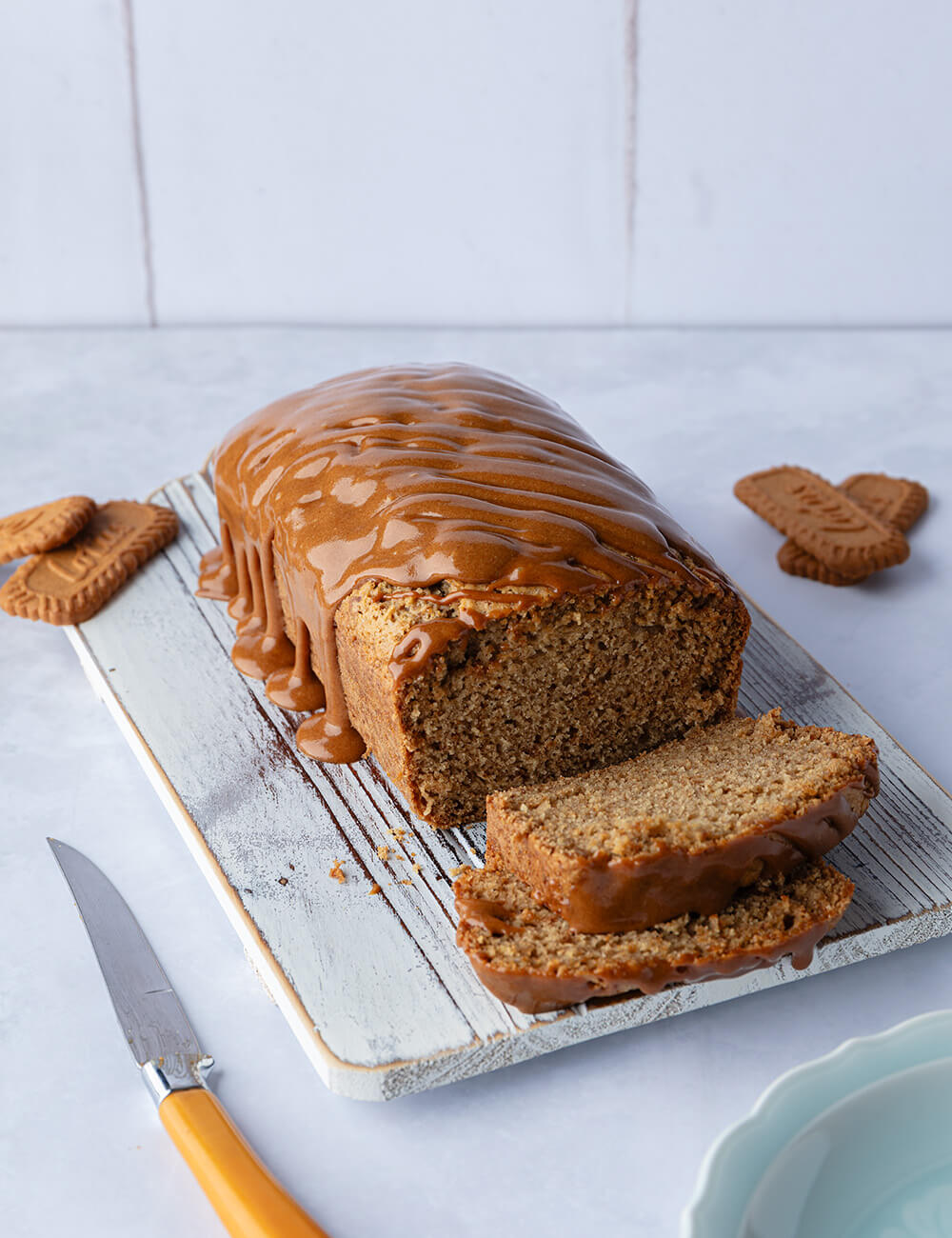 Is there a way to shorten the bake time of this biscoff cake?
You can bake this biscoff cake for a shorter amount of time if you bake it as cupcakes or in a square or round 8" or 9" pan. This should cut your bake time in half, or thereabouts. You can also make this in those mini loaf pans to give as gifts for the holidays.
How long will this biscoff cake last?
The loaf cake will last for 5-7 days in a tupperware container on the kitchen counter or in the pantry, as long as your house isn't super hot. Even in a tupperware though, it does start to dry out each day after you bake it, so I like to share this cake with friends and neighbors.
Can you freeze biscoff cake?
You can freeze both biscoff cake to get it to last up to 3 months. Wrap the cake in cling wrap and then place it in a freezer ziploack.
Parchment Paper: I know this isn't an ingredient, but I thought I should mention it anyway. If you don't have parchment paper, you can just skip it.
Flour: I used unbleached, all-purpose flour for this cake recipe. If you have other kinds of flours, you can substitute them using a 1:1 ratio (except for coconut flour).
Sugar: I use organic sugar to be certain that it's vegan. You can use organic, vegan, raw, or brown sugar. Watch out for conventional granulated sugar. It's sometimes processed using animal bones, and therefore not considered vegan by some.
Baking Soda: If you are out of baking soda, replace the ½ teaspoon (3-4g) baking soda in this recipe with an additional 1 ½ teaspoons (8g) baking powder.
Baking Powder: If you're out of baking powder, replace the 1 ½ teaspoons (8g) baking powder in this recipe with an additional ½ teaspoon (3-4g) baking soda.
Cinnamon: You can omit the cinnamon in this recipe or replace it with nutmeg or cardamom or ginger. Feel free to get creative!
Cookies/Cookie Crumbs: Lotus sells Biscoff Crumbles in a bag, but it's so easy to make your own in a food processor, that I just make my own. If you're a strict vegan, check with the company who makes the biscoff cookies you want to use. I emailed Lotus and Trader Joe's, and they both replied to me confirming that the sugar they use in their cookies is indeed vegan and not processed through bone char. Therefore, if you want to be safe, use either Lotus Biscoff cookies or Trader Joe's Speculoos cookies for this recipe. They both contain vegan sugar.
Nondairy Milk: You can use any kind of plant milk in this cake recipe. I used organic soy milk because that's what I had in my fridge. If you don't already have nondairy milk at home, just buy the cheapest vegan milk you can find. You can also mix and match different nondairy milks. I do this a lot when my macadamia milk only has a little bit left at the bottom and I use it up, and then I open a new container of almond, oat, or soymilk. If you use soymilk, I recommend buying organic or non-GMO to make sure it's vegan.
Oil: I recommend safflower, sunflower, avocado, or coconut oil for baking cakes. These oils are good for high heat, which helps you avoid transfats. However, you can use any other oil such as vegetable oil, canola oil, grapeseed oil, etc. People even make cakes with olive oil, but I don't recommend it.
Vanilla Extract: If you don't have vanilla extract, you can omit it, but the cake will taste much better if you include it. Make sure you use 100% pure vanilla extract or flavor. If the ingredients don't specifically say vanilla bean, then it may not be vegan. Vanilla flavoring is often made from the anal glands of beavers. Who TF came up with this idea? Good question. Probably the same people who discovered gelatin.
Lemon Juice: If you don't have lemon juice, replace the lemon juice in this recipe with the same amount of apple cider vinegar, white vinegar, or lime juice. You just need some sort of acid to interact with the alkalinity of the baking soda to make the cake rise.
Other Easy Vegan Cake Recipes
If you like easy cake recipes, you might also like my lemon loaf cake and my vegan peeps cake.
If you make this recipe, snap a pic, post to instagram, and tag me @vegandollhouse. I love to see your creations! You can also message me through instagram or email me if you have any questions about the recipe.
☆☆☆☆☆☆☆☆☆☆
* I use mostly organic ingredients when I cook. I realize that not everyone has the disposable income to buy only organic ingredients. So, I only specify organic on the ingredients that matter: when buying the organic (or non-GMO) version is the only way to ensure that an item is vegan.
This post links to items I used when I made this recipe. If you click on the purple Buy Now button on a product page, you will go to a website (like Amazon) where you can buy the same product I used. Sometimes, the store you purchase from (Amazon, Etsy, etc.) will pay me for referring you. This costs you nothing extra, and I would never recommend a product that I don't use. These affiliate programs help me buy the ingredients to create these recipes for you. Read more about this in my privacy policy.
☆☆☆☆☆☆☆☆☆☆