Vegan Lemon Cake
published on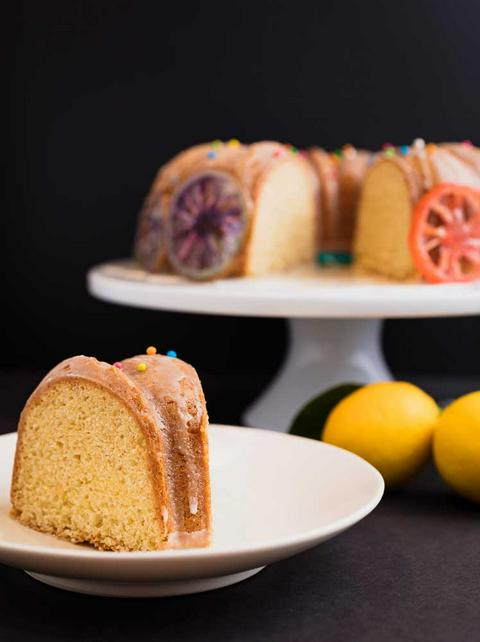 ♫ Listening to: Shadowshow by iamamiwhoami ♫
My parents have a lemon tree, and periodically, they give me a bag of lemons. This is one of those times that I have an abundance of lemons. This lemon cake recipe is perfect for the winter when friends and neighbors are gifting you lemons from their trees. Since it's eggless and dairy-free, you can even leave it sitting on the counter to make it easier to eat a slice everytime you pass by it. Optional: decorate with dried candied orange slices.
This recipe makes one loaf cake, or you can double it to make a bundt cake.
Vegan Lemon Cake Ingredients
2 organic lemons

approximately a third of a cup of nondairy milk (it depends on the size of your lemons)

¼ cup (50g) sunflower oil

1 teaspoon (4g) vanilla extract

¾ cup (163g) raw sugar (if you're skipping icing, you can use 1 cup of sugar to make it sweeter)

2 cups (260g) unbleached white flour

1 teaspoon (7g) baking soda

1 ½ teaspoons (8g) baking powder

1 teaspoon (3g) organic cornstarch (you can sub tapioca flour if you don't have organic cornstarch)*

a few pinches of salt
Vegan Lemon Cake Directions
prep time: 15 min | bake time: 50 min
Wash your 2 organic lemons.
Peel just the yellow part of the peel off your organic lemons using a vegetable peeler (or a knife, if you don't have one). Put those yellow peels into your blender.
Peel (or cut) the rest of the peel off the lemons and compost them.
Remove the seeds from your organic lemons and compost them.
Put the rest of the lemons into the blender.
Preheat the oven to 325°.
Blend lemons and peels on high until no large chunks remain or until your blender won't blend it anymore.
Add nondairy milk until the liquid equals 1 cup. (This assumes you have measuring ticks on the side of your blender. If you don't, just add a third of a cup of nondairy milk.)
Oil a loaf pan (or a bundt cake pan if you're doubling this recipe). Dust with flour.
Add the ¼ cup (50g) sunflower oil, 1 teaspoon (4g) vanilla, and ¾ cup (163g) sugar to the blended lemons and milk, and blend for 20-30 seconds.
Measure the 2 cups (260g) flour, 1 teaspoon (7g) baking soda, 1 ½ teaspoons (8g) baking powder, 1 teaspoon (3g) organic cornstarch, and a few pinches of pink sea salt into a large bowl and whisk.
Add the blended wet ingredients to the dry ingredients, using a silicone spatula to scrape all of it out of the blender.
Stir with the same silicone spatula until there are no visible dry spots.
Transfer the batter into the cake pan, using the silicone spatula to get all of it.
Bake until when you insert a toothpick into the center, it comes out clean. For a loaf, bake for 50 minutes. For a bundt, bake for an hour. (My oven runs hot, so 45 minutes for a loaf and 55 minutes for a bundt is enough time in my oven.)
Remove from the oven and leave the cake on a cooling rack until it's completely cooled throughout.
Remove from cake pan by jimmying the silicone spatula down the sides and bottom of the entire perimeter of the pan, and then turning the pan upside down.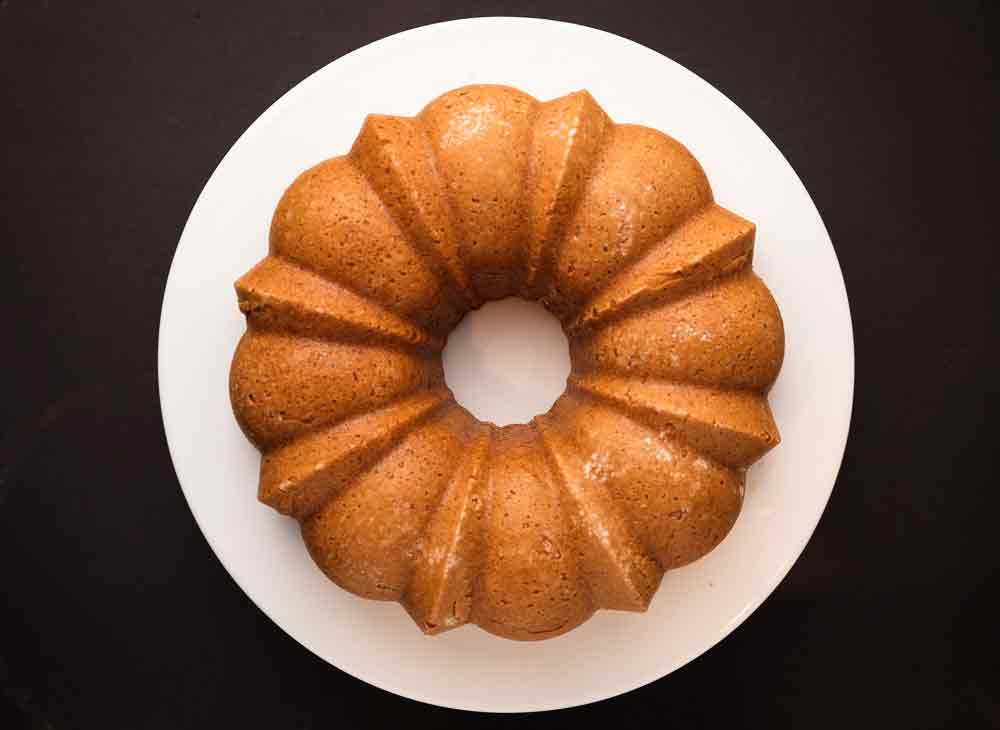 Vegan Lemon Icing Ingredients
2 tablespoons lemon juice

1 cup organic powdered sugar, sifted*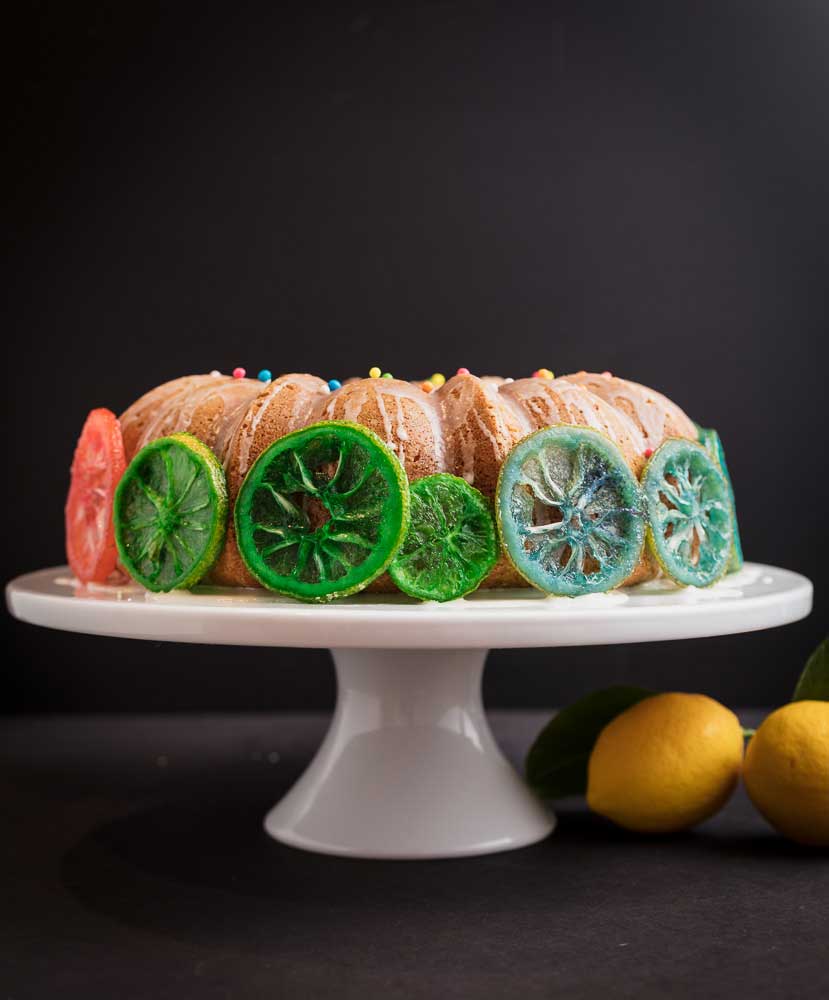 Vegan Lemon Icing Directions
Whisk the lemon juice and powdered sugar, using a stand mixer or a handheld electric mixer.
Transfer the icing to a disposable piping bag .
Pipe the icing all over the cake.
Decorate with whatever you have. I used vegan sprinkles and candied lemons. If you haven't made candied lemons before, you can find out how here.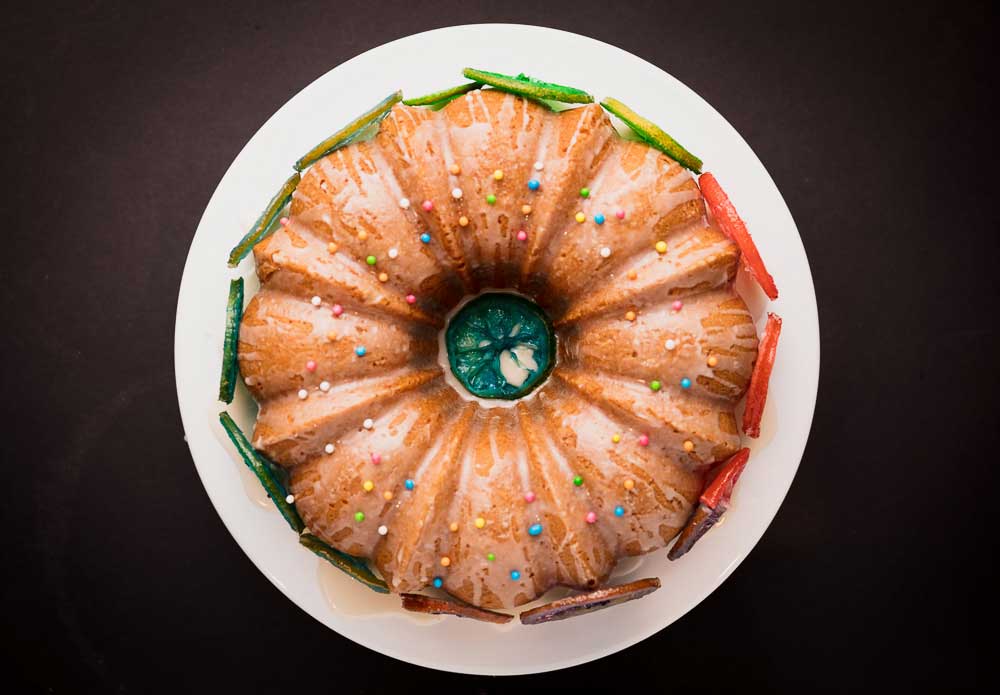 Chill before transporting to ensure the cake arrives to it's destination looking pretty.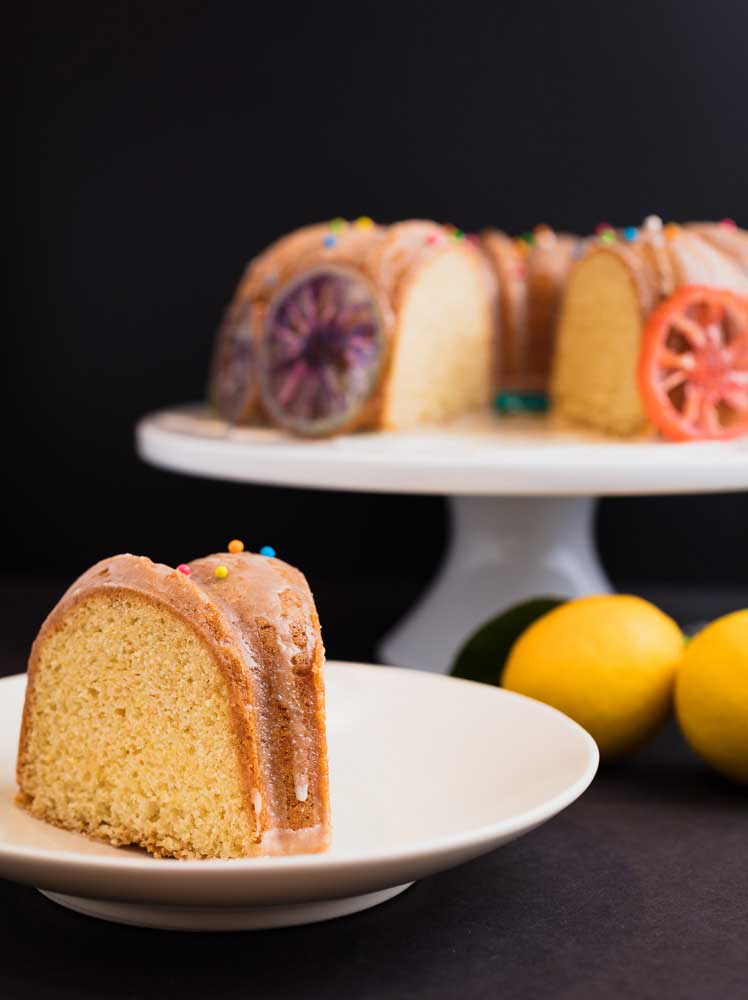 If you like lemon desserts, you might also like my lemon blueberry cake, my funfetti lemonade cake, my strawberry lemonade cake, and my lemon blueberry cookies.
☆☆☆☆☆☆☆☆☆☆
* I use mostly organic ingredients when I cook. I realize that not everyone has the disposable income to buy only organic ingredients. So, I only specify organic on the ingredients that matter: when buying the organic (or non-GMO) version is the only way to ensure that an item is vegan.
This post links to items I used when I made this recipe. If you click on the purple Buy Now button on a product page, you will go to a website (like Amazon) where you can buy the same product I used. Sometimes, the store you purchase from (Amazon, Etsy, etc.) will pay me for referring you. This costs you nothing extra, and I would never recommend a product that I don't use. These affiliate programs help me buy the ingredients to create these recipes for you. Read more about this in my privacy policy.
☆☆☆☆☆☆☆☆☆☆