Vegan Marshmallow Peeps Cake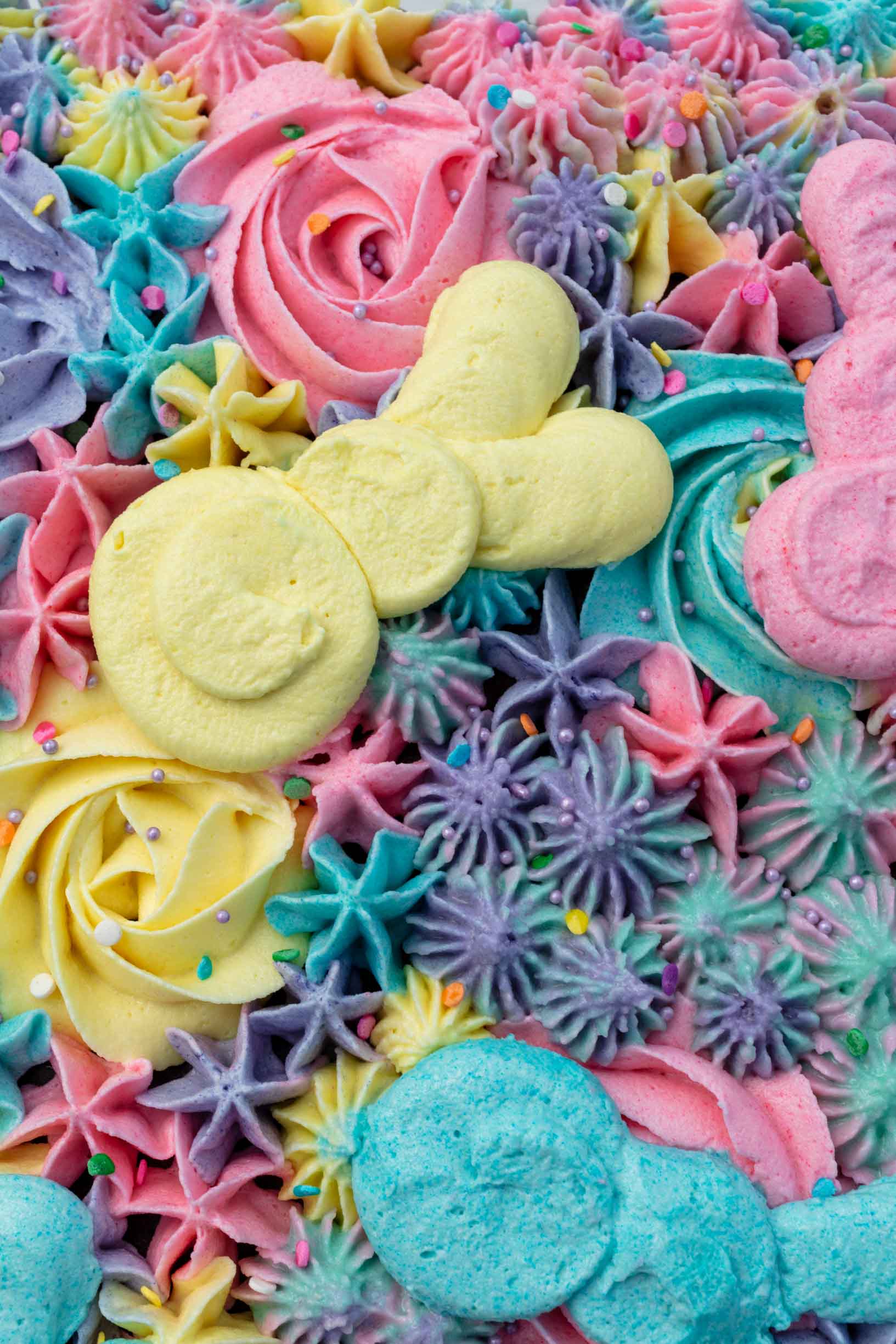 ♫ Listening to: Warm Water by Banks (Snakehips remix) ♫
This was such a fun cake to make! I love how easy it is and how it still looks so pretty. This combines 2 cake trends that are popular right now: the sheetcake trend and the piping buttercream designs onto parchment paper and then waiting until they harden before placing them on the cake trend. I got the idea for piping bunnies that look like marshmallow peeps from Steph Q of Qookie The Cakery. Her cakes are so cute!
Since marshmallow peeps aren't vegan, this is the closest I'll be getting to having marshmallow peeps this easter. And since they're not technically made of pastel marshmallows, I hid some vegan Dandies mini marshmallows in the inside of the chocolate cake. Don't say I never did anything nice for you.
If you like bunny shaped treats with marshmallows, you might like my bunny lollipops.
This 9"x13" cake has 24 servings.
Vegan Chocolate Marshmallow Cake Ingredients
prep time: 20 minutes
2 cups soy milk* (or use any nondairy milk)
1 tablespoon apple cider vinegar (or substitute white vinegar)
2 ½ cups unbleached white flour
⅔ cup cocoa powder
½ tablespoon baking soda
1 teaspoon baking powder
⅔ cup sunflower oil (or sub any vegetable oil)
1 ½ cups organic vegan sugar*
2 teaspoons vanilla extract
2 cups mini vegan marshmallows (I used dandies)
Vegan Chocolate Marshmallow Cake Directions
Preheat the oven to 350°.
Coat a lasagna pan with any vegetable oil (or vegan nonstick spray), including the sides.
Combine the tablespoon of vinegar and 2 cups of soy milk, stir, and let sit to thicken.
Sift together the 2 ½ cups flour, ⅔ cup cocoa powder , ½ tablespoon baking soda, and teaspoon of baking powder into another bowl.
Add ⅔ cup oil, 1 ½ cups sugar, and 2 teaspoons vanilla to the soy milk mixture, and stir well until you can no longer hear the scraping of the sugar on the bottom of the bowl. I usually use a stand mixer for this step because I'm lazy, but you can whisk by hand if you like a cute little kitchen workout.
Add the dry ingredients slowly to the wet, mixing continuously. Stop mixing when you can no longer see any dry ingredients.
Pour half the batter into the oiled lasagna pan and spread it out so it covers the entire bottom.
Sprinkle the Dandies mini marshmallows evenly all around the top.
Pour the rest of the batter into the lasagna pan trying to get it as evenly distributed as possible.
Bake for 35 minutes, or until when you insert a toothpick into a few places, it comes out clean every time. Don't open the oven door until you're ready to test the cake for doneness; opening the oven door too soon could cause your cake to sink.
Set the lasagna pan on cooling rack to cool.
Vegan Pastel Buttercream Frosting Ingredients
1 cup organic earth balance* (if you avoid soy, get the soy-free version)
1 cup organic palm shortening (I use spectrum)*
2 teaspoons vanilla extract
6 cups organic powdered sugar*
4 colors of vegan food coloring (light pink, lavender, yellow, and baby blue)
Vegan Pastel Buttercream Frosting Directions
prep time: 20 minutes
Leave the 1 cup earth balance at room temperature for 10-15 minutes before starting, if you have time. This isn't mandatory, but it helps the consistency.
Whisk 1 cup spectrum sustainably harvested organic palm shortening , 1 cup earth balance, and 2 teaspoons vanilla for 1 minute using a stand mixer or a handheld electric mixer. Use a silicone spatula to scrape the sides, and mix again until light and fluffy.
Sift in the 6 cups powdered sugar, 1 cup at a time, mixing for at least minute between each addition. Start the mixer on the lowest setting (so the powdered sugar doesn't fly everywhere), and then gradually increase the speed to high. After mixing in the third and fifth cups, scrape the sides with a silicone spatula, and mix again.
Divide the frosting into 4 separate bowls.
Add the food coloring to each bowl until you have the desired colors. You can use any vegan food coloring you prefer.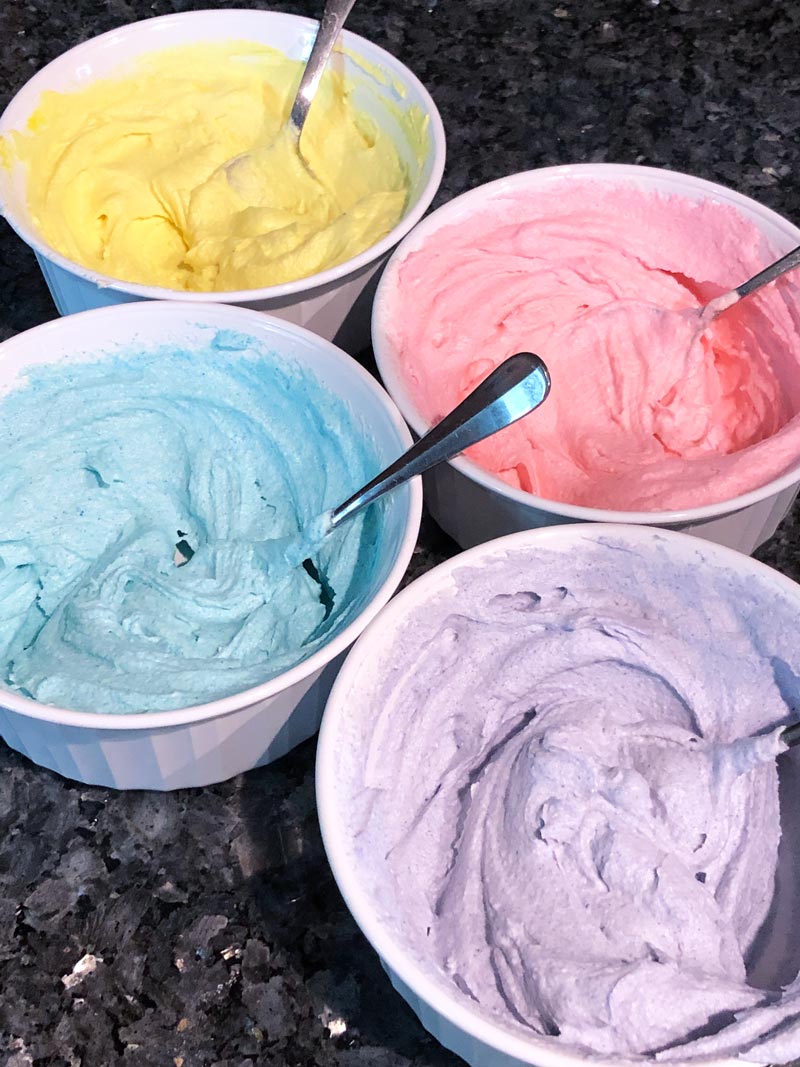 Decorating the Vegan Marshmallow Peeps Cake
decorating time: 20 minutes
Fill a disposable piping bag with each color of frosting, so you should have 4 bags when you're done filling them: one lavender, one yellow, one light pink, and baby blue.
Cut the tips of each disposable piping bag if you haven't already.
Fit a piping bag with a Wilton large round tip 1A and place one disposable piping bag inside that.
Cut a piece of parchment paper small enough to fit on a cutting board, and make space in your fridge or freezer for it.
Pipe 2 bunnies onto the parchment paper using the method in my video below.
Remove that color from the outside piping bag and replace it with a new color.
Pipe 2 bunnies of the new color onto the parchment paper using the same method. You want all the bunnies to look basically the same, but with different colors.
Repeat with the remaining colors, so when you're done, you should have 8 bunnies.
Place the parchment paper covered cutting board with all the bunnies into the freezer to set.
Gather sprinkles or any other decorative treats you plan to use to decorate your cake.
Remove the Wilton large round tip 1A from the outer piping bag and replace it with the Wilton star tip 1M (which also happens to be my favorite tip; shhhh, don't tell the other tips).
Stick one of the bags with colored frosting into the bag with the Wilton star tip 1M .
Pipe 3 large frosting flowers randomly on top of the cake.
Replace with a new color, and repeat. Do this with at least 3 of the colors, or until you feel like there are enough large roses.
Pipe smaller little dollops (I think the frosting community refers to them as stars) using the Wilton star tip 1M and just quickly lifting the bag up so they make a point at the top. Do as many as you like with all 4 colors.
Remove the Wilton star tip 1M from the outer piping bag and replace it with the Wilton large open star tip 8B so you can repeat the step above but this time the dollops will look slightly different. The idea is to fill all the blank spaces so you can't see the chocolate cake at all.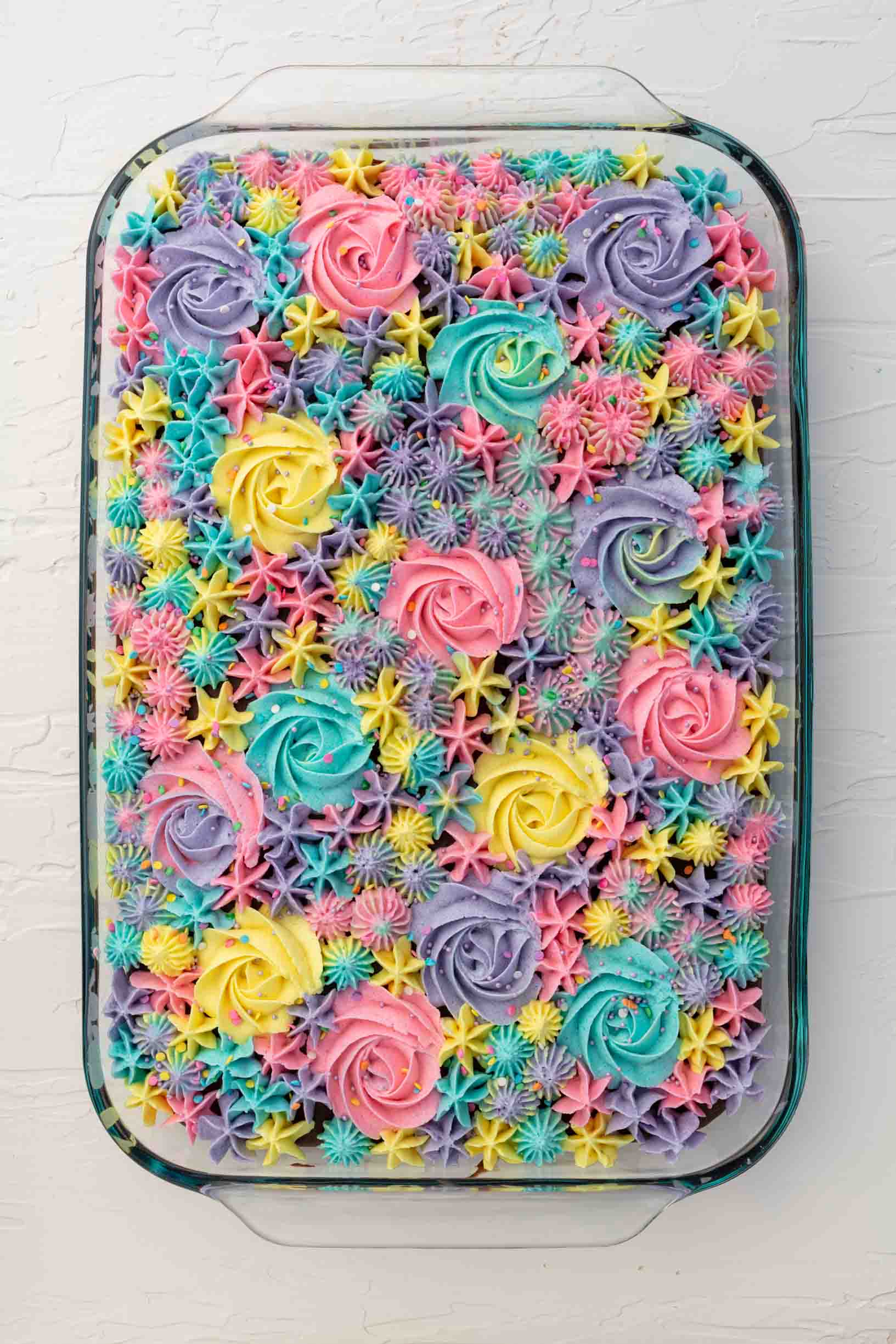 Sprinkle with sprinkles.
Place the marshmallow peep bunnies on top of the cake in random positions.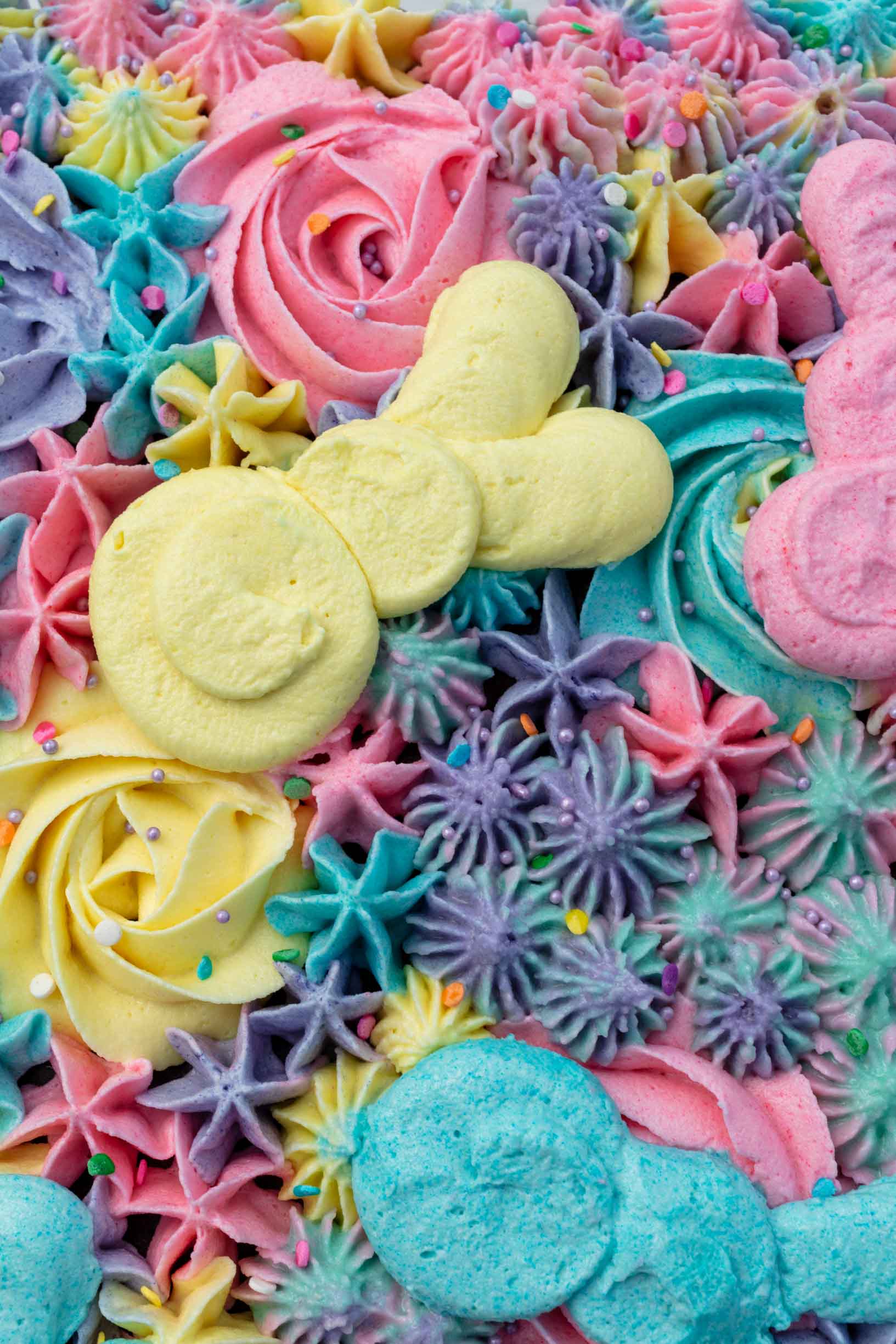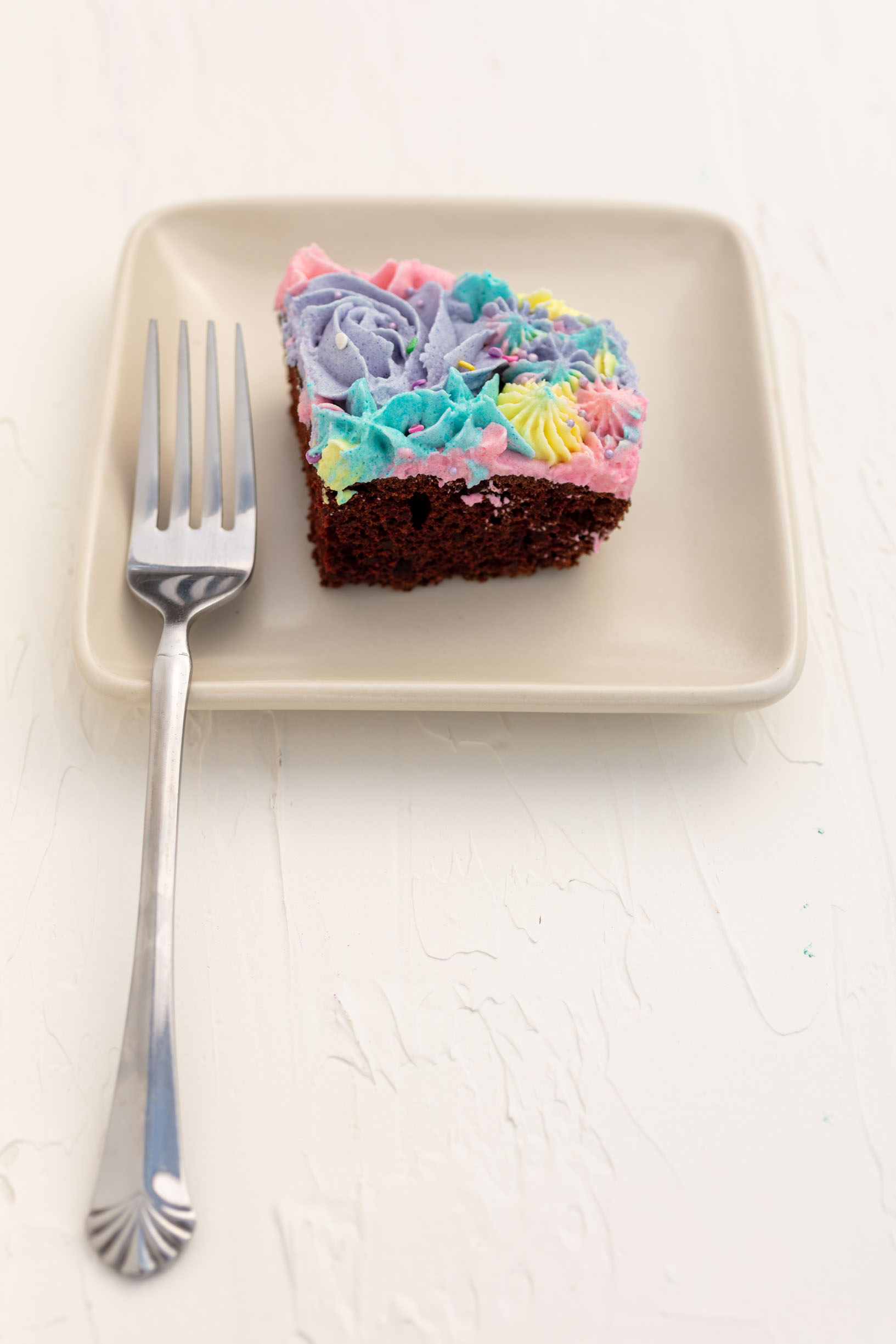 Here's a video of me decorating it.
☆☆☆☆☆☆☆☆☆☆
* I use mostly organic ingredients when I cook, but I realize that not everyone has the disposable income to purchase all organic ingredients. Therefore, I only specify organic on the ingredients that really matter - when buying the organic version is the only way to ensure that the item is vegan.