Strawberry Lemonade Cake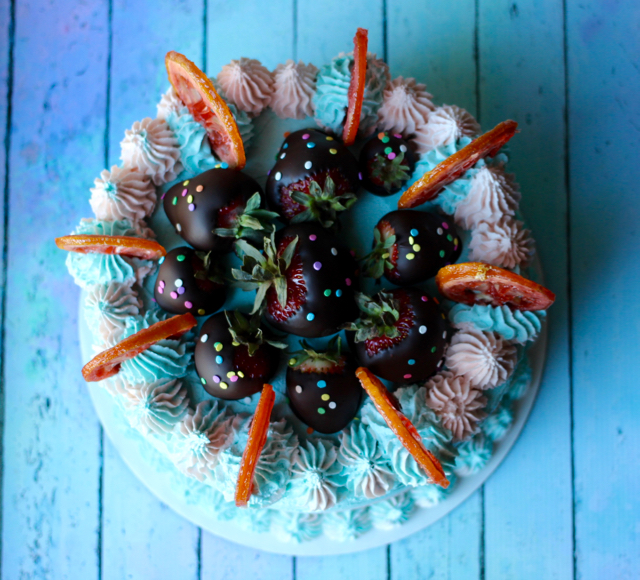 ♫ Listening to: Cold War by Blaqk Audio ♫
This recipe makes a double-layer 9" round cake. I made this for my friend Jessica's birthday, and it was a huge hit! It took me a few days since I only worked on it nights after work, so start on it early. If you like lemon, you might also like my loquat cake with lemon curd filling.
Vegan Candied Pink Lemon Slices Ingredients
2 cups water
2 cups organic sugar
½ pint strawberries
2 lemons, washed and sliced thinly
Vegan Candied Pink Lemon Slices Directions
Thinly slice 1 ½ - 2 lemons.
Blend 2 cups of water with ½ pint of strawberries.
Heat the strawberry water in a large shallow pan (use the pan with the largest diameter), along with 2 cups of sugar, whisking until sugar is dissolved.
Lay the lemon slices in the liquid, making sure they don't overlap.
Flip the lemon slices over after simmering for 15 minutes, and simmer for 10 more minutes.
Remove the lemons from heat once they start to become translucent, and remove each slice from the pan, placing them onto parchment paper to dry.
Leave until dry and sticky (or refrigerate to speed up the process).
Save the leftover liquid for making strawberry lemonade preserves.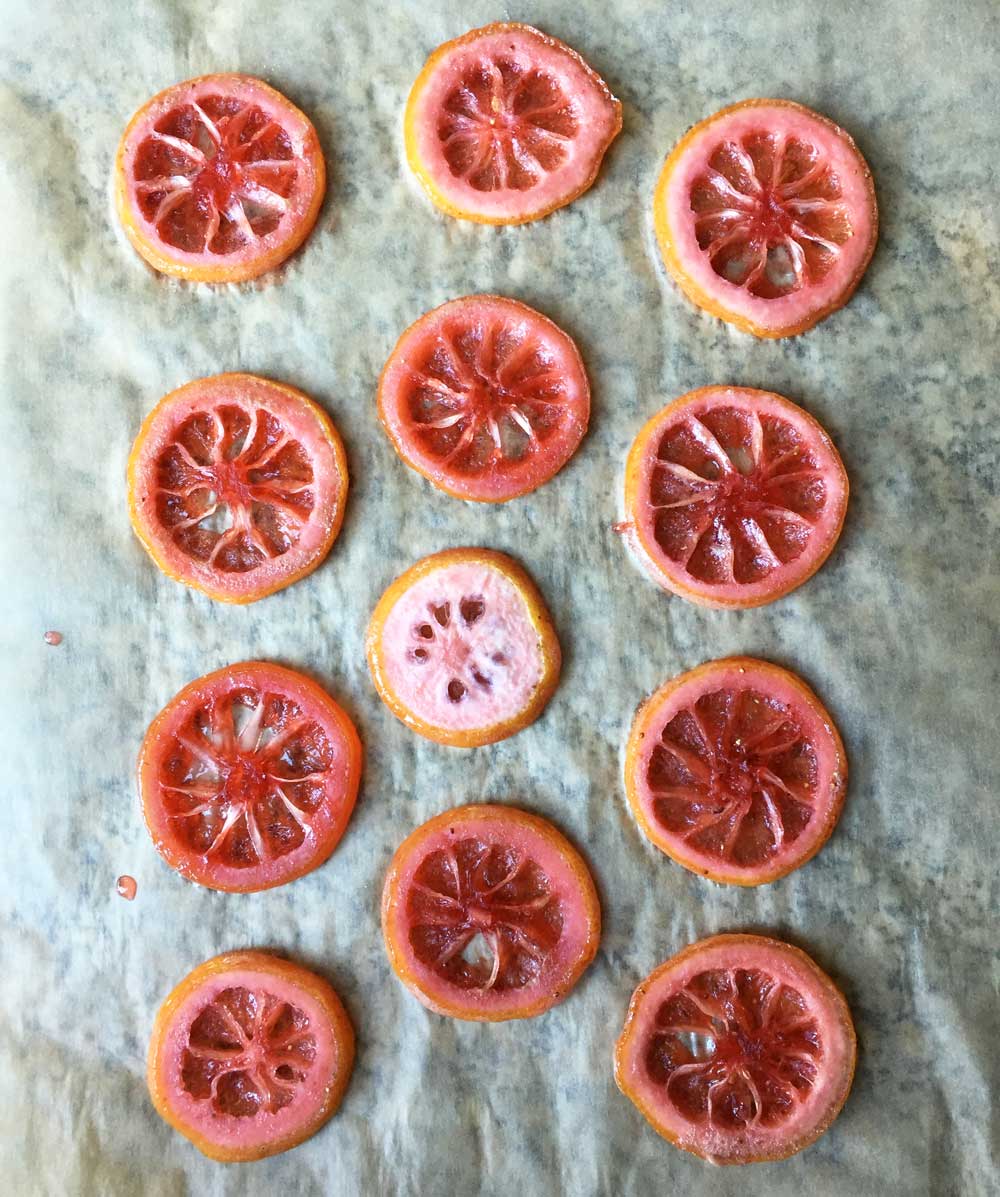 Vegan Strawberry Lemonade Preserves Filling Ingredients
leftover liquid from making candied lemon slices
2 tablespoons organic cornstarch
1 pint strawberries
Vegan Strawberry Lemonade Preserves Filling Directions
Process the cleaned and destemmed strawberries in the food processor.
Whisk together the processed strawberries, the liquid leftover from making candied lemons, and 2 tablespoons of cornstarch.
Heat the mixture over medium heat for 20 minutes, whisking constantly the entire time.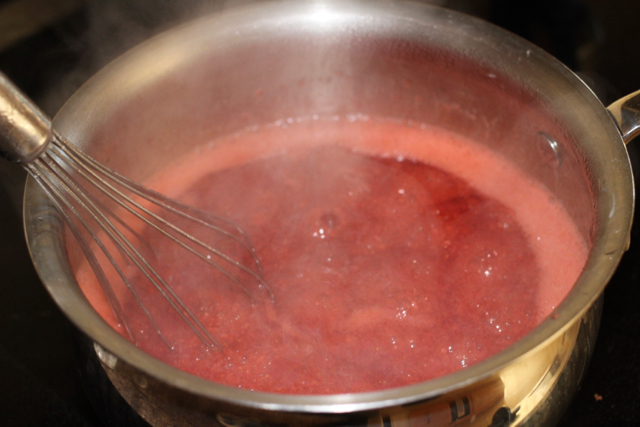 Transfer to glass jar and leave out until cool before refrigerating.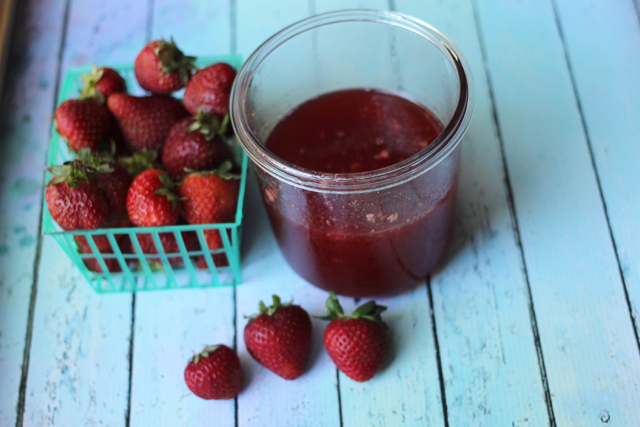 Vegan Lemon Cake Ingredients
3 cups unbleached white flour
1 teaspoon salt
2 teaspoons baking soda
2 cups sugar
½ cup fresh squeezed lemon juice (~3 lemons)
zest from 5 lemons
⅔ cup sunflower oil
2 tablespoons vanilla extract
1 ½ cups nondairy milk
2 tablespoons apple cider vinegar (or sub white vinegar)
Vegan Lemon Cake Directions
Grate the rind off of 5 lemons if you haven't already. The rind is just the yellow part, so when you're done, the lemons should be white.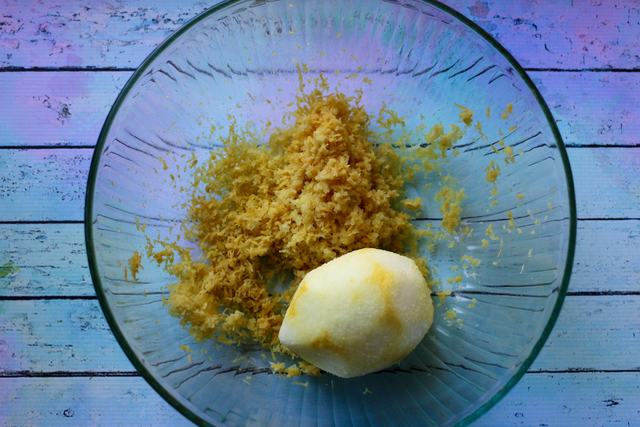 Juice the lemons if you haven't already. You'll probably have lemon juice leftover, but that's okay because you'll need some for the frosting anyway.
Preheat the oven to 350°.
Coat 2 8" round cake pans with any vegetable oil (or vegan nonstick spray).
Combine vinegar and nondairy milk and let sit.
Sift together the flour, baking soda, and salt into another bowl.
Add the oil, sugar, lemon juice and zest (it's easier to zest the lemons before you juice them), and vanilla to the nondairy milk mixture and stir well.
Add the dry ingredients slowly to the wet, mixing continuously. Stop mixing when you can no longer see any dry ingredients.
Pour half of the batter into each cake pan.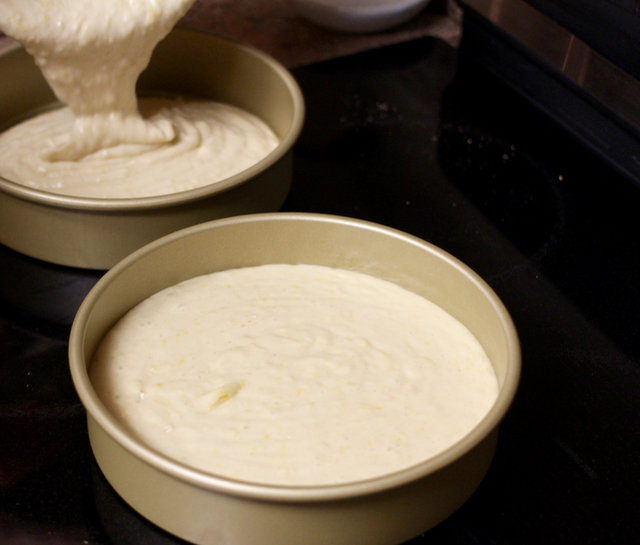 Bake for 35 minutes, until when you insert a toothpick into the center of one, it comes out clean. (If making cupcakes, bake for 18-20 minutes.) Set the 8" round cake pans on cooling rack to cool in pan for 10-15 minutes. Then remove from pan and set the cakes on a cooling rack.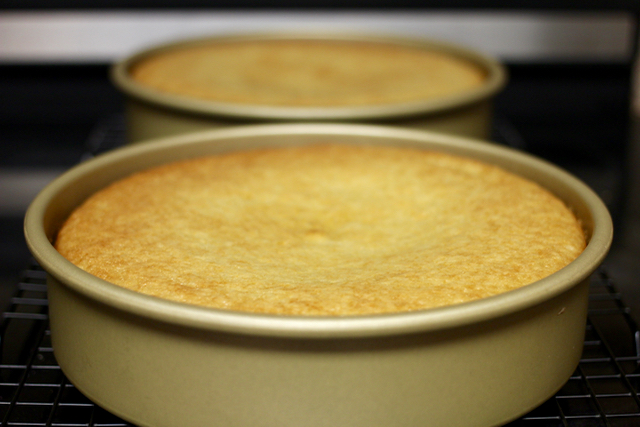 Vegan Strawberry Lemonade Pastel Frosting Ingredients
¾ cup organic earth balance (if you avoid soy, get the soy-free version)*
1 cup organic palm shortening*
1 tablespoon lemon juice
2 teaspoons vanilla extract
6 cups organic powdered sugar*
9 chocolate covered strawberries and 8-12 candied lemon slices for garnish (optional)
Vegan Strawberry Lemonade Pastel Frosting Directions
Whisk the spectrum sustainably harvested organic palm shortening and margarine for 1 minute using a stand mixer or a handheld electric mixer.
Sift in the powdered sugar, 1 cup at a time, mixing for at least minute between each addition.
Add the vanilla and lemon juice, and mix for 2 more minutes.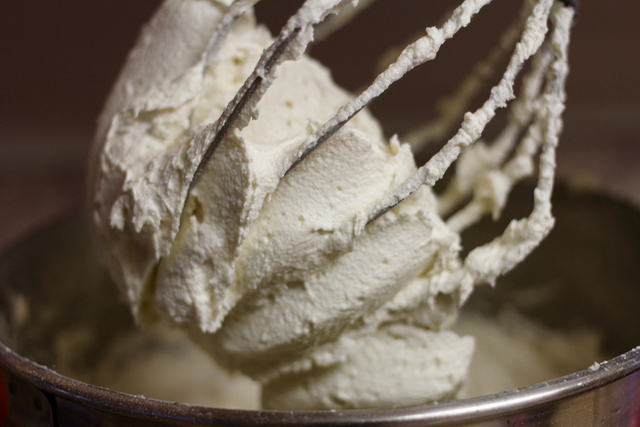 Use the uncolored frosting to assemble the cake and complete the crumb layer of frosting.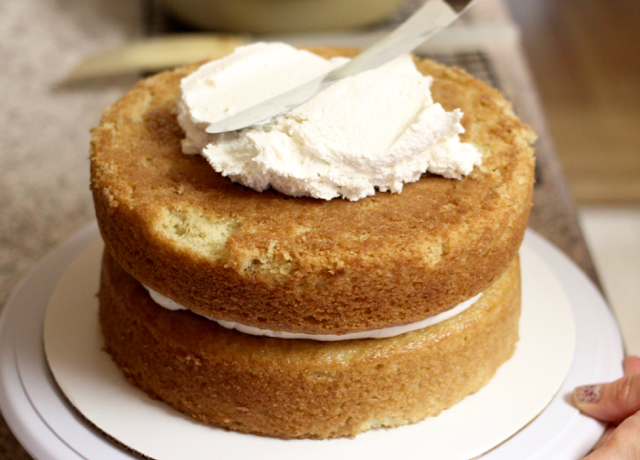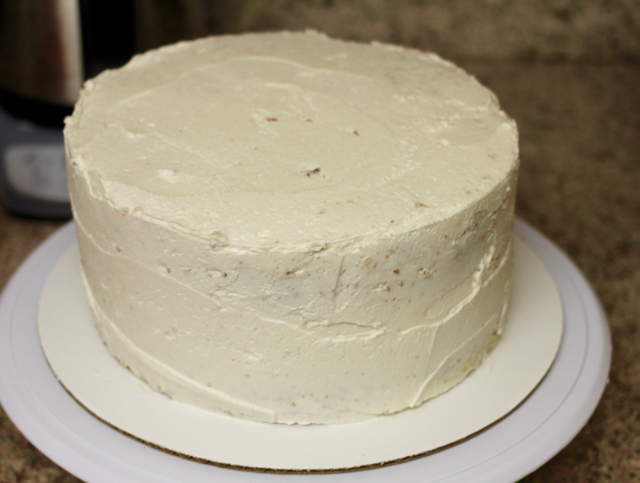 Fill the 2 cake layers with strawberry lemonade preserves using this method to keep the preserves from oozing out the sides.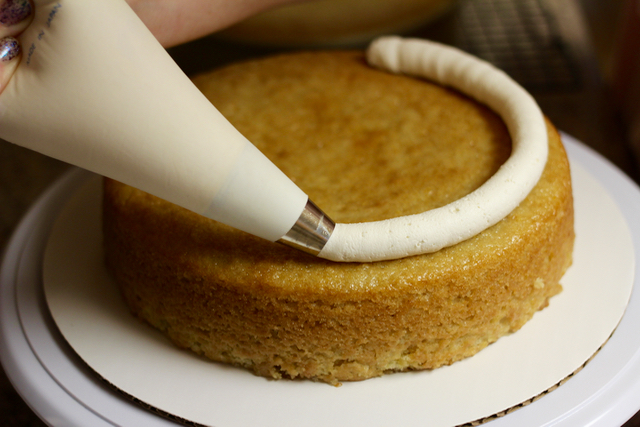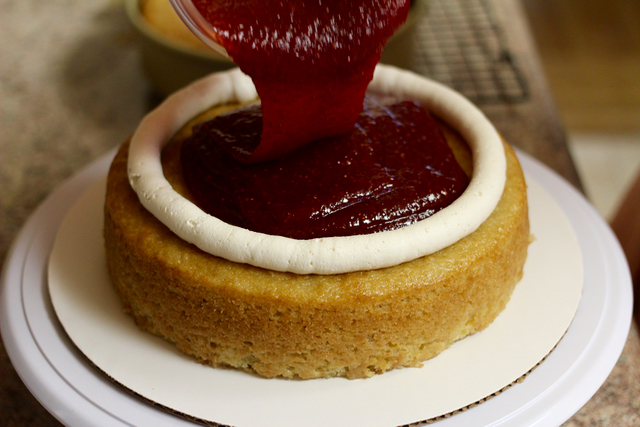 Frost the crumb layer of the cake.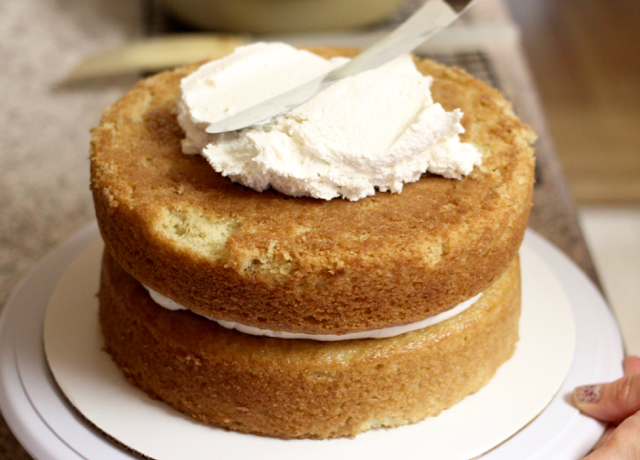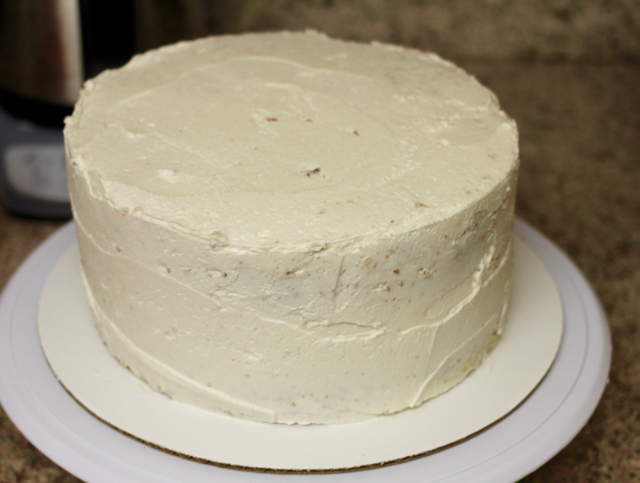 Chill the crumb layer to harden to touch while you color the remaining frosting.
Divide half of the frosting equally into 2 bowls.
Add vegan food coloring to each bowl and mix until completely combined.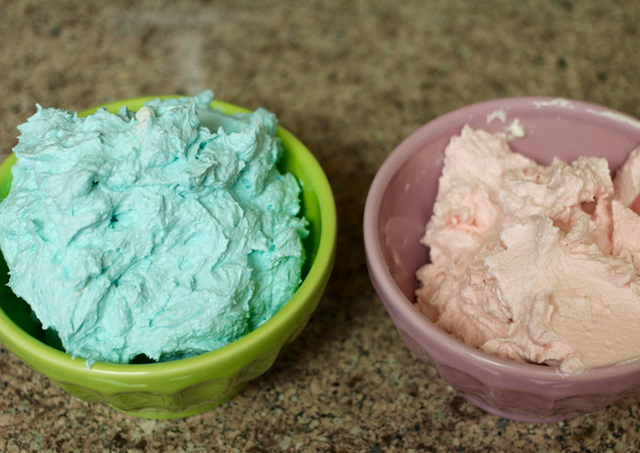 Spread one color of the frosting around the bottom of the cake and the other color around the top.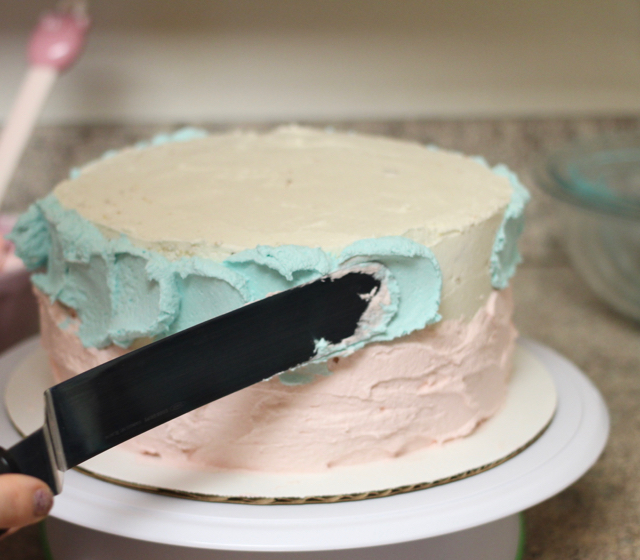 Spin the cake while smoothing out the icing with an offset spatula.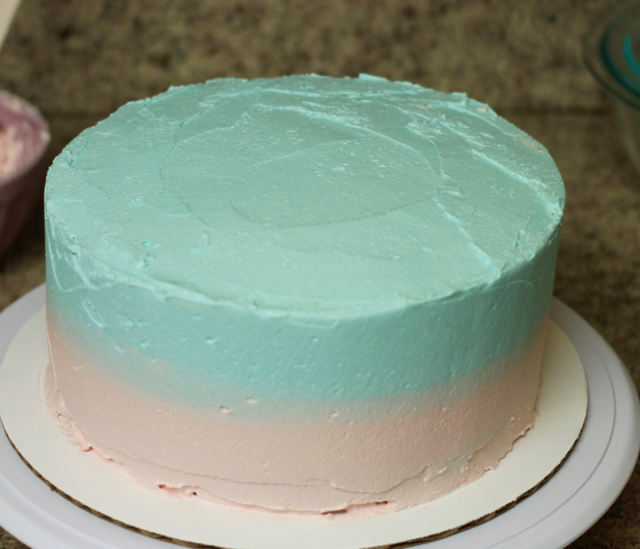 Pipe icing around the perimeter of the cake.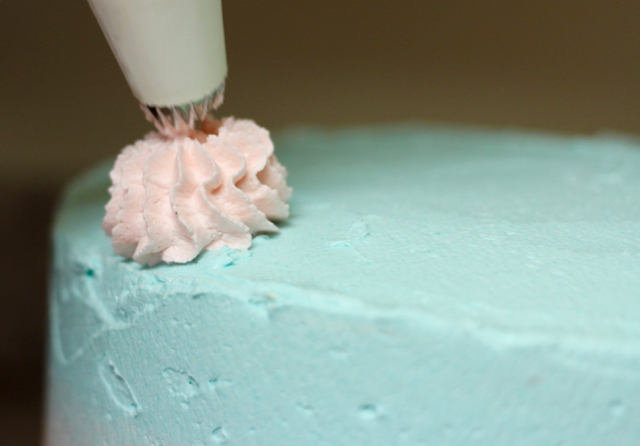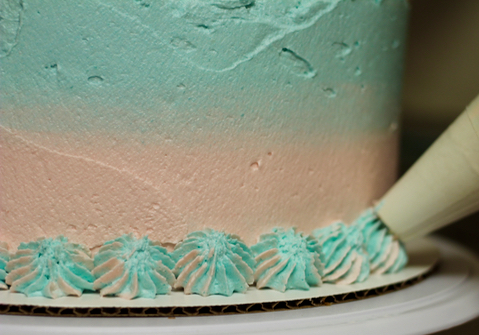 Decorate with whatever you have (I used candied lemon slices and chocolate covered strawberries).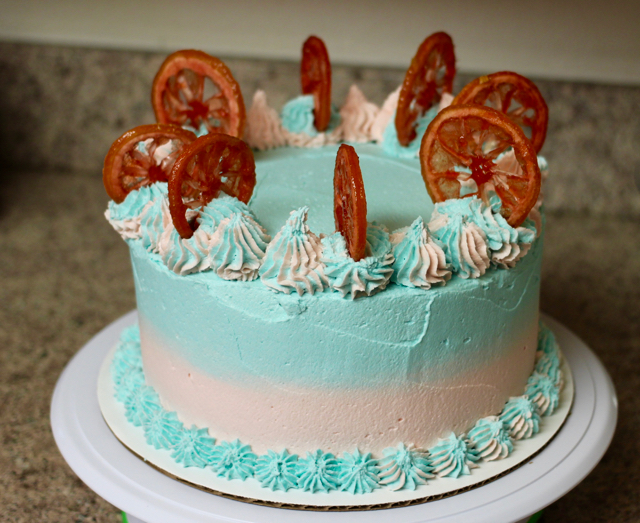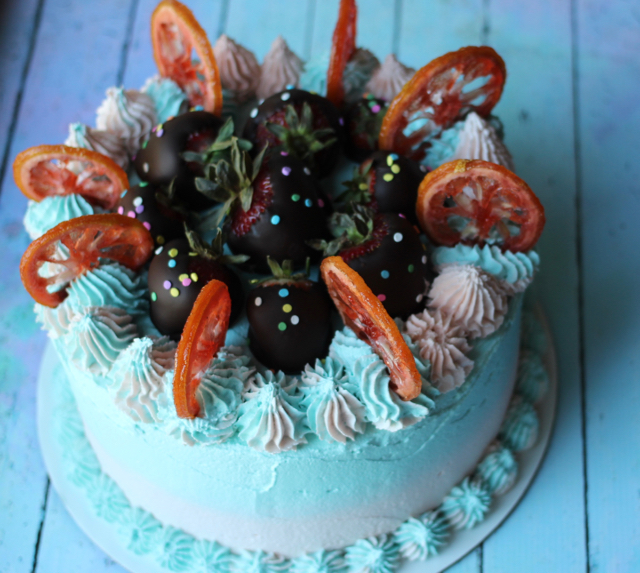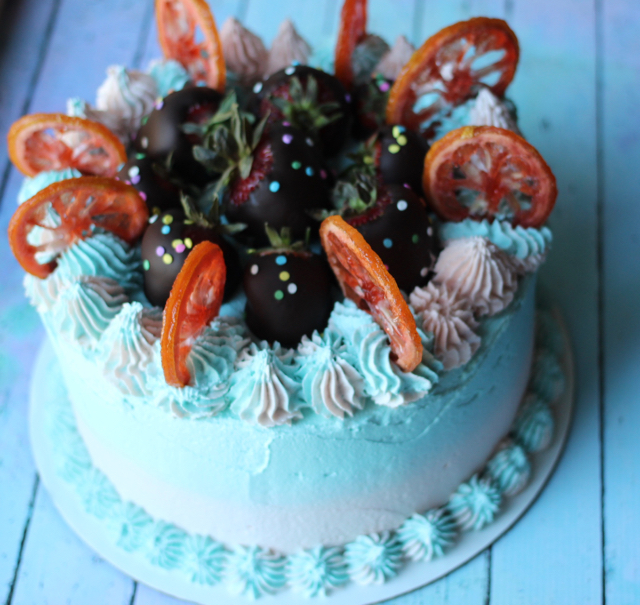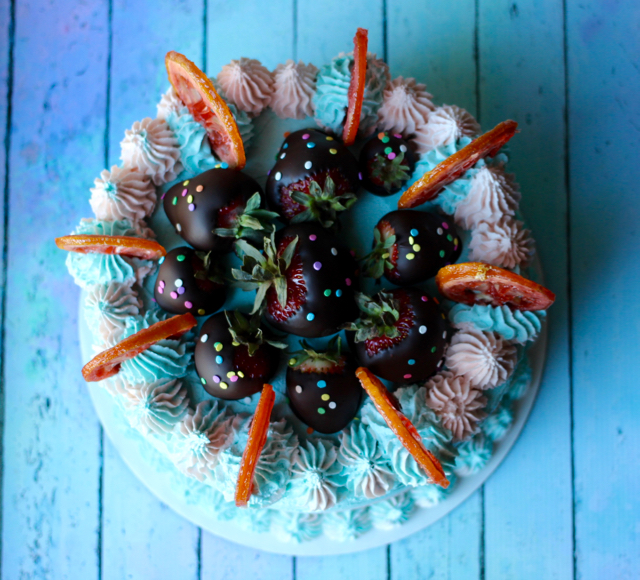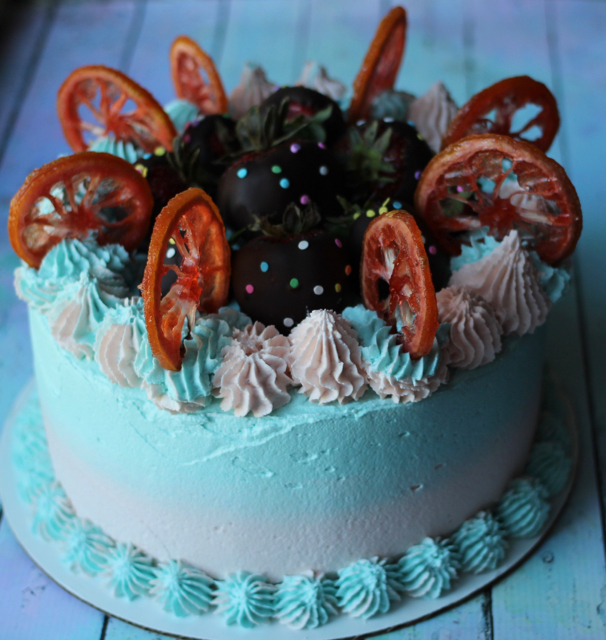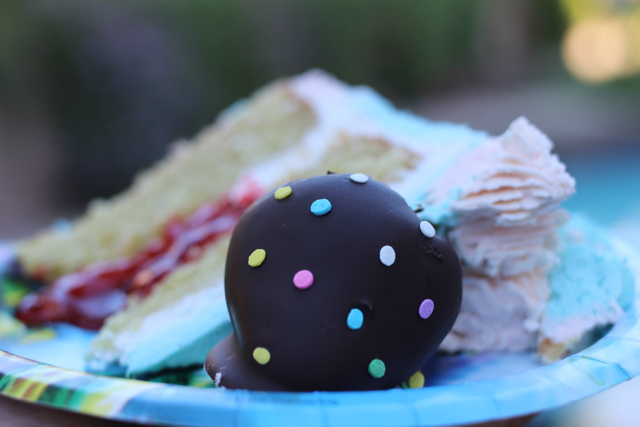 ☆☆☆☆☆☆☆☆☆☆
* I use mostly organic ingredients when I cook, but I realize that not everyone has the disposable income to purchase all organic ingredients. Therefore, I only specify organic on the ingredients that really matter - when buying the organic version is the only way to ensure that the item is vegan.