Vegan Orange Julius
published on , modified on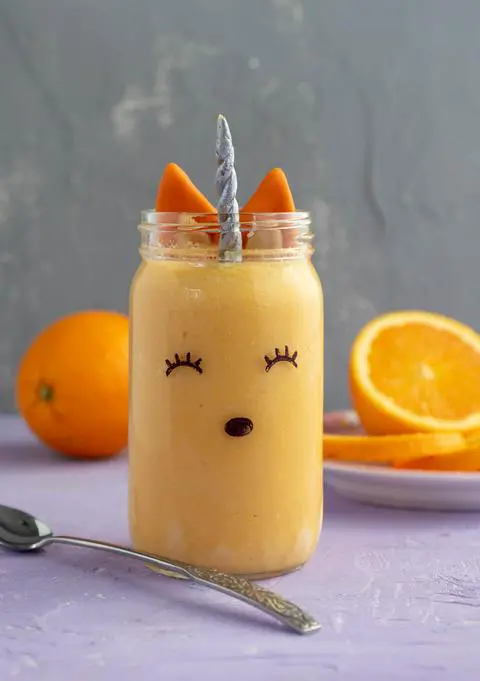 This vegan orange julius is ready in less than 5 minutes, and tastes like an orange creamsicle smoothie. If you remember the iconic beverage from malls in the 80s, this frozen fruity drink is basically a healthier version of the original orange julius (because it's dairy-free and raw egg-free).
This recipe makes 1 large or 2 small glasses of vegan orange julius (or 5-6 orange creamsicle popsicles).
Table of Contents
(click the links below to skip to the section you're looking for)
♫ Listening to ♫
Forget It by Blood Orange
You know how buying your oranges by the 10 pound-bag at farmer's market is cheaper? If you're like me and can't pass up a good deal, you might find yourself in situations where you have an overabundance of something…like oranges (for just a hypothetical and not at all a real life example). All you have to do is peel, wedge, and freeze any oranges you don't think you can eat before they start to ferment and compost themselves in your fruit bowl.
You can eat your frozen orange wedges as a summertime snack, or use them to make this super quick and easy milkshake that only requires 2 ingredients (the sugar and vanilla are optional, but if you like things that are delicious, I recommend including them). If you're on a sugar-free diet, this drink tastes good without the sugar too.
For a healthy orange julius smoothie packed full of vitamin C, whip up a batch of these creamsicle smoothies today.
You can also pour your homemade orange julius into unicorn popsicle molds for orange creamsicle popsicles.
(jump to the substitutions section to see ingredient details and suggestions for substitutions)
250 grams frozen oranges (around 2 oranges, peeled, broken into pieces, and frozen)

½ cup + ⅓ cup (200ml) plant-based milk

1 tablespoon (15g) vegan, organic, or raw sugar (optional)

½ teaspoon (2g) vanilla extract (optional)
How to Make Vegan Orange Julius
prep time: 5 min
Dollhouse Tip
Peel 2 oranges and break into pieces into a freezer bag to freeze for 24 hours before you want to make your shake.
Add the following ingredients to the blender in this order: 250 grams frozen oranges, ½ cup + ⅓ cup (200ml) non dairy milk, 1 tablespoon (15g) sugar (optional), and ½ teaspoon (2g) vanilla (optional).
Blend the ingredients until smooth, but don't overblend because you want the shake to be thick. It's better to add less milk than you think you'll need than to add too much. Sometimes when I'm making a really thick shake, I have to stop the blender, take the lid off, stir the ingredients, and then reblend.
Pour into 1-2 glasses and serve.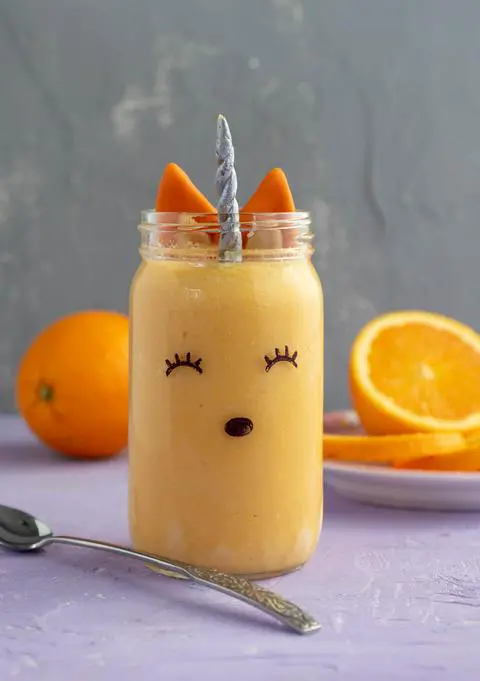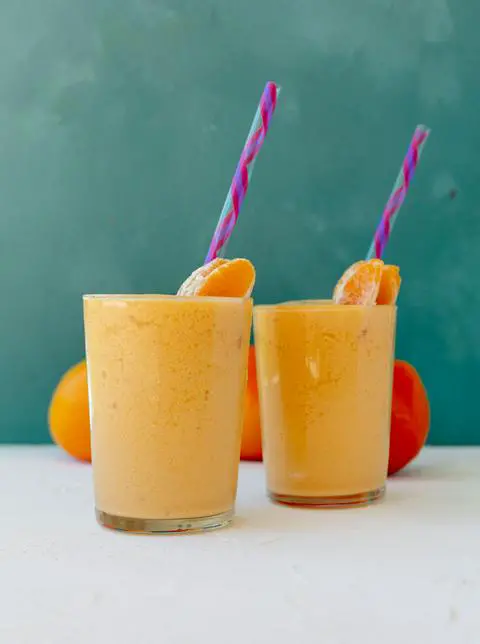 What is an orange julius?
If you didn't grow up near a mall in the United States, you might not know what an orange julius is. Wikipedia says Orange Julius started in LA in 1926!!! Since I'm not 100, my first memory of them was in the 1980s in a mall in San Jose, CA. They tasted kind of like an orange milkshake, but they were made with eggs (the 80s were a gross time my friends).
Is an orange julius vegan?
Orange Julius are normally not vegan. The ones in the mall are made with egg and dairy. However, this orange julius recipe is dairy free, egg free, vegan, plant based, and gluten free.
Nondairy Milk: You can use full-fat canned coconut milk for an even creamier orange julius. For a healthy orange julius, use almond milk as the non-dairy milk. If you avoid soy, using any non dairy milk that isn't soy milk will keep this recipe soy-free. You can replace the nondairy milk in this recipe with fresh squeezed orange juice for a healthier version, but it will taste less creamy.
Sugar: The sugar in this recipe is optional. Use any number of sugars, as long as they're vegan: brown sugar, sucanat, coconut sugar, raw sugar, organic sugar, or demurara. If you're not sure if your sugar is vegan, you can contact the company and ask, but basically, just avoid conventional white sugar or granulated sugar, and you should be ok. For a sugar-free orange julius, omit the sugar in this recipe or replace it with maple syrup or agave syrup.
Vanilla Extract: Add vanilla paste or the insides from a vanilla bean instead of the vanilla extract to make it extra fancy and delicious. Omit the vanilla completely for a cheaper and quicker version.
Here's a video of a pre-covid live stream where we made these.
If you love shakes and other frosty beverages, check out my drinks recipes for other ideas.
This nutritional information is based on this recipe making 2 servings and only using the mandatory ingredients: frozen oranges and almond milk.
Servings: 2
Calories: 77
Total Fat: 1.6g
Saturated Fat: 0.1g
Cholesterol: 0g
Sodium: 73mg
Total Carbohydrate: 15.1g
Dietary Fiber: 2.9g
Total Sugars: 11.7g
Protein: 1.8g
Calcium: 261mg
Potassium: 264mg
If you make this dairy-free orange julius smoothie recipe, snap a pic, post to instagram, and tag me @vegandollhouse. I love to see your creations! You can also message me through instagram or email me if you have any questions or feedback about the recipe.
☆☆☆☆☆☆☆☆☆☆
* I use mostly organic ingredients when I cook. I realize that not everyone has the disposable income to buy only organic ingredients. So, I only specify organic on the ingredients that matter: when buying the organic (or non-GMO) version is the only way to ensure that an item is vegan.
This post links to items I used when I made this recipe. If you click on the purple Buy Now button on a product page, you will go to a website (like Amazon) where you can buy the same product I used. Sometimes, the store you purchase from (Amazon, Etsy, etc.) will pay me for referring you. This costs you nothing extra, and I would never recommend a product that I don't use. These affiliate programs help me buy the ingredients to create these recipes for you. Read more about this in my privacy policy.
☆☆☆☆☆☆☆☆☆☆