Pumpkin Cheesecake Bears
published on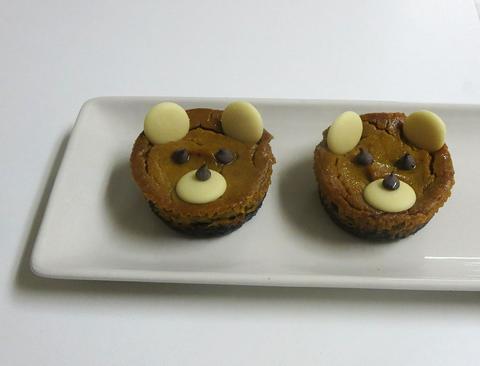 ♫ Listening to: Take It Out On Me by Chairlift ♫
Makes 24 vegan pumpkin cheesecake bears
Chocolate Cookie Crust Ingredients
24 Newman O's or Joe Joe's (or I guess Oreos if you must, but do you really want to eat those?)
¼ cup earth balance or coconut oil, melted
Chocolate Cookie Crust Directions
Process the cookies in the food processor until they are fine crumbs.
Slowly add the melted oil while the food processor is still spinning.
Line 2 cupcake pans with papers.
Press the mixture into the bottoms of cupcake papers.
Pumpkin Cheesecake Ingredients
2 (12 ounce) packages silken tofu, rinsed and patted dry with paper towels or a kitchen towel
1 (15 ounce) can of pumpkin
2 tablespoons organic cornstarch*
8 ounces of vegan cream cheese (I like Kite Hill)
1 ½ cups organic sugar*
1 tablespoon cinnamon
1 teaspoon nutmeg
½ teaspoon cloves
¼ teaspoon ginger
¼ teaspoon salt
Pumpkin Cheesecake Directions
Preheat the oven to 325°.
Blend all the ingredients, stopping once to scrape down the sides with a silicone spatula before blending once more.
Pour the filling into the cupcake papers, filling them about 3/4 of the way.
Smooth the tops with the back of a spoon.
Bake for 30 minutes or until a toothpick inserted into one comes out clean.
Chill overnight in the fridge, uncovered.
Decorate with vegan chocolate chips and chocolate buttons. TCHO makes vegan dark chocolate buttons, but if you live in London, you can get them from a bunch of places. I used dairy free white chocolate buttons because that's what I had lying around the house, but I don't think you can buy them anywhere in the U.S.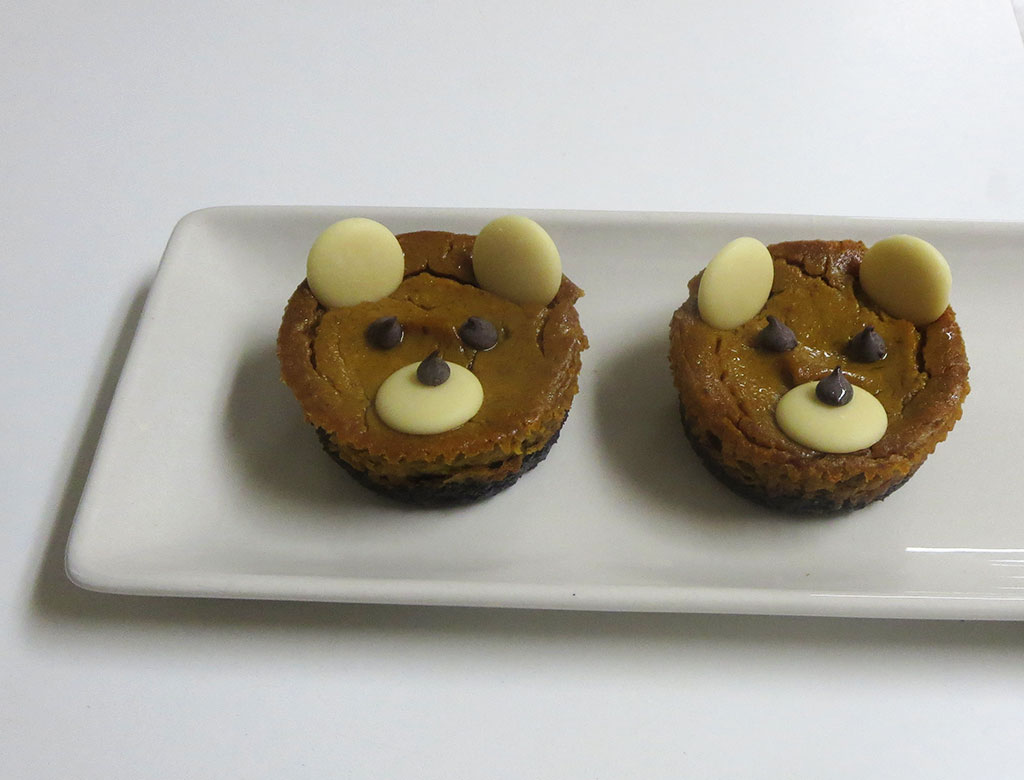 ☆☆☆☆☆☆☆☆☆☆
* I use mostly organic ingredients when I cook, but I realize that not everyone has the disposable income to purchase all ingredients organic. Therefore, I only specify organic on ingredients when buying the organic version is the only way to ensure that the item is vegan.