Pistachio Rose Cake
published on , modified on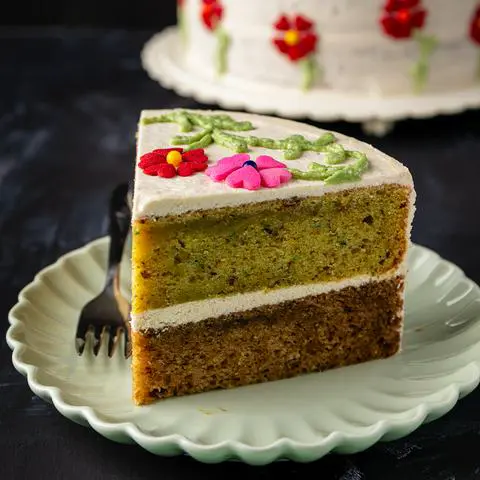 This pistachio rose cake has 2 fluffy eggless layers of cake covered in a light and fluffy vanilla frosting and decorated with a floral design. One of the layers of cake is a vegan pistachio, and the other layer is vegan rose cake. The instructions make it super easy to make 2 flavors, and you can have both cakes made and into the oven in under a half hour.
This recipe makes a 2-layer, pistachio and rose, round 8-inch cake or 9-inch cake.
Table of Contents
(click the links below to skip to the section you're looking for)
♫ Listening to ♫
Morning Dove by Robinella and the CC Stringband
I first made this cake back when I lived in Mountain View and my nephew had recently relocated to California from Italy. He asked me to make him a pistachio and rose cake for his birthday, which I thought was such an odd request. I made it again for my friend Lulu's birthday. We threw her a flower-themed birthday tea party, so this seemed like an appropriate cake flavor.
The end of this recipe has all the pictures from when I made it back in 2014. I decorated Lulu's birthday cake to be a little more elegant and floral so I replaced the chocolate ganache with a lighter vanilla ermine frosting.
(jump to the substitutions section to see ingredient details and suggestions for substitutions)
5.3oz (150g) vegan yogurt

2 cups (460g) nondairy milk

1 cup (200g) sunflower oil

2 teaspoons (8g) vanilla extract

2 tablespoons (30g) apple cider vinegar

2 cups (450g) organic or vegan sugar

3 ¼ cups (422g) unbleached flour

¼ cup (27g) organic or non-GMO cornstarch

½ tablespoon (6g) baking powder

1 teaspoon (6g) baking soda

⅛ teaspoon (a few pinches) ground nutmeg

¾ cup (78g) ground pistachios

¼ cup (9-10g) rose powder
How to make Pistachio Rose Cake
Dollhouse Shortcut
Bake the cakes up to 3 weeks ahead of time and freeze them until you're ready to assemble and decorate.
prep time: 20 min | bake time: 45 min
Cut two circles out of parchment paper and set them in the bottoms of your 8" or 9" round cake pans.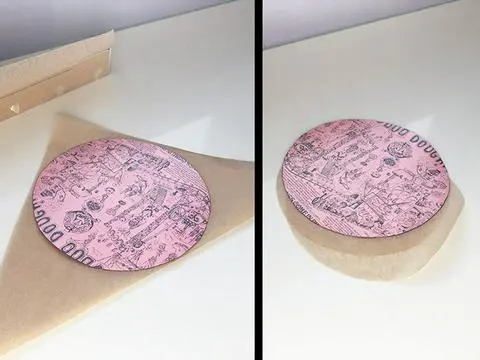 Grind ¾ cup (78g) pistachios in a food processor or a spice grinder (or chop with a knife).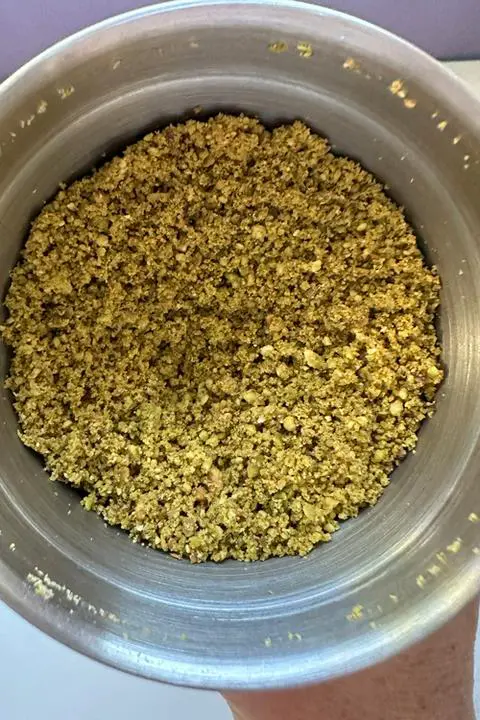 Combine 5.3oz (150g) vegan yogurt, 2 cups (460g) nondairy milk, 1 cup (200g) sunflower oil, 2 teaspoons (8g) vanilla extract, 2 tablespoons (30g) apple cider vinegar, and 2 cups (450g) organic or vegan sugar in a mixing bowl.
Whisk or stir the wet ingredients using a stand mixer, a handheld electric mixer, or your good old fashioned arm strength.
Sift the dry ingredients together in another bowl. They are 3 ¼ cups (422g) flour, ¼ cup (27g) organic or non-GMO cornstarch, ½ tablespoon (6g) baking powder, 1 teaspoon (6g) baking soda, and ⅛ teaspoon (a few pinches) ground nutmeg . Mix.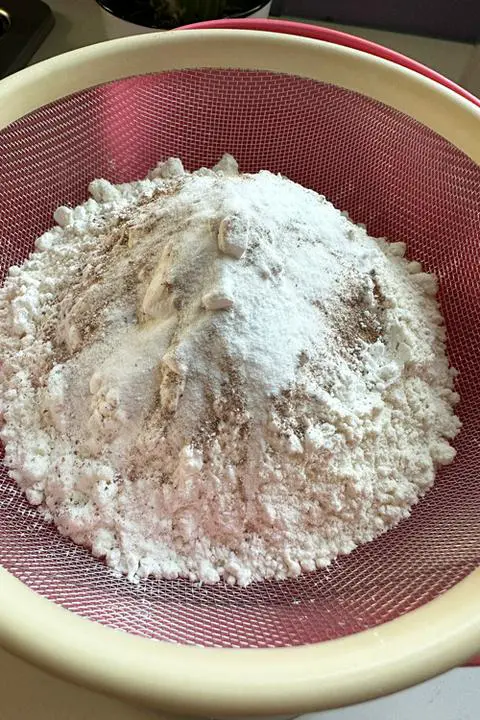 If you're planning to add powdered food coloring, it may be easier to divide the dry ingredients into 2 bowls and add the powdered colors to each bowl. If you're using liquid or gel food coloring, you can add it later.
Measure or weigh ¾ cup (78g) of ground pistachios into a bowl. Set aside.
Measure or weigh ¼ cup (8g) rose powder into a small dish. Set aside.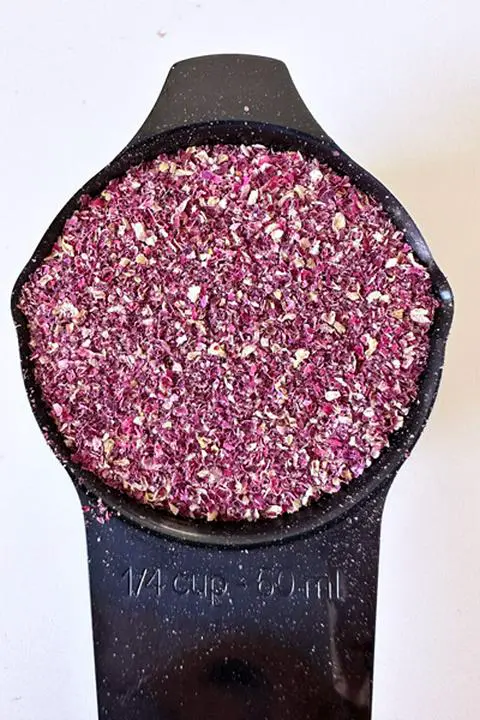 Add the dry ingredients slowly to the wet mixing in between.
Transfer a little less than half of the batter (around 2 ½ cups) to a different bowl. Add ¾ cup (78g) of ground pistachios to this bowl and mix. If you want this layer to look more green, you can add a drop or two of green vegan food coloring to the batter.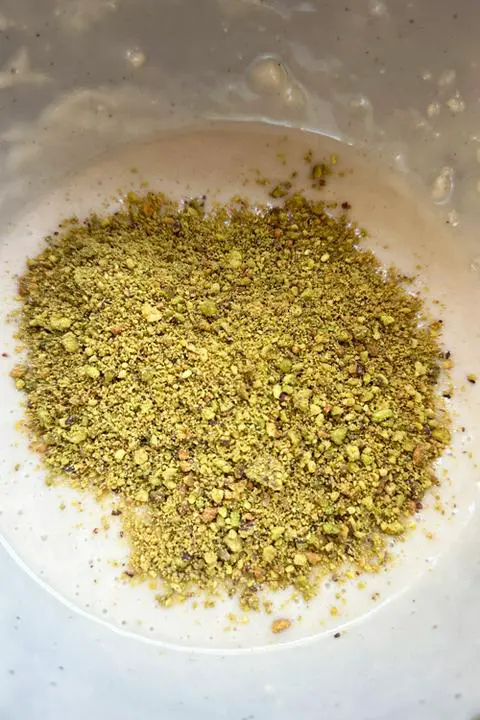 Pour the pistachio cake batter into one of the cake pans.
Add ¼ cup (9-10g) rose powder to the remaining batter and mix. I sometimes add a bit of red vegan food coloring because the rose powder doesn't make it look pink once it's baked. My first time, I used wilton rose gel color. The second time, I used an all-natural red color, and it faded to basically nothing once it baked.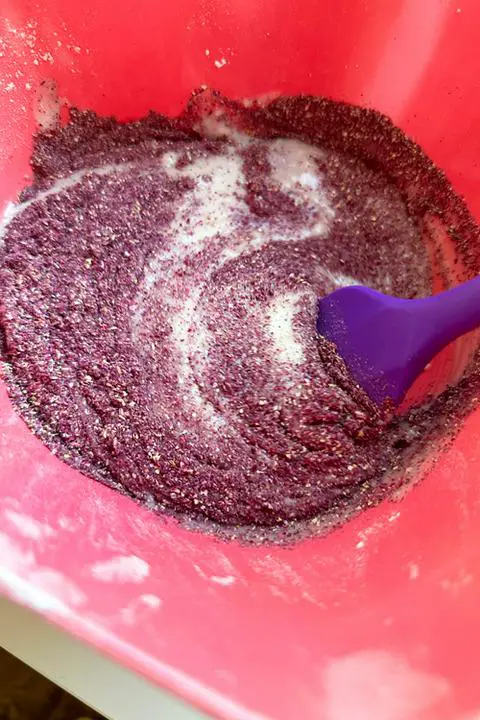 Pour the rose cake batter into the other cake pan.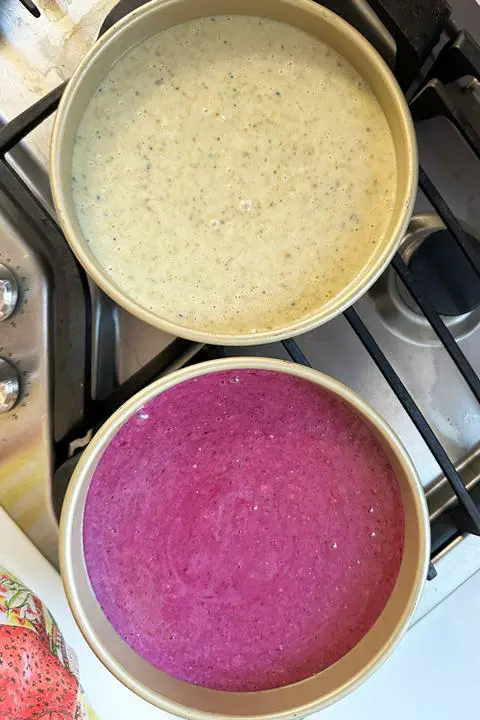 Put both cakes into the oven on the same rack.
Bake the cakes.
The baking time will vary for a number of reasons. One is that your cake pans have different amounts of batter in them, so your rose cake will most likely be baked before your pistachio cake. If you divided your batter exactly evenly, your rose cake will take 40-45 minutes to bake. But if you used less than half of the batter in your rose cake, then it could take as little as 35 minutes. Your pistachio cake will probably take 45-50 minutes to bake. I realize this is a bit confusing, so I recommend setting the timer for 35 minutes, and then doing the toothpick test on both cakes every 5 minutes. If the toothpick comes out clean for one cake and not the other, remove the cake that is done, and set the timer for an additional 5 minutes for the other cake. Then just keep repeating this step every 5 minutes until both cakes are done.
If you use cake pans that aren't 8" or 9" round cake pans, your baking times may vary. For instance, when I made a star- shaped cake for my nephew, I only needed to bake the cakes for 18-22 minutes.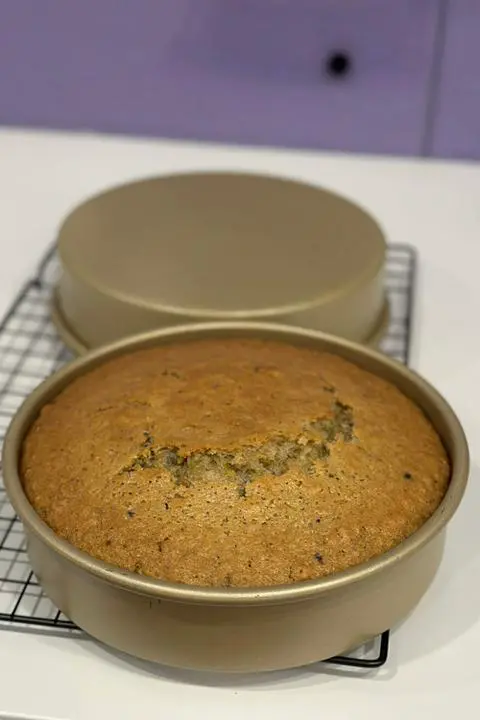 ⅓ cup (43g) all-purpose flour

1 cup (220g) vegan or organic sugar *

1 cup (235g) nondairy milk

1 teaspoon (4g) vanilla extract

½ cup (110-114g) vegan butter or margarine *

½ cup (96g) organic palm shortening *
How to make Vegan Vanilla Ermine Frosting
cooking time: 20min | prep time: 20min | chill time: 2hours+20min
Dollhouse Shortcut
To save time, make the flour pudding the night before so you don't have to wait for it to cool on the day you frost your cupcakes.
Whisk ⅓ cup (43g) flour with 1 cup (220g) vegan sugar in a medium saucepan.
Turn the stove to medium.
Add 1 cup (230g) nondairy milk while whisking.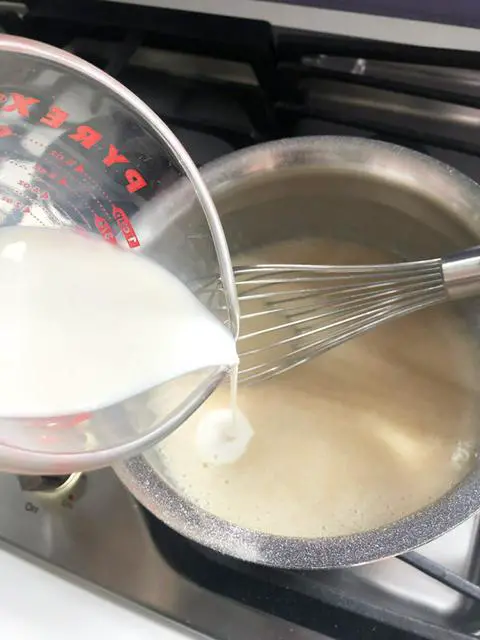 Continue whisking until it thickens to a pudding consistency. This takes me about 15 minutes.
Remove from the stove and transfer to a heat-safe dish.
Cover with plastic wrap, pressing the wrap down so that it touches the entire surface area of the goop.
Set aside until it's completely cooled.
You can speed up the cooling by using a shallow dish, like a lasagna pan, rather than a deep bowl. You can also hurry this process by chilling the pudding in the fridge. I like to cool mine on the counter for 1 hour and then transfer it to the fridge for an hour. This helps keep the rest of my fridge food from warming up from the super hot dish entering the fridge. Wait for this to cool completely before continuing with the remaining steps.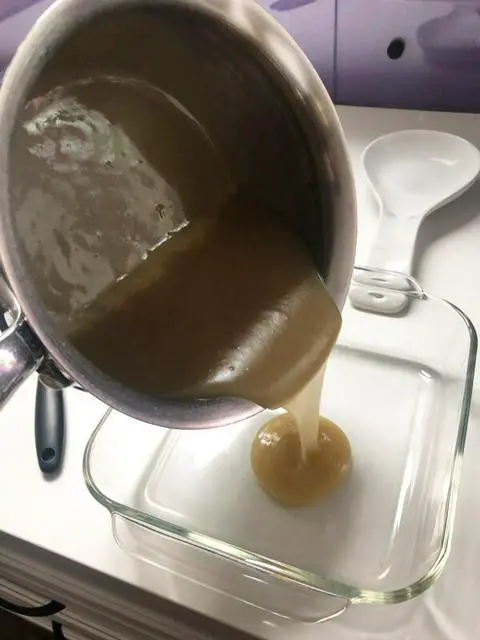 Whisk ½ cup (96g) sustainable palm shortening and ½ cup (110g) vegan butter or margarine for 3-5 minutes, using a handheld electric mixer or a stand mixer with the whisk attachment.
Scrape the sides with a baking spatula, and mix for another minute.
Add 2 teaspoons (8g) vanilla extract, and mix for another minute.
Add the cooled pudding, one spoonful at a time, whisking between each new addition.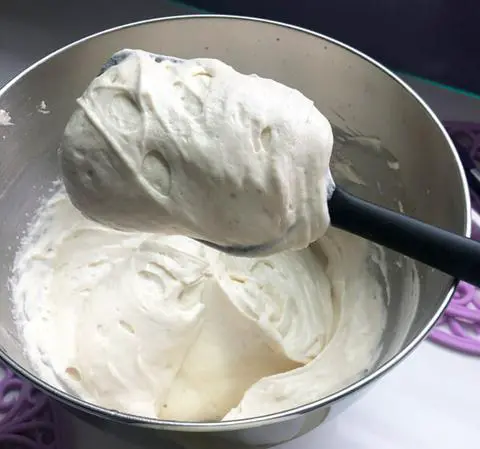 Chill the frosting for 15-20 minutes in the fridge to let it firm up a little before using it.
prep time: 15-30 min
Cut the tops off the cooled cakes to make them flat (this step is optional, but I did need to trim a very thin layer from both cakes).
Set the bottom cake layer onto your cake plate or cake board. It really doesn't matter if your pistachio layer goes first or if your rose layer goes first. This is totally up to you.
Dollop some frosting onto the bottom cake layer and spread a thick layer using an offset spatula or a butter knife).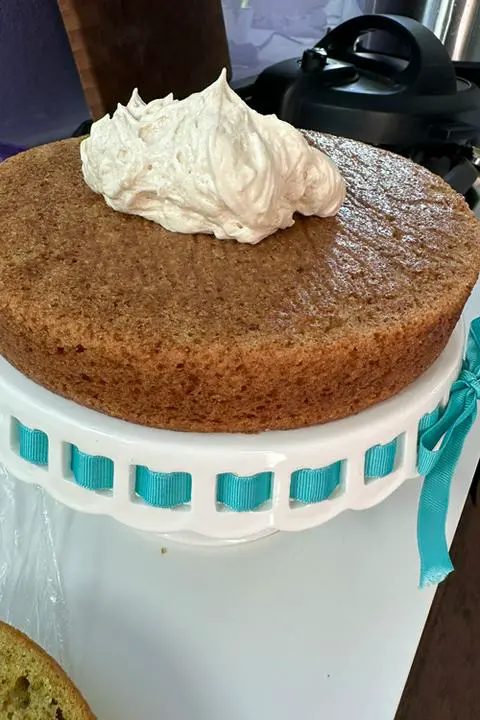 Add the top cake layer to the top of the frosting.
Cover the cake in frosting, smoothing it out as much or as little as you want with an offset spatula or a bench scraper.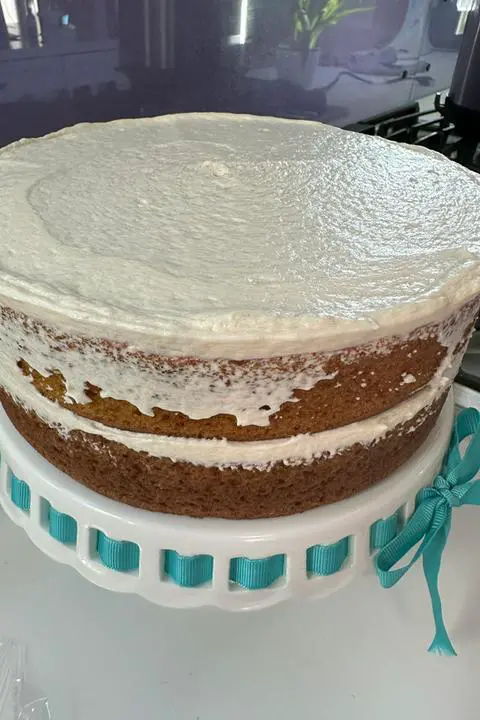 Chill the cake until you're ready to serve it, or if you want to decorate it to look like mine, continue reading.
Sprinkle flower petals all over the cake, either in a design you prefer, or just all over like a romantic bathtub. I didn't have any rose petals, so I used heart shaped sprinkles to form flower petals and used round sprinkles for the centers of the flowers. I could have sprinkled them, but I strategically placed each one so they look like flowers that are drawn by a toddler.
If you plan to write a message on top of the cake, make sure you leave space for that message when you're placing the decorations. Suggestions for messages are Happy Birthday, Congratulations, or Why Did You Get Pregnant Again? I'm sure all these sentimental thoughts would be equally appreciated.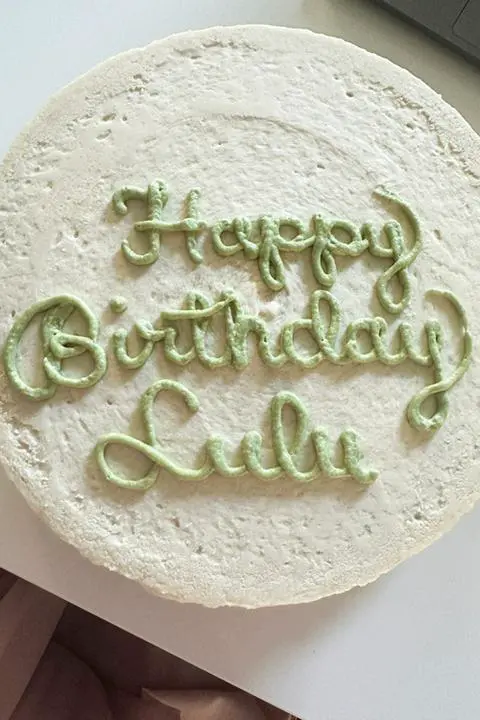 Chill the cake while you color some of the frosting green, if you plan to draw flower stems.
Add green vegan food coloring to some of the white frosting and mix it in.
Transfer the green frosting to a piping bag fitted with a small round piping tip or a decopen. I like how messages come out using the decopen, rather than a piping bag, because it gives you more control over it.
Retrieve the cake from the fridge or freezer.
Pipe flower stems from the flower petal flowers to the cake board or connecting the flowers together. If this is a birthday cake, you can also use this frosting to write Happy Birthday on the cake.
Chill the cake until you're ready to serve it.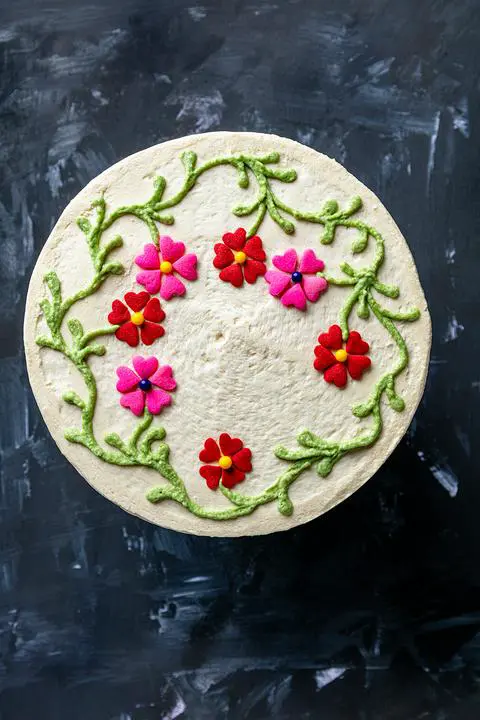 Can I use this recipe to make pistachio rose cupcakes?
This recipe works perfectly as cupcakes. Instead of prepping two cake pans, put cupcake liners in your cupcake pan cubbies, and bake them for 18-22 minutes. Use a piping bag and tip 1M to pipe the frosting on top of the cupcakes.
It will make around 28 cupcakes though, so if you don't want that many, you might want to do some math to make half the amount of batter and frosting.
Here's a picture where I piped the frosting using tip 1M and then sprinkled some rose petal powder on top for color.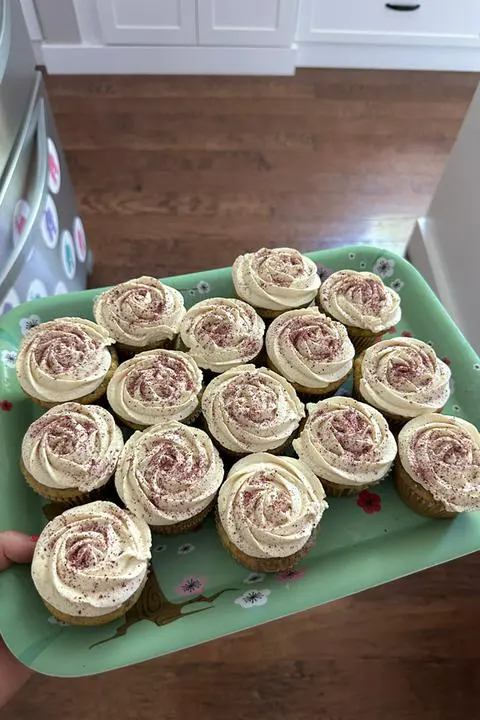 How should I store a pistachio rose cake?
To store pistachio rose cake, cover it and keep it in the fridge for up to a week.
Can I freeze pistachio rose cake?
You can freeze pistachio rose cake at any stage of the cake making process or even after you've cut into it. Here are the different ways.
Before assembling the cake and decorating it, you can wrap each layer of baked cake in cling wrap and place into the freezer. If you plan to store it there longer than 24 hours, place the wrapped cake into a ziplock freezer bag.
After decorating the cake, please it in the freezer just until the frosting is hard to the touch. Then wrap it in cling wrap. If you wrap it too soon, it will mess up your decorations, so it's important to freeze it first. Then set the wrapped cake in the fridge overnight to defrost it. If you don't have that long, set it on the counter to defrost. Leave the wrap on until right before you plan to cut the cake or else the condensation will appear on your cake rather than on the cling wrap.
To freeze leftover cake, the best way is to cut it into slices and place the slices into a tupperware to freeze. If you prefer to defrost each cake slice individually, wrap each slice in cling wrap and transfer them all to a ziplock freezer bag.
Can I make the flour pudding for ermine frosting in the microwave?
Ermine frosting can be made without using the stove. Whisk the flour, milk, and sugar in a microwave safe dish. Cover it, and microwave it in 1-minute increments, stirring in between each. After 3 minutes, you'll notice when you stir it that your sugar will be dissolved. After about 5 minutes, it will start to look creamy. Then, after 6 minutes, you'll notice it start to thicken. As soon as it starts to thicken, you really need to watch it so that it doesn't boil over, so set the microwave to only 30 seconds instead of 1 minute at this point. During that 30 seconds, watch it through the window so you can stop it when it starts to boil. As soon as it bubbles, it's done.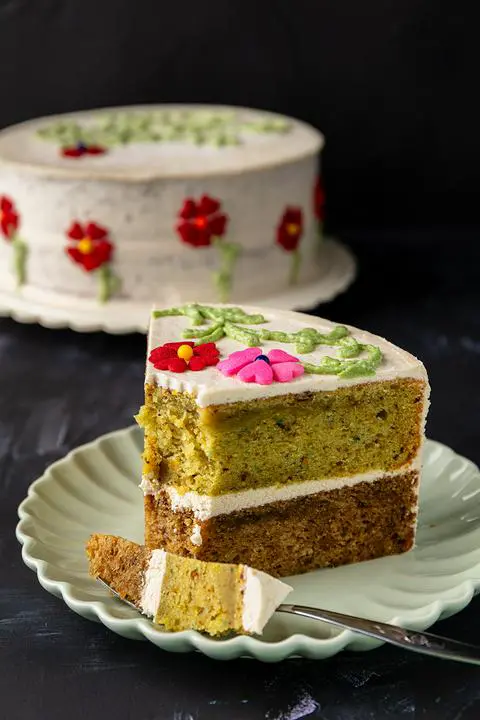 Parchment Paper: I know parchment paper isn't an ingredient, but I wanted to add a substitution for it. If you don't have parchment paper, just oil the bottom and sides of both cake pans. The purpose of the parchment paper is just to help the cakes come out of the cake pans easier. Also, some parchment paper isn't vegan, so make sure you buy the kind I link to here.
Vegan Yogurt: Kite Hill yogurt comes in a container that's around 5.3oz (150g). I use the vanilla flavor, but you can also use plain. If you make your own yogurt, you can use that too.
Nondairy Milk: You can use any kind of milk in the cake and frosting, but I would avoid chocolate flavored plant milks since they might overpower the flavor of the cakes or change the color of the frosting. I've used oat milk and almond milk for this cake. You can just buy the cheapest vegan milk you can find. If you don't have the full amount of nondairy milk that the cake recipe requires, you can substitute any amount with water or nondairy creamer. If you use soymilk, I recommend buying organic or non-GMO to make sure it's vegan.
Oil: I recommend safflower, sunflower, avocado, or coconut oil for baking cakes. These oils are good for high heat, which helps you avoid transfats. However, you can use any other oil such as vegetable oil, canola oil, grapeseed oil, etc. People even make cakes with olive oil, but I don't recommend it.
Vanilla Extract: If you don't have vanilla extract, you can omit it, but the cake will taste much better if you include it. Make sure you use 100% pure vanilla extract or flavor. If the ingredients don't specifically say vanilla bean, then it may not be vegan. Vanilla flavoring is often made from the anal glands of beavers. Who TF came up with this idea? Good question. Probably the same people who discovered gelatin.
Vinegar: If you don't have 2 tablespoons (30g) apple cider vinegar, replace it with 2 tablespoons (30g) lemon juice, lime juice, or white vinegar. You just need some sort of acid to interact with the alkalinity of the baking soda to make the cake rise. This is a very important part of making this eggless pistachio cake.
Sugar: In the cake recipe, you can use any number of vegan sugars: brown sugar, sucanat, coconut sugar, raw sugar, organic sugar, or demerara. If you're not sure if your sugar is vegan, you can contact the company and ask. Or just avoid conventional white sugar or granulated sugar, and you should be ok. For the frosting, I wouldn't use any sugar that's too brown or it will affect the color of your frosting.
Flour: I used an unbleached organic all-purpose flour for this recipe. If you avoid gluten, or if you have friends or family who are gluten free, replace the all-purpose flour with a gluten-free flour blend. You can also replace some of the all-purpose flour in this recipe with almond flour if you'd like it to taste more like a Persian love cake.
Cornstarch: Please buy organic or non-GMO cornstarch. Corn is a commonly genetically modified ingredient making it less likely to be vegan. You can also replace the ¼ cup (27g) of cornstarch in this recipe with equal parts potato starch or arrowroot.
Baking Soda: If you are out of baking soda, replace the teaspoon (6g) baking soda in this recipe with an additional tablespoon (12g) of baking powder.
Baking Powder: If you're out of baking powder, replace the ½ tablespoon (6g) baking powder in this recipe with an additional ½ teaspoon (3g) of baking soda.
Nutmeg: If you don't have nutmeg, you can omit it or replace it with cardamom if you want this to taste more like a persian love cake.
Vegan Butter: I usually use organic whipped earth balance because I like the flavor and the consistency. It always works great in every recipe. If you avoid soy, they make a soy-free version too. You can use any brand of vegan butter or margarine that you prefer.
Vegan Shortening: If you don't have access to vegan shortening, you can replace it with additional vegan butter or margarine.
Rose Powder: I used to buy rose powder at Berkeley Bowl, which is a store in the bay area that has a large bulk section. However, now I make my own by harvesting rose petals, drying them in the dehydrator, and grinding them into a powder using a spice grinder. 1 ⅓ cups of dried rose petals equals ¼ cup (8g) of rose powder. You can replace the rose powder in this recipe with rose water, but you'll have to do some math to replace some of the plant milk in this recipe with rose water.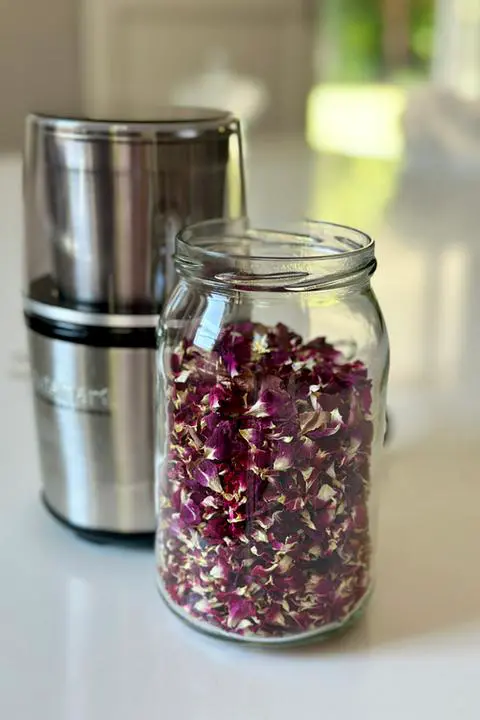 If you like this rose pistachio cake recipe, you might also like my hummingbird cake and my flower sherbet.
If you make this vegan pistachio rose cake recipe, snap a pic, post to instagram, and tag me @vegandollhouse. I love to see your creations! You can also message me through instagram or email me if you have any questions about the recipe.
☆☆☆☆☆☆☆☆☆☆
* I use mostly organic ingredients when I cook. I realize that not everyone has the disposable income to buy only organic ingredients. So, I only specify organic on the ingredients that matter: when buying the organic (or non-GMO) version is the only way to ensure that an item is vegan.
This post links to items I used when I made this recipe. If you click on the purple Buy Now button on a product page, you will go to a website (like Amazon) where you can buy the same product I used. Sometimes, the store you purchase from (Amazon, Etsy, etc.) will pay me for referring you. This costs you nothing extra, and I would never recommend a product that I don't use. These affiliate programs help me buy the ingredients to create these recipes for you. Read more about this in my privacy policy.
☆☆☆☆☆☆☆☆☆☆
I updated the pictures for this recipe in August 2023. Below are the old pictures from 2014.