Vegan Mini Wreath Cakes
published on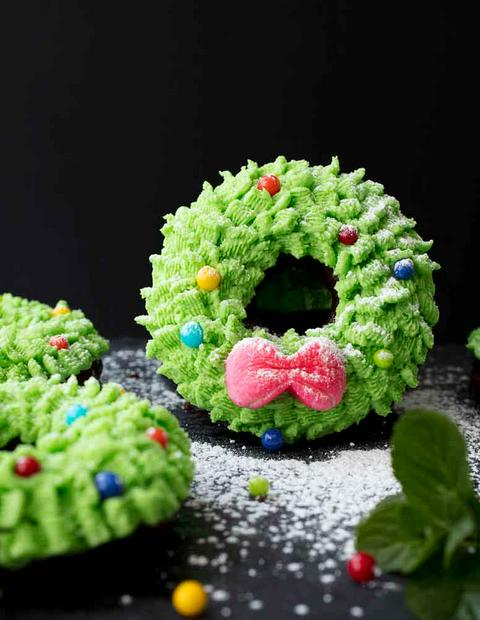 ♫ Listening to: The Girl Doesn't Get It by Belle & Sebastian ♫
It's no secret that Christmas isn't my favorite holiday. I spend more time in December planning New Year's Eve than I spend planning Christmas. However, once a year, something cute about Christmas piques my curiosity. Last year it was a gingerbread carousel. This year, it's these donut-shaped wreath cakes inspired by Brit+Co.
It took me so long to find the vegan ornaments for the wreath, because a surprisingly lot of candies and sprinkles are NOT vegan. But luckily, I found some made by Wilton after seeing some on Karma Baker's instagram. I'll link to them below. You'll also need 2 donut pans for this recipe. Kimmy didn't have her annual vegan cookie exchange this year so I brought these to our Nightmare Before Christmas viewing party instead, but I think these would be a fabulous addition to any holiday party or cookie exchange.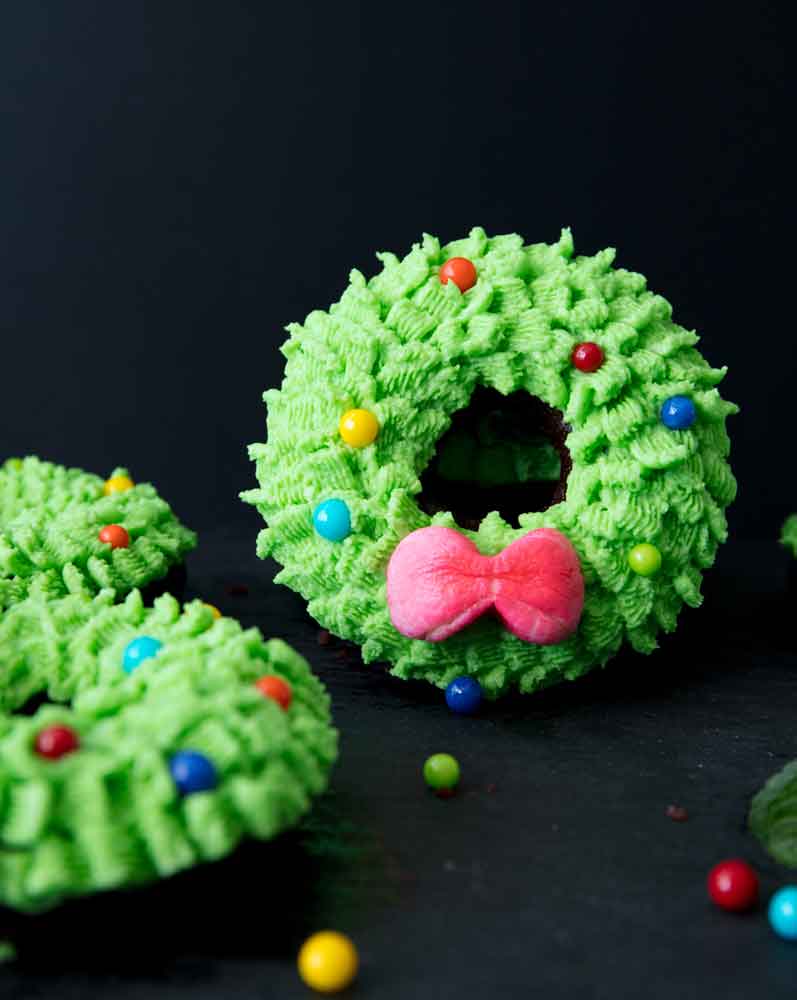 This recipe makes 12 donut wreath cakes.
Vegan Mini Wreath Cake Ingredients
Dollhouse Shortcut
Save time by buying pre-made vegan donuts and skipping to the decorations step.
2 cups unbleached flour

⅔ cup cocoa powder

1 tablespoon baking powder (I use non-aluminum)

½ teaspoon salt

½ teaspoon nutmeg

¼ teaspoon cinnamon

1 ⅓ cups organic or raw sugar*

1 ¼ cups vanilla or chocolate non-dairy milk (I used both)

½ tablespoon vanilla extract

egg replacer for 2 eggs (I used ener-g)

⅔ cup coconut oil (or substitute any vegetable oil)
Vegan Mini Wreath Cake Directions
Mix the wet ingredients in a saucepan over low-med heat until the coconut oil melts and sugar dissolves (the wet ingredients are the last 5 in the list).
Preheat the oven to 350°.
Mix the dry ingredients together in a bowl: 2 cups flour, ⅔ cup cocoa powder , 1 tablespoon baking powder, ½ teaspoon salt, ½ teaspoon nutmeg, and ¼ teaspoon cinnamon.
Mix the dry and wet ingredients together just until incorporated.
Pipe or spoon the batter into 12 ungreased donut-shaped molds.
Bake for 10-12 minutes.
Remove from oven and place pans on cooling racks.
Remove donuts from the pans using a flexible silicone spatula , by shimmying the spatula down the sides of the pan so far that it curls all the way underneath each donut (start this step only when completely cooled).
Vegan Mini Wreath Cake Decorations
Dollhouse Shortcut
Save time by buying pre-made vegan bows.
Bow: 6 dandies marshmallows and wilton wilton pink gel color (or sub wilton icing bows ) Ornaments: wilton mini jawbreakers
Break each marshmallow in half.
Knead the half a marshmallow with pink food coloring. If you don't want colored paws, you can wear gloves while you do this part. I buy these vegan disposable gloves , but I also use them to dye my hair, so you can probably find a box with fewer in it if you search for nitrile gloves (don't get latex, since they're not vegan).
Shape each marshmallow piece into a bow using your hands. Set each one aside as you finish.
Christmas Wreath Recipe Video
Here's a video of my entire decorating process, starting with making the marshmallow dandies bows.
Vegan Mini Wreath Cake Frosting Ingredients
¼ cup organic earth balance or any vegan butter*

¼ cup organic palm shortening*

3 tablespoons nondairy milk

1 teaspoon vanilla extract

½ teaspoon mint extract

3 cups organic powdered sugar*

green vegan food coloring
Vegan Mini Wreath Cake Frosting Directions
Whisk the vegan butter, spectrum sustainable organic palm shortening , nondairy milk, and extracts using a stand mixer or a handheld electric mixer with the whisk attachment.
Sift in powdered sugar, one cup at a time, adding a tiny bit of nondairy milk if it gets too thick.
Add the green vegan food coloring and whisk again. I used wilton leaf green gel color
Pipe all the wreath cakes (only when completely cooled) with whatever decorative tip you prefer. I used Wilton tip 47 .
Place 1 bow and 5-6 wilton mini jawbreakers ornament candies onto each wreath and press lightly into the frosting. If you can't find those sprinkles, check out my list of vegan sprinkles for alternatives.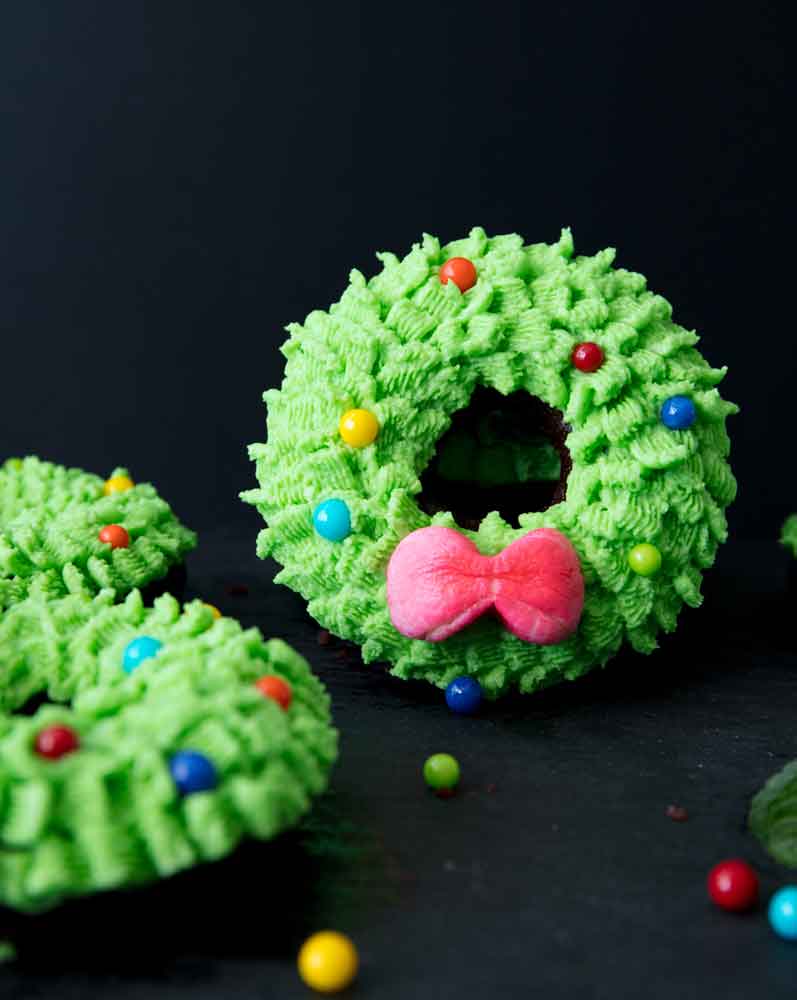 And if you like watching snow fall without having your extremities feel like they're falling off, you can make it snow on your wreaths with powdered sugar.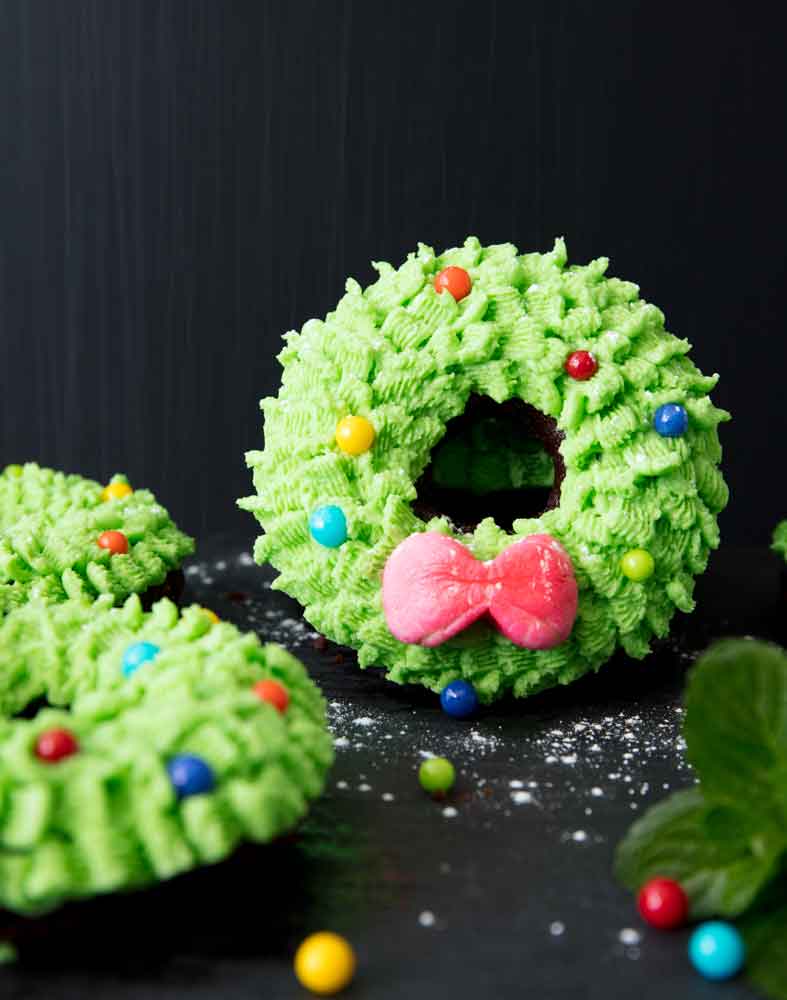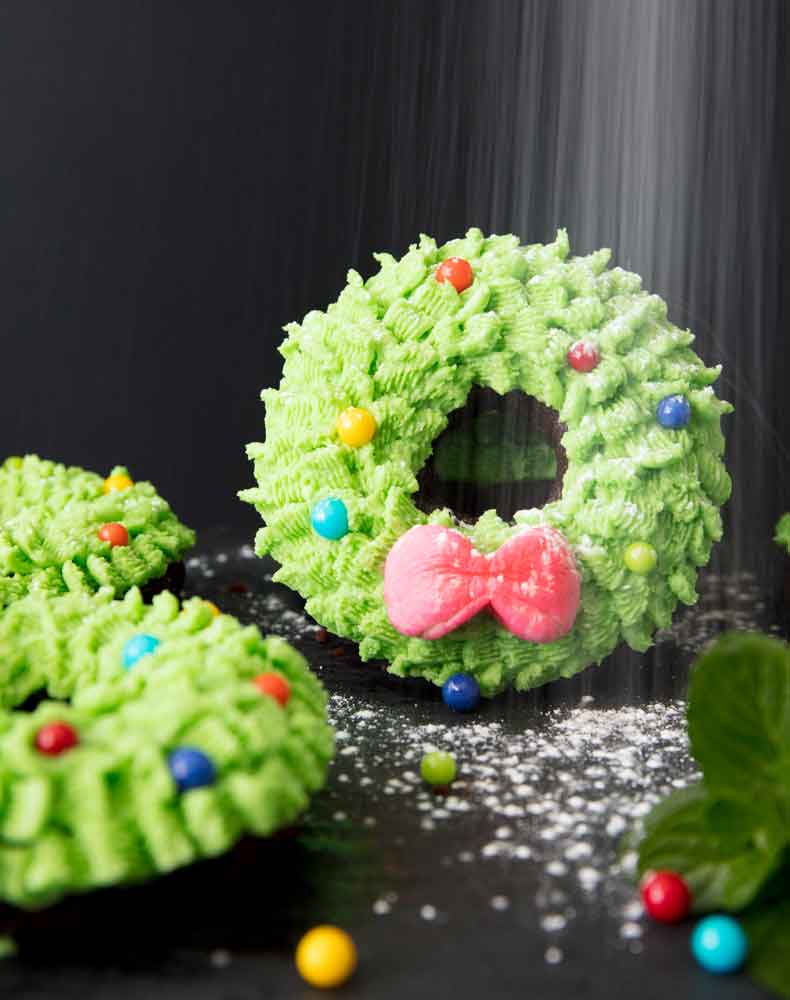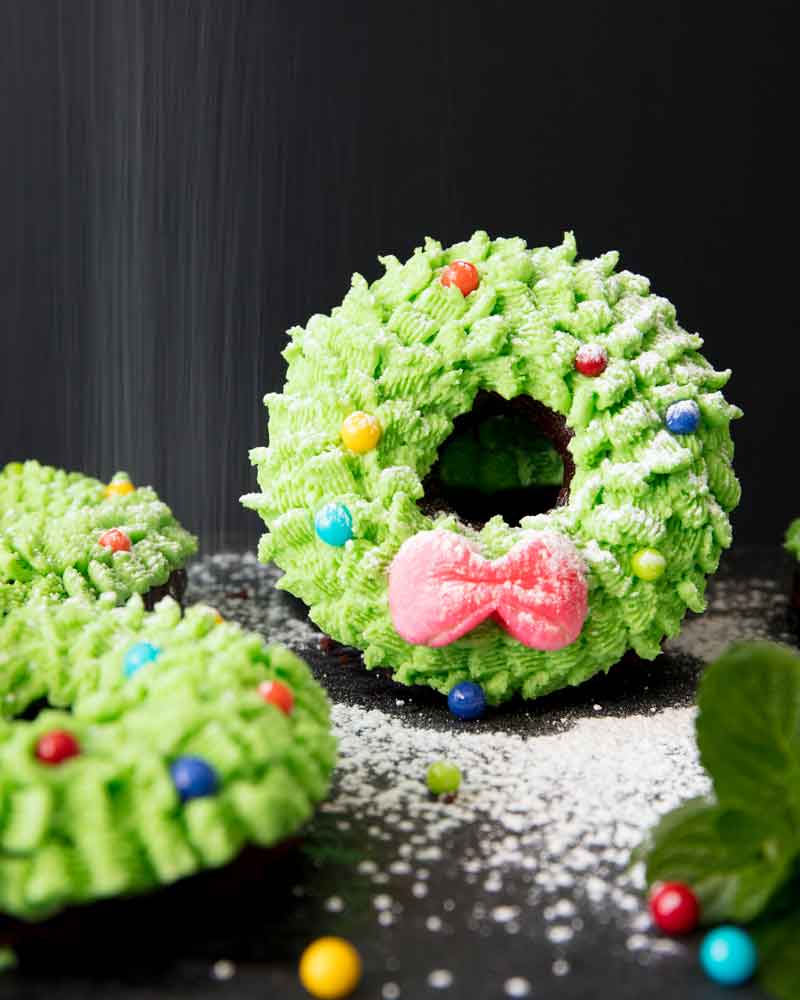 ☆☆☆☆☆☆☆☆☆☆
* I use mostly organic ingredients when I cook, but I realize that not everyone has the disposable income to purchase all organic ingredients. Therefore, I only specify organic on the ingredients that really matter - when buying the organic version is the only way to ensure that the item is vegan.