Vegan Chocolate Blackberry Cake
published on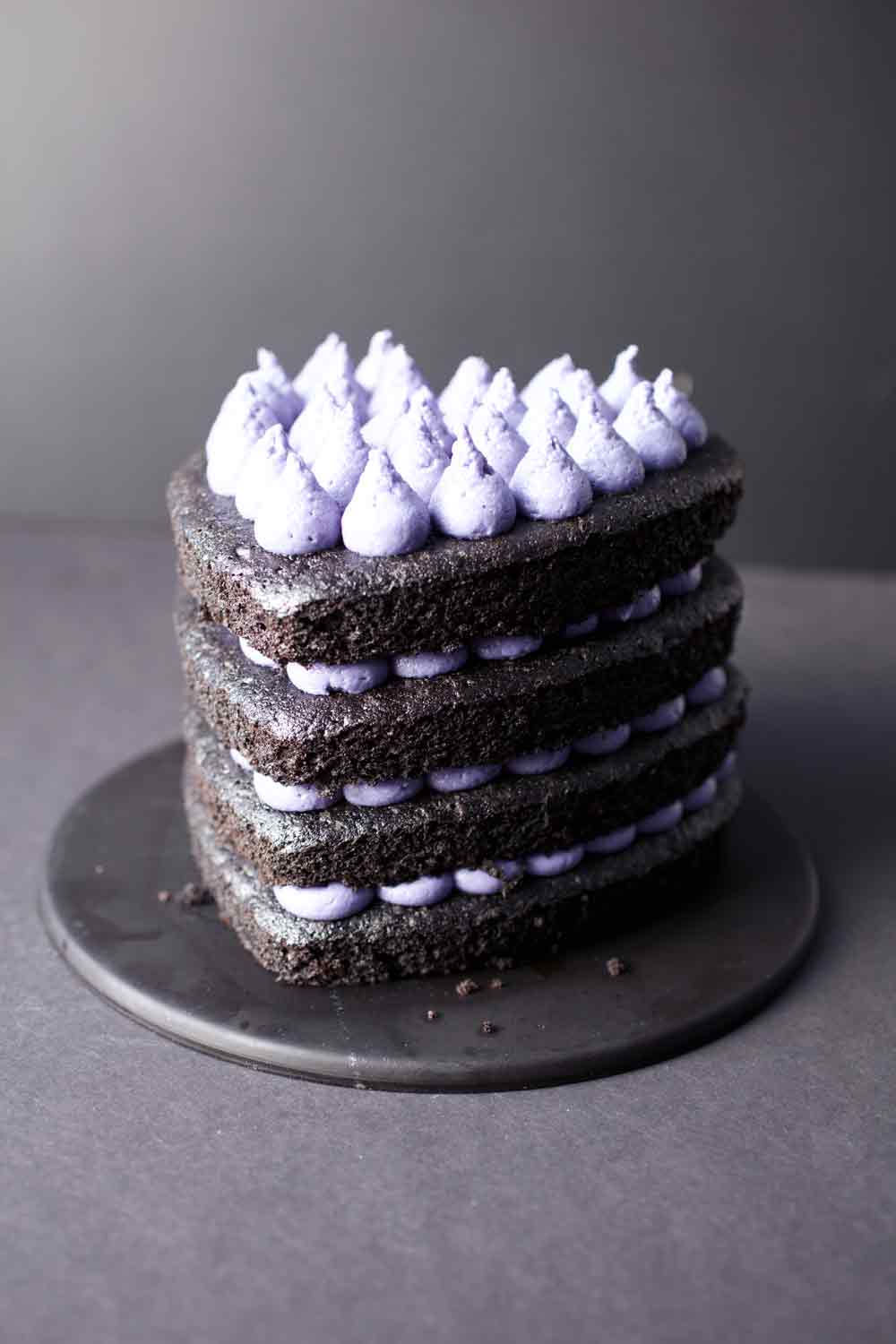 ♫ Listening to: Love Like Winter by AFI ♫
I was lucky enough to meet a lot of my friends when I DJ'd at KSCU, the college radio station at Santa Clara University. One of those friends, Josipa, had a punk rock show. Since the theme of her birthday is a purple tea party, I thought a black and purple punk rock birthday cake would be appropriate. If you don't have punk rock friends to make this for, it's also perfect for Halloween! You can also make it cute and goth instead of punk by omitting the spikes. If you like blackberry and chocolate together, you might also like my Chocolate Blackberry Halloween Cake.
This recipe makes 1 mini black and purple cake–using either three 4" mini springform pans or four 6" heart cake pans .
Vegan Punk Rock Chocolate Cake Ingredients
1 cup nondairy milk
1 tablespoon apple cider vinegar (or substitute white vinegar)
1 teaspoon vanilla extract
¾ cup organic or raw sugar*
¼ cup sunflower oil (or sub any veggie oil)
1 ¼ cups flour
3 tablespoons black cocoa powder
3 tablespoons any other cocoa powder
¾ teaspoon baking soda
½ teaspoon baking powder
¼ teaspoon salt
Vegan Punk Rock Chocolate Cake Directions
Prep time: 25 minutes | Bake time: 16 minutes
Cut a piece of parchment paper for each of your pans by setting the pan on the parchment paper and tracing it and then cutting it out.
Oil all of your mini cake pans, stick the parchment paper in the bottom, and oil the top of the parchment paper too. This may seem like overkill, but the first time I tested this recipe, the cake wouldn't come out of the pan, and it ended up breaking. It was catastrophic. I don't want you to suffer the same undesirable fate.
Preheat the oven to 350°.
Mix the nondairy milk with the vinegar and let sit.
Sift the dry ingredients together (flour, baking powder, baking soda, salt, black cocoa powder , and cocoa powder ) in a medium sized bowl and whisk until it all turns gray.
Add the sugar, vanilla, and oil to the milk mixture and mix well.
Pour half of the dry ingredients and mix until there's no visible powder. Add the other half and repeat. Scrape the sides and bottom of the bowl with a spatula to ensure you incorporated all of the powder into the batter. Mix again. The color should be black when it's all mixed.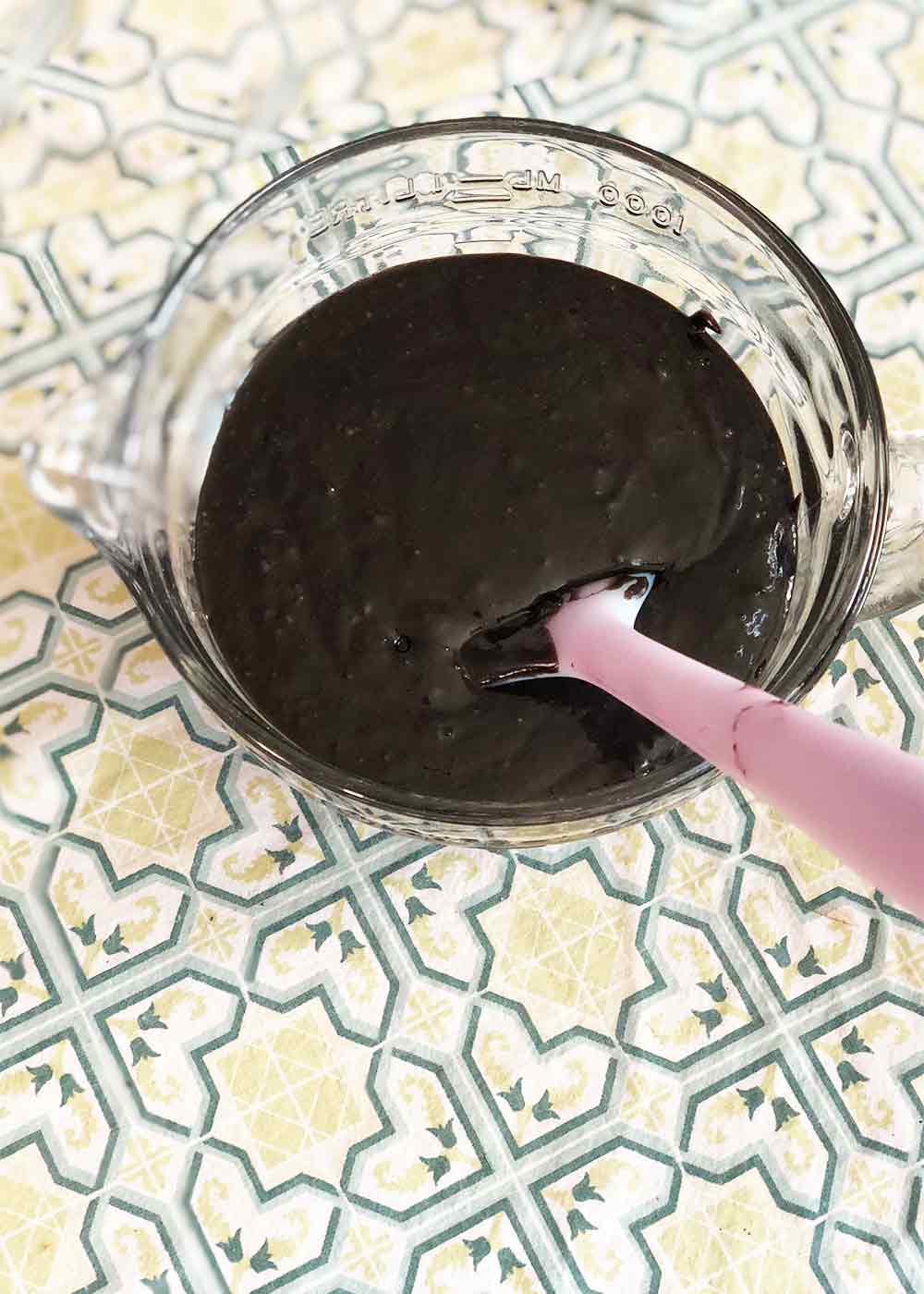 Divide the batter evenly among all of your mini cake pans. I used 4 of the 5 heart pans that come in the set.
Bake at 350º with all the cakes on the same level rack in your oven.
Remove the heart cake pans from the oven after 16 minutes (as long as when you insert a toothpick into the center of a couple, it comes out clean). If you're using the 4" round springform pans, remove them from the oven after 30ish minutes, when a toothpick inserted into the center of a couple comes out clean.
Cool on a cooling rack until room temperature and then chill in the fridge.
Vegan Chocolate Spikes Ingredients
½ cup vegan chocolate chips
1 tablespoon cacao butter
1 teaspoon charcoal or vegan black food coloring
Vegan Chocolate Spikes Directions
Prep time: 20 minutes | Chill time: 30 minutes
Add the cacao butter and vegan chocolate chips to a microwave safe bowl.
Melt the vegan chocolate chips and the cacao butter together in the microwave for 1 minute and 15 seconds, until when you stir it, it's completely smooth.
Add the activated charcoal or black vegan food coloring to the chocolate and mix well.
Pipe or spoon the chocolate into each spike cubby, making sure it gets all the way to the bottom. I used a toothpick in each one to poke the chocolate down and swirl it around. When the chocolate is all used up, tap the mold on the counter a few times to get any air bubbles to come to the top. If you don't already have a silicone mini cone mold , you can use the link to buy one, and it helps support my blogging.
Chill for 30 minutes in the fridge or freezer until solid.
(Optional) If you want to make the spiked ball on top of the cake, you'll also need a semi-sphere silicone mold .
Purple Blackberry Buttercream Frosting Ingredients
Dollhouse Shortcut
Use purple gel food coloring in the place of all the superfood powders to save time and money.
4 tablespoons blackberry preserves (seedless)
½ cup room temperature vegan butter or margarine (if you avoid soy, buy the soy-free earth balance; otherwise buy the organic whipped earth balance)*
½ cup organic palm shortening, at room temperature*
5 cups organic powdered sugar, sifted (measure before sifting)*
2 teaspoons butterfly pea flower powder
2 teaspoons blue spirulina
2 teaspoons pink pitaya powder
Purple Blackberry Buttercream Frosting Directions
Whisk the vegan butter and spectrum sustainable organic palm shortening using a stand mixer or a handheld electric mixer.
Add 1 cup of sifted powdered sugar and whisk for a minute.
Add the second cup of sifted powdered sugar and whisk for a minute.
Add the chilled blackberry preserves, a tablespoon at a time, whisking between each addition. Try not to add more than 4 tablespoons of blackberry preserves (or jam), so the frosting doesn't thin out too much.
Add the third cup of sifted powdered sugar and whisk for a minute.
Add the fourth cup of sifted powdered sugar and whisk for a minute.
Add the fifth cup of sifted powdered sugar and whisk for a minute.
Scrape the sides and bottom of the bowl with a silicone spatula to get all loose powder incorporated.
Add the butterfly pea flower powder and mix well. If you don't have superfood powders on hand and don't want to buy any, check out my list of vegan food coloring for other options.
Add the blue spirulina and mix well.
Add the pink pitaya powder and mix well.
Transfer to a piping bag fitted with a Wilton large round tip 1A and chill until ready to use (don't chill more than 20 minutes or it will become too difficult to pipe).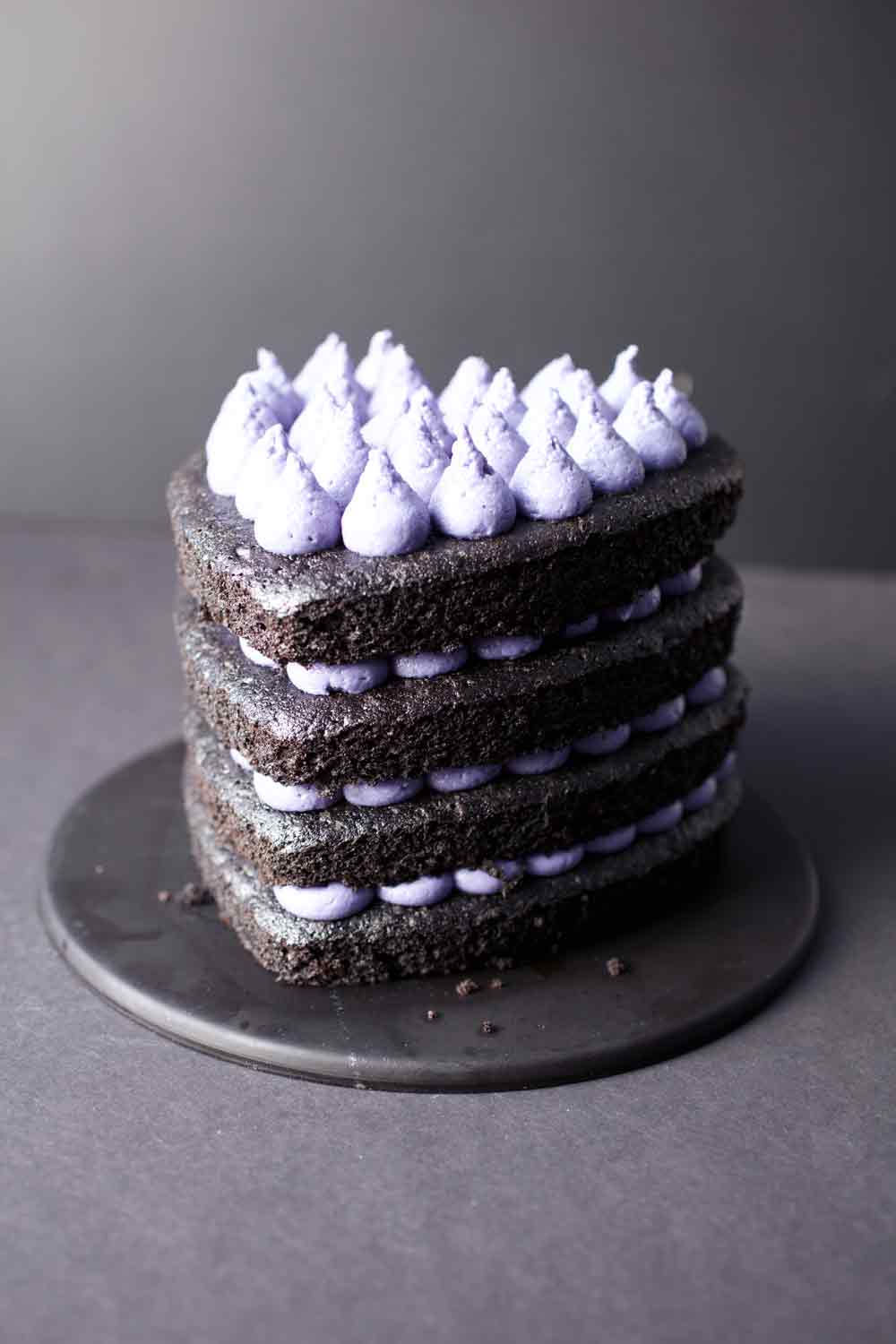 Layer the 4 cake layers with blackberry frosting.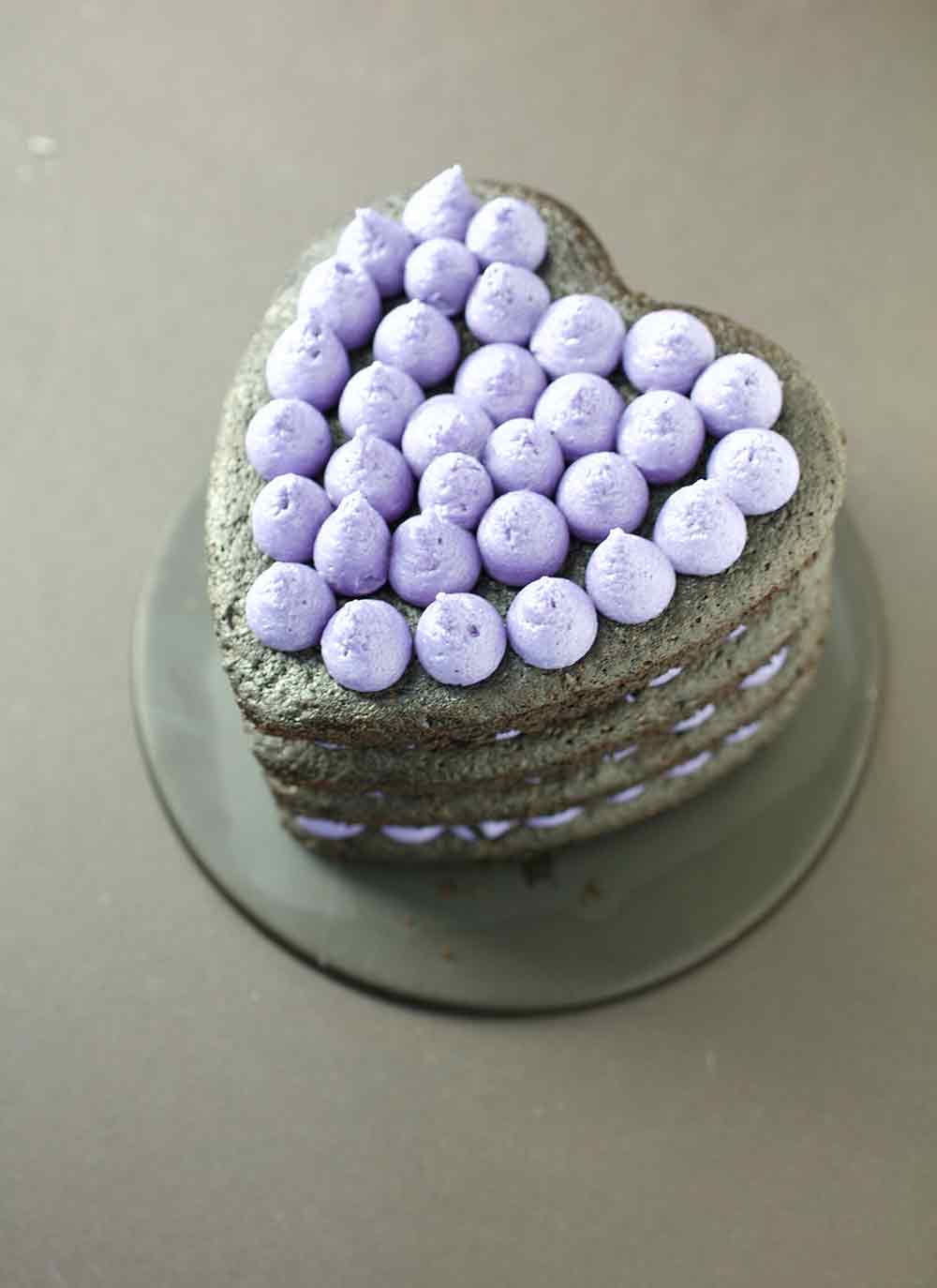 (Optional) Add chocolate spikes.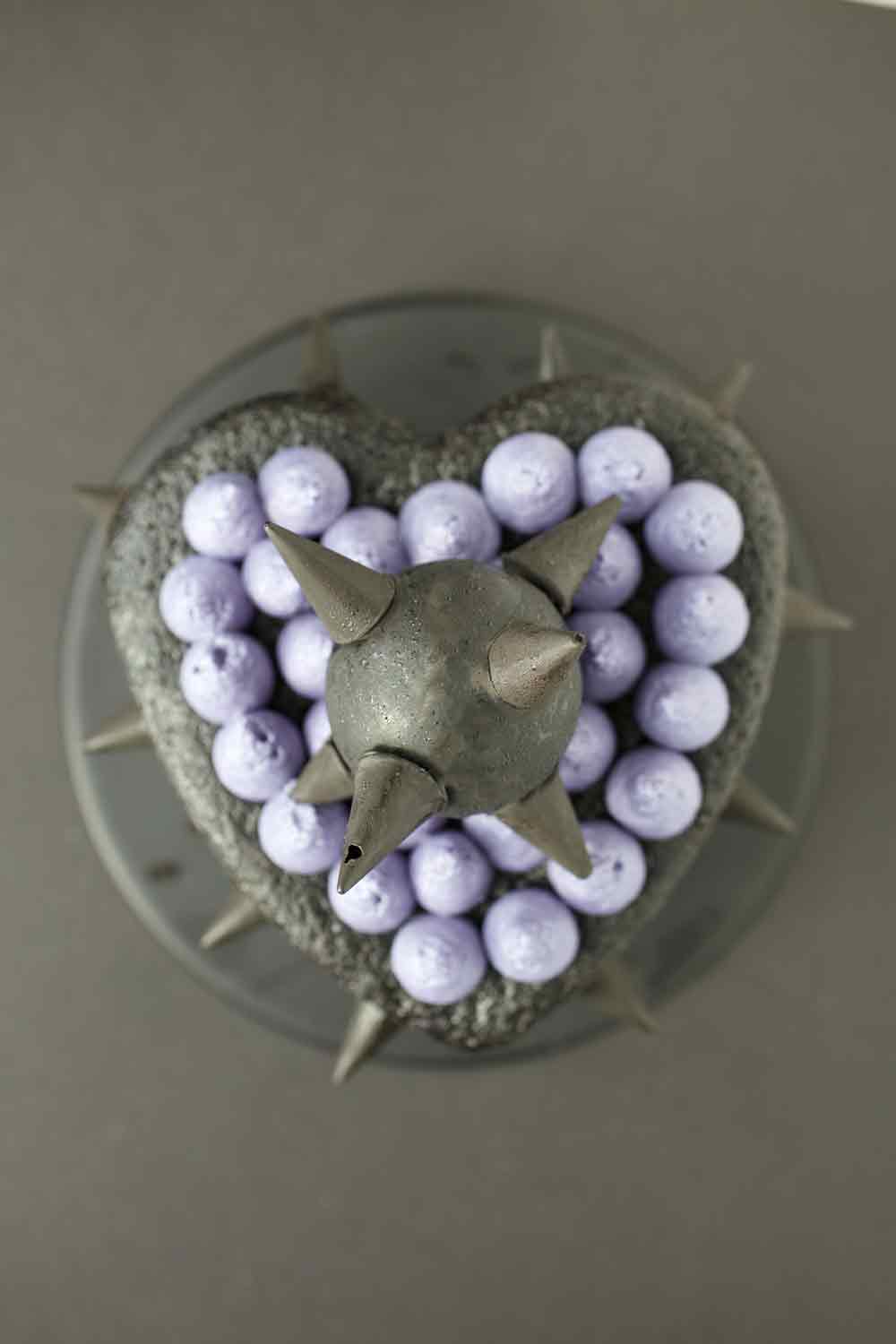 ☆☆☆☆☆☆☆☆☆☆
* I use mostly organic ingredients when I cook, but I realize that not everyone has the disposable income to purchase all organic ingredients. Therefore, I only specify organic on the ingredients that really matter - when buying the organic version is the only way to ensure that the item is vegan.