Vegan Dunkaroos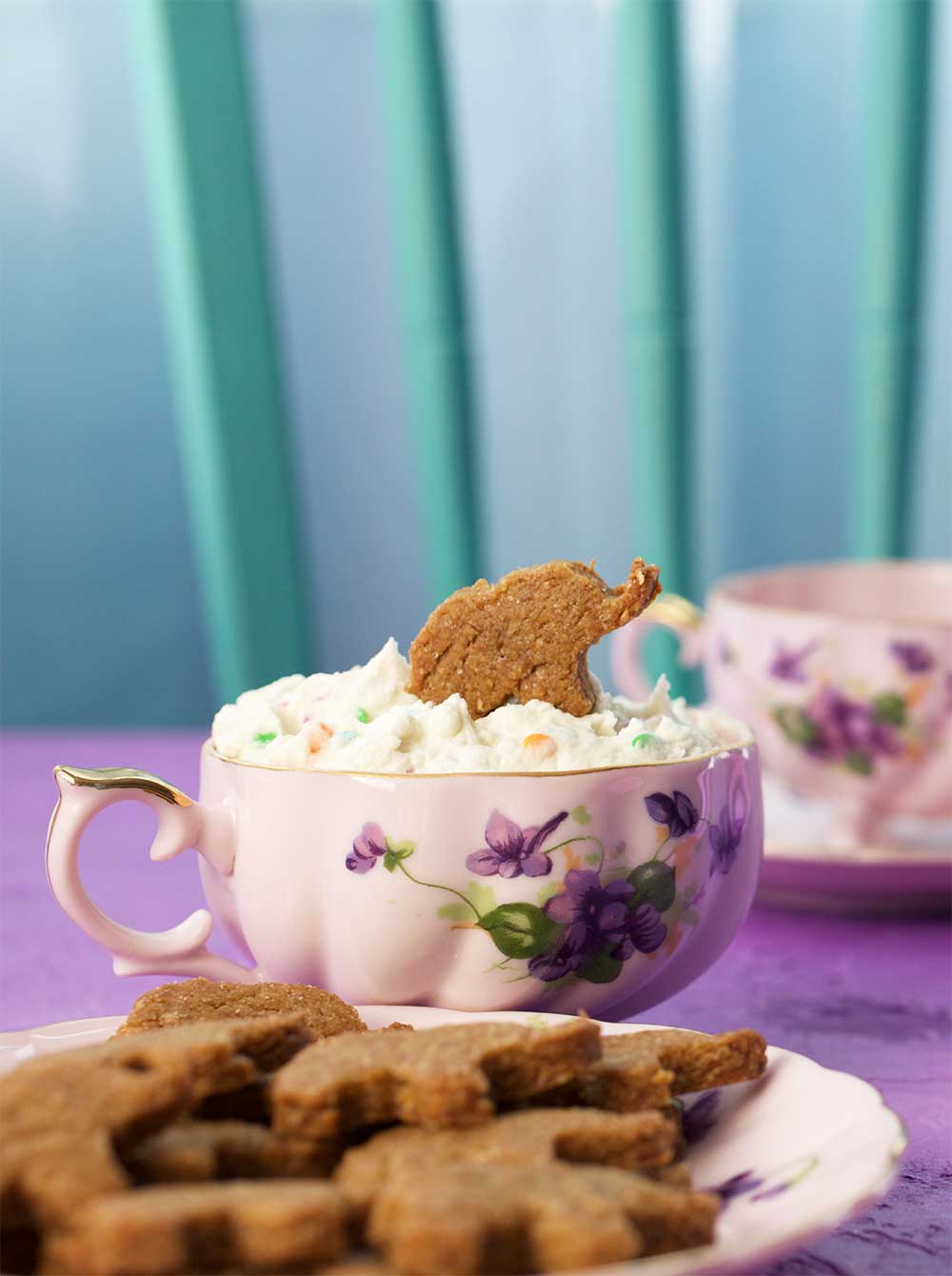 ♫ Listening to: Anti-Manifesto by Propagandhi ♫
I've been wanting to do a collaboration with Garrick Stegner for like years now. I'm so excited for this opportunity for us to make each other's favorite childhood cookies. I'm a wee bit older than Garrick, so I never actually had dunkaroos (I heard that gasp). I really hope these taste like actual dunkaroos, but if they don't, I can assure you that they're at least cute and delicious. Head over to his instagram to find out what my childhood cookie was that he managed to veganize because he's a damned warlock.
I'm not sure what kind of sprinkles are usually used to make dunkaroo dip, but I really like pastel quins, so I chose those. If you want to use a different kind of sprinkles, check out my comprehensive list of vegan sprinkles. And if you're looking for other treats from your childhood, you might like my twinkies recipe.
This recipe makes 40 small cookies with funfetti frosting dip.
Vegan Dunkaroos Elephant Cookies Ingredients
1 ¼ cups unbleached flour
¼ cup graham flour
⅓ cup raw sugar
¼ teaspoon baking powder
1 teaspoon ground cinnamon
⅛ teaspoon salt
2 tablespoons brown rice syrup
1 teaspoon molasses
2 tablespoons water
½ teaspoon vanilla extract
⅓ cup safflower or sunflower oil
Vegan Dunkaroos Elephant Cookies Directions
Prep Time: 40 min | Chill time: 1 hour | Bake Time: 10 min
Mix together the first 6 ingredients (flour through salt) using a stand mixer fitted with the beater blade or a handheld electric mixer.
Add the molasses, water, vanilla, and brown rice syrup .
Drizzle in the oil slowly while the mixer is running.
Mix on low until thoroughly combined.
Knead the dough by hand until it all sticks together and form into a disc.
Wrap the disc in plastic wrap and refrigerate for at least 1 hour.
Line 2 baking sheets with parchment paper and place a 3rd piece of parchment paper onto the counter.
Roll the dough disk on top of the parchment paper to ¼ inch thickness. If your rolling pin doesn't have the measurement stoppers on it, just roll it the thickness of a graham cracker.
Preheat the oven to 350°F
Cut as many cookies as you can from the dough with your cute animal cookie cutter of choice. I used an elephant. If you're making more than one animal, don't mix multiple animals on the same pan (if you want an even bake). I dipped my cookie cutter in graham flour between each cut because I think it helps the cookie come out easier without breaking.
Place the cookie dough shapes on the parchment paper covered baking sheets, leaving a little space between each one for growth.
Bake for 10 minutes.
Repeat the rolling and cutting out with the remaining dough while your first batch is baking.
Cool on the baking sheet for a few minutes before transferring to a cooling rack to cool completely.
Store the dunkaroos (once completely cooled) in an airtight container for up to 2 months, if you have willpower, which I do not, so I've never actually tested this claim I'm making. If your container isn't air-tight, they might get soft. If that happens, just bake them at 300°F for a few minutes to crisp them up again.
Serve with confetti sprinkle frosting (recipe below)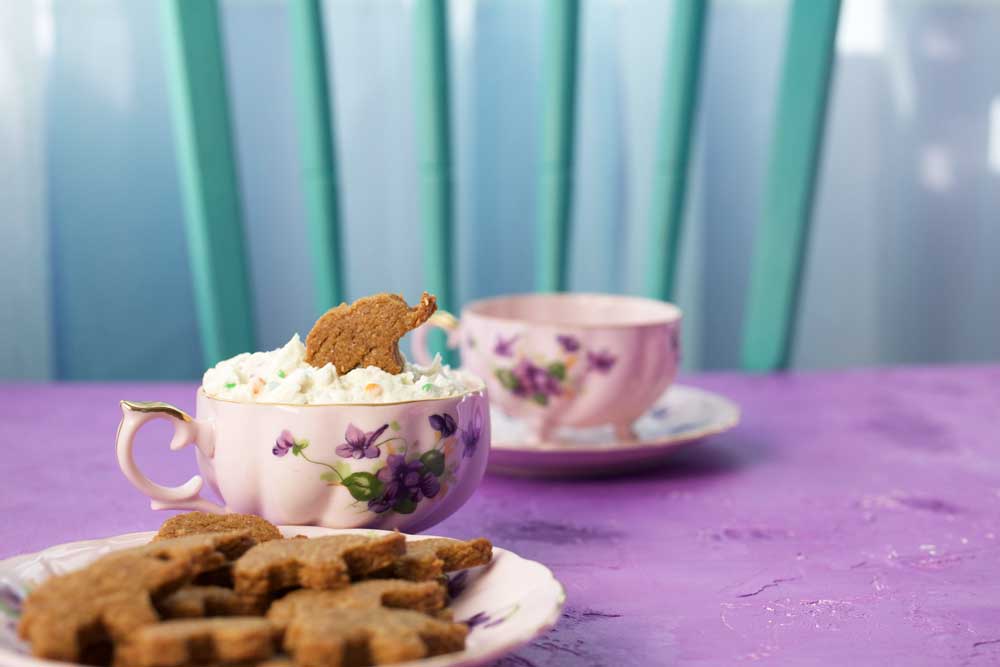 Vegan Vanilla Funfetti Frosting Dip Ingredients
2 tablespoons vegan butter or margarine (if you avoid soy, buy the soy-free earth balance; otherwise buy the organic whipped earth balance)*
2 tablespoons organic palm shortening*
½ teaspoon vanilla extract
½ cup organic powdered sugar*
2 tablespoons vegan sprinkles
Vegan Vanilla Funfetti Frosting Dip Directions
Whisk the spectrum sustainable organic palm shortening , margarine, and vanilla for 1 minute using a stand mixer or a handheld electric mixer. Scrape the sides of the bowl once and mix again.
Sift in the ½ cup of powdered sugar.
Mix for 1 more minute, scrape the sides with a spatula, and mix again.
Add vegan sprinkles and mix by hand. I used the pastel sequins made by Sweets & Treats.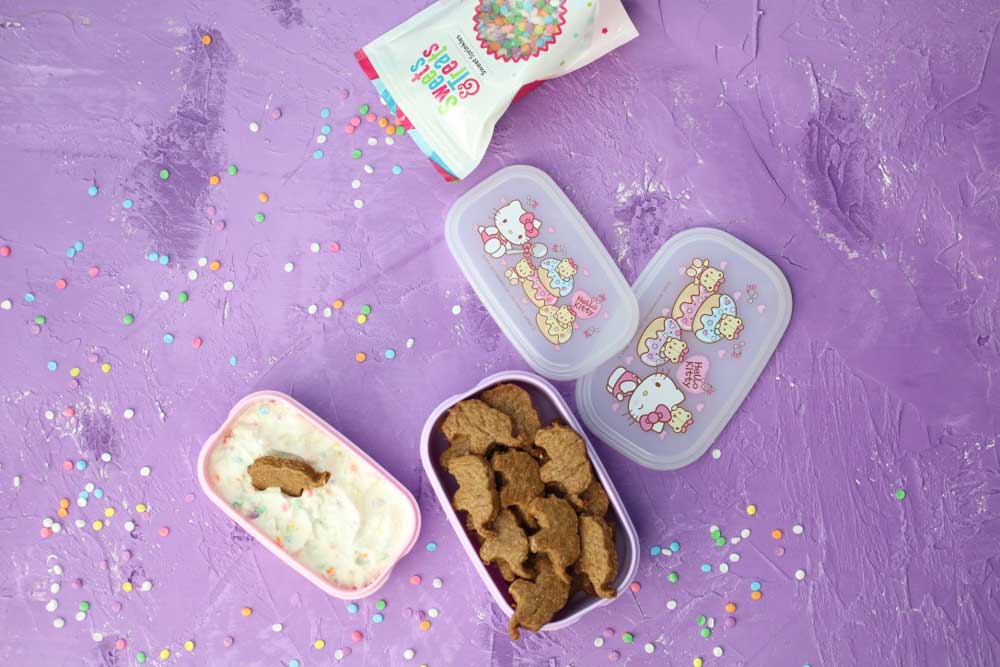 Serve with the vegan dunkaroos elephant cookies.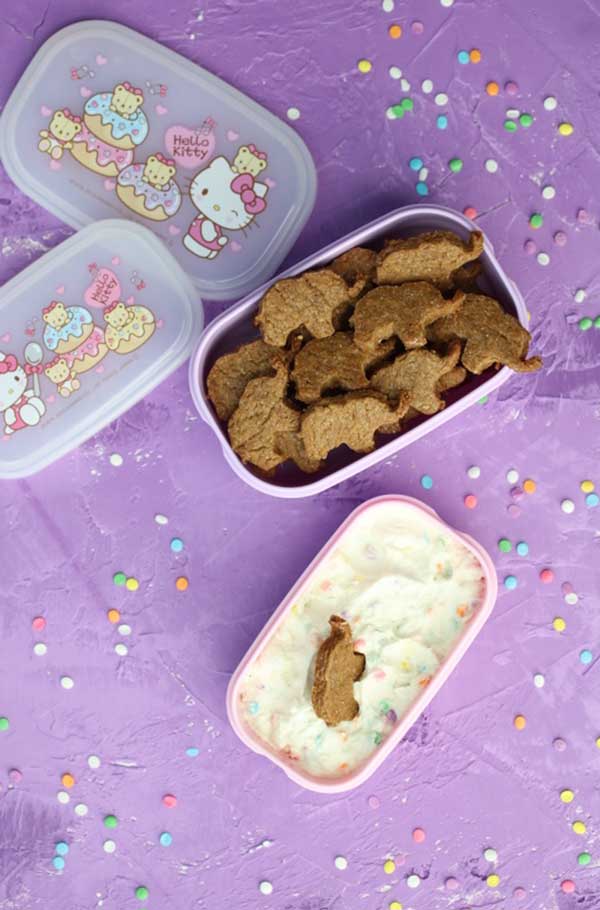 ☆☆☆☆☆☆☆☆☆☆
* I use mostly organic ingredients when I cook, but I realize that not everyone has the disposable income to purchase all organic ingredients. Therefore, I only specify organic on the ingredients that really matter - when buying the organic version is the only way to ensure that the item is vegan.