Vegan Burger Buns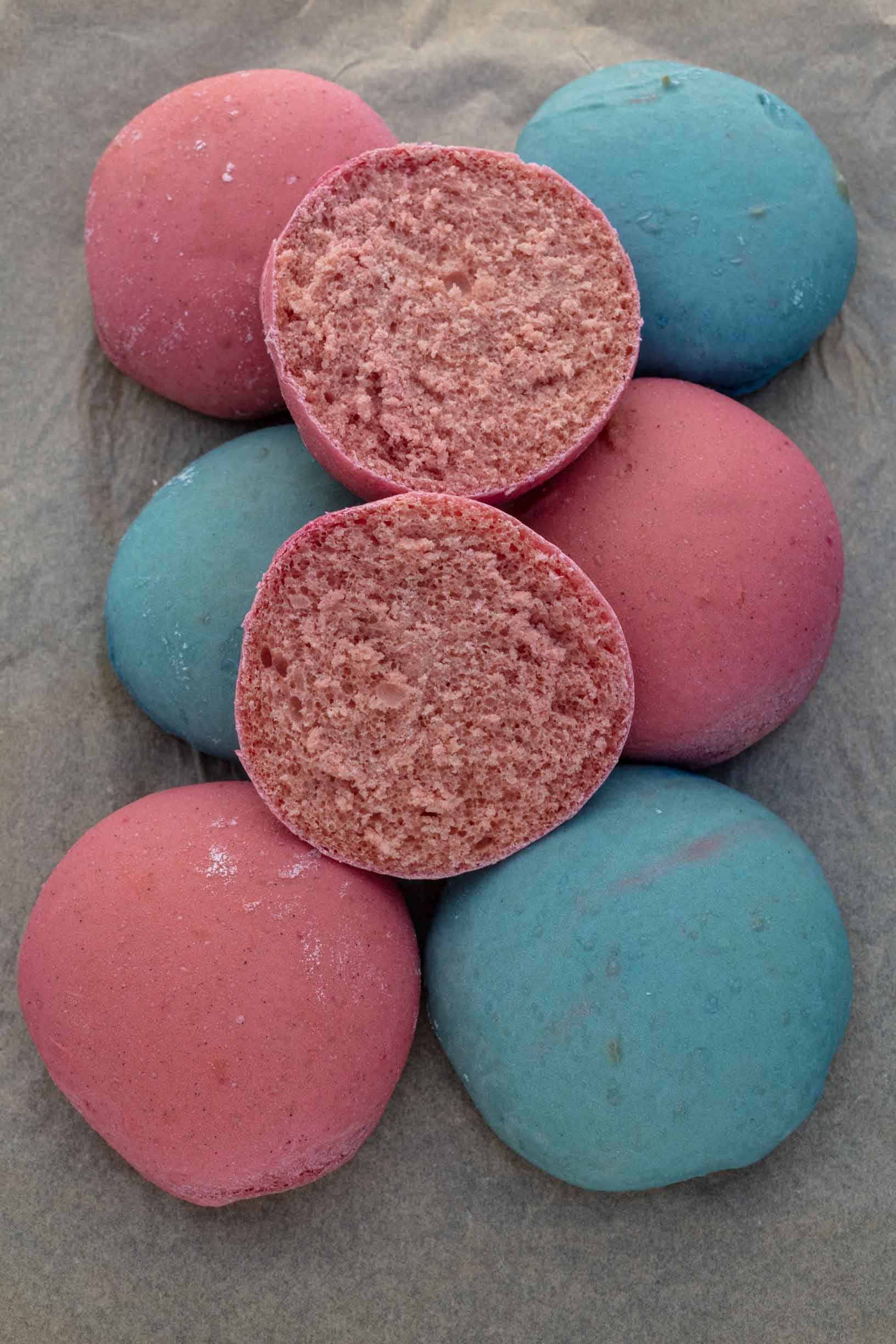 ♫ Listening to: Boys Like You by Kids at Midnight ♫
The idea for this recipe was born from my trip to Italy, where I ate at Flower Burger (multiple times). Flower Burger is an all-vegan burger place where all the buns are different colors and they're all colored naturally!
I recipe tested these buns 4 or 5 times before I got them perfect. I'm really happy with these, but just to warn you, they are best eaten fresh. I tried storing them in the fridge, and they lost that perfect consistency, and I tried freezing them and defrosting them for future use, and the consistency wasn't as good then either.
You can make these with vegan food coloring if you don't have superfoods by just omitting the superfood powders and adding the food coloring to the liquid. These buns are great for sloppy joe's or for veggie burgers, but my kiddos also just eat them plain, because they're that good.
This recipe makes 4-5 burger buns, depending how big you like them.
Colored Burger Buns Ingredients
¾ cup warm water (100º F)
1 tablespoon organic or raw sugar*
1 teaspoon yeast
225 grams all-purpose flour (1 cup + ¼ cup + 2 tablespoons)
18 grams sunflower oil (4 teaspoons) - if you avoid oil, substitute mashed avocado or sunflower seed butter
1 teaspoon salt
superfood powders (2 teaspoons beetroot powder or 1 teaspoon beetroot + 1 teaspoon pink pitaya or 1 teaspoon blue spirulina)
Colored Burger Buns Directions
Prep time: 20 min; rise time: 90 min; bake time: 13 min
Dollhouse Shortcut
If using instant yeast, skip the first step and use room temperature water instead of heating it up. Combine all ingredients together in one step.
Measure ¾ cup warm water in a glass measuring cup. If your kettle doesn't have a temperature reading and you don't have a thermometer, just heat it like you're heating a baby bottle. Test the water on the inside of your wrist.
Whisk 1 tablespoon sugar and 1 teaspoon yeast into the warm water. Let sit for around 5 minutes. Keep whisking periodically until the yeast has dissolved. This should take the same amount of time as measuring out your other ingredients.
Measure or weigh your flour in a medium bowl.
Stir in a teaspoon of salt and your superfood powder. For my pink buns, I added 1 teaspoon of beetroot powder and 1 teaspoon of pink pitaya powder (I use a mortar and pestle to break up the lumps that inherently start to spawn in your bag of pink pitaya powder once you've opened it - then I sift that). For my blue buns, I added 1 teaspoon of blue spirulina (if you order beetroot powder or blue spirulina from Ellie's Best, use the code vegandollhouse at checkout for 10% off).
Attach a dough hook to a stand mixer and combine your liquid and dry ingredients together in the mixing bowl.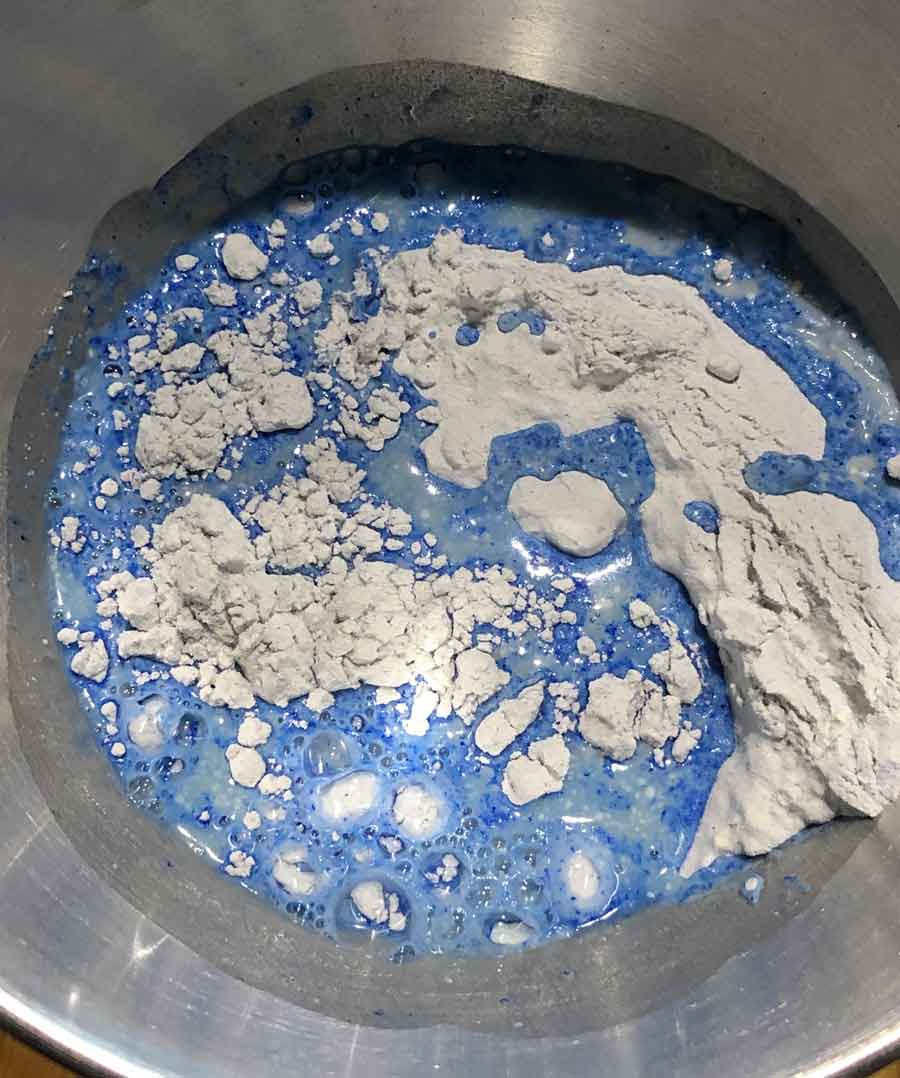 Mix on medium speed for 5 minutes, adding the oil while it mixes.
Line a lasagna pan with parchment paper on the bottom.
Dip your hands into flour before this next step, to keep the dough from sticking to your hands when you touch it.
Divide the dough into 4 or 5 equal pieces, depending on how large you want the buns. You can use a kitchen scale for this step to make sure they're all the same size, but I usually just eyeball it, and they all still bake evenly, even if they're not all the same size.
Stretch the dough over itself and tuck the edges under on the bottoms to form each round burger bun in a way that makes them smooth on top. They may not look perfect, but don't worry. Most imperfections disappear after they rise.
Set the buns into the lasagna pan lined with parchment paper leaving around an inch of space in between each one so they don't stick together when they rise.
Cover the buns with compostable cling wrap , pulling it taught across the lasagna pan so it doesn't touch the tops of the buns as they rise. If the compostable cling wrap touches the tops of the buns, they'll get brown spots on them when you bake them.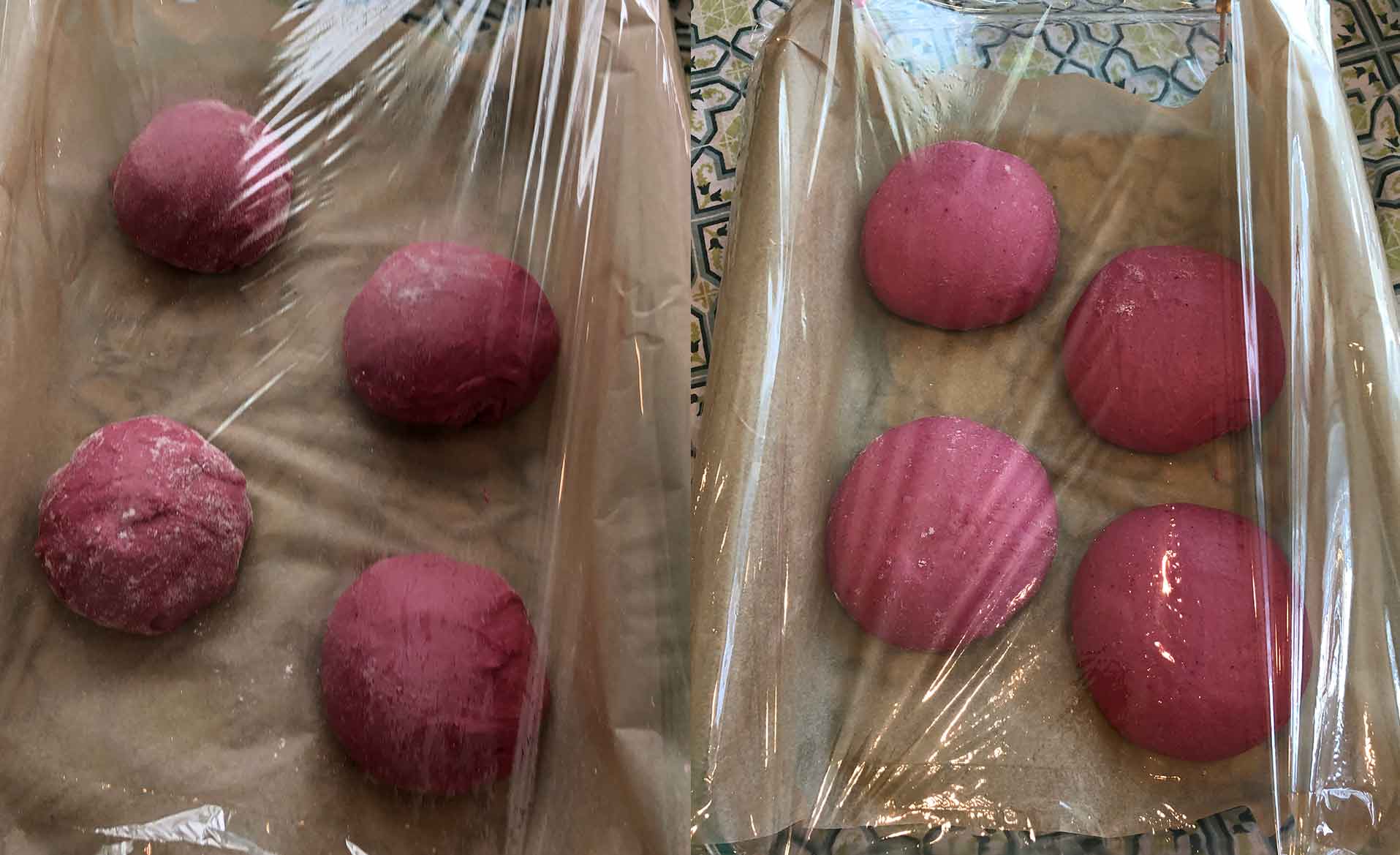 Set aside for an hour and a half to rise.
Heat oven to 400º once the buns are done rising.
Remove the cling wrap.
Bake for 12-13 minutes on the bottom rack of the oven. If you bake them on the top rack, the tops of the buns will turn brown.
Cool for a few minutes before slicing.
Leave at room temperature for up to 3 days before using, but they taste best the first day.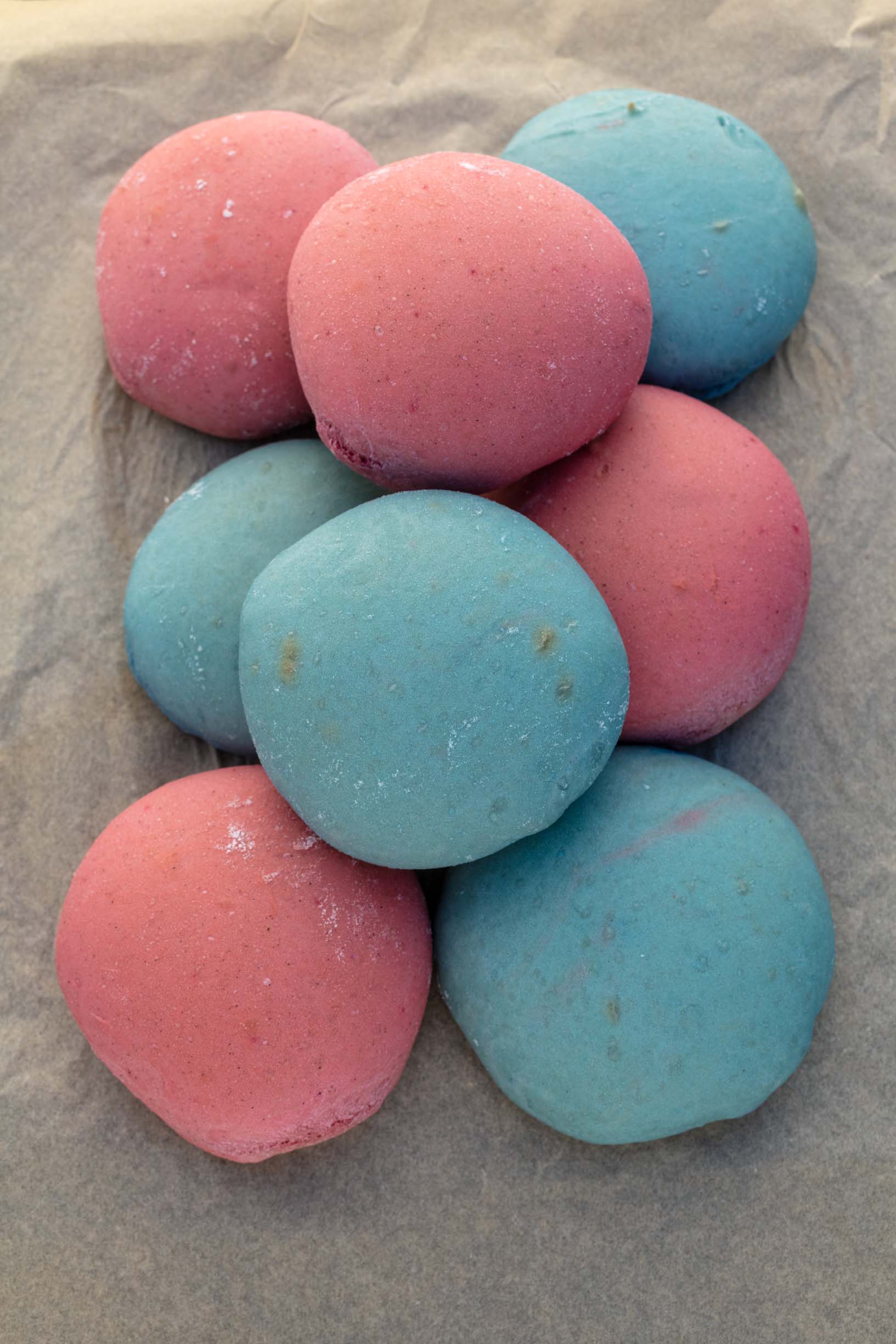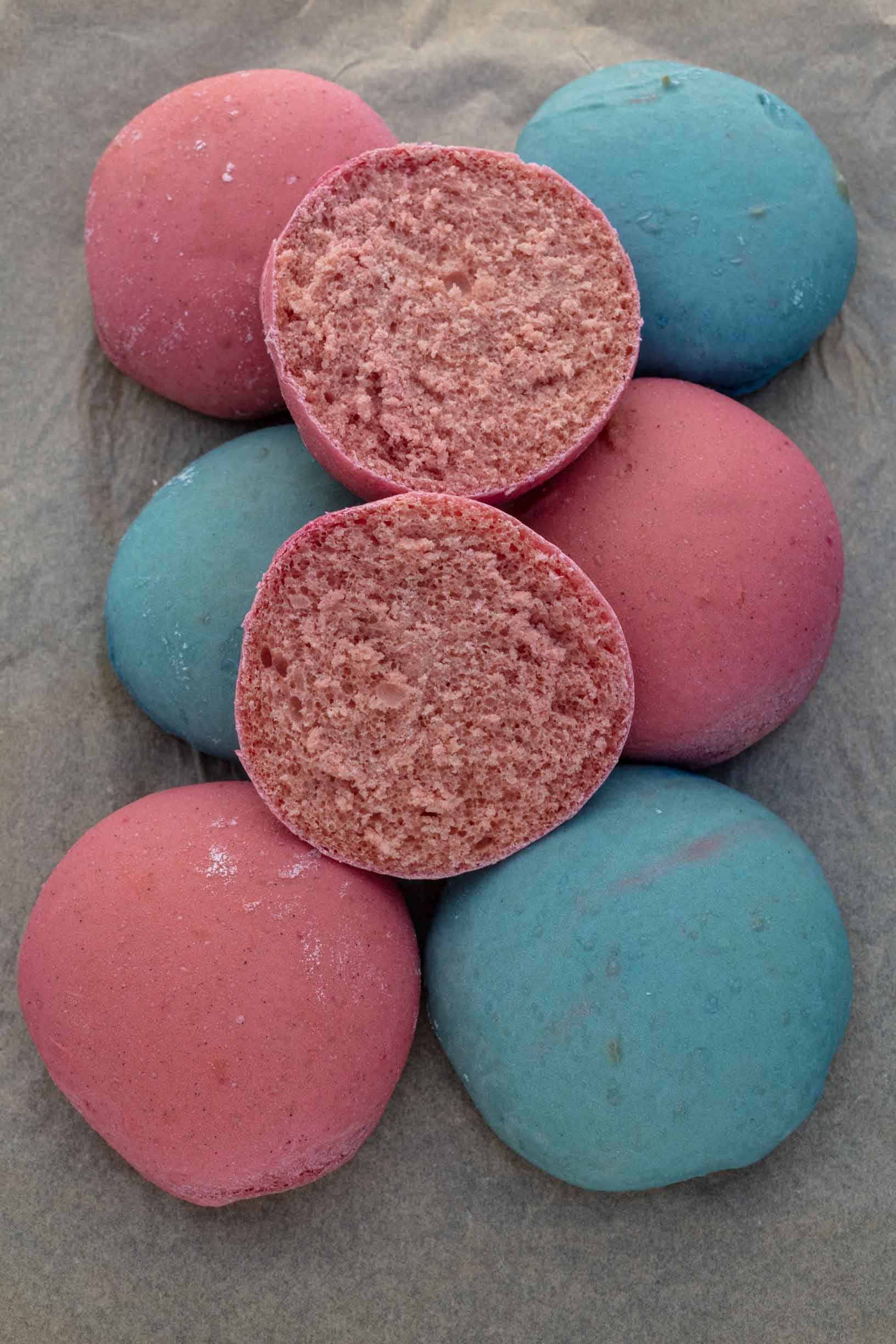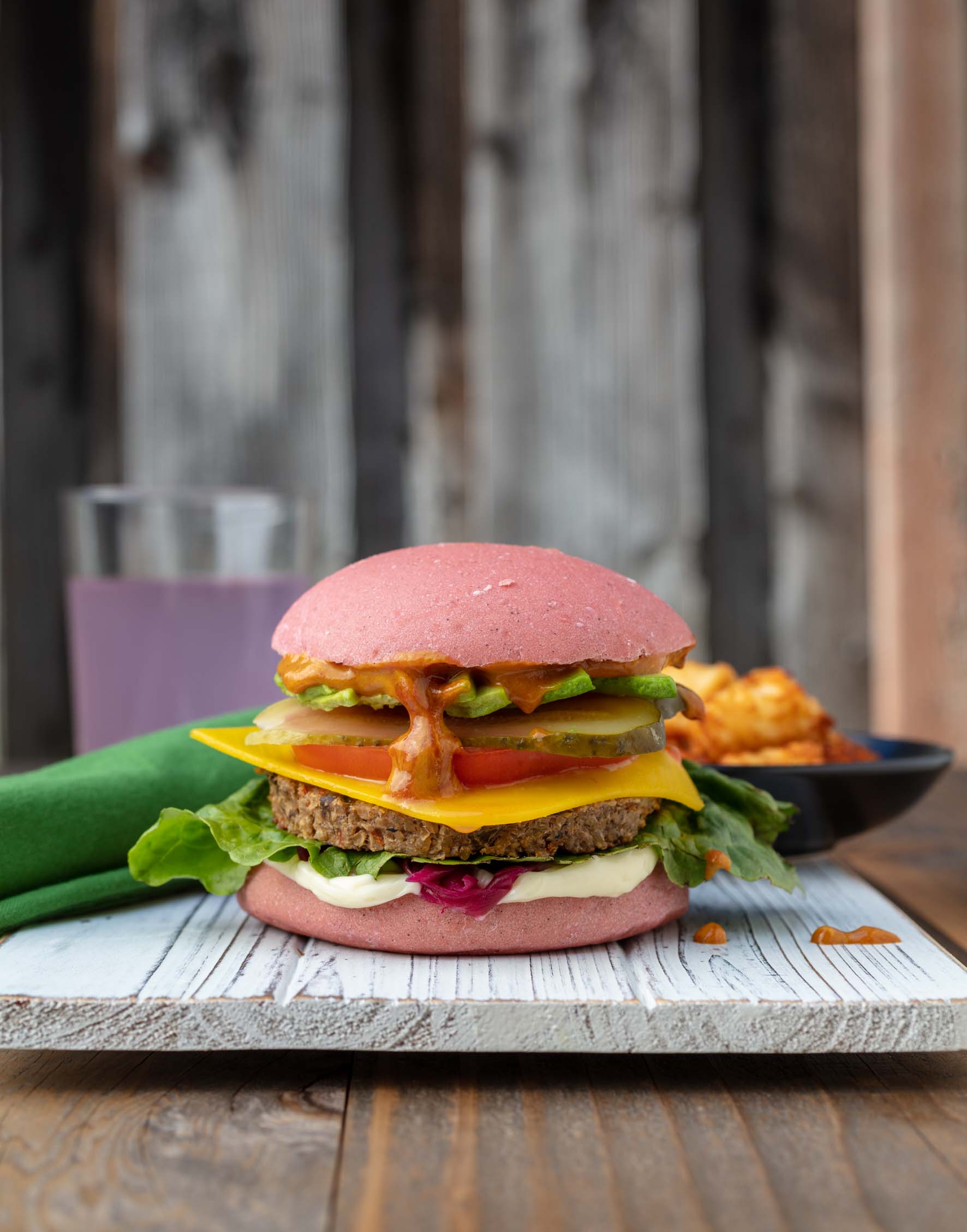 ☆☆☆☆☆☆☆☆☆☆
* I use mostly organic ingredients when I cook, but I realize that not everyone has the disposable income to purchase all organic ingredients. Therefore, I only specify organic on the ingredients that really matter - when buying the organic version is the only way to ensure that the item is vegan.