Vegan Coffee Creamer
published on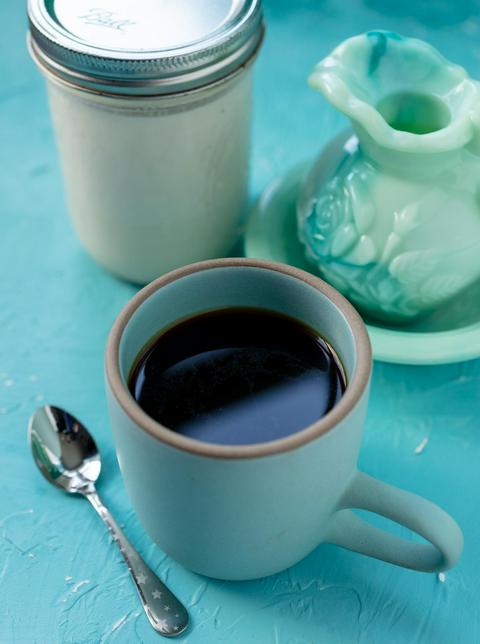 ♫ Listening to: Coffee by Beabadoobee ♫
My partner is from Spain, so once every couple of years, we trek over there to visit his family and look at castles. Spain is surprisingly vegan friendly, even in the small town where his parents live. However, the one thing that I haven't been able to find there is vegan coffee creamer.
If you know me, you know that I only drink coffee if it tastes like coffee ice cream, so I'm not the kind of person who can just suffer through a cup of black coffee. I'm more the kind of person who endorses a BYOC policy (bring your own creamer) whenever I think I'll be somewhere where there will be coffee but no vegan creamer (like conferences or other muggle events).
So, when we go to Spain, I make coffee creamer from nuts every few days. This is how I know that you can even make this with a cheap blender (I have a blendtec at home, but David's parents have a super inexpensive blender). This creamer tastes great in cold brew and in hot coffee. Or if you like frappuccinos, it's great in this cold brew cooler recipe too.
This recipe makes 1 pint of vegan creamer.
Vegan Coffee Creamer Ingredients
1 cup raw almonds (soaked in water for 8 hours or overnight)

2 cups filtered water

½ teaspoon vanilla

1-4 tablespoons organic or raw sugar (sweeten to taste)*
Vegan Coffee Creamer Directions
Dollhouse Shortcut
If you don't have time to soak the nuts overnight, you can boil them for 5 minutes instead.
Rinse the nuts well after they've been soaking for at least 8 hours. If you don't have almonds, you can also make this recipe using organic raw cashews or other nuts you like.
Blend the nuts with 2 cups filtered water, ½ teaspoon vanilla, and 1-4 tablespoons sugar (depending on your sweet tooth). If you don't use sugar, you can sweeten this with agave, maple syrup, or leave it unsweetened. On my blendtec blender , I just press the juice button, but I've used lower quality blenders to make this, and I just use the highest power for a full minute.
Place a nut milk bag over a clean bowl.
Pour the blended cream into the nut milk bag that's resting in the clean bowl.
Strain the creamer through the nut milk bag by squeezing it until all of the liquid has come out.
Store in a jar with a lid in the fridge for up to 5 days.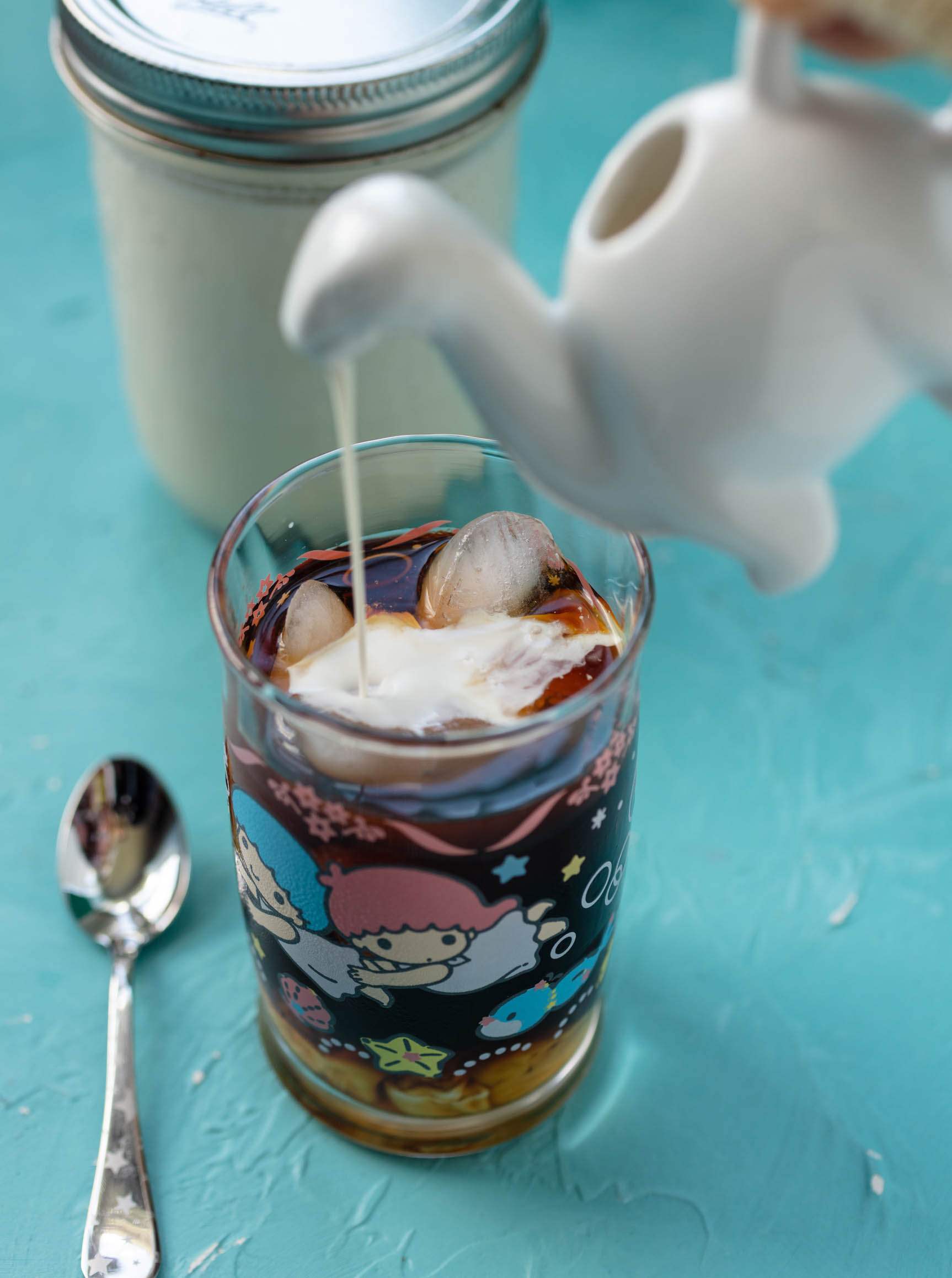 If you like my dinosaur creamer that I used for my creamer in these pictures and want one for yourself, click on the dinosaur creamer link to buy one (using my amazon affiliate links throughout this website supports me to continue making cute recipes for you).
☆☆☆☆☆☆☆☆☆☆
* I use mostly organic ingredients when I cook, but I realize that not everyone has the disposable income to purchase all organic ingredients. Therefore, I only specify organic on the ingredients that really matter - when buying the organic version is the only way to ensure that the item is vegan.