Colored Marble Cookies
published on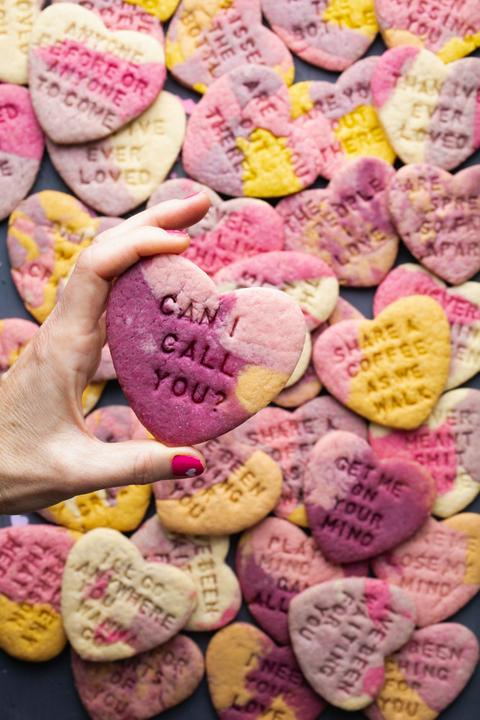 ♫ Listening to: Weakness by Alice Ivy and Sycco ♫
These deliciously soft, pillowy, chewy marble cookies are an organic and naturally colored version of a sugar cookie recipe.
Table of Contents
(click the links below to skip to the section you're looking for)
What makes these marble cookies unique?
They are soft, pillowy, and chewy
The coloring in these marble cookies is all-natural food coloring made from fruits and vegetables
The messages stamped into each cookie are completely customizable for any event or occasion
Since they are cutout cookies, they can be any shape you want
They're a very professional-looking cookie that's easy to make at home
They're easier to make and are lower in sugar than your average cut-out sugar cookies because they don't need any icing
They only use 7 ingredients and can easily be converted to a gluten-free cookie recipe
They're vegan, all-natural, and organic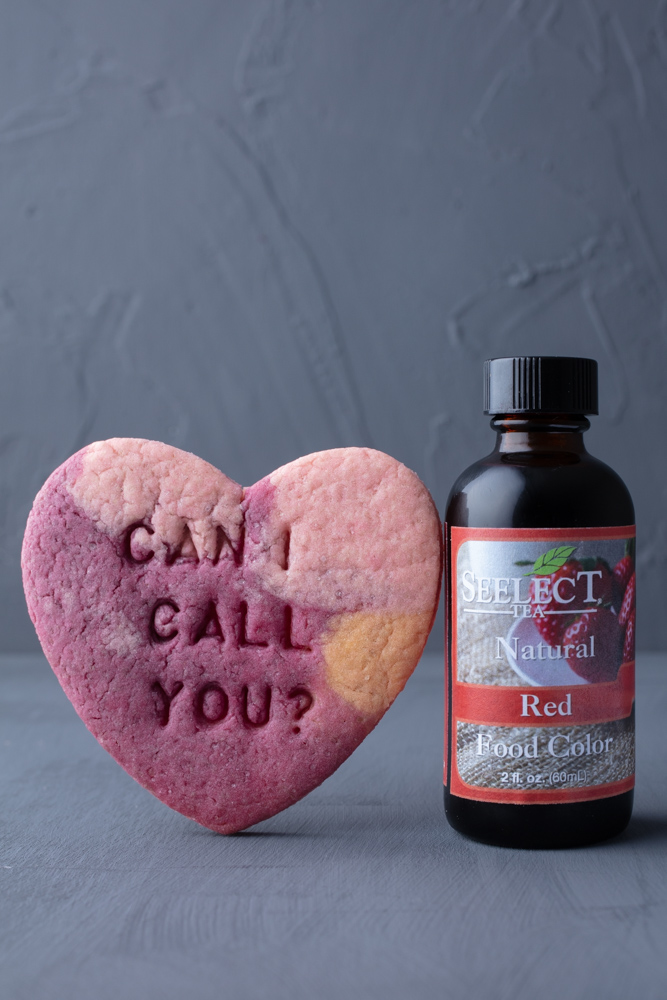 When I shared these vegan cookies for Valentine's day, some of the feedback I got was that they were lightly sweet, buttery like shortbread, and melt in your mouth. Check out my other vegan valentine's themed recipes.
This small batch recipe makes 7 conversation heart colored cookies. I multiplied the recipe by 8 (to make 56 valentine butter cookies) so I could give one to everyone I love, but if you stick to the small batch recipe, you can start and finish these cookies in and hour and 15 minutes.
¼ cup (52g) vegan, raw, or organic sugar, blended*

¼ cup (45g) vegan butter or margarine (if you avoid soy, buy the soy-free earth balance; otherwise buy the organic whipped earth balance)*

1 cup (130g) unbleached, all-purpose flour

½ teaspoon (3g) baking powder (I use non-aluminum baking powder)

½ teaspoon (2g) vanilla extract (don't use artificial vanilla, since it's not always vegan)

5 teaspoons (22g) water or plant milk

2-3 colors of vegan food coloring
Marble Colored Cookie Directions
Dollhouse Shortcut
Make the dough up to 3 days ahead of time, wrap it tightly in cling wrap, and chill it in the fridge.
Blend sugar in the blender to turn it into caster sugar, if you haven't already.
Mix the ¼ cup (45g) vegan butter and ¼ cup (52g) blended sugar on a fast speed using a stand mixer fitted with a paddle attachment for 5 minutes, stopping halfway to scrape the sides the with a silicone spatula before turning the mixer back on again. If you don't have a stand mixer, you can use a handheld electric mixer or mix by hand, but if you mix by hand, you might want to do it while you watch tv or something, because it will take awhile.
Add ½ teaspoon (3g) baking powder and 1 cup (130g) of flour to the mixing bowl, attach the pouring shield (or cover the mixer with a kitchen towel if you don't have the shield), and mix on low-medium speed.
Add ½ teaspoon (2g) of vanilla and 5 teaspoons (22g) of water or plant milk to the dough, and mix again.
Scrape the sides (and bottom) of the mixing bowl with a silicone spatula and remix. If it's still crumbly and not forming a cohesive dough, add another teaspoon of water or plant milk. Repeat until the dough looks like a ball of cookie dough.
Divide the dough. The number of balls you divide it into depends on how many colors of colored cookie dough you want to make. A single batch of this dough divides nicely into 2 or 3 colors. Uncolored can also be one of your colors. I did that for some of my vegan valentines cookies, and I really like the way they look.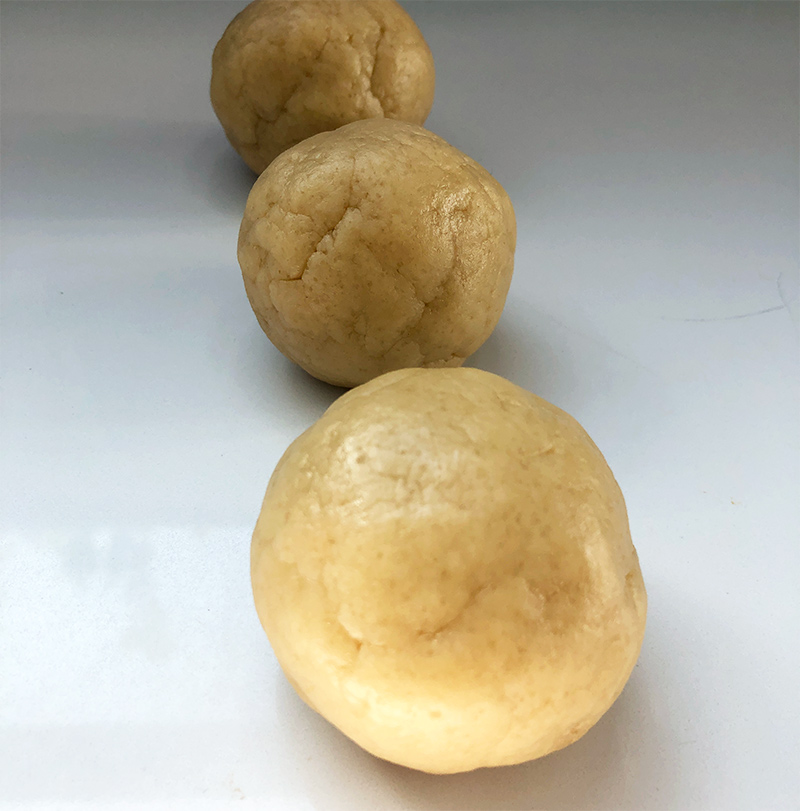 Color each ball of dough. You can do this by hand, or you can use your stand mixer fitted with a paddle attachment. Just mix until the coloring is fairly uniform. If there are still some swirls in the colored cookie dough, don't worry about that, because ultimately, these colored cookies will all be swirled. I used Nature's Flavors all-natural vegan food coloring in the following measurements.
Color 1: Purple - anywhere between 25 and 100 drops of liquid purple
Color 2: Pink - 1/32 of a teaspoon of powdered red mixed with a few drops of water (I realize that measuring spoon sets don't come with any this small, but just eyeball it)
Color 3: Yellow - 10 drops of liquid yellow + 2 drops of liquid red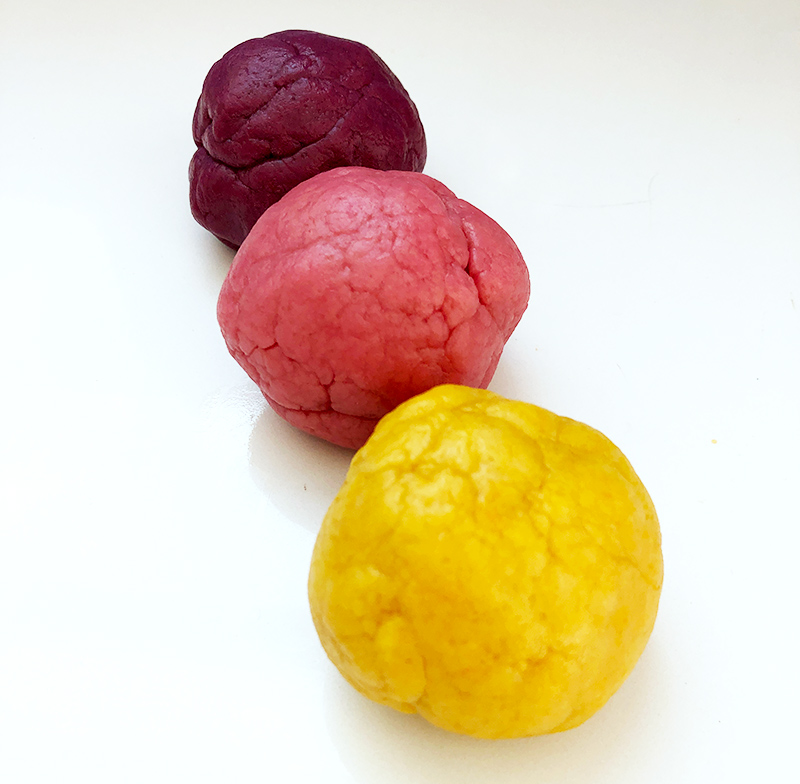 Preheat the oven to 350°.
Cut a piece of parchment paper and line a baking sheet with it.
Press all the colors of dough together to make a single tri-colored cookie dough. For slightly marbled sugar cookies, I break the dough ball in half a few times and press it back together in a different way. You want them swirled, but also want to be able to see each distinct color, so don't over mix them.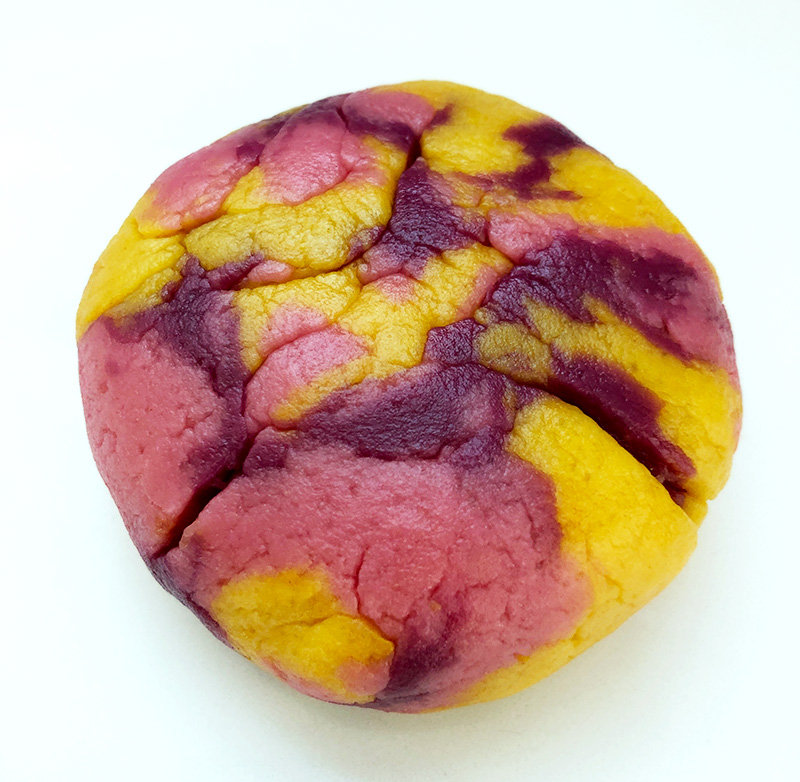 Roll that new tri-colored marble cookie dough ball you made on a rolling mat using a rolling pin set to ¼" thickness. If, at any time, the dough starts to stick to the rolling pin, do NOT add flour. I know a lot of recipes tell you to do this, but don't do it here. Instead, place a piece of parchment paper on top of the dough and roll over that. Then just peel the parchment paper off once it's all rolled out.
Cut out heart shapes as close together as possible to get as many as you can. I used the second to biggest heart from the heart-shaped cookie cutter set. You can use any shape cookie cutter you want, but I wanted vegan valentines cookies, so I used hearts.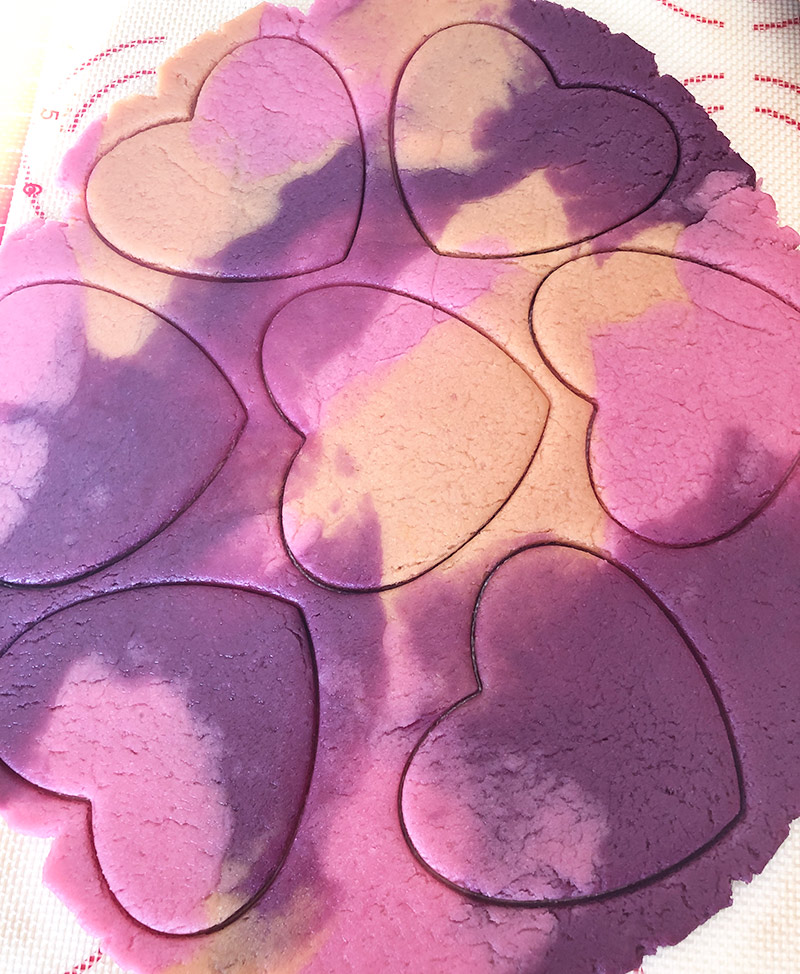 Remove all the dough scraps from around the 3 hearts and set them with the other dough for now.
Stamp messages on each marble sugar cookie using cookie alphabet stamps (this set comes with more than one of each letter, and multiples of popular letters, but there are no apostrophes, so you have come to terms with having some improper grammar…I know, the horror!). I found that pressing them almost all the way in, but not quite all the way, turns out best and rocking the letter stamps from right to left a little to make sure that there's even pressure for the entire word (so all the letters go into the cookie the same amount) results in the best looking valentine butter cookies.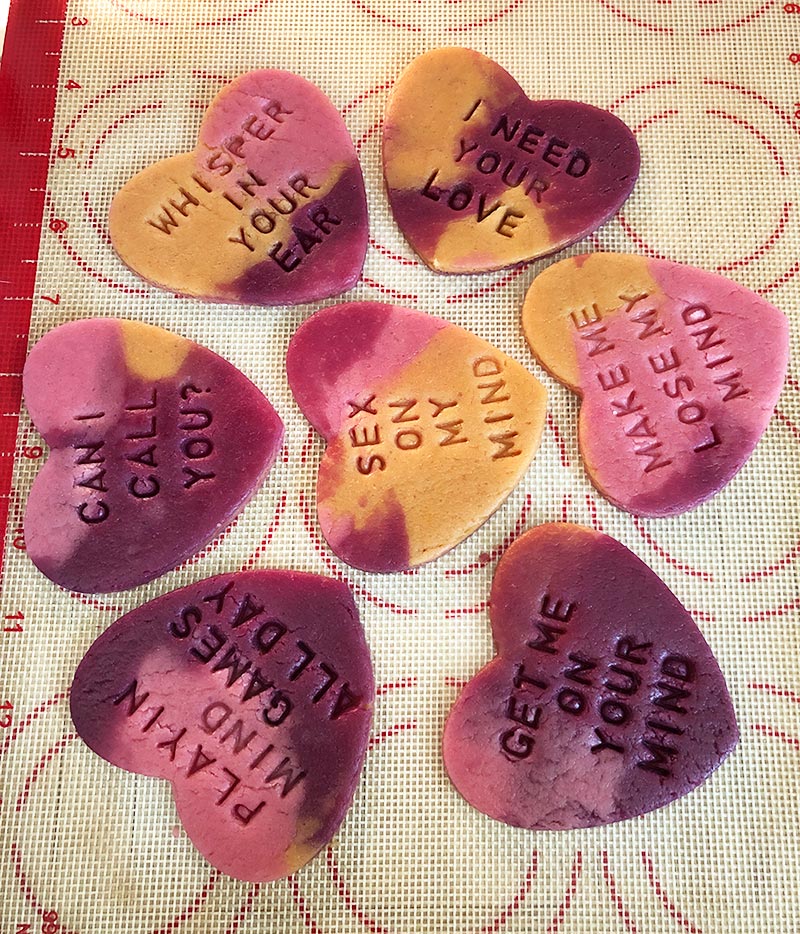 I stamped lyrics from songs I like, and if you want to play a game where you guess what songs I used, message me through instagram or email me with your guesses, and I'll tell if you're right. I may even send you a link to a custom spotify playlist I'll make with just songs that inspired these 2022 Valentine cookies.
Freeze the marble cookies with messages, for 5 minutes. This will make them strong enough for you to transfer them to the parchment-covered baking sheets without harming them.
Transfer the heart cookies from the rolling mat to the baking sheets covered with parchment paper carefully, leaving some space between each cookie for it to grow a little bit.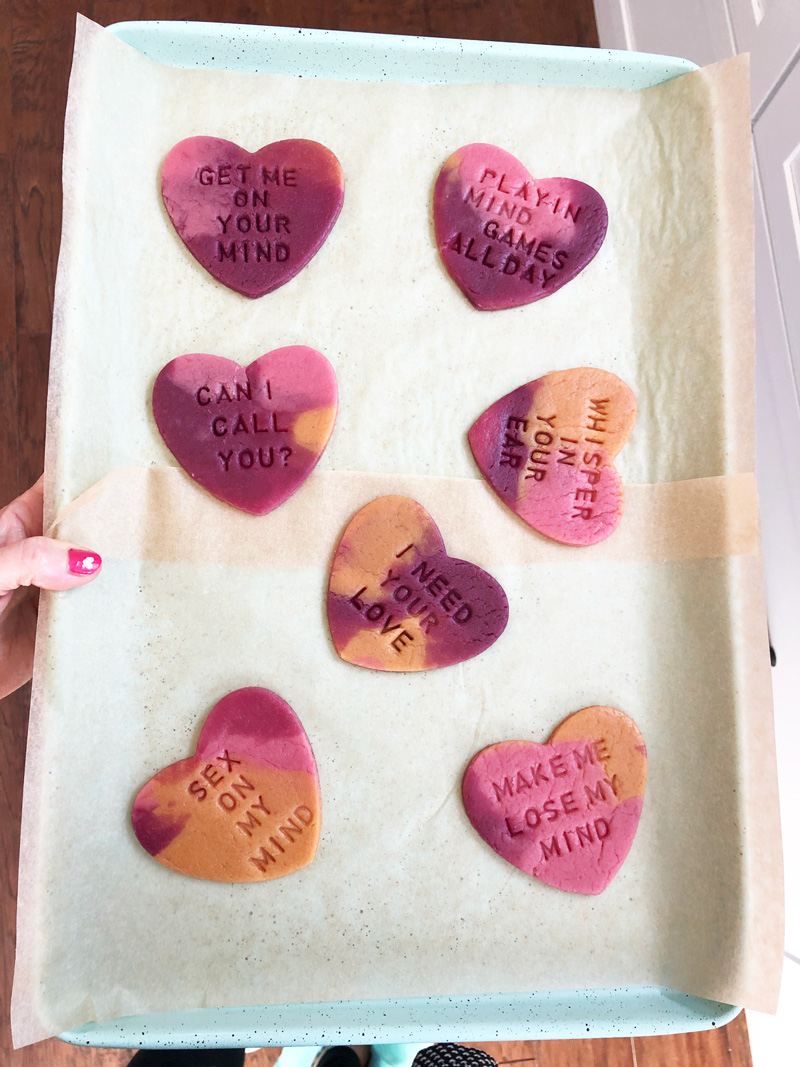 Bake in a 350º oven for 10 minutes.
Repeat the same steps with the dough scraps if you want to try to eek out another cookie. If you still have scraps, but not enough to make a whole cookie, just bake them with the rest. They won't be as cute, but don't tell them that. You don't want to hurt the scraps' feelings.
Remove the tray of baked cookies from the oven when your 10-minute timer goes off, and let them sit on the cookie sheet for a few minutes before you transfer the cookies to a cooling rack.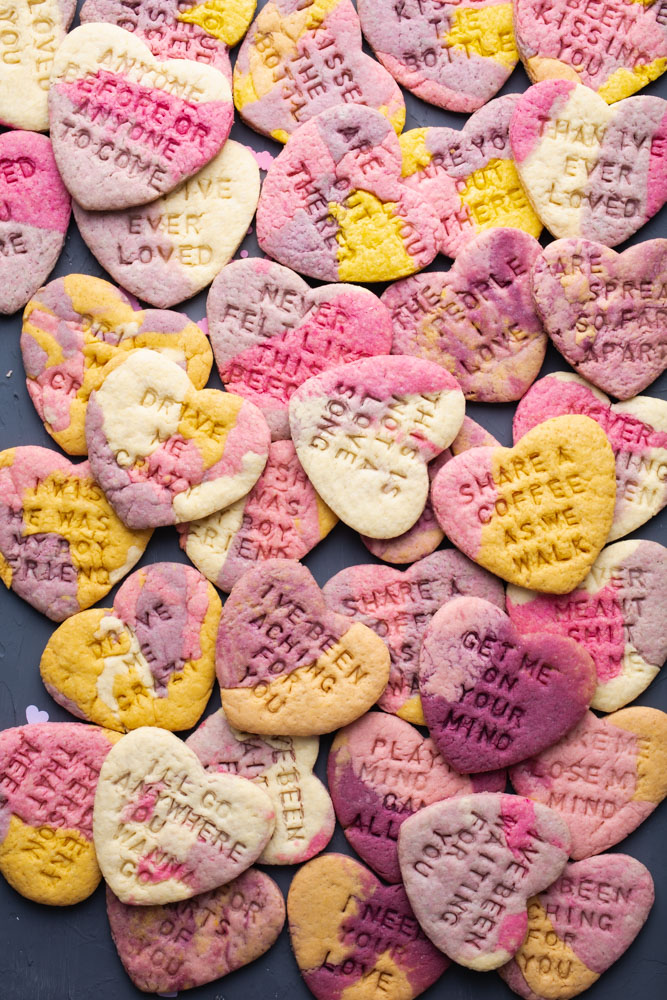 I placed these vegan Valentine's day cookies into treat bags that fit them perfectly, and then I delivered them to all my favorite vegans for Valentine's day.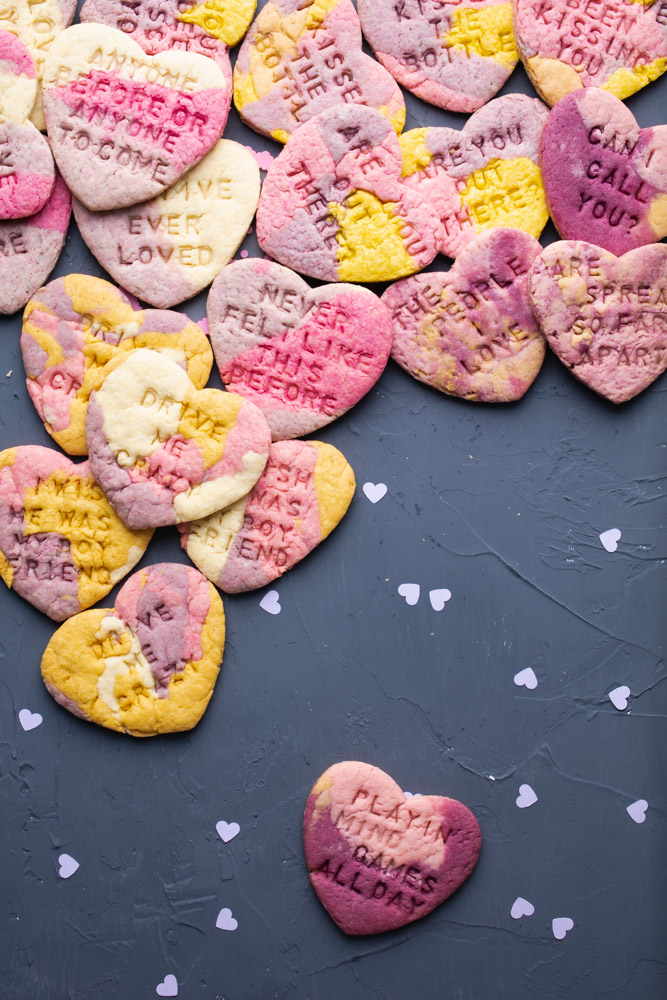 If you make these cookies, snap a pic, post to instagram, and tag me @vegandollhouse. I love to see your creations! You can also message me through instagram or email me if you have any questions about the recipe.
If you use a gel color, like wilton multi color pack of gel food colors (I often use these when I bake), use a toothpick to get just a drop out at a time. Adding color slowly allows you to be more precise with the shade you get so it doesn't come out darker than you wanted.
If you use powdered color, like activated charcoal (this would be fun for a goth Valentine's day cookie or moon cookies for Halloween), mix it with a few drops of water before you add it to the dough.
Get creative and make a custom color by mixing 2 or more other colors. That's how I made the peach and orange colors you see in these valentine cookies.
Food coloring should also be called hand coloring! If you are making these right before an event where you don't want dye all over your hands and you want to be presentable, wear vegan disposable gloves anytime you handle the colors. I keep a pair of these in my food coloring drawer in the kitchen and reuse them (I know they're supposed to be disposable, but I just wash my hands with the gloves on and then let them dry and they can be reused over and over).
Can I make the dough ahead of time?
Yes, you can make the dough for this tri colors cookie recipe up to 3 days before you want to bake the cookies. Once you have your tri-colored ball of cookie dough, shape it into a disc and wrap it in plastic wrap to set in the fridge.
How long do the cookies last? How should I store the cookies?
If you have a trick for making cookies last a long time, please tell me, because I'm eating 4-5 of these a day, and I'm worried that I might not be able to save any for my valentines!
If you're eating or giving them away within a week, just store them in an airtight container (tupperware) on the counter. If you made these more than a week before you plan to give them to people (like I did), you can store the tupperware in the freezer for up to 3 months. One thing I do recommend though, is to place a little piece of parchment paper (or wax paper) in between each one if you stack them, to make sure they don't stick to each other. Always make sure your cookies have cooled completely before transferring them to tupperware.
If you're mailing them to your valentine, wrap them tightly in cling wrap or place them in sealable treat bags and then wrap them in bubble wrap to keep them from breaking during their journey.
Can I make more than 7 cookies?
If you want to triple or quadruple the recipe to make a lot of cookies, you should block off a lot more time to make this recipe. Stamping custom messages in the marbled sugar cookies takes some time, so if you don't have a good chunk of a day to make the cookies, you can try saving time by skipping the messages and just making marble heart cookies. I multiplied this recipe by 8 when I made them, and I spent about 8 hours in the kitchen.
How can I make rainbow cookies with this recipe?
If you double or triple this recipe, you can divide the cookie dough into 6 balls, and color each one of the colors of the rainbow. Then divide each of those 6 colors in half and press them together in the order of the colors in the rainbow to make 2 rainbow-colored balls of cookie dough. Then when you roll out the dough and cut out the cookies, you'll make rainbow-colored cookies. And if you want them to taste like Italian rainbow cookies, just use almond extract in place of the vanilla extract.
I hate Valentine's Day and think it's a bullshit commercial holiday. Is there a way to make this cookie recipe into something cooler?
Yes, totally! At the heart of it (no pun intended), these are just vegan butter cookies, right? So if you want to take Valentine's day out of the cookie recipe, I suggest ditching the heart shape and choosing a different cookie cutter. I recommend this bat cookie cutter or this coffin cookie cutter or honestly, just a jar lid to make them round. Color the dough black and purple or any color for any occasion. This recipe is super customizable. You can even skip coloring the dough and just add vegan sprinkles to the tops before you bake them. Another upside to skipping the part where you stamp messages on the cookies is that you'll save a ton of time.
Can I covert this marble cookie recipe into a chocolate chip cookie recipe?
I would recommend checking out my process for my rainbow chocolate chip cookies recipe, as well as for my chocolate chip cutout cookie recipe.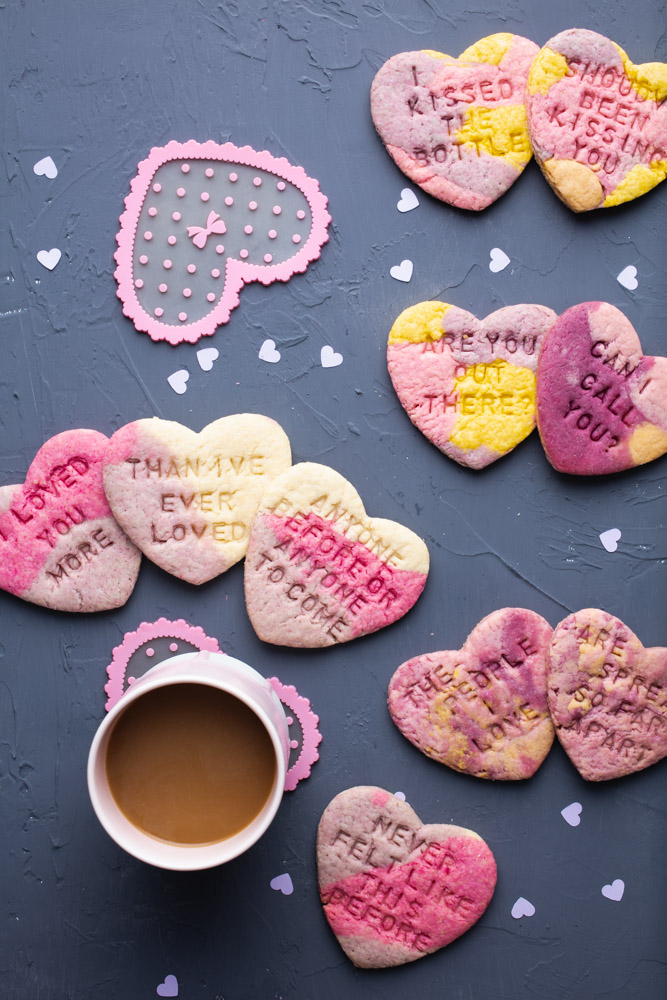 Butter: If vegan butter or margarine is hard to find or not something you have in your house, you can use an equal amount of coconut oil in its place.
Sugar: If you don't have a blender to blend sugar, you can use organic powdered sugar or granulated vegan, raw, or organic sugar or brown sugar. Powdered sugar will have a better result, but either will work. Just be careful of conventional granulated sugar, because it's sometimes not vegan.
Flour: If you avoid gluten, or if you have friends or family who are gluten free, you can easily substitute the all-purpose flour with a gluten-free flour blend to make these cookies gluten free.
Flavoring: If you want to get creative, substitute the vanilla extract with another flavor or extract. Just make sure it's vegan!
☆☆☆☆☆☆☆☆☆☆
* I use mostly organic ingredients when I cook, but I realize that not everyone has the disposable income to purchase all organic ingredients. Therefore, I only specify organic for the ingredients that really matter - when buying the organic (or non-GMO) version is the only way to ensure that the item is vegan.
This post was made possible thanks to the support of Nature's Flavors. All content and opinions are unbiased and entirely my own.
If you click on a link in this website and buy something (not all links - just affiliate links), I could receive a tiny commission. But the price you pay will NOT change. It's an easy way to support this blog without anything coming out of your pocket. So click often! Thank you!
☆☆☆☆☆☆☆☆☆☆