Pizza Cones
published on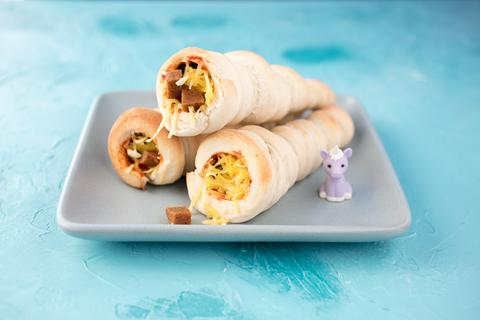 ♫ Listening to: Okay by Holy Ghost! ♫
I've been inspired to make these pizza cones for so long. It started when I was in Japan and had a dessert cone that looked like a unicorn horn croissant stuffed with chocolate ganache. I later learned that it was called a cornet or korneto. Then, Jaycee made vegan pizza cones and posted them on his instagram. His look bigger than the ones I'm making, but my cone molds are petite, so that means my pizza cones will be petite as well. If you're looking for a heartier pizza snack, check out my other pizza recipes: pizza recipe 1 and pizza recipe 2.
This recipe makes 6-12 cones, depending on how thinly you roll your dough.
Pizza Dough Ingredients
1 tablespoon yeast
1 cup warm water (I use around 110 degree water)
1 teaspoons raw sugar
2 ½ cups flour
1 teaspoon salt
½ teaspoon garlic powder
2 tablespoons nutritional yeast
extra flour for dusting rolling surface
Pizza Dough Directions
Mix the yeast, water, and sugar in large bowl. Add 1 ½ cups of the flour. Mix well to blend. (I use my kitchenaid for this because I'm too out of shape to knead dough without getting winded, haha)
Add the salt, garlic, nutritional yeast, and remaining flour and stir well.
Place the dough to a flour covered board. Dust your hands with flour. Knead for 5 minutes, adding flour if it gets too sticky. (Or, use your kitchenaid if you want to save your energy for throwing a ball for your pup in the backyard.)
Roll dough into a ball and place into a lightly oiled bowl. Cover bowl with towel and set in a warm place for 45 minutes to rise. Since it's winter, and my house is coldish (hey, I can call below 73 degrees cold if I want to), I set it on my stove and turn the oven to 200 degrees.
Pizza Cones Ingredients
1 tablespoon olive oil
pizza sauce (I usually mix one 15 oz can of organic tomato sauce with one 6 oz can of organic tomato paste, and add basil, oregano, and garlic powder)
½ package grated nondairy cheese (I used Violife Gouda for Pizza, but their Mozzarella is super good too)
Any other pizza ingredients you like, cut into very small pieces
Pizza Cones Directions
Preheat the oven to 450°.
Roll some pizza dough into a long snake (I found 2 feet to be a good length). I use this rolling mat because it's big enough for all my pizza projects.
Brush the outside of the stainless steel cones with olive oil to keep the dough from sticking to them.
Wrap the snake around the cone, starting at the bottom, so that there are no gaps or holes.
Set on a baking stone, upside down. Repeat with remaining cones.
Bake for 7 minutes. Cool.
Slide off of metal cones, and rebake for 4 minutes.
Oil and snake-dough-wrap the cones again, if you still have remaining dough.
Stuff the twice baked dough cones with a dollop of cheese. I used the wide end of a chopstick to push it all the way to the botom.
Spoon a spoonful of sauce into the cone, using a chopstick to spread it around the entire interior of the cone in a swirling motion.
Fill each cone with toppings. I used sautéed mushrooms and spinach, and vegan pepperoni (I make my own using this recipe).
Stuff some extra cheese on the top, and set on a baking stone.
Bake again to melt the cheese (~4 minutes).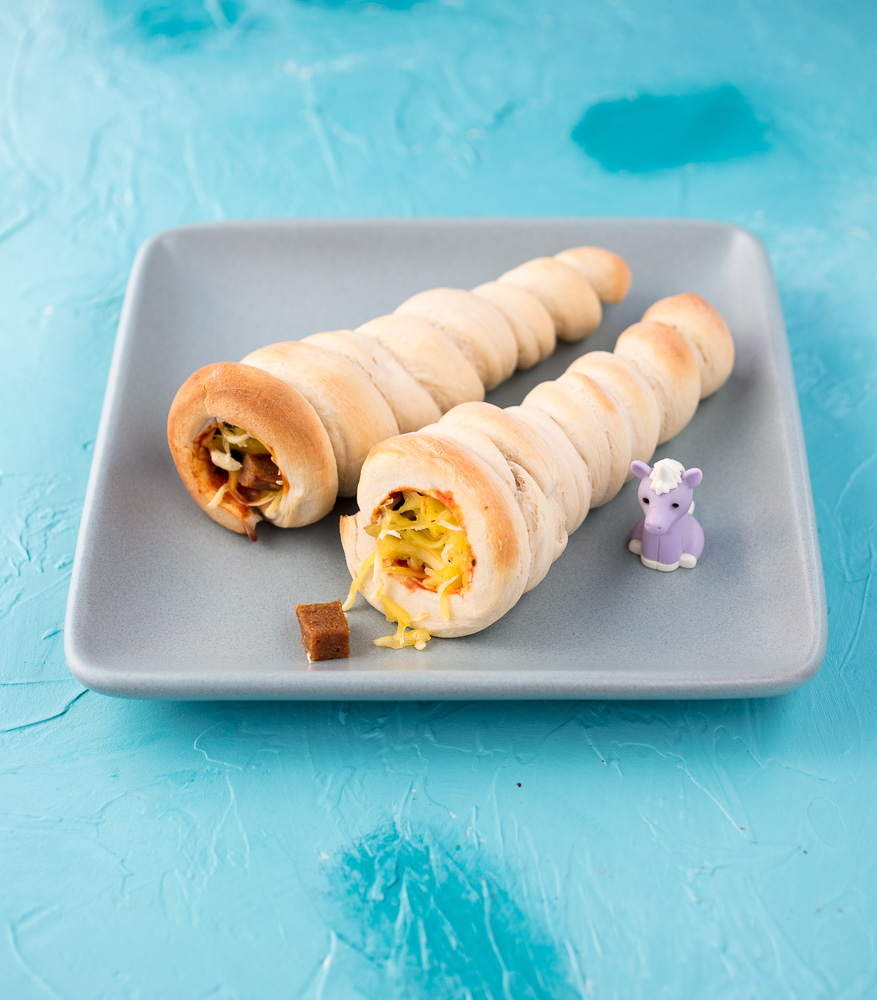 ☆☆☆☆☆☆☆☆☆☆