Vegan Pepperoni Pizza Donuts
published on
♫ Listening to: Swing Life Away by Rise Against ♫
I've made a lot of pizza recipes in my day, (evidence and more evidence, and let me just say that these pizza donuts are by far my new favorite way to consume pizza. These are even better than the pizza rolls at Timeless Coffee (our all-vegan coffee shop in the bay area)! This is a perfect recipe for anyone who has purchased donut pans and is looking for another way to use them, in order to justify the precious kitchen space they're hogging. I'm already using this recipe to lure friends over for a slumber party. That's how good they are! You too can have adorable pizza donut slumber parties. Just keep reading to find out how.
This recipe makes 24 pizza donuts (depending how thinly you roll your dough). They stay good in the fridge for up to a week, but you can also freeze them for future lunches.
Vegan Pizza Dough Ingredients
2 cups (450g) warm water (around 110 degrees)
4 teaspoons (16g) active dry yeast
2 teaspoons (11-12g) sugar (I used organic evaporated cane juice)
5 cups (650g) flour (I've used unbleached all-purpose and bread flour)
2 teaspoons (14g) salt (I use pink sea salt because it has nutrients in it)
1 teaspoon (3g) garlic powder (optional)
Vegan Pizza Dough Directions
Dollhouse Tip
If you don't have a stand mixer or a bread machine, all of this kneading can be done by hand on a well-floured surface.
Whisk 4 teaspoons (16g) yeast, 2 cups (450g) warm water, and 2 teaspoons (11-12g) sugar in large bowl. Set aside for a few minutes.
Measure 3 cups (390g) of the flour into another bowl.
Add 2 teaspoons (14g) salt and 1 teaspoon (3g) optional garlic powder to the bowl with the flour.
Combine the seasoned flour and the yeasted water together in the bowl of a stand mixer fitted with the dough hook and turn onto low speed at first, followed by incremental increases in speed when you're certain that none of the ingredients will fly out the top.
Scrape the sides and bottom (after stopping the mixer) of the mixing bowl using a silicone spatula if it seems like there is still flour not getting mixed in.
Measure the last 2 cups (260g) of flour into the bowl you used before while the stand mixer is mixing.
Add the last of the flour while the stand mixer is stopped and turn it back on the lowest speed so that the flour doesn't try to have a raging party in your kitchen.
Increase the speed on your stand mixer to no more than speed 2, once you're certain that no flour will fly out.
Mix for around 5 minutes, adding flour if it gets too sticky (I usually end up adding up to a half a cup of additional flour while it mixes, but I add it slowly, spoon by spoon).
Coat the inside of your largest bowl with olive or other vegetable oil. If you avoid oil completely, you can skip this step, but it's gonna make it harder to get the dough out of the bowl later.
Transfer the dough from the stand mixer to the oiled bowl once the dough stops sticking to the sides and bottom of the mixing bowl.
Form the dough into a ball in the bottom of the oiled bowl with the seam on the bottom.
Cover the bowl with towel or a lid and set in a warm place for 45 minutes to an hour to rise.
Vegan Pizza Donut Filling Ingredients
Dollhouse Shortcut
You can buy organic pizza sauce from the store instead of making it from scratch.
1 can organic tomato sauce (15 ounce)
1 can organic tomato paste (6 ounce)
1 teaspoon basil
1 teaspoon oregano
½ teaspoon thyme
½ teaspoon garlic powder
½ teaspoon onion powder
½ teaspoon pepper
½ teaspoon salt
vegan pepperoni, chopped or sliced
vegan mozzarella cheese (grated or crumbled)
Vegan Pizza Donut Filling Directions
Oil all of your donut pans well. This is important so that your pizza donuts come out easily.
Mix together all the sauce ingredients in a bowl (everything except the cheese and pepperoni).
Preheat the oven to 400º.
Knead dough again. You should have around 2.5 pounds of dough (or 40 ounces). Each pizza donut takes between 1 and 2 ounces of dough. Grab a handful (if you have a scale, you can weigh out 2 ounces, or you can just wing it like I do) and roll as thinly as possible on a floured board or silicone mat. I use this rolling mat to make my pizza life and cleanup SO MUCH easier!
Cut out large circle shapes (I used a lid to a gallon sized jar, which had a diameter of ~11cm or 4.5in).
Spread the sauce lightly leaving the edges unsauced, and then add pepperoni and cheese.
Fold the edges into the center, press down to seal, and make a hole with your thumbs.
Stick into one of the greased spots, and repeat until the pan is filled.
Here's a video showing how I do it.
Bake for 15 minutes at 400º. Remove from oven and let cool.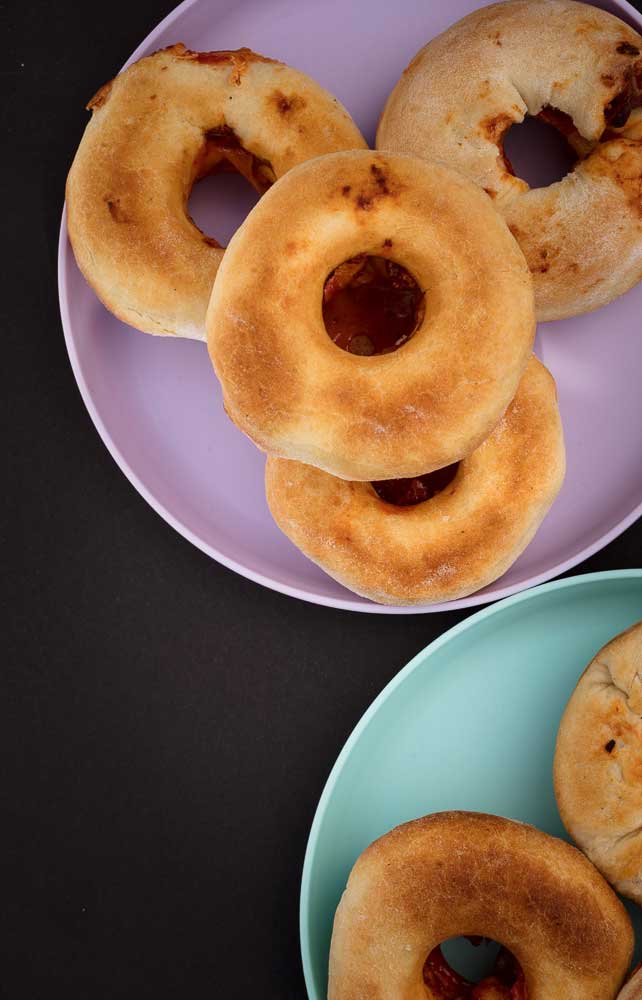 Serve with moscow mule mocktails for the best night in you've ever had.
☆☆☆☆☆☆☆☆☆☆
* I use mostly organic ingredients when I cook, but I realize that not everyone has the disposable income to purchase all organic ingredients. Therefore, I only specify organic on the ingredients that really matter - when buying the organic (or non-GMO) version is the only way to ensure that the item is vegan.