Vegan Red Panda Carrot Soup
published on
♫ Listening to: The Call of the Mountains by Eluveitie ♫
Have you heard that there's a new(ish) Sanrio character? Aggretsuko is a cute red panda, she works in an office, and she listens to metal! This easy healthy carrot miso soup recipe is inspired by her. This recipe makes 2 large bowls of soup for entrees or 4 small bowls of soup as a side dish or an appetizer. If you like this soup, you might also like my pikachu soup, which can also be made with winter squash, depending what season it is. If you prefer to serve soup as an appetizer, I recommend this entree to go with it.
Vegan Red Panda Carrot Soup Ingredients
Dollhouse Shortcut
To save time, you can either decorate store-bought soup or serve this homemade soup without the panda face.
2 tablespoons olive oil (if you avoid oil, use water instead)
1 onion chopped
2 stalks of celery chopped (optional)
4 cloves chopped garlic
1 pound of carrots, thinly sliced
1 tablespoon freshly grated ginger
2 cups vegetable broth (if using an instant pot , reduce liquid by half a cup)
1 tablespoon miso
Vegan Red Panda Carrot Soup Directions
Sauté the diced onion in olive oil, stirring frequently over low-medium heat until translucent and then add the garlic. If using an instant pot for this soup recipe, use the sauté button for this step.
Wash and chop 2 stalks of celery. Add to the onions and continue to sauté.
Wash and chop a pound of carrots. If you only bought a pound of carrots, save the large half of the largest carrot for garnishing before chopping the rest.
Add the chopped carrots to the onions, celery, and garlic, and continue to sauté.
Grate a chunk of ginger into a bowl until you have a tablespoon. Add to the pot.
Add the broth and miso to the pot.
Press the soup button on the instant pot after locking the lid and sealing the vent (if your instant pot has that mode), and turn off the keep warm feature. If you're using a large pot on the stove, use high heat until it starts to boil and then reduce heat to a simmer. Simmer for 30 minutes on the stove or until the carrots are cooked.
Cut your garnishes while you wait (see next set of directions).
Blend the soup using an immersion blender once it's done cooking. Be careful not to splatter any on yourself since it's very hot. I may or may not be speaking from painful experience.
Ladle into bowls and garnish.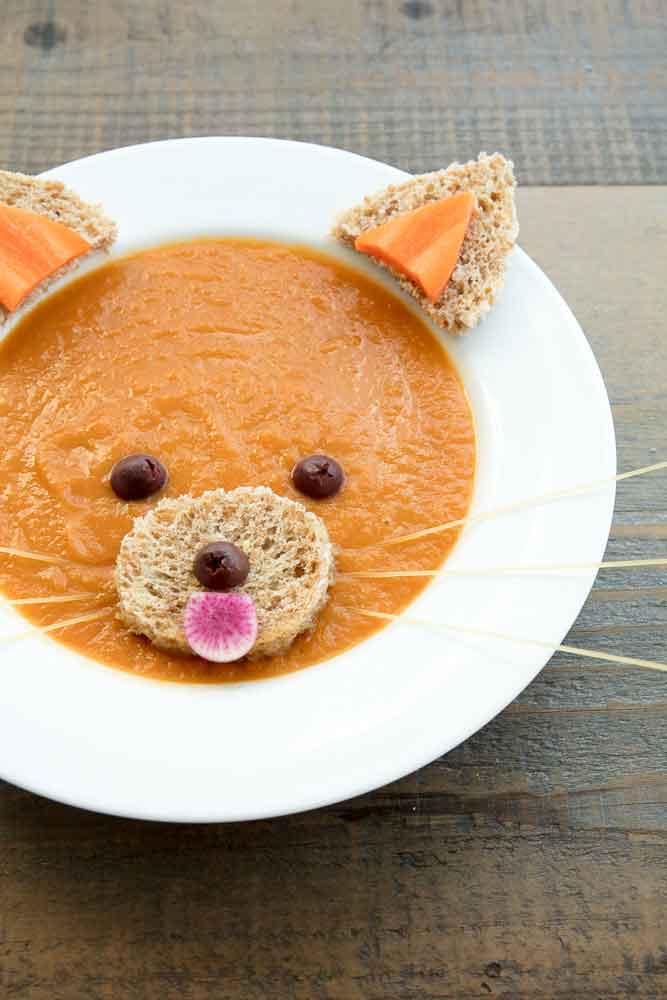 Vegan Red Panda Facial Features Ingredients
The measurements given below are for decorating two bowls of red panda soup. To decorate only one, please half the measurements.
4 slices of bread (use gluten-free bread if you avoid gluten)
2 lengthwise slices of a wide carrot
6 kalamata or black olives
2 slices watermelon radish
3 pieces of raw spaghetti
Vegan Red Panda Facial Features Directions
Cut 2 oval/circles from 2 of the bread slices. These are the nose/mouth area.
Cut 4 triangles from the other 2 slices of bread. These are the ears.
Cut 4 triangles from the carrots. These are the inner ears.
Cut 2 tongues from the pinkest parts of the watermelon radish slices.
Cut the closed ends off of 6 olives. These will be the eyes and noses.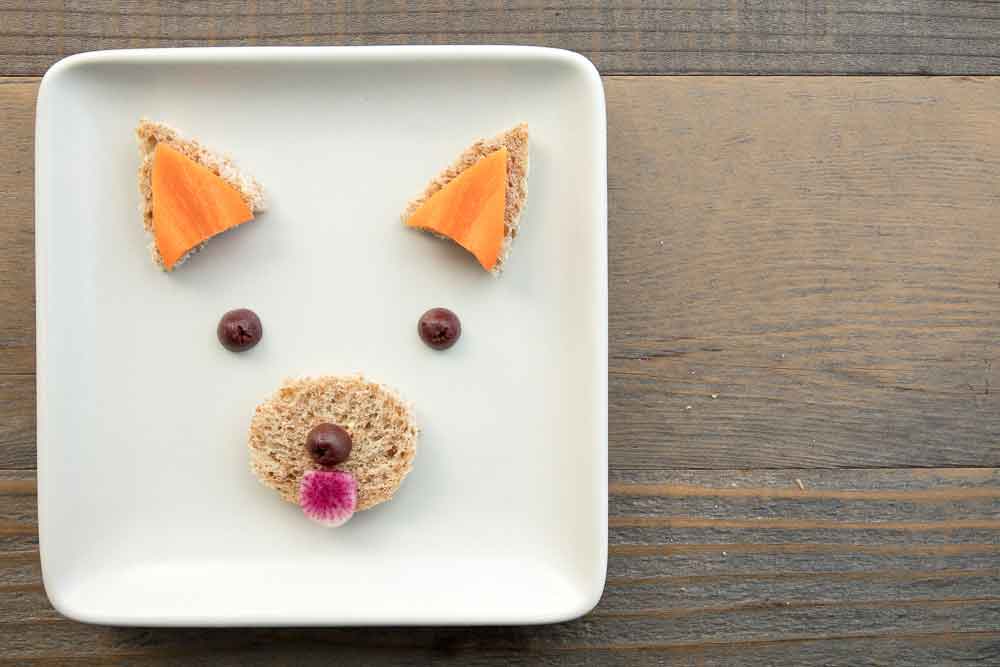 Break the dry spaghetti in half. These are the whiskers.
Place the facial features onto the soup once it has been ladled.