Pizza Pinwheels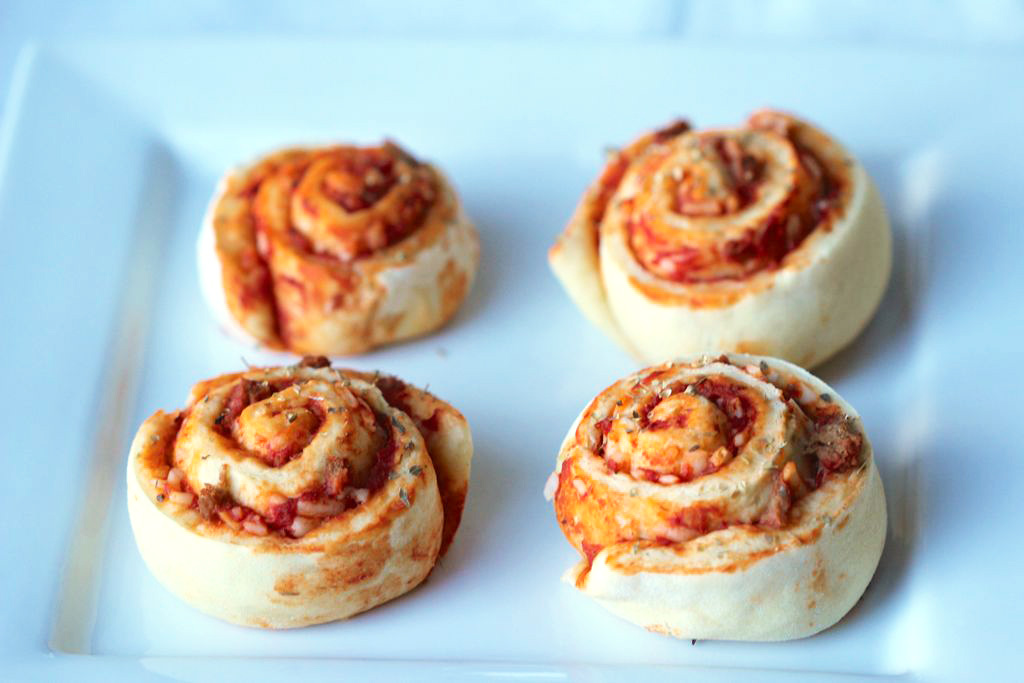 ♫ Listening to: Chain My Name by Poliça ♫
Pizza Dough Ingredients
1 ½ tablespoons active dry yeast
2 cups warm water (I use around 105º water)
2 teaspoons raw sugar
5 ½ cups flour
2 tablespoons olive oil (optional)
1 tablespoon salt
1 teaspoon garlic powder (optional)
2-4 tablespoons nutritional yeast (optional)
extra flour for dusting rolling surface
Pizza Dough Directions
Dollhouse Shortcut
If you're low on yeast and can plan ahead, you can do an overnight rise using only 1 teaspoon of yeast. Just whisk together the salt, teaspoon of yeast, and 4 cups of the flour. Then mix in the 2 cups of water (any temp) and cover the bowl to leave on the counter overnight. The next day, when you're ready to make the pizza, knead the dough with the other cup and a half of flour (and optional ingredients).
Mix the yeast, water, and sugar in large bowl. Add 3 cups of the flour. Mix well to blend. (I use my stand mixer for this because kneading dough is my nemesis.)
Add the oil, salt, garlic, nutritional yeast, and remaining flour and stir well.
Place the dough to a flour covered rolling mat or board. Dust your hands with flour. Knead for 5 minutes, adding flour if it gets too sticky. (Or, do this with your stand mixer .)
Roll dough into a ball and place into a lightly oiled bowl. Cover bowl with towel and set in a warm place for 45 minutes to rise.
Pizza Pinwheels Ingredients
olive oil
organic pizza sauce (I usually mix one 15 oz can of organic tomato sauce with one 6 oz can of organic tomato paste, and then I add basil, oregano, and garlic)*
1 package grated nondairy cheese (I use follow your heart or violife mozzarella)
Any other pizza ingredients you like, cut into very small pieces
Pizza Pinwheels Directions
Preheat the oven to 400°.
Line 2 cookies sheets with parchment paper or sprinkle cornmeal onto a baking stone.
Divide the dough into 2 equal sized pieces.
Roll out one section of dough into a rectangle, flouring your surface and your rolling pin before starting. I use this rolling mat and it's made my pizza life and cleanup SO MUCH easier!
Brush the surface with olive oil using a silicone basting brush or your hand or the back of a spoon if you don't have one.
Spread a thin layer of pizza sauce on your dough.
Add the toppings one-by-one, but don't overload it, and make sure you chop your toppings into small pieces. I recommend my homemade organic pepperoni.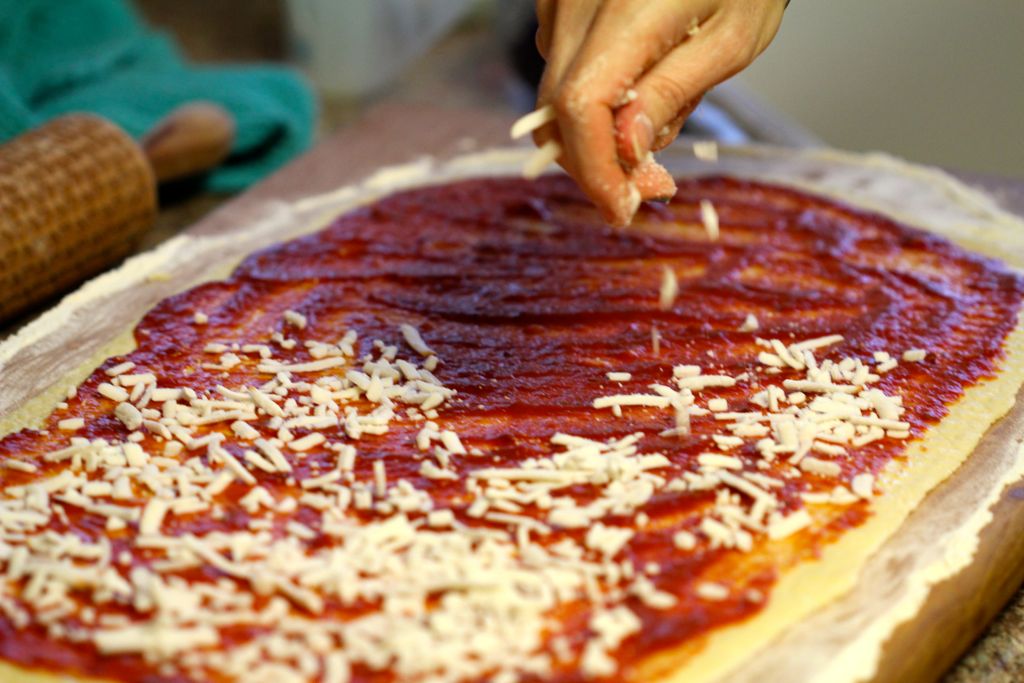 Roll slowly and gently, starting with the long end and working your way from one end to the other and back again.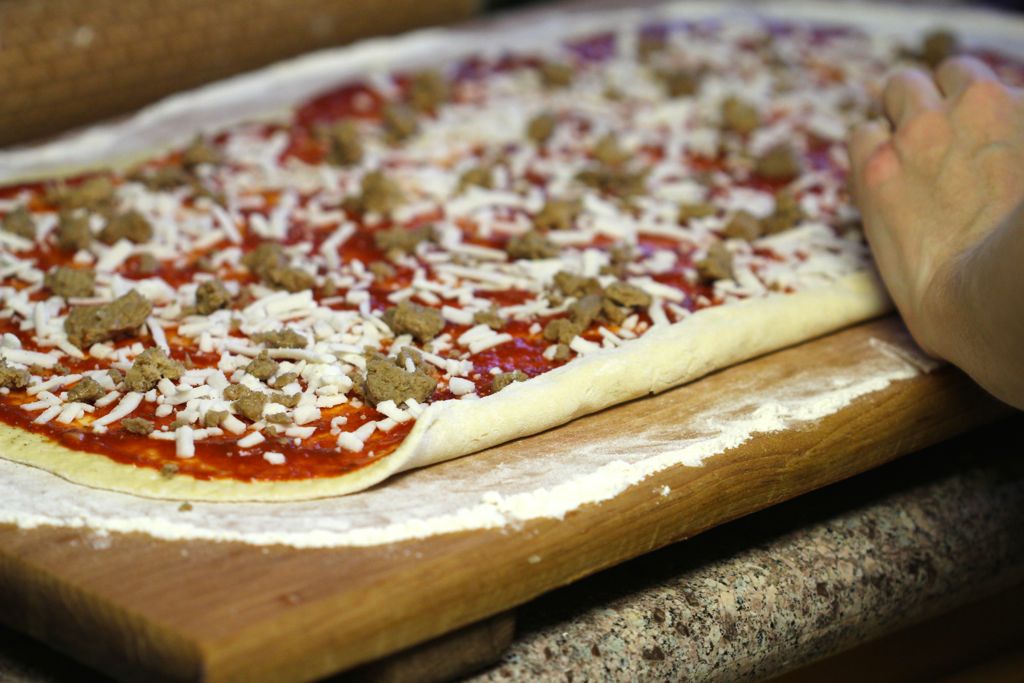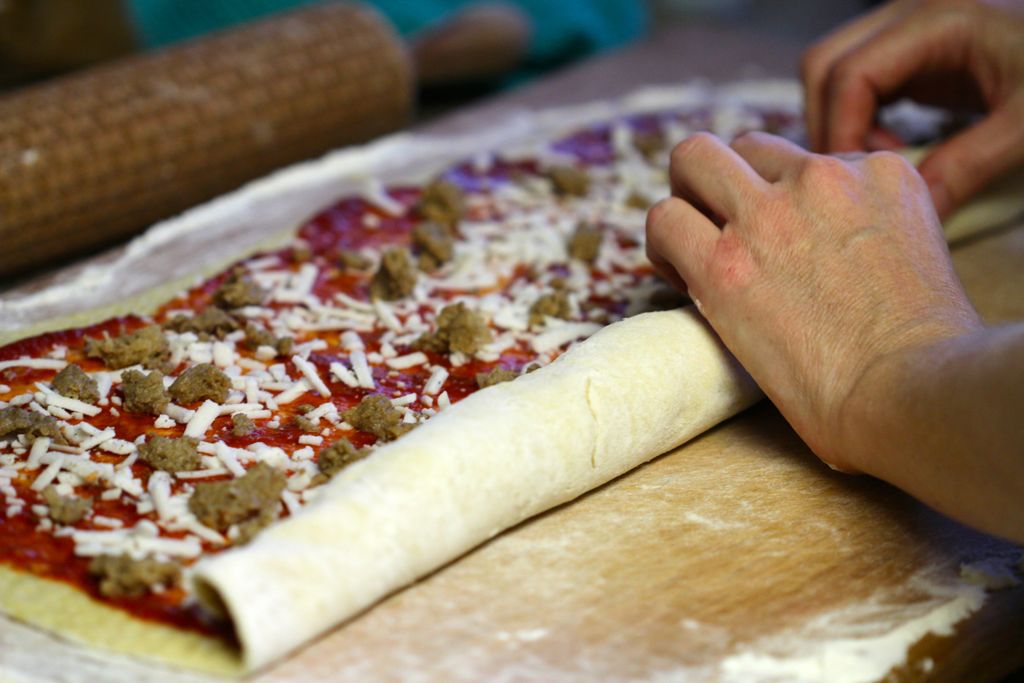 Chill the roll for 20 minutes while you make the second one.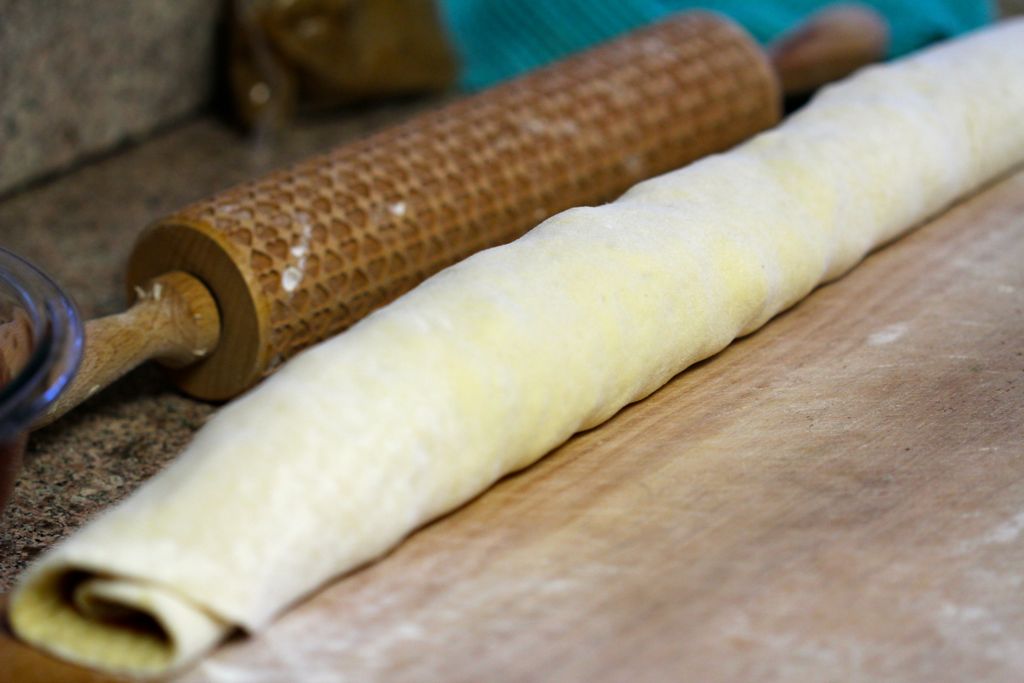 Repeat the above instructions for the second roll, and when you place it in the fridge to chill, remove roll #1.
Place the first roll onto a cutting board and cut into one-inch slices.
Place the pinwheels onto a baking sheet, leaving space in between each one for room to grow.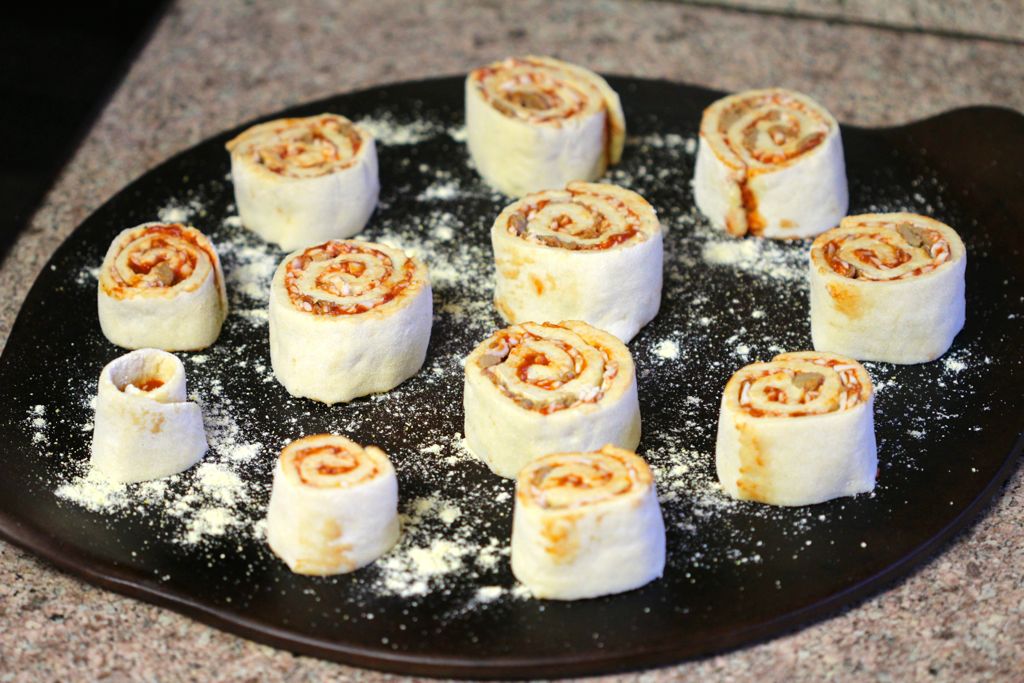 Repeat with roll #2.
Sprinkle the tops with seasonings (optional).
Bake for 20-25 minutes or until they start to brown.
Serve with the remaining pizza sauce to dip into.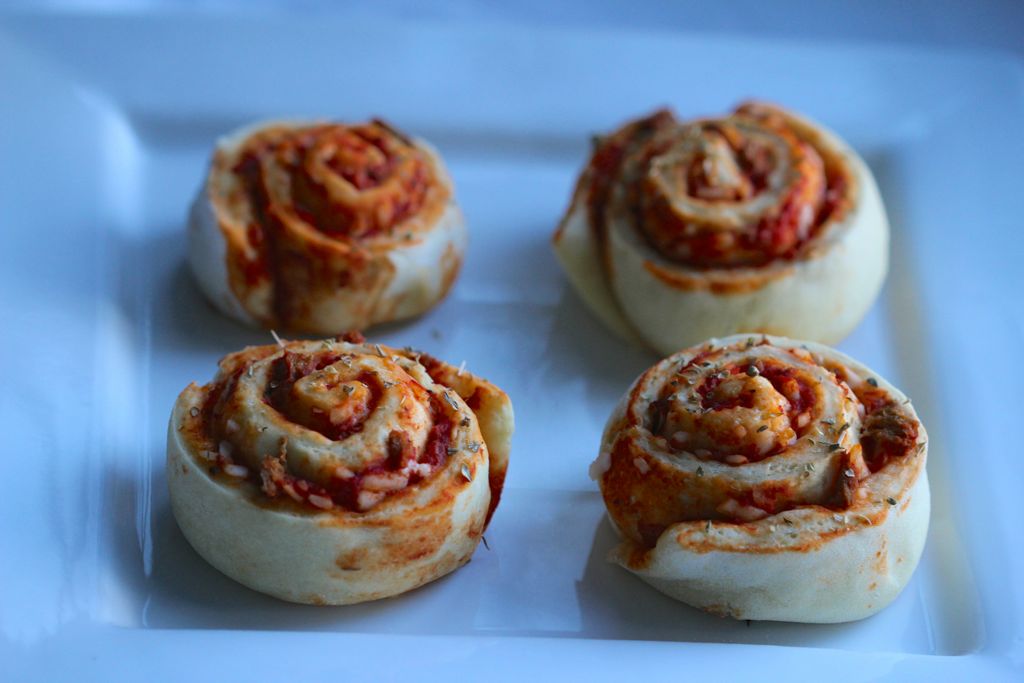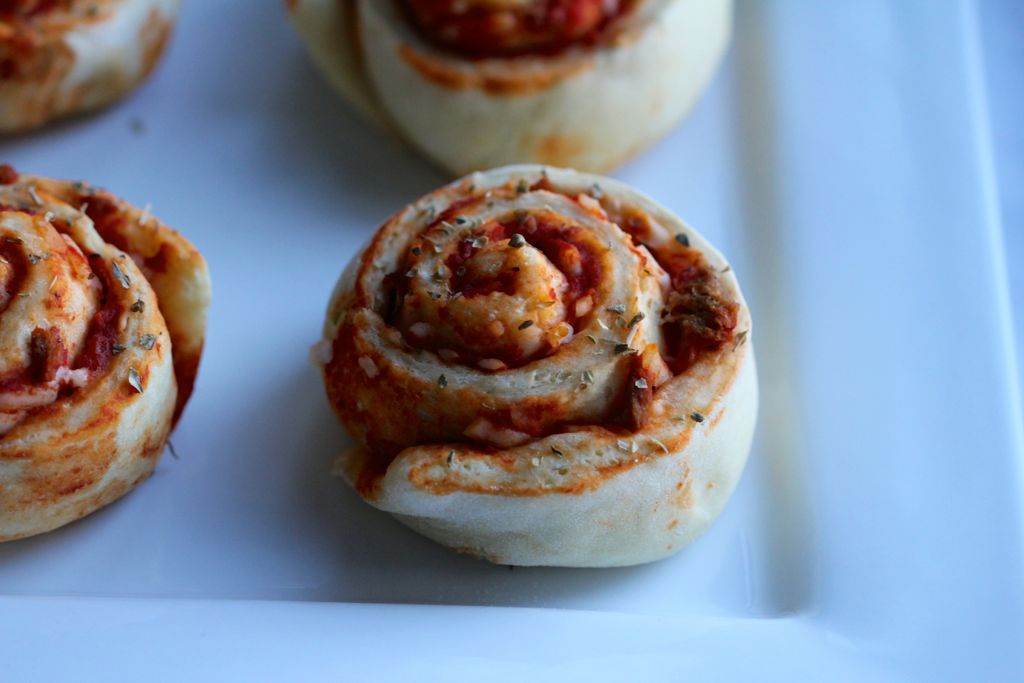 ☆☆☆☆☆☆☆☆☆☆
* I use mostly organic ingredients when I cook, but I realize that not everyone has the disposable income to purchase all organic ingredients. Therefore, I only specify organic on the ingredients that really matter - when buying the organic version is the only way to ensure that the item is vegan.