Homemade Pizza Rolls
published on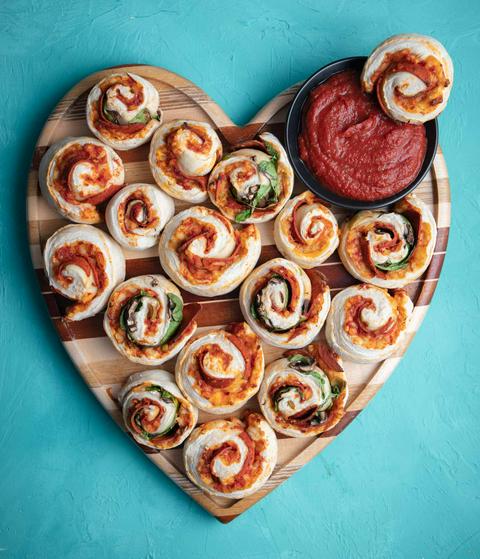 Homemade pizza rolls are a uinque and fun way to enjoy pizza in a cuter and easier-to-eat format.
Vegan pizza rolls are the new cinnamon roll! They're savory, delicious, versatile, easy to eat, and fun to make. This recipe makes enough to share, so you can bring them to a party, game night, potluck, or picnic. Or you can just keep them all for yourself so you have delicious lunches for the week. This recipe also has instructions for reheating leftover pizza rolls.
This recipe makes 20-24 homemade vegan pizza rolls.
Table of Contents
(click the links below to skip to the section you're looking for)
♫ Listening to ♫
Chain My Name by Poliça
Eating pizza rolls started as my New Year's Eve tradition six years ago, and since they're so well-loved by everyone who tries them, I continued making pizza rolls annually. They're fun to make and easy to eat, which makes homemade pizza rolls a perfect appetizer, snack, are entree for parties, road trips, potlucks, and picnics.
(jump to the substitutions section to see ingredient details and suggestions for substitutions)
Dollhouse Shortcut
If you don't want to make your own dough, you can buy premade pizza dough at Trader Joe's (other stores might have it too).
1 ½ tablespoons active dry yeast

2 cups warm water (I use around 105º water)

2 teaspoons raw, vegan, or organic sugar*

5 ½ cups flour

2 tablespoons olive oil (optional)

1 tablespoon salt

1 teaspoon garlic powder (optional)

2-4 tablespoons nutritional yeast (optional)

extra flour for dusting rolling surface
How to make the Dough for Pizza Rolls
Dollhouse Shortcut
If you're low on yeast and can plan ahead, you can do an overnight rise using only 1 teaspoon of yeast. Just whisk together the salt, teaspoon of yeast, and 4 cups of the flour. Then mix in the 2 cups of water (any temp) and cover the bowl to leave on the counter overnight. The next day, when you're ready to make the pizza, knead the dough with the other cup and a half of flour (and optional ingredients).
Mix the yeast, water, and sugar in large bowl. Add 3 cups of the flour. Mix well to blend. I use my stand mixer for this because kneading dough is my nemesis.
Add the oil, garlic, nutritional yeast, remaining flour, and pink sea salt and stir well.
Place the dough to a flour covered rolling mat or board. Dust your hands with flour. Knead for 5 minutes, adding flour if it gets too sticky. (Or, do this with your stand mixer if you have one.)
Roll dough into a ball and place into a lightly oiled bowl. Cover bowl with towel and set in a warm place for 45 minutes to rise.
(jump to the substitutions section to see ingredient details and suggestions for substitutions)
olive oil or any vegetable oil (optional)

organic pizza sauce (I usually mix one 15oz can of organic tomato sauce with one 6oz can of organic tomato paste, and then I add basil, oregano, and garlic)*

1 package grated nondairy cheese (I use follow your heart or violife mozzarella)

Any other pizza ingredients you like, cut into very small pieces
Vegan Pizza Rolls Directions
Preheat the oven to 425°F (218°C). If you're using a pizza stone or baking stone, you can heat that in the oven too.
Line 2 cookies sheets with parchment paper if you don't have a baking stone. If you don't have parchment paper, you can just oil your pans to keep the pizza rolls from sticking.
Divide the dough into 2 equal sized pieces.
Roll out one section of dough into a rectangle, flouring your rolling surface and your rolling pin before starting. I use a rolling mat and it's made my pizza life and cleanup SO MUCH easier! If your dough starts sticking to the rolling pin when you're rolling the dough, you can either spray the top of the dough with oil, or you can add more flour. If it starts to stick to the rolling mat (or countertop or cutting board or whatever you decide to roll the dough on) while I'm rolling, I always add more flour between the dough and the rolling surface.
Brush the surface with olive oil using a silicone brush or your hand or the back of a spoon if you don't have one. This step is optional, but if you like greasy pizza, then you won't want to skip this step.
Spread a thin layer of pizza sauce on your dough. You don't need much because ideally, you'll be dipping your pizza rolls in pizza sauce when you eat them.
Sprinkle vegan mozzarella all over the dough, but not too much. I use abour 3-4 ounces (85-110g).
Add the toppings one-by-one, but don't overload it, and make sure you chop your toppings into small pieces. I recommend my homemade organic pepperoni but if that's too ambitious, Sweet Earth and Field Roast both make a good vegan pepperoni. Try not to add many toppings on the last quarter to half an inch of the dough. It's like rolling a joint or sushi rolls. You want that edge to be clean so it will stick to the roll at the end of rolling it up.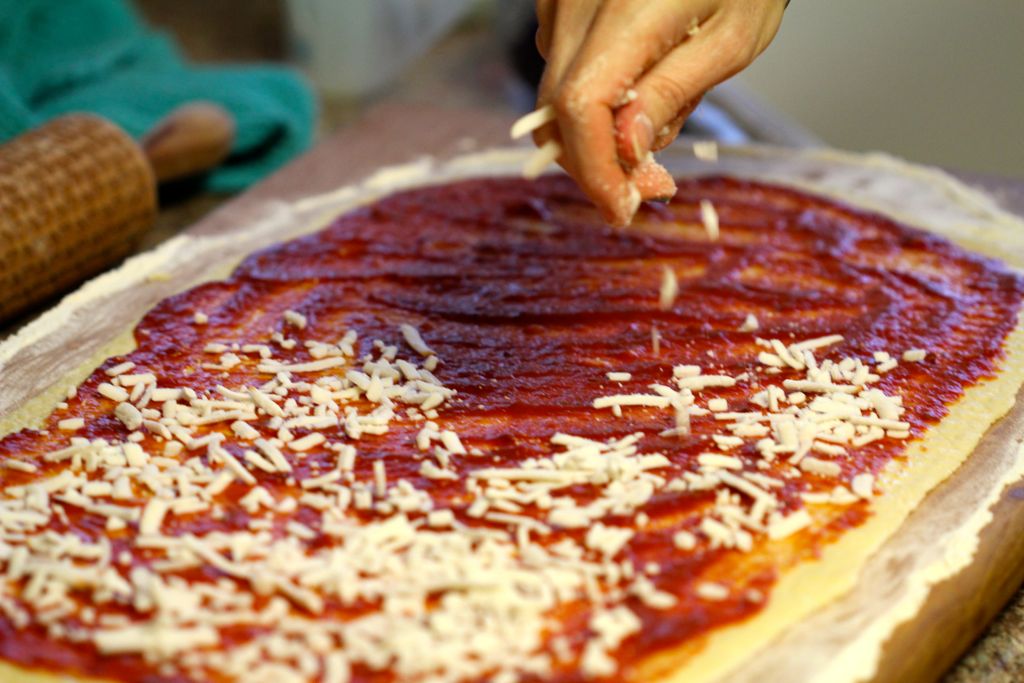 Shake salt and pepper all over after you've added your toppings.
Roll slowly and gently, starting with the long end and working your way from one end to the other and back again.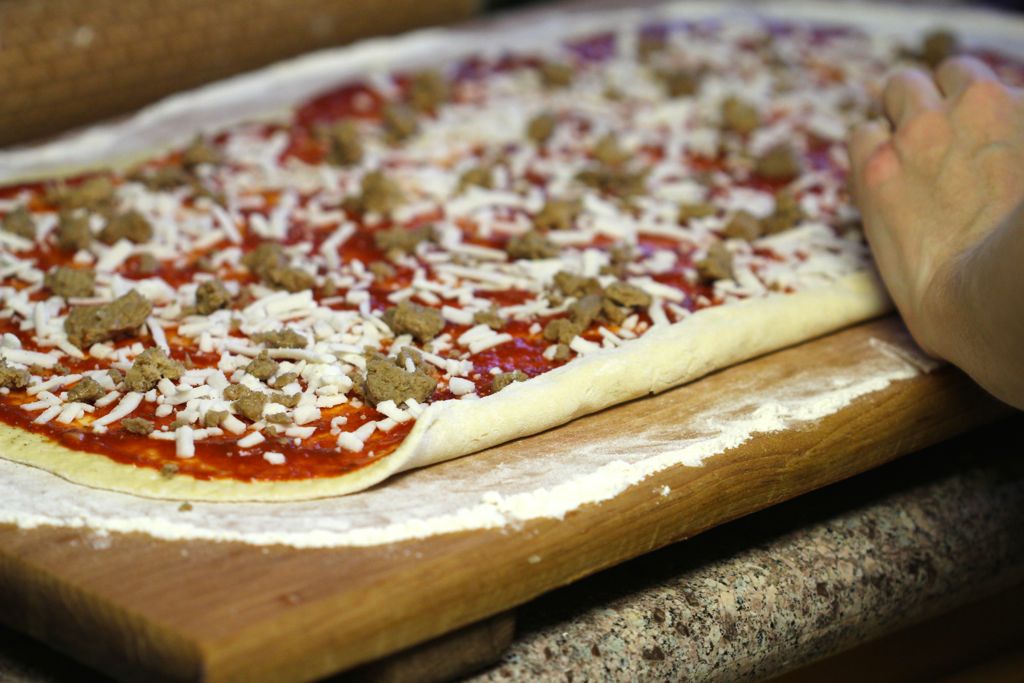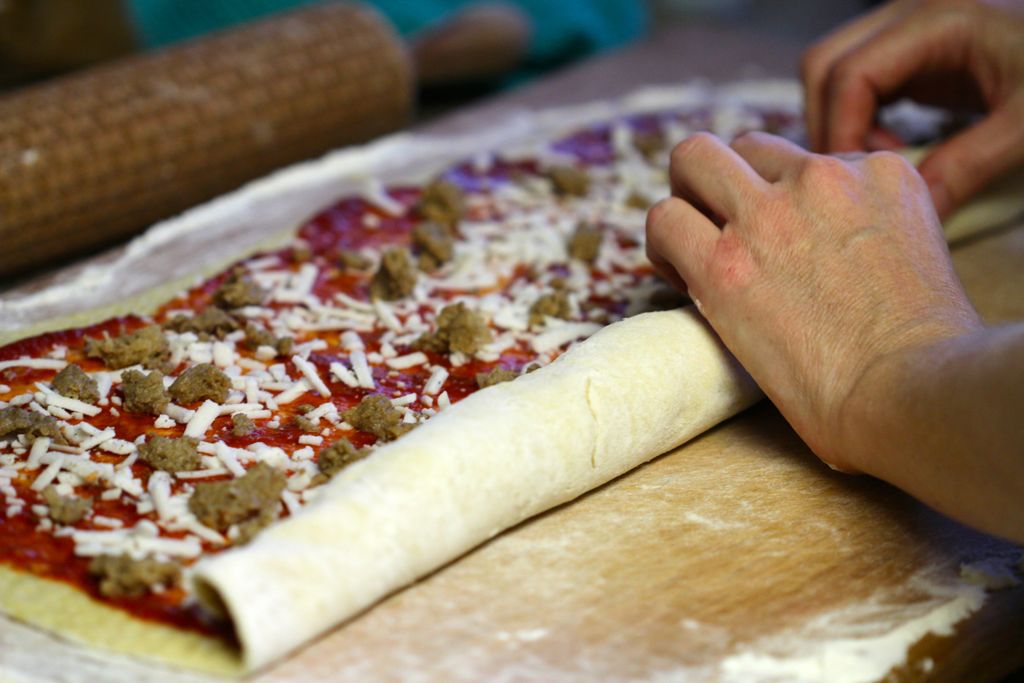 Chill the roll for 20 minutes while you make the second one.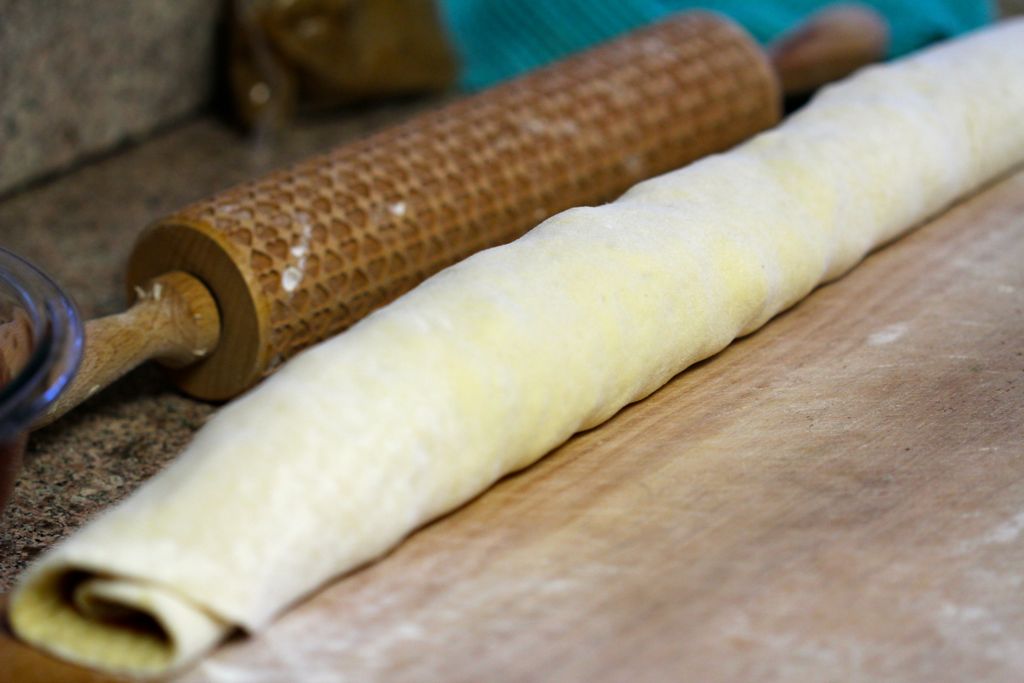 Repeat the above instructions for the second roll, and when you place it in the fridge to chill, remove roll #1.
Place the first roll onto a cutting board and cut into one-inch thick slices. I use my serrated knife for this step because it helps keep the little rolls from getting smushed.
Place the pinwheels onto your baking stone (or baking sheet covered with parchment paper), leaving an inch or so of space in between each one for room to grow.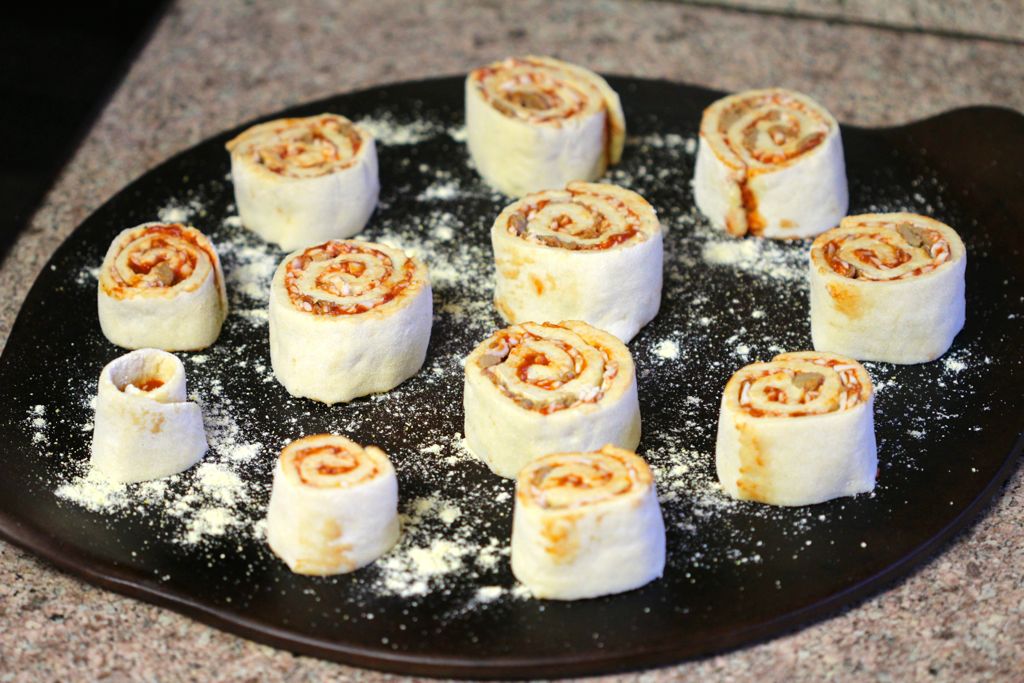 Repeat with roll #2.
Bake for 15-20 minutes or until they start to brown on the top. If you're using a convection oven, you can remove them after 12 minutes.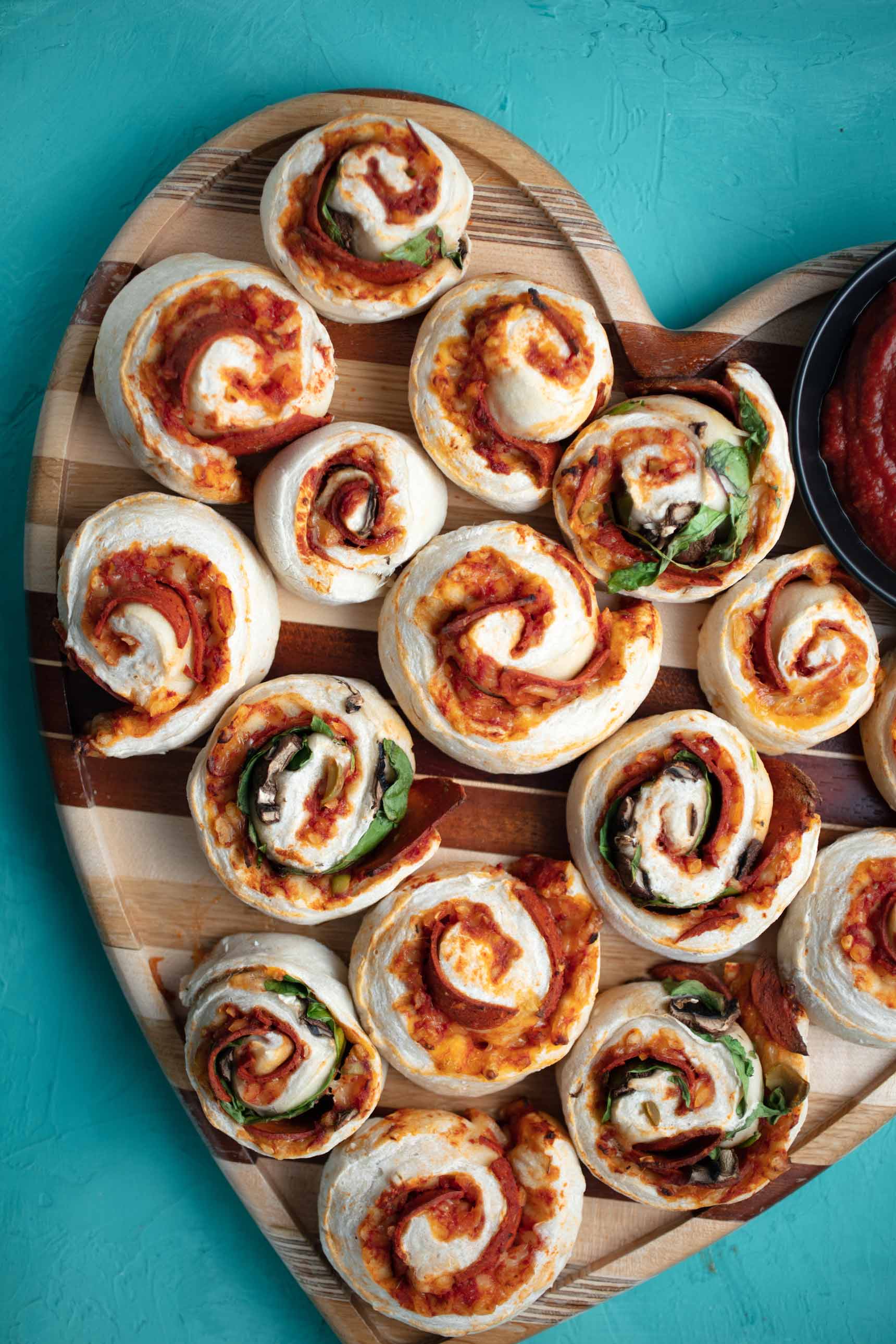 Serve with the remaining pizza sauce to dip into.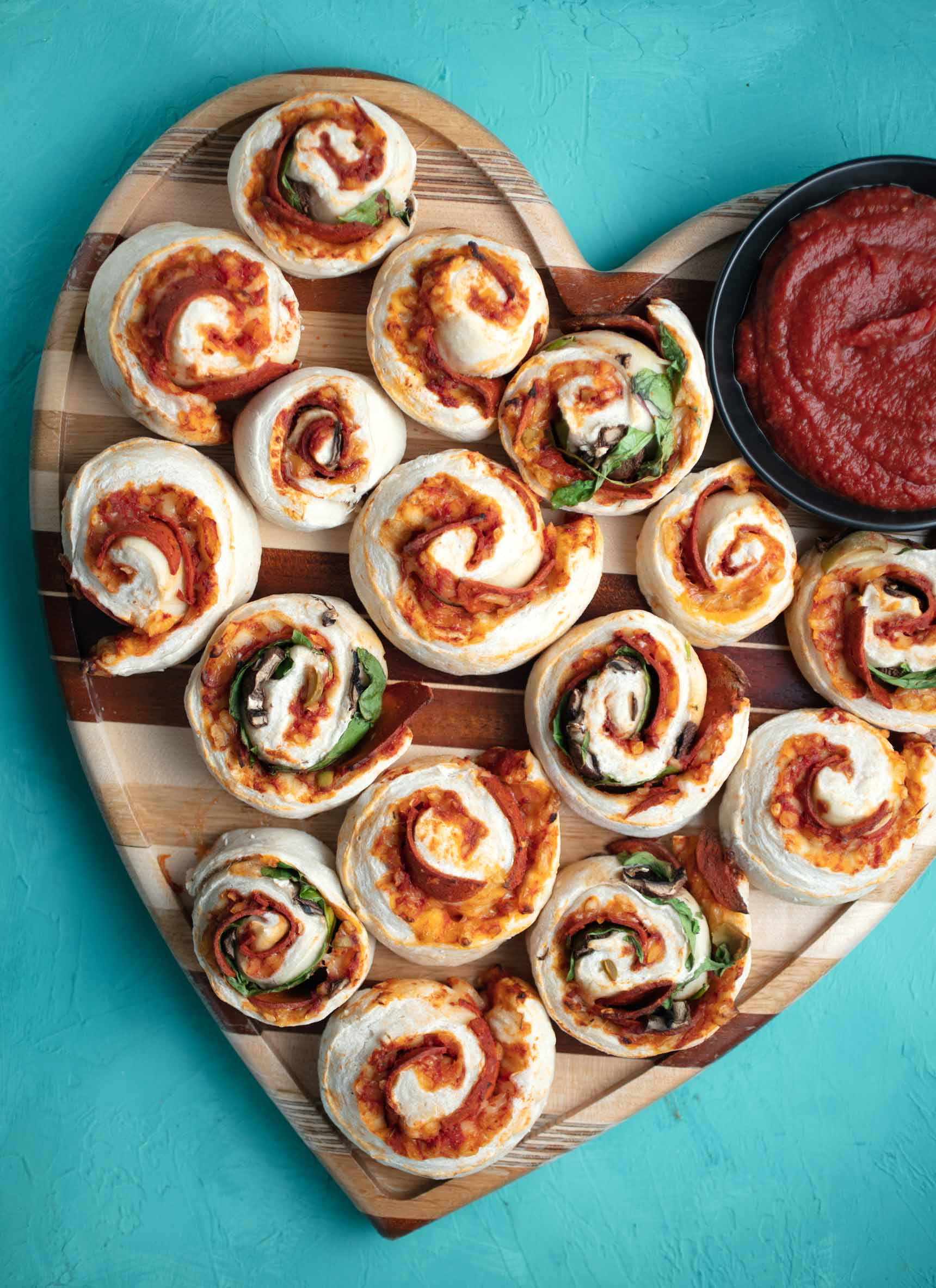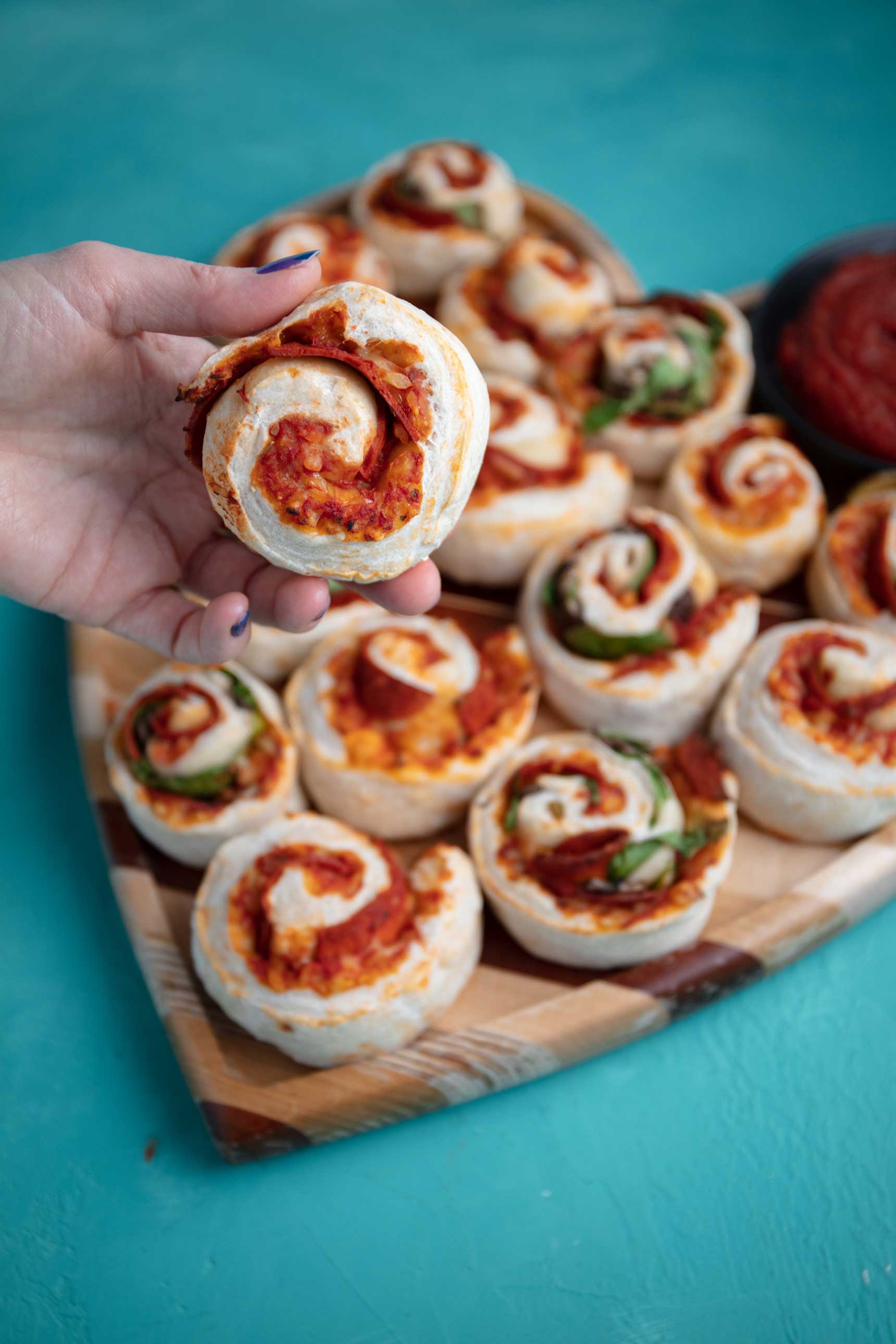 Can I bake pizza rolls in the air fryer?
Definitely! An air fryer is basically a mini convection oven, so just reduce the baking temperature to 400º and reduce the time they're in there to 10 minutes.
Can I use other ingredients? Can I make veggie pizza rolls?
Yeah! As a matter of fact, last night I made these using mushrooms and power greens (it's this bag they sell at costco of baby kale, baby chard, and baby spinach). If you are going to use something with a lot of liquid in it, like mushrooms, just remember to precook them to get all the water out before rolling them into your pizza rolls. You don't want soggy rolls, right? I precooked my sliced mushrooms in my air fryer at 400º for 8 minutes. If you look closely at my photos, you can see that I used veggies half of them.
I'm only one person, and I don't have 5 cups of flour in the house. Can I make a half batch?
Absolutely! In fact, if you check out the live stream below from when me and my vegan friends made these pizza rolls on New Year's Eve, you'll see that Kimmy divided the recipe in half so she could have fewer pizza rolls. Since this recipe divides the dough in half to make 2 long rolls, you'll just not divide the dough in half and just make one roll.
Can I heat up the leftovers?
You can! My partner likes to eat these straight from the fridge, but I prefer to warm mine up. I always use my air fryer to reheat them for 5 minutes at 400º. You can also heat them in a toaster oven or an oven (or even the microwave I imagine, although, I would opt for one of the other methods for a better consistency).
Here's a live stream of me and some friends making these vegan pizza rolls on New Year's Eve.
If you like these pizza pinwheels, you might also like my vegan detroit pizza.
☆☆☆☆☆☆☆☆☆☆
I published this recipe in 2016, but I updated it in 2022 with some tips and new photos. The photos below are from the original post, probably taken with an iPhone 2.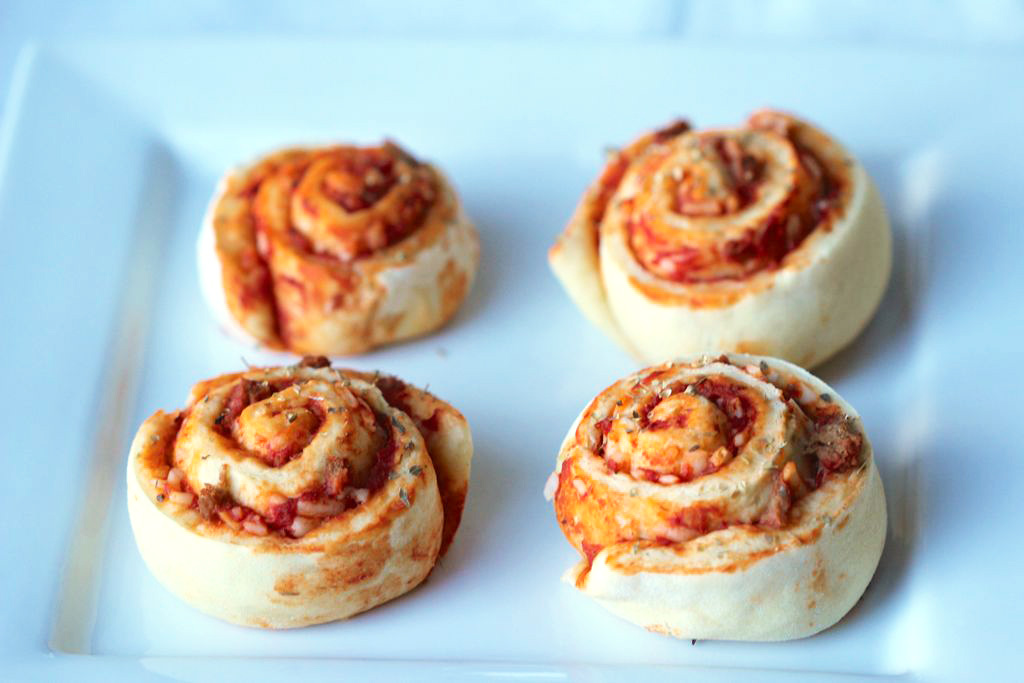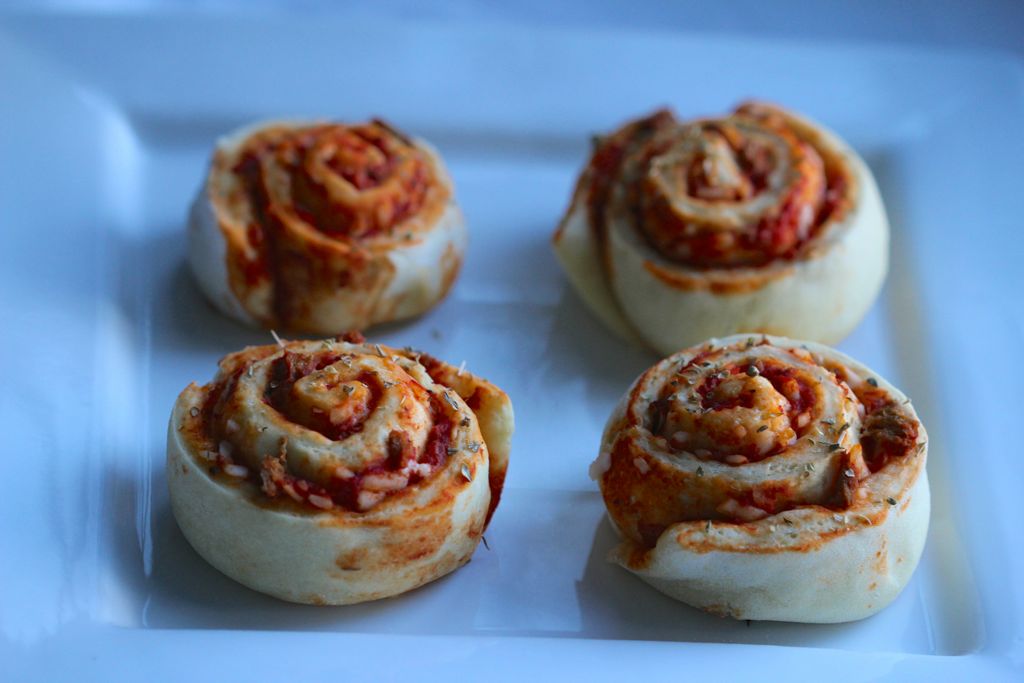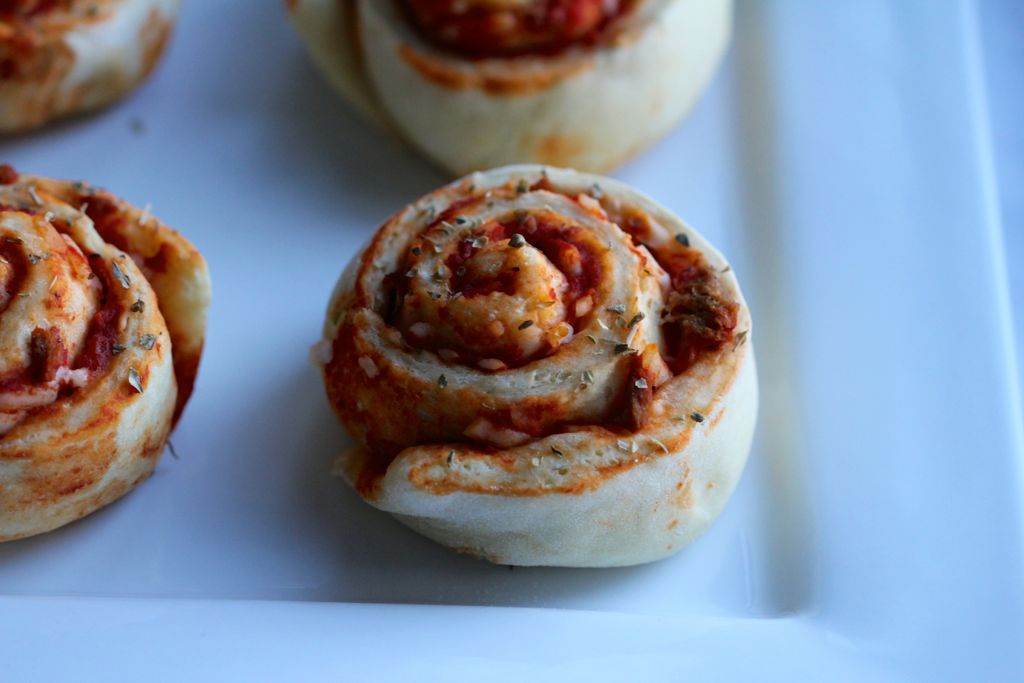 ☆☆☆☆☆☆☆☆☆☆
I use mostly organic ingredients when I cook. I realize that not everyone has the disposable income to buy only organic ingredients. Therefore, I only specify organic on the ingredients that really matter: when buying the organic (or non-GMO) version is the only way to ensure that an item is vegan.
This post links to items I used when I made this recipe. If you click on the purple Buy Now button on a product page, you will go to a website (like Amazon) where you can purchase the same product I used. Sometimes, the store you purchase from (Amazon, Etsy, etc.) will pay me for referring you. This costs you nothing extra, and I would never recommend a product that I don't use. These affiliate programs help me buy the ingredients to create these recipes for you. Read more about this in my privacy policy.