Vegan Bacon
published on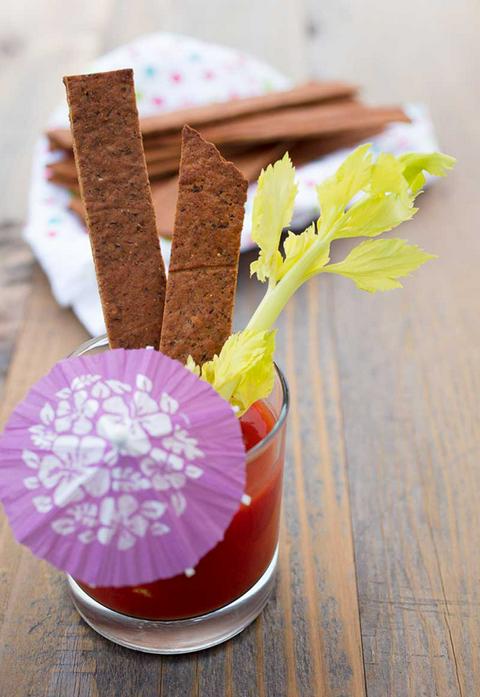 ♫ Listening to: Glass Ceiling by Upset ♫
This recipe was inspired by the bacon at the Butcher's Daughter in Venice. They make theirs with adzuki beans, and since I never get enough adzuki beans in my diet, I figured this would be a good way to do that. Adzuki beans are higher in certain nutrients than most other beans, such as magnesium, phosphorous, potassium, and zinc.
I made this bacon A LOT of times before deciding it was good enough to present to the world. I still don't know if it's as good as the Butcher's Daughter bacon, but it bears resemblance to some of my favorite store-bought vegan bacon, including Upton's and Sweet Earth. And before I was vegan, I also enjoyed Morningstar Farms bacon, but it had eggs in it back then (along with a gazillion other ingredients that I couldn't even pronounce). One advantage to making this yourself vs buying it, is that you can make it organic!
This recipe takes approximately 2 hours of total time, but only 50 minutes is actual time, and the rest is waiting for things to cook / bake. It makes 24 strips of bacon and can be frozen and reheated in the oven anytime you want it.
Vegan Bacon Ingredients
Dollhouse Shortcut
Purchase canned adzuki beans if you don't have time to soak and cook beans.
1 cup dried adzuki beans, soaked overnight, and well-rinsed
3 cloves garlic, minced
2 teaspoons onion powder
2 teaspoons hickory liquid smoke
2 teaspoons smoked paprika
2 tablespoons Braggs Liquid Aminos (or substitute soy sauce)
1 ½ teaspoons sea salt
1 tablespoon tomato paste
2 tablespoons olive oil
¼ cup nooch
¼ cup chickpea flour (as needed for consistency)
1 ¼ cup vital wheat gluten
Vegan Bacon Directions
Soak the beans for 12 hours. Rinse well.
Cook the beans (use a pressure cooker or instant pot for faster cooking time). Rinse the beans well after cooking.
Transfer the cooked and rinsed beans to the bowl of a food processor fitted with an S blade.
Add 3 cloves minced garlic, 2 teaspoons onion powder, 2 teaspoons hickory liquid smoke (or if you have smoked salt, replace this and the salt with smoked salt), 2 teaspoons smoked paprika, 2 tablespoons Braggs liquid aminos (or soy sauce), 1 ½ teaspoons pink sea salt (or if you have smoked salt, replace this and the liquid smoke with smoked salt), 1 tablespoon tomato paste, and 2 tablespoons olive oil.
Process for 30 seconds to combine. If needed, scrape down the sides with a baking spatula, and continue processing until pureed.
Add ¼ cup nutritional yeast and ¼ cup chickpea flour and process.
Replace the S blade with the dough blade if your food processor has a dough blade. If it doesn't, just continue using the S blade.
Add gluten and process until the mixture forms a ball and your food processor starts to sound tired (or maybe it's just mine that is exhausted, hahaha).
Preheat the oven to 400 degrees.
Place half of the bacon dough between two pieces of parchment paper and roll as thinly as possible. I rolled mine 2mm (1/16") thick. Remove the top piece of parchment paper and transfer the bottom one to a baking sheet.
Repeat with the other half of the dough.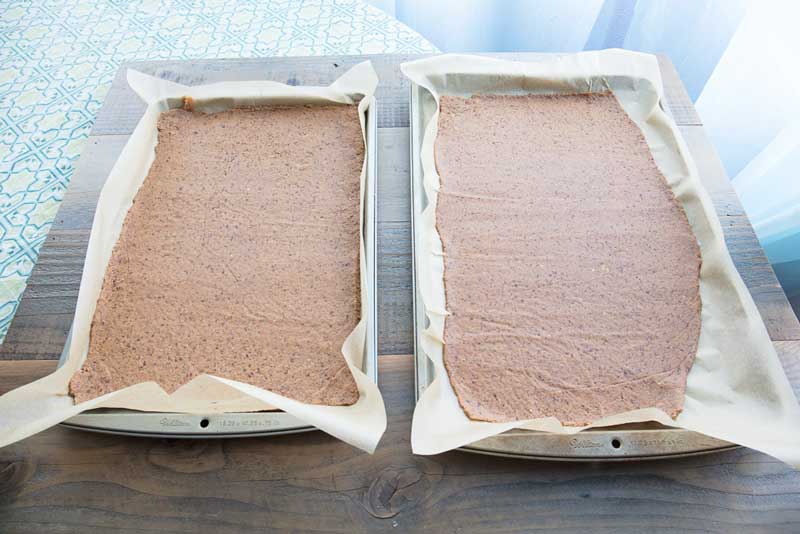 Place both trays side by side on the same oven shelf for even baking.
Bake for 10 minutes and then rotate the pans by 180 degrees. Bake for 10 more minutes.
Remove from oven, transfer one sheet to a large cutting board, and slice into 12 strips, about 1 inch wide. Flip each piece upside down, and return to pan. Repeat with the other sheet.
Return to oven to bake for 5 more minutes.
Serve immediately or cool and then transfer to an airtight container. Store in the fridge for 10 days or the freezer for a few months.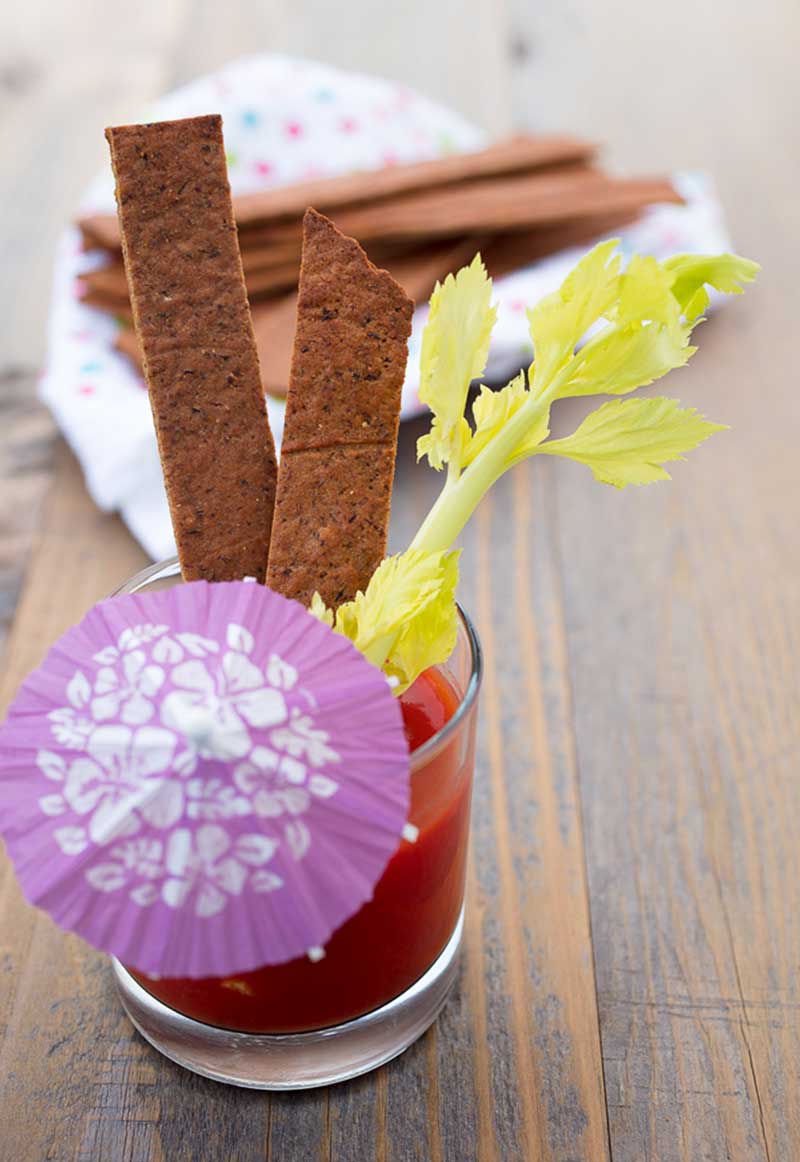 I personally just leave it on the counter, and snack on it throughout the day, but if you're looking for recipes to use your new bacon in, I reccomend this spaghetti squash, these twice baked potatoes, and my savory scones.
☆☆☆☆☆☆☆☆☆☆