Vegan Cheese Hedgehog
published on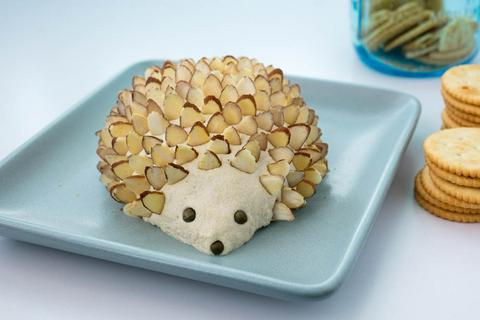 ♫ Listening to: Where Have You Been? by Hey Violet ♫
This is a quick vegan cashew cheese recipe that doesn't require making rejuvalac, however, if you prefer incorporating probiotics, just substitute the lemon juice and water in this recipe with rejuvalac. You can also double this recipe and use the rest of the vegan cheese to make enchilada cuppies or tuna casserole.
Vegan Cheese Hedgehog Ingredients
Dollhouse Shortcut
Save time by either buying packaged cashew cheese and shaping it into a hedgehog, or making this cheese recipe and forming it into a (boring, haha) ball or log.
2 cups raw cashews
2 tablespoons lemon juice
2 tablespoons apple cider vinegar
2 tablespoons nutritional yeast
1 teaspoon salt
1 teaspoon dill (optional)
1 teaspoon onion powder (optional)
3-4 tablespoons filtered water
1 cup of sliced almonds
3 capers
Vegan Cheese Hedgehog Directions
Soak the organic raw cashews in water for anywhere between 8 and 24 hours. Drain the water, rinse the cashews really well, and add them to the blender.
Add the rest of the ingredients to the blender, except for the almonds and capers.
Start the blender, stopping it every 30 seconds to scrape down the sides. Do this as many times as needed in order to achieve a smooth consistency. If it's not blending well, add more water, just a tablespoon at a time.
Lay a piece of cheesecloth in a bowl, overlapping the sides.
Scoop all the cheese into the cheesecloth-lined bowl, using a spatula to scrape the blender. Gather up the edges of the cheesecloth to form a tight ball of cheese. Use a twist-tie or rubber band to keep the ends secured together at the top.
Set a strainer into a bowl, set the cheesecloth-wrapped cheeseball into the strainer, and leave in the fridge overnight to drain any excess liquid. If it's cold in your house, you can leave it on the counter as well. If you don't have a strainer, you can use a colander for this step.
Here's a video that shows me making the cheeseball into a hedgehog.
**Unwrap** the cheese the next day, and form it into a hedgehog shape on your plate of choice. Use the cheesecloth to shape it without getting cheese stuck to your hands.
Dry the caper eyes and nose on a kitchen towel or paper towel and then place them on the hedgehog's face.
Stick sliced almonds all over the outside of the hedgehog's back.
Serve with crackers.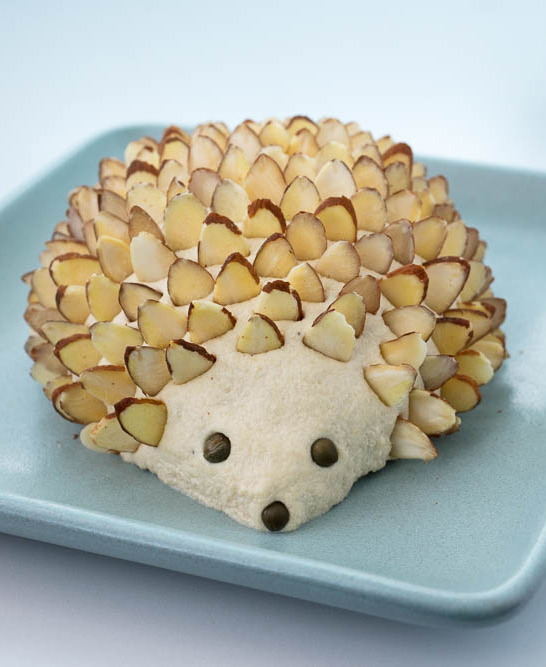 ☆☆☆☆☆☆☆☆☆☆