Vegan Savory Scones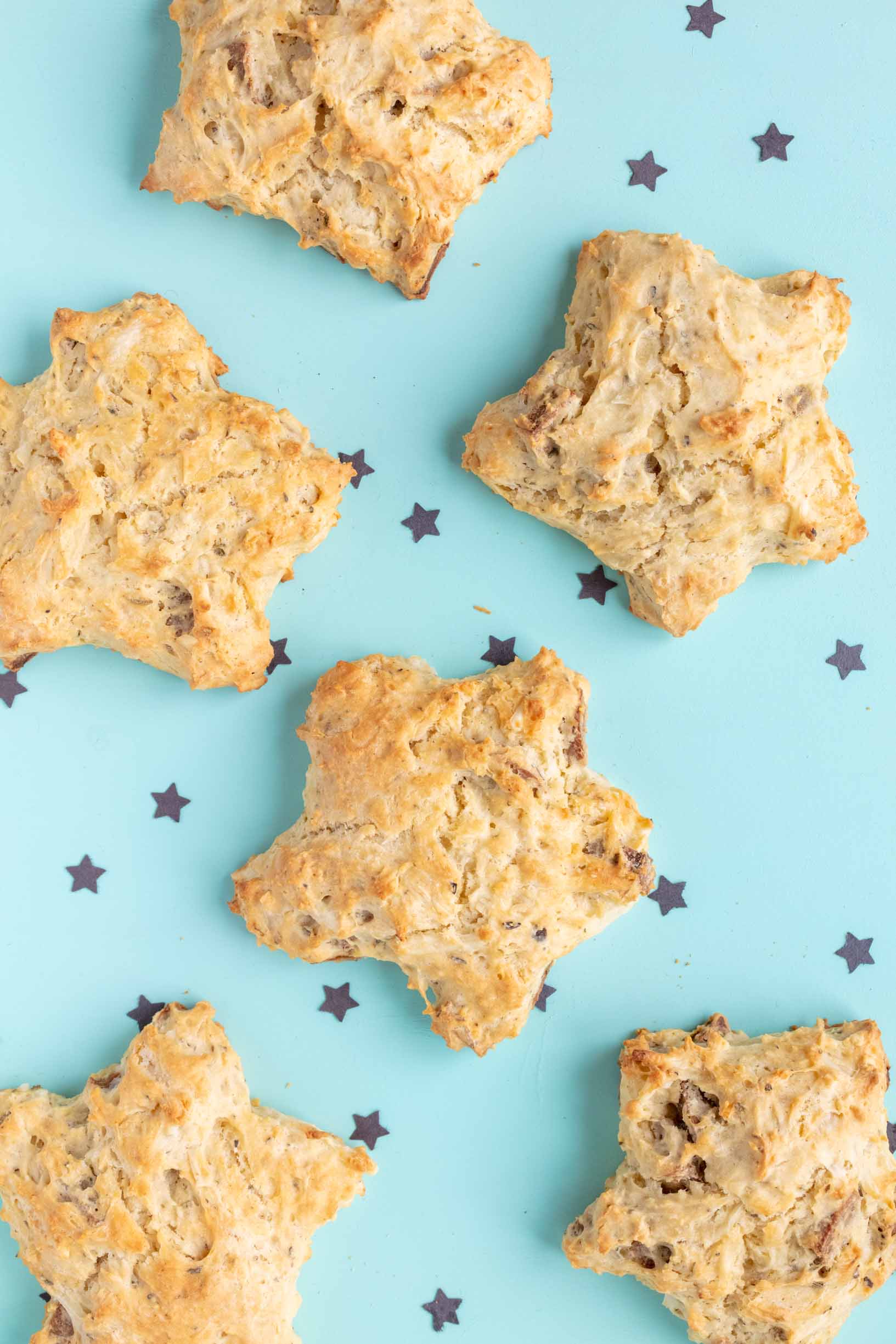 ♫ Listening to: After The Moment by Craft Spells ♫
I'm honestly appalled at myself for taking this long to share this recipe. I've been making variations of this same recipe consistently for about a year. I've made pepperoni pizza scones, ham and cheese scones, turkey and cheese scones, zucchini scones, garden veggie scones, bacon cheddar scones, and now these are sausage and cheddar scones. My family never gets tired of these. I could make them every week, and the next day, they would ask for them again.
The awesome thing about this recipe is not only that it's super quick and easy, but you can also substitute so many different ingredients to make your own fun and unique flavors.
This recipe makes 8 savory vegan scones.
(I know the pictures only show 6, but I assure you that when they went into the oven and came out of the oven, there were 8.)
Vegan Savory Scone Ingredients
Dollhouse Shortcut
Substitute any spices for the ones I used and any fillings for the ones I used. Just keep the measurements the same.
2 cups (240g) organic unbleached flour, chilled
1 tablespoon (14g) non-aluminum baking powder, chilled
about 1 tablespoon (12g) spices (I used 1 teaspoon (6g) sea salt, ¼ teaspoon pepper, ½ teaspoon garlic powder, ½ teaspoon onion powder, ½ teaspoon oregano, ½ teaspoon basil)
¼ cup (60g) chilled organic whipped earth balance*
½ cup (125g) chilled plain unsweetened vegan yogurt (if it's soy yogurt, buy organic)*
½ cup (125g) chilled unsweetened unflavored nondairy milk (if it's soymilk, buy organic)*
1 cup (120g) filling (I usually use ½ cup (50g) vegan grated cheese and ½ cup (70g) vegan meat, chopped)
Vegan Savory Scone Directions
Dollhouse Fun Tip
Use a star-shaped cookie cutter to make your scones star shaped.
Heat the oven to 400º.
Whisk together the 2 cups (240g) of flour, 1 tablespoon (14g) of baking powder, and all the spices: 1 teaspoon (6g) sea salt and 2 teaspoons (6g) of a combo of other spices like pepper, garlic powder, onion powder, oregano, basil, paprika, and thyme.
Add the ¼ cup (60g) chilled organic whipped earth balance to the dry ingredients using a chilled fork to mash it in. Make sure you don't touch it with your hands because it's important to keep all the ingredients cold. Don't mix the butter in too much. You want it to have lumps like in the picture.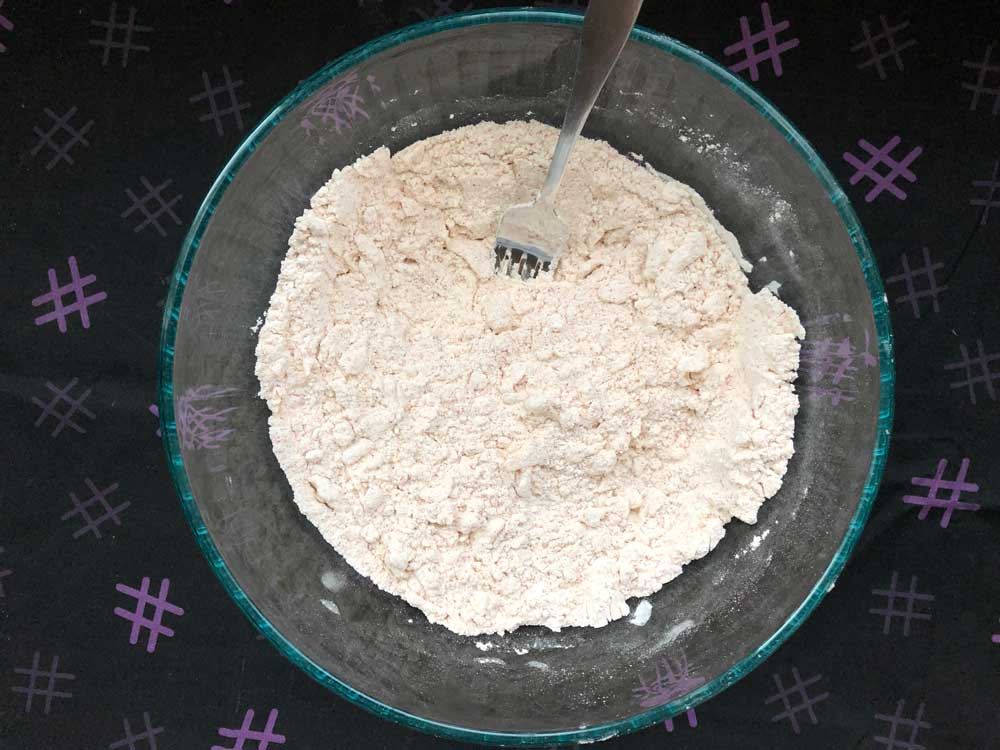 Mix ½ cup (125g) yogurt and ½ cup (125g) nondairy milk into the flour using a silicone spatula until you no longer see any flour. Don't overmix past this point.
Add the 1 cup (120g) filling. I used ½ cup (50g) vegan grated violife cheddar cheese and ½ cup (70g) diced vegan sausage, but I've made these scones using just about everything you can think of (kale, zucchini, carrots, vegan pepperoni, vegan bacon, etc.), and they always turn out AMAZING!
Divide the dough into 8 equal sized pieces, touching them as little as possible. Drop the 8 scones onto a parchment paper lined baking sheet, or a baking stone, leaving as much space between each scone as possible for them to expand.
Sprinkle the tops with sea salt. I use a fancy purple salt that I got in Kyoto, Japan.
Bake at 400º for 24 minutes.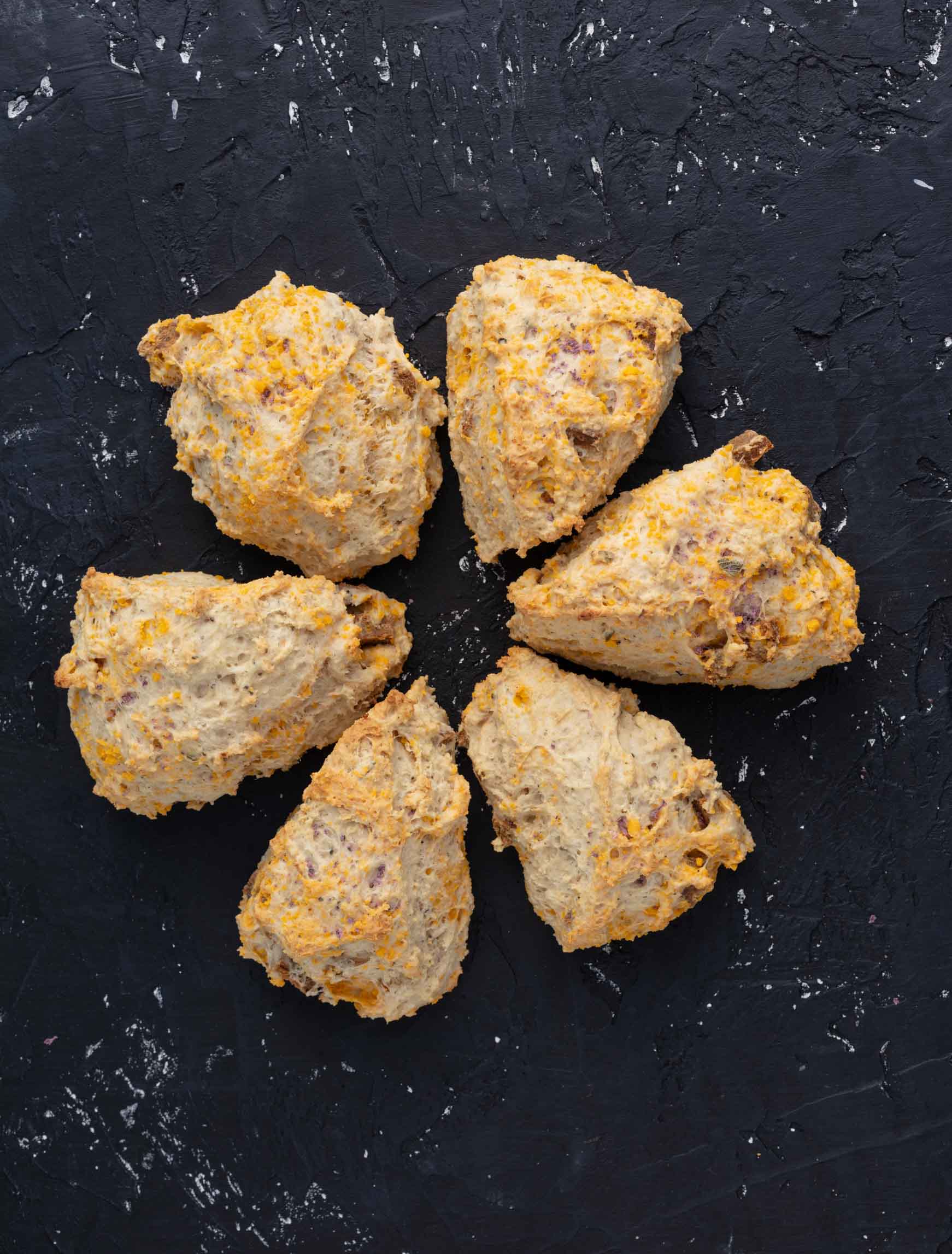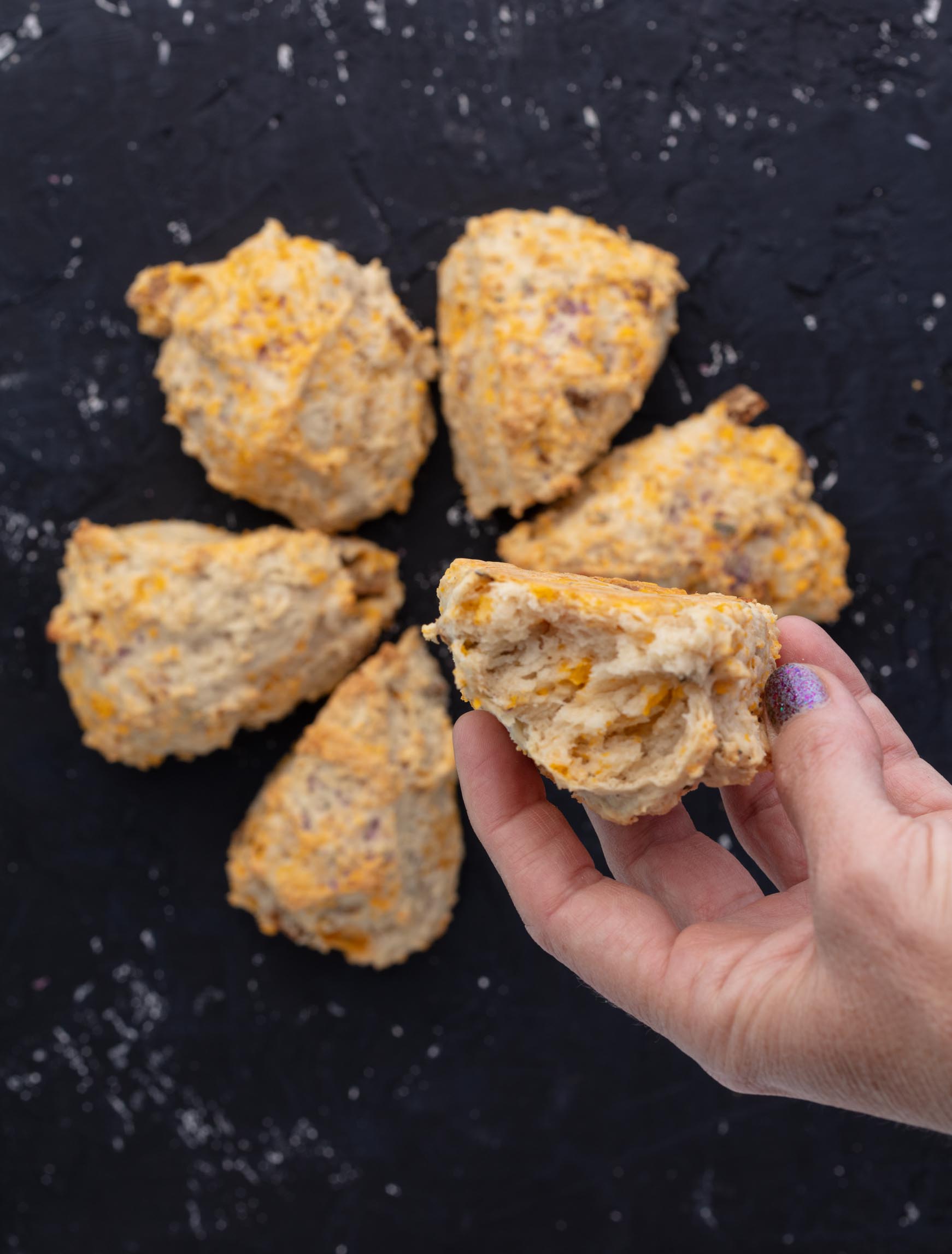 Here's a video of me, Kimmy, and Briana making scones and live streaming, but I warn you, it's mostly just us hanging out and very little cooking happening, haha.
☆☆☆☆☆☆☆☆☆☆
* I use mostly organic ingredients when I cook, but I realize that not everyone has the disposable income to purchase all organic ingredients. Therefore, I only specify organic on the ingredients that really matter - when buying the organic version is the only way to ensure that the item is vegan.