Vegan Flower Sherbet Teddy Bear Cones
published on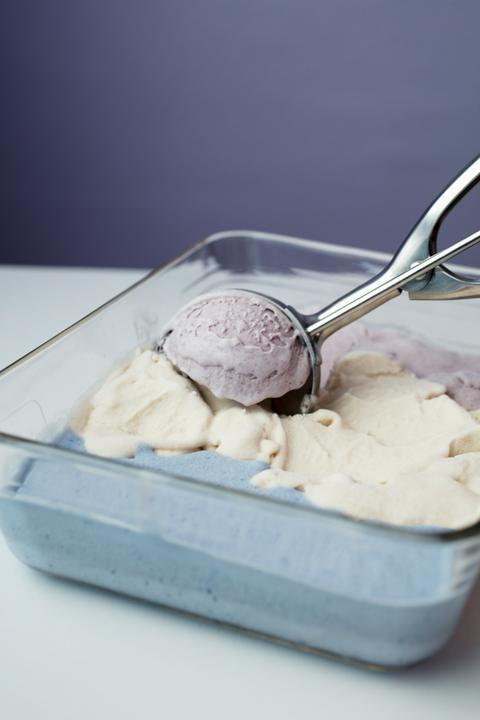 ♫ Listening to: I'm Perfect by Passion Pit ♫
Soooo…. technically this isn't sherbet since by definition, sherbet is supposed to be made with fruit. But I don't care for fruit in my ice cream (unless it's black forest ice cream), so I made this with flowers instead. Since flowers turn into fruit, I've officially decided this qualifies as sherbet. This recipe makes more than a pint, but less than a quart of ice cream, so invite someone over to share it with.
Vegan Flower Sherbet Ice Cream Ingredients
Dollhouse Shortcut
Purchase vegan ice cream instead of making it and just skip to the decorations part.
1 can coconut milk (Whole Foods 365 brand is fairly cheap)

1 cup cashews (soaked for 8 hours, drained, and rinsed)

½ tablespoon vanilla extract

½ cup organic sugar*

1 pinch of salt

½ teaspoon hibiscus flower powder

½ teaspoon butterfly pea flower powder
Vegan Flower Sherbet Ice Cream Directions
Blend the sugar, coconut milk, vanilla, organic raw cashews that have been soaked, and salt in a blender until smooth.
Chill the blended mixture (covered) overnight.
Freeze 2 average sized bowls and the insert for your ice cream maker overnight.
Pour the chilled vanilla ice cream into an ice cream maker the next day.
Churn the vanilla ice cream until it's nice and thick.
Mix the hibiscus flower powder with a tiny bit of the leftover ice cream batter (or water if you don't have any left) until you have a smooth paste.
Mix the butterfly pea flower powder with a tiny bit of the leftover ice cream batter (or water if you don't have any left) until you have a smooth paste.
Transfer a third of the vanilla ice cream to each of the 2 frozen bowls.
Mix the pink flower paste into one bowl and the blue flower paste into the other bowl, mixing until completely blended.
Transfer to a tupperware or any dish that you can cover and freeze. Add any plain vanilla ice cream left in the ice cream maker too.
Freeze the sherbet for up to 3 weeks.
Hint: An alternative if you don't have an ice cream maker is to pour the ice cream mixture into a bowl and rest that bowl inside a bigger bowl that's filled with ice. You'll need to constantly stir it with a spatula, and you'll likely have to restock your ice as it melts, but it works well enough. If you're willing to purchase an ice cream maker on amazon, click on the link in this post (and it helps support this website), or you can usually find used ones at thrift stores for under $10.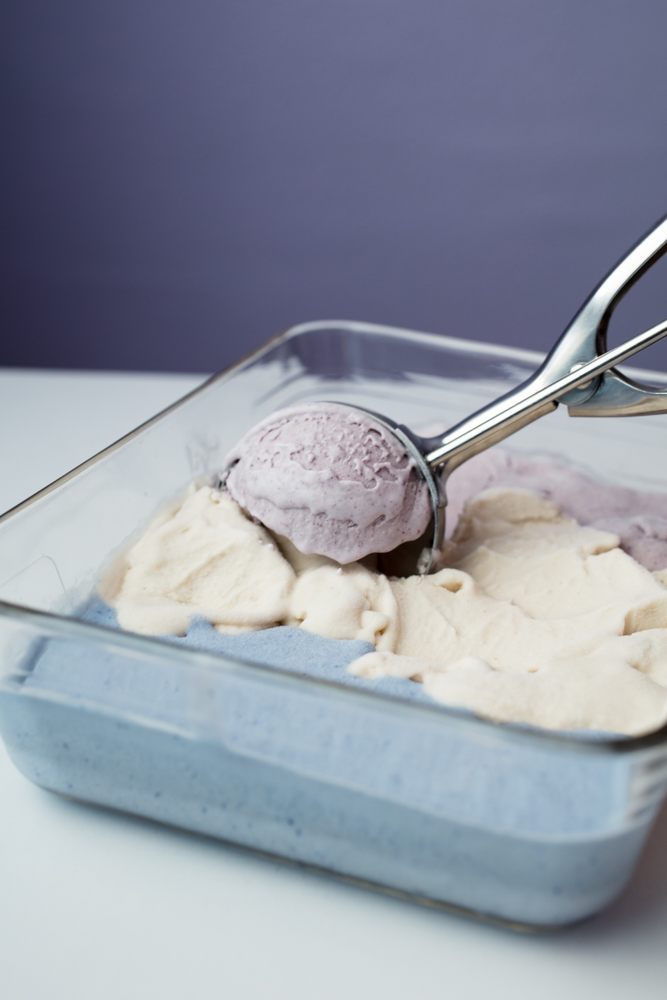 Vegan Teddy Bear Ice Cream Cone Ingredients
¼ cup vegan chocolate chips
vegan sprinkles
Vegan Teddy Bear Ice Cream Cone Directions
Melt the vegan chocolate chips until smooth.
Transfer the melted vegan chocolate chips into a squeeze bottle.
Draw the eyes and nose onto a piece of parchment paper (or use a plastic bag or plastic wrap if you don't have parchment).
Place vegan sprinkles onto the noses to make the bear mouths.
Chill or freeze until you're ready to put them on your ice cream scoop.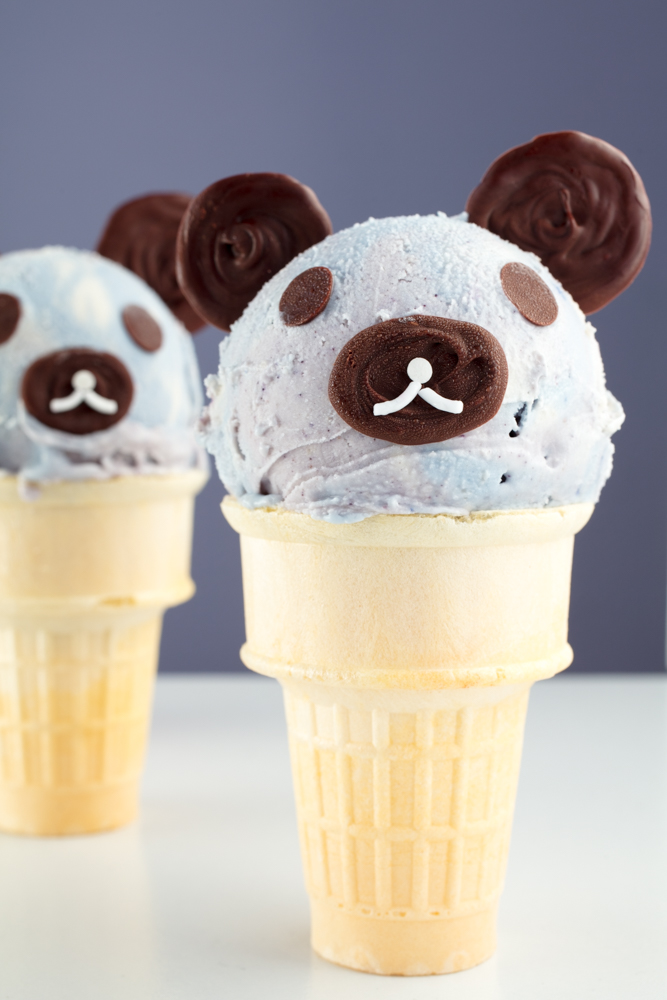 Here's a video showing how I made it.
☆☆☆☆☆☆☆☆☆☆
* I use mostly organic ingredients when I cook, but I realize that not everyone has the disposable income to purchase all organic ingredients. Therefore, I only specify organic on the ingredients that really matter - when buying the organic version is the only way to ensure that the item is vegan.