Vegan Chocolate Chip Cookie Dough Ice Cream
published on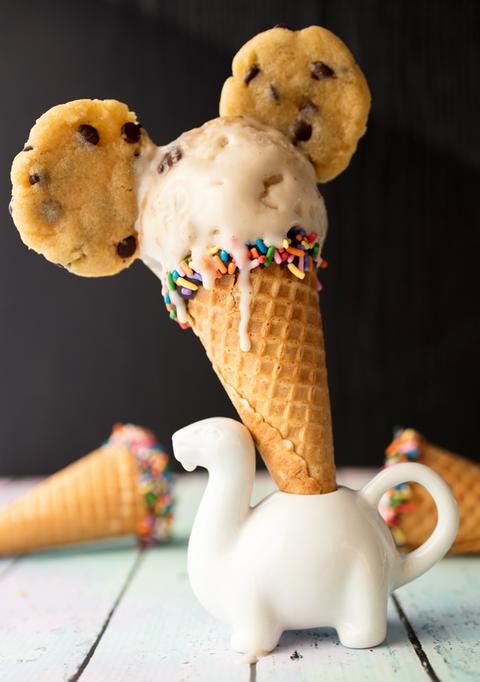 ♫ Listening to: Lucky by NukleoN ♫
My podcast cohost, Ashley, requested this ice cream as one of the numerous flavors in her banana split ice cream cake for her half birthday. If you're one of those people who eats raw cookie dough before you have time to bake it, this ice cream recipe is for you.
Vegan Chocolate Chip Cookie Dough Ice Cream Ingredients
1 ½ cups nondairy milk (I used almond milk)
1 can full fat coconut milk (Whole Foods organic 365 brand is fairly cheap)
¾ cup organic or raw sugar*
3 tablespoons arrowroot powder (or sub organic cornstarch)*
1 tablespoon vanilla extract
½ a batch of vegan cookie dough
Vegan Chocolate Chip Cookie Dough Ice Cream Directions
Dollhouse Shortcut
Buy the cookie dough instead of making your own. Eat Pastry and Hampton Creek both sell vegan cookie dough.
Whisk the arrowroot powder with ¼ cup almond milk. Add 1 tablespoon vanilla. Whisk again. Set aside.
Stir the sugar, remaining nondairy milk, and coconut milk in a saucepan over medium heat.
Once the ingredients in the saucepan start to boil, remove from heat and whisk in the arrowroot mixture.
Leave on counter covered until it cools to room temperature.
Chill in the refrigerator for 4 hours or overnight.
Make your cookie dough a day before you're ready to churn the ice cream. I like to make the ice cream and the cookie dough the night before I want to actually eat the ice cream.
Follow these instructions or use your favorite chocolate chip cookie recipe to make your cookie dough.
Pour the chilled vanilla ice cream into an ice cream maker and start churning immediately.
Churn the vanilla ice cream until it gets nice and thick.
Roll your cookie dough into ½ inch balls while the ice cream churns.
Stir in the the cookie dough balls when the ice cream is done churning.
Serve immediately or transfer the ice cream from the ice cream maker into a tupperware and freeze for up to 3 weeks.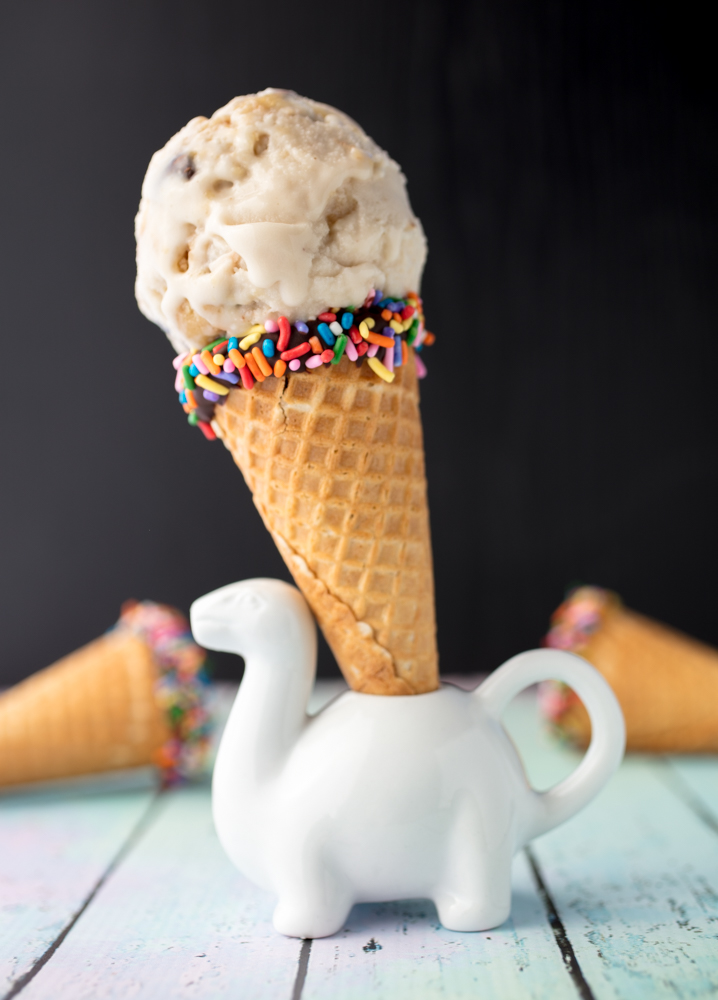 ☆☆☆☆☆☆☆☆☆☆
* I use mostly organic ingredients when I cook, but I realize that not everyone has the disposable income to purchase all organic ingredients. Therefore, I only specify organic on the ingredients that really matter - when buying the organic version is the only way to ensure that the item is vegan.