Vegan Lemon Rainbow Fish Cookies
published on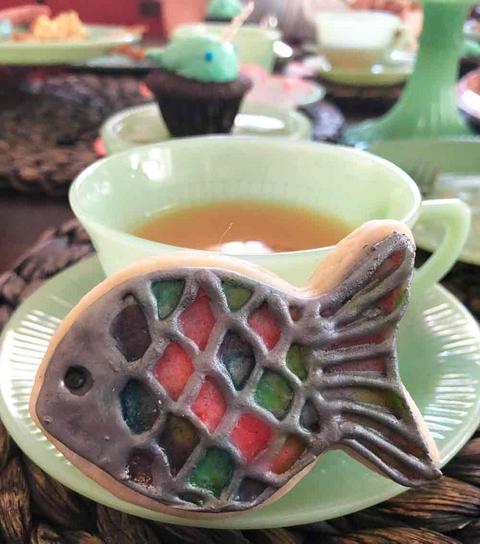 ♫ Listening to: I Found the F by Broadcast ♫
If you don't yet know Josipa, you should add it to your bucket list to meet her. She makes the most amazing creations in her kitchen. This recipe was created by her, starting with my unicorn cookie recipe and adding lemon.
These were the star of the Under the Sea tea party they attended, and mine got to take a little swim in my tea before I gobbled him up.
This recipe makes ~30 cookies.
Vegan Cutout Cookie Ingredients
Dollhouse Shortcut
Buy cookie dough instead of making your own and just add lemon rind. Eat Pastry and Hampton Creek both sell vegan cookie dough.
3 cups unbleached, all-purpose flour
2 teaspoons baking powder
1 cup organic sugar, blended
1 cup organic whipped earth balance (or sub any vegan butter or margarine)
1 ener-g egg replacer
1 teaspoon pure vanilla extract
1 tablespoon lemon rind, finely zested
Vegan Cutout Cookie Directions
Mix together the sugar and vegan butter in a stand mixer using the paddle attachment.
Sift the flour and baking powder into a large bowl, whisk, and set aside.
Prepare the egg replacer according to the directions on the box and add it to the sugar and vegan butter, mixing after the addition.
Add the vanilla extract and the lemon rind to the mixing bowl and mix again.
Add the flour to the mixing bowl, half at a time, mixing in between additions. Scrape the sides (and bottom) with a spatula, and remix.
Preheat the oven to 350°. Cut 2 pieces of parchment paper and line 2 baking sheets with it.
Roll some of the dough on a floured surface, with a floured rolling pin to ¼" thickness.
Cut out fish shapes, dipping the fish cookie cutter into flour in between each cut. Place the fishies on the parchment paper lined baking sheets.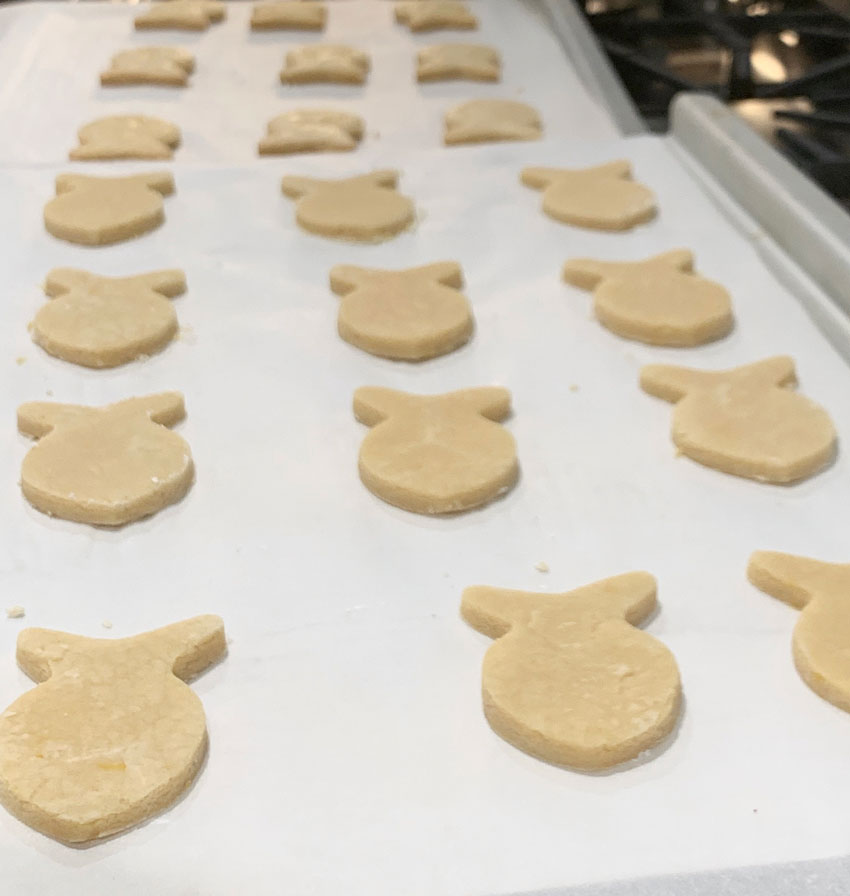 Freeze each tray of cookies once they're filled for 5-10 minutes (or the amount of time it takes you to fill the next tray).
Bake in a 350º oven for 10 minutes.
Remove tray from the oven and let sit until cookies have cooled.
Repeat until all the dough has been used up.
Vegan Cookie Icing Ingredients
4 ½ cups organic powdered sugar, sifted
3 tablespoons lemon juice
1 ½ tablespoon non-dairy milk
4 tablespoons organic light corn syrup
Vegan Cookie Icing Directions
Sift the powdered sugar into the bowl of a stand mixer or you can use a handheld electric mixer.
Add the non-dairy milk and the corn syrup and mix using the whisk attachment. Start on a low speed (unless you like the look of yourself covered in powdered sugar) and increase speed as the ingredients start to combine. Scrape the sides and bottom with a spatula and then mix again.
Add the lemon juice teaspoon by teaspoon, mixing constantly, until you get a consistency thin enough to pipe.
Transfer ¼ cup of that thicker icing to a bowl and set aside.
Add the rest of the lemon juice to the remaining icing and mix again. You want a thinner consistency this time to dip the cookies into.
Dip the tops of each fish cookie into the lemon icing and set onto parchment paper or a cooling rack to dry while you prepare the next steps.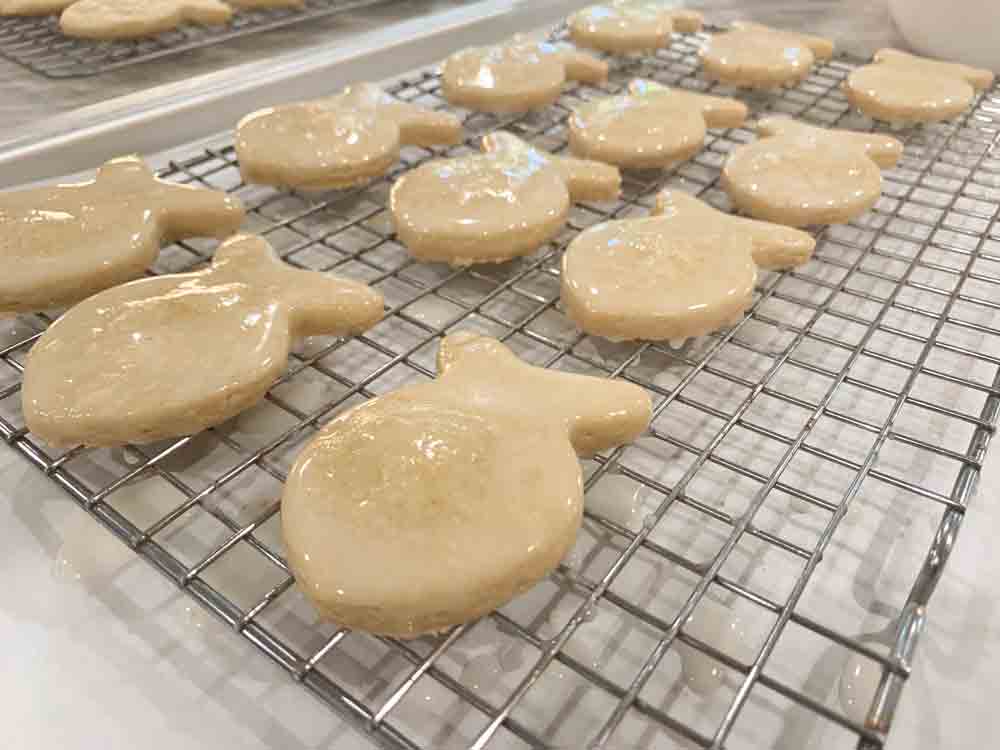 Add silver food paint to the ¼ cup of that thicker icing and mix until you have a shimmery color. Transfer to a squeeze bottle with a narrow opening at the top or to a piping bag fitted with a Wilton small round tip 1 and test it on a paper towel before you start on the cookies.
Draw the outline of the scales on all 30 cookies, using the picture in this recipe as your guide (or any rainbow fish picture you find on the internet). Let them dry while you prepare your next step. (Note that Josipa outlined in white and painted the outlines silver at the end, but I recommend this method because it omits a step at the end.)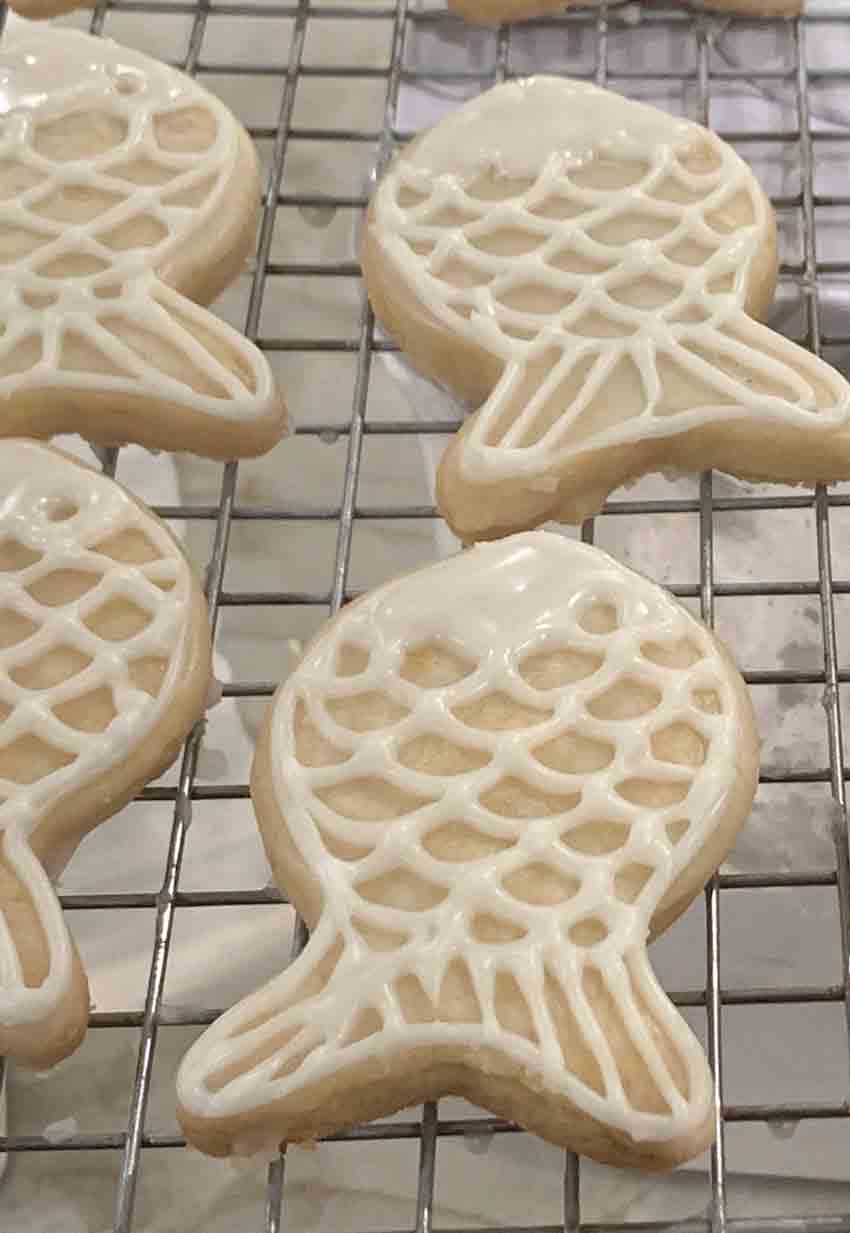 Divide the remaining dipping icing into 4 separate bowls and color each however you prefer.*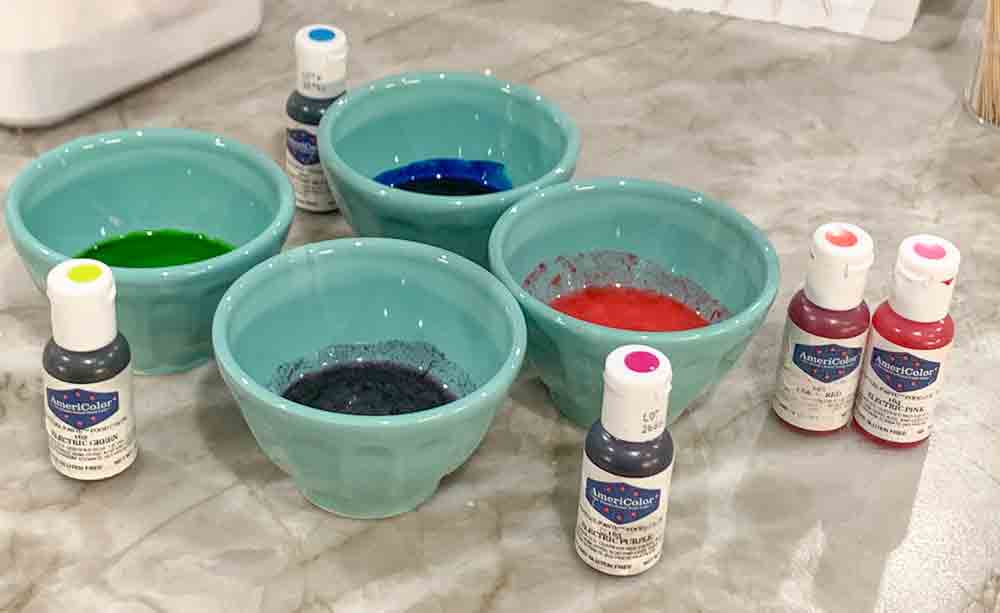 Transfer each color of icing to a different squeeze bottle or piping bag fitted with a Wilton small round tip 1 or, alternatively, you can do what Josipa did and use a paint brush to color in each of the scales. If the icing has gotten too thick, add more lemon juice to thin it out. Before moving to the next cookie, use a toothpick to help fill any holes you may have. Continue with the rest of the cookies.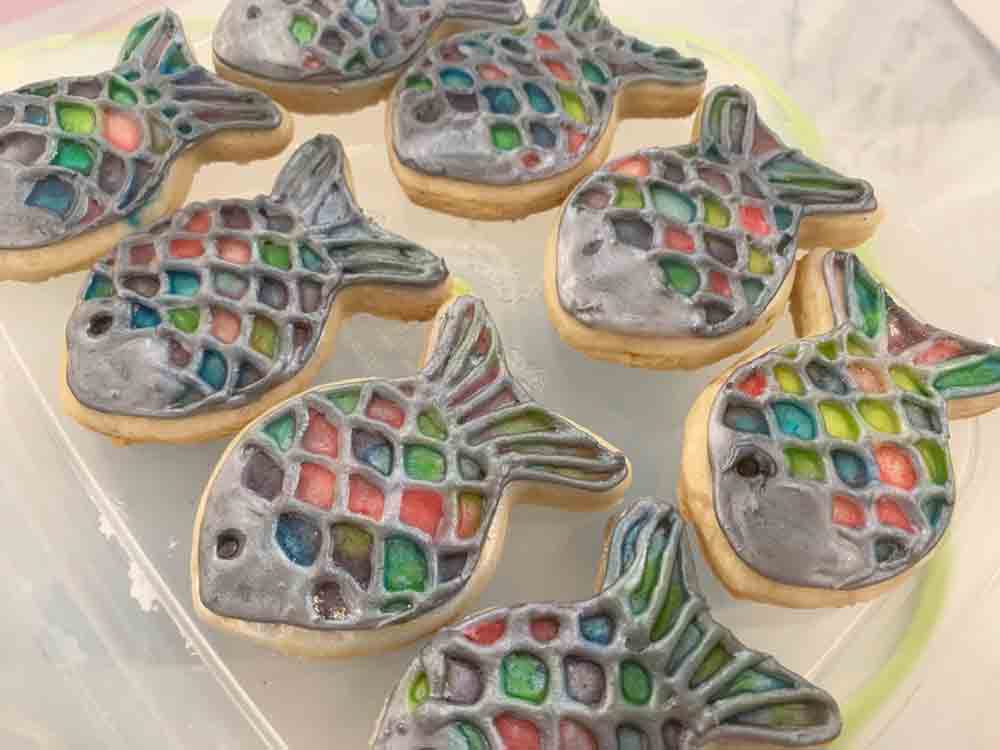 Touch up any spots that need fixing and then let them dry for at least 6 hours before trying to stack them.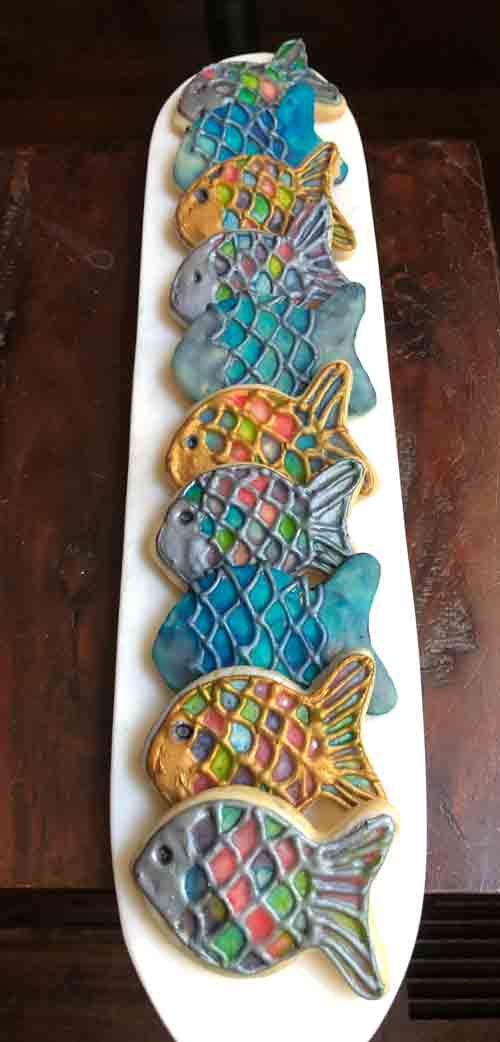 Serve with tea,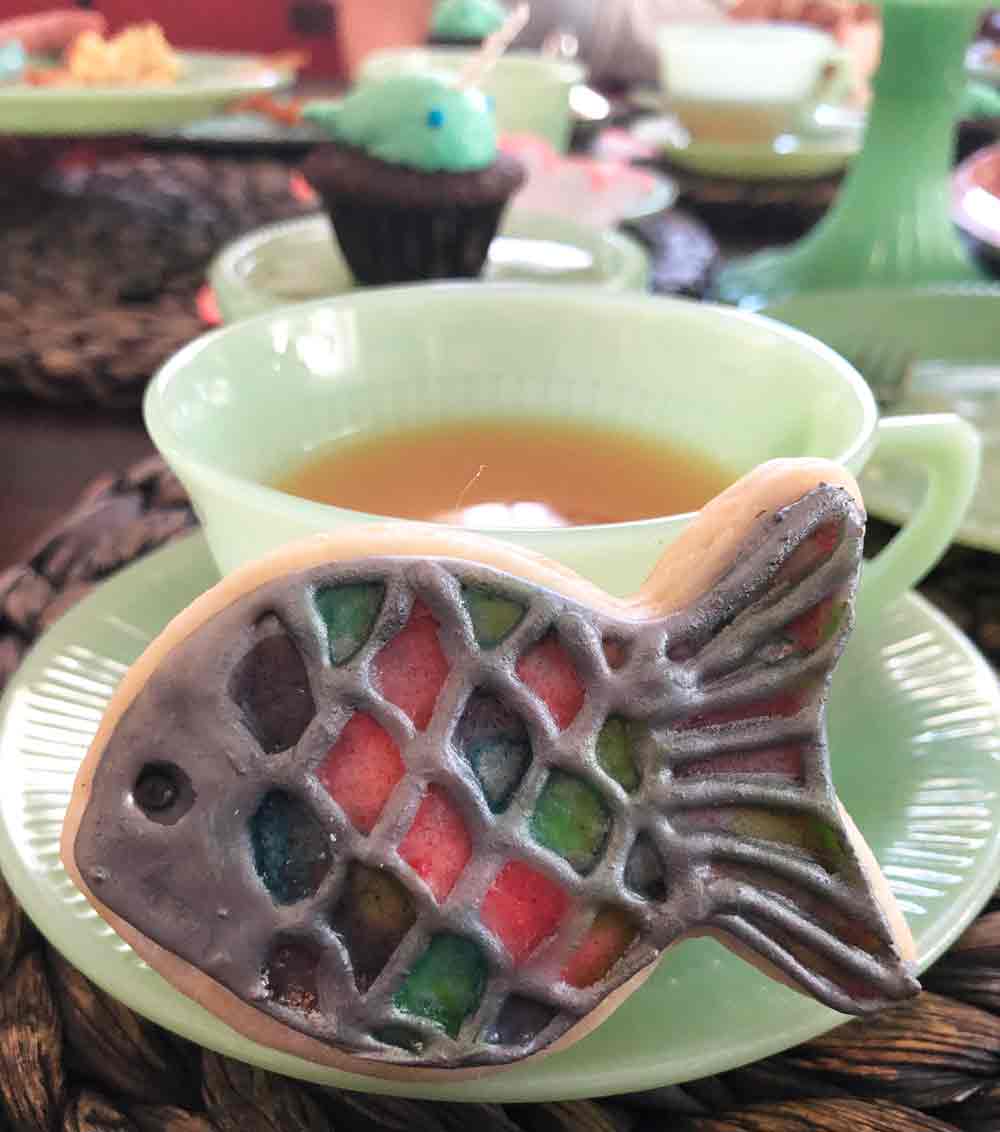 dip in tea,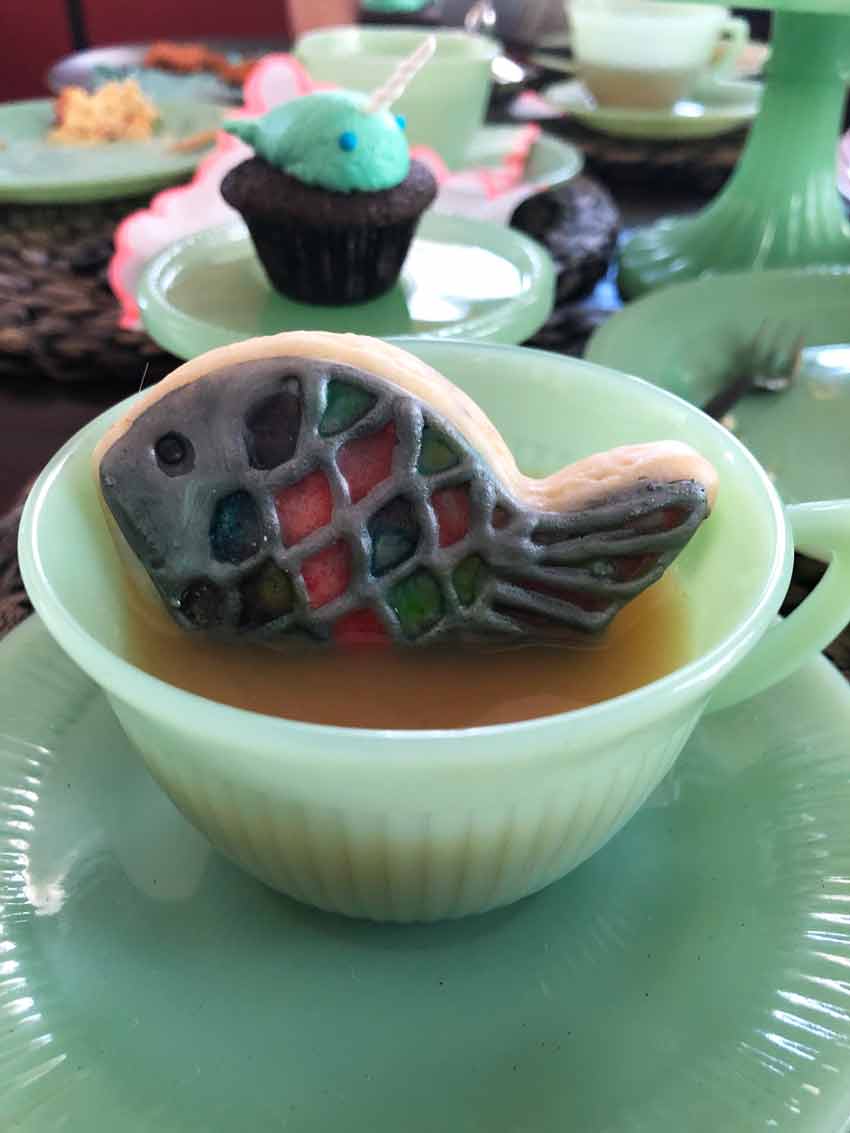 or take them to an Under the Sea tea party.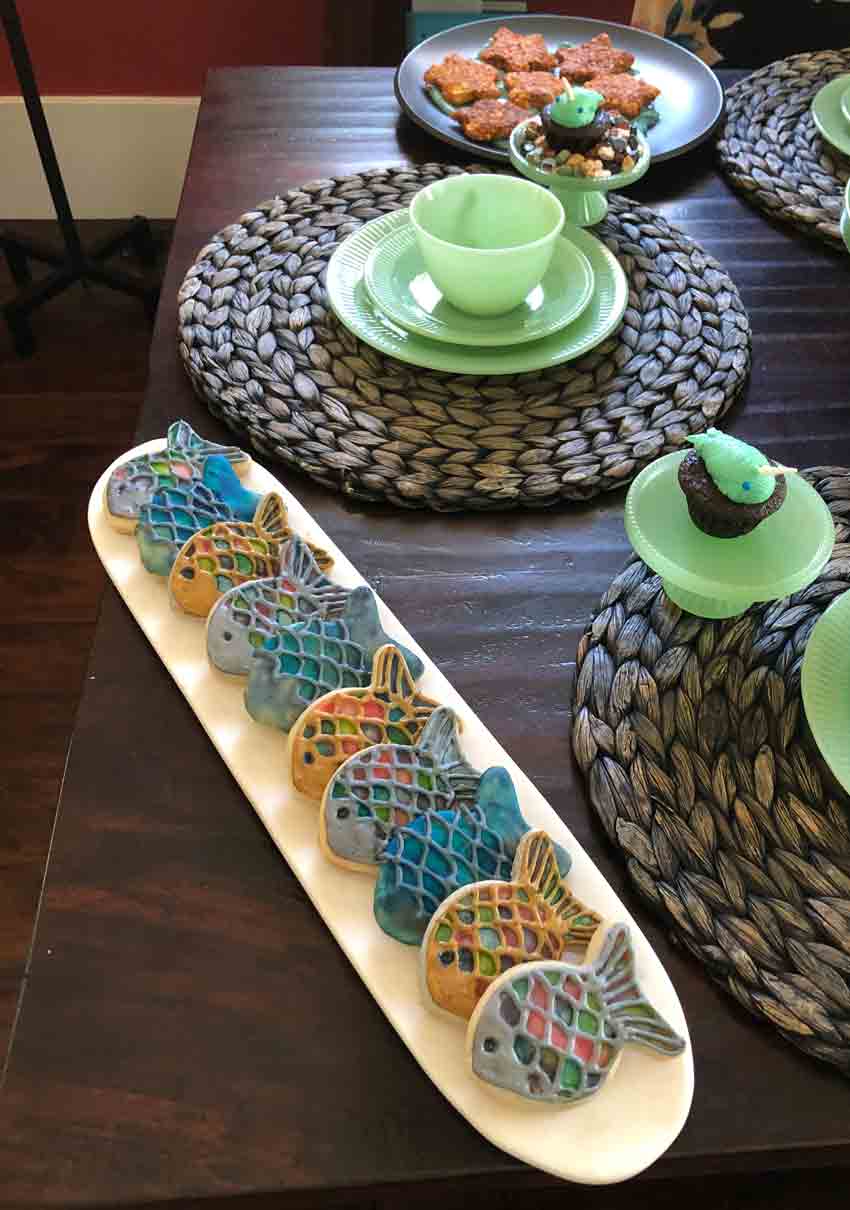 If you like lemon desserts, you might also like my lemon blueberry cake, my funfetti lemonade cake, my strawberry lemonade cake, and my lemon blueberry cookies.
☆☆☆☆☆☆☆☆☆☆
* I use mostly organic ingredients when I cook. I realize that not everyone has the disposable income to buy only organic ingredients. So, I only specify organic on the ingredients that matter: when buying the organic (or non-GMO) version is the only way to ensure that an item is vegan.
This post links to items I used when I made this recipe. If you click on the purple Buy Now button on a product page, you will go to a website (like Amazon) where you can buy the same product I used. Sometimes, the store you purchase from (Amazon, Etsy, etc.) will pay me for referring you. This costs you nothing extra, and I would never recommend a product that I don't use. These affiliate programs help me buy the ingredients to create these recipes for you. Read more about this in my privacy policy.
☆☆☆☆☆☆☆☆☆☆