Vegan Low-Sugar All Natural Cupcakes
published on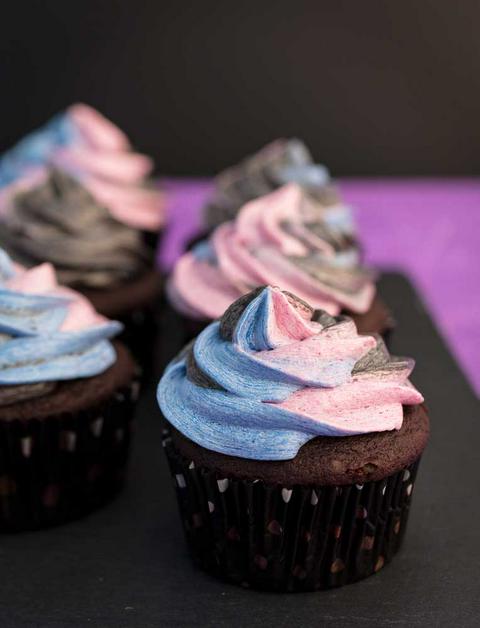 ♫ Listening to: Dawn of the Dead by Does it Offend You, Yeah? ♫
If you've never been to this website before, you may not know that I'm a sugar addict. So, when my dad asked me to make him healthy cupcakes for his birthday, I had to turn to google for the answer. And not unlike a lifelong friend or soulmate, it didn't let me down in my time of need.
These cupcakes use less than half of the amount of sugar my cake recipes usually use!!! That's a huge difference! I definitely feel like they taste healthier than a normal cupcake, but I've still been eating 2 each day like I'm about to hibernate for the winter. Another thing I did for these cupcakes to make them healthier, was to use only superfoods to color the frosting. So, if you have any health nuts in your life that have birthdays coming up, this would be a perfect recipe for you to use.
These also freeze and defrost perfectly, so feel free to make these in advance if needed.
This recipe makes 22 vegan chocolate pastel unicorn cupcakes.
Vegan Low-Sugar Chocolate Cupcakes Ingredients
2 cups nondairy milk (I used almond milk)

1 tablespoon apple cider vinegar (or substitute white vinegar)

2 ½ cups unbleached white flour

⅔ cup cocoa powder

½ tablespoon baking soda

1 teaspoon baking powder

⅔ cup sunflower oil

1 ¼ cups organic or raw sugar*

1 teaspoon vanilla extract
Vegan Low-Sugar Chocolate Cupcakes Directions
Line 2 cupcake pans with cupcake liners.
Preheat the oven to 350°.
Combine vinegar and nondairy milk, stir, and let sit.
Sift together the flour, cocoa powder , baking soda, and baking powder into a large bowl.
Add the oil, sugar, and vanilla to the nondairy milk mixture and stir well. I use my stand mixer with the kitchenaid beater attachment attachment.
Add the dry ingredients slowly to the wet, mixing continuously. Stop mixing when you can no longer see any dry ingredients.
Fill each cupcake liner halfway.
Bake for 18 minutes. When you insert a toothpick into the center of one, and it comes out clean, remove from oven.
Set pans on cooling racks to cool for 10-15 minutes.
Remove cupcakes from the pans and set them directly on the cooling racks to finish cooling completely.
Vegan Natural Low-Sugar Frosting Ingredients
1 cup organic sugar*

4 tablespoons unbleached flour

1 cup nondairy milk

¼ cup vegan butter or margarine (if you avoid soy, buy the soy-free earth balance; otherwise buy the organic whipped earth balance)*

¼ cup organic palm shortening*

¼ cup coconut oil

1 tablespoon vanilla extract

2 tablespoons black cocoa powder

1 teaspoon pink pitaya powder

1 teaspoon blue spirulina
Vegan Natural Low-Sugar Frosting Directions
Dollhouse Shortcut
If you make the flour pudding the night before, you won't have to wait for it to cool on the day you make your unicorn cupcakes.
Whisk the sugar and flour together in a medium saucepan. Turn heat to medium.
Add the nondairy milk while whisking.
Continue whisking until it thickens to a pudding consistency.
Remove from heat and transfer to a bowl.
Cover with plastic wrap, pressing the wrap so that it touches the entire surface area of the goop.
Set aside until it's completely cooled.
Whisk the spectrum sustainable organic palm shortening , margarine, and coconut oil for 1 minute using a handheld electric mixer or stand mixer with the whisk attachment. Scrape the sides with a silicone spatula , and mix for another minute.
Add the vanilla extract, and mix for another minute.
Add the cooled pudding goop, one spoonful at a time while still whisking.
Scoop some frosting into 2 bowls, leaving some in the mixing bowl.
Sift the black cocoa powder into the mixing bowl of frosting, and mix well (assuming you want one of your colors to be steel gray like mine).
Sift blue spirulina into one of the bowls, and sift pink pitaya powder into the other bowl. If you don't have these superfoods and don't want to buy them, check out my list of vegan food coloring.
Mix all the colors well.
Fill 3 disposable piping bag s or reusable piping bag s (or you can just use baggies with a hole cut out of the corner) with the 3 colors of frosting.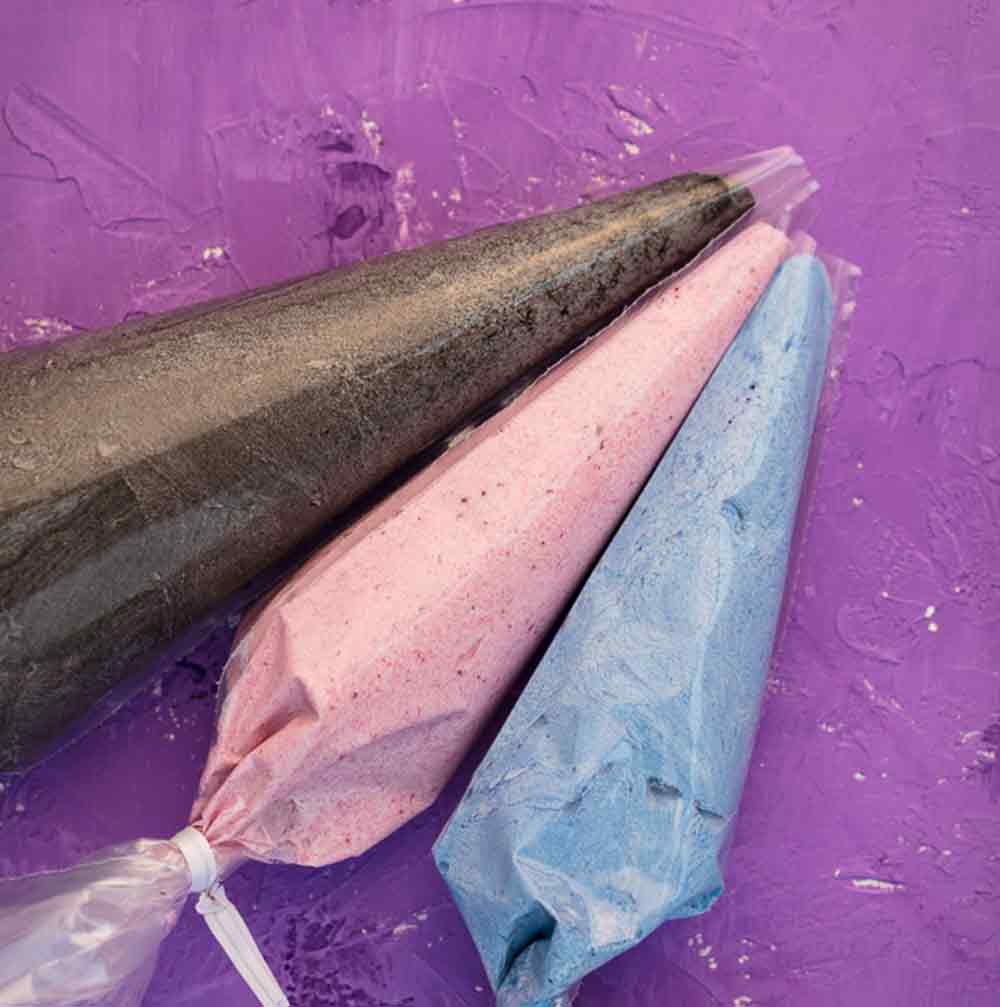 Place the single-colored piping bags inside of a large piping bag fitted with your tip of choice. I used my favorite Wilton star tip 1M .
Chill the frosting bag in the fridge for 20-30 minutes before you start piping the frosting. You don't have to do this, but flour buttercream (also known as ermine icing) is so soft and delicate that chilling it will increase your chances of the frosting staying put once you pipe it. I only chilled mine for 10 minutes because I was in a hurry to take pictures before the sun set (story of my life), but I wish I had chilled it longer.
Pipe swirls of frosting onto each cupcake. The first cupcake won't look great because it takes a sec for the colors to start swirling together, so if you're worried about having an ugly one, maybe start piping on a plate until it starts looking good before doing the cupcakes.
Chill cupcakes in the fridge or freezer. If freezer, remove 30 minutes before serving.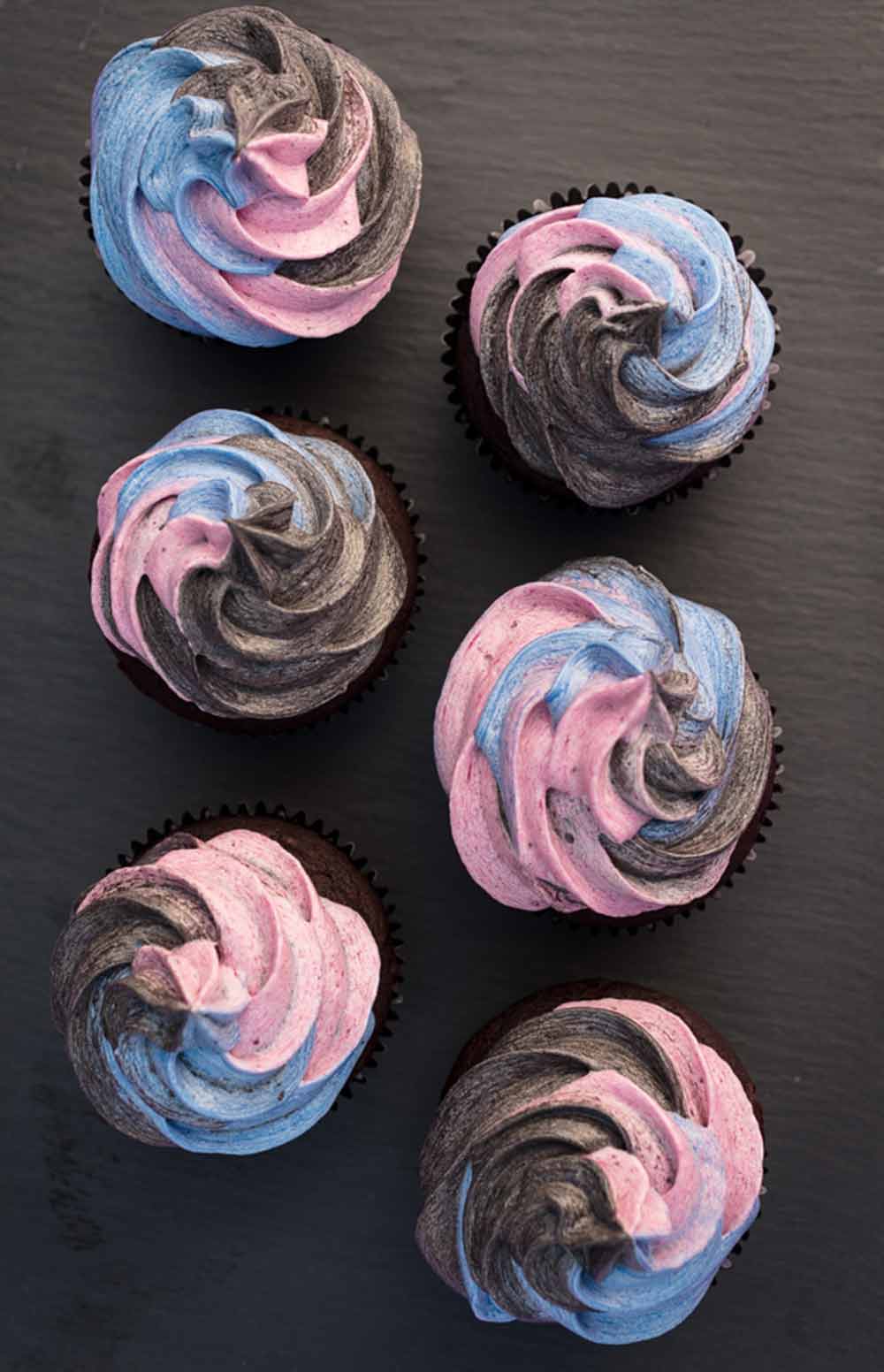 If you like this low-sugar frosting recipe and want more of it, I use it in my pistachio rose cake.
☆☆☆☆☆☆☆☆☆☆
* I use mostly organic ingredients when I cook, but I realize that not everyone has the disposable income to purchase all organic ingredients. Therefore, I only specify organic on the ingredients that really matter - when buying the organic version is the only way to ensure that the item is vegan.