Vegan Yogurt Parfait
published on
♫ Listening to: Tiny Raindrop by Balance and Composure ♫
This isn't the first yogurt recipe I tried. Or the second. Or the third. Luckily, the ingredients and time that go into making yogurt aren't much, so when I failed, it wasn't so big a loss that it discouraged from me from trying again. Every failed attempt got me closer to my desired consistency, until I finally ended up with the perfect thick greek-style yogurt.
This recipe requires an instant pot with a yogurt setting. If you don't have one, there are tons of recipes online that use other methods. There are also tons of recipes online that use coconut milk, but I get enough coconut milk in my diet already. This is a fabulous thing to make for anyone who has their wisdom teeth extracted and can only eat soft foods.
This recipe makes approximately 32 ounces of yogurt or 16 ounces of greek-style yogurt.
Vegan Yogurt Ingredients
Dollhouse Shortcut
If you aren't interested in making your own yogurt, buy Kite Hill yogurt and make your parfaits with that.
1 quart organic soymilk (make sure the only ingredients are soybeans and water, and nothing else - I buy the 365 brand that whole foods sells or the soy beverage from Trader Joe's)*

2 vegan probiotic capsules (or sub ¼ - ½ cup vegan yogurt)

¼ cup organic powdered sugar (optional, and varies depending how sweet you like your yogurt)*

2 teaspoons vanilla (optional)
Vegan Yogurt Directions
Pour the milk into a bowl with a spout on it (if you have one).
Empty 2 vegan probiotics capsules (or ¼ - ½ cup vegan yogurt if you don't have any vegan probiotics) into the soymilk and whisk well.
Pour the mixture into cups or jars.
Place the jars inside the instant pot and lock the lid.
Press the yogurt button, and then press the up arrow until it says 14 hours. The instant pot will say Yogt when it's done.
Remove the lid carefully after 14 hours (don't tilt it) so that none of the condensation drips into the yogurt.
Remove jars from instant pot and put lids on them and chill if you like plain, unsweetened yogurt. However, if you're like me, and you like thicker yogurt or sweeter yogurt, follow the next few steps.
Place a strainer over a bowl, and place a nut milk bag inside the strainer (you can use cheesecloth if you don't have a nut milk straining bag).
Pour the yogurt into the nut milk bag, and let it sit there for an hour draining off the whey.
Transfer the thick, strained yogurt into a bowl, and feed the whey to your dog. If she's anything like my dog, she'll drink it all and then lick the bowl clean.
Whisk the vanilla extract and the powdered sugar into the thick yogurt, if you like your yogurt to be sweetened. You can also mix in fruit preserves, maple syrup, or any other flavors you like.
Transfer the yogurt to a container with a lid and chill in the fridge. The yogurt should keep for up to 3 weeks.
Make the parfait after the yogurt has chilled for at least 2 hours.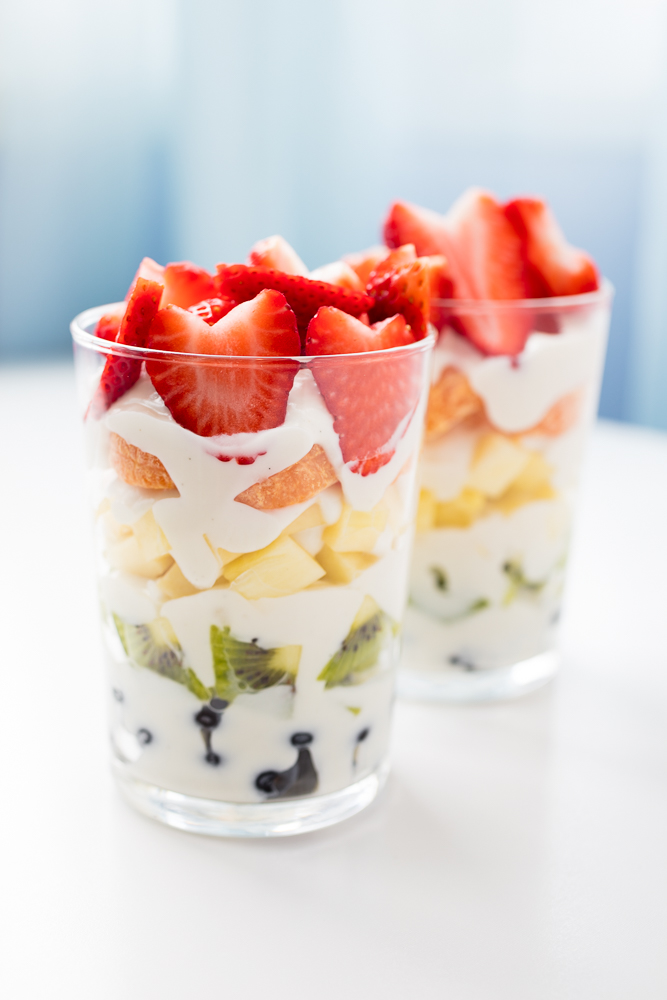 ☆☆☆☆☆☆☆☆☆☆
* I use mostly organic ingredients when I cook, but I realize that not everyone has the disposable income to purchase all organic ingredients. Therefore, I only specify organic on the ingredients that really matter - when buying the organic version is the only way to ensure that the item is vegan.