Mini Vegan Rainbow Ice Cream Cakes
published on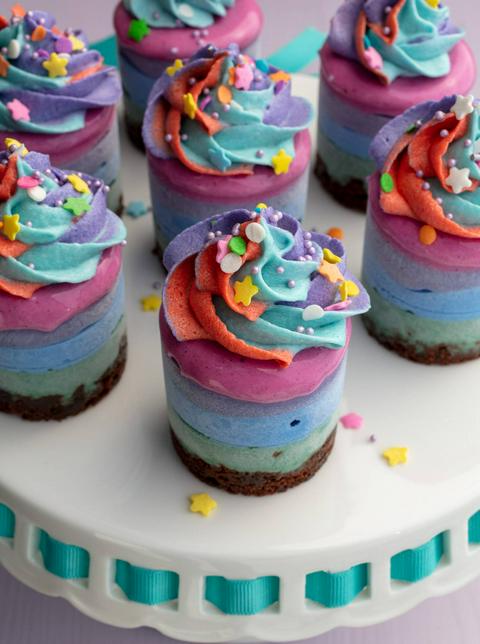 ♫ Listening to: Rainbow in the Dark by Dio ♫
I made these mini rainbow ice cream cakes for Kimmy's birthday…a year ago? 2 years ago? I honestly cannot recall. It's weird, she keeps having birthdays, but I just stay the same age (mentally). You may or may not already know how I feel about desserts that don't contain chocolate (THEY SHOULDN'T EXIST :), so I had to sneak a chocolate brownie crust into these vanilla and lemon rainbow ice cream mini cakes. Did I mention that they're also naturally colored with superfoods? So, now we can justify eating more than one. You're welcome.
Now that pride month has arrived, these mini rainbow ice cream cakes are no longer going to be sitting in my barrel (fine, it's just a figurative barrel, but there are A LOT) of recipes I haven't yet posted. If you think LGBTQ+ pride is something worth celebrating, you might also like this rainbow recipe. For other ice cream recipes, check out this list.
Mini Vegan Rainbow Ice Cream Cake Ingredients
Dollhouse Shortcut
Purchase vegan vanilla ice cream from the store, let it sit out for 10 minutes to soften, and skip to the coloring step in the recipe.
1 ½ cups nondairy milk (if you use soymilk, make sure it's organic)*
1 can organic coconut milk (Whole Foods 365 brand is fairly cheap)
¾ cup organic or raw sugar*
3 tablespoons arrowroot powder (or sub organic cornstarch)
1 tablespoon vanilla extract
superfood powders (or other vegan food coloring)
1 teaspoon lemon juice
any sweet treat you happen to have around
Mini Vegan Rainbow Ice Cream Cake Directions
Freeze the liner of your ice cream maker and 4 bowls overnight.
Whisk the arrowroot powder with ¼ cup nondairy milk. Add 1 tablespoon vanilla. Whisk again. Set aside.
Whisk the sugar, remaining nondairy milk, and coconut milk in a saucepan over medium heat.
Remove the saucepan from the stove as soon as the ingredients in the saucepan start to boil.
Whisk in the arrowroot powder mixture.
Leave on counter covered until it cools to room temperature.
Chill in the refrigerator for 4 hours or overnight. While it chills, you can make the crust for the bottom of the ice cream cakes.
Process with a food processor or by hand (using a ziplock baggie and a rolling pin or a can is a popular method for breaking up hard things like cereal and ice cream cones) any fun treats you have lying around the house (cookies, brownies, cake, cereal, waffle cones, or anything really).
Mix your crumbs with frosting or organic whipped earth balance or vegan cream cheese or whatever you have. You only need to mix it enough to get it to start sticking together. If you used newman o's or oreos, you don't need this step because the creme filling will hold the crumbs together.
Press the crumbs into the bottom of each cubby of the tall silicone molds and freeze.
Pour the chilled vanilla ice cream into an ice cream maker and start churning immediately.
Churn the vanilla ice cream until it's thick.
Divide your vanilla ice cream into your 4 frozen bowls.
Add pink pitaya powder to one of the bowls and mix it in well. Place it back into the freezer while you color the next one.
Add blue spirulina to the second bowl and mix it in well. Place it back into the freezer while you color the next one.
Add spirulina to the third bowl and mix it in well. Place it back into the freezer while you color the last one.
Add butterfly pea flower powder and a teaspoon of lemon juice to the last bowl and mix it in well. Place it back into the freezer.
(Check out my list of vegan food coloring for other options.)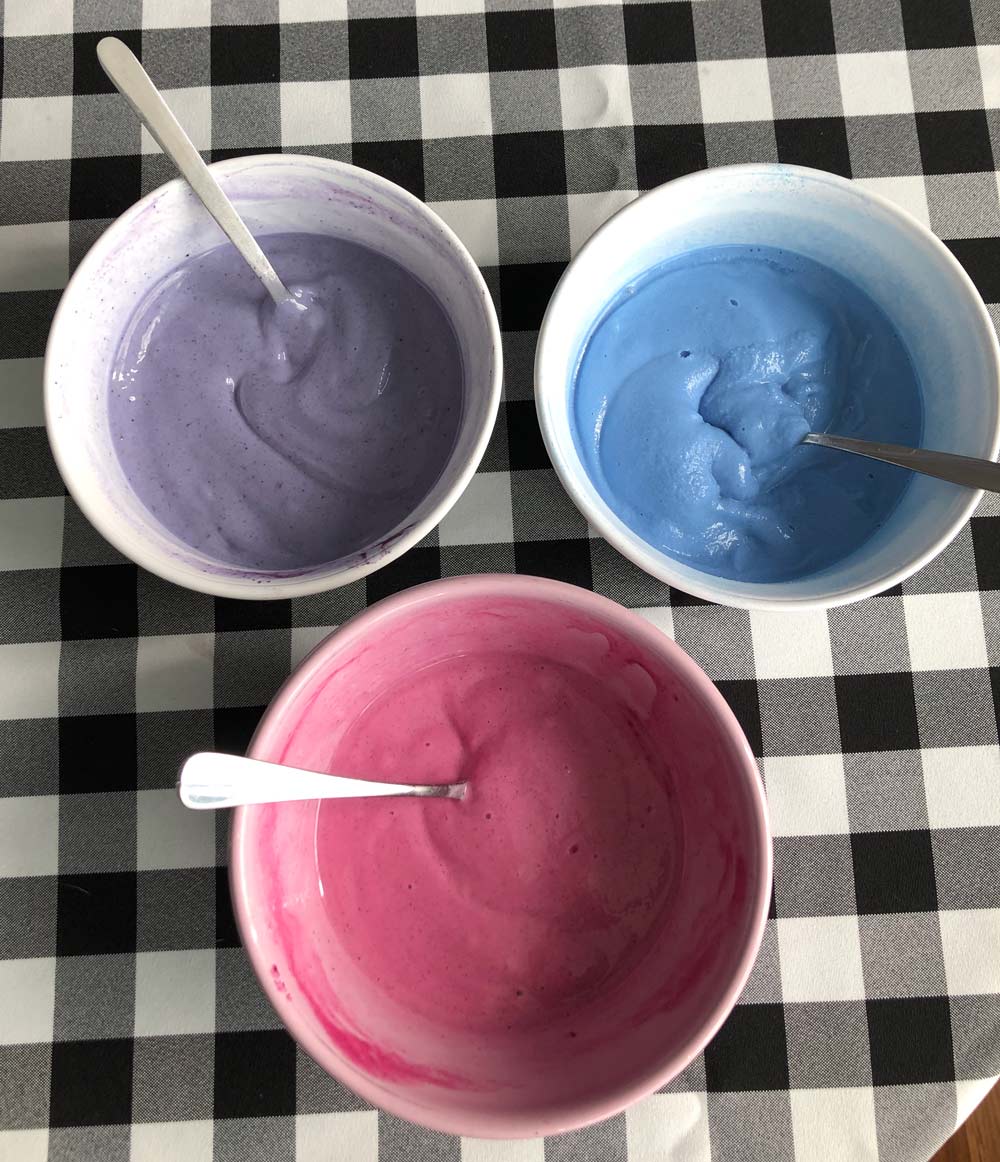 Fill the cubbies of tall silicone molds a quarter of the way with one of your colors. You can layer them in any order you prefer.
Freeze that layer for around 5-10 min before adding the next color to make sure they don't mix together.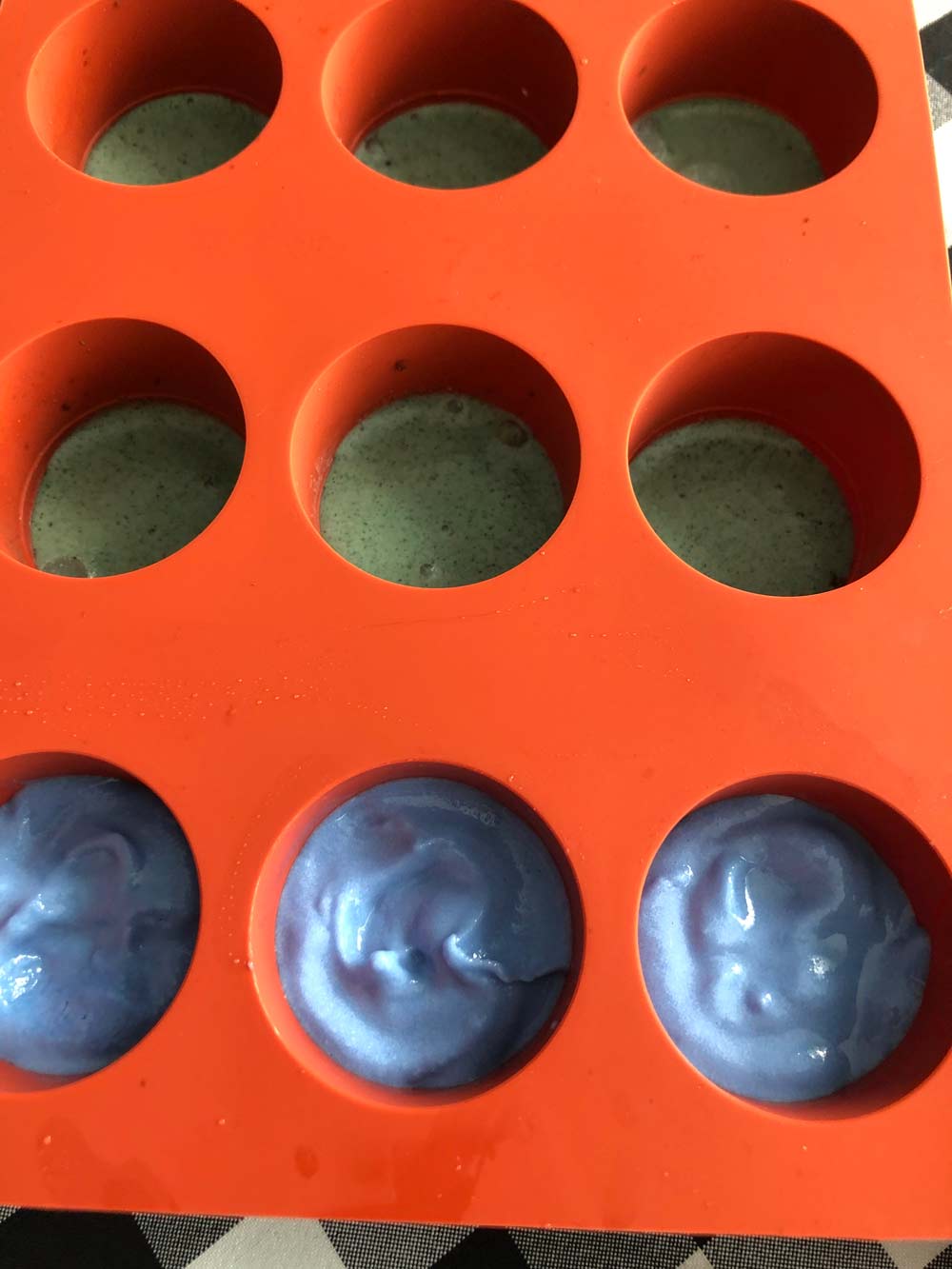 Repeat with all the colors.
Freeze the mini ice cream cakes until you're ready to serve them. When you're ready to serve, following the remaining instructions.
Pop each mini ice cream cake out of the tall silicone molds and decorate them however you like or serve as is. I topped them with some frosting I had leftover in the fridge and vegan sprinkles.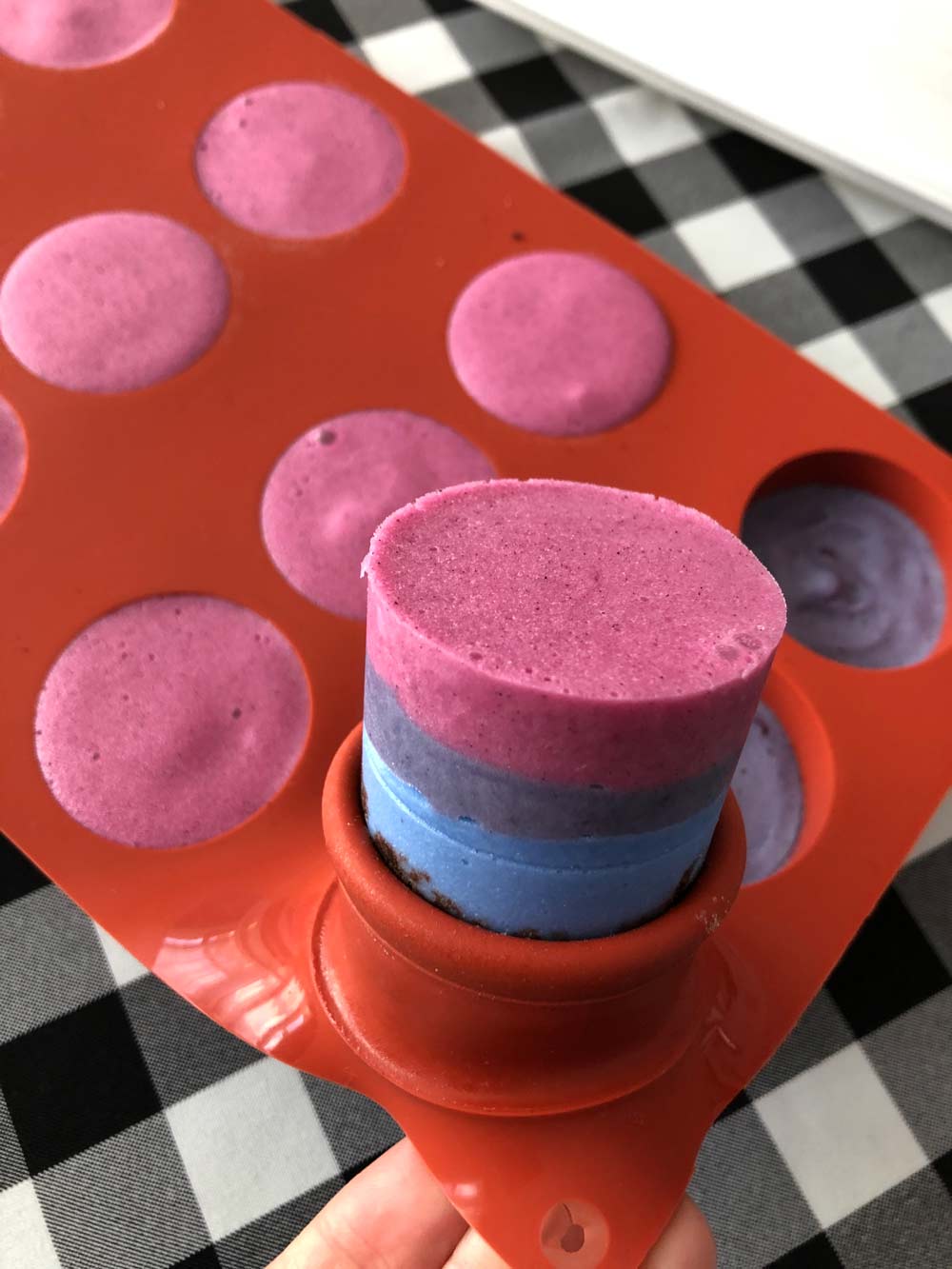 Hint: If you don't have an ice cream maker , you can also just pour the ice cream mixture into a bowl and rest that bowl inside a bigger bowl that's filled with ice. You'll need to constantly stir it with a spatula, and you'll likely have to restock your ice as it melts, but it works well enough. If you're willing to purchase an ice cream maker on amazon, click on the link in this post (and it helps support this website), or you can usually find used ones at thrift stores for under $10.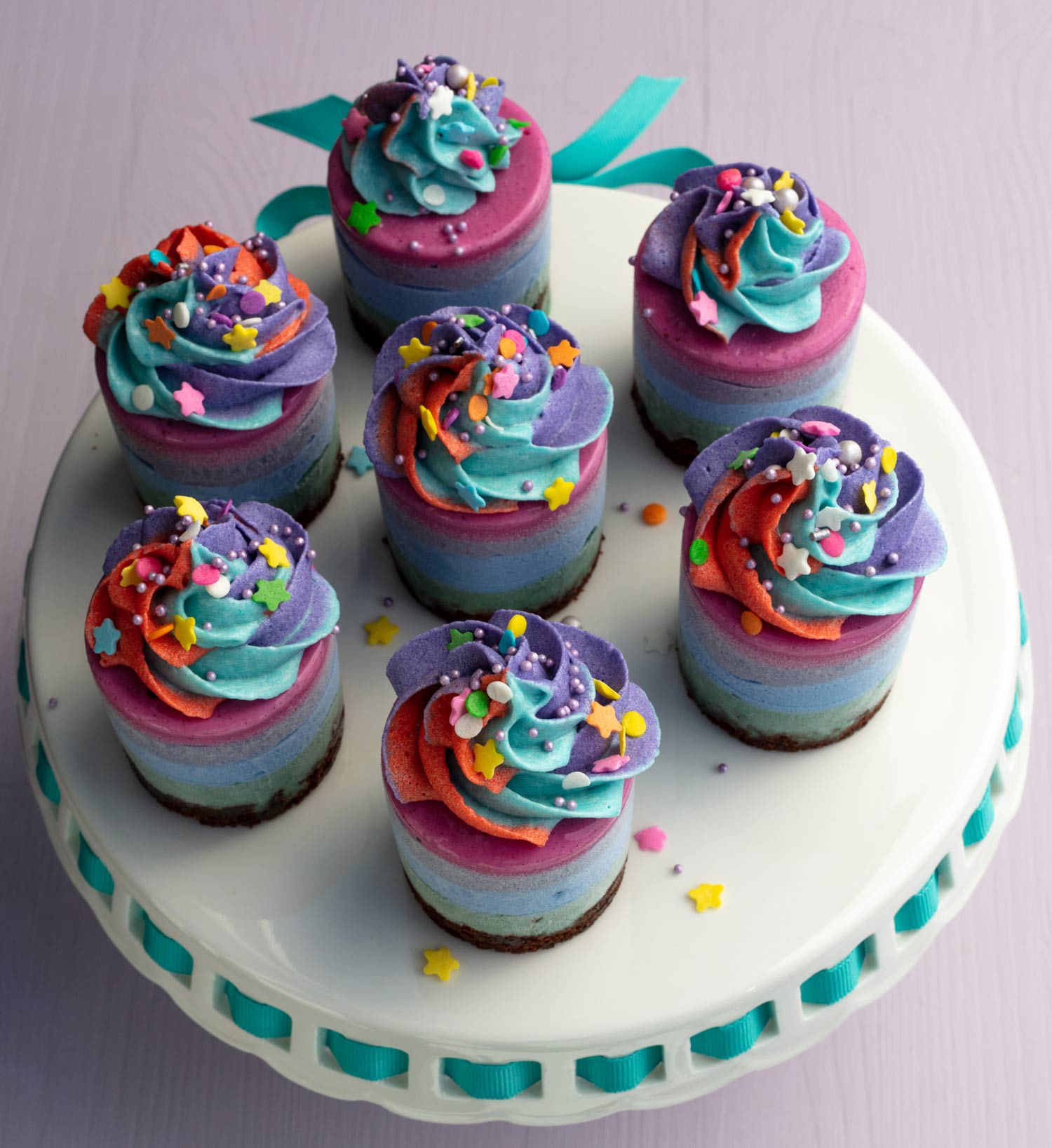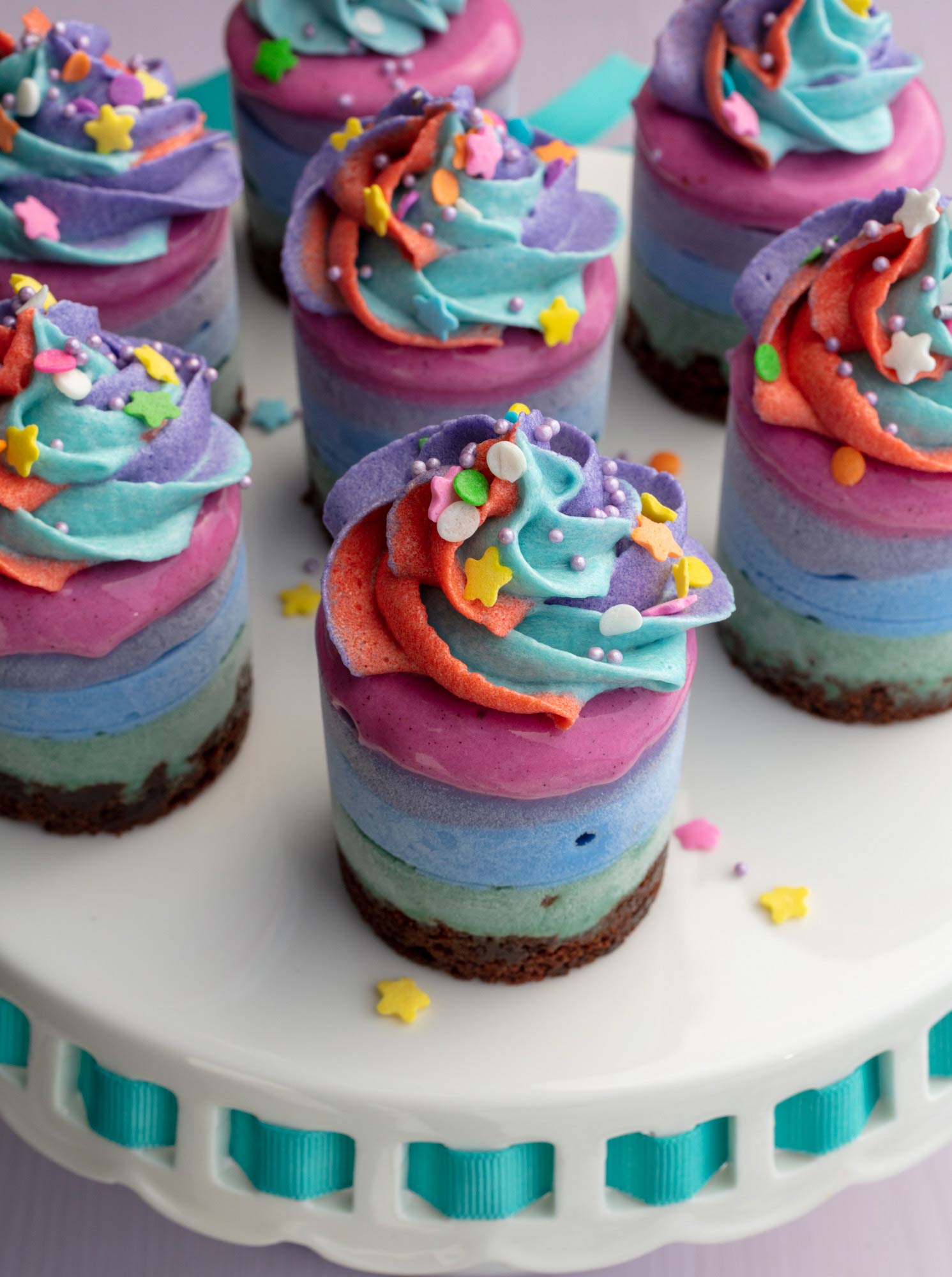 ☆☆☆☆☆☆☆☆☆☆
* I use mostly organic ingredients when I cook, but I realize that not everyone has the disposable income to purchase all organic ingredients. Therefore, I only specify organic on the ingredients that really matter - when buying the organic version is the only way to ensure that the item is vegan.