Vegan Loquat Cake
published on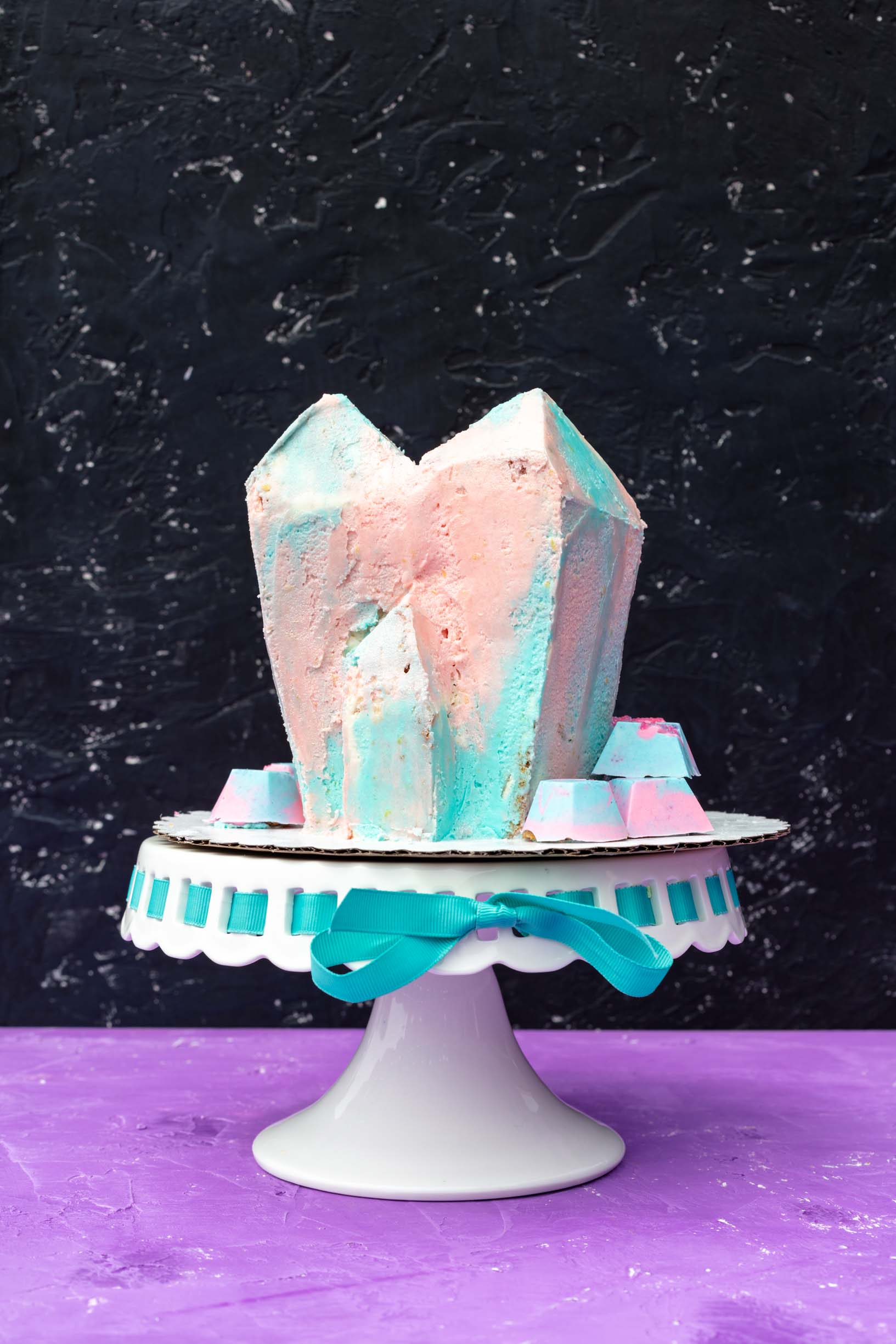 ♫ Listening to: Swingset Chain by Loquat ♫
Loquats were one of my mom's favorite fruits. Their season usually starts around Mother's Day in California, which is very convenient for those of us who like to illegally send their mom fruit through the U.S. postal service. (Trust me, it's a weak crime compared to some other things I've mailed when I was a teenager :)
This year, we've been spending more time on evening walks, now that we're all quarantined in our homes, so I've been taking an inventory of all the neighborhood loquat trees (if you live in Sunnyvale and are curious, send me a message, and I'll hook you up). I'm a firm believer that the part of the tree that hangs over the sidewalk or fence into community property is fair game, but David always tells me I'm stealing. So, either I'm right (I vote for this option), or we have to rename this recipe to Looted Loquat Cake.
The lemon curd filling and lemon buttercream frosting gives this cake a nice tartness to balance out the tropical sweetness of the loquats. If you like lemon, you might also like my strawberry lemonade cake or my lemony snicket cupcakes. I recommend making this cake over the course of 2 days. One day 1: I bake the cakes, make the frosting and lemon curd, and make the pink sugar. On day 2: I assemble the cake, carve the crystals, make the small gemstones, frost the cake, and decorate it.
This recipe makes a three-layer 6" round cake, carved into a crystal formation. Serves 8.
Vegan Loquat Cake Ingredients
1 tablespoon apple cider vinegar (or sub white vinegar)
½ cup soymilk (or other nondairy milk)*
3-4 cups pitted loquats (start with 2 pounds of loquats, which is around 6 cups, and you'll end up with 3-4 cups pitted)
3 ½ cups unbleached white flour
1 ½ teaspoons baking soda
½ teaspoon baking powder
a pinch of salt
1 ½ cups organic or raw sugar*
⅔ cup safflower oil
1 teaspoon vanilla extract
Vegan Loquat Cake Directions
prep time: 20min | baking time: 35-40min
Coat 3 6" round cake pans using a paper towel with safflower oil on it.
Cut 3 round pieces of parchment paper by tracing the cake pans.
Set each piece of parchment paper on the bottom of each cake pan and then coat again with safflower oil.
Stir 1 tablespoon vinegar into ½ cup soymilk and let sit.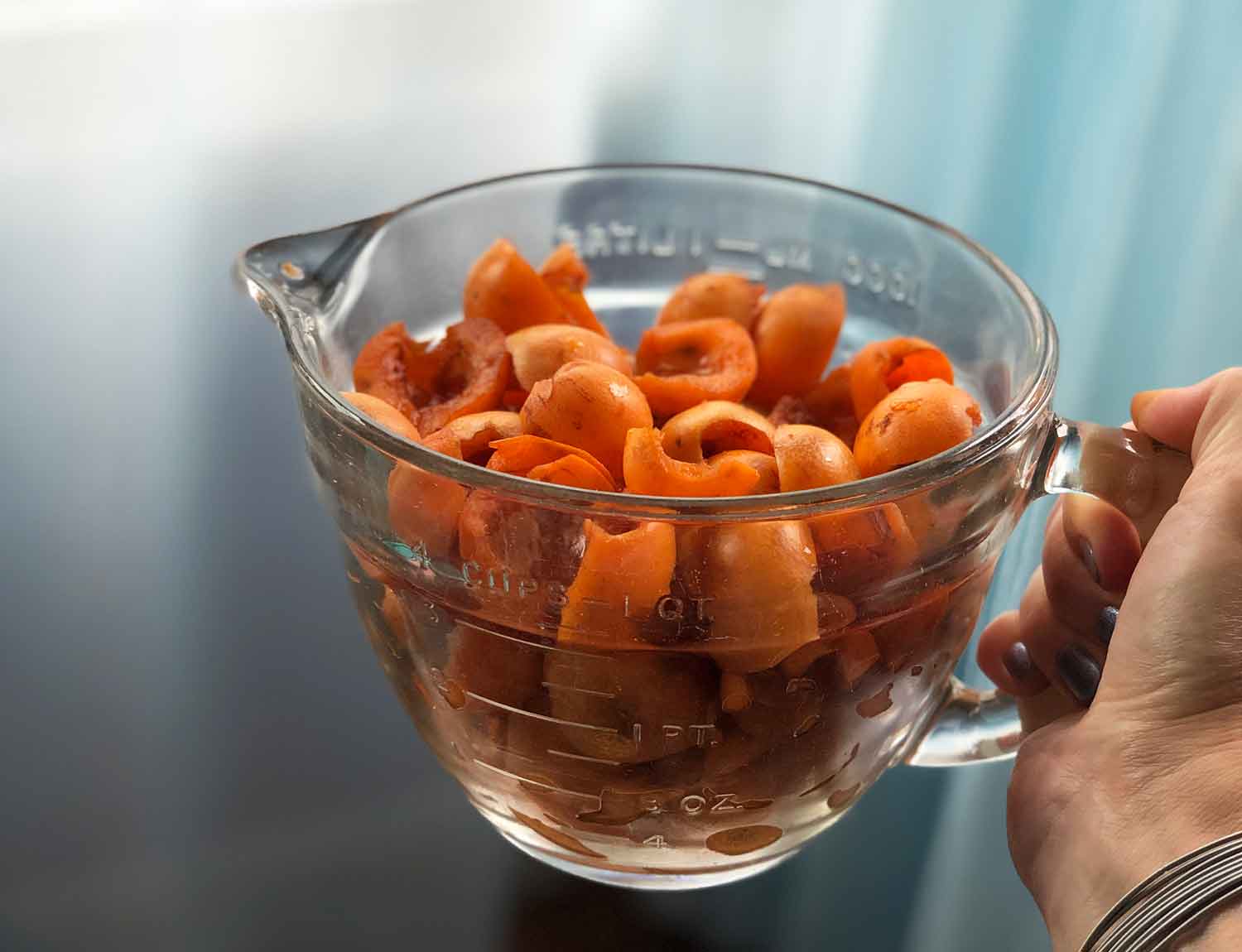 Blend the pitted loquats using a stand blender or an immersion blender until no chunks remain. Washing and pitting the loquats took me about 25 minutes, which I didn't include in the time calculation above. If you have a family member or friend that you can delegate this step to, I recommend it.
Measure out 1 ½ cups of blended loquats. (Freeze any extra you might have leftover in ice cube trays or a silicone mold to save for future smoothies.)
Preheat the oven to 350°.
Sift 3 ½ cups flour, 1 ½ teaspoons baking soda, ½ teaspoon baking powder, and a pinch of salt.
used 1 teaspoon this time
Mix 1 ½ cups sugar, ⅔ cup safflower oil, 1 teaspoon vanilla extract, 1 ½ cups of blended loquats, and the vinegar-soymilk concoction. You can use a stand mixer or a handheld electric mixer, or I've even mixed this by hand with a whisk, and it's super easy. Mix until you can no longer hear the sugar scraping the bottom of the mixing bowl.
Add the dry sifted ingredients to the wet. If you're mixing by hand, switch to using a spoon or spatula at this point. If you're using a stand mixer I recommend the paddle attachment. Don't overmix. You only want to mix until you can no longer see any dry ingredients.
Divide the batter as evenly as possible into the 3 6" round cake pans using a silicone spatula to make sure you use it all.
Bake for 35-40 minutes, until when you insert a toothpick into the center, it comes out clean. If you're using two 8" or 9" cake pans instead, bake for 40 minutes. Always try to put your cake pans on the same rack so they bake as evenly as possible.
Remove from the oven and leave the cakes on a cooling rack to cool for 30 minutes before flipping over. Then cool completely on cooling rack.
Cut the tops of the 3 cooled cakes to make them flat (if needed).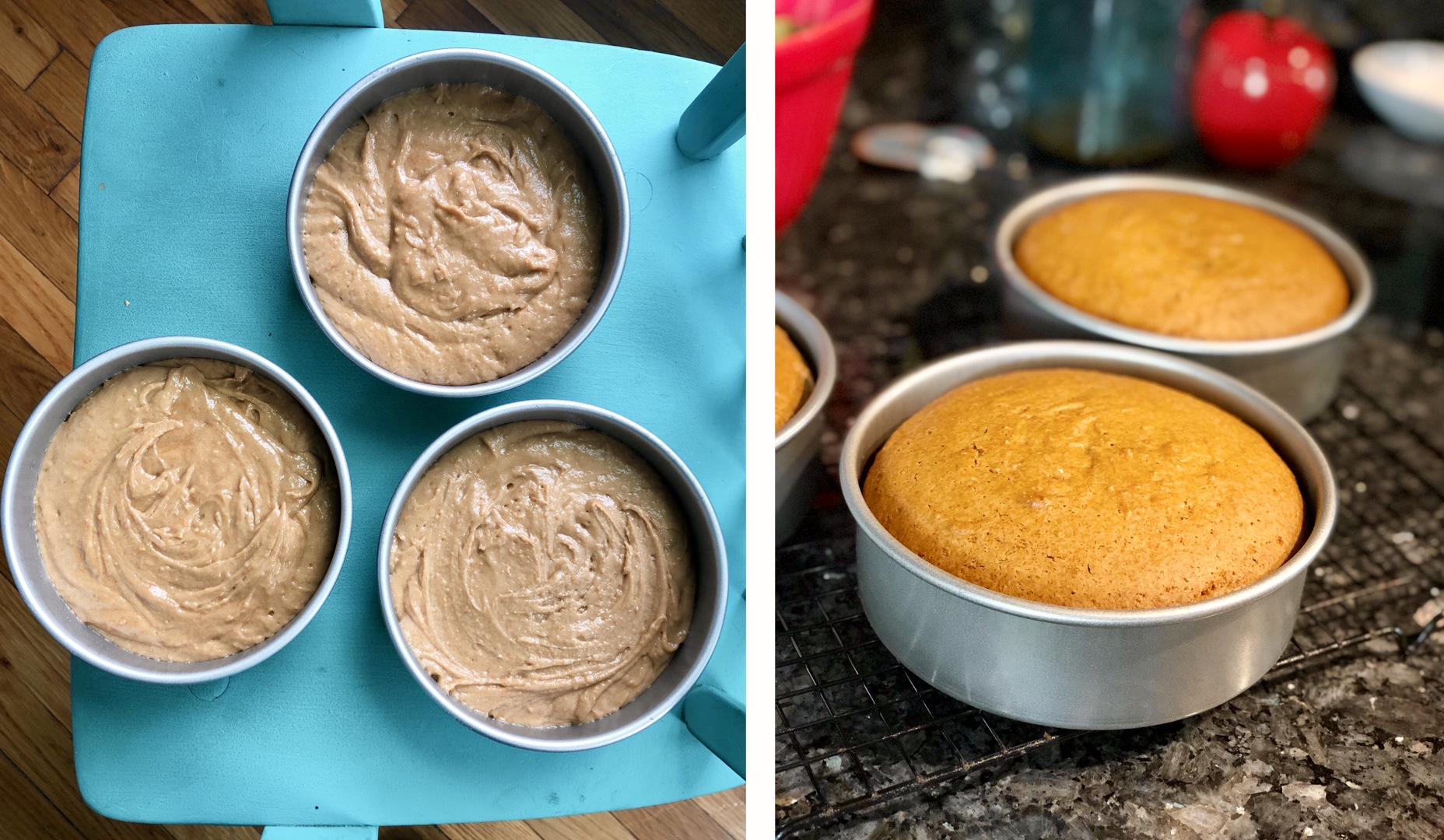 Vegan Lemon Buttercream Frosting Ingredients
zest and juice from a lemon
¾ cup vegan butter or margarine (if you avoid soy, buy the soy-free earth balance; otherwise buy the organic whipped earth balance)*
¾ cup organic palm shortening*
4 ½ cups organic powdered sugar*
vegan food coloring
Vegan Lemon Buttercream Frosting Directions
25min
Leave the ingredients sitting out before using them. Best results come from using room temperature ingredients.
Whisk ¾ cup spectrum sustainable organic palm shortening and ¾ cup margarine for a minimum of 1 minute on high using a stand mixer or a handheld electric mixer.
Sift in 2 cups of the powdered sugar, 1 cup at a time, mixing for at least a minute between each addition.
Blend the lemon juice and lemon zest. (Zesting the lemons before juicing them is much easier than doing it the other way around.)
Add the blended lemon juice and zest to the frosting in the mixing bowl, and continue mixing for at least another minute.
Sift in another 2 ½ cups of the powdered sugar, a cup at a time, mixing for at least a minute between each addition. You want it to be a creamy consistency, but thick enough to pipe. When it reaches that consistency, stop adding powdered sugar.
Fill a piping bag fitted with a Wilton large round tip 1A with some of the frosting.
Save the remaining frosting for decorating.
Pipe a ring of frosting around the perimeter of 2 of the cooled cake layers.
Transfer to the freezer to set while you make the lemon curd filling.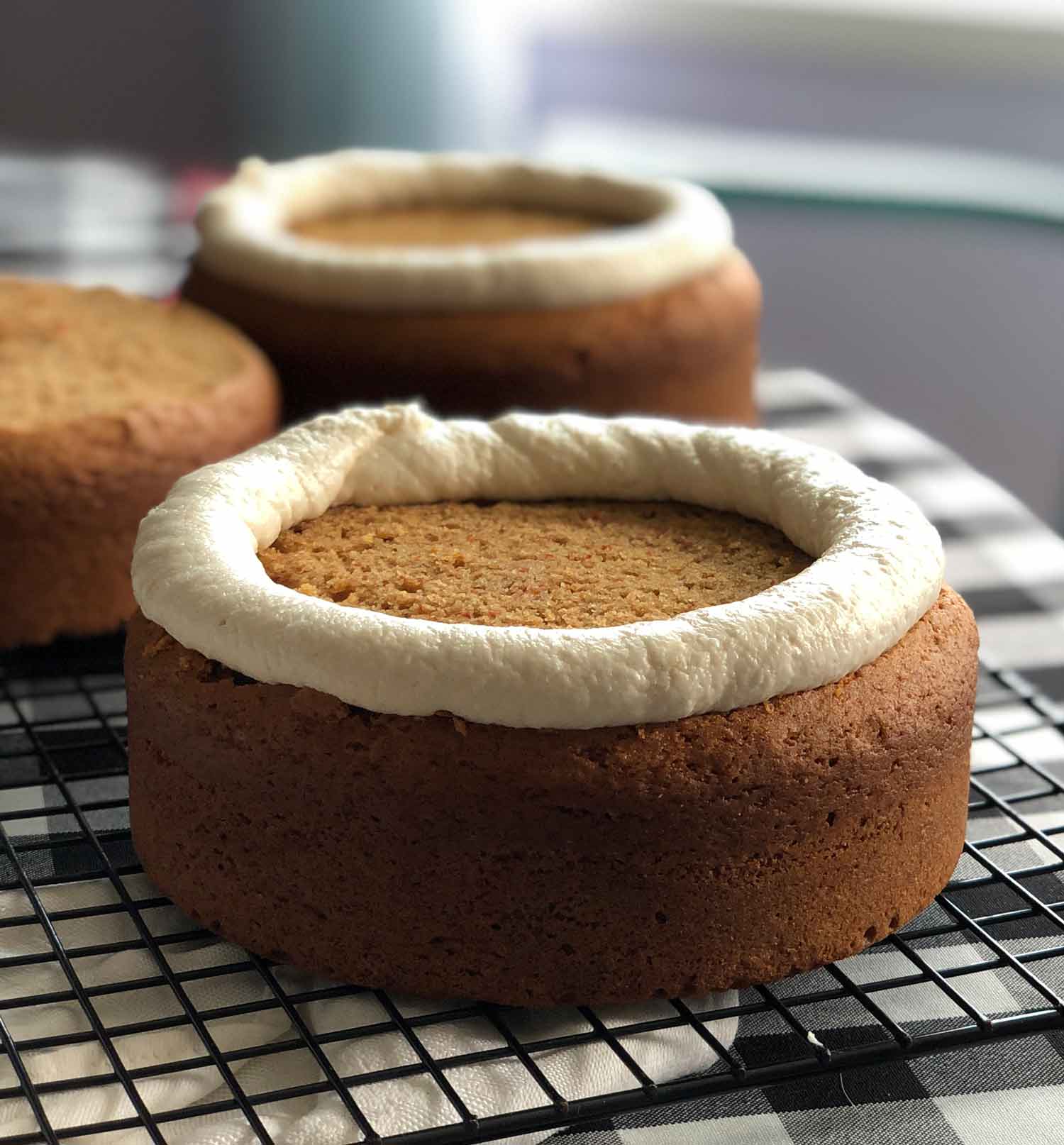 Vegan Lemon Curd Filling Ingredients
½ cup soymilk*
½ cup lemon juice
¼ cup organic or raw sugar*
2 ½ tablespoons arrowroot powder or organic cornstarch*
Vegan Lemon Curd Filling Directions
10min
Whisk ½ cup soymilk, ½ cup lemon juice, ⅓ cup sugar, and 2 ½ tablespoons of arrowroot powder or organic cornstarch in a medium saucepan.
Heat to medium heat and continue whisking until the sugar dissolves and the mixture thickens.
Remove from heat, cool for 10 minutes, whisk again, and pour over the top of two of the cake layers, keeping it inside the frosting outer ring.
Freeze the cake layers with lemon curd on top for 2 hours, or overnight.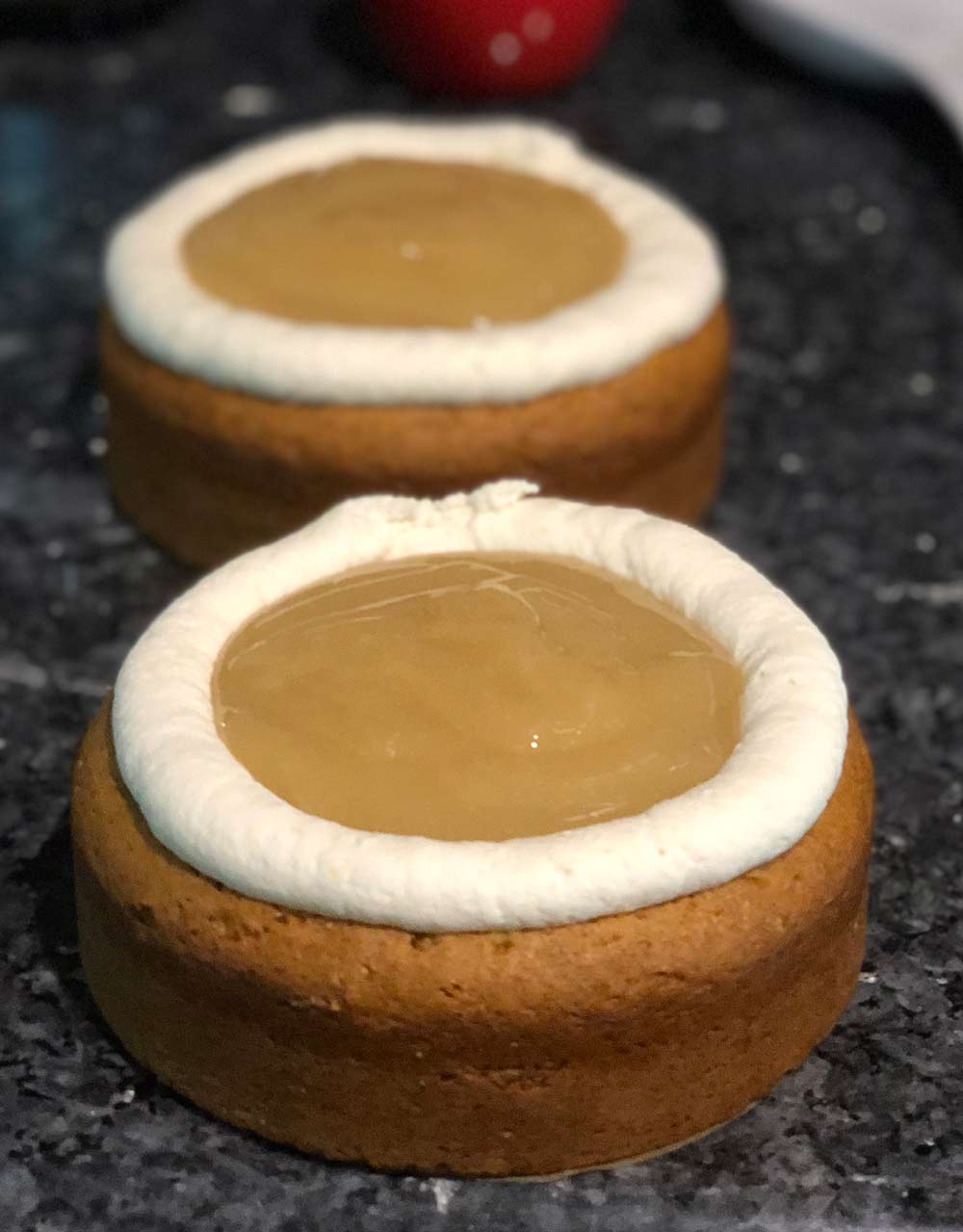 Vegan Pink Sugar Ingredients (optional)
a few tablespoons of raw or organic sugar*
1 teaspoon of water
Vegan Pink Sugar Directions
Mix a couple of drops of wilton rose gel color with a teaspoon of water and mix.
Spoon a few tablespoons of sugar into a bowl.
Pour the pink water over the sugar and mix well.
Spread out on a tray to dry overnight. If you have a dehydrator, you can speed up the process by sticking it in there.
Crumble it back into sugar consistency, once it's dry.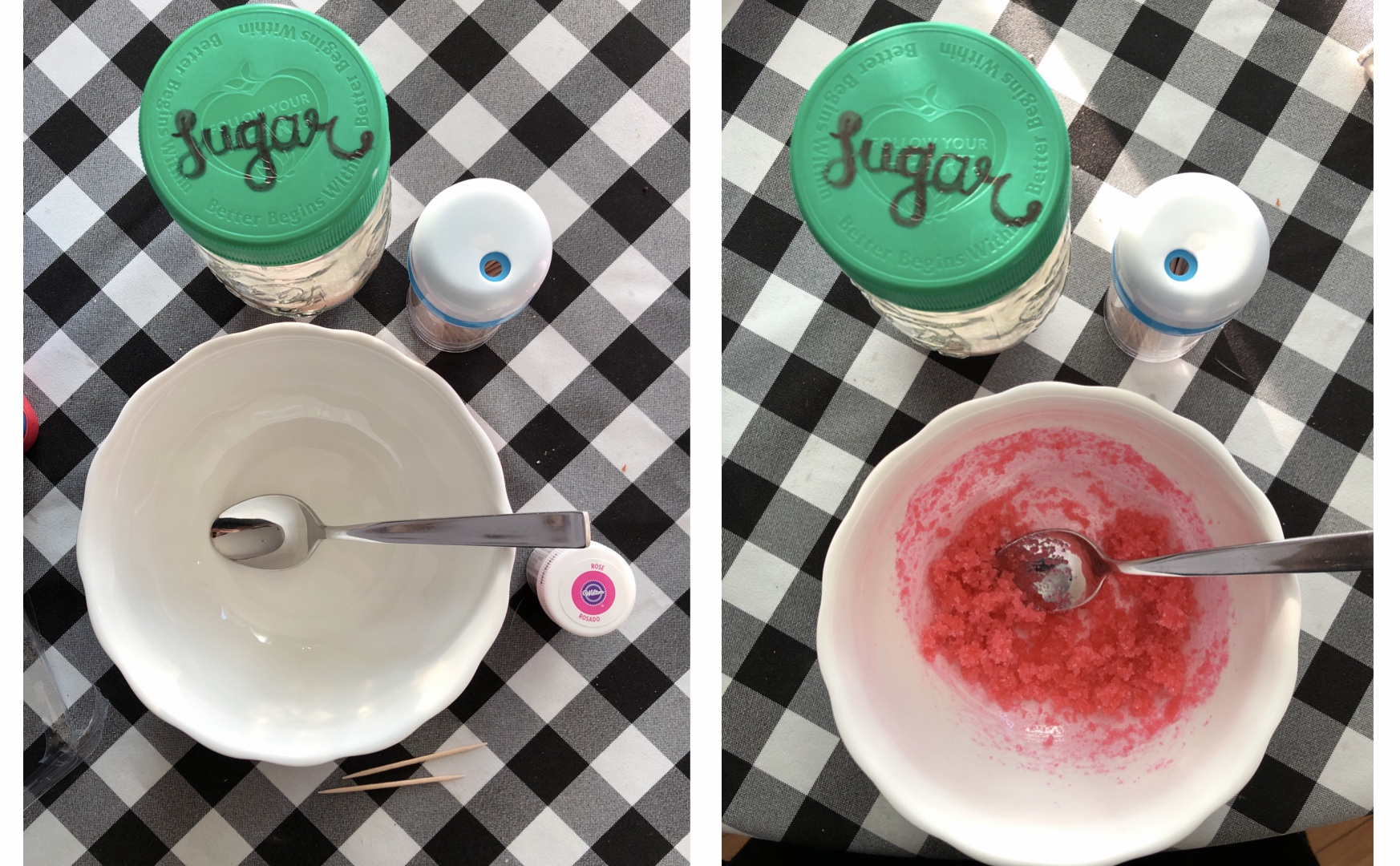 Carving the Vegan Loquat Cake into a Crystal Cluster
Stack your frozen cake layers so that the layer without frosting or lemon curd is on the top.
Carve a crystal cluster, as best you can, with a serrated bread knife. This isn't the easiest step, so don't be too hard on yourself. You can see from the pictures that I didn't do the best job either.
Save the scraps you cut off for the next step.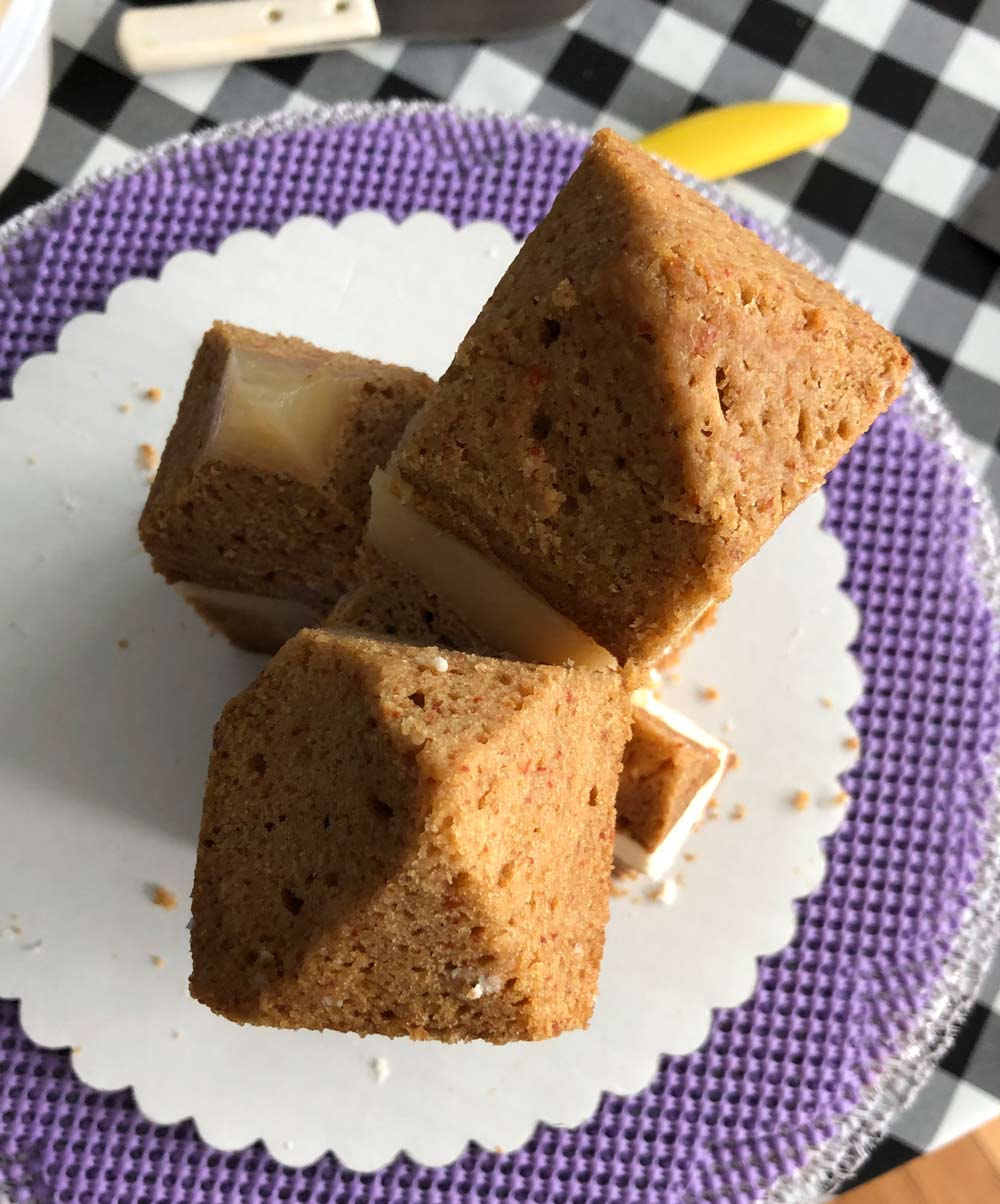 Vegan White Chocolate Crystals Ingredients
6 ounces vegan white chocolate
vegan food coloring
colored sugar (optional)
edible glitter (optional)
Vegan White Chocolate Crystals Directions
Wash and dry your Wilton silicone gems mold
all silicone molds can grow microscopic spores on them when they sit unused, so it's important to wash and dry them before you use them.
Sprinkle a bit of the colored sugar in the bottom of each gem cubby. This step is optional since the gems still look cute without it.
Divide the vegan white chocolate into 2 small microwave-safe bowls. You can also melt it on the stove using a double boiler if you don't use a microwave and divide the melted chocolate into 2 small bowls once it's melted. (I used to be that person, I totally get it.)
Add vegan food coloring to each bowl and mix well. I chose light pink and light blue because I made this cake for Zen's birthday, and she likes those colors. They also happen to be the trans flag colors, so that's a bonus. You can use any colors you like. Check my vegan food coloring page for a list of vegan food coloring brands.
Drop a spoonful of each color of vegan white chocolate into each gem mold and use a toothpick to swirl the colors together. Make sure the chocolate covers the entire surface area of the inside gem cubby, but wipe off any that gets on the flat part of the mold that connects each cubby.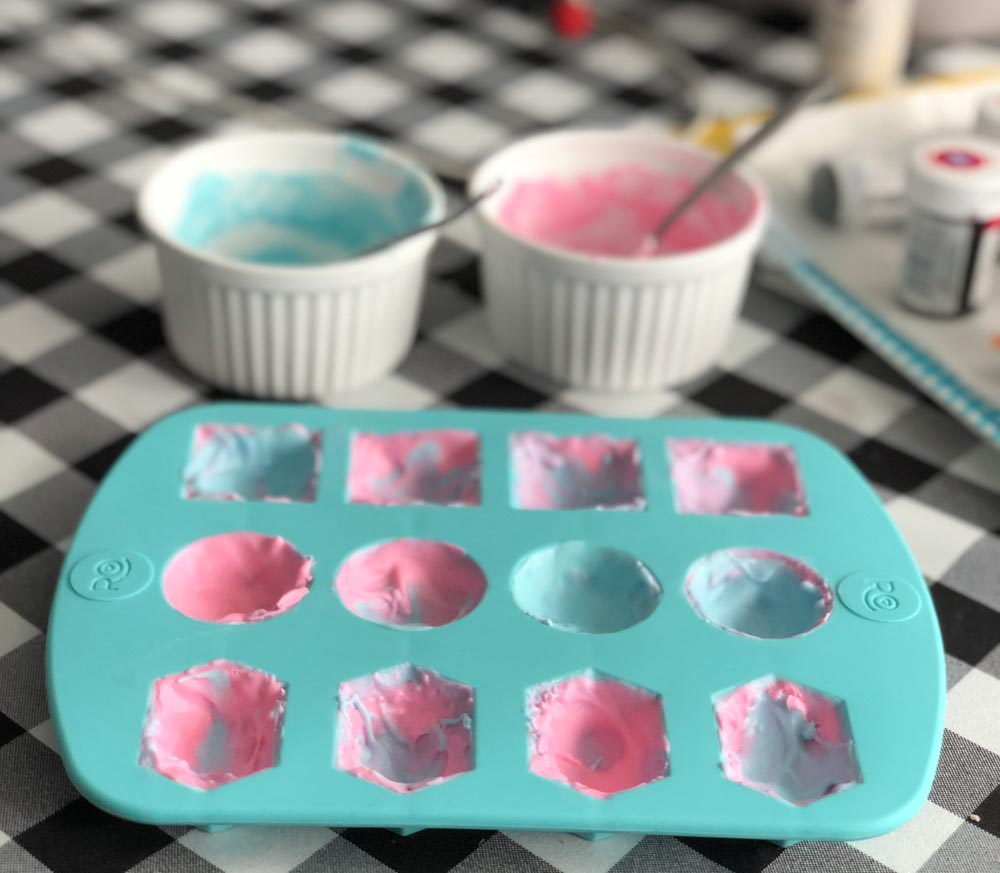 Chill the mold in the fridge or freezer while you do the next step. You can stop here if you only want these for decoration. Once they harden, you can pop them out of the mold carefully, and they can adorn your cake as is. However, if you want to make them into cake pops, continue with the next steps.
Crumble some of the cake scraps that you trimmed off of your cake with some lemon frosting in a bowl and mix it all together. If you've ever made cake pops before, this is the same idea.
Press this mixture into each of the gem cubbies, once the white chocolate has hardened.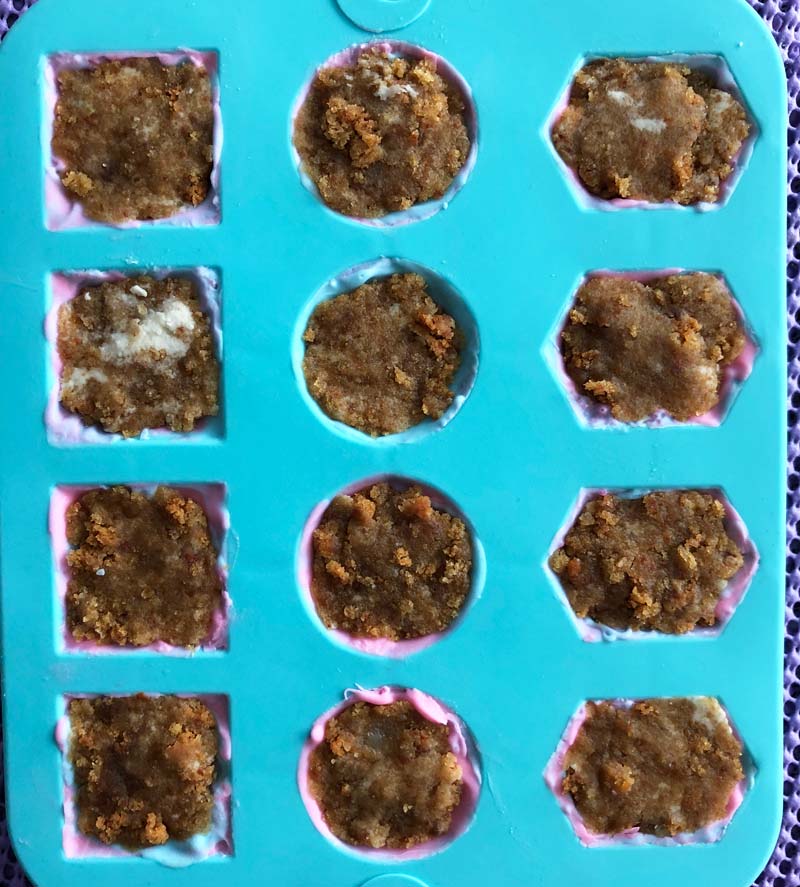 Chill in the freezer or fridge again for a few minutes before popping out of the molds.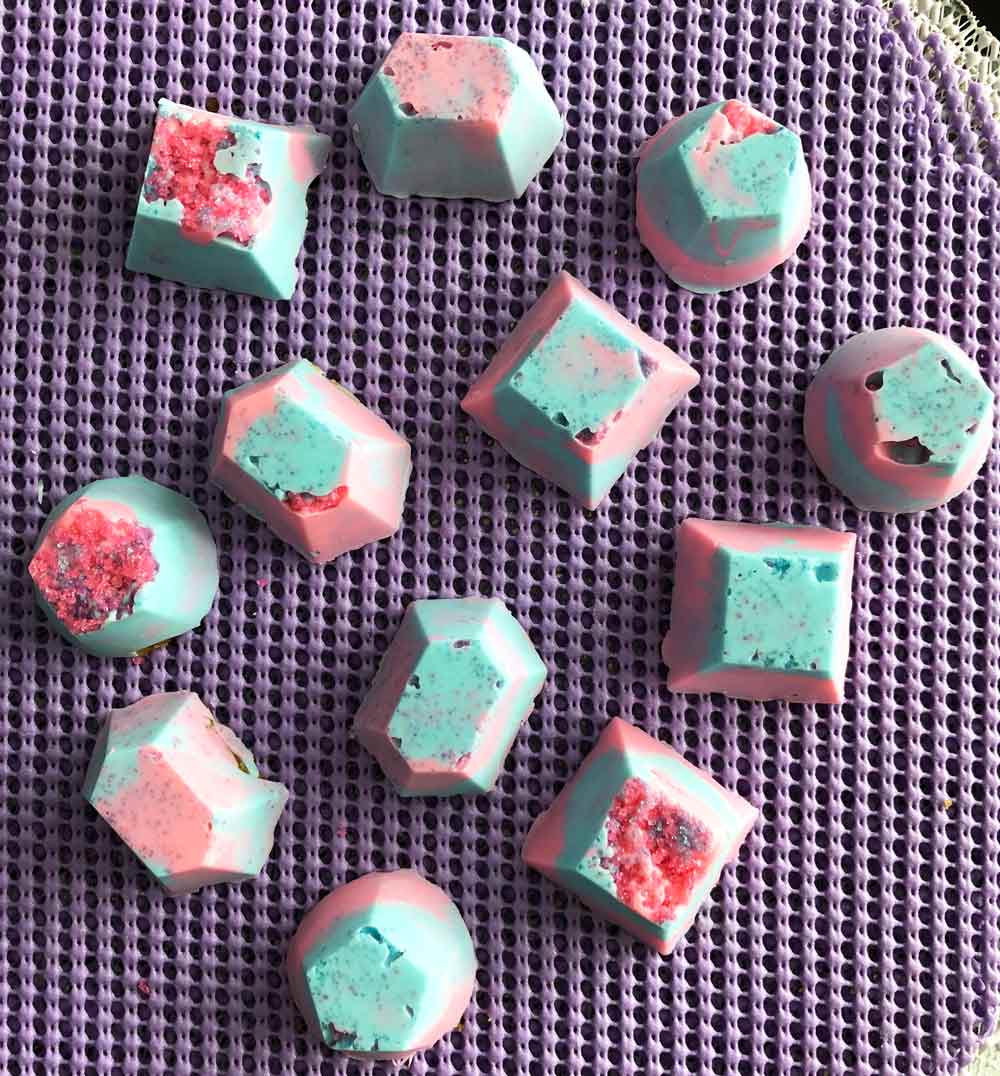 Assembling and Decorating the Vegan Loquat Cake
Whisk the frosting again if it has been sitting for a few hours.
Frost the entire surface area of the cake with a thin crumb layer of frosting.
Chill the crumb layer to harden to the touch.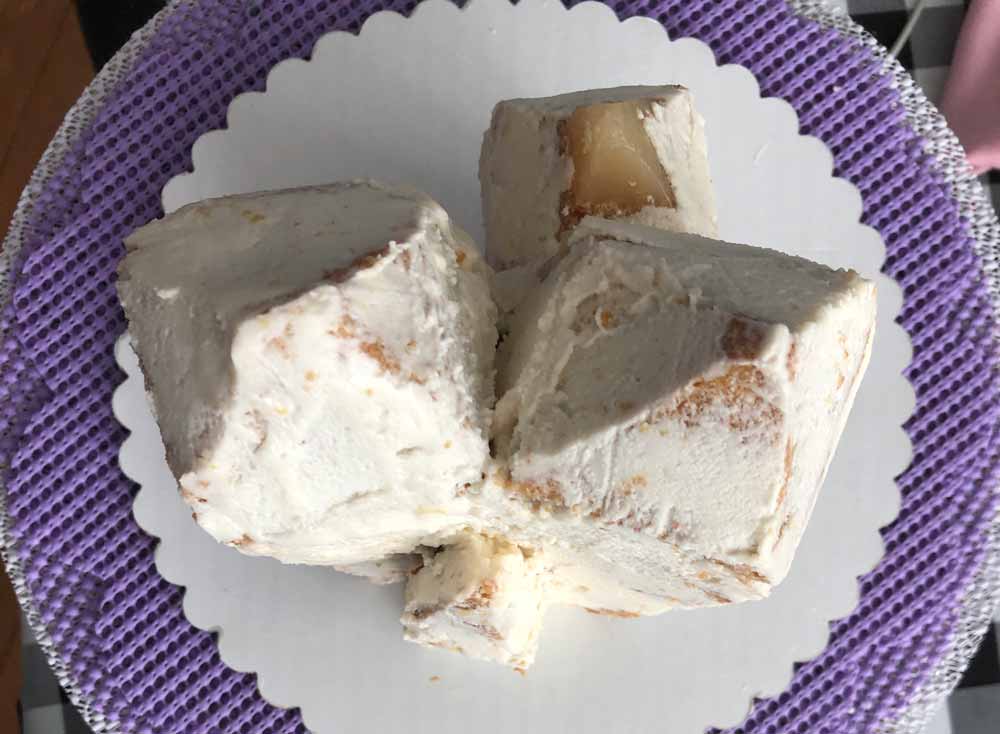 Divide the remaining frosting into three bowls.
Add vegan food coloring to two of the bowls, and mix it in. I used wilton sky blue gel color and wilton rose gel color but you can use any colors you like.
Dab each color of frosting like you're adding spackle to the cake.
Smooth the frosting as best you can with an offset spatula or whatever other tools you have.
Add the white chocolate gems to the cake.
Add edible glitter spray (optional).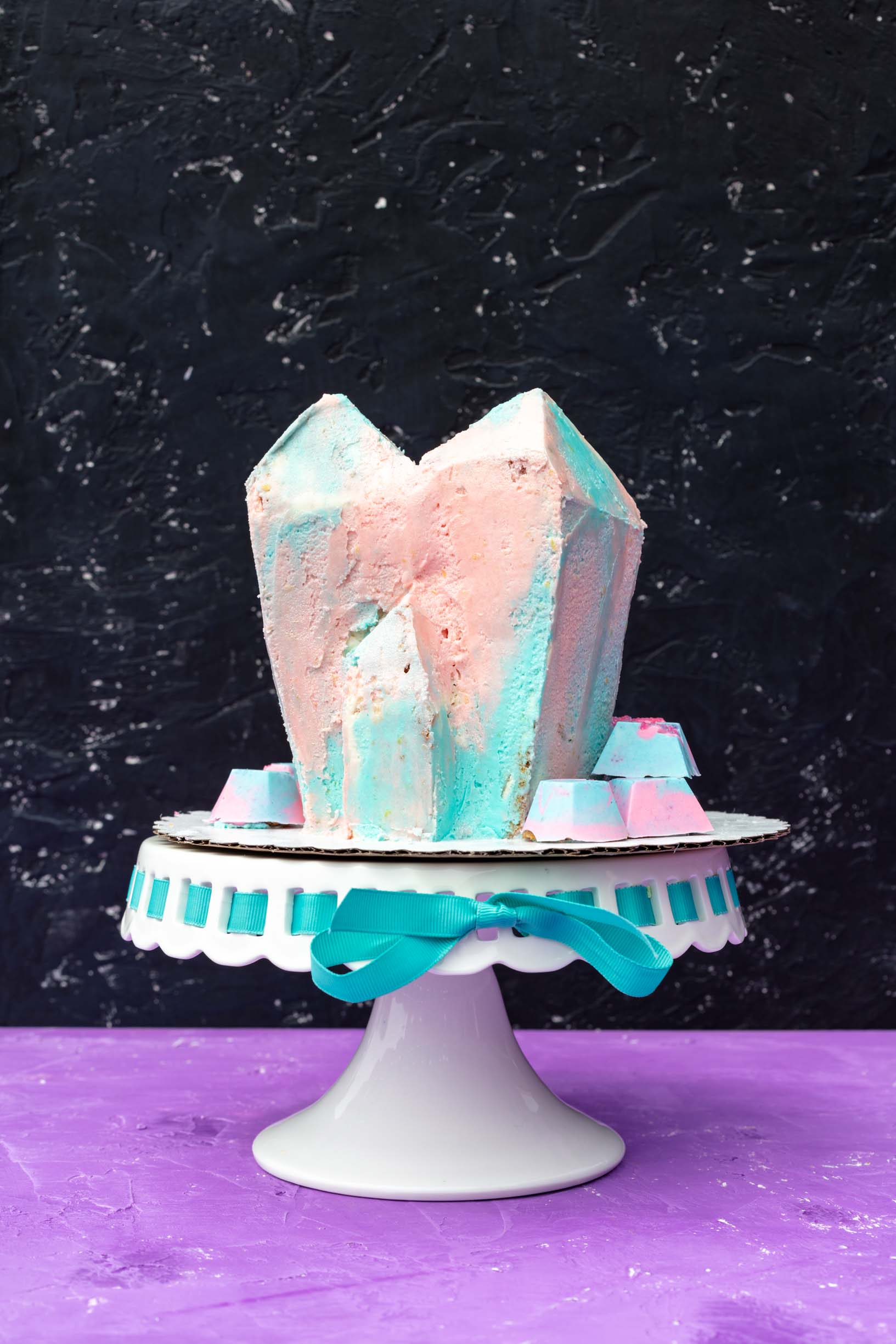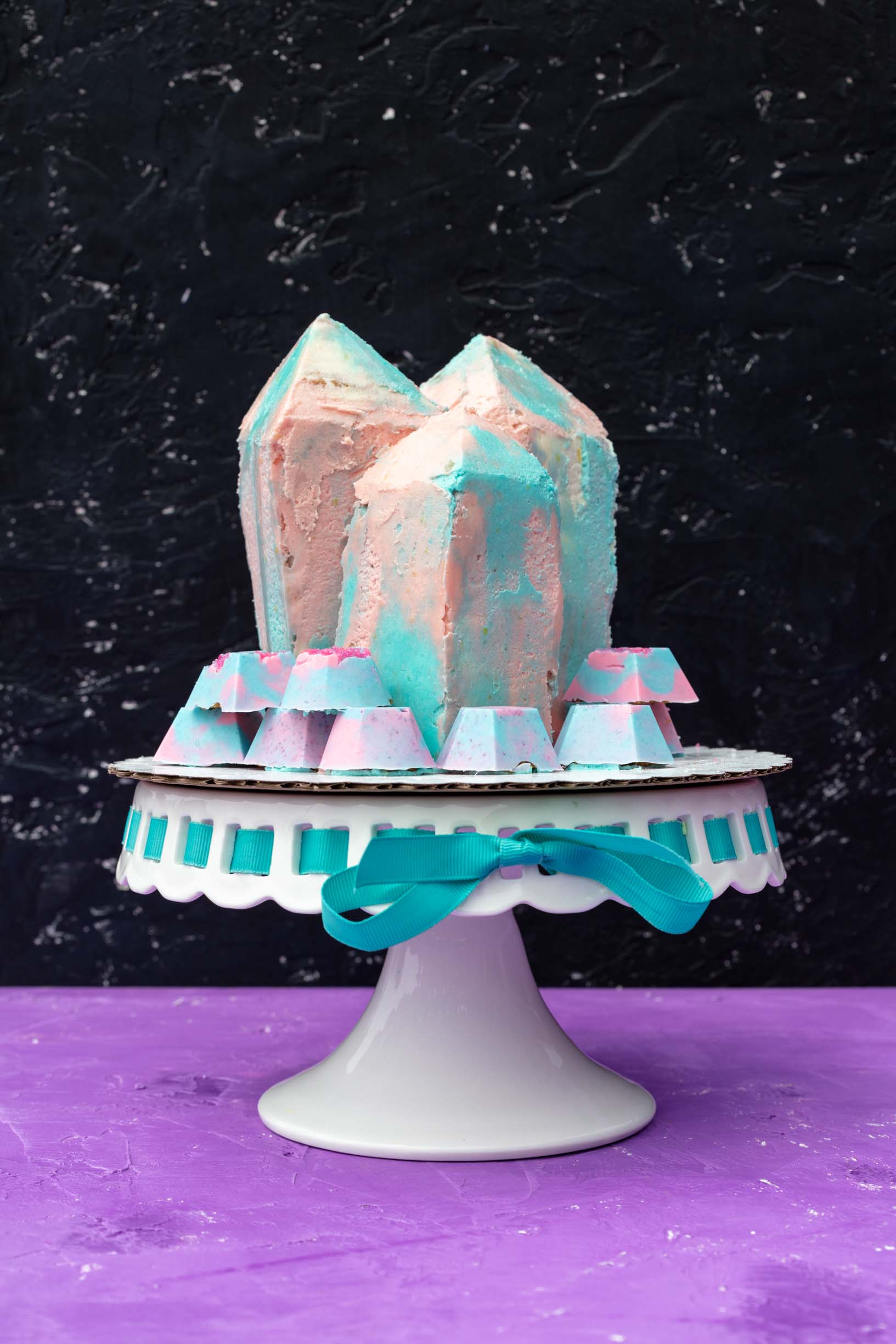 ☆☆☆☆☆☆☆☆☆☆
* I use mostly organic ingredients when I cook, but I realize that not everyone has the disposable income to purchase all organic ingredients. Therefore, I only specify organic on the ingredients that really matter - when buying the organic version is the only way to ensure that the item is vegan.