Pink Peppermint Hot Chocolate Recipe
published on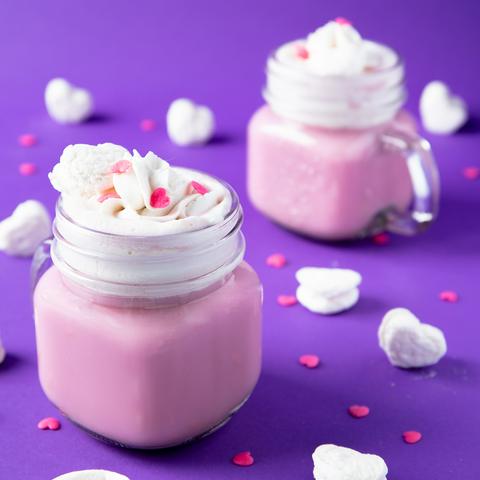 ♫ Listening to: Super Scooter Happy by Kyary Pamyu Pamyu ♫
Sometimes referred to as unicorn cocoa, this pink hot chocolate is a cuter version of a white chocolate hot cocoa. Vegan white chocolate peppermint hot cocoa is a warm and festive drink for Christmas, New Year's Eve, or Valentine's Day. The added pink also makes this a fun drink to serve at a baby shower.
Table of Contents
(click the links below to skip to the section you're looking for)
This recipe offers three different options for making this peppermint hot chocolate. One is a small batch recipe using a nutr. One is a family sized recipe using the stovetop. And the third is still in process, but it will be a pink mint hot chocolate mix that you can store in the pantry or give away as gifts.
¼ cup (2oz/55g) cacao butter

5 cups (1250g) nondairy milk

½ cup (100g) organic or raw sugar*

½ tsp vanilla

1 tsp peppermint

1 drop of pink vegan food coloring

vegan whipped cream, mini vegan marshmallows, and vegan sprinkles for topping (optional)
Vegan Pink Peppermint Hot Chocolate Directions
Warm 1 cup (250g) of nondairy milk, ½ cup (100g) sugar, and ¼ cup (2oz/55g) cacao butter in a medium saucepan over low-medium heat.
Stir until the cacao butter is completely melted.
Add the remaining 4 cups (1000g) of nondairy milk to the saucepan.
Cook over low-medium heat until the entire mixture is heated through.
Stir in pink vegan food coloring, ½ tsp vanilla extract, and 1 teaspoon peppermint extract. I recommend using wilton pink gel color or wilton rose gel color to get a bright pink color. See the FAQ section if you want to use superfood powder or all-natural food coloring.
Pour into mugs or glasses.
Top each glass with mini marshmallows, whipped cream, and/or vegan sprinkles.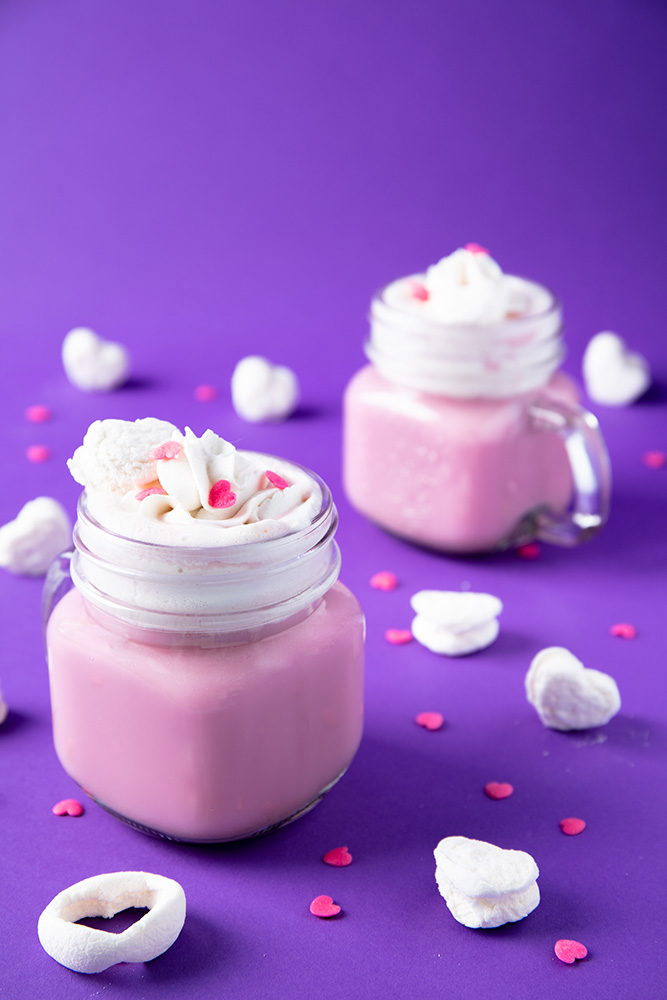 Optional: Spike with vegan bailey's if you're not straight edge.
How to make Vegan Pink Peppermint Hot Chocolate using the Nutr
Measure all the ingredients (except for the optional pink coloring) into the nutr machine.
Select the "hot" button.
Pour into one large mug or two small cups.
Whisk in the optional pink food coloring or pink superfood powder.
Top with whipped cream, vegan marshmallows, vegan sprinkles, or whatever other festive toppings your heart desires.
Can I use all-natural food coloring instead of gel food coloring?
Sure. If you are planning to use natural vegan food coloring, I would make a modification because the all-natural powders tend to have difficulty blending well with the cacao butter. So, if you plan to use beetroot powder, pink pitaya powder, or color kitchen food coloring, replace the ¼ cup (2oz/55g) cacao butter in this recipe with ¼ cup (2oz/55g) white chocolate and reduce the sugar to ¼ cup.
Can I skip the pink part?
Yes! I often make just white hot cocoa. It tastes just as delicious without the pink.
Cacao Butter: If cacao butter is hard to find or not something you have in your house, you can use an equal amount of vegan white chocolate in its place. Just reduce the amount of sugar by half if you do this.
Sugar: You can use granulated vegan, raw, or organic sugar to ensure it's vegan. If you avoid sugar, you can replace the sugar in this recipe with maple syrup or dates.
Vanilla: You can replace the vanilla extra with vanilla paste or vanilla powder. Just make sure you use real vanilla, because imitation vanilla is often made from beaver butts. (I can't make this shit up.)
If you make this vegan peppermint hot chocolate, snap a pic, post to instagram, and tag me @vegandollhouse. I love to see your creations! You can also message me through instagram or email me if you have any questions about the recipe.
I made this on New Year's Eve, but it would be perfect for baby showers, valentine's day, or a kawaii or unicorn party. This pink hot chocolate pairs well with my Cinnamoroll donut cakes or my sparkle heart emoji cakes.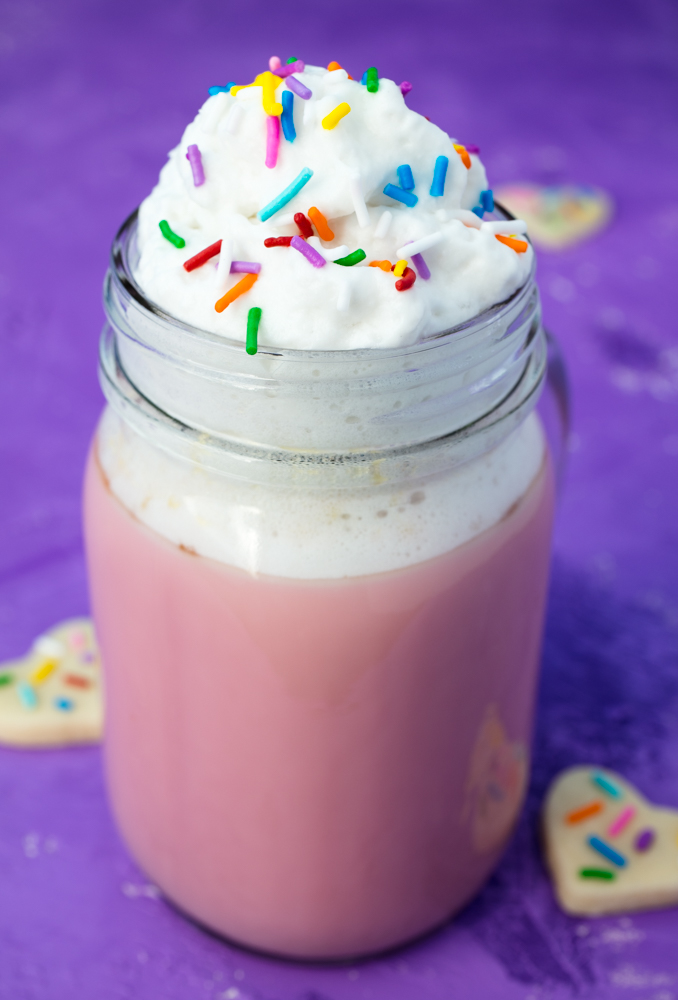 ☆☆☆☆☆☆☆☆☆☆
* I use mostly organic ingredients when I cook, but I realize that not everyone has the disposable income to purchase all organic ingredients. Therefore, I only specify organic on the ingredients that really matter - when buying the organic version is the only way to ensure that the item is vegan.