How to Make Musubi
published on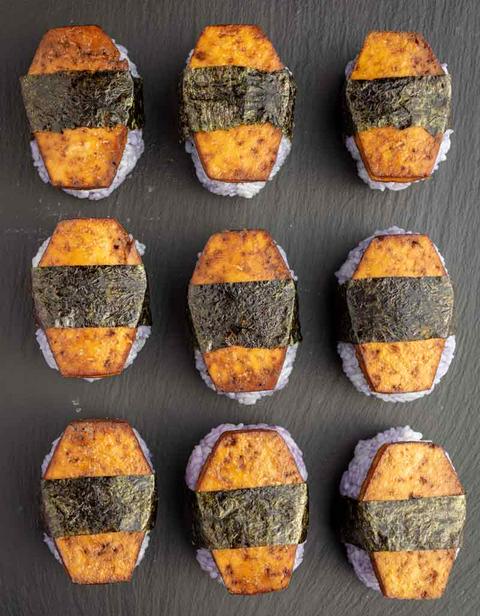 ♫ Listening to: Shallow Tears by Light Asylum ♫
Last weekend, I was walking through echopark and saw a musubi stand that offered vegan musubi. I was so excited, but it just reminded me how much better mine is. And the Jocelyn told me that she was serving non-vegan musubi at her baby shower, so I decided it was about time to make some because hell if I'm gonna watch other people enjoy musubi without having some for myself. I would die of FOMO.
This Halloween musubi uses my vegan spam recipe but this time, they're coffin shaped. And the sushi rice is naturally colored to make it more halloweeny.
This recipe makes 10 musubi.
Vegan Spam Ingredients
¼ cup braggs liquid aminos

2 tablespoons olive oil

¼ teaspoon liquid smoke or hickory smoke salt

1 block extra firm organic tofu* (I like the high protein one from wildwood)
Vegan Spam Directions
Slice the extra firm tofu into 10 equal slices.
Layer the slices in between paper towels or kitchen towels. I use kitchen towels because I'm not a waster, haha. J/K. If you don't have a washer and dryer, then I totally get not wanting to use kitchen towels for everything. Leave them wrapped up for at least 15 minutes to wick all the excess moisture out of them.
Make a delicious spamlike marinade by combining the 2 tablespoons olive oil, ¼ cup braggs liquid aminos, and ¼ teaspoon hickory smoke. Then brush it onto the bottom of a glass pyrex lasagna pan using a silicone basting brush .
Cut each dried tofu slice into a coffin shape using a coffin cookie cutter .
Lay each piece of tofu into the lasagna pan as closely together as possible so you can fit them all.
Brush the tops of the tofu pieces with the marinade using a silicone basting brush . If you don't have a silicone basting brush , you can just use your hands and a spoon.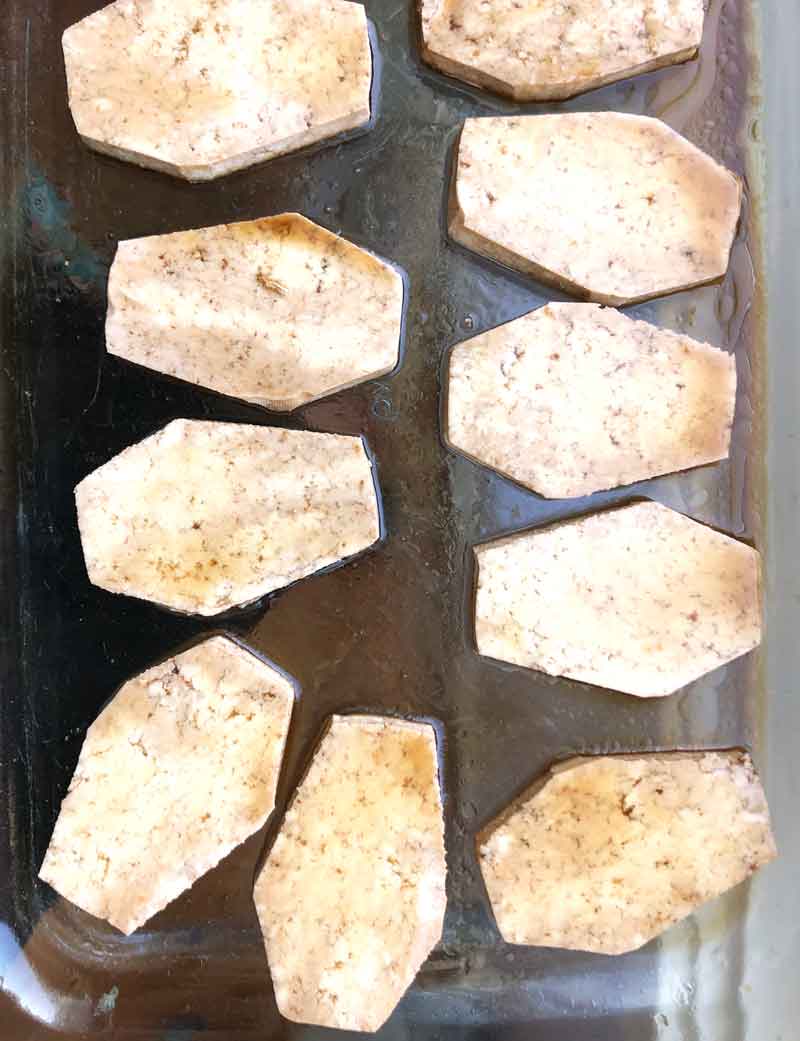 Bake the tofu in the oven (~350˚) for 20 minutes, and then flip them all over. Brush marinade over the other side. Bake for another 20 minutes. Cool.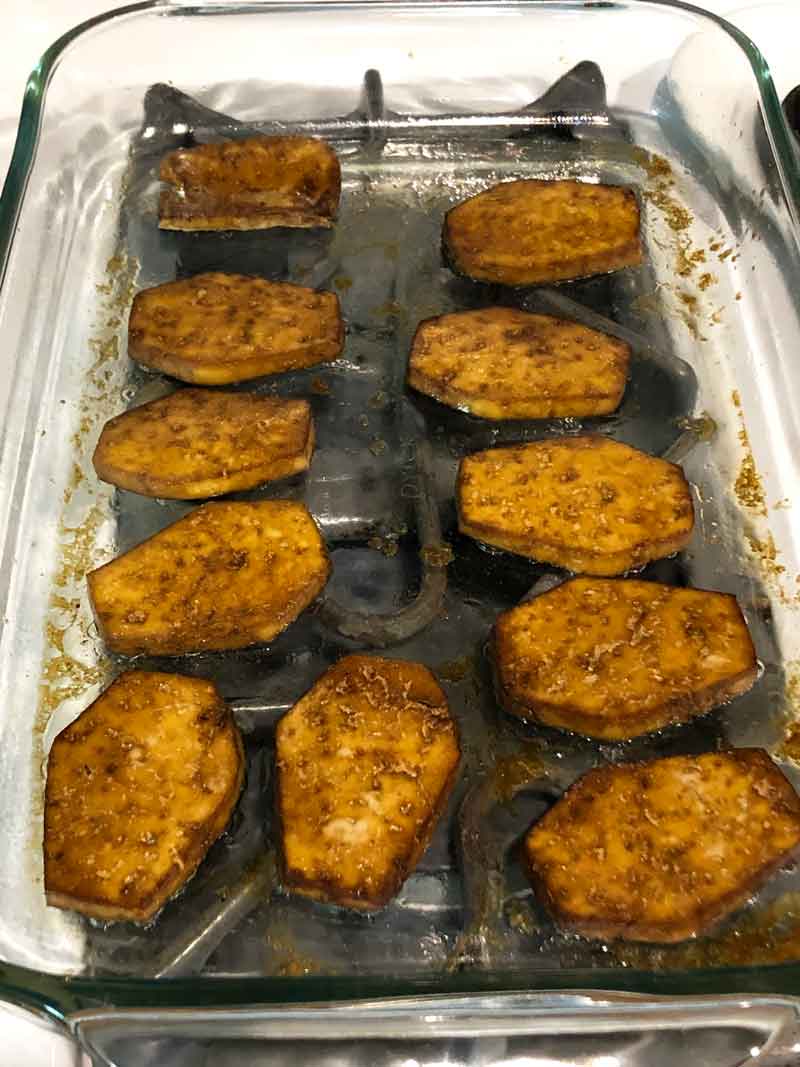 Vegan Purple Sushi Rice Ingredients
Dollhouse Shortcut
Use purple vegan food coloring if you don't have superfood powders.
Vegan Purple Sushi Rice Directions
Cook your rice in an instant pot by combining 2 cups of white sushi rice with 2 ½ cups water. Set it to pressure cook for 5 minutes and turn off the "keep warm" feature. After 5 minutes, let the pressure release naturally.
Mix the following ingredients in a small bowl until it's a paste consistency: ½ teaspoon maqui berry powder plus ½ teaspoon butterfly pea flower powder plus ½ teaspoon sea salt plus 1 tablespoon agave and 1 tablespoon rice vinegar. If it's too thick to stir, add a little more rice vinegar. You want to end up with a pourable consistency. If you don't have superfoods on hand and don't want to buy any, you can check my list of vegan food coloring for other options to make the rice purple.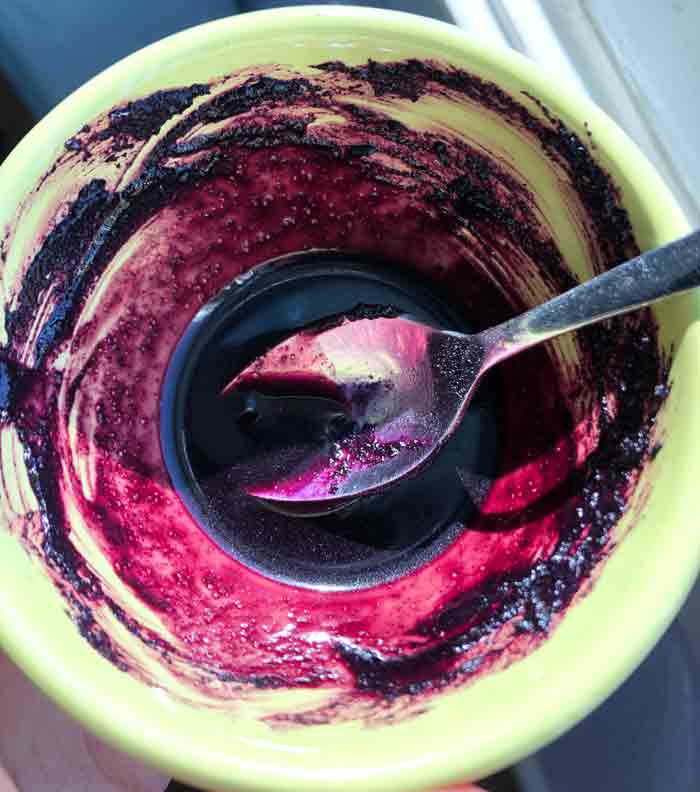 Pour the mixture you made over the rice.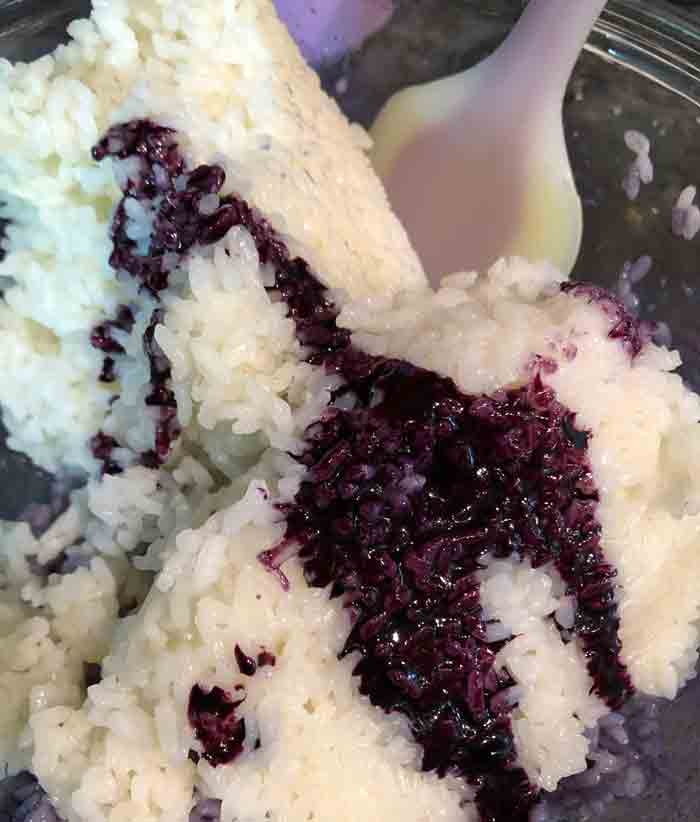 Stir the rice with the color until all the rice is purple.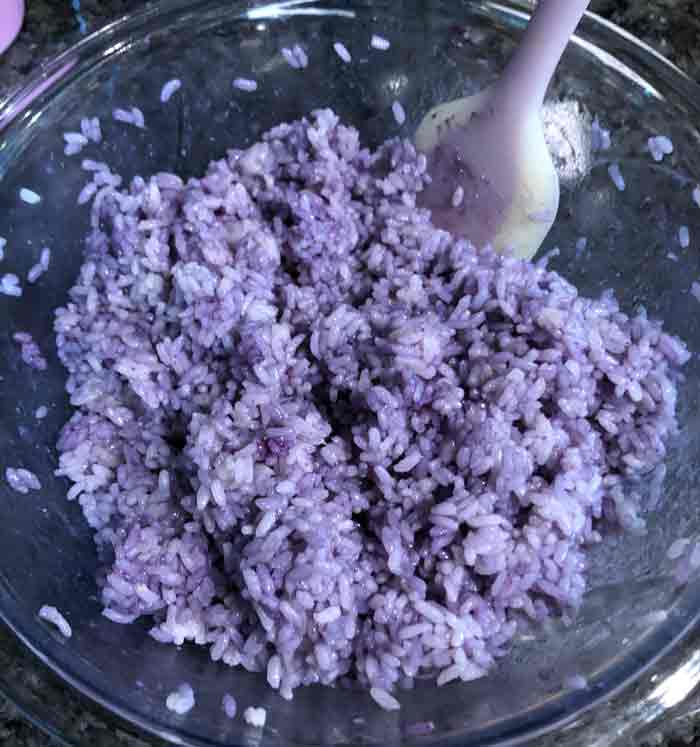 Vegan Halloween Musubi Assembly
Cut 2 sheets of nori into at least 10 strips. You can follow the markers that are already on the seaweed.
Set one seaweed strip on a flat surface.
Grab a tenth of the rice with wet hands and roll it into an oval shape.
Stack a coffin spam tofu onto the nori strip and top with your rice oval.
Wrap the seaweed strip all the way around and dip your finger in some water to help seal the nori together at the ends.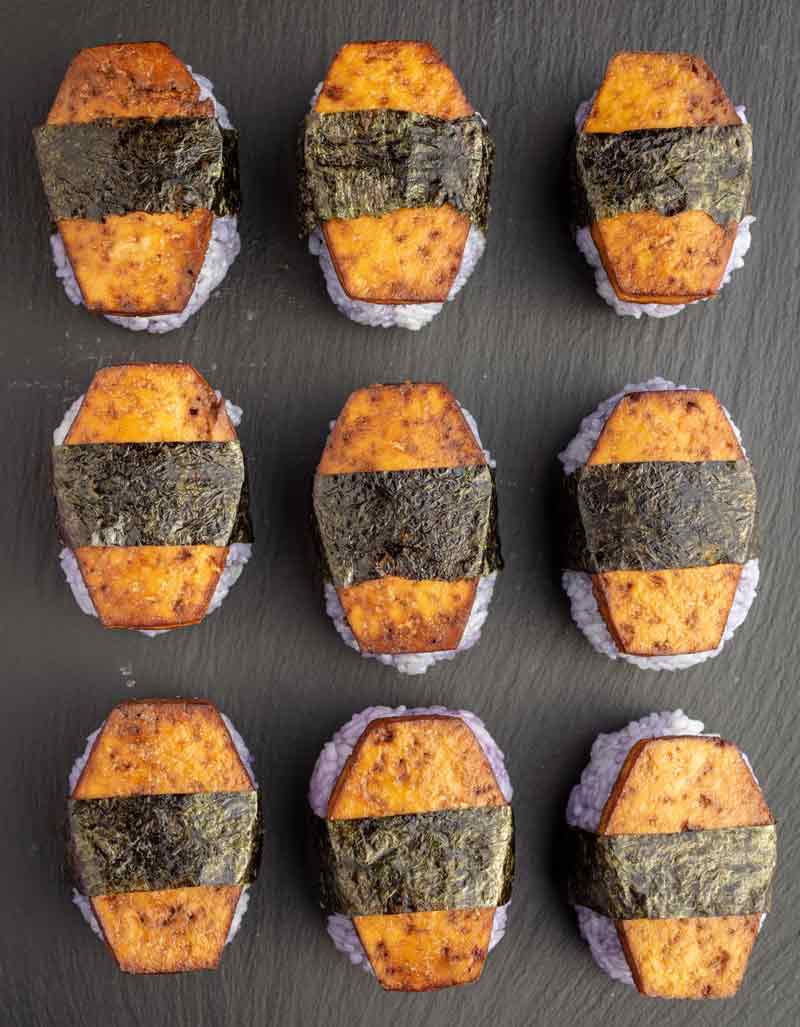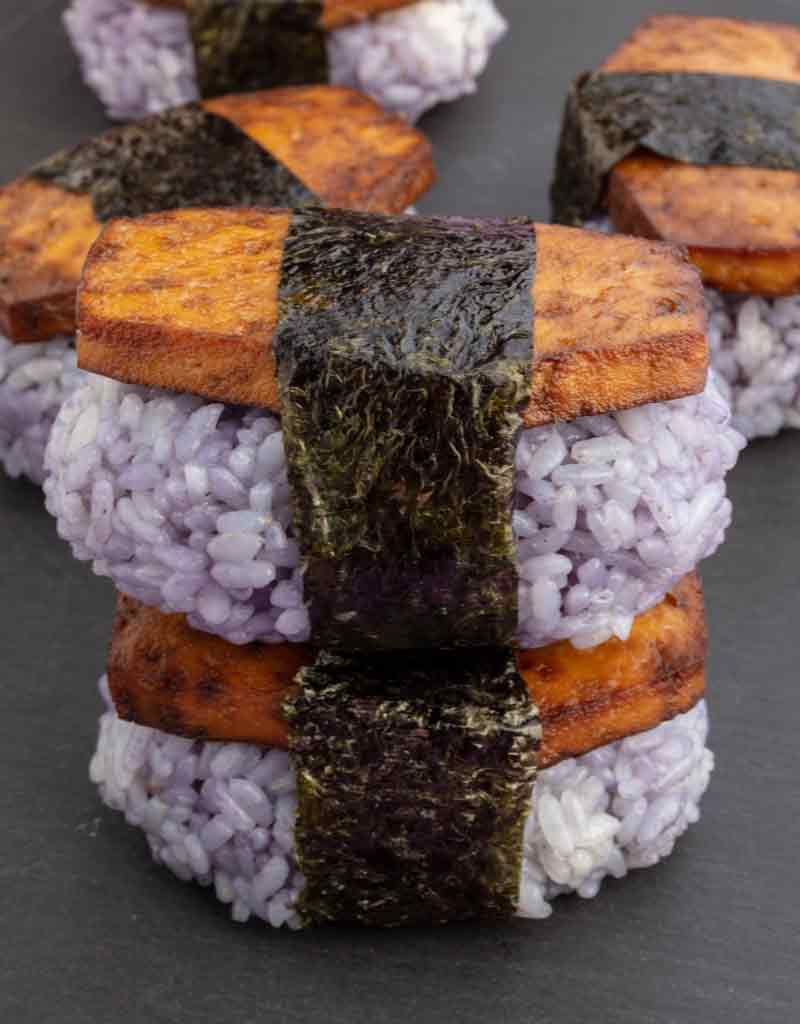 Here's a video of me assembling these spookicute vegan spam musubi.
If you like coffin-shaped snacks, you might also like my coffin cake wands.
For other spookicute recipes, check out my list of vegan halloween recipes.
☆☆☆☆☆☆☆☆☆☆
* I use mostly organic ingredients when I cook, but I realize that not everyone has the disposable income to purchase all organic ingredients. Therefore, I only specify organic on the ingredients that really matter - when buying the organic version is the only way to ensure that the item is vegan.